READY, STEADY, COOK!
Bryn Davies is whopping out his sausages in the name of science, to test the best camping cook sets out there – not 'arf!
You'd be forgiven for thinking that camping cook sets aren't the most exciting pieces of outdoor gear around. I mean, let's be honest, a metal pot doesn't really get the blood pumping in the same way that a hairpin in the Alps does. But when it comes to the outdoor kitchen, they're a consideration that should be taken seriously.
Your cook set will be just as responsible as your stove for keeping your belly full and the tea brewing, but essentially, aren't they just metal bowls for holding food and water over the flames? Not quite. Your choice of cook set will determine how fast your water boils, how efficient your stove is, how burnt your food gets and how easy washing up will be.
There are three common types of cook sets out there and all have their advantages and disadvantages, they are: aluminium, stainless steel, and titanium. Aluminium cook sets are usually cheap, lightweight and quick to bring water to the boil, however they're generally flimsier than stainless steel and titanium, making them susceptible to dents and scratches. Hard anodised aluminium is tougher than the regular stuff and harder to damage, but it's also more expensive than standard aluminium.
Stainless steel's scratchproof, tough, long lasting and easy to clean, however it tends to be on the heavy side and conducts heat slower than aluminium and titanium. Weight isn't too much of an issue when ABR-ing but the slow boil times could make it less appealing, especially if you're fond of a roadside brew-up.
Titanium sets are the dog's danglies. They're lightweight, scratchproof, fast to heat, easy to clean, durable and they don't affect the taste of foods cooked in them. The only downside is their usually astronomical price tag.
Of course the materials used to make your cook set aren't the only consideration. Look for rounded edges instead of a right angles where the base of the pan joins the walls. This makes cleaning less of a pain as leftover food is easier to reach.
Thin pots will allow for faster boiling times but they're more likely to distort due to high temperatures and your food's more likely to burn – not something you want to have to put up with. Lids are great additions to cook sets as they improve boiling times, making your fuel more efficient. Tight-fitting lids work best, but a loose-fitting lid is better than nothing.
How Safe Is Aluminium Cookware?
Over the past few years there have been concerns about cooking in aluminium pots and pans. The logic behind the paranoia is that the acid in some foods can react with aluminium, and the chemical product of this reaction has been linked to health problems such as Alzheimer's. There's no cause for concern with aluminium cookware, however. Aluminium used for pots and pans has been anodised giving it a strong and durable coating which prevents foods from coming in contact with the metal, eliminating any risk of contamination. Your sausages will be 100 percent safe.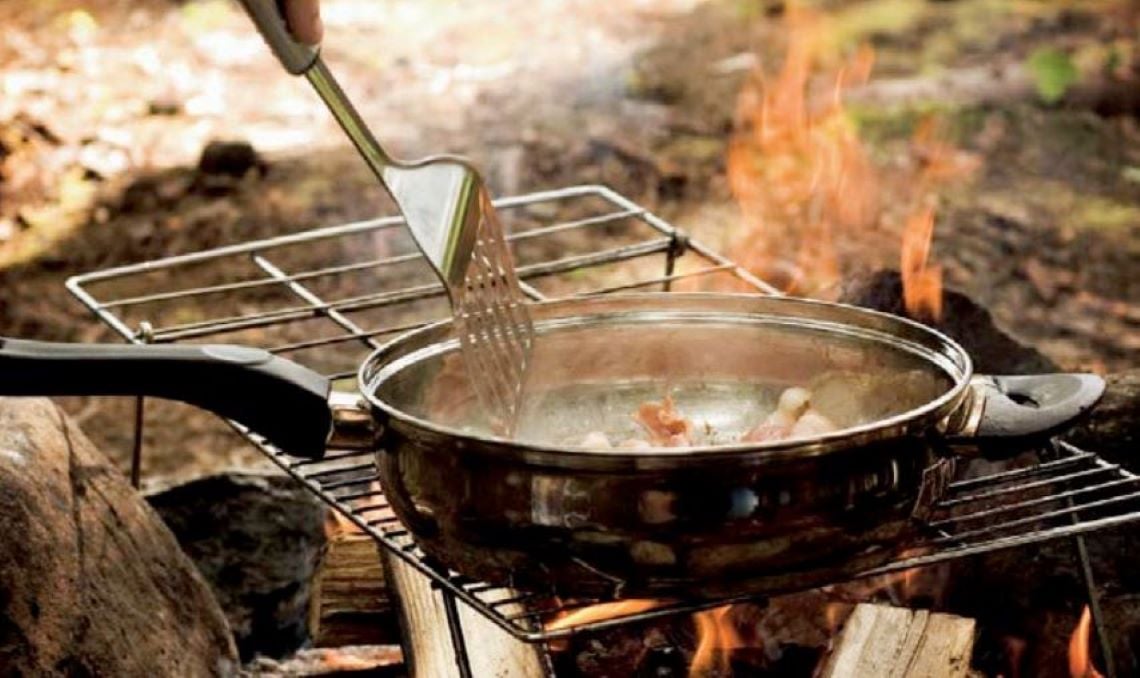 Alternative Cooking
You don't have to use a cook set and stove to make a meal, there are plenty of alternative methods of cooking out there. Here are two of the best: If you want to cook like they did before stoves were invented then make yourself an earth oven. Build a fire and let it burn out until all that remains are smouldering embers. Lay your food on top and cover with soil, this acts as an oven, heating up your food. Alternatively, and this is really hardcore, you can wrap your food in a few layers of tin foil and leave it to cook on the hot parts of your bike engine – is that using your initiative or what?!
EASY CAMP ADVENTURE S COOK SET
£14.99
ABR RATING 4 OUT OF 10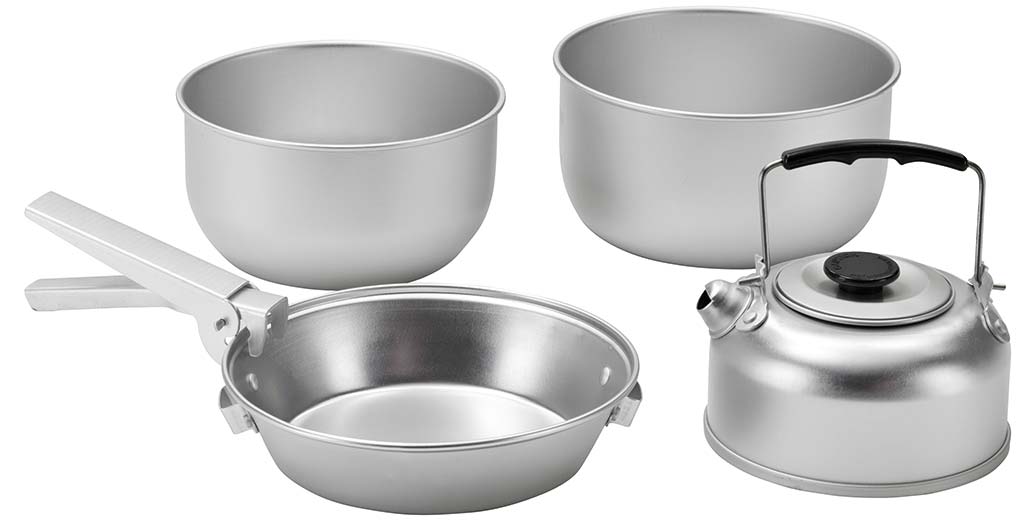 At £14.99 the Easy Camp Adventure S Cook Set is the cheapest set in this test. It's a five-piece aluminium cooking kit with two pots (1.3 and 1.7l), a pan, a kettle and a pot gripper. These all nest together nicely to make a small, compact package.
The pots have got half-litre and one-litre measuring points on them which is really useful if you need to boil specific amounts of water, and the kettle comes in handy if you're dying for a cuppa (although pots can be used to boil water for tea, a kettle allows you to pour it into cups a lot easier). The kettle also has a plastic handle to stop it from getting too hot to hold when it's boiled.
The cheapness of the pots and pans starts to show through when you use them though. Due to the thin aluminium, food was getting burnt on even the lowest setting on our stove. The frying pan was quick to bend and dent and, as there's no non-stick coating, cleaning's a pain. It was a similar story with the pots, which dented at even the slightest bump or knock; this is the major downsides of using unhardened aluminium.
MARKS OUT OF 10: Durability: 4 Quality of finish: 4 Value for money: 6 Ease of cleaning: 3
In a line: Light and cheap, but they won't stand up to extended use
VANGO 2 PERSON NONSTICK COOK SET
£17.99
ABR RATING 7 OUT OF 10
Vango has a great reputation in the camping industry for manufacturing good-quality outdoor gear at an affordable price, and at £17.99 this cook set is the second cheapest on test. It features two cooking pots (1.4l and 0.9l), a frying pan, two lids (for the two pots) and two plastic cups.
The pots and frying pan all have foldaway handles attached to them and they've been coated in a plastic covering, but this does little to prevent them from heating up as the pan is used. The addition of folding handles is a nice one though, as it makes handling multiple pots easier. There are plastic handles on the lids, but these are recessed and fiddly.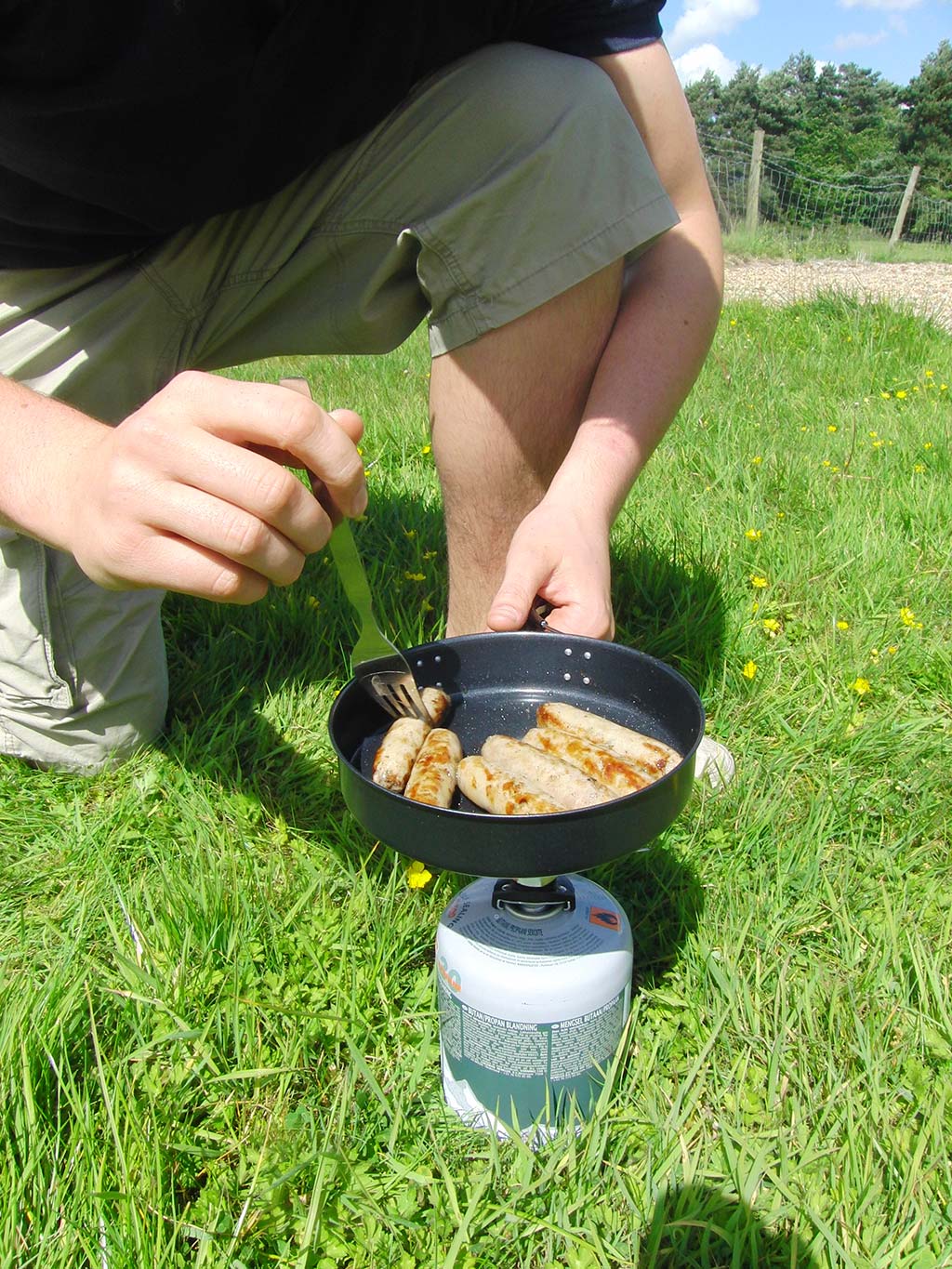 The pots have a non-stick coating to help with cleaning, but it also seems to prevent them from gripping the stove's pan supports effectively, which makes the pot slide around if you're not careful. The pots are also scratch resistant and, to help with boiling times, they're black in colour to help absorb heat.
While the Vango pots are stronger than the Outwell Gastro Cook Set pots and the Easy Camp Adventure S, they're still fairly easy to bend, and if they get misshapen enough, the lids are difficult to secure in place.
MARKS OUT OF 10: Durability: 6 Quality of finish: 6 Value for money: 7 Ease of cleaning: 7
In a line: Good value for money cook set
OUTWELL GASTRO COOK SET
£19.99
ABR RATING 4 OUT OF 10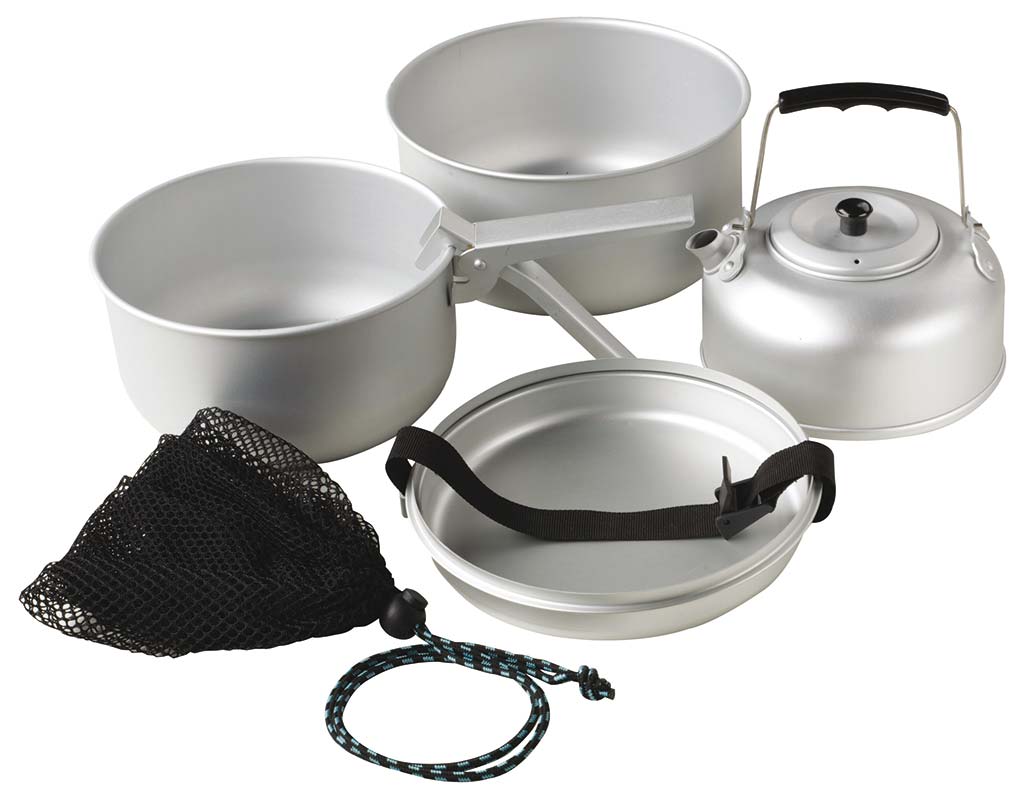 The Outwell Gastro Cook Set contains two pots (1l and 2l), one frying pan/lid, a handle, kettle with strainer, carry strap and a carrier bag. The kit is made out of aluminium so it's nice and light at 452g.
The kettle and strainer included in the set are useful if you're into your tea and coffee and it features a plastic grip to help prevent it from getting too hot to handle. However the poor quality of this cook set shows through quickly. Due to the use of a cheap, thin aluminium, the pots, kettle and frying pan are incredibly weak and easy to dent, scratch and misshape to the point where they'll no longer nest inside one another.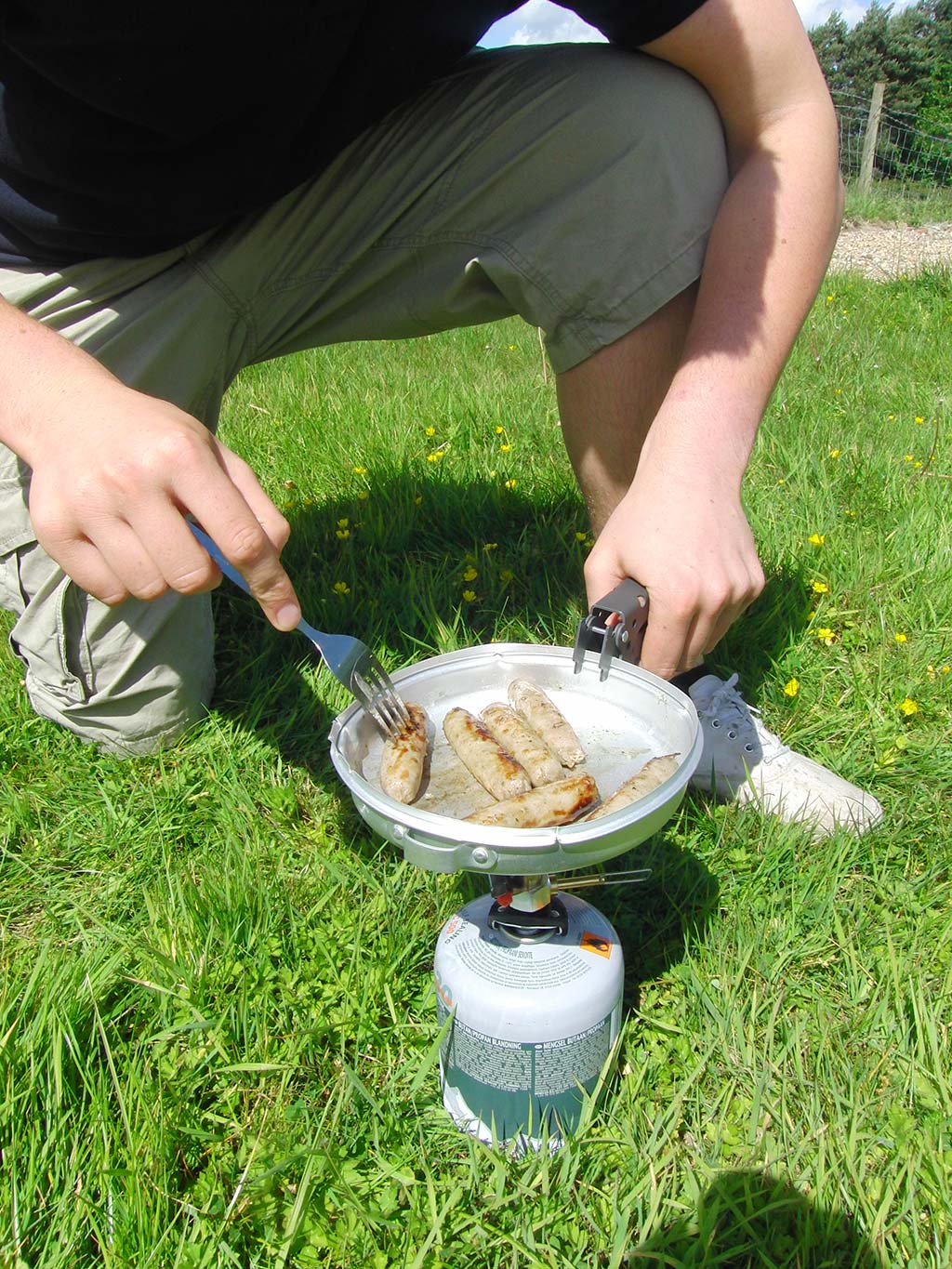 The use of budget materials means food is easily burnt in the pots and pans and you'll need a stove with a low simmer temperature if you're to avoid this. The lack of a non-stick coating also makes the set harder to clean. If you're after a cheap cook set to use on the odd occasion, the Gastro Cook Set could be handy, but I couldn't see myself using this for more than a couple of camping trips.
MARKS OUT OF 10: Durability: 3 Quality of finish: 4 Value for money: 4 Ease of cleaning: 4
In a line: The next step up from tin foil but a budget consideration for tea fans
COLEMAN NON-STICK COOK KIT PLUS
£34.99
ABR RATING 8 OUT OF 10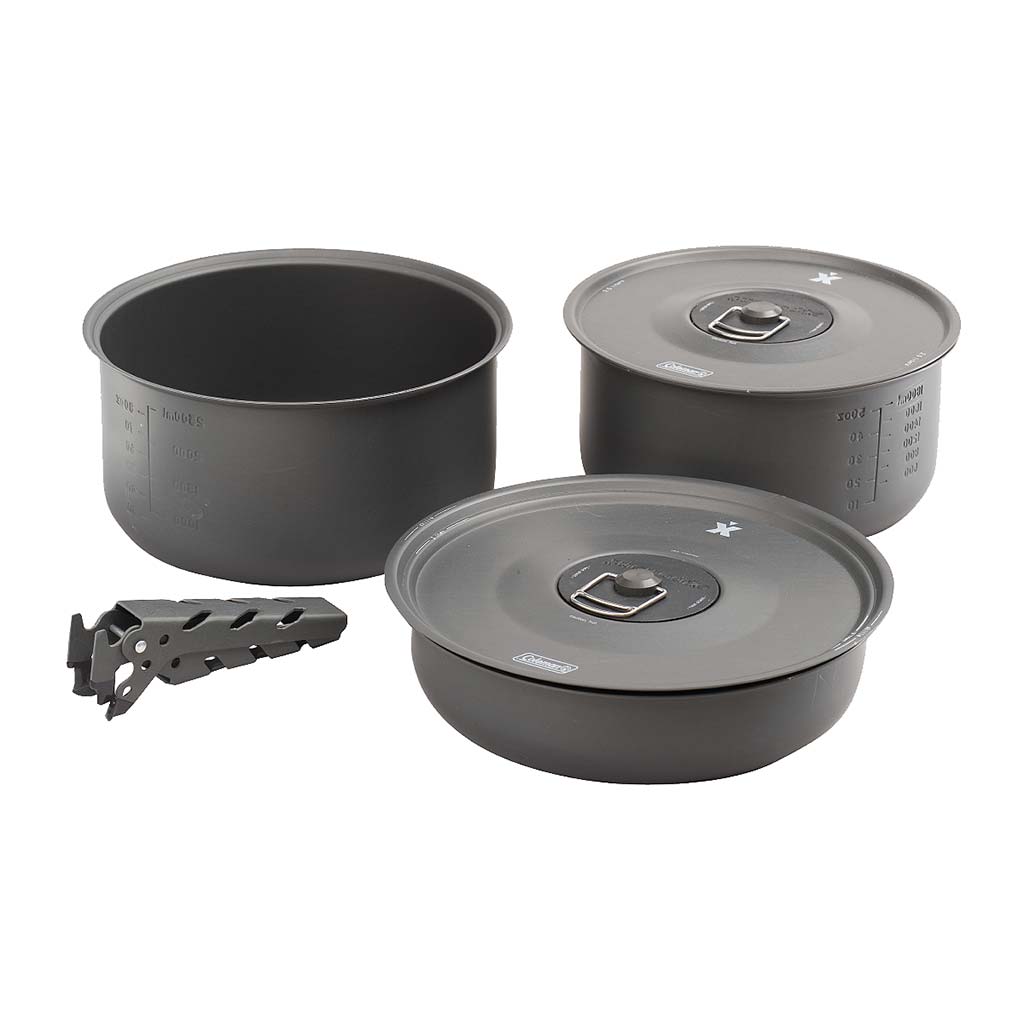 The three-piece Coleman Cook Kit Plus contains two cooking pots (3l and 2.5l), a skillet/frying pan, two lids (that fit on all three pots and pans) and you also get a pot gripper with silicone-coated ends to help prevent it from scratching the pans. There's also a soft pouch to store the handle in and to stop it from scratching the pots when packed away, this can also be used for washing the inside of the pots and for picking up hot handles – a great addition.
The cook kit's been made from hard anodised aluminium which, unlike standard anodised aluminium is very tough. It's also got a non-stick coating to help with cleaning and the pots are all black which helps absorb heat quicker making for faster boiling times. They've got grooved bottoms to keep them balanced on pan supports and both lids feature neoprene head pads that prevent the handles from getting too hot (these work brilliantly) and liquid measurements on the insides of the pans help you with gauging quantities.
The only thing that goes against this cook kit is that it doesn't nest together as nicely as others, however if it's stored inside the carry pouch provided this isn't really a problem.
MARKS OUT OF 10: Durability: 8 Quality of finish: 9 Value for money: 7 Ease of cleaning: 8
In a line: Could nest better, but nonetheless a quality, strong cook kit that'll have you feeling like a master chef in no time
GELERT ALTITUDE II COOKSET
£36.99
ABR RATING 7 OUT OF 10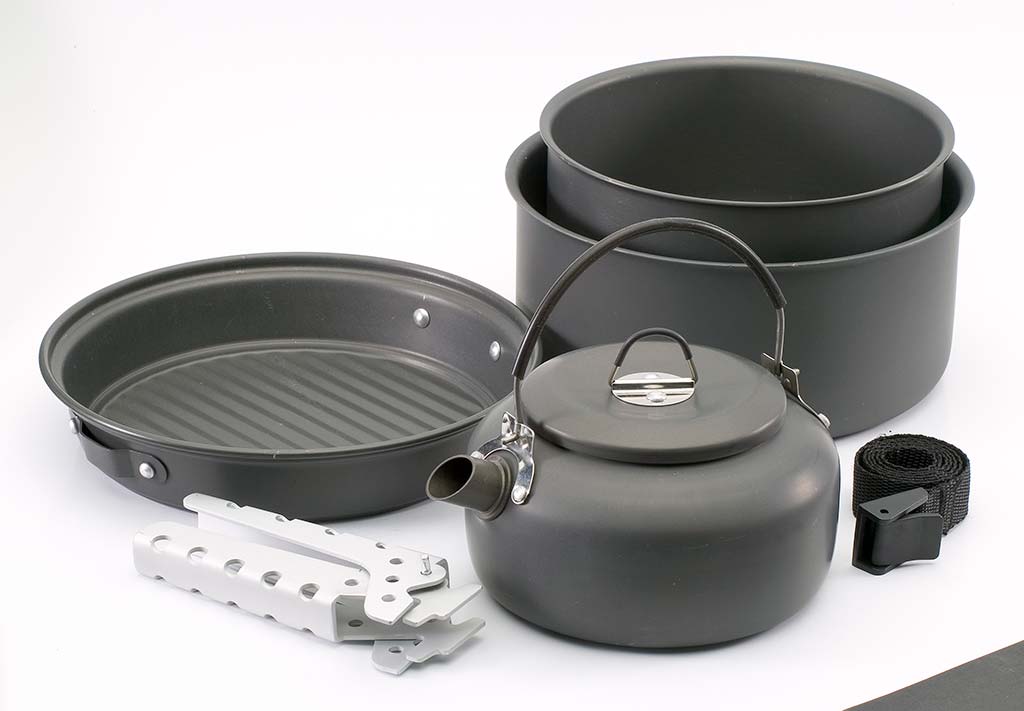 The five-piece Gelert Altitude II Cookset includes two pots (1.7l and 1.2l), a kettle, a handle and a griddled pan. They're all made using hard anodised aluminium which gives them the benefit of being exceptionally robust.
The set comes with a strap to keep it nicely nested together and a mesh carry bag for the same purpose. The pots are black in colour to help with heat absorption and fuel efficiency. The frying pan has a griddled surface, so you don't have to use much oil when cooking or frying in it, and our sausages sizzled away nicely – no burnt bits here.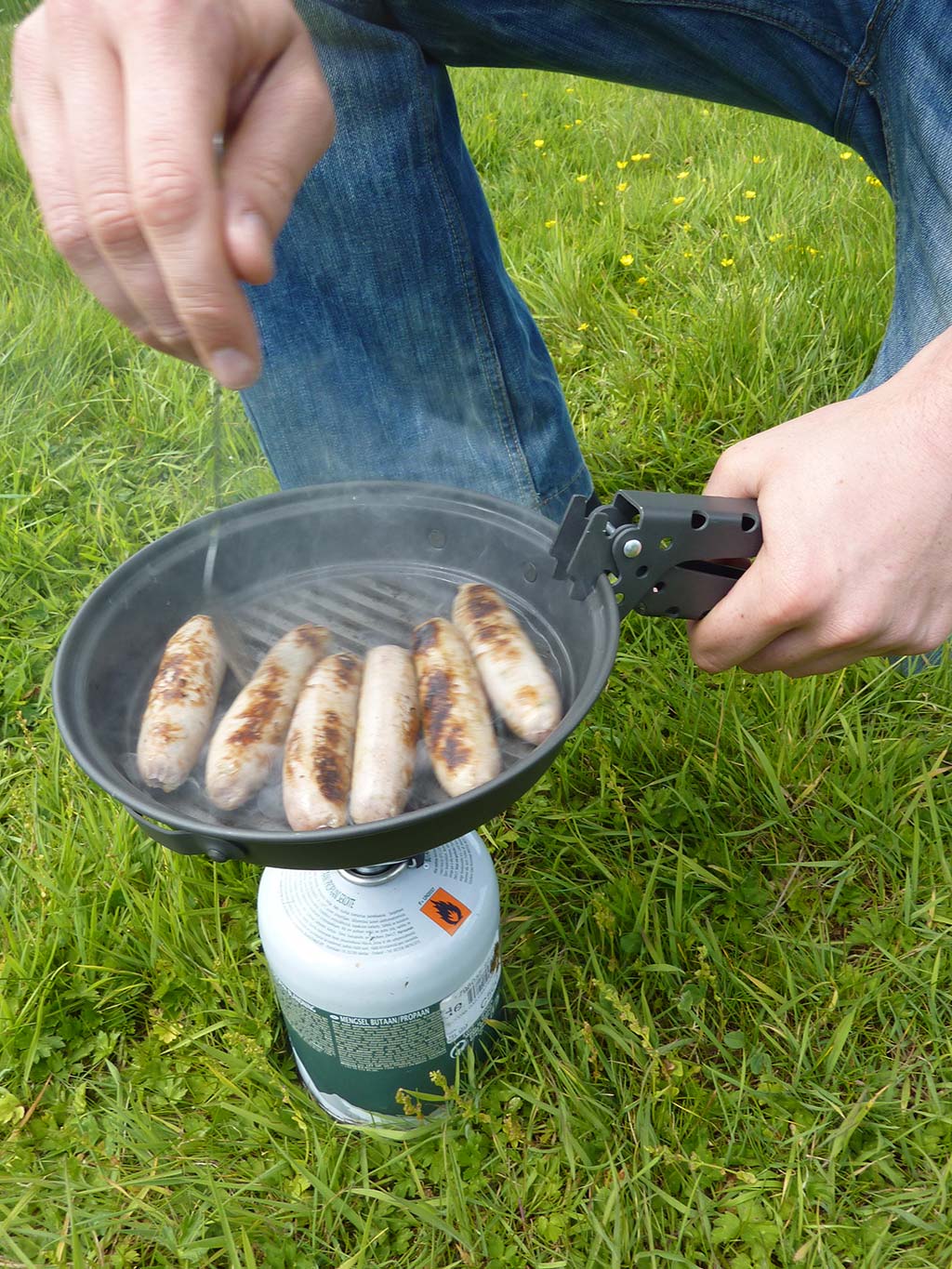 The kettle features a plastic-coated handle so you can pick it up without burning yourself. The set doesn't come with a dedicated lid, but if it's not in use, the frying pan can be used for this purpose. Watch out for it getting too hot to lift off though, I burnt my fingers taking it off when boiling water.
MARKS OUT OF 10: Durability: 7 Quality of finish: 8 Value for money: 7 Ease of cleaning: 5
In a line: A good quality, tough cook set, but I would have liked a proper lid
EDELRID ARDOR DUO
£45.75
ABR RATING 8 OUT OF 10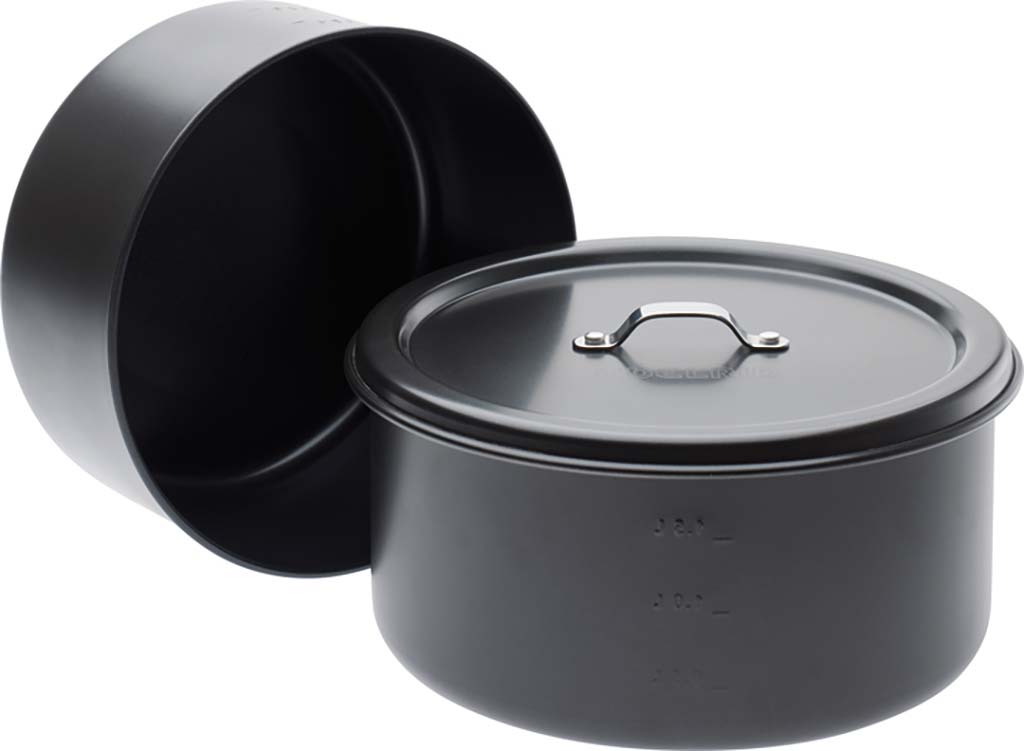 Edelrid has only recently delved into the art of making cooking equipment. The brand used to (and still does) manufacture quality climbing gear and the Ardor Duo cook set is aimed at mountaineers and climbers; this doesn't mean it should be overlooked by the ABR though!
The Edelrid Ardor Duo's got two pots (1.6l and 2.1l), one lid (that fits both pots), a pot gripper and a handy stuff sack to keep the pots organised. The advantage of stainless steel pots and pans is evident; they feel bombproof and you'll be hard pushed to seriously damage these. The stainless steel has the added bonus of being scratchproof and easy to clean.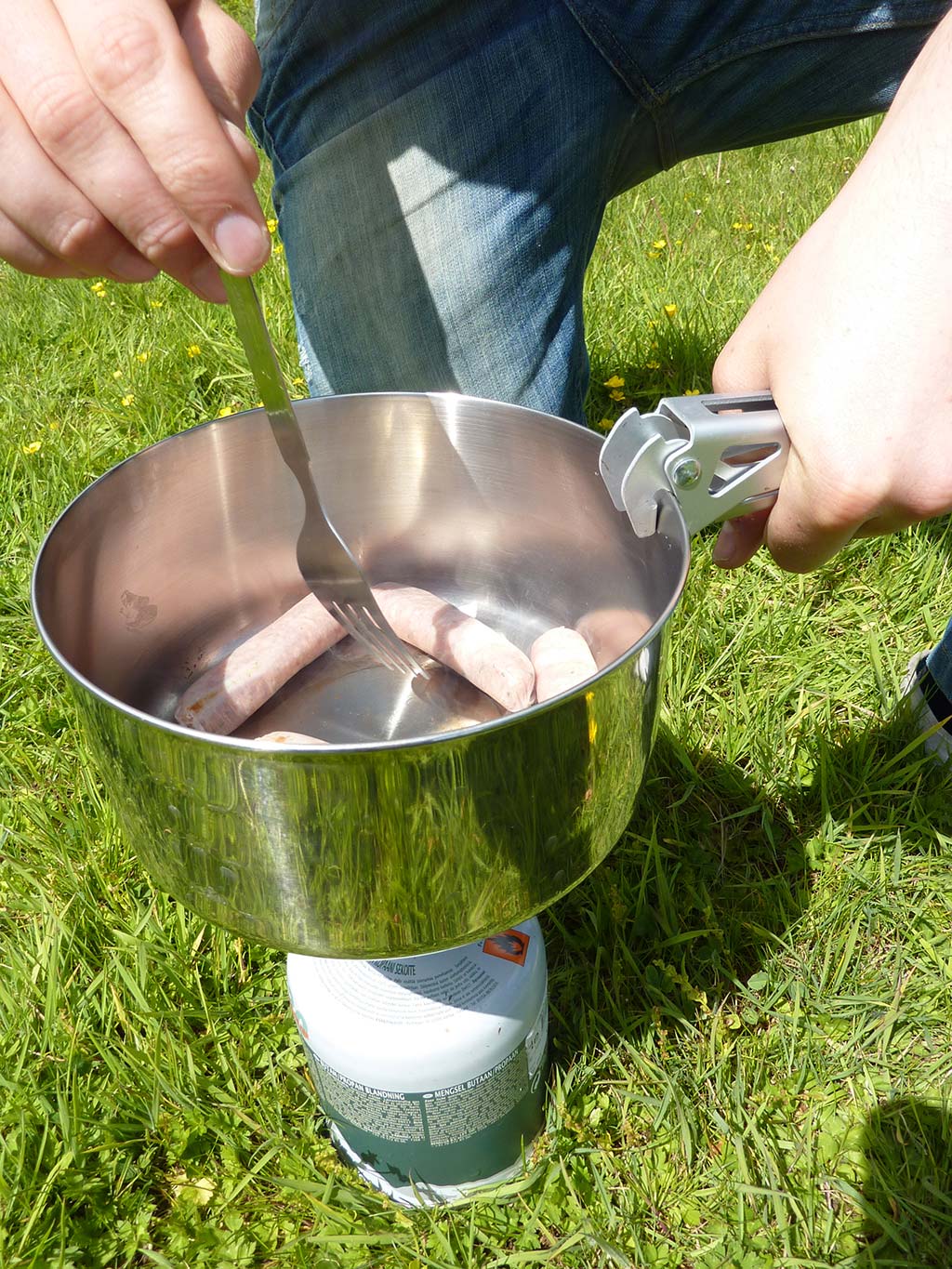 There's also a filling level on the inside of the two pots to help you establish how much water you're boiling; this is really helpful if you're going to be using the water in dehydrated foods that require a certain amount of boiling water in them. At £45.75 though, the Edelrid Ardor Duo is an expensive buy, and for this money I would have liked to have seen a few more pieces to this set, like a frying pan (although the pots can be used to fry in) and more than one lid.
MARKS OUT OF 10: Durability: 8 Quality of finish: 8 Value for money: 6 Ease of cleaning: 8
In a line: Nicely made, strong and durable, but a bit pricey

What's Cookin'?
Bryn Davies is testing and tasting camping scran for ABR's on the go
You've been riding all day; your arse is numb and your energy's drained. The thing you could really do with is a nice, hot meal. The type of food you take on your adventures will play a part in how much you enjoy your trips, and it'll also dictate how much energy you'll have throughout the day.
Personal preference and the amount you can carry will be the biggest factor in deciding which foods you take with you, but specialist camping meals shouldn't be written off the menu by the adventure bike rider. They're ideal if you're struggling for space and you want something nice and easy to cook; they don't need to be refrigerated so you can leave them in your panniers for days on end, and they tend to have high calorific and nutritional values to keep you going after a long day in the saddle.
Camping foods come in two types (freeze-dried and wet) and there are advantages and disadvantages to both of these. Freeze-dried food typically offers more calories, fat, carbs and proteins than wet foods. It also weighs a lot less and takes up less room in your panniers. That said, freeze-dried tends to be less satisfying than wet food and it's nice to take one or two wet meals with you on your adventures for when you fancy indulging. We've tried six brands of outdoor camping foods (both wet and freeze-dried varieties) and provided you with a short round up of how they taste and their nutritional value.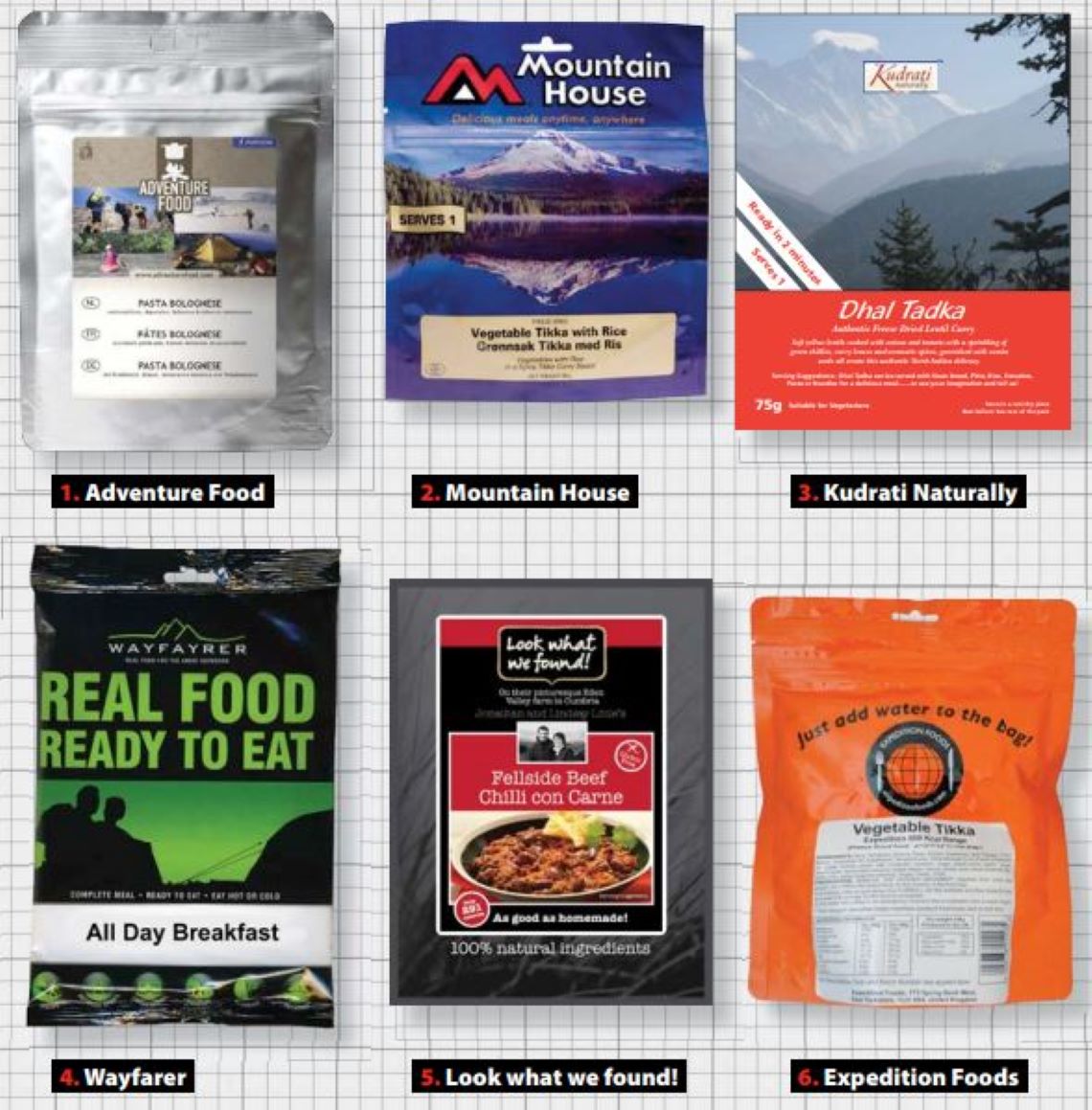 1. Adventure Food – €4.65 (£3.90) for a meal that serves one, €6.75 (£5.70) for a meal that serves two Serving size: 120g www.adventurefood.com
Adventure Food freeze-dried meals offer a good-sized, satisfying meal that's surprisingly tasty. They have high calorific value (round about 650 kcal per meal – that's equivalent to what you'd burn on a hour-long push bike ride), fats and carbs, to replenish your energy supplies after a long day on the bike. Adventure Foods also offer dishes for vegans, vegetarians and people on a gluten-free diet.
In a line: A very tasty and easy to make dry meal that provides a good amount of calories and fat.
2. Mountain House freeze dried food – £4.99 for a meal that serves one, £7.49 for a meal that serves two Serving size: 100g www.mountainhouse.com
Delicious freeze-dried food that provides a fantastic amount of calories: (508kcal), fat (30.6g) and carbs (27.1g) for a 100g scrambled egg, ham and potato meal. Easy to make, just add water and leave for eight minutes. The one I tried didn't have a fill level on it though, so I ended up putting too much water in, a schoolboy error.
In a line: A sufficient 500 calories per great-tasting meal.
3. Kudrati Naturally freeze dried curries – £3.25 Serving size: 75g www.kudrati.com
Kudrati Naturally freeze-dried curries are relatively new to the UK. They were conceived when the manufacturer's daughter came to Britain and missed her foods from home. A great thing about the Kudrati meals is that most of them are ready to eat as soon as you add water; all you need to do is stir. I tried the Spinach, pea and corn curry meal. It's not the best tasting out of the ones on test, but it's still enjoyable.
In a line: Tastier than it looks and very easy to make.
4. Wayfayrer wet food – £4 Serving size: 300g www.wrestlerfoods.com
Very tasty wet food that offers a good amount of calories: (408kcal), fat (18.6g) and carbs (33.9g) and is prepared by cooking in a pan. Wayfayrer foods can also be eaten cold which is great for times when you run out of gas, or can't use your stove.
In a line: Tasty, nutritious foods that can be eaten hot or cold.
5. Look what we found! Wet food – £3.99 Serving size: 300g www.lookwhatwefound.co.uk
Amazingly tasty real food that's been cooked and stored in airtight packaging. Re-heats in a pan in no time at all and is available in some extravagant sounding flavour combinations like Rosé Veal, Gloucestershire Old Spot Pork meatballs, and Beef and Basil meatballs, which was a particular favourite. While they're incredibly satisfying, they don't offer much in terms of nutrition, though, with just 300kcals or so per pack.
In a line: Not the best for calories, but they taste so good you'll be eating more than one anyway.
6. Expedition Foods – £5.99 Serving size: 156g www.expeditionfoods.com
Expedition Foods' meals win the calorie competition plates down. The company does a range of 800kcal meals (that's more than an hour's running), from which I tried the Vegetable Tikka – impressive that there's a vegetarian option that still holds so many calories. I'm not a veggie but this stuff is seriously nice, and I didn't even miss the meat. The meals are easy to make – just add hot water, and you can even eat them with cold water in emergencies.
In a line: The don of calorie providers.