Just over 18 months ago, I was on the look-out for a new bike. My friend had just bought a KTM990 adventurer in full Batman spec with sexy bits, and sexier noisy bits on top of those, and I was drooling with envy and anticipation over my next biking relationship. It had never occurred to me to follow the European masses and visit BMW Land. I've previously been drawn towards the evocative and imaginative brands like Harley. However by pure quirk of fate I was at an old friend's house a few weeks later and as he rolled back the double doors of his man-cave I was presented with his virtually unused F800 GS in full battleship attire. Having been told it was being part exchanged for a very low figure in a few days I decided to forgo some emotions and plumb for the good deal option this time, something I hoped I wouldn't regret – especially as I hadn't even ridden an F800 before buying it! I was banking on those countless BMW riders not all being wrong…
PERFORMANCE
The F800 is one of those good little 'uns to set the tone. Lively and torquey enough to carry a load and a pillion without feeling like it's had a cylinder removed. More balanced and smoother than its infamous big brother the GS1200, cruising comfort is maxed out at 85mph loaded and will sit at a ton if you want but not much beyond as the aero and handling hold back the eager engine. Overall it does well in the company of larger 1000cc bikes and its trump card is the exceptionally good fuel economy, which was a constant talking point with my friends every time we went on a trip.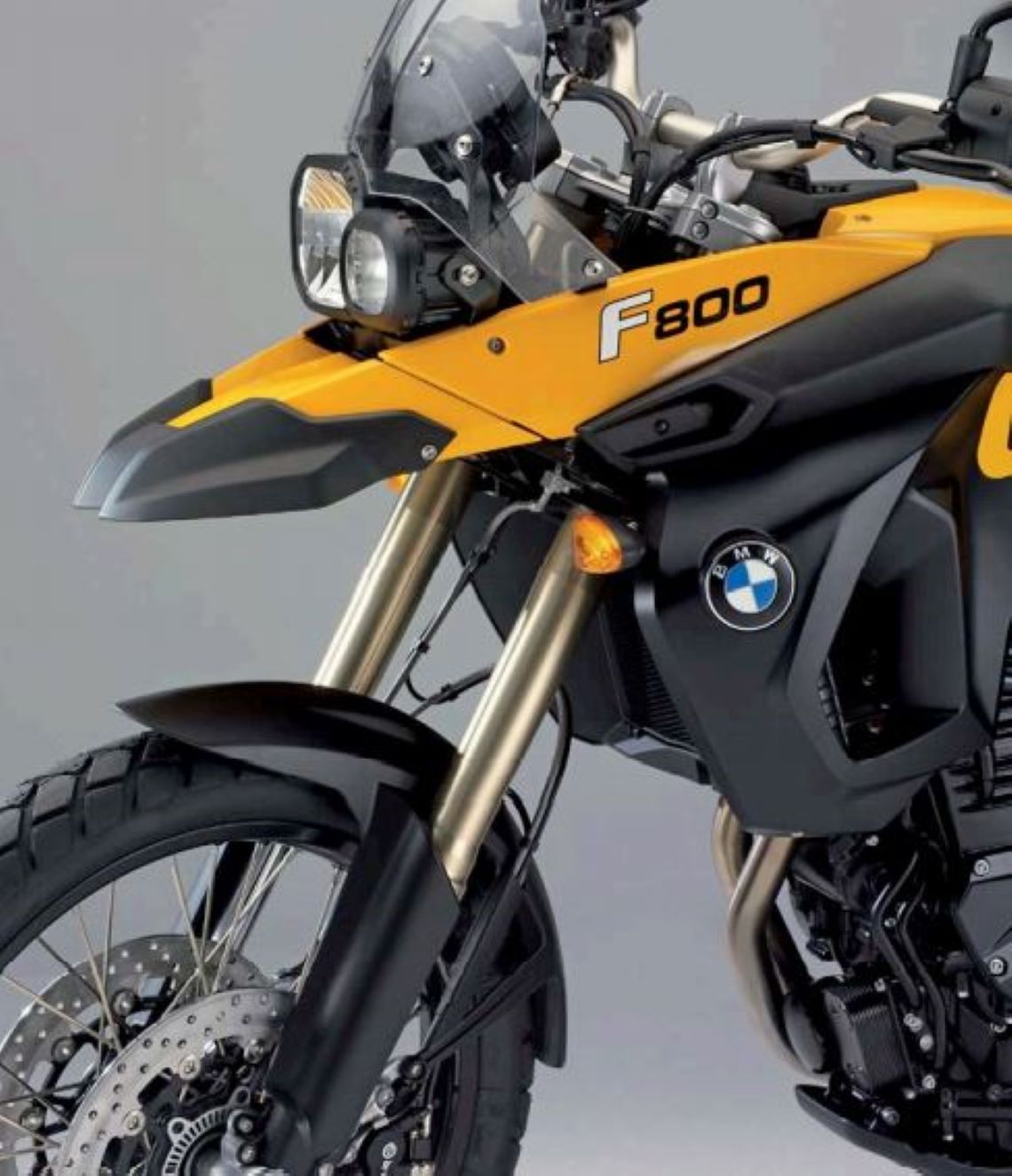 HANDLING
As a lighter and narrower bike it has the benefit of being easy to use; it's terrific around town and accurate to all of the rider's inputs. A low-speed and manoeuvring prince, it suffers when ridden hard on motorways at higher speeds, and feels like a little bike playing with the big boys at times in excess of 80mph. The standard screen is poor and even the biggest upgrades only allow you to get to an acceptable level of protection rather than a desirable one.
COMFORT
The standard seat is adequate but a bit narrow and tall for some, and after 200 miles it isn't the most forgiving compared to other bikes on the market. This is where the small enduro DNA traits that it clings onto are exposed. In order to maintain its dynamic off-road qualities there are the usual sacrifices in chassis weigh, faring protection and size, which would help improve the cruising – but of course, that would also make it a GS1200, give or take. Suspension is good and accommodates loads and pillions without flinching or showing signs of limitations.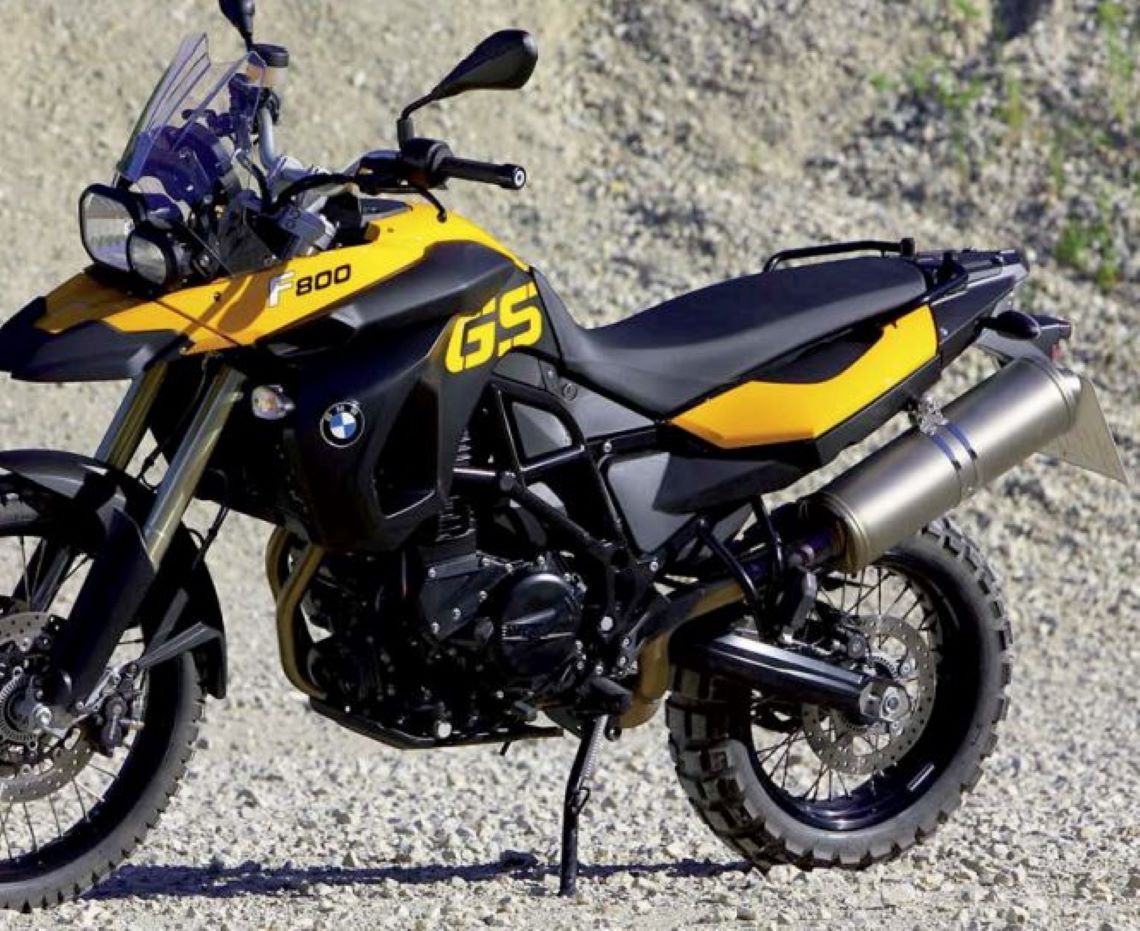 OFF ROAD
Now we're talking. If you go off piste and want to tour as well then this bike comes to life and scores highly. Unlike the GS1200 it's more than manageable for one person to pick up out of the ditch and because it's smaller and lighter you can play with the KTM heroes as well. For combined on-and off-road touring the F800 certainly starts to make a lot of sense.
LOAD LUGGER
One obvious factor is that there are endless accessories for BMW bikes and this means that you can get your pannier options and set-up spot-on for loading up and carrying a pillion. What I wasn't expecting at all, however, was how well the chassis would behave with the load on board. Feedback through the front wheel is excellent and the balance across the bike has been very well designed. This bike was a surprising bonus for two-up riding or heavily equipped long-distance touring.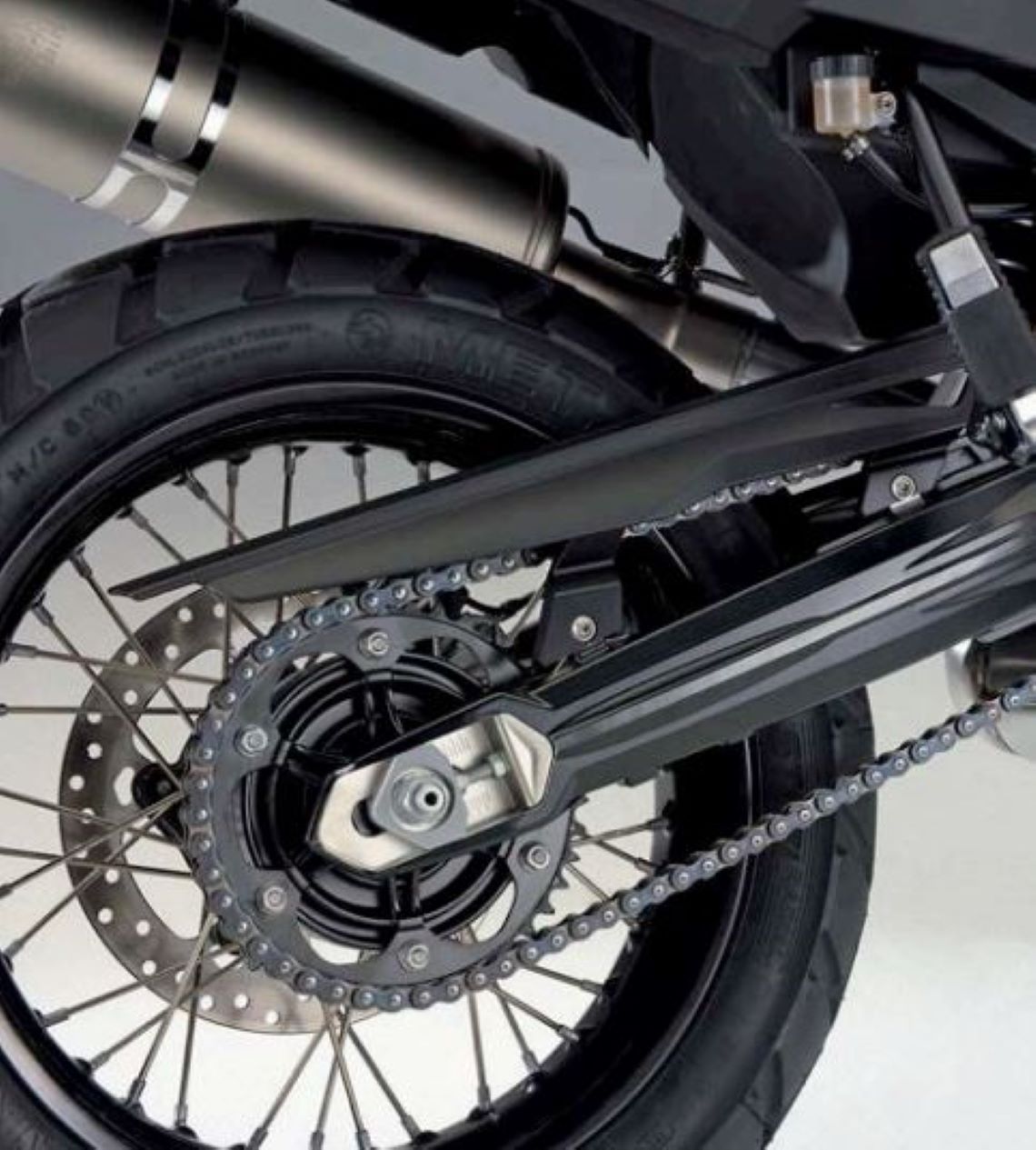 VERDICT
I now understand why there are so many on the roads. The dealer network is unsurpassed and frankly the bike is bombproof, not even a flinch in 8,000 tough miles. In truth, I wouldn't give the F800 GS five stars for anything other than fuel economy, but it gets four stars for everything else. The F800 GS is a strong silver medallist for me, and few bikes can compete for that kind of overall satisfaction. If you're king of the tarmac, buy the more comfortable GS1200 or one of the other big boys like the Tenere. If you fancy getting your visor dirty then this is a great balanced option. I'd have another one, no problem.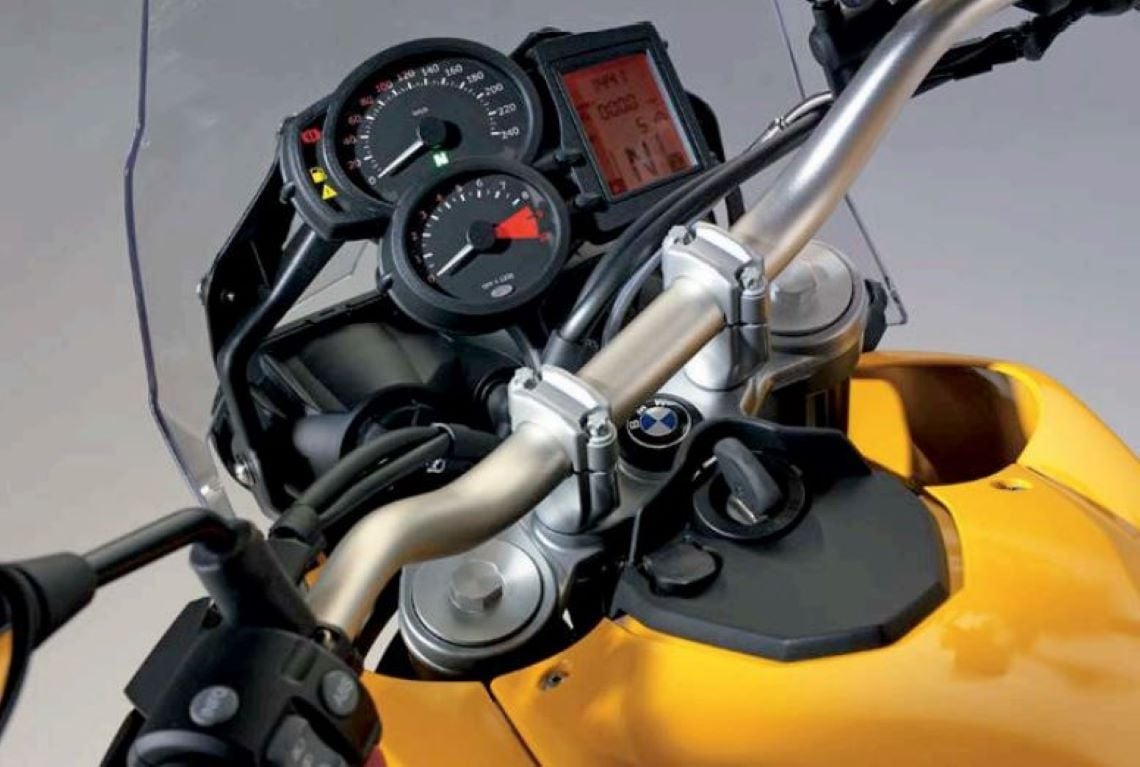 RATINGS (out of 5)
As a long-distance tourer: 4
Off-road capability: 4
Around town: 4
Accessory availability: 4
Reliability: 4
Handling: 4
Engine: 4
Fuel economy: 5
Value for money: 4
Overall rating: 4
THE STATS
Manufacturer: BMW Model: F800GS
List price: £7,780 Top speed: 180mph
Insurance group: 12
Engine size: 798 cc
Engine type: Water-cooled, 2-cylinder, 4-stroke, four valves per cylinder, two overhead camshafts, dry sump lubrication Compression ratio: 12.0 : 1 BH power: 85
Torque: 60ftlb
Gears: Six
Seat height: 880mm (low seat: 850mm)
Dry weight: 185kg
Front suspension: Upside-down front fork, Ø 45 mm
Rear suspension: Double-sided aluminium swing arm, WAD strut (travel related damping), spring pre-load hydraulically adjustable (continuously variable) at handwheel, rebound damping adjustable
Front tyre size: 90/90 – 21 54V Rear tyre size: 150/70 – 17 69V
Brakes: Front: Twin disc, floating brake discs, diameter 300 mm, double-piston floating callipers
Rear: Single disc, diameter 265 mm, single-piston floating caliper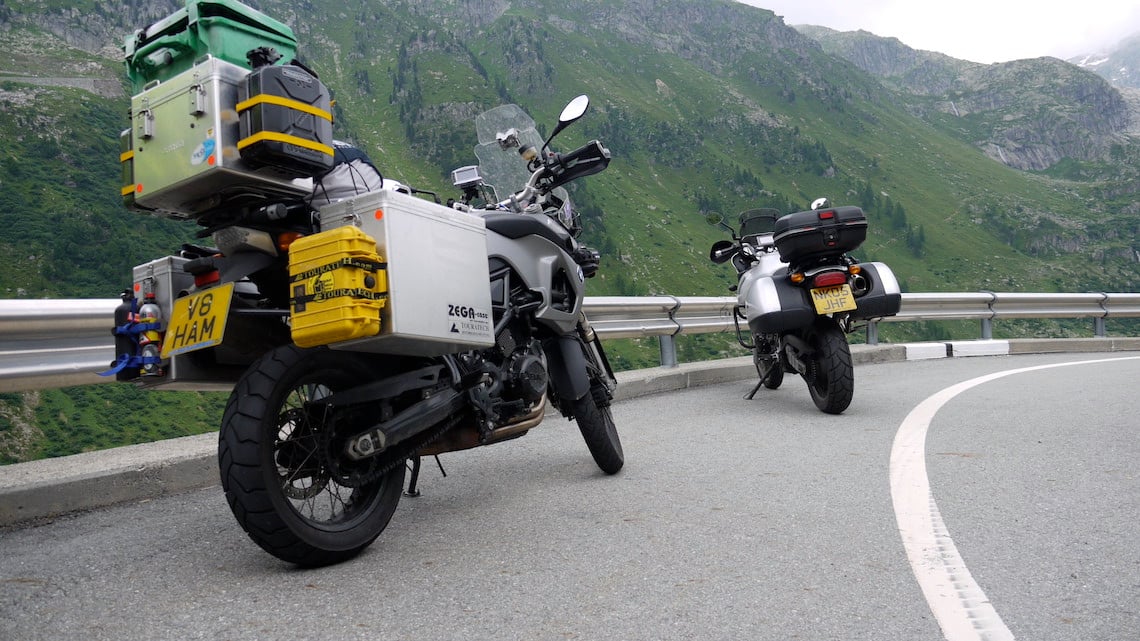 IN SHORT
The school report says, "Young Master F800 is at times a dull lad and plods quietly along with the others. He never fails to score a B+ in any assigned task, however, and is extremely dependable and consistent."
TIME OWNED 18 MONTHS
MILEAGE 8,450 MILES
MAINTENANCE COSTS £0
I LIKE Does its job without a fuss no matter what terrain I throw at it. ABS is good, great sense of reliability and good build quality
I DISLIKE Indicator controls are poorly designed and positioned; wind protection is limited. Costly to buy new and options are expensive
IN A LINE If you're just getting started and want a safe place to put your money, then this is a simple and dependable choice that will do it all each and every time
Top 5 Beemerisms
You look like everyone else on a BMW. So what? It's a bloody good bike
If it ever breaks, you can get it fixed. Not that it will ever break, of course
Just like the German football team, no one really understands why they are so good, but they are
If you like farkling then it's heaven on two wheels
Costly to buy but high residuals mean cost of overall ownership are very good