So, you want to go to a winter rally in Europe but either don't know where to start or have been put off by tales of horrendous weather and drunks burning your tent? It's easy, just book the ferry, load your bike and go. The Elefantentreffen (Elephant Rally) is the most famous so I'll stick to describing that one, so without further adoo, here's my guide to the Elephant Rally.
What exactly is the Elephant Rally?
The Elephant Rally is a motorcycle rally that takes place in the Bavarian Forest of eastern Germany, usually on the last weekend of January or first weekend of February. For 2018, it is being held on the weekend of 2-4 February. Organised by the Federal Association of Motorcycle Riders in Germany, 2018's event marks the 62nd anniversary of the rally since its inception in 1956. The rally takes place in the harsh German winter, and often draws between 5,000-10,000 hardy attendees every year. It is renowned for the bitter conditions in which it is staged, with snow and freezing temperatures a hallmark of the event.
According to the rules of the rally, participants are allowed only to bring street-legal motorcycles/sidecars onto the campsite and all camping gear must be carried in on them. The rules have been introduced to return to the event's original roots by ensuring there are no elaborate tents or trailers present. Well, you wouldn't want to get too comfortable, would you?

As it's organised by the German Federal Association of Motorcycle Riders, all the information regarding when and where it is is on their website, but the basics are that it's in Solla (Bavaria), east Germany. Get close and you can follow other bikes, it really is that simple.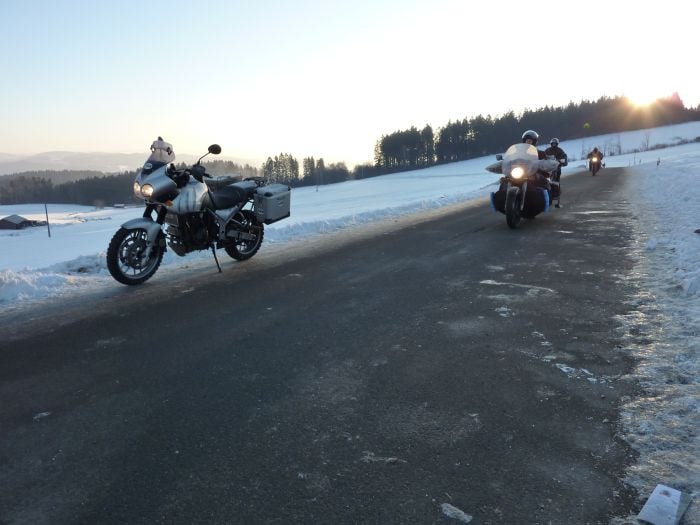 When you're near to the rally site, there'll usually be enough bikers who know the way that you can follow
How to get to the Elephant Rally
There are so many choices that you need to just pick the one that fits your budget and where you live. We usually use the Harwich to Hook ferry because it's easy and we can drink beer on the boat and then get up and go in the morning for the long slog across Germany.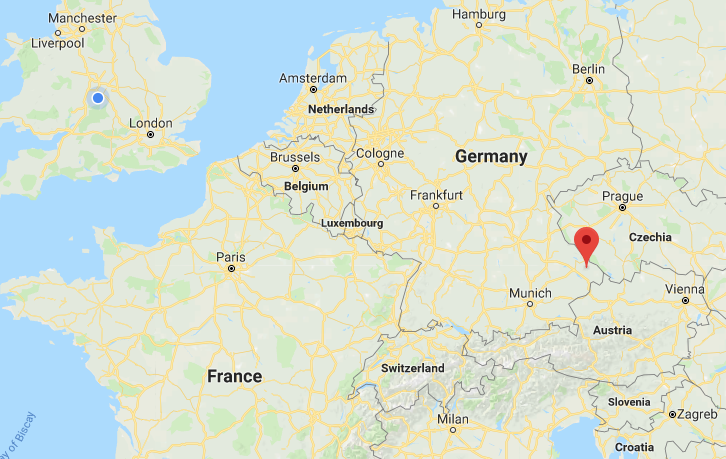 This map shows where in Germany the Elephant Rally is held
I always recommend getting to the rally by early afternoon on the Thursday or you'll end up sleeping on a steep, uncomfortable hill. That means getting a Tuesday evening ferry. The group I go with always stop near Wurzburg on Wednesday night and then do the last part on Thursday morning. That gives you roughly 370 miles from Hook to the hotel then 170 the next day. These are easy miles no matter what the weather.
Once you get to the nearest village, you'll see a lot of cars being parked and trailers unloaded, and from that point onwards it's bikes only. This road can get a bit nasty because it's exposed to sidewinds and snow can blow over and then freeze, but it's not far and suddenly you're sheltered by trees either side and nearly there.
You'll normally start to see bikes parked up as you get near a couple of houses, so unless you plan to take your bike onto the site then park up and carry on walking down the hill to the main entrance where you pay. Once you've paid there's a beer hut to your left, go and have a beer, you will have earnt it!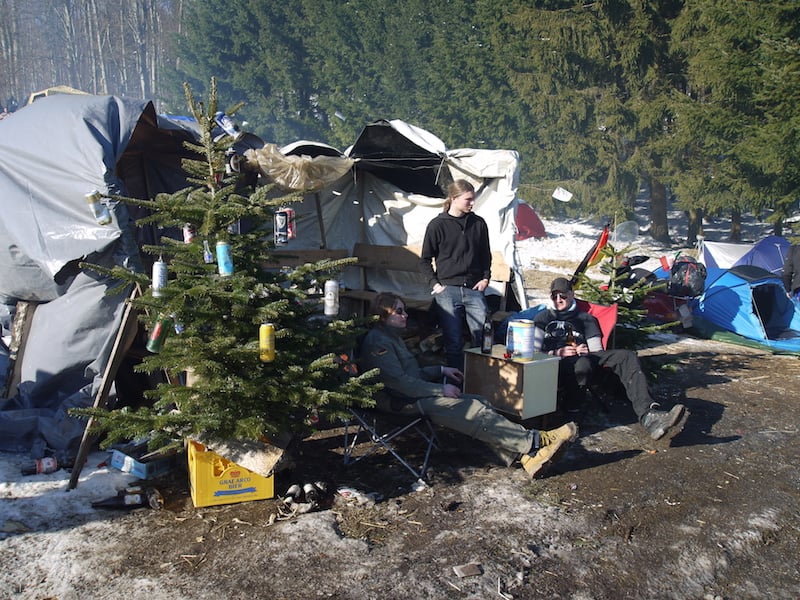 What to expect when you get to the Elephant Rally
Just past the entrance, as you walk into the site, there'll be a spot selling bales of straw. Buy one and spread it under your tent, it's the best insulation you can get. The next decision is where to camp; we always walk back up the hill to a small Imbis (beer and food hut) and camp below the hut where it's close to being flat. You can't pay at the Imbis, but you can walk in and out just by showing your wristband. If you want more of the action and atmosphere then camp in the obvious main area. It's up to you.
Remember, this is a 'traditional' rally so there'll be a couple of chemical toilets, a few stands selling beer and bratwurst and that's it. There is a better toilet by the entrance where you pay a Euro for a dump, but there'll be a queue so don't leave it until the last minute.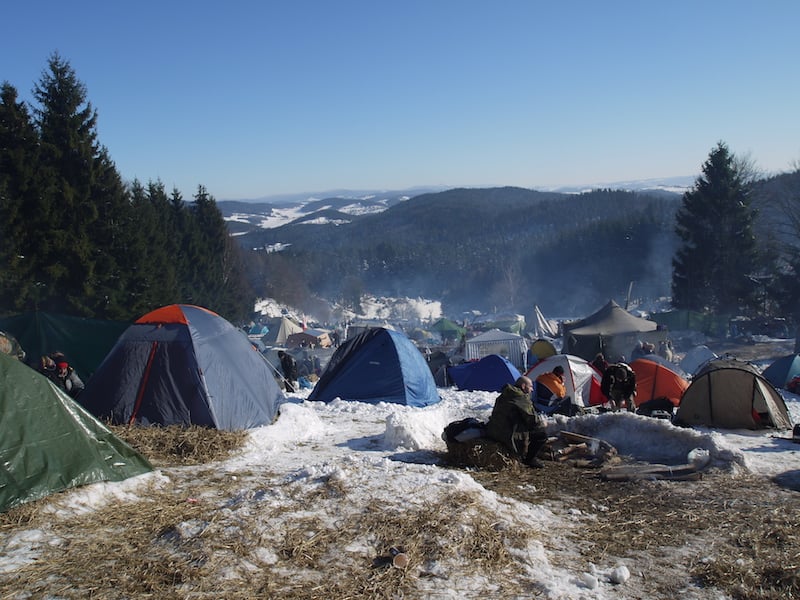 I take a couple of boil in the bag ready meals and rely on the food I can buy there to keep me going, but I'm not a fussy eater so whether or not to take a lot of food is up to the individual. I always take a petrol stove for making a brew in the morning. You can take gas but if the temperatures drop right down it'll freeze and, assuming you've gone on your bike, you've got a ready supply of unleaded to fuel your petrol stove.
You buy wood for a fire next to the entrance, though sometimes the organisers bring a trailer through with a supply on it. Buy plenty and you'll often find that you'll be invited by other groups to share their fire and pool your firewood supply with theirs. This is the best way forward.
We usually pack up and leave by lunchtime on Sunday when the riders with big miles ahead have already set off so that the road to the motorway is quieter. Stopping at the same place as we used outbound works well and it's a steady day Monday to catch the evening ferry home.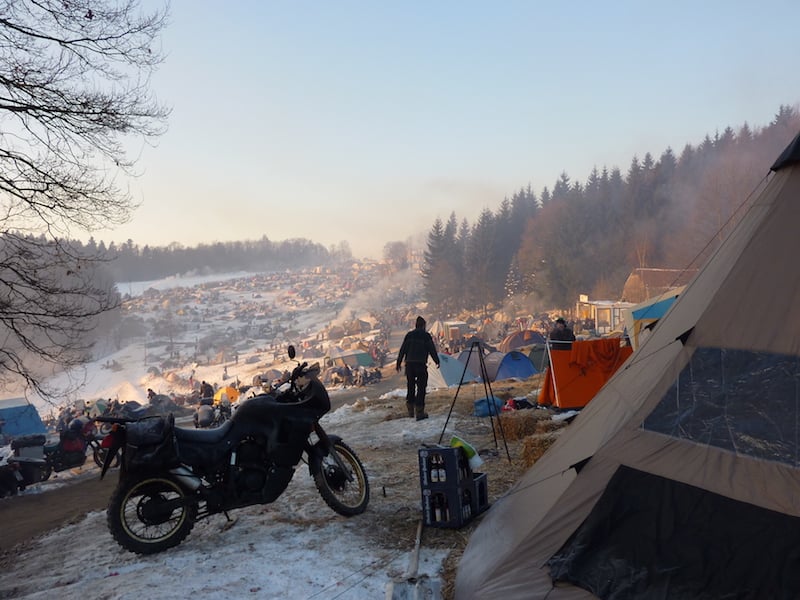 What bike is best for the Elephant Rally?
The choice of bike is easy; you either take what you've already got or buy a cheap trail bike and use that. It's a long way on motorways, so at least 600cc makes it easier, but you can do it on any bike as long as you accept you might drop it on ice and the salt on the roads will eat it.
If you've got older bike kit then use it because the smoke from the fires will leave it stinking for ages, no matter how well you wash it. In terms of clothing, effective layers are your friend though if you can afford it heated gear is nice to have. Check out this piece on how to stay warm as well. Put a pair of bar muffs on your bike and your gloves will stay dry if it rains, plus your hands will be a lot warmer.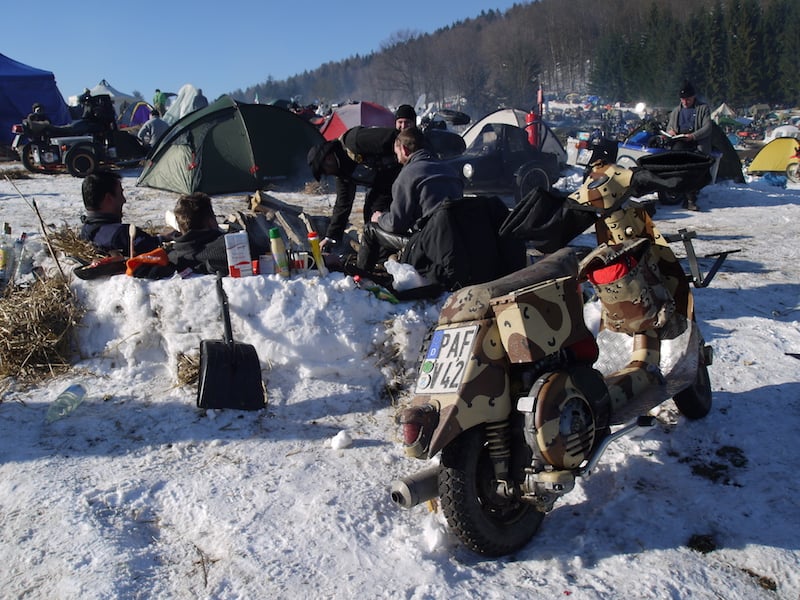 Practically any tent will do the job, but avoid fibreglass poles if you can because they have a tendency to split when under tension in very cold conditions. A four-seasons sleeping bag with a liner will keep you warm and the liner means you can go to bed fully clothed if you want and not wreck that expensive bag. Don't take an airbed. They're crap because you're sleeping on a four-inch layer of cold air. A closed cell mat is what you want, and there are plenty of them to choose from.
It really is that easy.