ABR readers have been in touch to tell us all about their latest adventures…
Route des Grandes Alpes
Here are some photos from my recent Route des Grande Alpes trip in October, largely following the D902, riding 820 miles over five days, on ski-runs, gravel tracks and even tarmac across the Alps and onto the 2,400m Colle des Assietta in Italy (where I met a couple of very friendly Austrians on KTM's). It was probably my best trip ever with conditions ranging from snow, ice, rain and dense cloud to blazing sunshine and terrific vistas. Keep up the good work and I hope to see you at a show soon.
Paul Hooper
---
Turkey and back
Got a copy of ABR at the airport when I flew to Turkey for a fortnight with the wife. Was just here four months ago on a six and a half week trip on my Triumph Trophy, covering 9,200 miles. Went across to Calais then east through Germany and Poland, into Ukraine, south to Romania and Bulgaria then across the Black Sea coast of Turkey into Georgia and Armenia. Around Lake Sevan then back into Georgia and Turkey towards the Syria/Iran border.
West through central Turkey to Kalkan where the wife joined me for a week, then up the west coast to Gallipoli, 100 years after the Anzac landings, across Greece into Macedonia and Albania then up the Croatian coast and across the Grossglockner to home. I have been travelling abroad on my bike since 1980 when I was 19, and have always been restricted by work, only managing four-week trips a few times.
I've probably been abroad 50 odd times, usually as the organiser! I've also been to the Nordkapp twice in the last two years.
Gary Emerson
---
Pigging out in Andalucia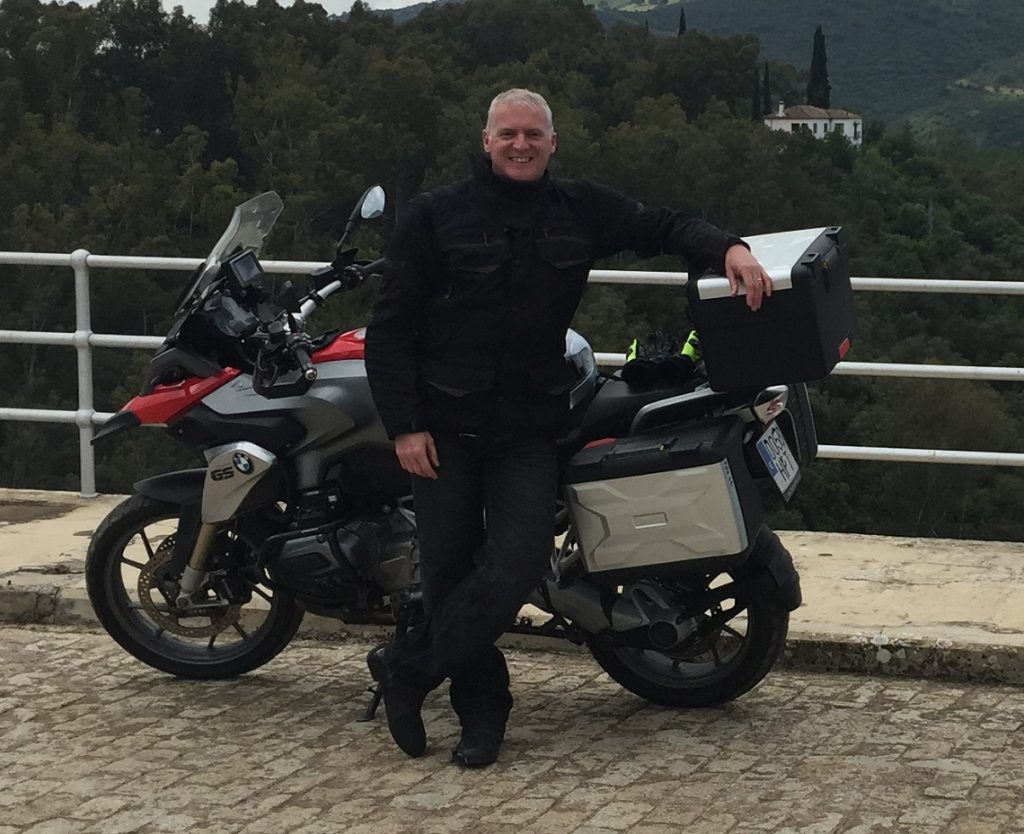 Great magazine guys, I really wish it was published monthly. This picture is of me and my mate Scott on our rented GSs on a six-day trip around Andalucia this year. We took in the beautiful town of Ronda, crossed the Rio Tinto heading up to Aracena, across to Cazalla de la Sierra, down to Antequera, took in the beautiful lakes around Iznajar, en-route to crossing the Sierra Nevada on the wonderful A337, then up to Colmenar from the coast road and returned on the 'must ride' A7000 back to Malaga.
We covered 1,100 miles on what became effectively a gastro tour, even taking in a tour of the ibérico ham museum in Aracena. We hired the bikes from BMW Motohire in Malaga, great guys and the bikes were well prepared. I kept a travel diary of the roads, hotels and restaurants we used if required. The roads, people, scenery and food were all fantastic and we will be doing it again.
It's a relaxing tour unlike some of our more adventurous tours!
Rob Hilton
---
From Our Social Media
| | | |
| --- | --- | --- |
| @BikerMissus- Twitter | @canazei750 – Twitter | Dag Adamson – Facebook |
| | | |
| --- | --- | --- |
| Justin White – Facebook | Jason Scotton – Facebook | Kev O'Keeffe – Facebook |
We want to hear from you…
Want to see your name in the magazine and win a year's subscription? At Adventure Bike Rider we love to hear from our readers, so if you're planning an adventure, want to tell us about a previous one, or just want to share your thoughts on anything bike related, get in touch!
Send your letters to [email protected] and if yours is chosen as 'star letter' you'll win a year's subscription to Adventure Bike Rider magazine.