Emily-Jane Brain rounds up the who's doing what where of the motorcycle touring world see giant panda, Chinese acrobats, and the Leshan Buddha before crossing into Laos and Thailand…
1. All-new GlobeBusting Routes for 2012!
From the ABR-ing travel experts who pioneered Alaska to Ushuaia and the '1DE' Discover Our Earth RTW tour come two new routes for 2012 – London to China and London to Singapore.
Led by record-breaking duo Kevin and Julia Sanders, the seven-week London to China expedition takes in Xi'an – home to the Terracotta Army, as well as Northern Silk Road, The Great Wall and the Ta'er Tibetan Monastery.
From London, the route goes through Europe and Ukraine, Russia and Kazakhstan, before reaching China, Xinjiang Province in week five. Urumqi, the capital of Xinjiang, is based in the foothills of the Tian Shan and riders will have the opportunity to explore the ancient city of Jiaohe, the Emin Minaret and the Flaming Mountains before heading on to Hexi Corridor, once the only western passage to and from Eastern China, and Qinghai Province.
ABRs will then follow the Silk Road to the remote town of Dunhuang , nestled near the Mingsha Sand Dunes and visit the Mogao Caves before riding on to Jiayugan with its impressive Ming dynasty fort which marks the symbolic end of the Great Wall. The final stop is Gansu and Shaanxi Province to visit Xi'an and one of the most famous archaeological finds in the world, The Terracotta Army.
For those who fancy taking their adventures a little further, London to Singapore follows the same route as above but takes in another seven weeks' worth of travel through Asia. Riders will cover China's Sichuan and Yunnan Provinces where they'll see giant panda, Chinese acrobats, and the Leshan Buddha before crossing into Laos, Thailand, Cambodia, Malaysia and finally Singapore, to explore the colonial island of Penang, Kuala Lumpur, and enjoy a well-earned Singapore Sling in the famous Raffles.
Accommodation for the duration of both London to China and London to Singapore is catered hotel B&B-style, so there's no wild camping or 'roughing it', although that doesn't mean the going will be easy. The lack of driver training, poor road conditions, shoddy vehicles, congestion and a total disregard for the rules of the road mean riders should expect what GlobeBusters calls 'combat motorcycling' once they leave Xinjiang Province.
Bikers must be confident road riders with advanced riding skills, have experience of riding over 400 miles in one day and have some training on unpaved roads. GlobeBusters also advises riders have some experience of riding overseas before tackling this trip; advanced road training and an FBOS first aid course are included in trip preparation.
The London to China tour leaves London on 4 June 2012 and ends 22 July 2012. Rider places are priced at £10,995 and pillions at £5,995 with a single supplement of £3,000. The London to Singapore tour leaves London on 4 June 2012 and ends 9 September 2012. Rider places are priced at £17,995 and pillions at £8,995 with a £5,000 single supplement. Places are currently available to book on both tours. For more, see www.globebusters.com or call 08452 304015.
2. Africa with Charley
How many times have you watched an episode of Long Way and thought, 'yup, piece of cake'? Well now's your chance to show Charley how it's done(!) and take in some of Africa's stunning scenery while you're at it.
Join Mr Boorman on a 16-day 5,000km round tour of Africa from Cape Town to Victoria falls and back, travelling through three countries on a BMW R1200GS or BMW F650 GS Dakar. Highlights of the tour include the Cape Winelands, Fish River Canyon, The Red Dunes at Sossusvlei and Sesriem Canyon, and meeting the Himba. ABRs will also have the chance to take a sunset cruise on the Kavango River, as well as a game drive in Etosha National Park for an audience with the elephant and hippo.
The five-star treatment doesn't stop there though. After a long day in the saddle, what better way to unwind than in one of Africa's top luxury hotels or lodges? En-route accommodations offer local cuisine, wines, and additional activities such as spas, golf and horseback riding. The trip also includes two days of off-road training with Dakar legend Simon Pavey at the BMW Off Road Skills School in Wales and all the back-up vehicles and kit you could ever need. This may not be for the hardened bivvy-bagging shelter-building 'go-it-alone' ABR, but if you've ever fancied chewing the fat with Charley over a sundowner and exploring a bit of the Dark Continent, this trip's sure to be a once in a lifetime experience. The tour departs Cape Town on 24 August and returns on 11 September 2011. Places are limited and cost €7,450 (£6,501) for bikers, €2,950 (£2,575) for pillions. See, www.charleyboorman.com for more.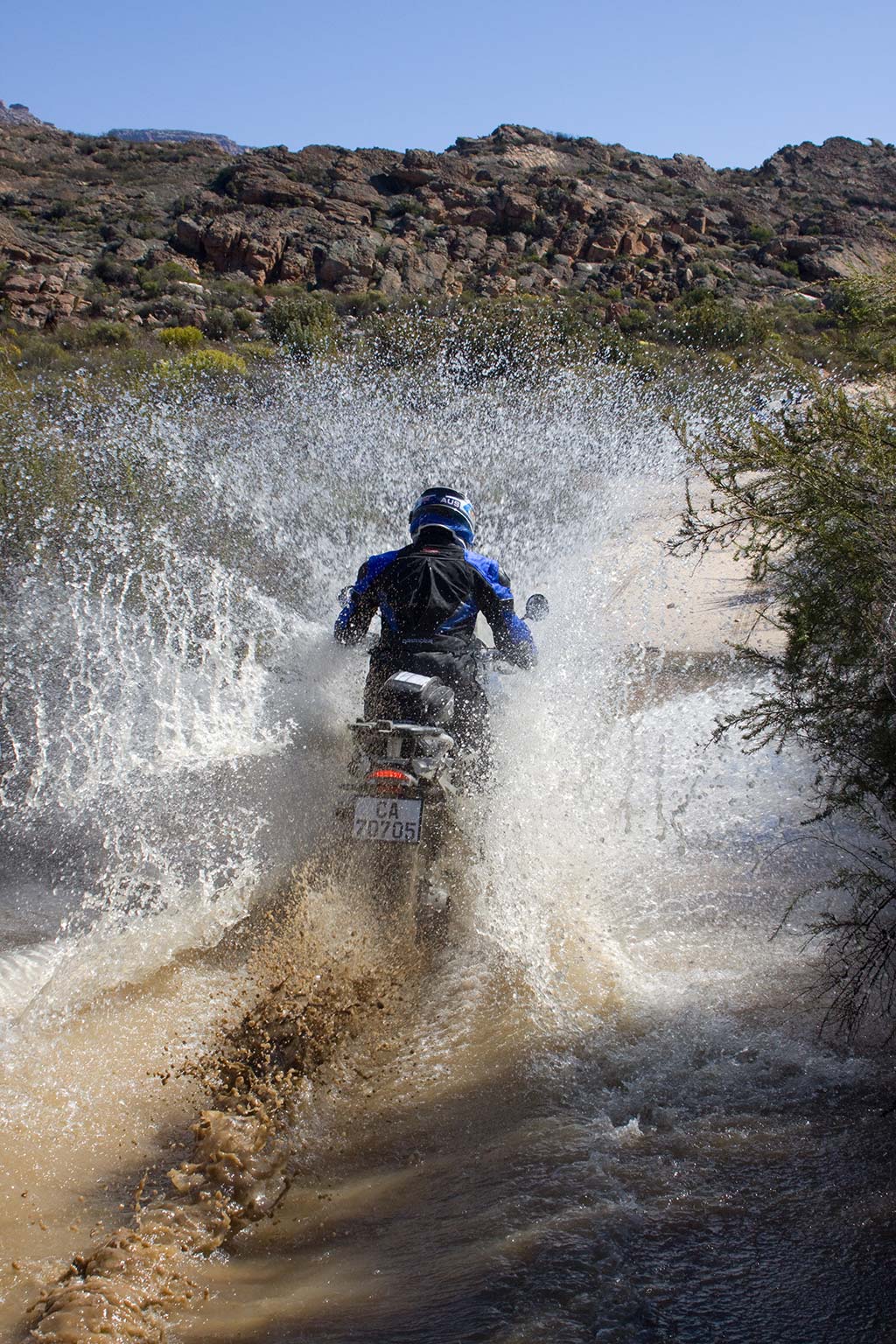 3. Explore Patagonia
Compass Expeditions' Explore Patagonia ride has been planned to celebrate as much of South America's stunning scenery as possible, from the great lakes and snow-capped peaks to breathtaking glacial vistas.
The 18-day route starts in the Chilean Lakes district town of Pucon and heads into Argentina and onto Bariloche, via the famous seven-lake ride. Journeying south, ABRs will have the chance to spend the night at a traditional and remote working Estancia (range) before riding on to Andes at El Chalten, the Moreno Glacier, and the Torres Del Paine National Park, which according to Compass will leave you 'awe struck'. There must be a grain of truth in that statement, too, because Explore Patagonia has just been awarded a spot in National Geographic's Tours of a Lifetime 2011 rundown. High praise indeed; these guys know a photo op when they see one.
The tour concludes, quite appropriately, with a day's ride across the Magellan Straits and onto Tierra del Fuego and Ushuaia, Fin del Mundo (end of the world) and the very end of the Pan American Highway.
Riders will be aboard one of Compass' BMW F650 GSs. Conditions are a mixed bag of potted narrow pavements and dirt roads with some sand, lose gravel and mud thrown in too. Wind and altitude can be factors on this ride and participants should have some degree of off-road experience. Dates for this tour are currently available for 3-20 Decemeber 2011; 13-30 November 2012; 3-20 December 2012; and February / March 2013. Prices start at $7,490.00 (£4,605) for a single rider. For more, see www.compassexpeditions.com