DANGER ZONE
East Timor may be the poorest nation on earth, but it's absolutely loaded with trails, says Ian Neubauer
"We advise you to exercise a high degree of caution in East Timor because of the uncertain security situation and the possibility of civil unrest," warns the Department of Foreign A­ffairs. "Pay close attention to your personal security and monitor the media for information about possible new risks."
'I dunno…' I think to myself as I read this. It sounds more like a challenge than a warning to me. But why not make it really interesting and throw a couple of dirt bikes into the mix? So, I got on the blower and started asking around if anyone had been there and the situ with bikes. My investigations led me to James Hawker, a veteran MX rider based in Darwin who's chased trails over East Timor and knows the place like the back of his hand. He suggested I call his mate Ian Zimmer, an agent with the Australian Federal Police in Dili. "A copper?" I asked, wary of his suggestion. "Yeah, mate," he said. "But don't sweat it. Zimmer's a top bloke and hits the trails every weekend. If you're into bikes, you'll get along like a house on fire."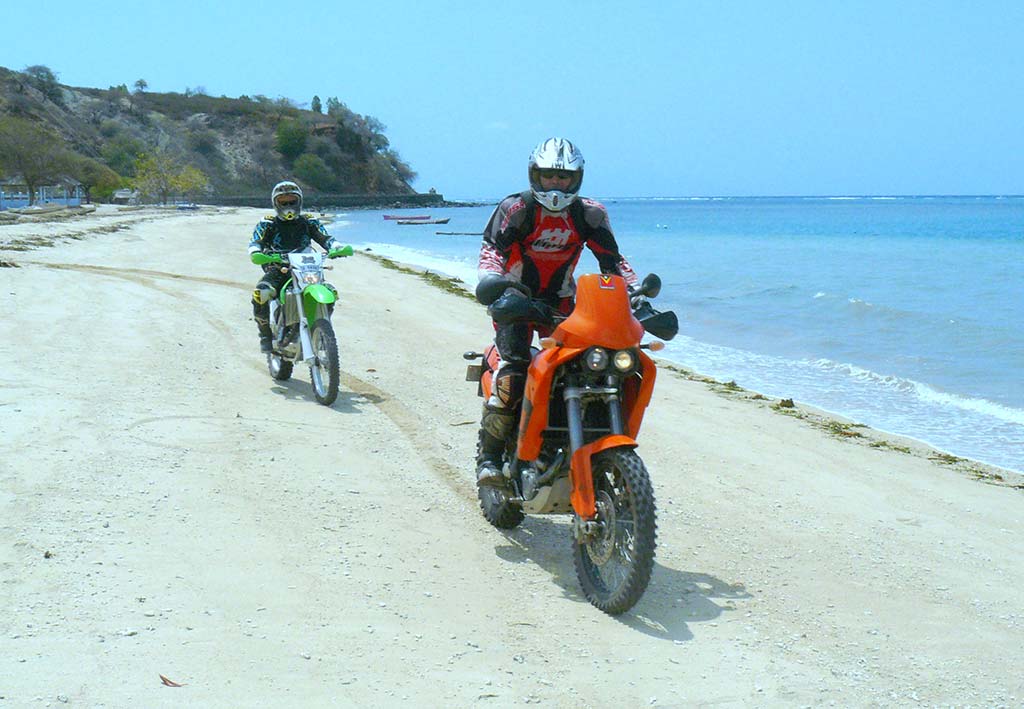 Interview With The Fuzz
The sting goes down on a balmy Thursday morning at the Dili Club, an Aussie themed bar on the main drag. It must also make the best doughnuts in town, because the place is crawling with police.
Zimmer is sitting on a table outside with two other cops: a clean-cut guy called Adam from Queensland and a slick looking Spaniard called Nazarió, or Nasi for short.
I take a seat, feeling a little uneasy about being in the presence of so many boys in blue. So I try to defuse the tension with a joke: "Last time I sat down with three policemen, it was under very different circumstances…" "We know," Zimmer answers. "We checked your record." We all pack up laughing, the ice is broken, and in no time, we're crapping on about bikes. Zimmer tells me he can't go riding this weekend, as he's off to the Moto GP in Kuala Lumpur. But Adam and Nasi are heading to the Indo border and I'm more than welcome to tag along. Plus, they've got a bike for me. "What is it?" I ask, hoping for a two-banger or an early model 250F, something light and nimble that'll skip across the trails. "A Kawasaki 650," Nasi replies. "It's a few years old and the rear brake has had it. But don't worry, my friend. It's a tractor – very strong."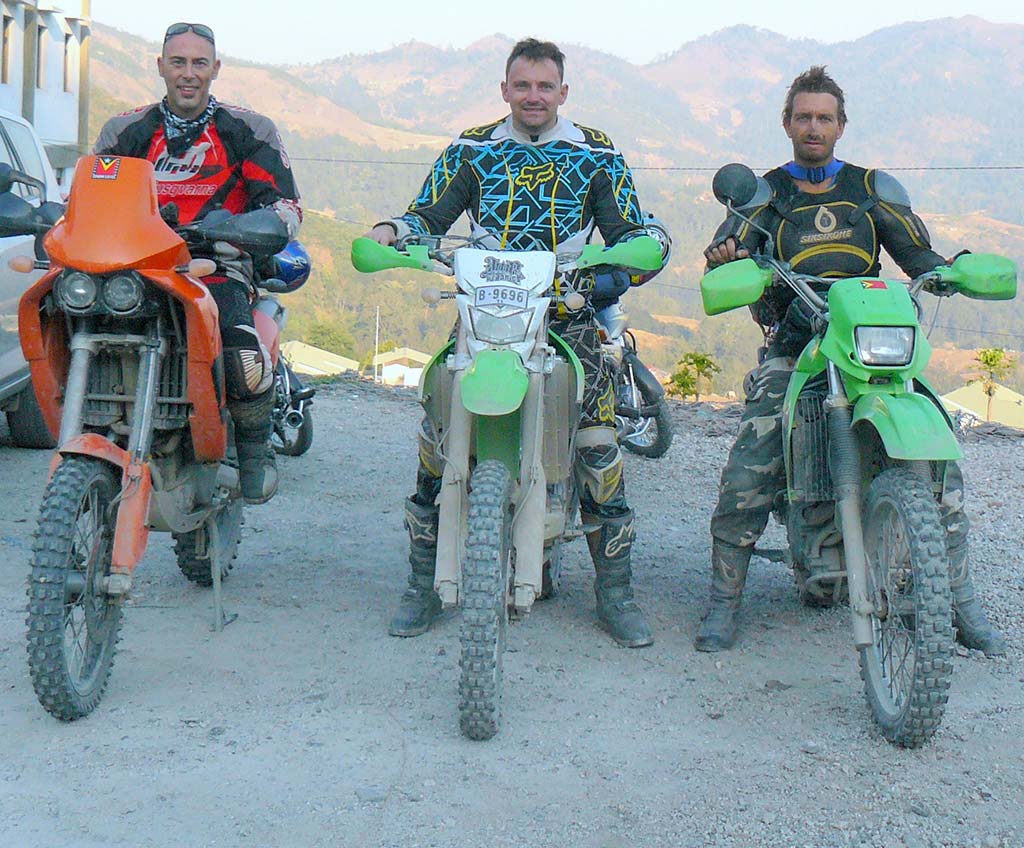 The Road To Balibo
We make a striking presence as we tear out of Dili: three kitted-up blokes on big bores – two green and one orange – in a country where the average donk is 100cc. The road is sealed but resembles an MX track in places, with plenty of roost and bitumen-edged whoops. But the big old Kwaka gobbles up everything in its path, just like Nasi said it would.
There are countless obstacles one has be wary of here: kids playing on the road side, water bufalo, pigs, goats, chickens (no problem there!), plagues of locust, random landslides and truckloads of soldiers on the move. But the deadliest of all are UN Land cruisers steered by inconsiderate morons who overtake at Mach 10.
The road hugs tall cliffs that bend along a coast fronted by sugar-white beaches and coral reefs. We pass the towns of Liquica and Maubara, and stop for a cold beer at a truck stop on the banks of the Loes River, which is dry as a bone at this time of year.
Unfortunately the truck stop is also dry and there's nothing cold to drink. All that's on offer are lukewarm soft drinks and chicken bits buzzing with flies. We settle for bottled water instead, and chew on a few bananas and biscuits for lunch. Adam pulls a massive wheelie as we take off, and the locals cheer and shout as if he'd won Finke.
We continue east to Atabae, where we turn inland onto a lesser road that climbs into the hills. Soon we're coasting through misty blue mountains pockmarked with eucalyptus species endemic to Timor.
Two hours later we reach Balibo, where five Melbourne-based journalists were executed by Indonesian commandos in 1975. They were there to cover the 'secret' invasion of the half-island and thought their press credentials and Australian accents would keep them alive. A shop window in front of the house where they were killed now houses a shrine, with photographs of the fallen newsmen mounted in frames. 'They died in the pursuit of truth and the cause of freedom,' reads a plaque on the front door.
We spend a couple of hours exploring the hilltop town, taking in the old Portuguese fort and a memorial for Diggers who served here in 1999. We then head westbound toward the Nunura Plains, crossing a massive steel bridge.
We call it a day when we reach Maliana, a one-horse town set on the foothills of the colossal mountain range bordering Indonesian controlled West Timor. We'll be heading that way tomorrow, on a route the guys tell me offers the best scenery – and toughest terrain – in the land.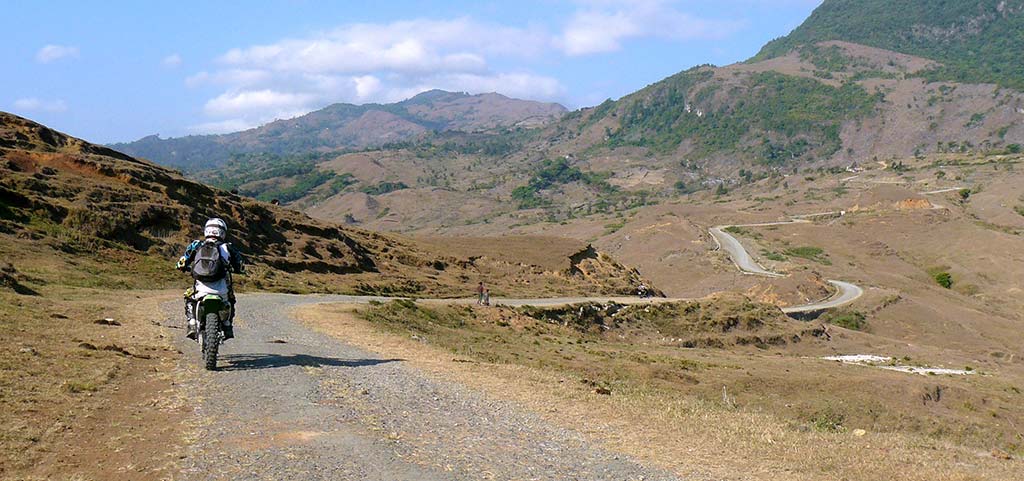 The Indo Border Run
We cruise down to Maliana's market at dawn, grab some coffee and bread rolls and immediately head of. The road is carpeted in little stones, with hairpin turns and slippery inclines. We're traversing what's known as the most 'hilled and vallied' country on earth, a place of ever-changing microclimates and summits ringed with clouds. We pass destitute villages where locals stare at us open-mouthed, wondering what our mission could possibly be.
Human activity fades as we approach the border; there's nothing here but wild goats and ponies. Indonesia starts a hundreds metres off the road, but there's no demarcation lines or sentry posts. (Nasi was sent here in 2005 to assess border security. His verdict: there was none. Nothing has changed.)
The road degrades to a shambles of sand, slate and rocks. There are sections where it has been washed away, falling a metre or more into the earth. Only tanks and dirt bikes could get through this, which is why the guys stick to big-bores. Smaller bikes wouldn't give the necessary ground clearance, or the grunt to climb these impossibly steep hills.
We reach the south coast at midday and stop at the town of Suai to fuel up. We grab lunch at a restaurant that Adam rates as one of the best outside Dili, meaning the beer is cold and the food is not.
We eat our full quickly and jump back on our bikes, as we've got another 200km to cover before dark. Though we do take a detour on our way out of town to see Suai's massive cathedral, which is under renovation. It was the sight of the single biggest massacre of 1999, when East Timor voted for independence and the Indonesian army made them pay. More than 100 unarmed refugees were hacked to death here, in what one can only write of as genuine madness – a blight on humanity.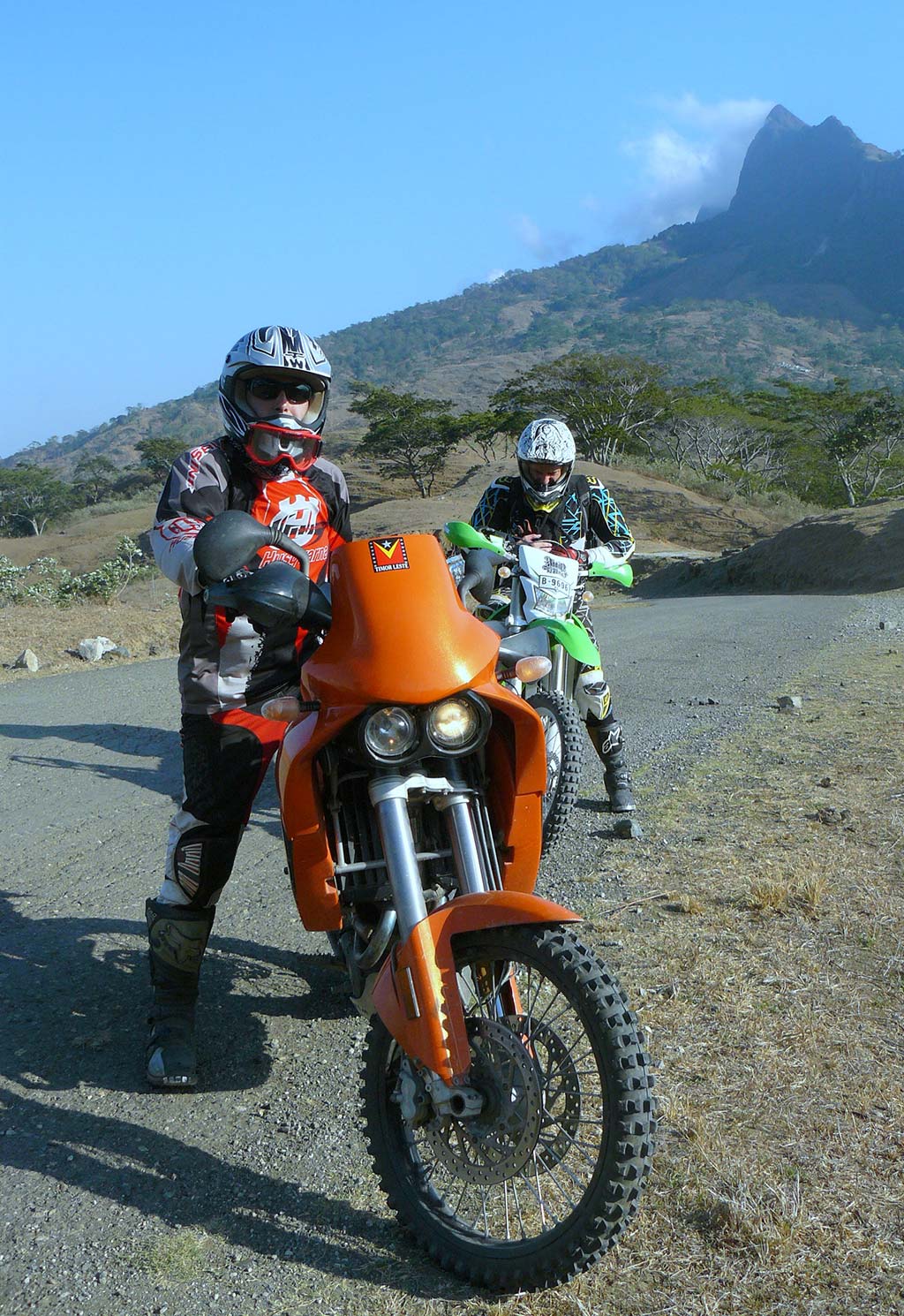 Where's Wally?
On leaving Suia we head east along the coast, crossing countless dry riverbeds and burning along long, dusty straights. The temperature soars past 30 degrees, and our Camelbaks run dry within the hour. It's a great relief when we veer north into the mountains of Ainaro, where the weather changes dramatically, and we shiver in the wind. But the scenery negates all discomfort; words can't do it justice, though the pics hopefully will.
I'm riding up front, taking it all in, when, without warning, disaster strikes. I'm about to take a blind corner, when some wally on a bike comes hurtling down the wrong side of the road. I slam on the front brakes – the only ones I have – and the Kwaka slides out under me. I land hard on the gravel but the Kwaka keeps going, bowling over said wally and his piss-ant bike. He emerges unscathed but I'm not so lucky; I've hyper-extended my thumb and torn a tendon in my calf.
What happens next leaves me shaking my head in disbelief. After checking to see I'm okay, Nasi and Adam strike up a conversation with the negligible rider. Hundreds of nosy villagers are gathering around, and I can sense the tension mounting in the air. A few seconds later, Nasi picks up my bike and tells me to burn rubber without looking back. We cover a few bends and dismount again, where I learn they gave the wally $5 (£3.30) for his trouble.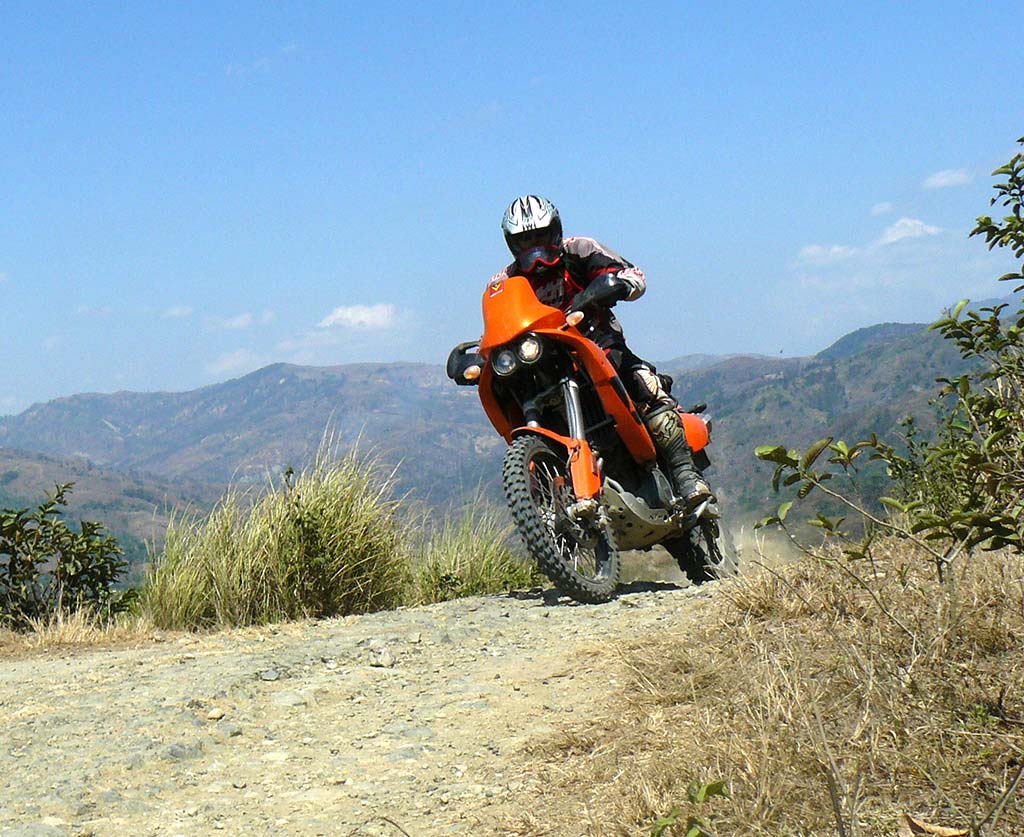 Adam explains why: "It was only a matter of time until some switched-on dude turned up and realised there was big money to be made. We could've been forced to hand over your bike. The rule here is that when a foreigner is involved in an accident, it's always their fault, because the mentality is they shouldn't have been here in the first place."
The remainder of the trip – 100km of hairpin turns – is a nightmare that never relents. With my leg rooted I can't stand on the pegs, and jarring pain shoots up my thumb with every bump on the road. It's well into the evening when we reach Dili, where I make a beeline for the Australian military hospital. I'm bruised and battered, in a foul mood, fantasizing about throttling the wally who did this to me. But it's part and parcel of riding in the third world, and all things considered, I got away relatively unscathed.
Given the chance, would I do it again? Too right, I would… in a heartbeat.
The road degrades to a shambles of sand, slate and rocks. Only tanks and dirt bikes could get through this…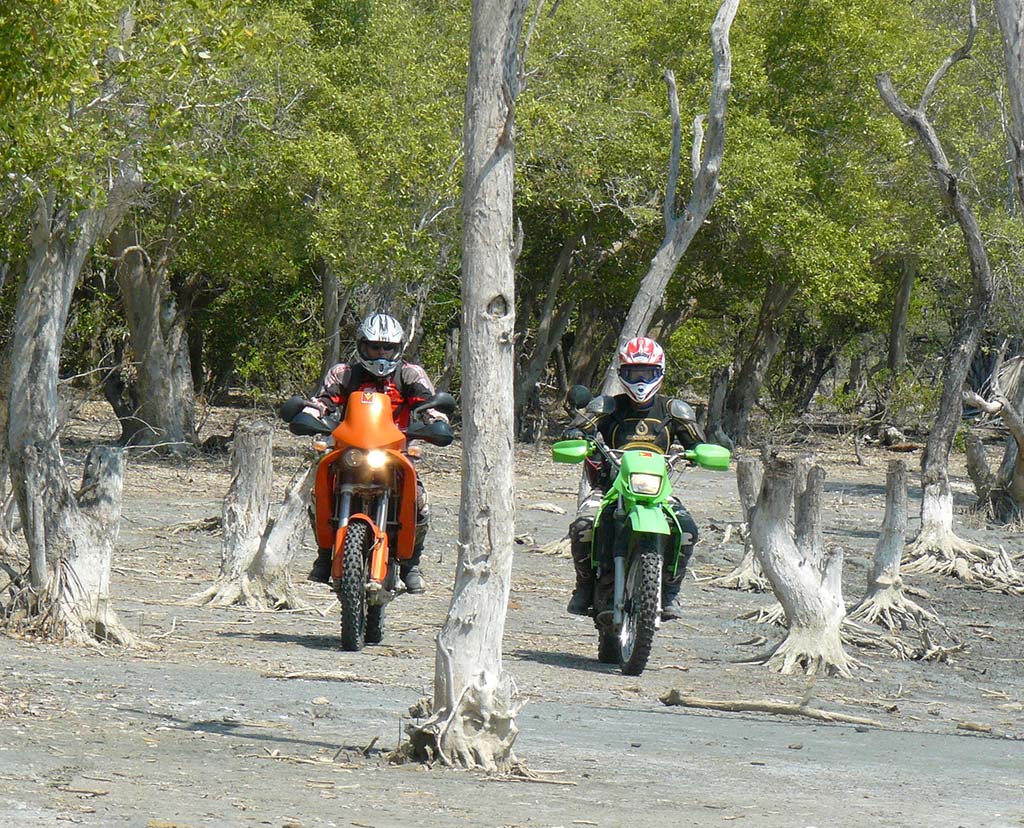 Stayin' Alive
East Timor's rugged interior makes for grand adventure – a place that can bring out the Indiana Jones in you. But it's a double-edged sword and things can easily go pear-shaped, so it's best to be prepared and then some. On this trip we were armed with an armada of safety equipment, including a medical kit with intravenous drips; a comprehensive toolkit with jumper cables; two spare tubes and one mobile phone per rider; a Garmin GPS; an Iridium satellite phone; and an Accusat emergency position indicating beacon. On pulling the switch, this GPS-enabled gadget sends out a radio message with your coordinates – accurate to the metre to a 24-hour monitoring station in New York. The monitoring station then contacts the beacon's registered owner, which in our case is the Australian Embassy in Dili. The embassy then gets in touch with the ISF (International Stability Force), which sends a chopper. Clever, eh? You don't want to set if off by accident, though. Doing that would set the Aussie taxpayer back 50 grand!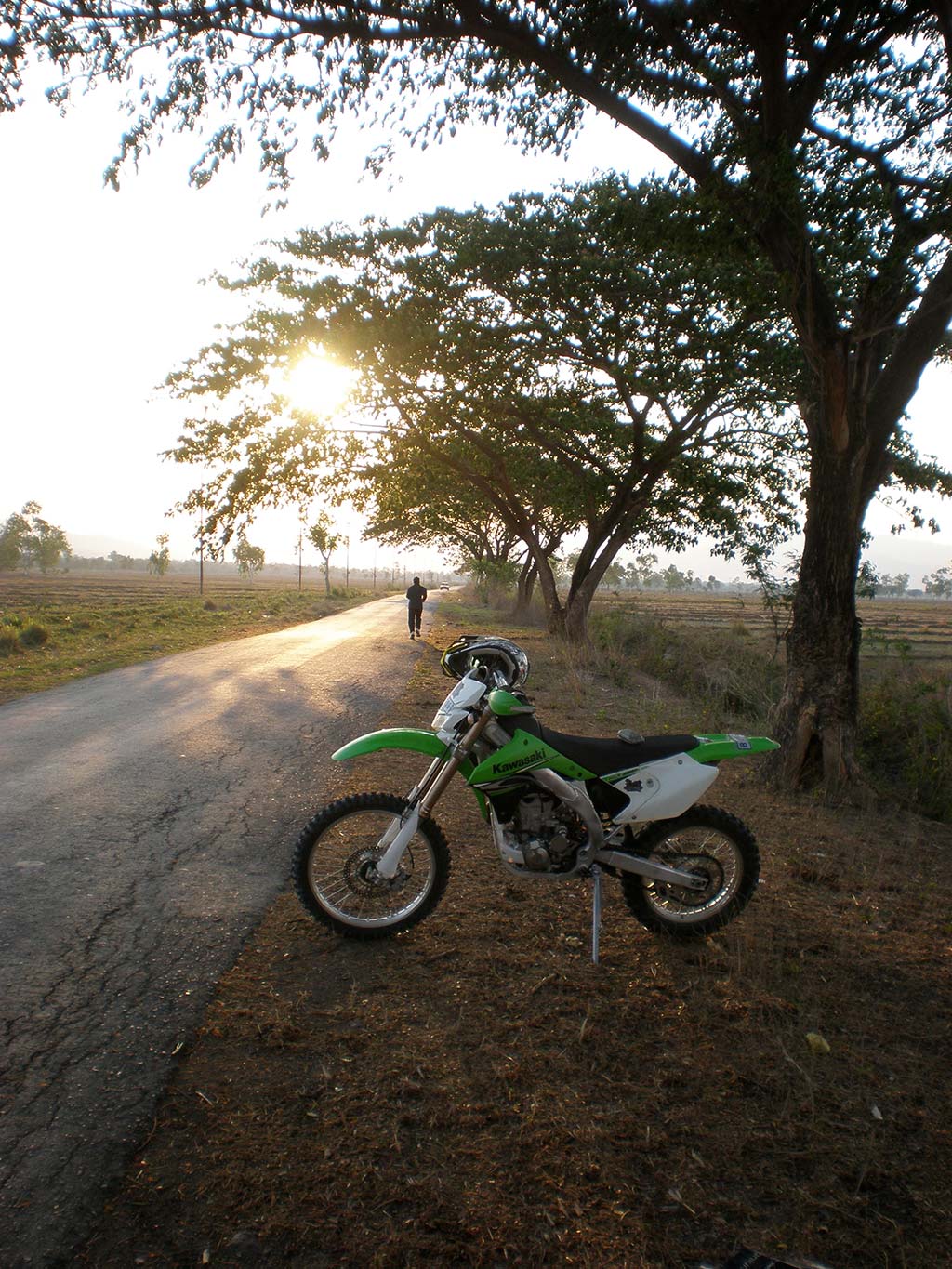 East Timor
Where?
East Timor (also known as the Democratic Republic of Timor-Leste) is a state in Southeast Asia. It can be found around 400 miles of the coast of Darwin, in Australia's Northern Territory
What?
The state is approximately 4,500 square miles and comprises the eastern side of the island of Timor and the islands of Atauro and Jaco, along with Oecusse, an exclave on the north-west Indionisian side of West Timor. The capitol is Dili, loacted on the north-east coast
Who?
East Timor was first colonised by the Portuguese in the 16th Century. In 1975, the country declared its independence, but was later invaded and occupied by Indonesia later that same year, becoming Indonesia's 27th province in 1976. In 1999, Indonesia relinquished control of the state following a United Nations sponsored act of self-determination and East Timor became the first sovereign state of the 21st Century in May 2002. The official languages of East Timor are Tetum and Portuguese, although English and Indonesian are widely spoken. The state has a population of 1,066,582, the majority of which is Roman Catholic
When?
East Timor has two seasons. The dry season runs from May-November and most affects the northern coast. The wet season sees torrential rains and flooding; the best time to visit is May-July, when the land is green and temperatures are comfortable.
Why?
According to the 'Unoffcial Guide to East Timor', (see www.osolemedia.com/easttimor) it's a 'beautiful land of rugged mountains, perfect beaches and friendly, outgoing people… the last unspoiled country in Asia.' According to Aussie dirt bike nut Ian Neubauer, it's some of the best unspoiled knobbly country in the southern hemisphere.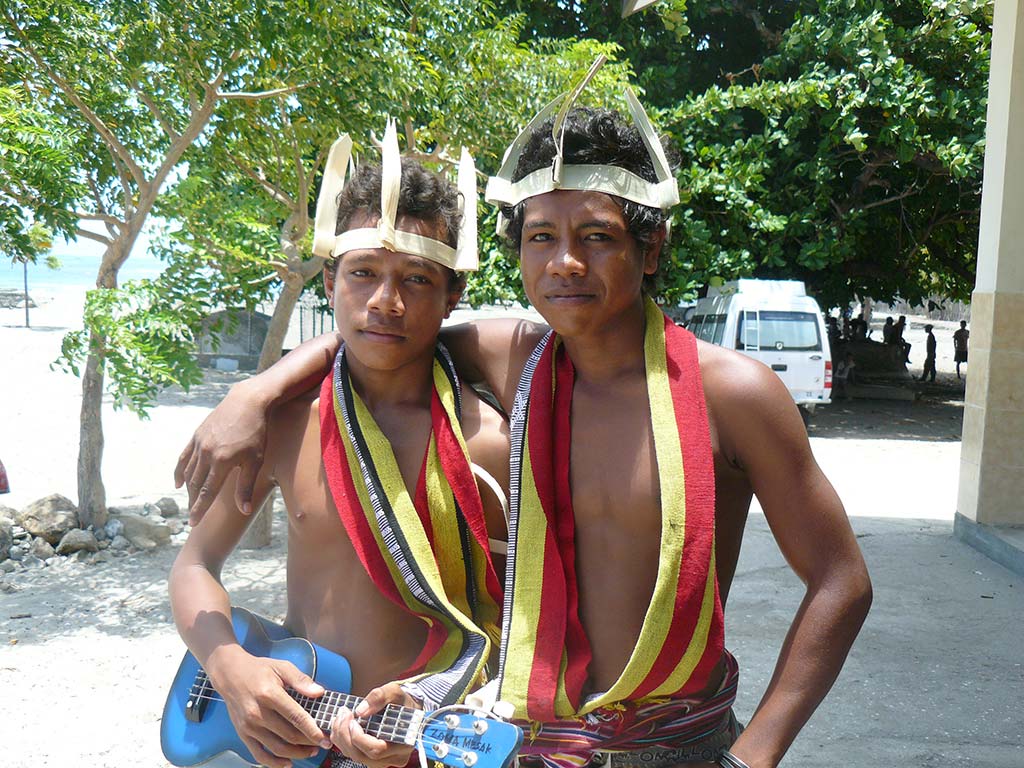 The Three Stooges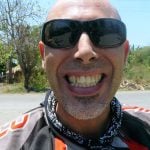 Nazarió 'Nasi' Lopez
Age: 45
Dirt biking since: 1972
First dirt bike: Ducati DR50
Current ride: '04 KTM 640 Adventurer
This copper from Spain is as indestructible as his Katie Em. In 1988, the terrorist group ETA planted a huge bomb under his car. The explosion cost him the skin on his arms, but Nasi's vigour remained unscathed. Before arriving in East Timor in 2003, he completed tours in Bosnia and Kosovo, where his daily routine including dodging boobytraps and landmines.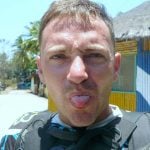 Adam Bycroft
Age: 38
Dirt biking since: 1985
First dirt bike: Yamaha MX80
Current ride: '09 Kawasaki KLX 450
A federal agent from Warwick, Queensland, Adam has worked with the East Timor Police Development Program since 2007. He's the quintessential boy scout, and won't hit the trails with less than a squillion bucks of safety gear. Adam's also a wheelie fanatic, and gladly obliges whenever an East Timorese gives him the sign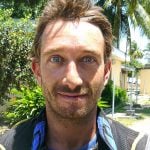 Ian Neubauer
Age: 36
Dirt biking since: 2005
First dirt bike: Honda XR250
Current ride: 03' Kawasaki KLR 650
Ian has combined his work as a journalist and passion for off-road touring to travel to and through some of the most exotic countries in the region: Cambodia, Laos, China and the Philippines, the last of which was sponsored by Honda.
Who's writing?
Ian was five years old when his parents took him on his first overseas trip to Tahiti. As soon as he finished high school in Australia, he hit the road, spending years backpacking across Europe, the Middle East, South America, Southeast Asia and the South Pacific. Ian is the author of two travel novels, Getafix (2004) and Maquis (2006), and the co-producer and screenwriter of The Undiscovered Country, a mini-series on East Timor, and North by Northwest, a documentary on the rebirth of the Darwin Dili Yacht Rally in East Timor. But his core passion lies in off-road touring – charging solo through strange lands, getting in trouble with the law and covered in mud.
Photos: Ian Neubauer