Bryn Davies rounds up some stats that will make your pulse race with fear, excitement or downright bewilderment. Prepare to be enlightened
First… person to motorcycle on all seven continents
Much like Clarke Kent, David McGonigal's real-world job is as a journalist, however, when he throws down his notepad and turns off­ his computer he doesn't don a blue Spandex suit, he hops on his bike and becomes a record-breaking ABR.
In 1998 David became the first person to motorcycle on all seven continents of the world (Europe, North America, South America, Africa, Asia, Australasia and Antarctica) and through all 24 of the world's time zones. In order of completion David motorcycled around Australasia (well, he is an Aussie) before jetting off­ to Santiago de Chile with his now ex-wife Lynn where they rode all the way south to Ushuaia, the southernmost town on earth (crossing South America o­ their list). From there they took a ship to Antarctica and David rode his bike (a BMW R1100RT) around the Argentine Esperanza base, putting a big cross through Antarctica before returning to South America and riding north from Ushuaia to Ecuador, where he boarded a plane to Panama (skipping the near-impassable Darién Gap). From Panama he rode all the way up to Prudhoe bay in Alaska (crossing off­ North America).
He then took a 10-month break before setting off­ again from Vladivostok on the far eastern coast of Russia. For two months, David and his mate, Geo­ Sim, rode across Russia (that's Asia done), venturing off­ briefly into Mongolia (as you do), before eventually arriving in Europe (continent number six!). He'd come so far and he wasn't going to back down so he headed towards Africa by himself, and finally arrived on the beaches of Morocco on 4 September 1998, where he checked off­ continent number seven and made history.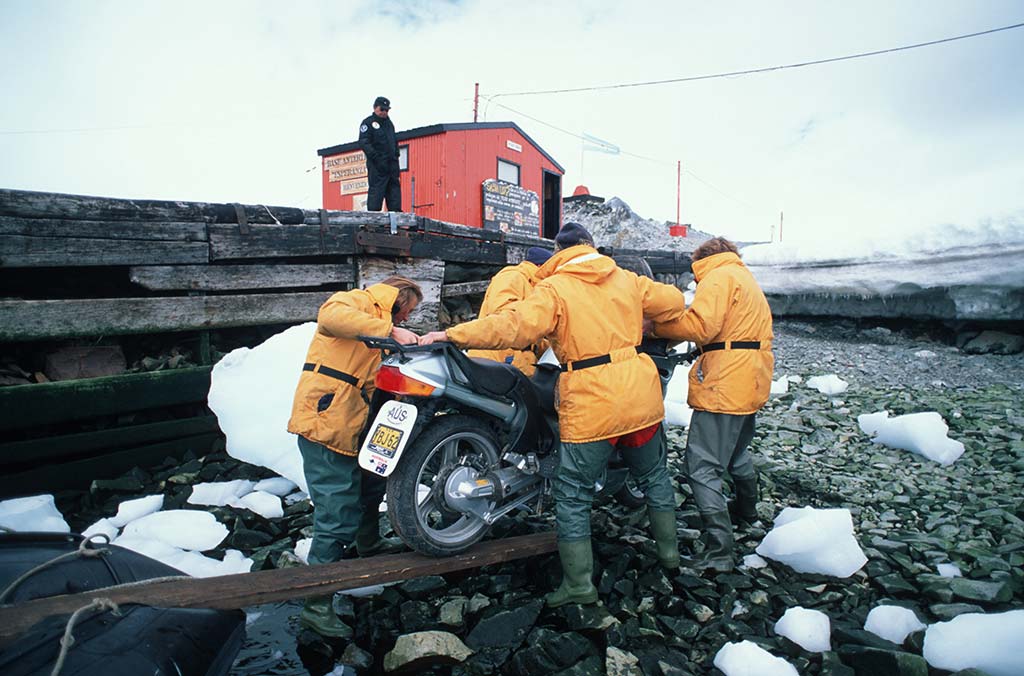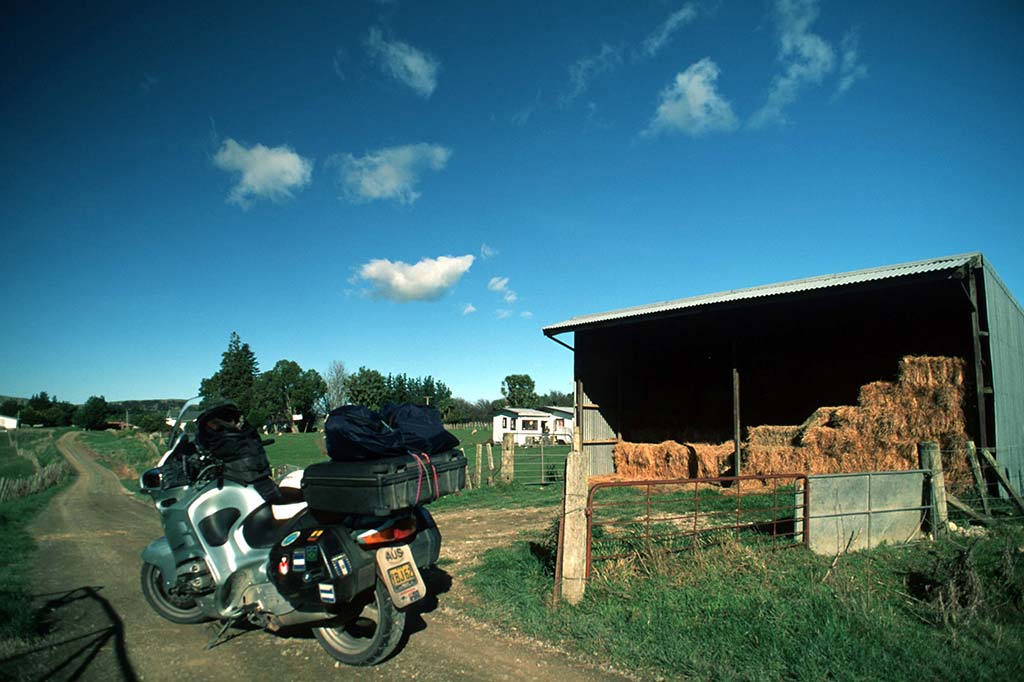 Longest… ride in a single country without backtracking and repetition
In Issue 3 of ABR we featured two brothers, Colin and Ryan Pyle, from Canada who rode around China, traversing the China-Mongolian border. Not only was this journey an epic ride through one of the most militarised countries in the world (plenty of checkpoint stops and men with guns) but it was also an impressively record-breaking trip. When Colin and Ryan rode 18,651 kilometres around the China's borderlands, they broke the Guinness world record for 'the longest ride in a single country without backtracking and repetition'.
To give you an idea of how long that is, if the Pyle brothers were to ride the coastal length of mainland Great Britain their journey would only (well, I say only) be about 12,000 kilometres long (Great Britain has the 13th longest coastline in the world). "The ride was an extreme exploration of culture, landscape and history," says Ryan.
Their epic ride is being converted into a television series and a book, both of which are due out in early 2012 so keep your eyes on www.mkride.com for updates.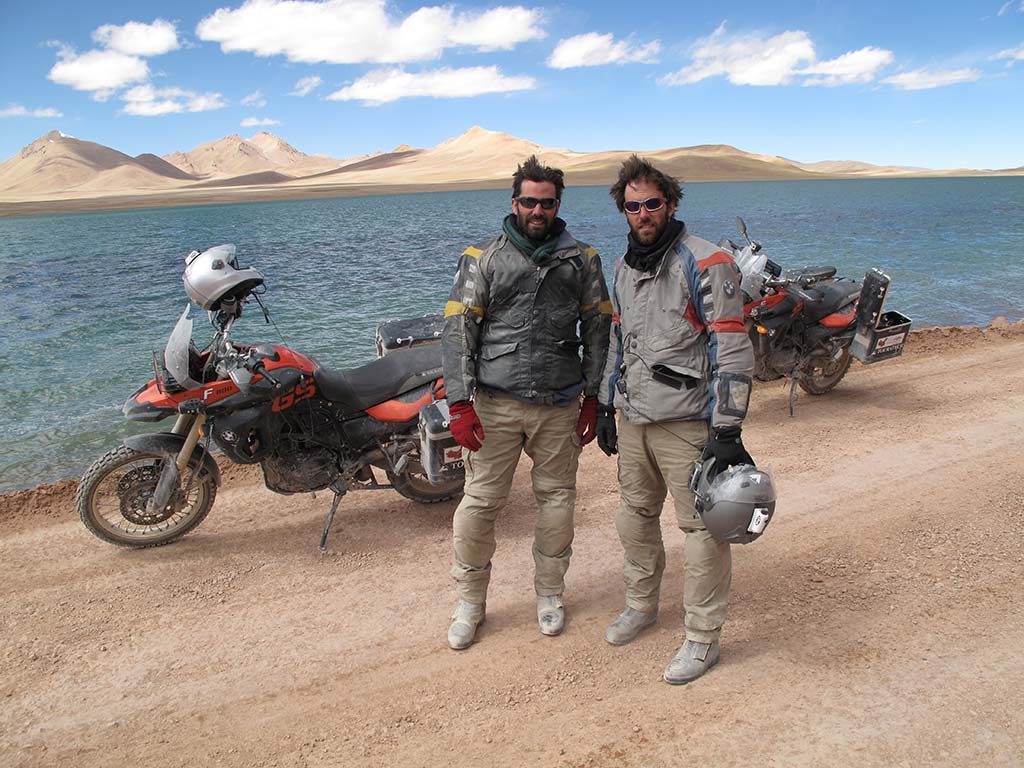 The longest… motorcycle journey by a couple
There's nothing more liberating than having the open road in front of you and a motorcycle between your legs. So why on earth would you want to take your partner along with you? (joke!) This feat isn't just a motorcycle endurance record, but it's also a test of grit, determination and how long you could put up with your partner: the longest motorcycle ride by a team (or couple). It's worth mentioning that this record is measured in distance rather than time, and the team must be riding on two separate motorcycles rather than two-up.
In 1999 Chris and Erin Ratay, from New York, set off on their BMW F650s from Morocco, aiming to beat the world record for the longest motorcycle ride by a team (set in 1991 by Jim Rogers and Tabitha Estabrook when they rode 57,022 miles). Four years later they rolled up in New York after riding 101,522 miles, meaning they'd smashed the previous record by 44,500 miles. Their monstrous ride took them over 50 di­fferent countries on six continents… I wonder how many arguments they had?
Amount it would cost… to fully do up a BMW R1200GS with Touratech add-ons
Love 'em or hate 'em, the BMW GS1200 has become a symbol of adventure bike riding all over the world, and because of this there are tons of accessories available for it. I think it's safe to say we'd all love a trolly dash through Touratech, but how many BMW R1200GS-speci‑ c items could you grab to fully do up your bike, and how much would it cost? Post trolly dash, your Beemer would look like the one below (pretty snazzy, if you ask me), and in total you'd have piled on 137 parts, costing £26,114.99, that's £14,514.99 more than it'd cost to buy a BMW R1200GS from new. We can't list all of the parts here, but the five most expensive bits available are:
Ohlins shock absorber set – £7392.80
38 litre Zega Pro panniers – £1,338.47
Tank conversion kit (2 x 8litre tanks) – £1,148.98
Touratech bike macs compact tester – £652.36
Desierto III fairing – £576.12
For the full fantasy Touratech shopping list, check out the ABR website www.adventurebikerider.com