John Hax embarks on a journey through the remote and wild backcountry of Utah, and discovers some of the best trail riding of his life.
Arches, Zion, Capitol Reef, Canyonlands, and Bryce Canyon National Parks. The Utah tourism board calls them the Big Five. Are they beautiful? Of course they are, and well worth the trip. But on a motorcycle? Sure, if you like sitting in traffic and hiking in sweaty bike gear.
One of my first trips to Utah was in an old Isuzu pick-up truck with a girlfriend and an Austrian guy who was hitchhiking his way across the USA. Not in a Lou Reed Take a Walk on the Wild Side way, but nonetheless, he was fun company. It had snowed 10cm, the sky was an amazing blue, and we threw snowballs at each other standing under Balanced Rock in Arches National Park. We saw no one in the park that day and I had never seen such a vivid contrast of red, white, and blue. It was a moment straight out of Desert Solitaire by Edward Abbey, a must-read for anyone visiting the region.
As a tour guide and owner of a brand focused on unplugging from the crowds, I have a bit of a conundrum. How do I avoid the busiest places yet still see and experience amazing places? Fortunately, the same geologic formations that attract so many people to the Big Five can also be found in many other places in Utah. With this in mind, as well as a noble goal of doing my civic duty of socially distancing, I decided a visit to Utah's more remote sights would be a great plan.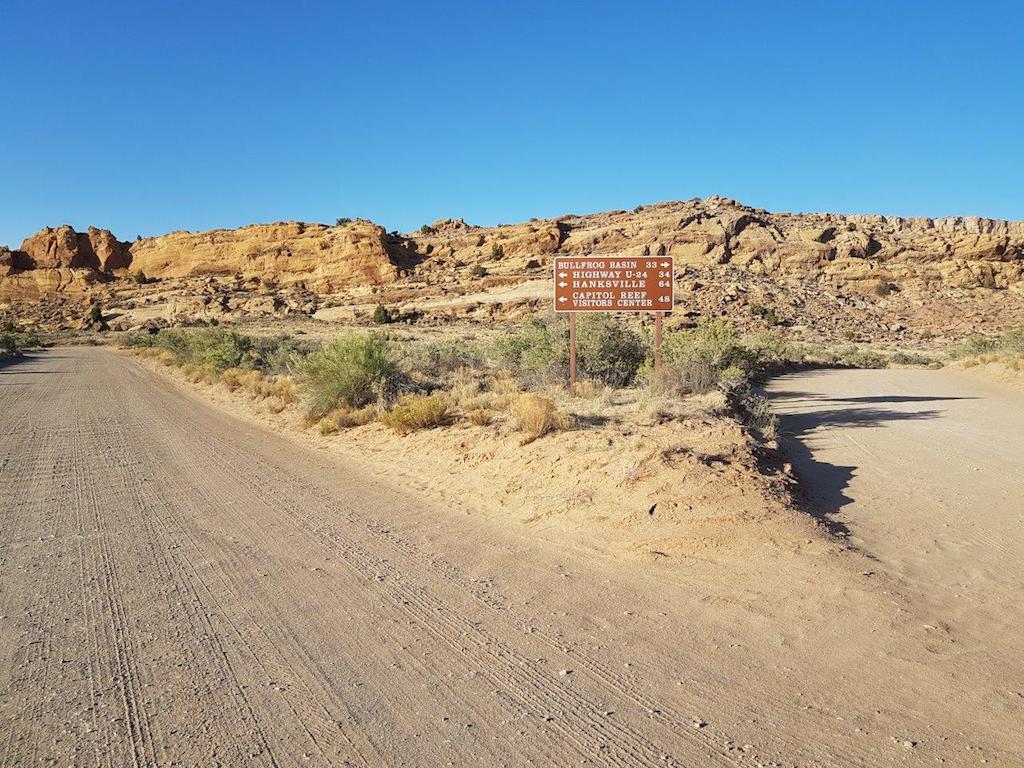 I roll away from my home in Denver, Colorado, and suffer through 30 miles of tarmac before picking up the isolated dirt roads that can be found just 60 minutes southwest of town. I meet up with a friend in Salida and we head over the 3,500m Marshall Pass. It's a weekday and the road is almost empty, yet I still manage to get run off it by an ATV. I watch him approaching and see his hat fly off, with the predictable result of his head turning to look for his hat, of course not noticing me. It's all so predictable that I have time to pull to the side of the road as he drives past me still looking for his hat. I just shake my head as he gives me a sheepish grin.
Brad and I ride until 8 pm when we find a remote campground on the Uncompahgre Plateau. We have it to ourselves except for one other camper who graciously lends us an axe. We attack a huge old tree stump and manage to carve away enough wood for a pleasant fire. Brad and I go back 25 years and it feels comforting to sit around a fire drinking, reminiscing, and just absorbing the comfort of a durable friendship.
Going solo
Brad and I part the next day, something about his wife yada, yada, yada. My friends' wives think that if their husbands spend more than one day with me, they will inevitably end up bailing us out of a Mexican jail. I wind my way up Highway 141 and head up John Brown Canyon. At Brad's suggestion, I head across the Polar Mesa trail and then down Onion Creek, which turns out to be one of the most spectacular canyons I have ever ridden. The descent into it is a bit sketchy. I know I'm in trouble when I hear my bash plate crash off the rocky ledge, throwing the bike sideways into loose rubble. I let nature have its way and safely eject myself, knowing that putting a foot down is a certain way to break my leg.
Whenever I pick up my bike, I like to think about a training video I once watched. There was a nice flat surface, the motorcycle has no luggage, and you are taught to keep your back to the bike and lift through the legs. Perhaps it works fine if your bike gets dropped in your garage, but not on a steep slope in 32C heat. The effort is my penance for sloppy riding, and I pay more attention as I take off.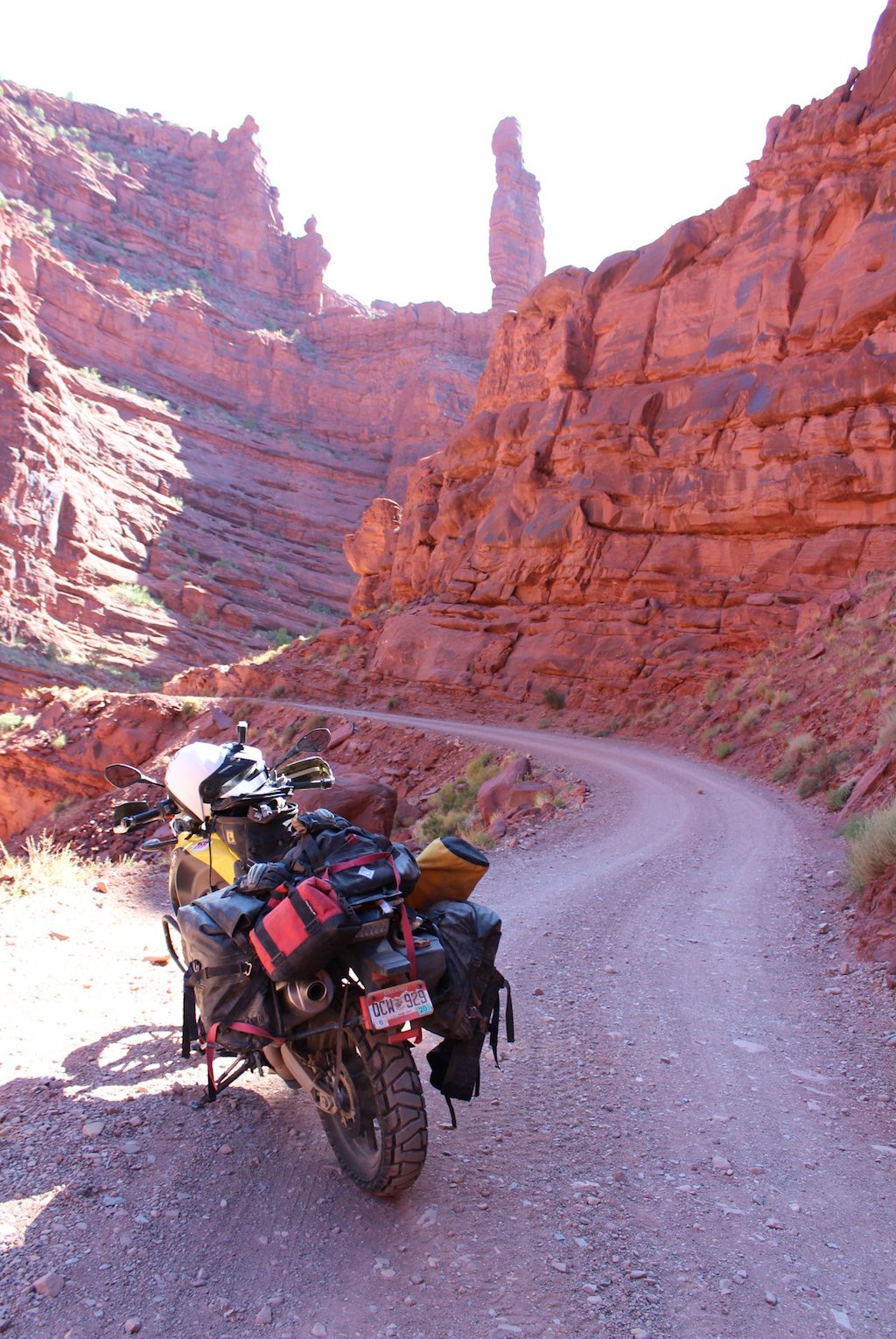 The terrain opens up and then descends along a ridgeline before entering the canyon mouth. The narrow dirt road winds into the canyon surrounded by 300m walls. The stream crossings are shallow but I make the most of them as I drench myself in water, the sandy bottoms being ideal for high-speed entry. I emerge from the canyon and ride over to Fisher Towers. A narrow trail takes me into the midst of these imposing 300m columns of rock jutting upwards like the Manhattan skyline.
I take a walk for a closer look but it proves hot work hiking in motorcycle gear.
Tracing the Colorado River
I soon head back to the bike and ride out to scenic Highway 128, along the Colorado River. I stop to cool down at the aptly named Sandy Beach. The Colorado River will never be confused with the Caribbean but it feels so good to strip down and plunge into the 15C water.
Back on two wheels, the ride along the Colorado is as beautiful as ever as the tarmac dips and turns along the canyon bottom. Traffic is backed up going into Moab, and Arches National Park is closed to visitors due to overcrowding. It takes me two hours to cover a congested 10 miles to Moab. Rather than overnighting in town, I stay at an off-the-beaten-track motorcycle haven called 3 Step Hideaway. The owners, Scott and his wife Julie, were expecting me at 7 pm but I roll in at 9.15 pm to a completely darkened lodge. Actually, lodge isn't quite the right word for 3 Step. It's more of a western style encampment with tipis, cabins, a fire ring, and dining in a wonderful lodge.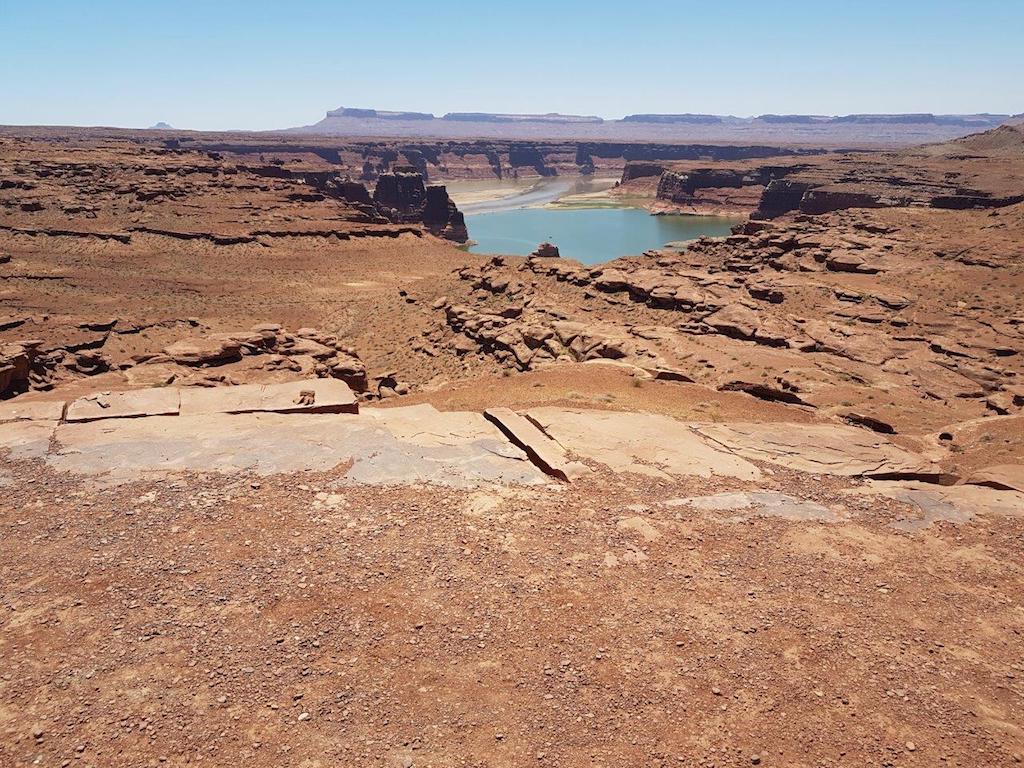 I'm greeted by a cat who immediately jumps on the bike, along with an enthusiastic chocolate Labrador. I fish out my headlamp and enter the main lodge where a voice shouts out from upstairs, and Scott comes down in his skivvies to point me to my cabin. The place is really remote, and I watch shooting stars streak across the sky as I drink wine and eat dinner on the front porch of my cabin.
The following day, I enjoy morning coffee and breakfast with Scott and Julie before heading out. Without any real itinerary, I ride up Lockhart Basin, fast riding on packed dirt under clear blue skies, and then up to Bridger Jack Canyon. The drought has taken its toll and Indian Creek, normally a fun stream crossing is a sandy ditch. I wind up the packed clay road in and out of gullies while keeping an eye out for dust ahead of me, an indication of any oncoming vehicles.
A night under the stars
My goal is to camp in Beef Basin, a remote area 50 miles from the nearest tarmac. The road is 2.5m wide and winds downwards through sand and rock. The sun is setting as I try to keep my eyes on the road while looking for a decent campsite. Well, 'decent' is an understatement. I'm picky about where I camp, but in this case, my expectations are surpassed as I find a sandy spot in the rocks. It's 5m off the road along with a steep drop off with amazing views of the rock formations in Salt Creek.
A breeze kicks up that night and I toss and turn trying to stay warm, but a lousy night's sleep always leads to a more enjoyable morning cup of coffee. Beef Basin is more suitable for a dirt bike than a loaded F 650 GS, and I churn through sand while exploring. My map notes various ruins, so I walk a mile in my gear through the sand to take a look at one for myself. I discover the 'ruin' is simply an old outhouse.
A little disappointed, I ride out of Beef Basin and through the Abajo Mountains, past the Bears Ears National Monument, which is a pair of towering buttes protruding into the sky like, well… a bear's ears. I ride over smooth dirt with some long, sandy stretches before the road finally winds down to Natural Bridges National Monument, with epic views into the Dark Canyon Wilderness area.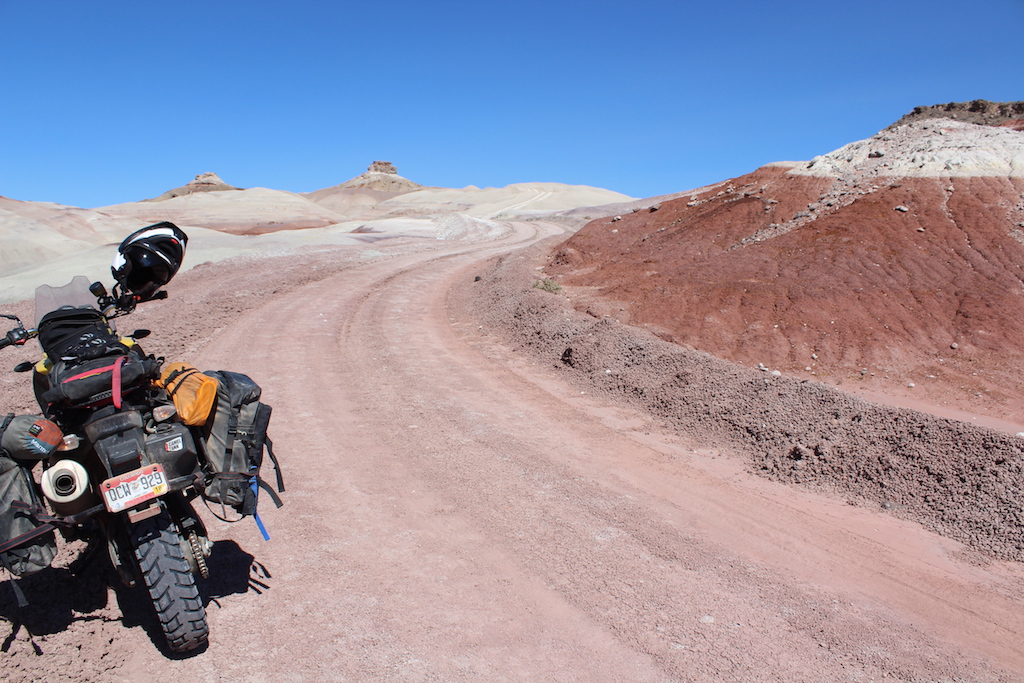 Natural Bridges consists of four massive rock bridges spanning White Canyon. I hike down to Sipapu Bridge, the largest in the park at 82m. It's a stunning natural arch across the canyon with large cottonwood trees below, framed by the rock and blue sky. The climb out is hard work but it feels good to exercise after three straight days of riding. I take the remote Shoe Box Road across the plateau, make a steep drop into White Canyon, followed by an equally steep climb out to Highway 95.
My goal for the night is the marina at Bullfrog on the shores of Lake Powell. Utah has some nice tarmac, and after riding off-road for so long, it feels great to eat up the miles. The ferry takes me over to Bullfrog, but since I am at the dock 30 minutes early, I decide to take a swim, plunging off the ferry dock and into the cold green water.
The temperature might be 30C, but the water is still 15C, and I pop to the surface waiting for the heart attack to hit. Bullfrog is one of the main marinas for Lake Powell and consists of a hotel and maintenance facilities for the hundreds of boaters from Colorado and Utah who put in there. The hotel is old with mediocre food and poor service but offers amazing views and a bed.
Sublime riding
The next morning brings the famous Burr Trail switchbacks which contort their way up the hillside like an Alpine mountain pass in the desert. Around 60 miles north, I encounter mobs of visitors at Capitol Reef National Park, yet I see only a few people as I blast through the iconic rock formations of Long Canyon and the Circle Cliffs.
I pick up Highway 12. Sure, there are some tourists, but there is a reason this is one of the top five motorcycle routes in the country. It cuts through Grand Staircase-Escalante National Monument, first on top of a ridgeline, before looping through walls of white and red slick rock.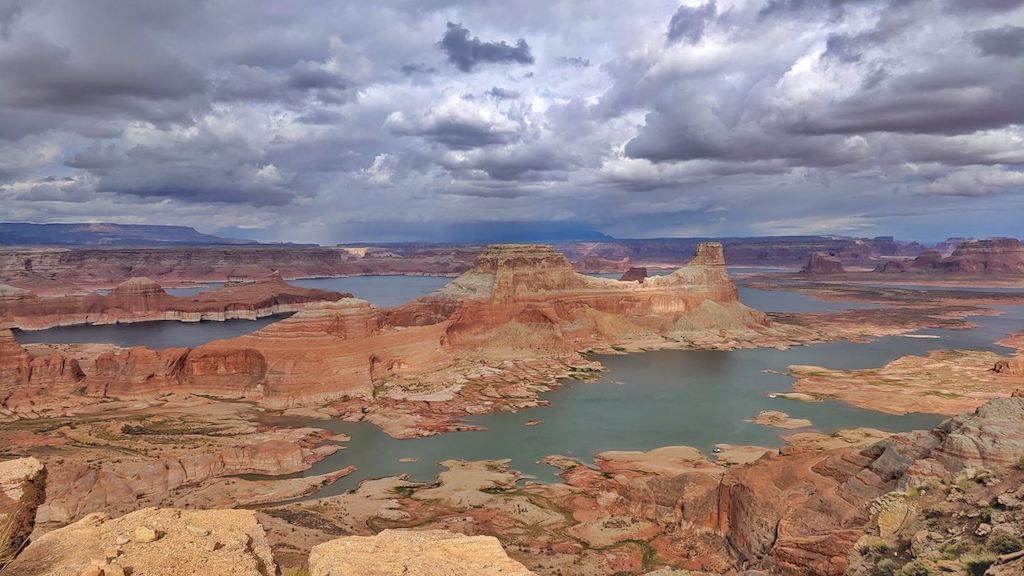 I could go on to the popular Bryce Canyon National Park, but instead I head over to the little-known Smoky Mountain Trail out of Escalante. It's a good choice. Five miles and 400m of cliff-hugging climbing is the most exhilarating feeling imaginable on a motorcycle, and the view at the top is unbelievable. The heart of the Grand Staircase Escalante region is a multitude of purple, black, and green cliffs. There are rock formations that look like hundreds of goblins, along with slot canyons and arches extending as far as the eye can see. I ride on further under endless skies before the road takes me back down to the small town of Big Water. I complete the loop through Escalante by taking Cottonwood Creek over stream crossings and through purple-striped rocks over to Grosvenor Arch. This is a white sandstone double arch that towers 76m above the desert. Despite its splendour, there are no hordes of tourists and I only share it with two other people.
Hell's Backbone
Instead of taking the obvious route along Highway 12 back to Escalante, I opt for the little-used Hell's Backbone Road. This was the original route from Escalante to Boulder and reaches its apogee at a narrow wooden bridge spanning the top of Box Death Hollow Canyon. Around 10 hours of riding later, dinner at the Burr Trail Grill and a bed were well earned.
The next morning brings more of scenic Highway 12 as it traverses Boulder Mountain at 3,100m, with panoramic views of the entire Red Rock Country west of the Colorado River. I then head through Capitol Reef and down to Cathedral Road which crosses the Fremont River. The stream is shallow but rocky and spans 30m across. I don't have the nerve to really hit it, so I slowly make my way across and up the sand on the other side. There are numerous shallow stream crossings as the road rises up into the South Desert. The terrain itself is bleak and desolate but great riding.
I make a tricky descent into Monument Valley with its famous sandstone formations and surprisingly, I see a herd of antelope. With the trip coming towards an end, I take the well-named Hidden Splendor Road up to Interstate 70 and ride into Green River, a half-abandoned truck stop town. The Green River KOA (Kampgrounds of America) wanted $37 (£26) for me to throw my sleeping bag out beside a hotel parking lot. I elect to spend $59 (£42) to stay at that same hotel and have a prime rib dinner.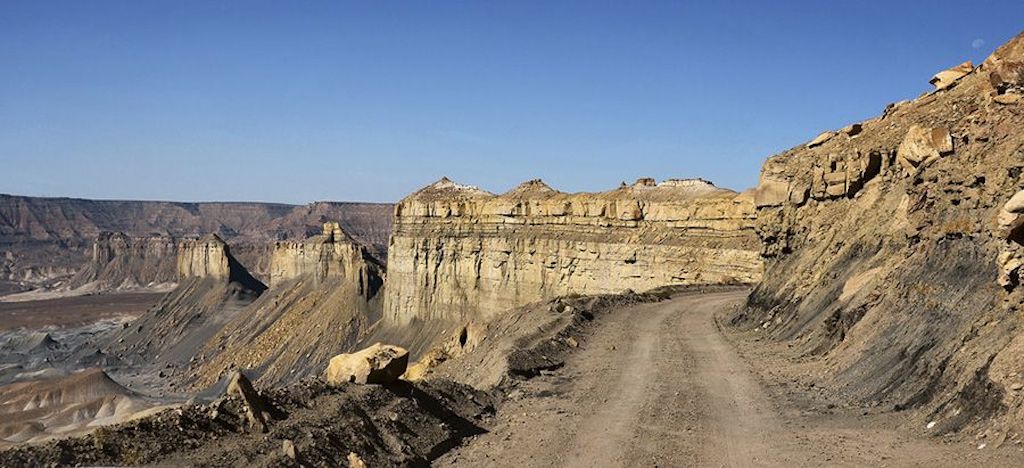 I head east the next day, picking up the Utah Backcountry Discovery Route, and then across the La Sal mountains where, on the east side, I find a quiet campground along the San Miguel River. I discover a small swimming hole, relax and have a beer. Just as I get settled in, four Mennonite women come wading up the river in their traditional long dresses, bonnets, and stockings, and start swimming in the same spot as me amid smiles and laughter, as if they didn't have a care in the world. I admire their carefree attitude and remind myself that we should all carry a little bit of that with us on our journeys.
Want to ride Utah?
Utah's major airport is at Salt Lake City, although you can also fly into Denver and Las Vegas airports to reach the areas John rode through. Moto Freight will ship a BMW F 650 GS, or similar size bike, from London to Denver from £1,345 (pre-COVID rate). Visit www.motofreight.com.
As ever, when you're riding in remote country, take extra fuel as well as food, water, and camping gear. If you don't fancy sleeping under the stars, a night in a hotel will cost you around $50 (£40) depending on how much luxury you're accustomed to. Fuel is cheaper than in the UK, costing around 65c (46p) per litre.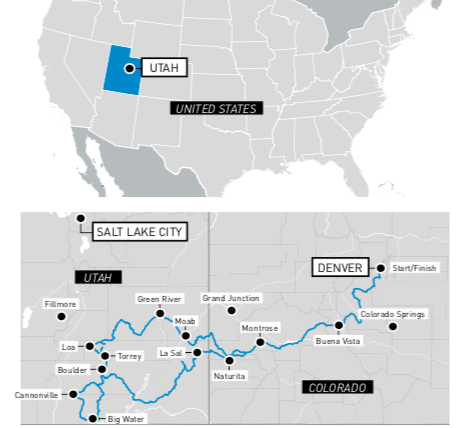 The Bike
I ride a BMW F650 GS with a 25-tooth front sprocket and Dunlop TrailMax tyres. I love the 25-tooth tractor gear for long, steep, loose, rocky descents. I recently switched from Heidenau Scout tyres to the TrailMax, which are good for riding in sagebrush and sand, two pretty dominant features of the American West. I weigh 10st 7lbs and I ride by myself a lot so it is imperative that I can pick up my bike in all conditions. I love the versatility of the mid-range adventure bikes for riding out west. I also have a Camel Tank auxiliary fuel tank, a must for riding the remote areas of the western USA.