James Oxley hits the road on BMW's urban G/S and discovers just the bike to help him cope with reaching a certain milestone in life.
During the making of this issue of ABR, I turned 40. As birthdays go, it was a low-key affair, with travel restrictions putting paid to any notions I may have had about a lost weekend in Las Vegas to celebrate (and commiserate) the fact I'd officially become middle-aged.
Instead, I spent the day writing about motorbikes which, as birthdays go, is a pretty satisfying way to enjoy one. A cake was made and lunch was bought by my ABR colleagues (they even sang Happy Birthday over Zoom), and I enjoyed a delicious birthday meal prepared by my wife, washed down with plenty of wine.
Unsurprisingly, the end of the evening is a little hazy but I do remember relaxing next to the fire with a whisky in hand (Glenlivet, if you're curious) feeling pretty damn content with my lot at 40 years old. I certainly didn't feel any stirrings of unrest signalling an impending mid-life crisis.
There was no urge to buy a desirable yet impractical sports car or to splash out on a fashionable new wardrobe (style has never been my thing). Nor had I suddenly convinced myself I was catnip to women half my age. In fact, I felt a little smug at how little turning 40 had affected my mental state as I poured myself another whisky and reflected on where life had led up to now.
You may be surprised to hear then, a few weeks later, I found myself speeding through the countryside on a desirable yet somewhat impractical new motorcycle. I was wearing a fashionable and rather expensive jacket, and a beautiful women's arms were wrapped about my waist, and they weren't my wife's. Perhaps I'd dismissed the notion of a mid-life crisis a little soon?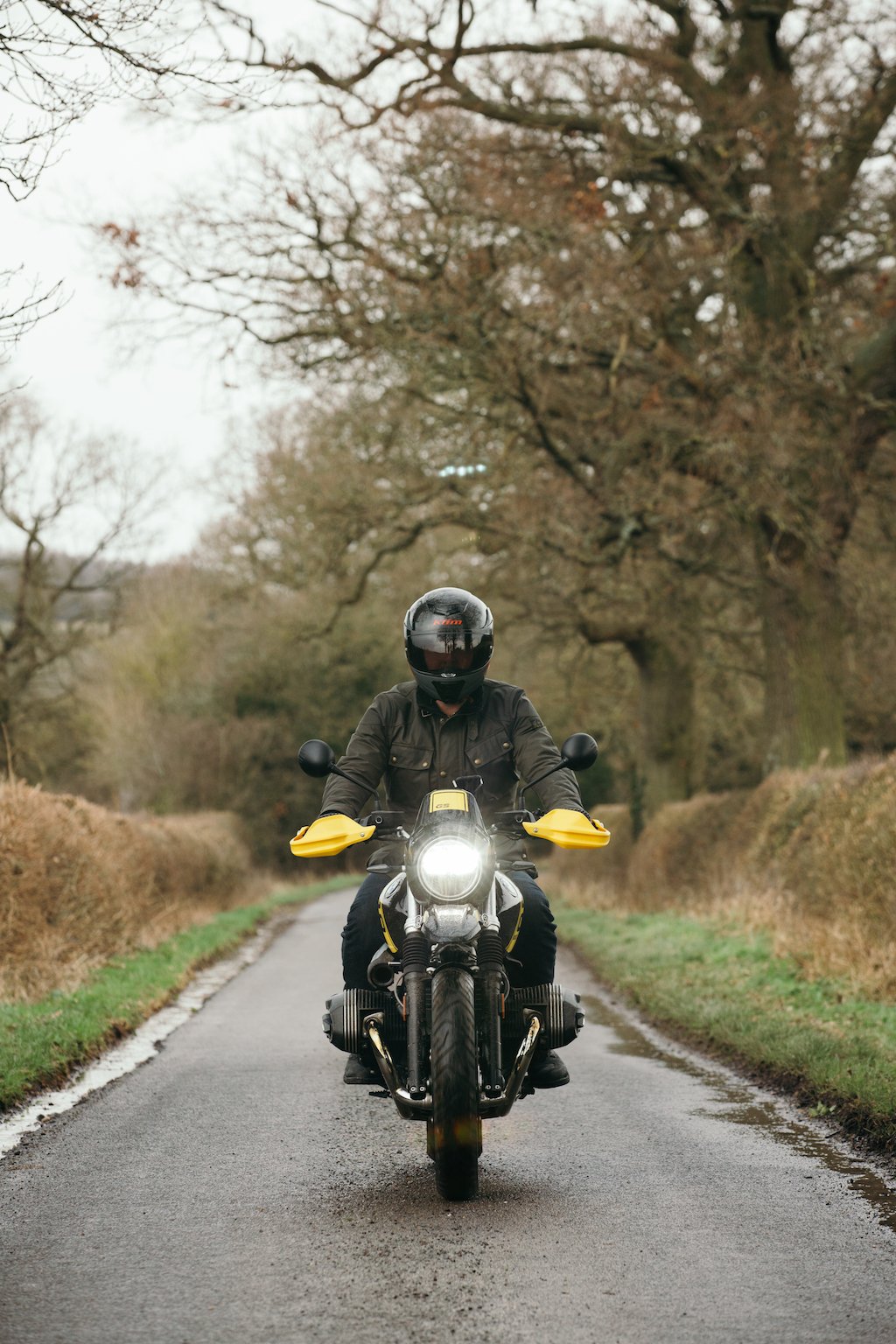 AG/Sbutnotasweknowit
OK, I'll explain a few things before I get myself into too much trouble. The bike is a BMW R nineT Urban G/S (40 Years of the GS Edition), which is the latest motorcycle to receive the famous Gelande/Strasse (off-road/road) moniker. It bears a striking resemblance to the original R 80 G/S from the '80s, which is why BMW decided to bestow the most iconic acronym in adventure biking to a motorcycle that clearly isn't, well… an adventure bike. So, why the fashionable jacket? Well, on page 124 of this magazine, you'll find a group test of wax motorcycle jackets and one, in particular, caught my middle-aged eye, the Belstaff Trialmaster. It's a timeless style icon worn by Hollywood stars and motorcycle legends alike (think Steve McQueen and Ewan McGregor). In short, it's very cool with a rich heritage, just like the classically styled Urban G/S. Being made to feel just a little bit like Steve McQueen is a welcome feeling for a man taking his first tentative steps into his forties. Belstaff, but in particular BMW, helped me to do just that.
And the women with her arms wrapped around me? I'm happy to say there's a perfectly innocent explanation. My wife and regular pillion seat tester (whom I love very much) has been suffering from some pretty severe back pain of late, so after the photoshoot for the Urban G/S had finished up, I enlisted the services of the photographer's assistant to give me her view from the pillion perch. A lack of grab rails and an acute leg bend meant clinging on tightly to my waist was the only way for her to avoid falling off the back of the bike. That's my story and I'm sticking to it.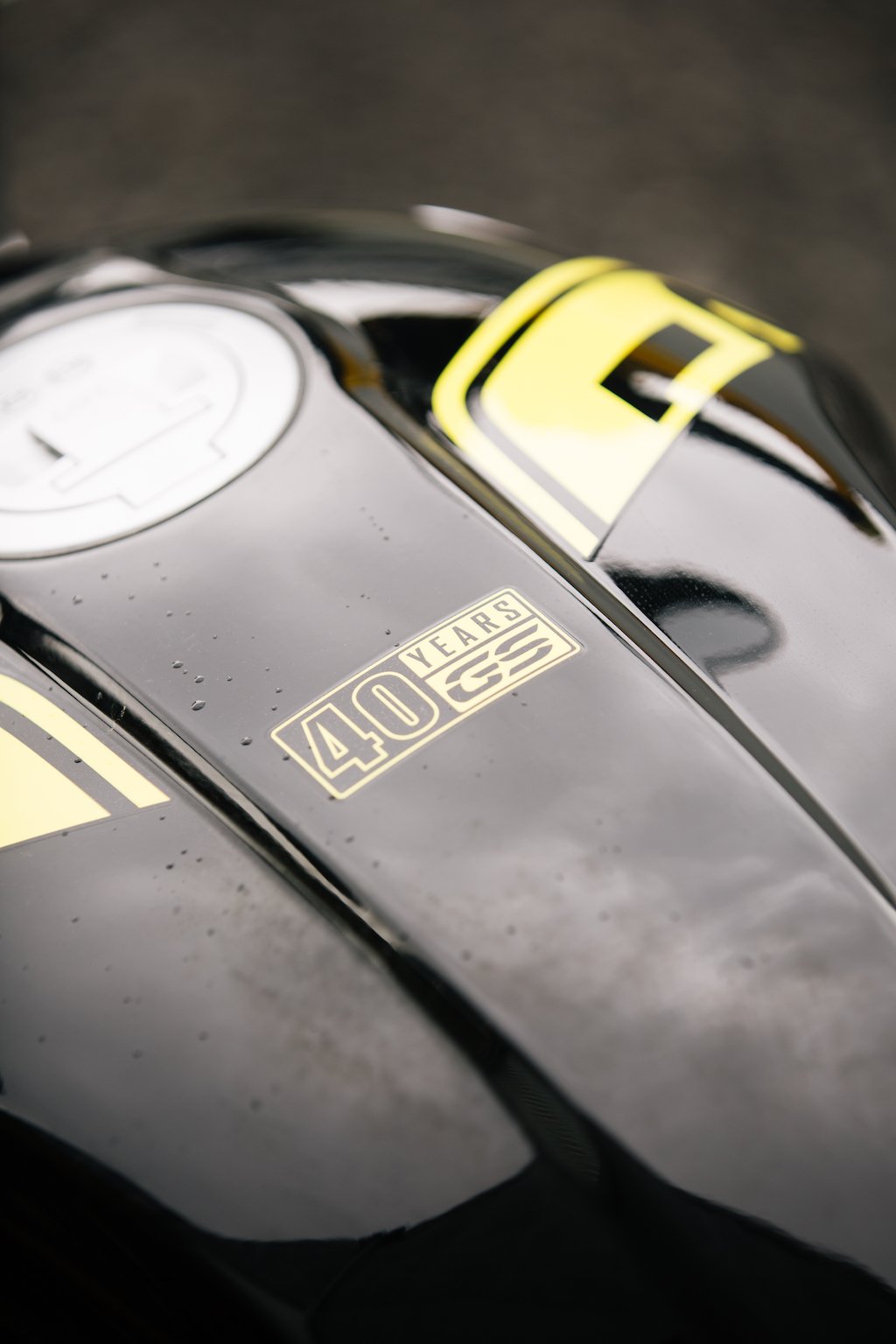 Return of the Bumblebee
Like all the 40th-anniversary special edition bikes in BMW's GS range, the Urban G/S has been given a striking black and yellow colour scheme. It harks back to another classic model, the R 100 GS from the late '80s and early '90s, which earned the nickname Bumblebee, thanks to its distinctive colourway. Along with the paint scheme, the special edition bike also gets spoked wheels with gorgeous gold rims and a scrambler-style raised, twin exhaust which sounds even better than it looks. All of those extras take the price of the bike up to £13,965, compared to £11,950 for the standard model.
Climbing aboard the Urban G/S confirms what I'm sure you've suspected already. It has more in common with retro-styled naked bikes like the Triumph Street Scrambler or the Indian FTR Rally than it does with any of the other GS motorcycles in BMW's lineup, which are all adventure bikes. While the likes of the F 850 GS and the R 1250 GS are globe-trotting, go-anywhere machines that are capable of undertaking long-distance forays and plenty of motorway miles, the Urban G/S is more in, what I call, second bike territory.
I can easily imagine cruising on the bike along sun-dappled country lanes to a B&B in the Cotswolds for the weekend. Or, rocking up at a café on a Sunday morning and posing next to what is a gorgeous, stripped-back piece of machinery. I find it harder though, to imagine blasting along European toll roads on it for any extended period of time, or loading up with luggage for a multi-day tour of the Alps or the Pyrenees with a pillion rider on the back. In this respect, it seems a bit out of place in the GS range. Be that as it may, I decided to throw on my Belstaff and see what the Urban G/S has to offer the adventure bike rider.
The bike's stripped back and minimalist design is reflected in the cockpit, which features a single analogue speedo and a small LCD display that you scroll through using a button on the handlebar. You can choose between displaying either the time, engine temperature, odometer, trip meter, and little else. It does, however, also reveal which of the three rider modes you are in (either Road, Rain, or Dirt). These are selected using a button on the right handlebar. The left bar is home to a cruise control switch (an optional extra) which seems an unusual but welcome luxury on a bike that doesn't have a fuel gauge or gear position indicator, as do the heated grips.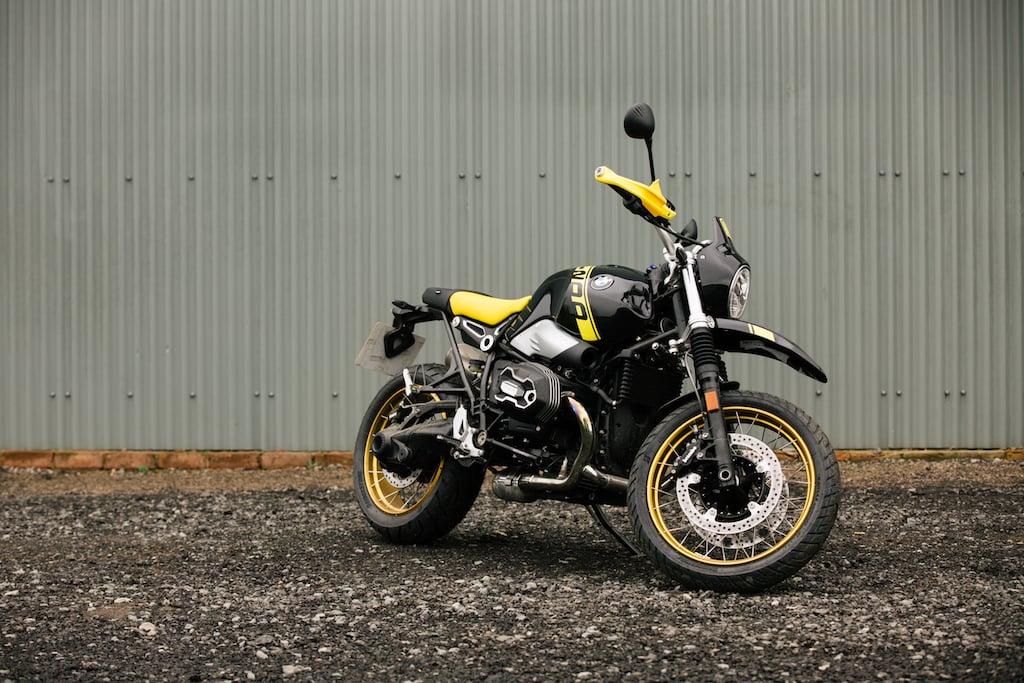 Good vibrations
Starting up a boxer engine is one of life's pleasures. I couldn't help but smile as I thumbed the ignition and the 1,170cc air/oil-cooled engine barked into life, while the horizontally opposed cylinder heads gave a satisfying shake. This engine oozes character at idle and transmits vibrations through the footpegs and handlebars into your bones, and then your soul.
Pulling out onto the main road, it quickly became clear the Urban G/S packs a mighty punch. A generous twist of the throttle produced a sledgehammer of acceleration which had me clinging onto the handlebars in an effort not to fly backwards along the flat seat. I was then hit by a second wave of brute force. This time it was wind blast smashing against my head and body. There's no cosy big screen or fairing on offer here. I leant forward in a vain attempt to duck below the bike's tiny fly screen and whipped through a series of meandering turns, enjoying the satisfying mechanical clunk of the bike's gear changes as the shaft drive spun the rear wheel.
Like the Indian FTR Rally I reviewed in issue 60 of ABR, there's something intoxicatingly thrilling about riding a diminutive bike that has had a massive engine squeezed into its frame. It's all brutal power, torque, momentum, and visceral thrills, although the experience is refined and controlled enough to ensure things never feel like they're getting out of hand. It's exactly what you'd expect from a modern BMW.
I spotted a patch of loose gravel at the entrance to a turn ahead and took the opportunity to test the stopping power of the 320mm twin-discs up front. The braking was smooth, progressive, and controlled, with no hint of the ABS kicking in as I slowed down well in advance of the sketchy road surface. As I dipped into the corner, and then another, the steering felt neutral and predictable, but certainly wasn't nimble. This isn't a bike to flick from side to side aggressively. Instead, it's happiest flowing through corners, building momentum and cruising along the road.
Paradise lost
I ploughed deeper into a warren of country lanes, getting myself thoroughly lost but enjoying every moment of the Urban G/S riding experience. The engine has so much low-end grunt that I barely got out of second
gear, but then I joined a long, straight section of road, knocked the bike into third, and rocketed forward to that distinctive pleasure-inducing roar of a boxer engine in full flight. Boy, I love that sound.
I tried to remind myself that working shouldn't really be this much fun, so I took a moment to focus on the bike's ergonomics. The Urban G/S is more compact than the large adventure bikes I'm used to riding, but at 6' tall, the hands, backside, feet triangle actually feels relatively spacious, although I did have quite a stretch to reach the bars. It wasn't a sports bike lean, but it wasn't an upright adventure stance either.
Despite this, the overall feel was one of comfort and it was only after an hour or so that my backside began to ache. The padded seat is comfy, but not all-day comfy. When I stopped to take a break, I wasn't surprised to see I could plant both feet firmly on the floor with leg bend to spare thanks to the bike's modest 850mm seat height.
Backside rested, I set off once again and joined a faster A road. The Urban G/S felt stable and planted at 60-70mph and the ride is firm, perhaps a little too firm. Motoring in England requires dodging a fair few potholes, but those I didn't manage to avoid punished me by sending a sudden jolt up my spine. The suspension on the Urban G/S, with 125mm worth of travel up front and 140mm at the rear, is on the hard side, and while this kept the ride tight, I found myself scanning ahead more than usual in an effort to avoid those pesky and shock-inducing potholes.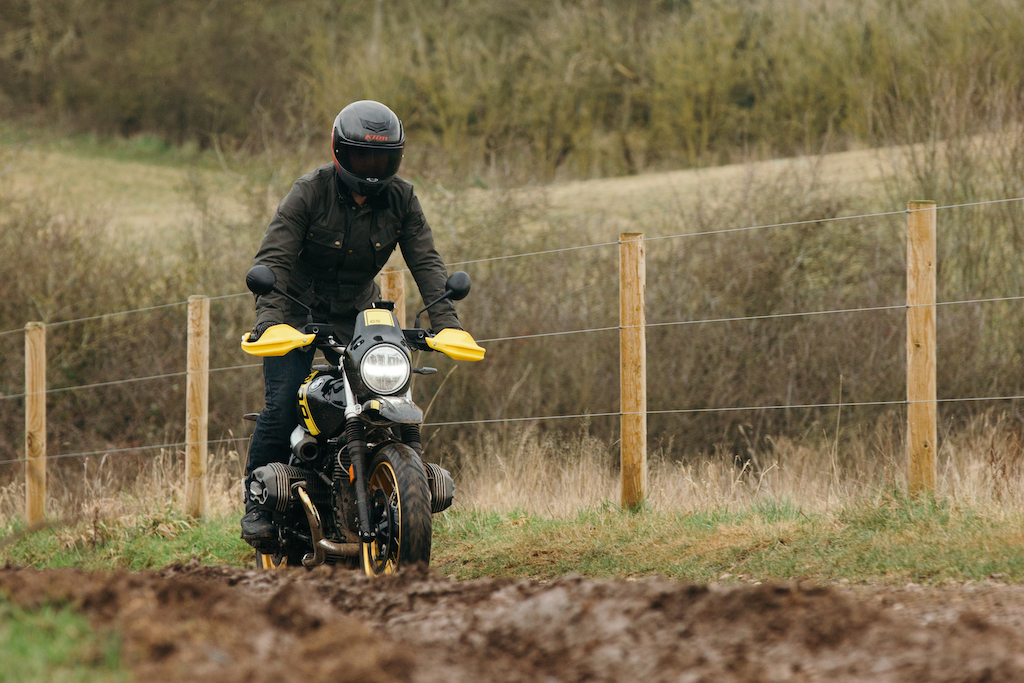 Is it really a GS?
I couldn't test ride a bike with G/S in the name without straying off the blacktop. After all, BMW advertises the Urban G/S as being as confident on smooth city streets as it on gravel and dirt roads. I turned off the tarmac, selected Dirt mode, and rolled onto a green lane. It had been raining so the surface was slick but nothing too testing, and the Bridgestone Battlax Adventure A41 tyres managed to find enough grip to give me the confidence to knock the bike into third gear and accelerate beyond 30mph.
The standing position is unusual to say the least. My backside was thrust rearwards and my legs were bent in a squatting position, a little like nature was calling and I was worried about my arse brushing against a clump of stinging nettles. Initially, it felt awkward, but after five minutes or so I somehow forgot about the unusual stance and I started to enjoy the feeling of the bike moving around beneath me.
The fun factor was aided by the fact the Urban G/S isn't a tall bike, and the low-slung cylinders of the boxer engine further help keep the centre of gravity nice and low. This inspired my confidence on the trail, so much so I began aiming for the dips, puddles, and ruts rather than taking a line around them. And, with my arms and legs helping to soak up the lumps and bumps of the lane, the suspension seemed to be coping well enough, although I'm certain it wouldn't take much tougher terrain to reach its limits.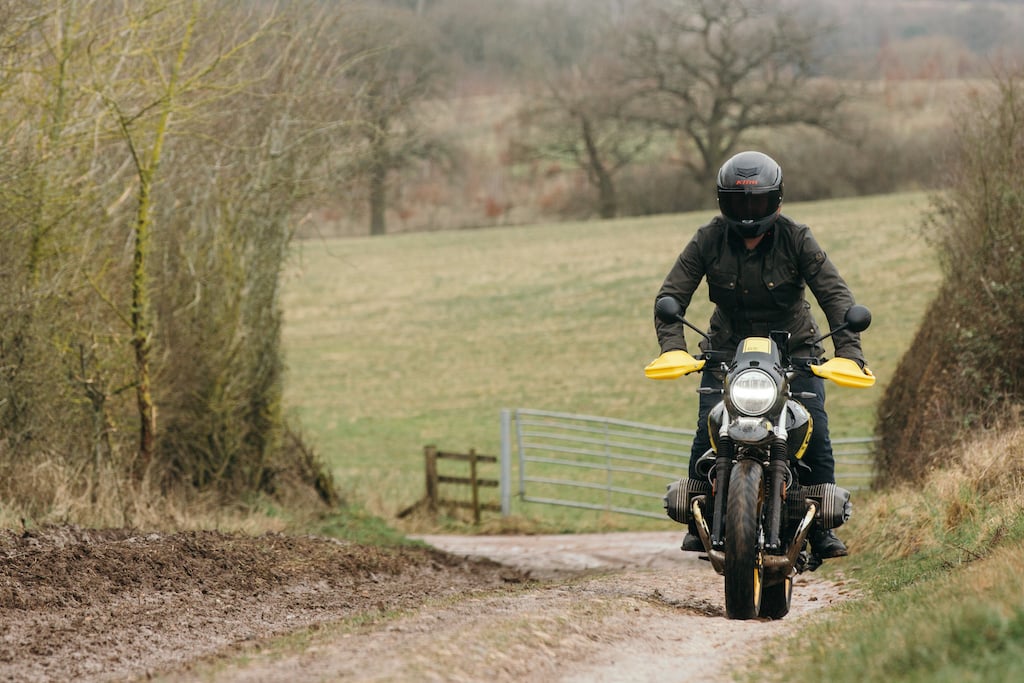 However, the bike never quite allowed me to forget that, at 223kg, the Urban G/S is a heavy machine and I was mindful not to gain too much momentum as the trail became muddier, and my road-focused tyres revealed their limitations. I was also aware that even in Dirt mode, which smooths out the throttle response, I had a hugely powerful engine that wouldn't need much encouragement to blast me down the lane and through a fence or two. Perhaps inevitably then, I felt the bike slide beneath me as the trail became a quagmire of mud. My front tyre slipped sideways and so did I. At least I got to practise picking up the Urban G/S, which was surprisingly easy to do. Thank goodness for that low centre of gravity.
To be honest, I chose a bad day to take what is essentially a soft-roader greenlaning. If the weather had been dry, or if the 19" front and 17" rear wheels had been equipped with the optional knobbly tyres (either Continental TKC 80s or Metzeler Karoo 3s), the bike would have done a fine, if not spectacular job. But even in wet mud and on-road tyres, I had a hell of a lot of fun.
Urban hymns
Away from the trails, I found myself looping back towards the ABR offices and the end of my ride, but not before I took a spin through town to get the urban riding experience on the Urban G/S. While Stratford upon Avon isn't exactly Los Angeles' Sunset Strip, I couldn't help but feel as cool as hell as I cruised over the River Avon, and through the picturesque market town.
There was something almost spiritual about the sound the boxer engine made as it echoed off the walls of the old buildings, especially when the exhaust emitted its delicious popping sounds, prompting admiring glances from the people I passed. Honestly, it was uplifting stuff. The Urban G/S also handled well enough at low speeds to make filtering through town-centre traffic a breeze. I can imagine cruising along city streets for hours on this bike, looking good and feeling even better. It's a motorcycle to see and been seen on, to indulge in, and dare I say it, make you feel young again.
Conclusion
As I approached the office, I reflected on a motorcycle that had given me a huge amount pleasure throughout the day. Is it a proper GS? Well, that depends what your definition of a GS is. It's the only non-adventure bike in BMW's lineup to be awarded those famous letters, and it doesn't possess the touring or trail riding credentials of its namesakes. Perhaps it's best described as GS-light.
Perhaps more importantly, am I tempted to head over to my nearest BMW dealership and part with my hard-earned cash? The answer is yes, and no. As an adventure biker, the Urban G/S just isn't practical enough to be my main motorcycle. There's not enough weather protection for motorway work, and it doesn't possess the all-day comfort needed for summer tours. The less than spacious pillion perch would also raise a concerned eyebrow or two from my better half. And, while the Urban G/S can be ridden off-road, it's not particularly suited to doing so.
However, as a second bike for Sunday rides through the Cotswolds and cruising through town, it excels and it's for this purpose I'd be tempted to buy one. And, while the Urban G/S is an impressive piece of machinery, the main reason I want one of my own is because it makes me feel so damn cool while I'm riding it. Honestly, the bike has proved the perfect antidote for a man who may be struggling more than he realised with turning 40. Is it helping me through some sort of mid-life crisis? Maybe. But, if a bike looks and feels this good to ride, who cares.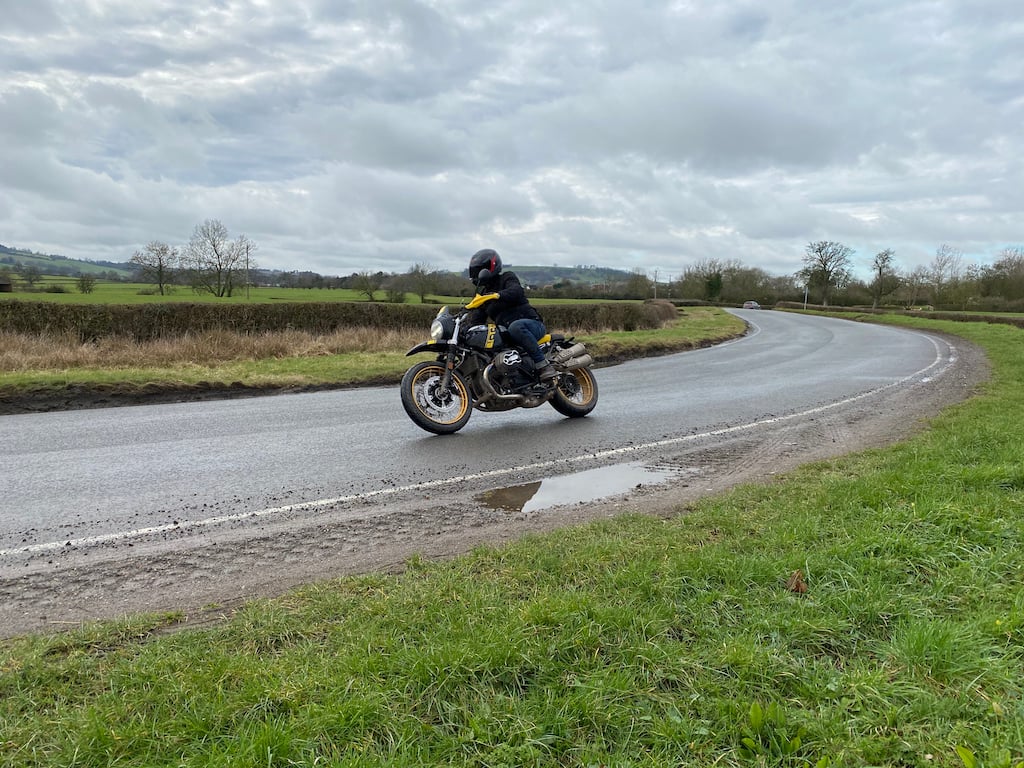 As a commuter
A bike with the word 'urban' in its name should be proficient at a city commute, and the Urban G/S will do the job just fine. Despite its weight, physically it isn't a big bike and it will allow you to cut through lines of traffic with ease, even with those cylinder heads protruding out from the sides. The low seat height also makes it easy to get your feet down and paddle through awkward gaps. However, if your daily commute involves faster A-roads or motorways, I'd want to go for a bike with better weather protection.
As a weekend tourer
Now we're talking. If your weekend plans involve cruising along sun-dappled country lanes for a hundred miles or so, then strap a bag to the back and fire up that sweet-sounding engine. The Urban G/S is a treat to cruise along meandering B-roads on, and you'll receive plenty of admiring glances when you arrive at your B&B in the country too. There are also soft luggage options available that will help preserve that vintage look on overnight trips.
As an off-roader
Any bike with the letters G/S in the name needs to be capable of hitting the trails, and the Urban G/S will take you greenlaning. However, the ergonomics and suspension put it very much in the soft-roader category, and to be fair to BMW, the manufacturer is open about this. So, the odd gravel or dirt road are well within the bike's capabilities, but I'd think twice about heading off on the Trans Euro Trail on it.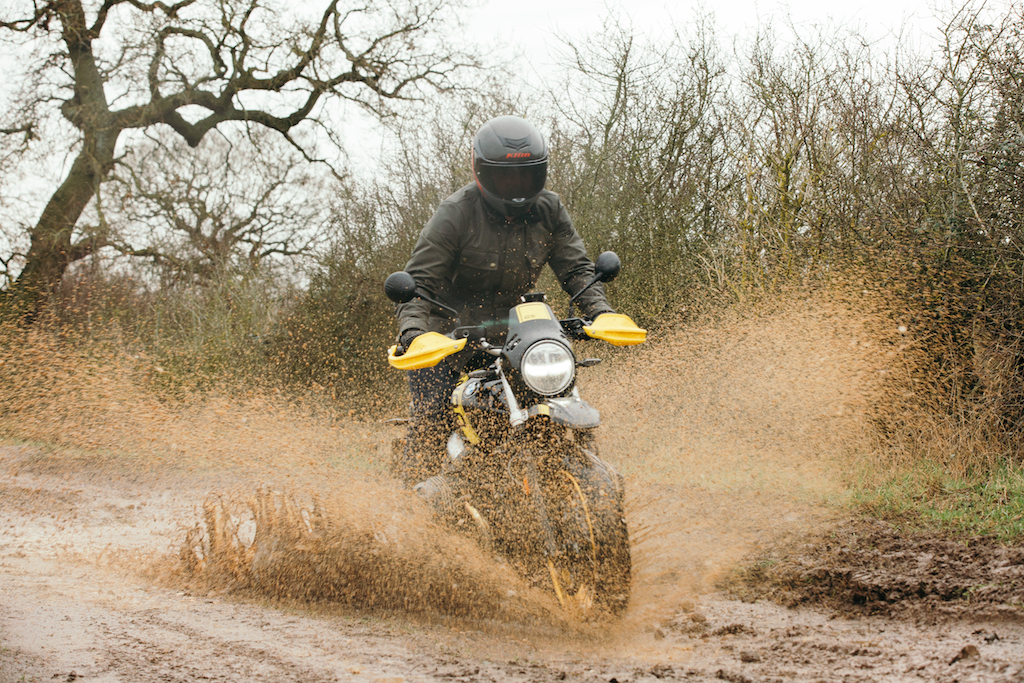 As a continental road tourer
The Urban G/S wouldn't be my first or second choice of bike to cover vast distance across Europe on in a short amount of time. The lack of weather protection and a seat that caused my backside to ache after an hour would put a dampener on the touring experience. However, the 1,170cc engine will cruise contentedly at motorway speeds all day, and the 17l fuel tank would be good for around 150 miles plus between fill-ups. If you do decide to take the Urban G/S to the Alps, an aftermarket screen is a must.
As an RTW overlander
Globe-busting journeys are not what the Urban G/S was designed for and there are clearly better-equipped bikes out there to take you on your RTW adventure, the R 1250 GS being a prime example. However, plenty of people have circumnavigated the globe on all kinds of bikes, so if you're determined to take on a global adventure on a motorcycle with retro style, and you're happy to stick to sealed roads and lighter trails, the Urban G/S would do the job.
As a pillion carrier
My pillion rider on the Urban G/S had to squeeze me pretty hard in order to avoid slipping backwards off the bike, mainly due to a lack of grab rails. She also noted that the footpegs were located too high, forcing her knees further up than she would have liked. In short, she wasn't particularly comfortable, revealing that this is a 'me' bike, rather than a 'we' bike.