With their classic looks and everyday practicality, waxed cotton jackets are a stylish option for motorcyclists wanting a classic look, James Oxley, Ollie Rooke and Bryn Davies put nine to the test.
I finally got around to watch Ewan Mcgregor and Charley Boorman's latest television series Long Way Up recently. For those who haven't tuned in yet, the pair travelled from the tip of South America to Los Angeles on specially adapted Harley-Davidson electric Livewire bikes.
Watching them felt like catching up with a couple of old school friends you haven't seen in years. It was familiar and reassuringly comforting in a world that's been anything but over the past year. And I admit, I've caught myself merrily humming the famous theme tune into my helmet on more than one occasion of late.
But what have Ewan and Charley got to do with a wax jacket review in ABR magazine? Well, they were the inspiration for it. Or, to be wholly accurate, Ewan wearing his rather dashing Belstaff McGregor Pro wax jacket was. The sight of the movie star riding through the Atacama Desert covered in dust and looking every inch the heroic adventurer had me thumbing my phone to check the price of his jacket (£695 if you fancy one yourself).
But apart from looking very stylish, I was also curious as to how practical a wax jacket would be on a journey like Ewan and Charley's. After all, motorcycle clothing technology has moved on substantially since the wax jacket became popular among bikers in the first half of the 20th century.
Well, after riding countless miles in a selection of styles from various manufacturers, I can now assure you that wax jackets don't offer the practicality, technical features, or performance of the textile adventure suit you may already have hanging in your cupboard. They also require more care and attention due to the need to reapply the wax coating from time to time to ensure it continues to repel water.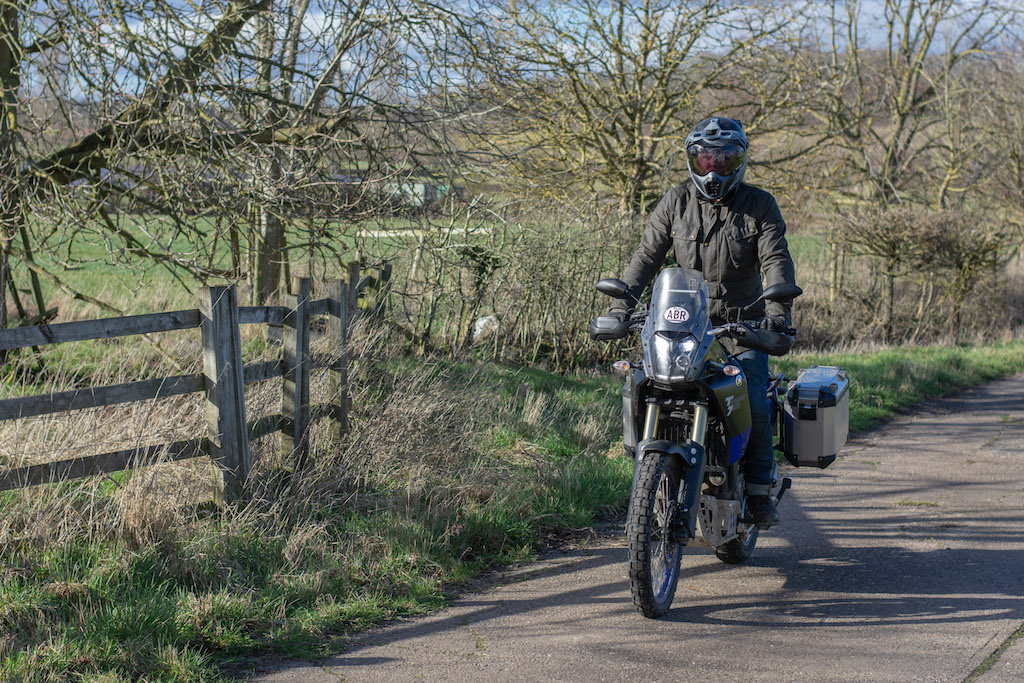 So, why would you splash your cash on a wax jacket when, as adventure bikers, we have plenty of better-performing alternatives available? For me, and I suspect I'm not alone, the answer is simple: They look and feel so damn good to wear.
They're also the perfect accompaniment to that retro-styled second bike you might have in the garage, like a Triumph Scrambler or a BMW R nineT Urban G/S. And, whether your motorcycling heroes are Ewan McGregor, Steve McQueen, or Sammy Miller, you can't help but feel like you're emulating them, just a little when you throw on a wax jacket.
They are also more practical than I might have led you to believe. Unlike many leather motorcycle jackets, waxed cotton clothing offers plenty of protection from the wind and rain, and its casual styling makes it ideal for those times you don't want to look like you've just ridden the Road of Bones, like commuting to the office or meeting friends for dinner.
So, you've been won over by the retro good looks of wax jackets and you've decided to buy one, but what features should you keep in mind before making your choice?
Comfort and fit
No matter how stylish, practical, or protective a motorcycle jacket is, if it isn't comfortable then you're going to be less inclined to wear it. If you can, try before you buy, although I understand this is more difficult than it used to be. If you are buying online, make sure you purchase from a retailer with a good returns policy.
If you do try on a jacket in a shop, make sure you adopt the riding position. You may look silly, but it'll allow you to see if the jacket rides up and exposes your back. It'll also show you if the sleeves are long enough when you reach forward for the handlebars, as well as revealing any pinch points that reduce mobility. If you plan to use your new jacket in cold weather, make sure you have enough room to add extra layers underneath, such as a heated jacket, without your movement becoming too restricted.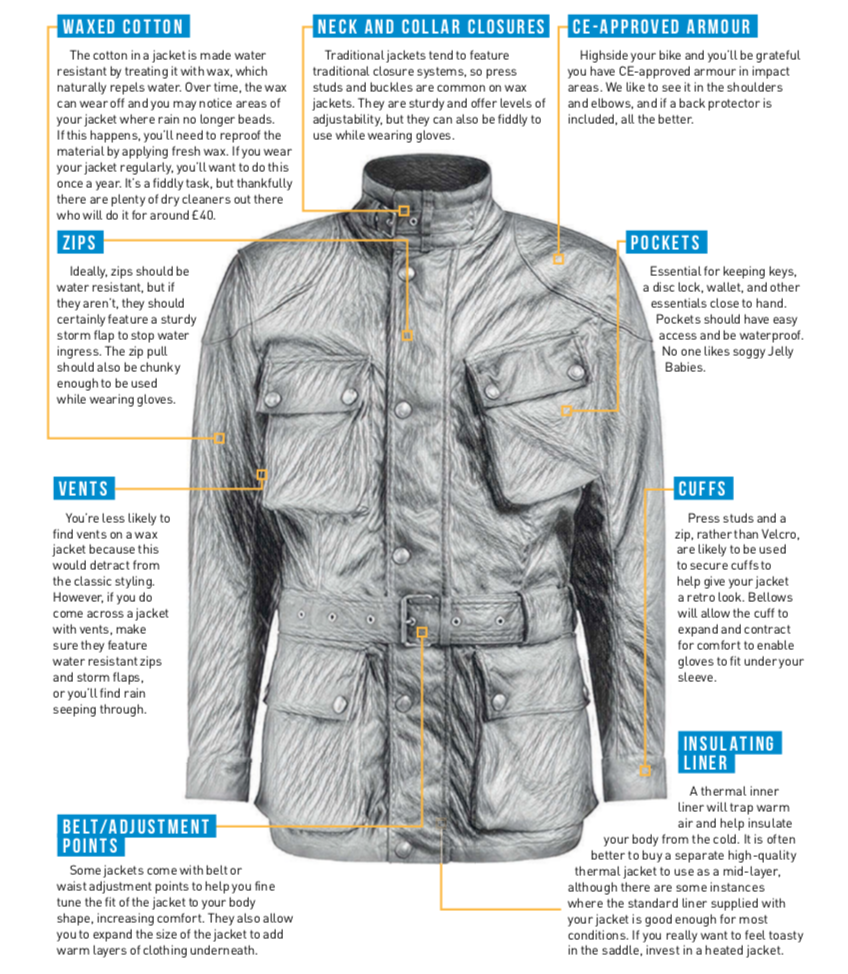 Weather protection
Waxed cotton is a tried and tested material used by motorcyclist and sailors before them for more than a century, because it is durable, hard-wearing, and repels water. So, it's got the pedigree to help keep you dry in the saddle.
However, most of the jackets on test don't rely on wax alone. Underneath the traditional wax coating, they employ a modern water-resistant liner, like the ones you'd find in a two or three-layer textile adventure jacket.
The wax is simply a first line of defence against the elements, although it will stop your jacket wetting out as long as you keep the wax topped up every year or so. You can tell if your jacket needs reproofing because water will no longer bead or roll off the material. You can either treat it yourself, take it to a dry cleaner, or some manufacturers offer reproofing services.
Also, ensure all zips are covered by substantial storm flaps or you'll find water seeping through on wet rides. And, look for a jacket with a removeable thermal inner liner to help keep you warm on colder days.
Crash protection
Cotton isn't known for its abrasion resistant properties, and it certainly won't offer the same levels of protection as leather motorcycle clothing or textile jackets that utilise materials like Cordura or Kevlar. However, some of the jackets on test utilise these materials in vulnerable areas and most meet the CE A safety standard, which tests for abrasion resistance, seam and tear strength, so they'll provide some protection in a slide.
You'll also want your new jacket to offer plenty of impact protection in the form of CE-approved armour. These days, companies like D30 make lightweight and flexible protectors that won't ruin the look of a jacket, or feel too bulky on or off the bike. I like to see armour in the elbows and shoulders as a minimum, and ideally, a back protector will be provided too. If it isn't, it's certainly worth investing in one,
Features
Wax cotton jackets tend to be traditional and simple in design, so they won't be loaded with technical features like detachable storm collars or hi-vis panels, but there are some features to look out for that will improve comfort and convenience.
Firstly, pockets. Wax jackets are often blessed with plenty of these, with a traditional four-pocket design commonplace. Just makes sure they are wide and deep enough to actually be of use, rather than simply being there for style reasons. Trying to stuff a wallet or disc lock into an undersized pocket at the roadside can be very annoying.
Keep an eye out for adjustment straps at the waist or hem, as well as collar and cuff adjusters so you can fine-tune a jacket's fit to your body shape. These will usually be fastened using press studs, buckles, and/or zips, rather than Velcro, to retain the retro style. Ideally, you should be able to use these closure systems while wearing riding gloves, but this isn't always the case. In my experience, the chunkier the press studs, buckles, and zip tabs are, the easier they are to operate.
Tucano Urbano POL 2G
£159.99 | www.tucanourbano.com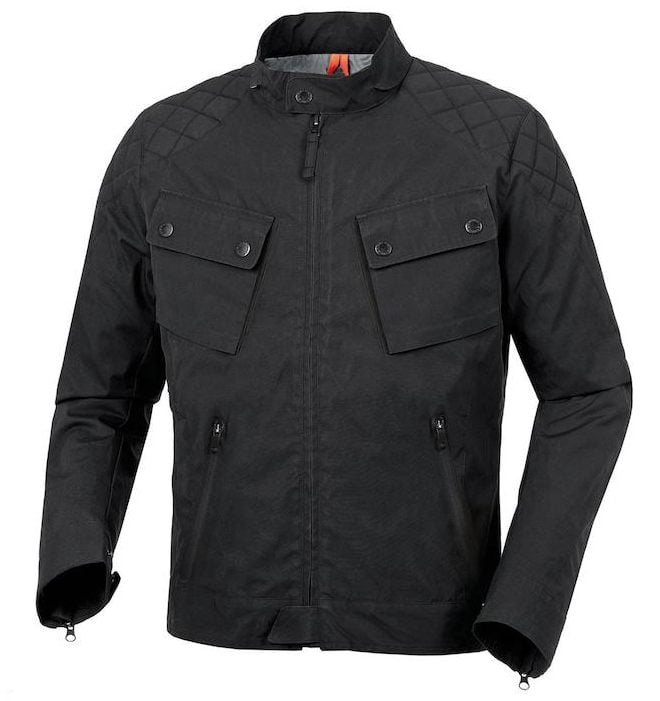 Italian brand Tucano Urbano specialises in casually styled, affordable motorcycle and scooter gear, so it's no surprise that the Pol 2G is the least expensive jacket on test. The price tag reflects the simplicity of Tucano Urbano's offering. It is a lightweight and stylish casual jacket designed to be worn in good weather. In fact, it's so lightweight, putting the Pol 2G on felt like wearing a casual jacket you'd pick up in a high street shop.
However, the outer shell's 50% cotton and 50% polyester construction does lead to it feeling stiffer than the 100% cotton jackets on test, which reduced comfort. It is also cut rather short which led to it riding up and exposing my lower back in the saddle.
In terms of protection, the Pol 2G is CE A certified and features CE-level 1 armour in the shoulders and elbows. There is a pocket for back armour but you will need to buy a protector separately.
Interestingly, the outer material has been given a water-repellant Hydroscud treatment which provides a wax finish.
Tucano Urbano says this does not need to be reproofed. The jacket relies on this coating solely for weather protection because it doesn't come with a separate waterproof liner. With this in mind, if I was wearing the Pol 2G regularly in wet weather, I'd buy a separate waterproof layer to wear over it.
Tucano Urbano also hasn't provided a thermal liner, so you'll need to layer up on all but the warmest of days. When the temperature does rise, the Pol 2G has closable, pit vents to help cool you down.
The jacket features a four-pocket design, two on the chest and two handwarmer style pockets. They're not the largest, but I managed to store keys, a wallet, and other small essentials. They are fastened with water-resistant zips.
If you're looking for a lightweight jacket for a short commute, or to pop to the shops during fine weather, the Pol 2G is a good-looking, lightweight option. For more demanding riding, I'd look elsewhere. JO
ABR Rating – 6/10
Comfort – 6
Protection – 7
Features – 5
Style – 7
IN A LINE – A simple and affordable motorcycle jacket for warmer weather.
RST X Kevlar Brixton textile jacket
£169.99 | www.rst-moto.com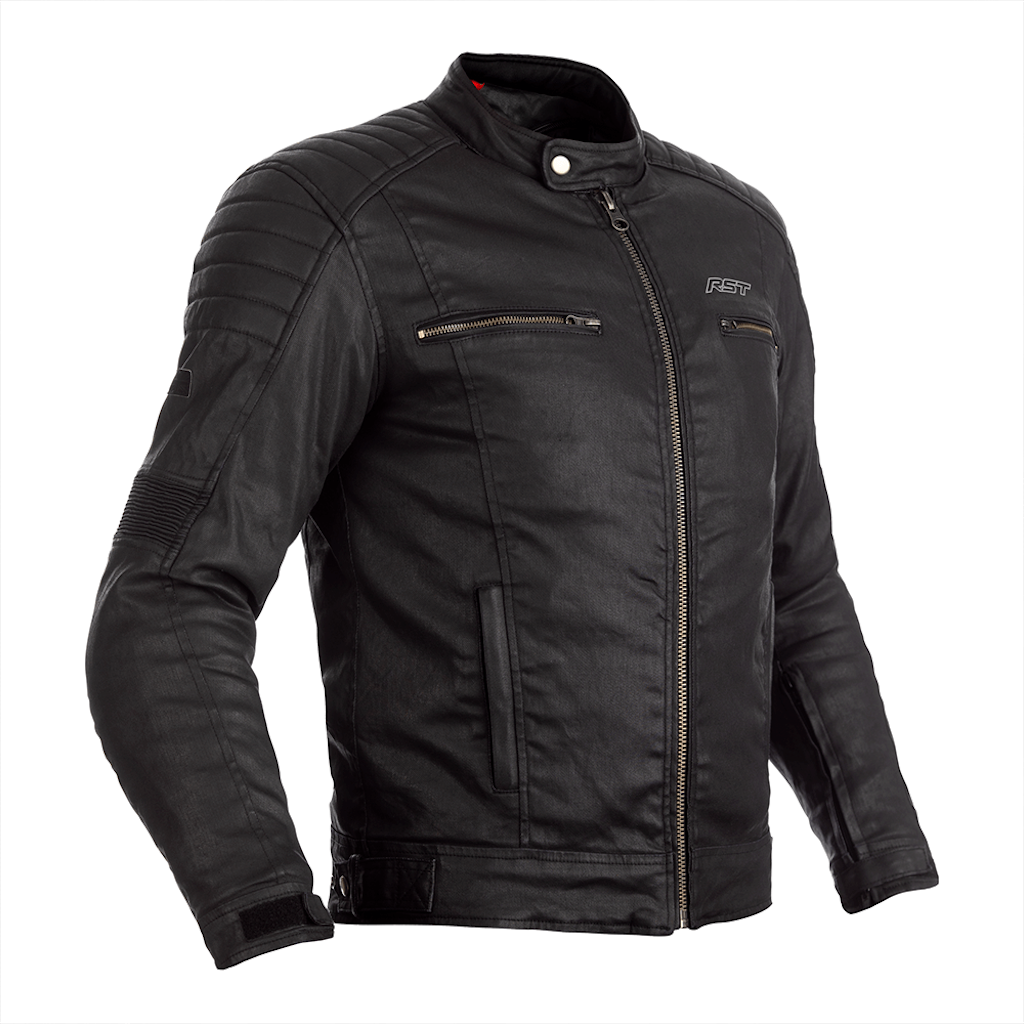 RST has a habit of producing competitively priced motorcycle clothing that performs in the saddle, so it's no surprise that the company's gear seems to be everpresent at biker cafes and ride-outs across the UK on any given weekend.
Having been impressed with the British brand's casual riding gear in the past, particularly a pair of textile jeans that topped the group test in issue 58 of ABR, I was intrigued to see if the x Kevlar Brixton Textile Jacket similarly delivered.
And, at just £169.99, it is one of the least expensive jackets on test, but I was pleased to discover that it has a lot to offer. In terms of style, it boasts minimalist good looks that avoid the extravagant belts and toggles of some of the competition. In fact, the black jacket has an almost faux-leather appearance rather than the country gent look that is common among wax jackets.
It has a fixed waterproof lining to help keep you dry, and a removable thermal liner for warmth on cooler days. When the weather heats up, there are two chest vents and one exhaust designed to keep you cool, although due to the fixed waterproof liner, these don't allow for direct venting, which reduces their effectiveness.
When it comes to protection, the Brixton matches the competition, with flexible CE-level 1 armour at the shoulder and elbows working alongside Kevlar reinforcement in key impact zones, helping the jacket achieve a CE A rating.
My only two niggles with the x Kevlar Brixton Textile Jacket were the relatively small hand warmer style pockets, which only just fitted my wallet and keys, and the adjustment zips at the cuffs, which had a habit of rubbing against my skin. Despite this, RST's jacket performed well and offers good value for money. OR
ABR Rating – 8/10
Comfort – 8
Protection – 8
Features – 8
Style – 7
IN A LINE – A good-looking jacket at a great price.
Richa Scrambler 2
£179.99 | www.nevis.uk.com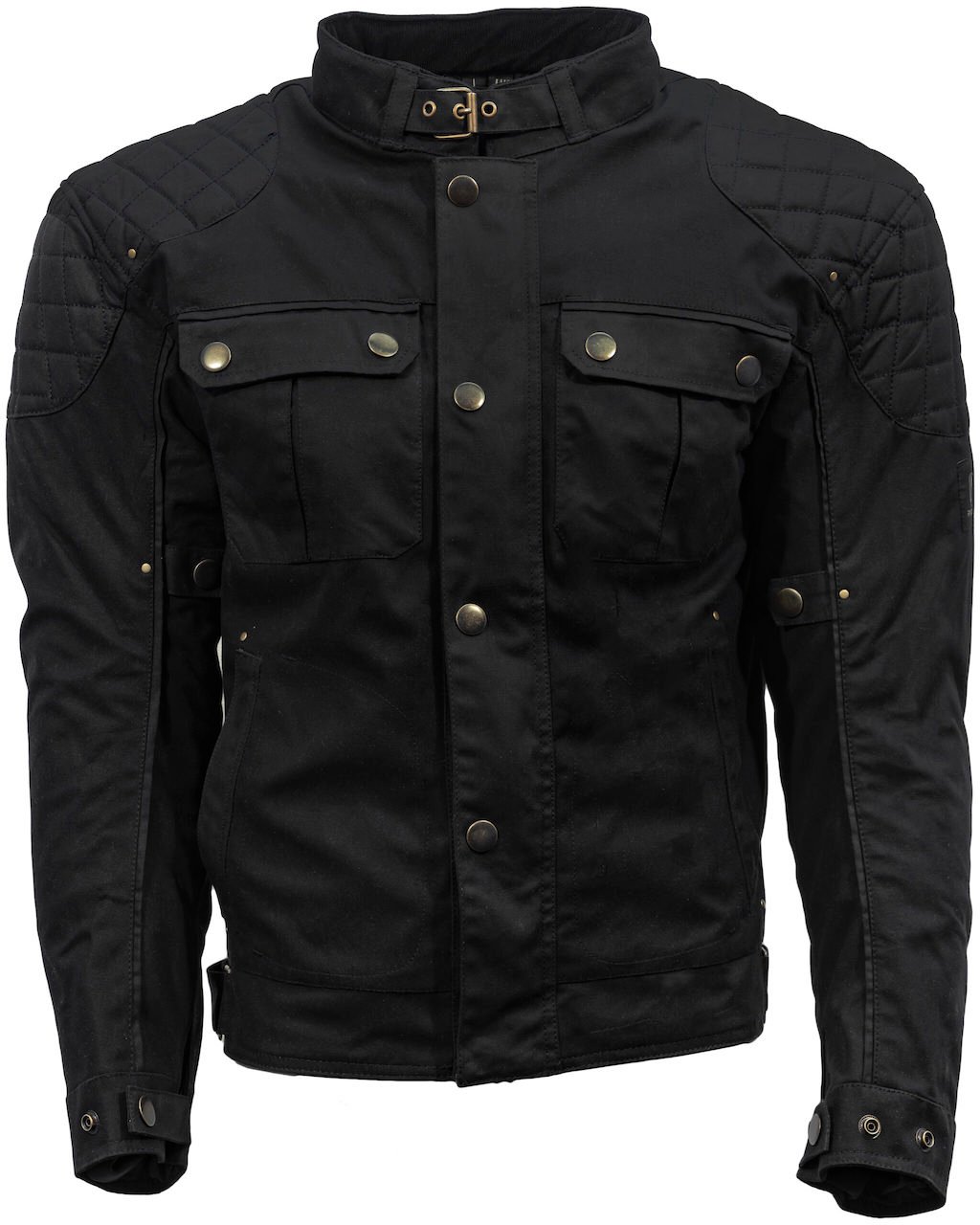 Richa is very good at creating subtly styled, strong performing motorcycle clothing that stands the test of time. I've worn Richa jackets, gloves, and jeans over countless miles and they've never let me down. So, I tend to have high expectations when looking at a new piece of gear from the Belgian brand. Its entry into this group test, the Scrambler 2, certainly didn't disappoint.
When it comes to style, Richa's jacket looks similar to many of the other vintage-styled wax jackets on test. This isn't a criticism. British companies Belstaff and Barbour pioneered the traditional wax jacket look in the first half of the 20th Century, and it has been adopted by motorcycle gear manufacturers around the globe ever since, each adding their own subtle twist.
Richa's take is one of best. With its quilted shoulder pads, large metal press studs, and chequered lining, it oozes retro cool with the best of them. The Scrambler 2 is a CE A certified jacket made from a 100% waxed cotton outer shell. It features CE- level 2 armour in the shoulders and arms, a welcome addition to a jacket that is this affordable, This does make the Scrambler 2 feel a little bulky in those areas but it's a price I'm willing to pay for the increased impact protection the armour brings.
Along with wax coating, weather protection comes in the form of a fixed waterproof drop liner attached to the inside of the jacket. This will help repel wind and rain but it'll also trap heat inside on warmer days. Inside you'll also find a removable, quilted thermal liner.
The Scrambler 2 is a short cut jacket but it's long enough to cover the bottom of my back in the saddle, with no draughts.
The jacket is fastened using a combination of zippers and press studs, with the addition of a storm flap and gutter to keep the rain out. The fit can be fine-tuned through the use of adjusters on the hem, arms, and cuffs, and overall, I found the Scrambler 2 extremely comfortable to wear. JO
ABR Rating – 8/10
Comfort – 8
Protection – 8
Features – 8
Style – 8
IN A LINE – Style, comfort and protection at an excellent price.
Oxford products Holwell 1.0
£199.99 | www.oxfordproducts.com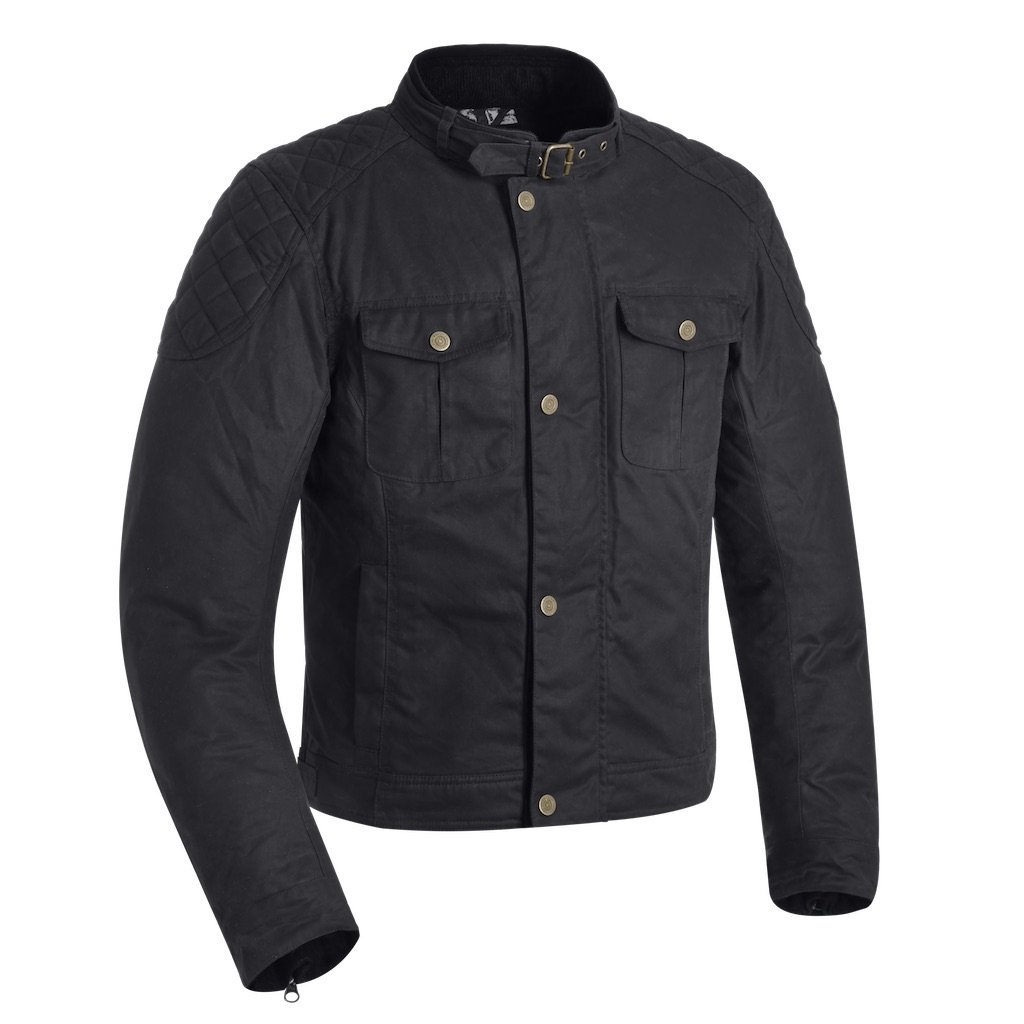 If you're looking for value for money, Oxford Products' Holwell 1.0 jacket is a great place to start, and perhaps finish. At £199.99, it is one the least expensive on test but you get a lot of jacket for the money.
It's constructed from waxed cotton made by British Millerain, a company that has been producing textiles since 1880. In terms, of looks, the Holwell 1.0 is a stylish jacket thanks to subtle flourishes like the quilted material on the shoulders, and pleated pockets on the chest.
Protection comes in the form of CE-level 1 armour in the shoulders and elbows, and overall the Holwell 1.0 has achieved a CEA safety rating. Behind that waxed-cotton outer is a wind and waterproof membrane. This isn't removable, so while it'll help keep you warm and dry on cooler days, it'll also stop air flowing through to your body when the mercury rises. Combine this with a lack of vents on the jacket, and you'll find yourself heating up in the height of summer. However, as a three-season, casual riding jacket, the Holwell 1.0 has a lot going for it.
There is a detachable, quilted thermal liner which isn't the thickest I've seen but did a decent job of keeping me warm on short winter rides. The jacket feels lightweight and flexible, allowing for plenty of mobility in the saddle. Comfort is aided by nice touches like so corduroy liners in the cuffs and collar.
The Holwell 1.0 is fastened using a zip and press studs covered by a double storm flap and gutter, which will do a good job of keeping the rain out. The vintage-style gold press studs not only look good, but they are large enough to use while wearing gloves. However, like the Belstaff Jacket on test, the Holwell 1.0 uses a buckle as a collar fastening. This suits the retro look but it's fiddly to adjust and I gave up trying while wearing gloves.
Overall, I was impressed with the Holwell 1.0. While there are better options for touring, as a stylish, casual riding jacket for commuting and Sunday rides, it punches well above its price tag. JO
ABR Rating – 8/10
Comfort – 8
Protection – 7
Features – 7
Style – 8
IN A LINE – Good looks and comfort at an affordable price.
Alpinestars Ray canvas V2 wax jacket
£214.99 | www.alpinestars.com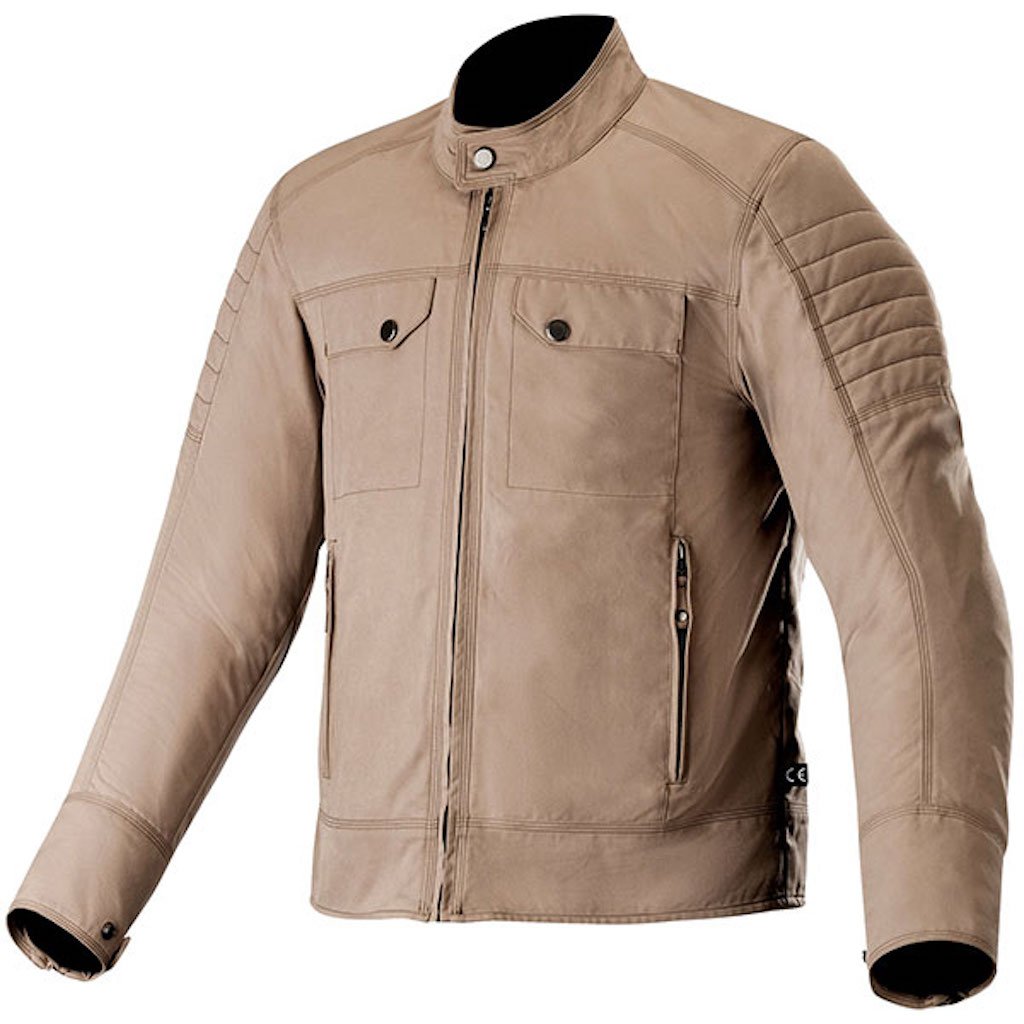 Italian manufacturer Alpinestars took its name from the Alpine star flower, commonly used as a symbol of the rugged beauty of the Alps. It's fitting then that the company has established a reputation for making attractive gear that performs well when subjected to the harsh rigours of life in the saddle.
The Italian brand's entry in this test, the Ray Canvas V2, continues the trend in terms of its good looks, but lacks some of the features I like to see in a bike jacket.
Let's start with the positives. In terms of style, the Ray Canvas V2 eschews the retro charm of the likes of the Belstaff jacket on test, and instead opts for a modern take on wax jacket design. The dark khaki colour I've been wearing has attracted plenty of compliments and it is easily mistaken for a casual jacket you'd buy on the high street.
The waxed cotton construction is water repellant and kept me dry during brief showers. However, it did start to wet out on longer rainy rides. There's also no thermal liner, so I've been wearing my own thermal mid-layer to stay warm.
On the flipside, there aren't any vents, so in summer when temperatures soar, you may find yourself overheating.
The protection on offer is similar to other jackets on test. There is CE-level 1 armour at the shoulders and elbows to provide impact protection, and the seams are triple stitched for increased strength. Overall, the jacket has been given a CE II rating, so it conforms to the EU directive that all bike clothing must be personal protective equipment (PPE), but it hasn't been tested to the same standards as those with A or AA ratings on test.
There are two large zip-up front pockets, two small chest pockets, and a nifty waterproof internal pocket for valuables. Sizing is also a little tight, so go for a size up if you're ordering online. Overall, I see the Ray Canvas V2 as being in 'second jacket' territory. It won't replace my go-to touring textiles, but I'll break it out for Sunday rides in good weather. OR
ABR Rating – 7/10
Comfort – 8
Protection – 6
Features – 6
Style – 8
IN A LINE – Effortless cool at a reasonable price, but lacking features.
Furygan Thruxton
£249.99 | www.nevis.uk.com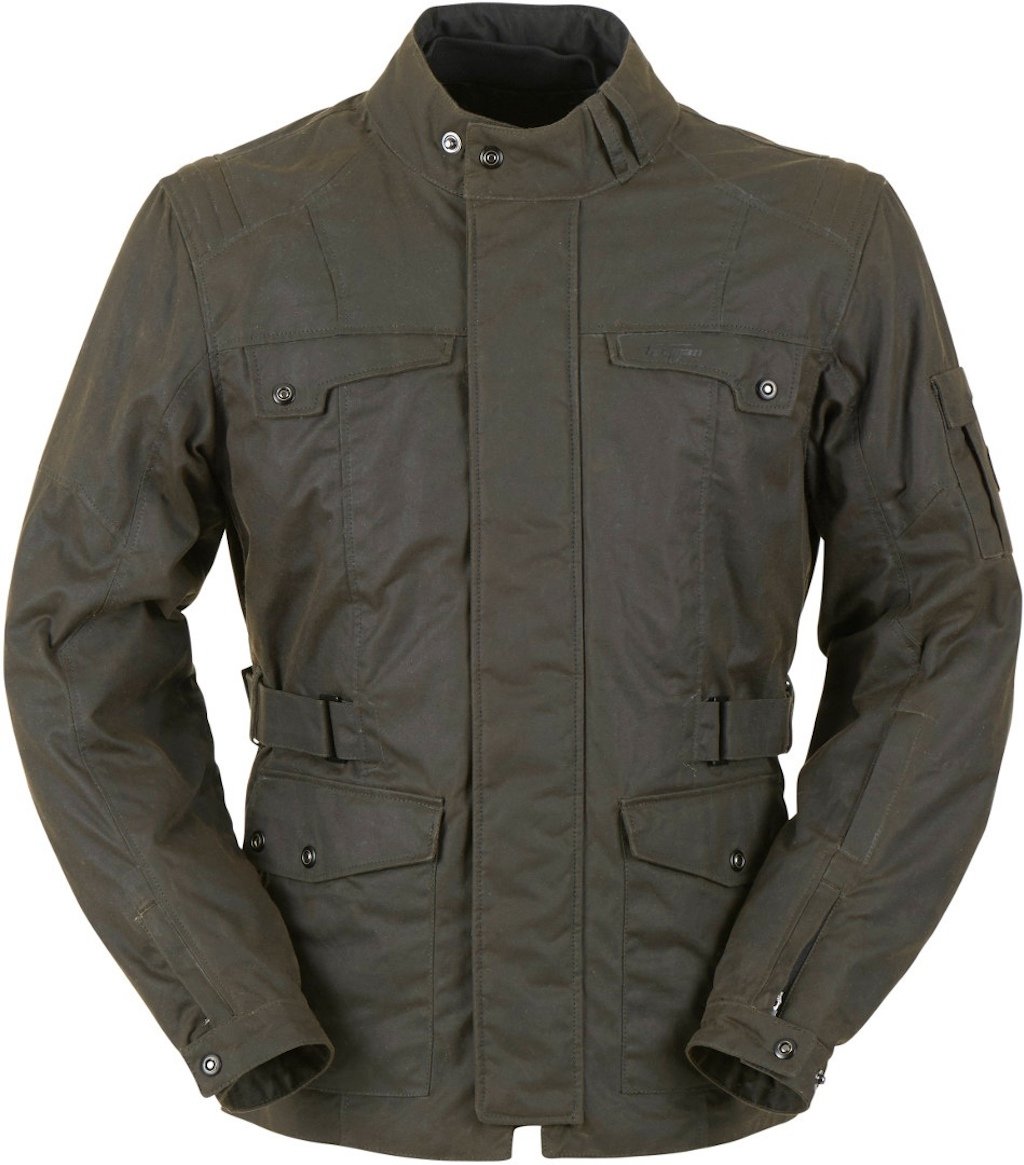 French brand Furygan began life in 1969 with the sole focus of making gloves for motorcyclists, skiers, and cyclists. Since then, the company has carved out a reputation for producing good quality bike gear at competitive prices. Its entry into this group test, the Thruxton jacket, continues that theme.
At first glance, it could easily be mistaken for a traditional wax walking jacket, and while the design may not look quite as retro as the Belstaff or Barbour jackets on test, the Thruxton certainly has something of the country gent about it.
The outer shell is made from 100% waxed cotton which is backed up by a fixed inner waterproof liner. This combination keeps the rain and wind out, but by their nature, fixed inner liners can't be removed, so you'll find yourself heating up when the temperatures rise due to a lack of direct venting.
Impact protection comes in the form of CE-level 1 armour in the shoulders and elbows, but you will need to buy a back protector separately.
When it comes to comfort, slip the Thruxton on and the quilted surface of the removable thermal liner feels luxuriously soft to touch. The jacket is also flexible, lightweight, and I found no restrictions to my mobility while I was wearing it, on or off the bike.
In terms of features, there are large pockets at the waist, secured by press studs and Velcro, as well as two smaller chest pockets. All outer pockets feature storm flaps. You can fine-tune the fit using adjusters at the waist and hips.
At £249.99, the Thurxton is an affordable jacket that looks good and feels even better, although the fixed waterproof liner makes it best suited to commutes and Sunday rides in autumn, winter, and spring rather than on sticky summer tours. JO
ABR Rating – 8/10
Comfort – 8
Protection – 7
Features – 7
Style – 8
IN A LINE – An affordable and stylish jacket, best suited to cooler weather use.
Barbour International original waxed jacket
£249 | www.barbourinternational.com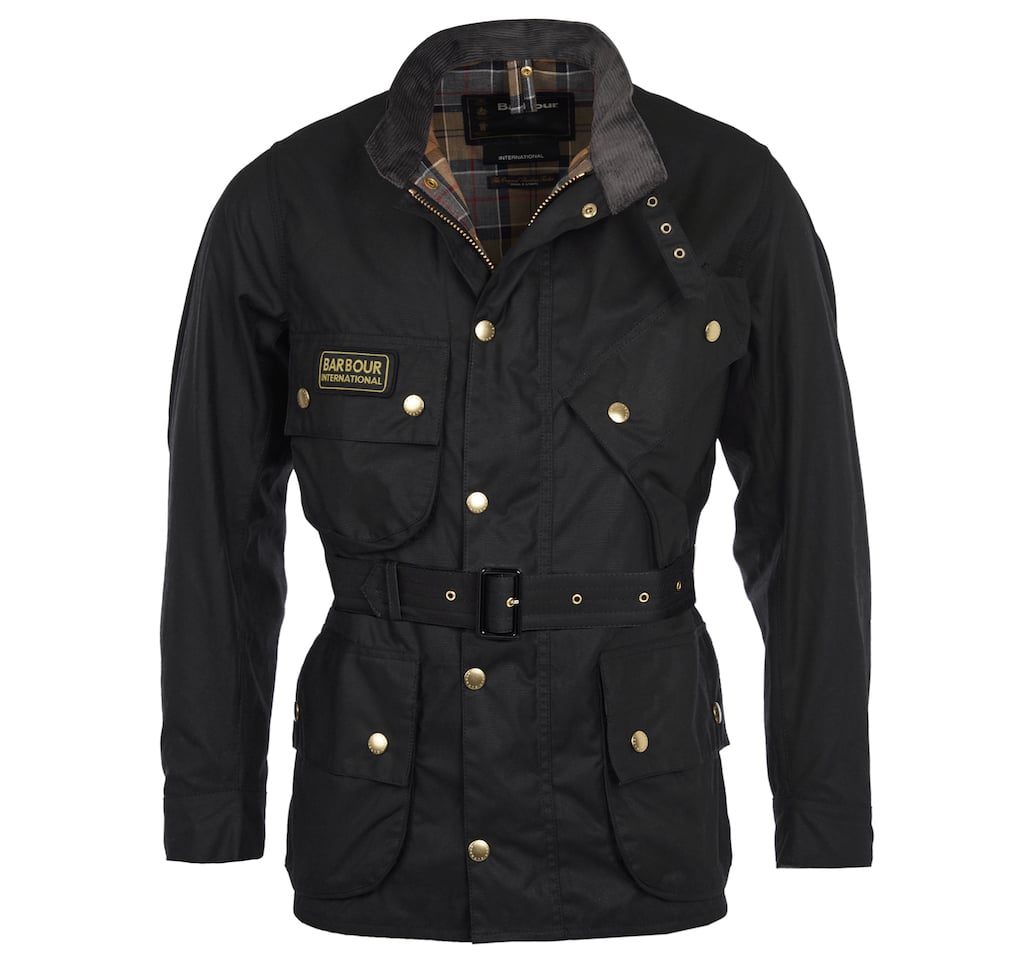 If you were riding through the '60s and '70s, the Barbour International will need little introduction. I was but a sparkle in my dad's eye at that point, but I'm told, in the Rhondda Valley at least, that it was the jacket that every rider aspired to own.
First introduced in 1936, it quickly established itself as the go-to piece of bike gear for the legendary riders of the day. In 1957, an incredible 97% of the competitors at the Scottish Six Days Trial were donning Barbour, and Steve McQueen further went on to elevate the stock of the jacket when he wore it in 1964 trials.
Since then, the International has remained virtually unchanged, its style harking back to those glory days which is undoubtedly part of the charm. It uses an 8oz Sylkoil waxed cotton with a matte finish outer, which is water-resistant, and the inner features a 100% cotton Tartan lining.
Four huge pockets on the front, including the traditional angled map pocket, provide plenty of storage, and the included waist belt gives that classic trials look. The collar is corduroy lined for comfort and the jacket's instantly recognisable thanks to the iconic Barbour International logo on the chest.
The International well and truly draws its design from the past, but it also takes an old-fashioned approach to protection. There are no mentions of CE ratings and there's no optional armour or even the pouches to hold it in.
It does have a large fit though, so if you buy the right size, you'll be able to wear an armoured vest underneath. How important this is, only you can answer, but you'll have to keep that in mind when deciding if this is the bike jacket for you. BD
ABR Rating – 6/10
Comfort – 8
Protection – 4
Features – 6
Style – 7
IN A LINE – Retro appeal and an icon of the past but it lacks any real protection
Merlin Edale jacket
£280 | www.merlinbikegear.com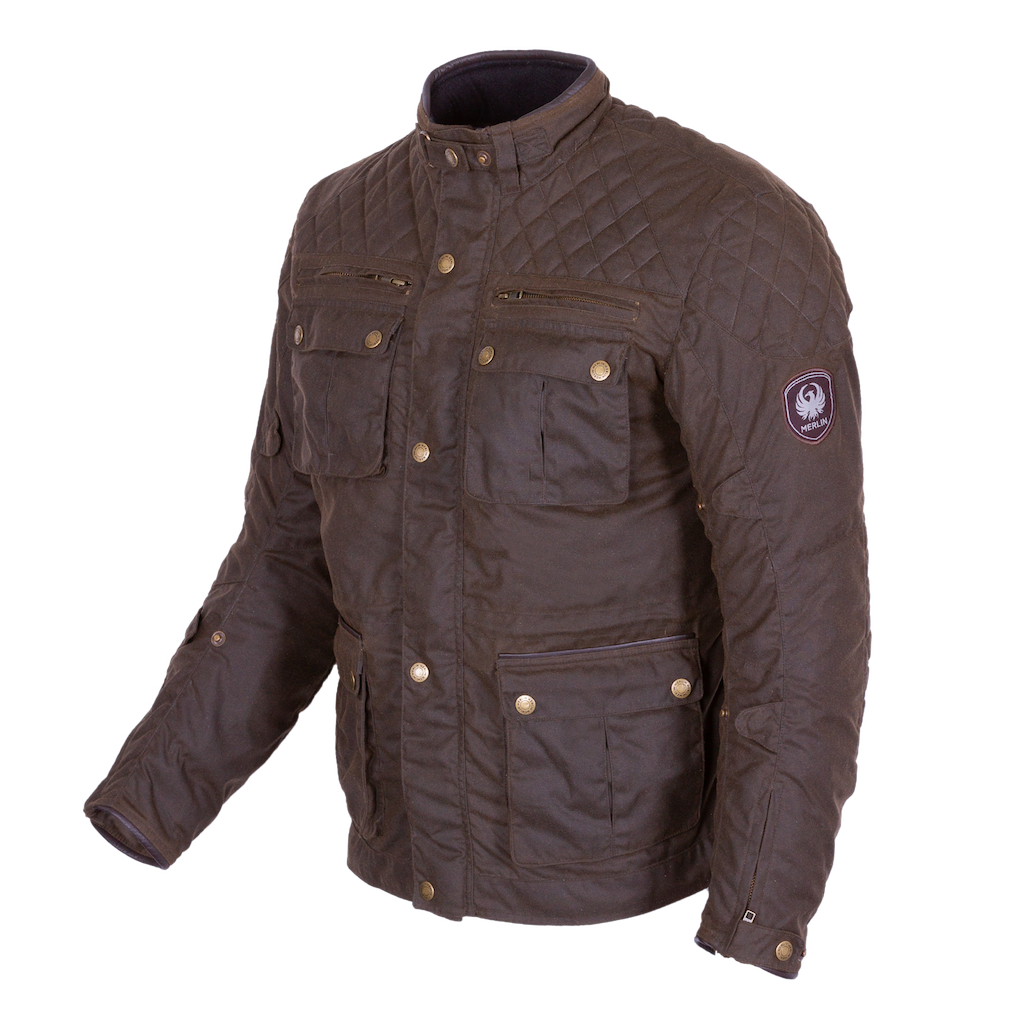 If you love the look of Belstaff gear but aren't willing or able to fork over the high prices their jackets demand, you'll want to check out Merlin. With a suspiciously similar logo, Merlin is a British company which prides itself on creating retro-styled motorcycle gear that's practical and protective.
At £280, the Edale is the second most expensive jacket in this group test, though it's still £295 cheaper than Belstaff's offering. Still, at this price, it has to offer quality and performance, and fortunately, it does. As far as waxed cotton jackets go, it's very well featured, with a handful of technologies and design points that make it both a stylish and practical motorcycle jacket.
Impressively, the Edale has been given a CE AA rating meaning, on the protection front, it goes over and above most of the other products, you'll find in this group test. This is down to the combination of the Cotec outer and D3O CE-Level 1 armour found at the elbows and shoulders (there's also a pocket to add your own back protector should you wish).
The Cotec outer is particularly interesting. Marketed as a 'technologically advanced rethink of traditional waxed cotton', it's been developed to offer enhanced breathability, easier maintenance, and better abrasion and penetration resistance. It also offers the weather protection abilities of traditional waxed cotton, though Merlin has gone one step further and added a Reissa waterproof drop liner to ensure waterproofing.
On the practical side of things, the Edale is well equipped. There's plenty of adjustment on the arms, cuffs, waist and collar to help you get a comfortable fit, and you get four large, buttoned external pockets, two fleece-lined handwarmer pockets, a rear buttoned pocket, and two internal pockets. The included thermal liner is also of a good quality, using Outlast technology to help provide warmth when the temperatures drop. BD
ABR Rating – 9/10
Comfort – 9
Protection – 9
Features – 9
Style – 9
IN A LINE – An excellent waxed cotton jacket that offers function and performance as well as great looks.
Belstaff Trialmaster Pro
£575 | www.belstaff.co.uk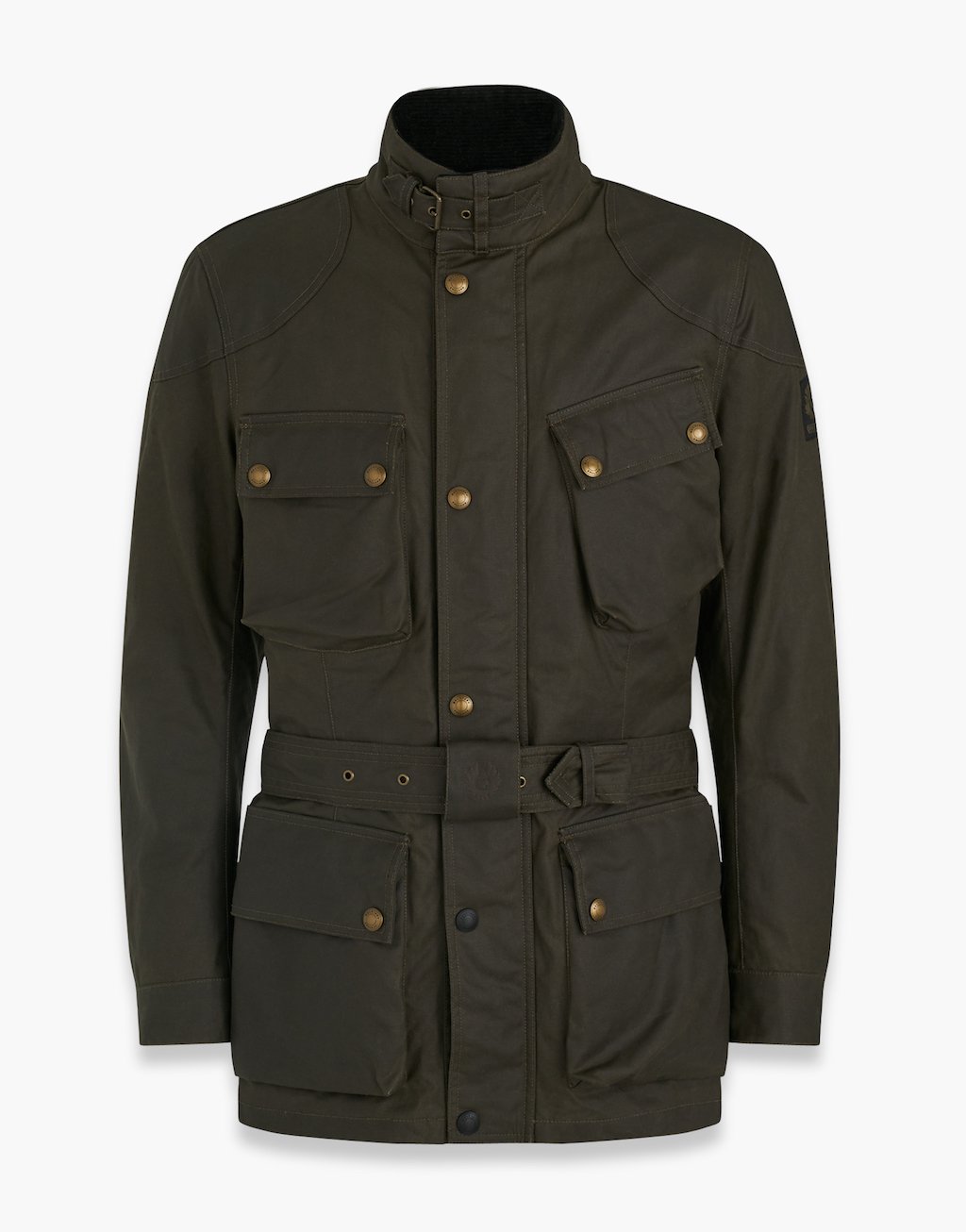 As the inspiration for this group test, it's only fitting that we should feature a jacket from British brand Belstaff. The company was founded in 1924, near Stoke-on-Trent, by Eli Belovitch, and his son-in-law, Harry Grosberg, with an emphasis on producing practical, waterproof clothing, particularly for motorcyclists.
From humble beginnings, Belstaff has grown to become one of the world's most desirable clothing brands, worn by Hollywood stars, supermodels, and of course motorcyclists.
The most iconic garment to role off the company's production line over the past century has been the waxed-cotton Trialmaster jacket, first introduced in 1948. The stylish yet practical four-pocket design has changed little over the years because Belstaff nailed it from the off.
Ewan McGregor's Long Way Up jacket, the McGregor Pro, was heavily based on the latest incarnation, with a few flourishes added by the star, such as leather patches and different coloured liner. But, knowing not everyone will fancy a Long Way Up logo on their premium motorcycle jacket, I opted to review the standard Trialmaster Pro instead.
Call me a sucker for labels, but there's something special about putting on a Belstaff jacket. It's a carefully crafted, high-quality piece of motorcycle clothing which reflects the premium nature of the Belstaff brand and the century of motorcycling heritage behind it.
The jacket is constructed from 10oz waxed cotton which is reinforced with Cordura at the shoulders and elbows for increased abrasion resistance. These areas also feature CE-level 1, armour which is lightweight, flexible, and comfortable to wear on and off the bike.
These protective elements enabled the Trialmaster Pro to achieve a CE A rating for safety. It's the lowest of the three CE A safety ratings (the others being AA, and AAA), but this is common in more casual motorcycle clothing. There is a pocket for a back protector which needs to be bought separately.
In terms of weather protection, the jacket did an excellent job of keeping me dry during a few wet rides. This is thanks to the water-resistant properties of the traditional waxed cotton, combined with a more modern, non-removable, waterproof drop liner bonded to the inside of the jacket. It's also one of the warmer motorcycle jackets I've used, thanks to a quilted lining in the sleeves, and a detachable thermal body warmer.
When it comes to fit, the Trialmaster Pro is a three-quarter length jacket and I had no concerns about it riding up and exposing my back in the saddle. You can fine-tune the fit using a belt around the waist which adds to the vintage look. The cotton chequered lining feels soft to the touch, and the soft corduroy collar and cuff linings are a nice touch.
The traditional four-pocket design not only looks good, but it's also hugely convenient to store a host of essentials, which is ideal for touring. Those pockets are wide, deep, and easy to access using press studs and large storm flaps. The jacket is fastened using a centre zip and more press studs which are easy enough to secure using gloves.
However, I did struggle with the fiddly buckle collar fastening. It's difficult to do up with my bare hands, let alone gloves. I understand it is part of the vintage look, but it proved tricky to use.
Despite this niggle, I've been hugely impressed by the Belstaff Trialmaster Pro. In fact, I've been so enamoured, I've worn the jacket almost every day, on and off the bike, since it arrived at the ABR offices a few weeks ago.
It is a stylish and practical three-season jacket. I say three seasons because a lack of venting would make it somewhat stifling on hot summer days. That said, I reckon I'll be happy to put up with a little perspiration if it means I look and feel this good. JO
ABR Rating – 9/10
Comfort – 9
Protection – 8
Features – 8
Style – 10
IN A LINE – A classy, stylish, good quality jacket with a rich heritage that makes you feel as cool as Ewan McGregor.