Ollie Rooke reflects on 12 months and 10,000 miles with Honda's flagship adventure bike.
As the mileage on my long-term Honda Africa Twin Adventure Sports rolled over 10,000 miles, I felt a pang of sadness. Honda had been in touch earlier that day and asked me to return its big adventure bike. So, as I watched the zeros appear on the TFT dash, I admit to feeling a bit gutted that I wouldn't be the rider putting the next 10,000 miles on the clock.
Over the past year, the Africa Twin has got under my skin in a way no other motorcycle has before it. But why have I grown so fond of the bike? Was it simply because the Honda is incredibly capable in almost all riding conditions? Maybe. Or is it because it's a hell of a lot of fun to ride? Perhaps. After all, the bike corners on rails, sweeps through the twisties in a spirited manner that seems illogical given its size and weight, and it eats up long distances effortlessly and in supreme comfort.
The Africa Twin is also a hoot to ride off-road. Despite the sheer bulk of the Adventure Sports, it carries its weight reassuringly low down and it seems unfazed by most terrain that I've comes across. But, to be honest, there are a number of adventure bikes around at the moment that are also superb performers in all of these scenarios. So, what sets the Africa Twin apart for me? The answer dawned on me as I pulled up at home and wheeled the big bike into my garage. I like and admire the Africa Twin because, technically speaking, it's a very capable machine. But I love the bike because it makes me feel so damn good when I ride it.
Every time I sit behind those sweeping handlebars, it sparks a fire inside whatever part of my mind, body, and soul is responsible for my love of exploring on two wheels. No matter where I'm going, every time I start up the Africa Twin, it ignites my lust for adventure and sends adrenalin pulsing through my veins in a way other bikes simply don't. It never fails to excite, whether I'm riding to the north of Scotland, or heading to the supermarket for the weekly shop (during which the spacious Honda luggage came in handy). After a year of experiencing that feeling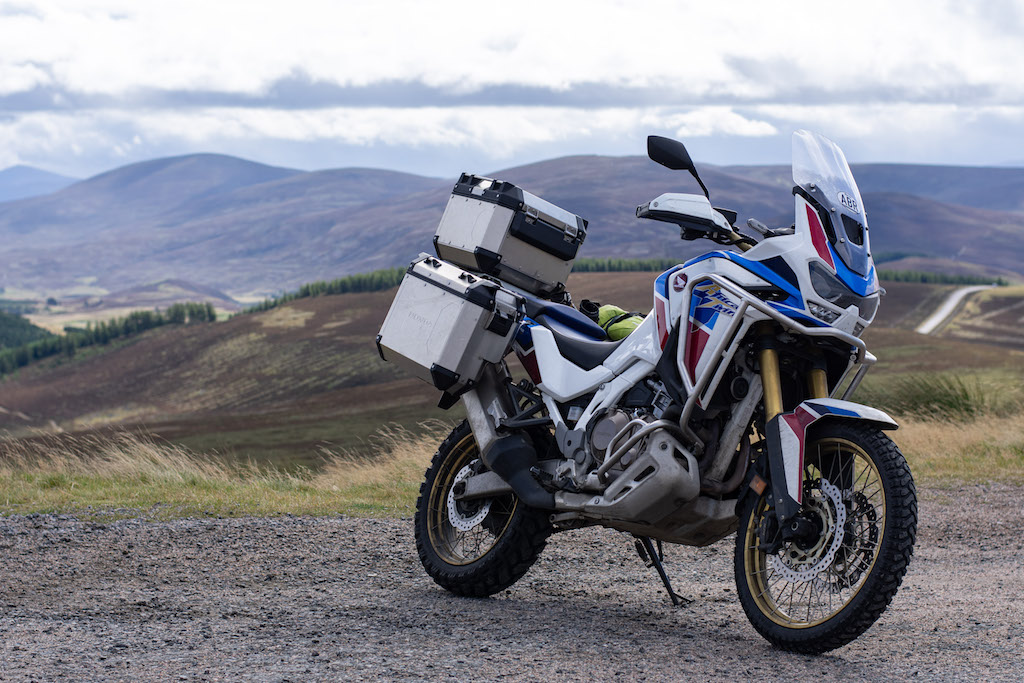 Almost every day, I'll certainly miss it when it's finally gone. In fact, my best memories from a pretty dire 2020 come from ride-outs on the Africa Twin. I remember warm summer evenings greenlaning in the Cotswolds with fellow members of the ABR team. And the brilliant weekend I enjoyed putting the bike through its paces at the Honda Adventure Centre in a muddy Wales. But, away from my own experiences, you'll no doubt want to know if the big Honda is the right bike for you. So, here's the full ABR Verdict after a year of riding the Africa Twin Adventure Sports to help you answer that very question.
As a commuter
If your commute involves filtering through lines of city traffic, there's no getting away from the fact that at 238kg (wet), the Adventure Sports is a big beast. So, while I'd opt for a smaller bike if I faced a city commute, the Africa Twin has been perfect on my daily 30-mile round trip to the office on motorways and A-roads. The vast fairing provides ample weather protection, even in the depths of winter, and the combination of excellent LED headlights and cornering lights provided plenty of road presence and vision of the road ahead on dark winter nights and early mornings.
When I did venture back to my old stomping grounds in London to see friends and family, the Honda handled the cut and thrust through the urban jungle surprisingly well. The bike is so well balanced, and it's much more agile than a motorcycle of its size should be, even at walking pace. And, the 850mm seat height allowed me, at 6' tall, to comfortably flat foot and paddle the bike into tight spots. However, the absurd lean angle caused by a hopelessly short side stand made finding enough room to park in busy city motorcycle bays a real chore.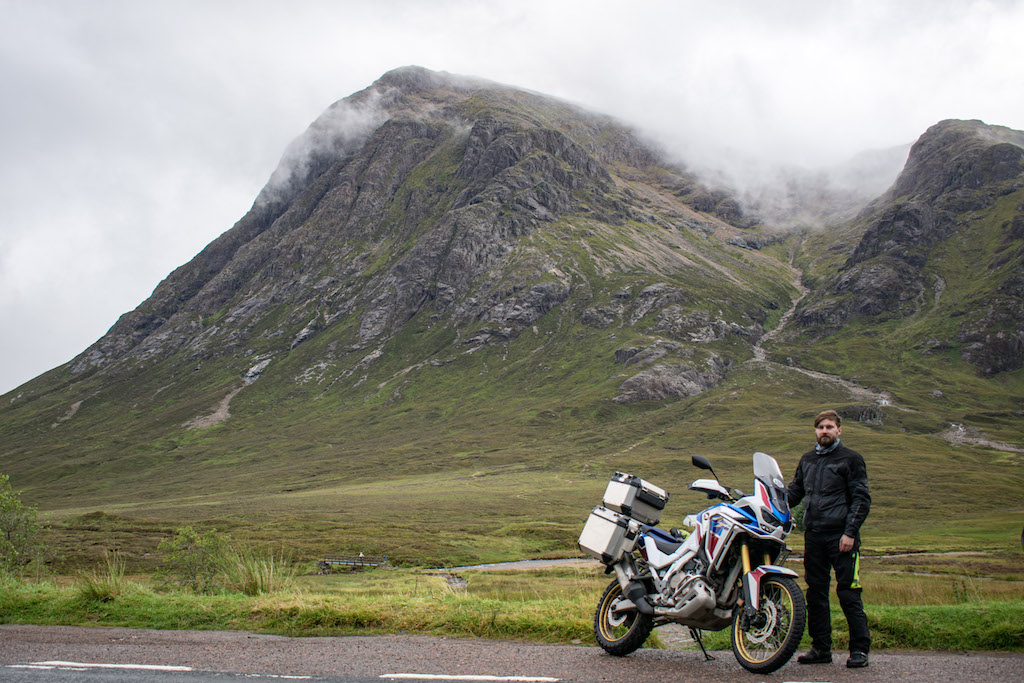 As a weekend tourer
Now we're talking. While the Africa Twin is more than capable of handling a daily commute, it would feel a little like hiring Gordon Ramsey to put some chicken nuggets in the oven for the kids. This is a bike to be enjoyed on the open road. Whether you're heading out for a brisk Sunday blast, or loading up the ample panniers for a mini-break, the Africa Twin Adventure Sports is an ideal partner for weekend rides.
It's flickable and nimble in the twisties, although if you're riding with mates on other large-capacity adventure bikes, the slightly sluggish initial acceleration may leave you playing catch up. It also has the ability to tackle big distances, bringing far-flung corners of the UK into reach during a short trip.
As an off-roader
Yes, it's a big bike, and I'll need to hit the gym to prepare to pick it up when I inevitably drop it off-road a few times. But, fit a good pair of knobbly tyres to the Africa Twin and it will impress in every riding condition from sloppy mud to loose gravel.
The standing position is comfortable enough, although I do feel like I'm leaning a little far forward, so I'd fix handlebar risers if I was to spend multiple days stood up on the pegs. There's ample ground clearance, plenty of suspension travel, and the rider aids, such as the seven-stage traction control and two off-road modes, help rein in the 100bhp on tap to keep things civilised.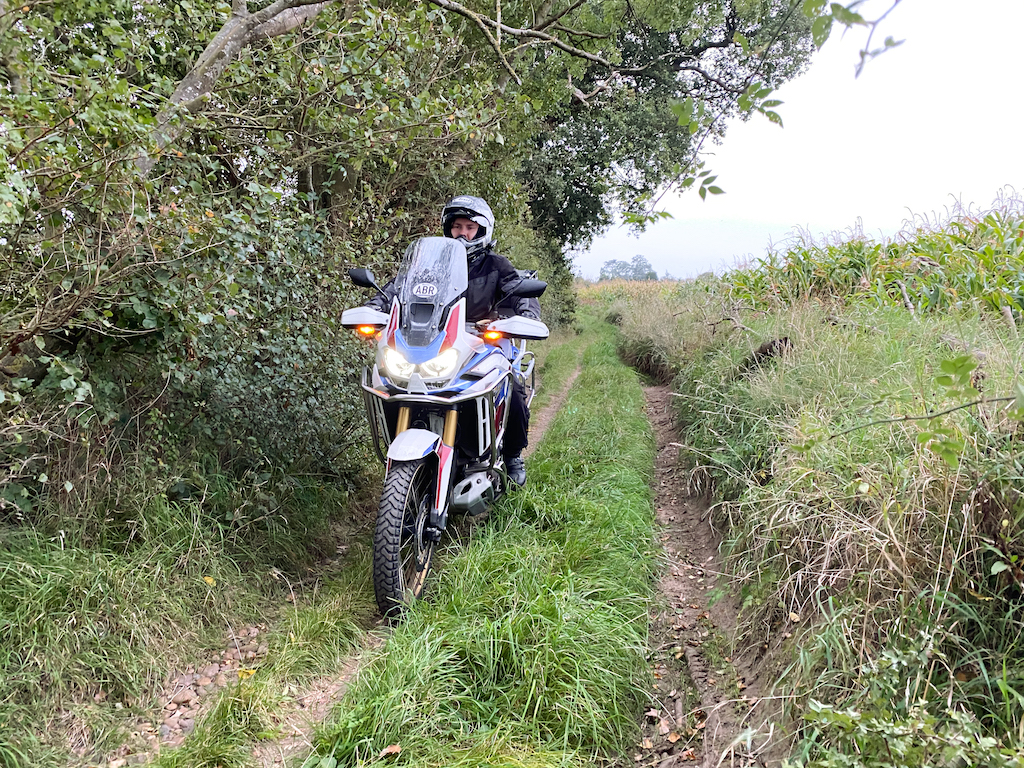 As a continental road tourer
One of the biggest regrets of my time with the Adventure Sports is that I didn't get to take it overseas due to the various travel restrictions we've been enduring of late. I had been planning on riding to Romania in 2020, and there's no doubt in my mind that the big Honda would have been ideally suited for the journey. In fact, I can't think of many other bikes I'd prefer to cover the big distances to Eastern Europe on, over a few days in the saddle.
However, I did make it to Scotland from my home in the Midlands to ride the NC500 in September. Despite a slightly firm seat, long days in the saddle on that trip passed in comfort thanks to an upright sitting position and plenty of wind protection, while the engine pulled effortlessly, if not particularly excitingly, at motorway speeds, even when fully loaded. The 25-litre fuel tank also gave a range of around 250 miles on motorways, cutting down on time wasted during fuel stops.
Apple CarPlay prevented me from getting lost by providing directions via Google Maps onto the vast TFT screen, while my favourite riding playlist or podcast would keep me entertained. However, for a bike costing more than £14,000, it would have been nice to make use of a tyre pressure monitoring system while on tour.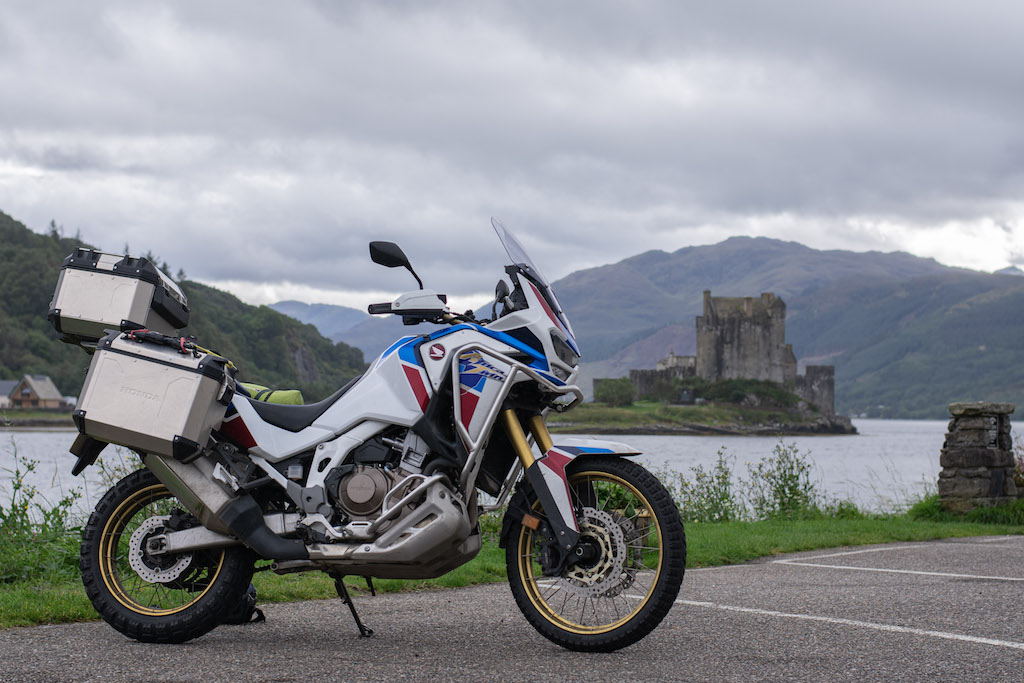 As an RTW overlander
I would happily take the Adventure Sports on an around-the-world journey if I had the opportunity to do so. Not only would its long-distance comfort and huge fuel tank help cross continents on tarmac with ease, but it's also pretty handy off-road. However, I'd want a riding partner by my side to help pick it up if I was venturing far off-piste, or I'd stick to less challenging terrain if I was to be riding solo.
Like most modern adventure bikes there's also plenty of tech on the Africa Twin, and I wouldn't fancy trying to fix it by the roadside in Mongolia should something go wrong. The lithium battery also has a tendency to lose charge relatively quickly. It needed a boost after the bike was left unridden in the garage for a week. The tracker fitted to the Africa Twin could be partly to blame and it's certainly something I'd want to keep an eye on.
As a pillion carrier
Riding with a pillion is an art that I rarely practice, but on the few occasions I've carried someone on the back, the bike has been almost as easy to handle as when I've been riding solo. While the extra weight does mean accelerating away from lights is a little sluggish, it still pulls happily at motorway speeds.
The view from the pillion seat is a mixed bag. When I took my 5' 3" sister for a ride, she loved the big grab handles and the backrest on the top box, but she did say the seat was too firm for her liking, and I noticed plenty of wriggling. So, the Africa Twin will do a good job on two-up tours, but give your pillion a chance to break the seat in first.
Conclusion
Honda has produced a supremely capable adventure bike that has handled whatever I've thrown at it throughout the year. But, even more impressively, it's been a memorable bike to ride whenever I've sat in the saddle. It possesses an X-factor that makes it more than a sum of its parts. The Honda Africa Twin Adventure Sports has adventure written into its DNA.