Paul Jennison checks out the latest raft of adventure touring textile trousers for year round use, with an eye on detail, versatility and a touch of 'does my bum look big in these.'
Having gone through the emotions of buying a nice new spangly jacket with all the features you could ever need and want, the next thing has to be a pair of trousers to complete your ensemble.
Most trousers co-ordinate with a jacket from the same manufacturer, but can just as easily be paired with any jacket as long as the colour ways don't see you being arrested by the fashion police for a blatant disregard of good taste.
Looking right is one thing, but they do need to be practical too. For year round use the least you could expect is that they are water and wind proof. A thermal liner is a nice touch, but not always essential as you can always add your own when required. Ventilation is not a year round requirement either, but for those hotter rides it does make it a bit more comfortable to get some cooling air circulating around. However the two most important features should be fit and protection. A good fit should be a priority, as you're likely to be spending more time in the trousers than the jacket, especially when wandering around sight seeing. They must be as comfy for you when walking around as they are when sat on the bike for long periods.
In terms of protection, the armour should be of the latest CE standard and it should sit over the knees and hips and stay there in the event of an off. However, not all trousers come with the hip armour fitted and is an optional extra, which is something to bear in mind when choosing the right trousers.
And to seal the deal they will normally have a connecting zip to secure the pants to the jacket which keeps the draughts out as well being a safety feature.
BREATHABILITY
Do your waterproof trousers breath? Technically speaking, yes they do. But the following should be considered: for a breathable fabric to work there needs to be a pressure difference between the conditions inside the trousers and outside. The perfect conditions for the fabric to work to its full potential would be at high altitude like on a mountain summit where it is cold and dry on the outside and hot and sweaty on the inside from the activity of climbing. These conditions would rarely be in place on a motorcycle unless you had ridden up there! A more conventional setting like riding on the M25 in a wet rush hour is hardly going to get the breathable properties working. This would be compounded if your trouser outer is dirty, or not cleaned regularly as the fabric pores gets blocked and cannot breathe at all.
THE NEW STANDARDS
The new standards EN 1621-1:2012 supersede the previous standards EN 1621-1:1997 and have been introduced to ensure that the resultant impact forces to the wearers body are less than they previously were. There are two levels to the standard; one and two. It also requires that motorcycle limb protectors perform in both ambient and wet conditions. To pass the previous standard, the average peak transmitted force was less than 35kN during impact tests. Under the new standard a level 1 protector must achieve less than 35kN and level 2 protectors must achieve less than 20kN in all tests. Manufacturers can also optionally test the limb protectors in hot conditions at +40°C and cold conditions at -10°C. The ambient and wet conditions were added to ensure that the protection was not impaired at varying temperatures and if it had absorbed water.
Back protectors will bear the same EN marking, but the standard requires a higher transmitted force resistance; level one 18kN and level two is 9kN.
Under the new CE standard, the following markings will be visible on all products:
Protective equipment for motorcycle riders.
Category and type of protector, this denotes where the armour would be sited and the type is for the size of the pad.
Performance level including mandatory wet test (Level 2 <20kN in all tests claimed)
Optional hottest (40°C)
Optional cold test (-10°C)
A quick guide to the trousers in this review
Three layers construction
A three layer trouser consists of an outer shell, usually made from a cordura type fabric that is treated with DWR (durable water repellent). This will give good abrasion resistance in the event of an off and the DWR helps to repel the rain. The middle layer is some form of waterproof membrane ( Gore-Tex or any other form of Tex fabric ) that attaches inside the outer. This should stop water that gets through the outer getting to the wearer. To complete the trousers, there is usually a thermal inner layer, which again is zipped in or out depending on the conditions.
The inherent flaw with these liners is that once the outer is breached and becomes soaked it becomes heavy and the water will find it's way past the waterproof membrane at the extremities such as ankle, cuffs and waist, which doesn't take long to spread once inside.
1. Spada Explorer
2. Richa Monsoon
3. Revit Sand 2
4. Lindstrands GI Pants
5. Spidi Hard Track
6. KTM HQ Adventure
7. BMW Rallye
Fixed waterproof membrane
Moving on the next best thing is where the waterproof membrane is fixed to the outer and extends to the ends of the outer fabric (waist and hems) Water will find it harder to get around a fixed membrane but there is still a possibility that it can as water pools between outer and membrane and eventually seeps around it. Behind this type of jacket there is usually a thermal layer which can be removed.
This has to be a cheaper option than a drop liner because there are no zips or attachment points and so less costly to make. The venting systems on these types of jackets are rendered fairly ineffective because a wind-stopper membrane behind will block almost all of the cooling air.
1. ARMR Kano
2. Wolf Titanium 3⁄4
3. Triumph Navigator
Laminated outers
Why are these better? The answer is simple really. The outer cordura and the Tex inner liner are bonded together (laminated). This means that water could penetrate the outer but it has no place to go as the membrane forms a backing and blocks it from going anywhere but back out again. The added bonus is that laminate fabric will dry quicker.
So why are these laminated garments so expensive? It's all down to the manufacturing process. The short answer is it costs substantially more to laminate the two fabrics than it does to make the lining detachable.
1. Klim Overland
2. Rukka Cosmic
Features We Like…
DWR (DURABLE WATER REPELLENT) DWR is a coating applied at the manufacturing stage to help prevent a fabric becoming saturated with water. The noticeable effect of fabric treated with DWR is that drops of water bead up and roll off the fabric rather than soak in and 'wet out' the garment. The DWR wears off over time, but can be re-applied, though it'll not be so effective as the factory treatment.
VENTS Venting channels that have a fixed waterproof/windproof layer of fabric behind them are less effective – a lot of trousers come like this. If they can be secured open to allow maximum air flow then all the better.
STORM FLAPS AND ZIPS Zips are weak points through which the elements will pass. Vents and pockets are also weak points and all would benefit from a storm flap or a water resistant zip to repel the elements. Water resistant zips (they are not fully waterproof) are very effective at keeping out rain and a storm flap is not classed as essential, but be aware that they are not 100% effective. Standard zips need to be protected by a storm flap, period. Also, a chunky, glove friendly zip pull is better than a small fiddly one.
ANKLE CLOSURES A generous bellows cut at the foot of the trouser will allow a good sized boot beneath with a zip and velcro closure for flexibility.
WAIST ADJUSTERS Unless the trousers come with braces, or you fit your own, a good fitting waist band is essential to save you having to hike them up continually to prevent them falling down to your knees. Velcro waist adjusters are the most user friendly – most of the other variants are a pain.
ARMR Kano Trousers SRP £79.99

Not everyone has the cash to throw at buying the top branded kit, but they are still determined to kit themselves out in gear that will protect them from both the elements and an unexpected liaison with the tarmac. It's great then that there are companies out there that can give the cash strapped rider adequate cover from either. ARMR is one of these companies, with their Kano trousers at a smidge under eighty quid proving great value for money for a waterproof and protective pair of trousers.
The outer shell is constructed from a strong and durable 600 denier fabric with added ballistic material in key impact areas such as the knee and seat, to give a higher abrasion resistance in the unlikely event of a spill. The fabric is treated with a DWR, which will resist light showers, but for full on weather protection there is a fixed waterproof Dry Tek membrane behind the outer that is also wind proof and breathable. Being a fixed membrane garment you are never going to be unprepared if the weather turns ugly. For colder conditions there is a detachable thermoline insulating liner that will give you a reasonable level of warmth. There are no ventilation ports in the Kano's, but for £80 you can't expect everything. It would have been nice, but I could live with it for that price, and let's face it, not everyone wants vents anyway.
They have height adjustable CE approved armour in the knees, which when adjusted sits comfortably over the area for the best protection. There is also foam padding in the hip pockets.
There are just two zipped pockets for small items, but as they sit between the outer and the liner don't expect the contents to stay dry. They have double adjusters in the waist to get a better fit and if you prefer there is a set of detachable braces included, as well as a short jacket connection zip. The ankle closures will go over bulky boots if needed and have zip and velcro fasteners to fine tune the fit.
In a Line: Limited features, but for £80 what did you expect.
ABR Rating 7/10
Spada Explorer Trousers SRP £109.95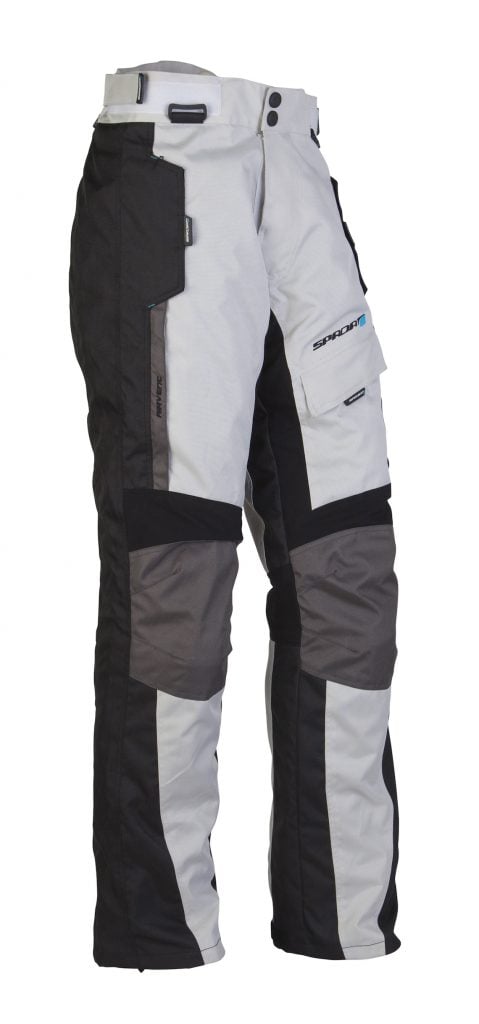 It has to be said that these Spada Explorer trousers have all the appearance and build quality I would expect to see in a product costing considerably more than the £110 that they are selling for. Although they are made to accompany their Explorer jacket (see review in issue 19) there is no reason they couldn't be used alongside any other jacket as long as colour co-ordination wasn't on the top of your priorities when buying, as these strides come in either light grey or sand.
The Explorers are a three layer garment that will be versatile for year round use, being able to cope with hot weather tours as well as those cold, wet commutes. The outer is made from 600D high abrasion resistant polyester that has a DWR treatment to repel light showers. It also has a mesh backing for comfort if the other two layers have been removed, and there is a double layer of material on the backside for extra reinforcement. The removable waterproof membrane has taped seams that will stop any ingress of water through that vulnerable area of construction, and then there is a thin but effective detachable thermal liner to complete the deal.
CE approved armour in the knees has height adjustment to get it sat over the right area and although the spec sheet doesn't mention hip armour, our pair came with CE protection here too.
There are three pockets in the trousers, of which the two side ones look to be water resistant as they have water resistant zips covered by storm flaps. The small thigh pocket is ideal for keeping loose change for tolls etc. The waist has plenty of adjustment to get the fit right, but there are also detachable braces if you prefer. Spada has also included short and long connection zips to attach to a jacket.
The ankle closure has a zip and Velcro tabs over a large gusset, so will accommodate larger boots.
I liked the fit of these pants. There is ample room to be comfortable on long rides and the ventilation works well if the liners have been removed.
In a Line: Stunning value for money. Recommended budget buy.
ABR Rating 9/10
Richa Monsoon Trousers SRP £119.99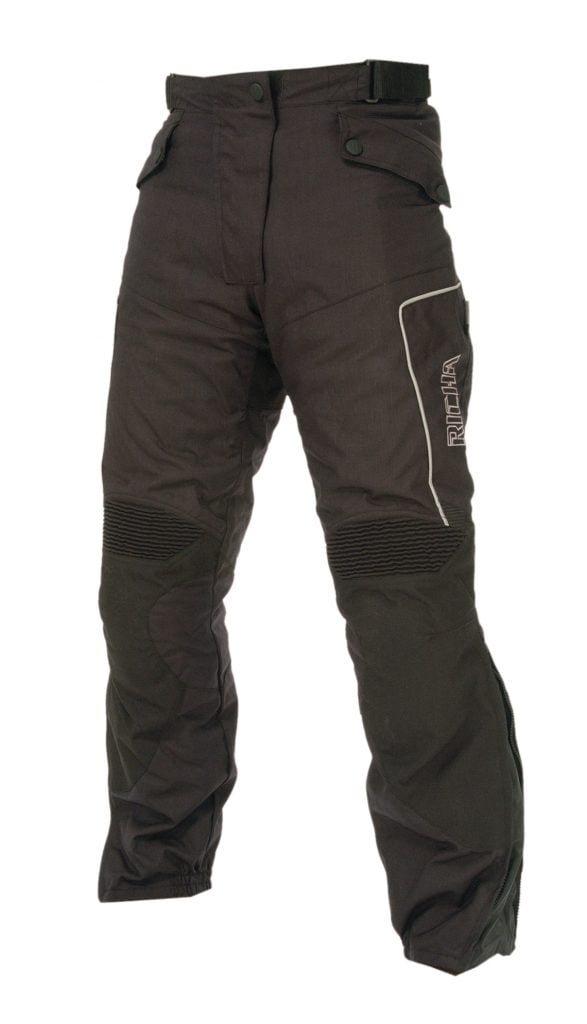 These Monsoon pants are a basic fixed membrane pant with a detachable thermal liner that are reasonably priced, so even ABR's on a restricted budget can still get a good deal for their dosh. That said, although they offer sizing from XS to 6XL, I would recommend trying before you buy, as I had to go up two sizes from my normal large to get the right fit. The outer fabric is a hard wearing polyamide, which has good abrasion resistance but is supple enough to be comfortable when sat on the bike and has double layering in the impact zones for added friction resistance. Fixed behind the outer is a waterproof and breathable Dintex membrane to keep the rain out. This then has a thin nylon liner behind it that, with the thermal lining removed, would keep the membrane away from the wearer and assist in wicking body moisture away. However, the Monsoon does not have any venting so things may get a bit sweaty in the warmer weather. There is CE approved armour at the knees that can be removed for cleaning purposes. However, the padding in the hips is fixed and is not armour in the approved sense.
The two pockets have storm flaps that have Velcro and snap fasteners to secure them, but they are not waterproof. The waist has side Velcro adjusters to get the preferred fit and there is a small connecting zip which will coincide with a Richa jacket. The ankle closures have an elasticated hem that will seal around your boots and the bellows have a longer than usual zip fastener that will make it easier getting your boots on underneath.
Once the sizing was sorted the fit was good and comfortable for all day riding, although the lack of vents when it was warm made things a little sweaty. The thermal liner in cooler weather enhances their year round usability.
In a Line: Tough and versatile for a budget price.
ABR Rating 8/10
Wolf Titanium Textile Jean SRP £159.99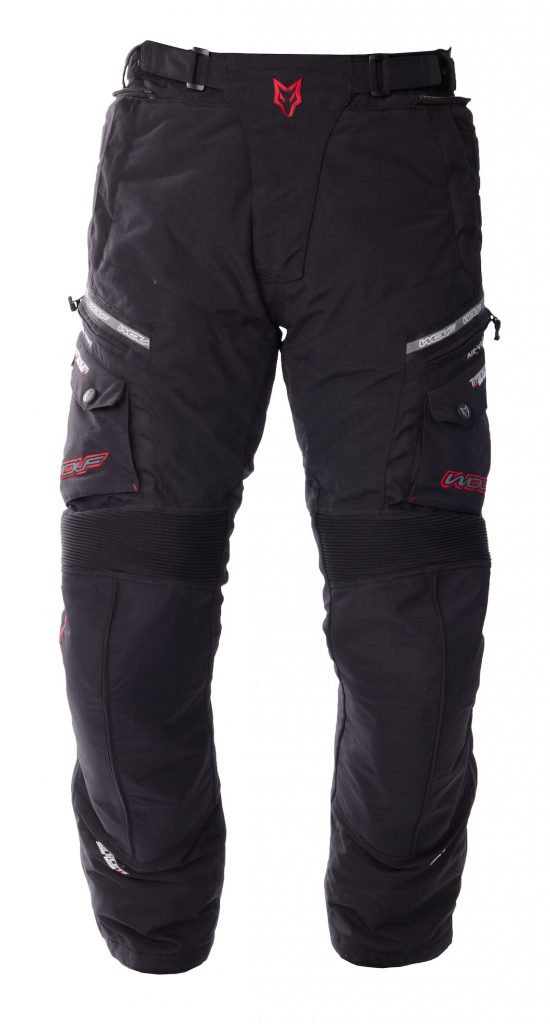 A few years ago I had a Wolf leather suit and I have to say it was as good as anything that the A-brand guys were offering at the time and I am really pleased to see that quality at a sensible price point is still something that they are keen to deliver.
The first thing that is noticeable is that the outer shell is light but strong (made from MaxTex and Ballistic fabric that has a high abrasion resistance with a Teflon coating to resist moisture and dirt) and is really comfortable to wear straight from the off. The Sinaqua water and wind proof liner is fixed behind the outer so you will always have that protection in place, but don't expect too much from the thigh vents in the outer as the membrane will block most of the effect. For the cooler conditions there is a removable thermal liner.
I also like the cut of these pants as the lower leg tapers around the knee and calf a little which enhances the fit and holds the CE approved armour comfortably in place.
There is an additional adjuster on the calf to pull them in even further if required. Hip armour is not included but there are pockets to retro fit some if needed.
The waist has good adjustment and there is a 360 deg connection zip for a jacket. The two side pockets have zips and storm flap covers, but are not going to guarantee the contents will remain dry in heavy rain and likewise the two cargo pockets which are useful but not at all waterproof.
I mentioned the lower leg fit earlier, which is snug but will still allow a reasonable sized boot underneath the gusset and the closure is zip and velcro.
Overall I like the feel and fit of the Wolf pants; they are comfortable from new. It's just a shame the vents cannot be as effective as I would like.
In a Line: A comfortable well made trouser.
ABR Rating 8/10
Rev'it Sand 2 Trouser SRP £199.99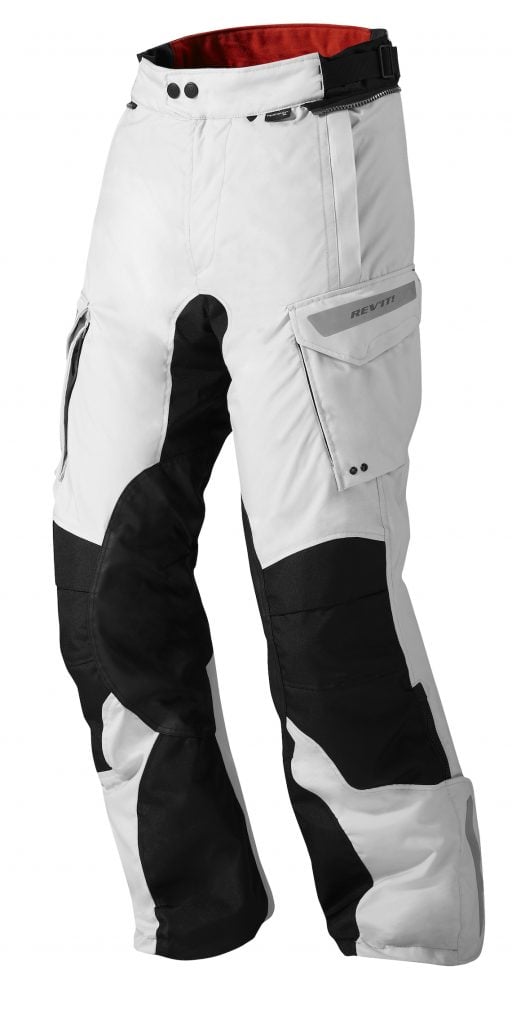 If I was heading off for a long distance tour where the weather conditions were likely to vary from cold, wet and miserable to hot, arid and sweaty then I would be considering the Sand 2 suit as one of the most versatile for this kind of trip. The trousers we have on test are a three layer construction (same as the Sand 2 jacket reviewed issue 19) which I would rate as a 3+ season garment which has detachable weather and thermal linings so you can adapt easily to the prevailing climate.
Unlike the jacket the trousers are only available in two colours Black and er- Sand, so it wont take you much time to decide which way to go. The outer shell is constructed from a mix of 500, 600 and 1200 denier hard wearing polyester which give the right amount of abrasion resistance in the areas that are likely to need the most protection when sliding down the tarmac. There is also Lorica (synthetic leather) and sure grip panels on the inner thighs and seat which will help when you need to grip the bike when shifting body weight. With the linings removed you get full effect from the zipped thigh vents which is enhanced by the looser fit and the wider leg apertures.
There is CE approved armour in the knee area which sits comfortably in position and the hip area has foam padding which could be replaced with protective armour if preferred. The waist has two fine fit adjusters and there are small and long zips to connect to your jacket. There are four pockets non of which are waterproof.
As mentioned the lower legs are wider than normal and will easily fit over a pair of off-road boots or can be cinched down for a snugger fit over normal boots by use of the ample velcro fastenings.
I like the fit, comfort and versatility of the Sand 2 pants. In black they would match up with any jacket of your choice.
In a Line: A good fitting, practical trouser.
ABR Rating 8/10
Triumph Navigator Pants SRP £225.00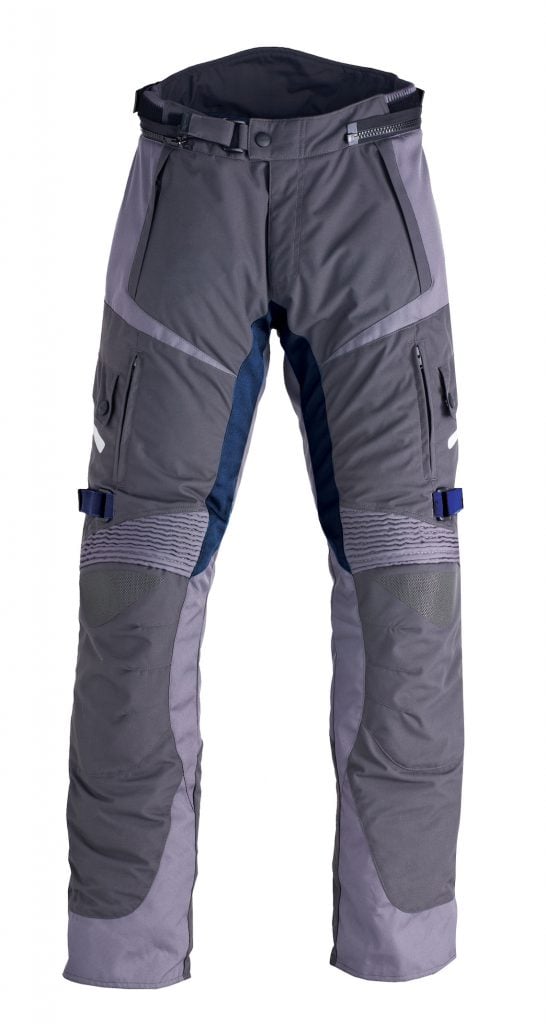 These trousers from Triumph are designed to complement the Navigator jacket (reviewed issue 19) so you have a fully co-ordinated suit to go with your particular choice of Hinckley machinery. But it's not obligatory; you might just like the look and feel of these trousers and why not, they're pretty good as it goes.
Like the jacket, these trousers have an outer shell of DuPont Teflon fabric, which means that the material will repel light showers and dirt build up. More importantly, the fabric has a high abrasion resistance, which is what you need most of all in the event of a spill. On the knees there is a panel of Superfabric that is a ceramic laminate to give even more friction resistance.
Behind the outer is a fixed, breathable, Sympatex wind and waterproof liner which will keep you dry, something I have personal experience of as I have ridden in some torrential downpours and remained completely dry. There is also a detachable thermal liner, which has Outlast temperature regulating properties (warm when it's cold and visa-versa). In the knee area there is CE approved armour that is height adjustable, so it sits comfortably for the individual. There are also pockets for hip armour if you want proper protection instead of the foam padding that it comes with.
There are two large zipped vents on the thighs to allow cool air into the trousers, but bear in mind there is a windproof liner behind the vents, so any effect will be reduced. There are four good sized pockets, two side and two cargo, which are not waterproof.
If you wear large boots or have chunky calves then you will like the double gussets with zip closures in these Navigator pants. You'll certainly be able to get them over a hefty pair of off-road shit kickers!
There is a connecting zip to attach to the jacket. The pants are comfortable fit which is enhanced by the width adjusters on the thighs and waist. Overall warm and dry.
In a Line: A good four season trouser.
ABR Rating 7/10
Lindstrands Gi-Pants SRP £274.00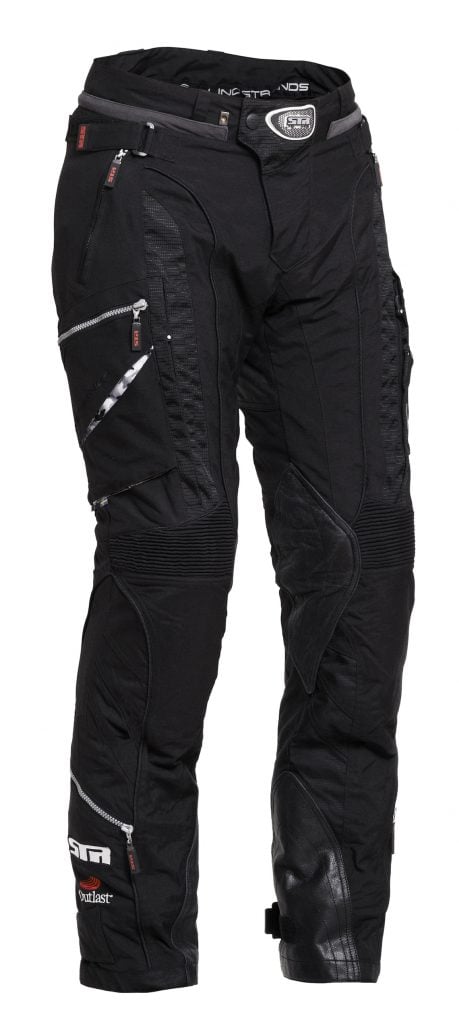 One of the things I like about this Swedish company is that their range has a lot of different styles to suit pretty much everyone. Their trousers and jackets are all compatible with each other, and that includes their sister company Halvarssons. They don't produce a specific suit, it's a case of mix 'n' match, which gives the potential customer flexibility to find their own combination and configuration.
The Gi-Pants are a good place to start if you are choosing a pair of trousers. They will match any of their jackets. They are a three layer construction with removable Dryway water and wind proof membrane, as well as detachable Outlast temperature regulating lining. The outer is constructed from Airdura, which is a strong but light fabric and on these trousers reinforced with Hi-Art; Lindstrands own type of Kevlar, offering high abrasion resistance in the event of a spill. In addition, there are leather panels on the seat and inner leg for added protection. In the knee and hip there is CE approved armour that sits over the specific area.
On the thighs there are large zipped vents giving good air circulation in hot weather, just as long as the liners have been removed. There are four good sized pockets; two on the side and two cargo style on the legs. They are not waterproof, but will resist a few showers. And if that's not enough for you, there are two zipped pockets on the bottom of the legs, possibly a good place to stash loose change for tolls etc.
As well as the full length connecting zip for a jacket, the waist also has two Velcro side adjusters for that spot on fit. There are long zips on the lower legs over wide gussets to cover chunky boots, although it can be a tight fit.
The overall fit of the Gi-Pants is snug and comfortable, not to mention they are very weatherproof and the Outlast liner keeps out the winter chill.
In a Line: A good all year round trouser.
ABR Rating 7/10
Spidi Hard Track H2Out Pants SRP £312
Not particularly suitable for year round use here in the UK, but if you are heading off for a trip around Morocco and want a versatile pair of trousers that are going to protect you from the elements and the toils of riding off piste, then these Hard Track from Spidi would be worthy of consideration.
Designed to complement the Hard Track Jacket (reviewed issue 19) the pants are constructed from a polyamide fabric that has a high abrasion resistance and should stand up to the odd fall on your travels. They have been treated with a DWR (durable water repellent) that will withstand the odd light shower, but not much more. The likely impact areas of backside and knees have stronger density fabric for more durability, with the addition of leather panels on the inner knees for grip and improved visual appearance. The trousers have a detachable waterproof, windproof and breathable H2Out membrane, with taped seams to ensure no leaks, plus a mesh lining for comfort and to wick away body moisture to keep you dry. An unusual feature in the liner is the fact that it is length adjustable, so those with longer than average lower limbs can extend the waterproof liner further over your boots. This particular part of the liner has a stronger density fabric to withstand any friction etc. Although it has to be said why didn't they just offer differing leg lengths in the overall trousers? There is no thermal liner with these trousers so you may need to layer up yourself if it's chilly. The Forcetech armour in the hip and knees is CE approved and is height adjustable in the knee to get the pads in the correct position to afford the best protection.
There are two zip vents on the thighs to allow air in to keep things cool. The trousers do have four pockets, but none of them are waterproof.
The lower legs will fit snuggly over larger boots and have elasticated hems to stop them riding up. Overall fit is comfortable.
In a Line: One for the deserts we think.
ABR Rating 6/10
KTM HQ Adventure Pants SRP £377.42