This issue's round up of DVDs and books…
Jupiter's Travels in Camera £30
Ted Simon – Haynes Publishing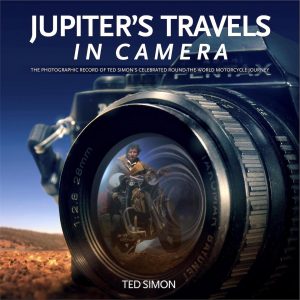 I've read countless travel books over the past 40 years and many have managed to fulfil their brief of entertaining, informing and enthusing. Only a few, however, fall into a category where I can look back and say 'reading that book changed my life'.
Bernard Levin's 'Hannibal's Footsteps' cemented my love of hiking and travel, The Ice Master by Jennifer Niven is possibly the greatest adventure story ever told and Ted Simon's Jupiter's Travels gave a final push to a wanderlust bug that was burrowing into my DNA during the late 70's.
The common denominator with the above is that all the authors were noted writers before they became professional travellers, or, in the case of Jennifer Niven, a formidable researcher and adventure story teller.
The original Jupiter's Travels was first published in 1979. It was, and still is, a superb tale of Simon's four year motorcycle trip around the world, which saw him cover 64,000 miles through 45 different countries. The author possessed a keen eye, an open and enquiring mind and the ability to put observations, thoughts and events into words that inspired like few other motorcycle travel books ever would.
Picking up Jupiter's Travels in Camera proved to be a delightful trip down memory lane. This coffee table book is a collection of Simon's photographs from his original journey, accompanied by short accounts of the trip. And whilst the author himself admits he's no technical or professional photographer, there's no doubting the journalist within when it comes to composition and telling a story through pictures.
If you were swept away by the flow of the original Jupiter's Travels then I've little doubt you'll enjoy the ride all over again. And if you've not read the original (and if not, why not?) then think of this as a colourful digest version.
In Clancy's Boots £9.99
Geoff Hill – Blackstaff Press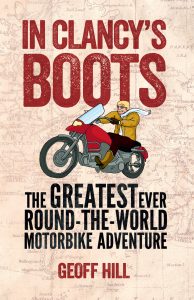 The theme for this book is the tried and tested 'in the footsteps of', or in this case, 'in the tyre tracks of', as author Geoff Hill attempts to follow the route of Carl Stearns Clancy, who in 1912 became the first person to circumnavigate the globe by motorcycle. Hill is an accomplished writer possessing a good turn of phrase and a sharp wit, which all adds up to 'In Clancy's Boots' being one of the better motorcycle travel books to hit the shelves in the past twelve months.
Modern day issues and visa problems prevent Hill from fulfilling a verbatim road trip, though it takes nothing away from the story, as Clancy's original notes are used to fill in the gaps and accompany Hill's thoughts and observations throughout the trip.
An entertaining, informative and thoroughly good travelogue.
Nick Sanders – The Extraordinary Life… £9.99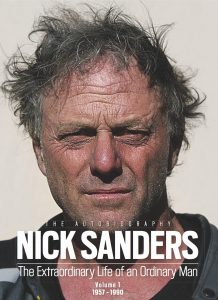 Here's one that we haven't read yet, but we're very excited about getting through. The Extraordinary Life of an Ordinary Man: Volume 1 is the first volume of Nick Sanders' multi-part autobiography and from a quick flick through it looks like it's going to be a great read. The 440 page book covers Nick's years from 1957-1990, revealing the story of his upbringing, his cycling career and the years in which he started to fall in love with motorcycles. With over 40 pages of photos the book looks set to provide a real insight into the life of the guy who has completed some of the most amazing record-breaking motorcycle journeys in motorcycle history, such as his record breaking 31 day ride around the world on a Yamaha R1! We're looking forward to reading it and will provide a more in-depth review in the next issue of ABR.
Author Interview
Dom Giles, Gone Riding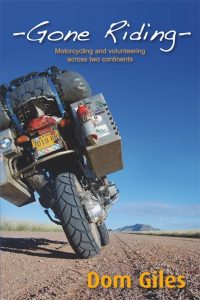 Dom Giles wrote his book with the assistance of the Ted Simon Foundation. We ask him more about the book and how he got on…
Who are you and what do you do? My name is Dom Giles and I'm a secondary school history teacher working in Stratford Upon Avon. What's the book about? It's the story of my 30,000 mile trip through 18 countries, mainly solo but accompanied by my wife for part of the time. I started in Alaska, rode six months down to Panama, then shipped the bike (a 2006 BMW 1200GS I bought in Alaska) to South Africa and rode three months from Cape Town to Nairobi.
Why did you write it? When I returned home people kept asking me about how dangerous it had been. I wanted to get
the message across that the world is a wonderful place and travelling is life-enhancing not life-threatening. So I
wrote my book.
How long did it take to write? Two years. For a year I sat down almost nightly working on the manuscript. At the end of that process I had a raw copy of 165,000 words, then spent the next 6-8 months refining it. reducing to the final 155,000.
What was it like working with the Foundation? I just wouldn't have been able to get the project done without its help. I found his support and advice invaluable. Writing can be a very lonely process and having Sam Manicom and other members of the Foundation on the other end of the phone to give me support, help and encouragement kept me going.
How difficult was it to write a book? Harder than I ever thought it would be! But, like eating an elephant, you have to take it one bit at a time and try not to become overawed by the size and magnitude of the project. Would you do it again? Absolutely. The sense of achievement, having completed something I wasn't sure I was capable of, is overwhelming. I'm very proud of what I have produced and when people tell me they've read my book and enjoyed it – that makes it all worthwhile.
Any advice for budding authors? Write a blog when you travel. It'll give you a template from which to start when you sit down to write your book. And get in touch with the Ted Simon Foundation!
Why should people buy your book? My story is very much one of an ordinary man, who gave up his job to see a little of the world. I'm frank and honest about the ups and downs of motorcycle travel. Ultimately, I hope that people who read my book will
be inspired to get out there and explore our world. What more could a travel writer want than to encourage others to travel?
£13.95, from www.domgiles.co.uk