This Issue: Llwybr Ceiriog Trail and Whitestones and Hafod Adams, North Wales
Words and Photos: Mike Beddows
Llwybr Ceiriog Trail, North Wales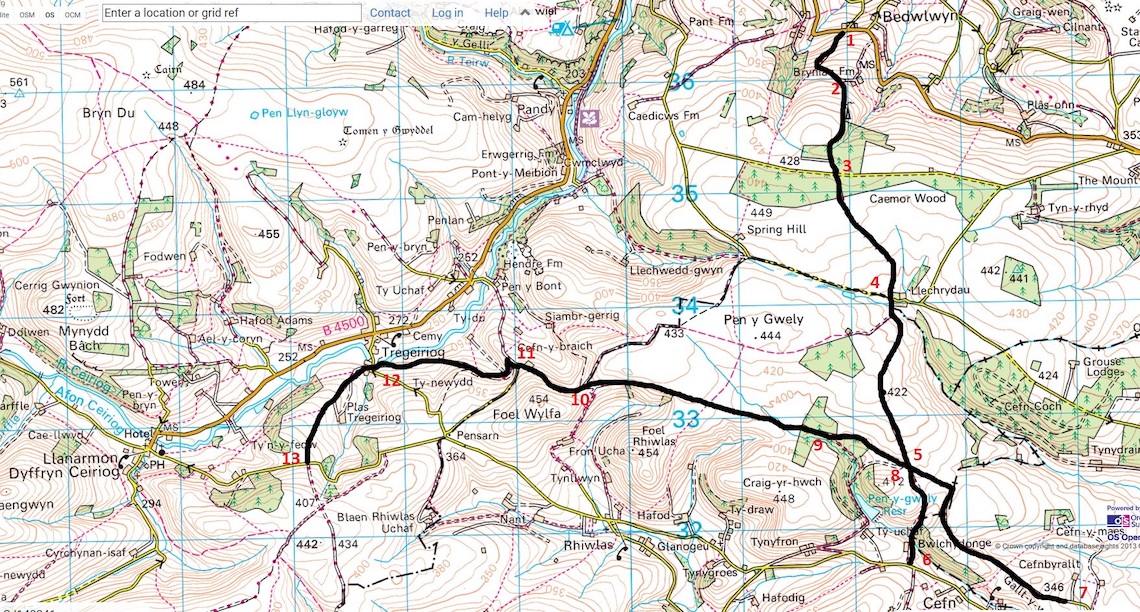 This trail is near the village of Glyn Ceiriog in rural North Wales, and only seven miles from the picturesque town of Llangollen. There is some fantastic riding to be had around Llangollen, with the majority of the trails located to the south of the town. There's a real mixed bag of routes in this area, but the one documented here has it all.
The trail (or trails, as there are a few linked together which form a 10 mile route, being Llwybr Ceiriog trail, Upper Ceiriog Way, Cefn-y-braich and Plas Tregeiriog) consist of broken tarmac, forestry track, open moorland, farm tracks, grasslands, ruts, deep puddles, rocks and fantastic, remote scenery to ride through.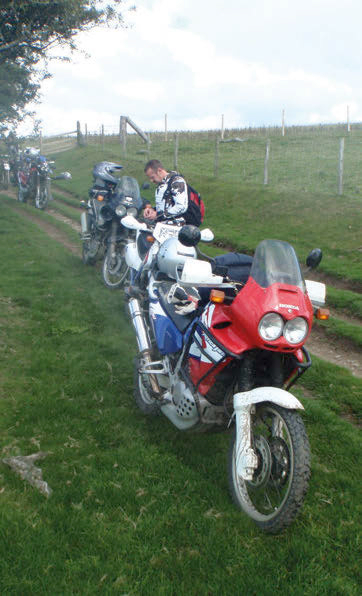 At the end of the trail is the Pheasant Penn Steps (detailed in ABR issue 31) and not too far away is the legendary Wayfarer trail (ABR issue 10), Wales's highest green lane. There's also plenty more in the local area, just get an OS map and start looking.
There's nothing really over difficult along the way, but I wouldn't class this as a beginner's trail either. The variety of terrain on offer steers it towards a competent trail rider, and the trails in North Wales around Llangollen have to be one of my favourite places to ride.
The Route
1-2 
Proceed up a twisty single track tarmac road, take care as it can be pretty slippery and slimy on the way up. The tarmac soon deteriorates and gives way to a forest type track.
2-3 
Continue through a small woodland, the trail here is fairly straightforward and shouldn't prove difficult to anyone. Continue to the road. Take care, as you may not see the road until you are upon it.
3-4
Head through a gate and continue along the graded track to the end of the trees. Through another gate and you are now crossing open moorland skirting the edge along a well-defined moorland track. It's pretty rutted but the ruts are shallow and not too difficult to negotiate. Continue to the next set of double farm gates. Turn left at the road, and immediately right.
4-5 
Head through another gate and head towards the left fork where there's, again, another gate. Proceed through this and the trail starts to go uphill. The track is very well used and is not difficult. On the left you will see a motocross track.
Vans use this section of the trail which should give an indication of its difficulty. The motocross track is private so don't be tempted to have a go. After you pass the track the trail becomes very rutted. Head to the gate. Once through you will head downhill along a very rutty grassy track. It can be very muddy and slippery. At the bottom is a large, muddy puddle, that's about knee-deep.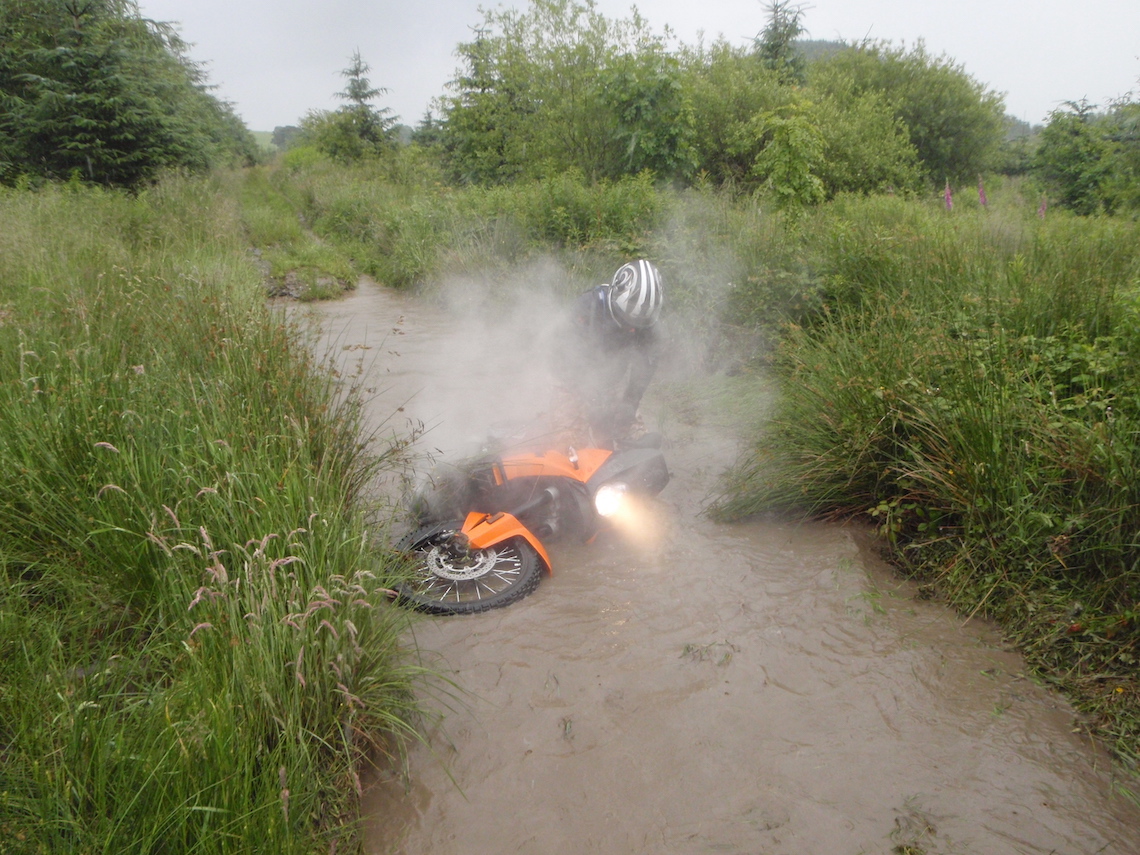 5-6 
The track comes to a trail crossroads now. Head straight on through the gate and across another field. Through the next gate and proceed downhill where the ruts give way to a stony track. It's not difficult to ride, being about a single car wide. At the bottom, you will go through a small ford, through another gate and through a farm to the tarmac road.
6-7 
Tarmac section
7-8
This next bit is my favourite. It's a rutty single track narrow path which winds about with grassy and muddy bits everywhere. Great fun. Head slightly uphill and through a gate to where the "trail crossroads" is. You will see the large puddle at the end of 5-6 on the right.
8-9 
Continue straight on. Lots more ruts (if you don't like ruts you will hate this section!), some of them pretty deep. Its very slippery and isn't easy at all. Through lush green farmer's fields with lots of sheep about. Head to the gate. It's now a bit easier with trees to the left and fields on the right. There's a few muddy shallow puddles. A track meets from the right, keep heading straight on. You arrive at another gate.
9-10 
This section is a bit awkward. The track looks to go straight on, but this is not legal. Instead, veer to the right down an overgrown grassy section between the trees. This is the legal route. Head between the trees with grass in the middle of track.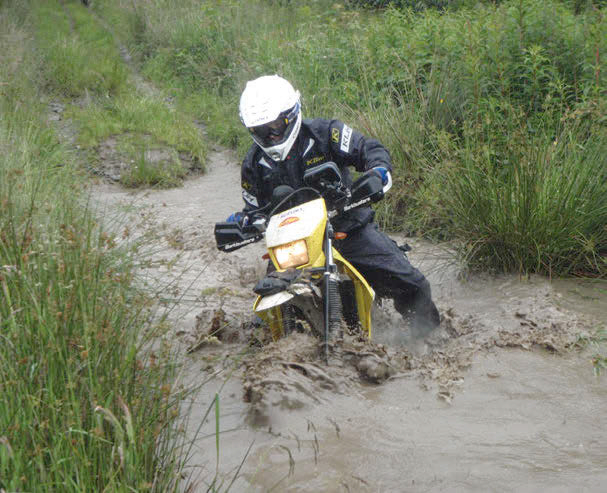 It's fairly easy, but then a large ominous looking puddle appears. It's deep, think thigh deep. There's no way around. Just go for it and don't get cross rutted. There has been some drainage dug but the puddle is still deep. It has a muddy base but as long as you stay straight and in your rut its not an issue.
10-11 
Continue heading straight on along a wide graded track. Proceed through another gate and across a field. It gets rutty in places but nothing as bad as what you've already done. Through another puddle, and another gate. Keep going winding along the trail. More grassy ruts and great views to the left.
11-12
It's more graded now and you head down, through a gate, past a farm and to the next t-junction. Turn right, and then immediately left, and through the gate. Head downhill, through another gate, and past the houses. The track turns into a tarmac road. Follow this to the end where there's a crossroads.
12-13 
The final bit, head straight on at the crossroads. Keep to the right of the farm, still on the tarmac. Follow until you see the off-road bit to the right. It's a grassy, rutty, stoney, uphill section. Continue to the end where there's a gate just before the tarmac road. Straight on is the Pheasant Penn steps trail detailed in issue 31 of ABR.
---
Whitestones and Hafod Adams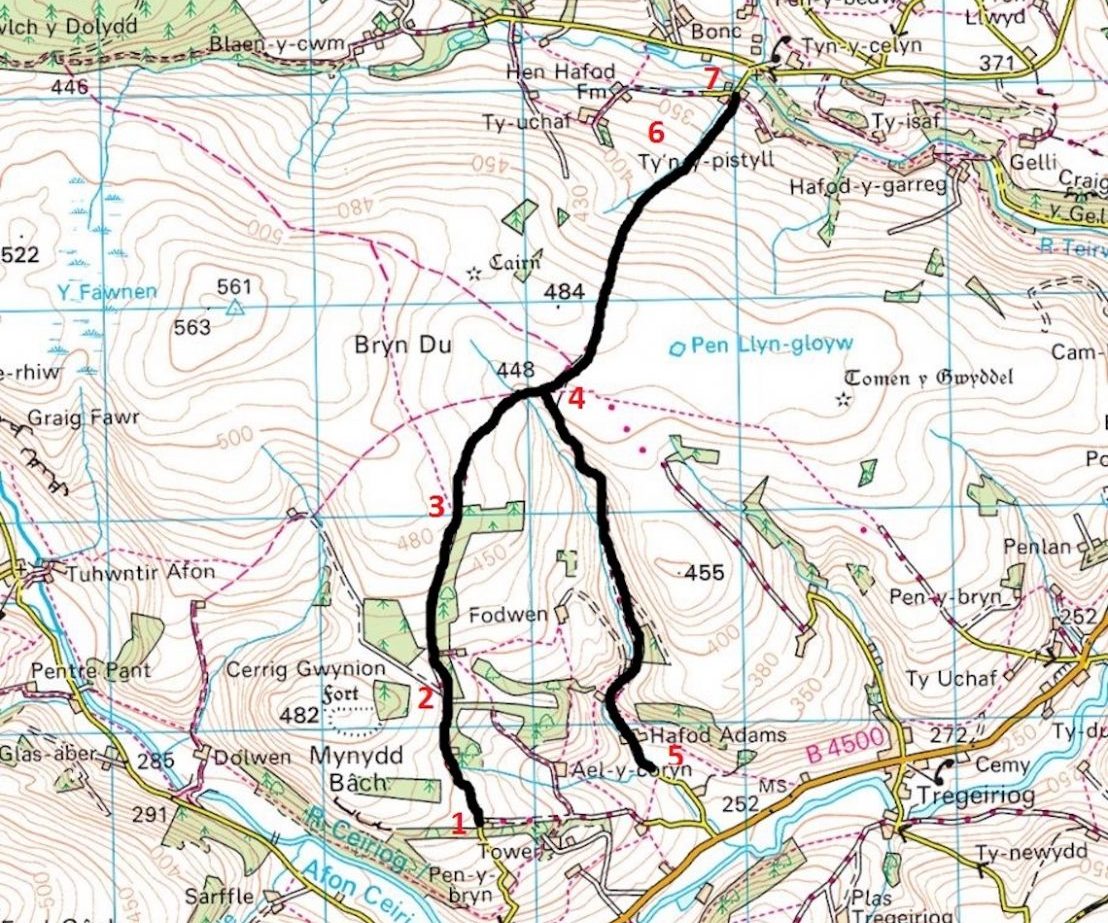 If you combine this trail, with the other trail in this issue, and tag on the Wayfarer (both ways as it can form a loop from issue 10) and the Pheasant Penn Steps (issue 31) it offers approximately 40 miles of riding with the bulk of that off tarmac.
This area is a fantastic place to ride for max trail to min tarmac ratio. And the surrounding area is littered with plenty more trails. Just grab an OS map and go have a go. There's only one real showstopper trail around, Heartbreak Hill. You will know if you find it. Brown trouser time going down, and virtually impossible up unless you are on a trial bike.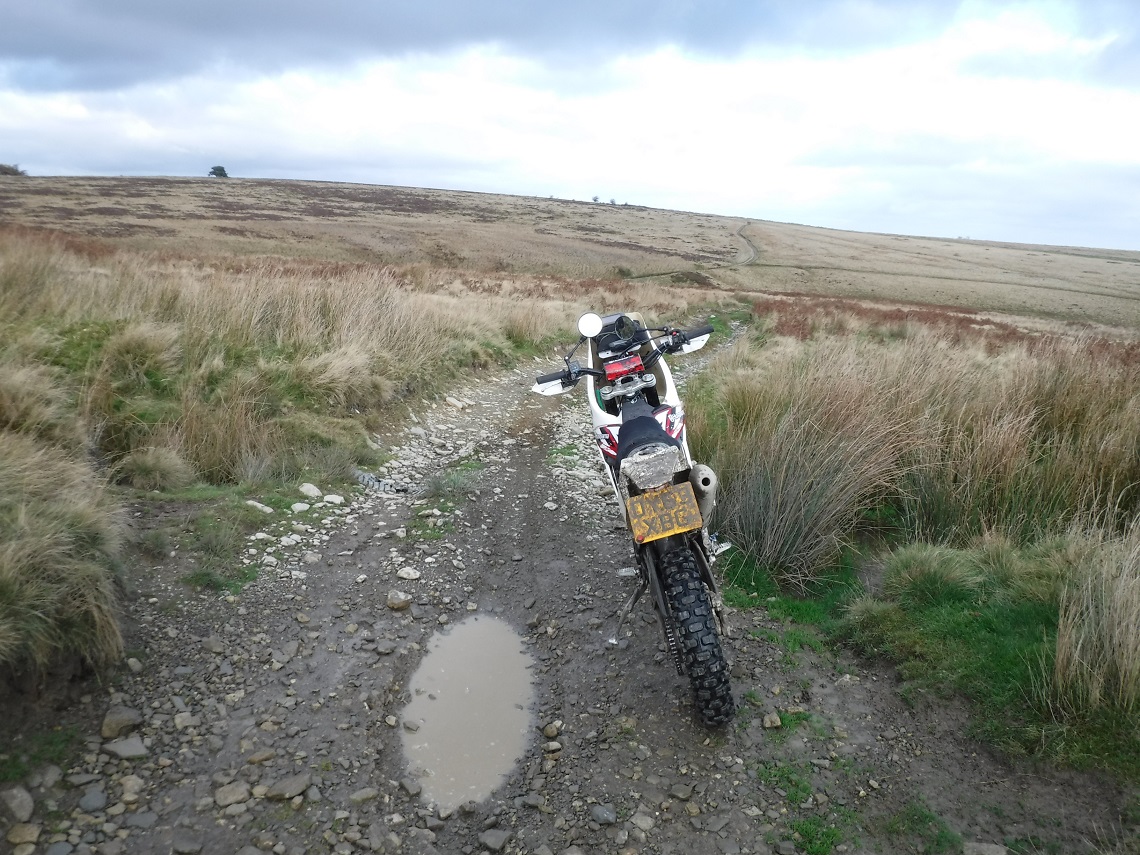 If you form a route from these four trails expect it to take about four hours or more to complete. Just before the wayfarer, you will pass a couple of village pubs in Llanarmon Dyffryn Ceiriog. One of these is called 'The Hand' and welcomes dirty bikers. I've been in with large groups all covered in mud on more than one occasion.
This trail is fairly straightforward for the most part, but the final descent is tough and requires bottle to just ride down the angled rock slab. If you don't want to do this, the safest way is to walk your bike down using the clutch as a brake. It's easier than it looks to do this, and probably safer, especially in wintery or wet conditions as the slabs can be slippery.
The Route
1-2 
Start along a wide solid based track known as Whitestones. It's graded and not difficult. There are a few puddles along the way.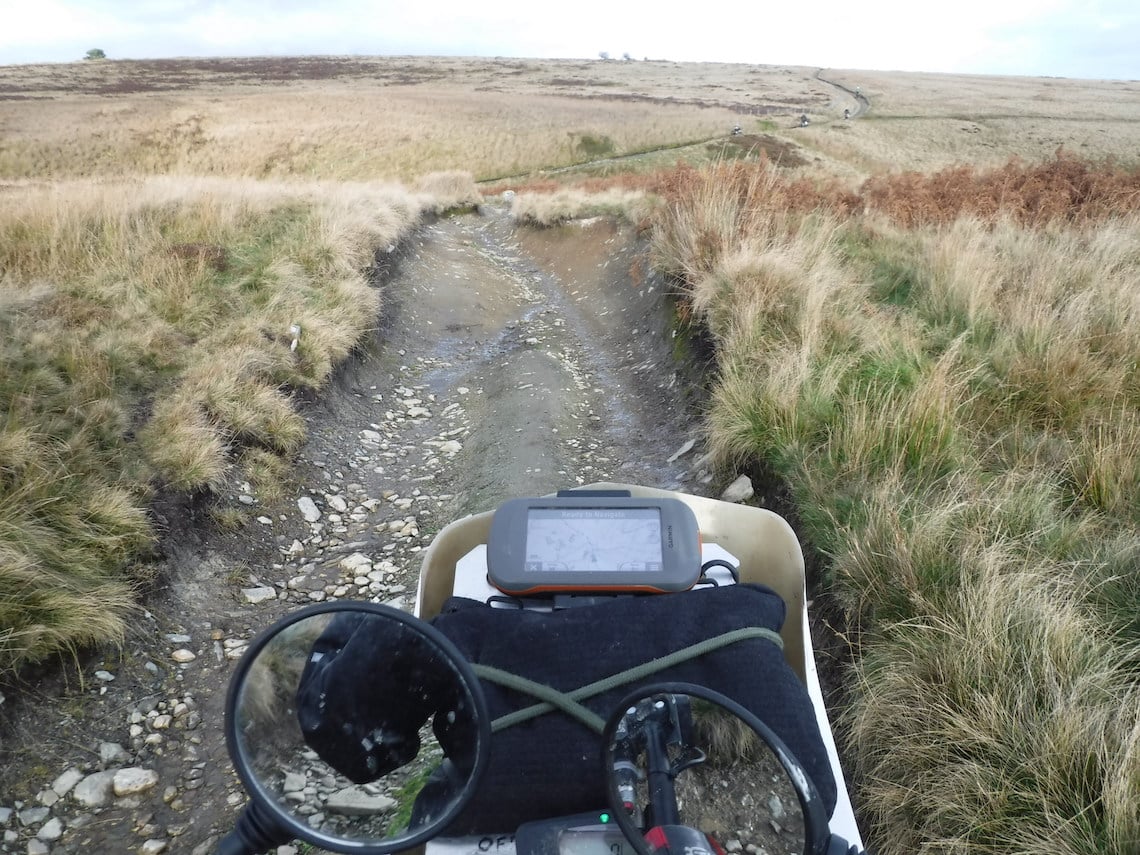 2-3 
Ride up the edge of woodland. There are more bumps and you can get a bit of air for fun and a few puddles to splash through. Nothing deep until you approach the gate. A large puddle normally exists in front of the gate. It can be deep but nothing to worry about, just take it slow through. It's got a solid base which will make riding through a bit easier.
3-4
This marks the start of the moorland section. The riding here is good along a sunken lane with lots of washouts and ruts to negotiate. It will become trickier in the wet, and it always seems to rain in Wales! Head down and through a small stream. And then a rocky climb back out. You will see a muddy trail heading off to the right.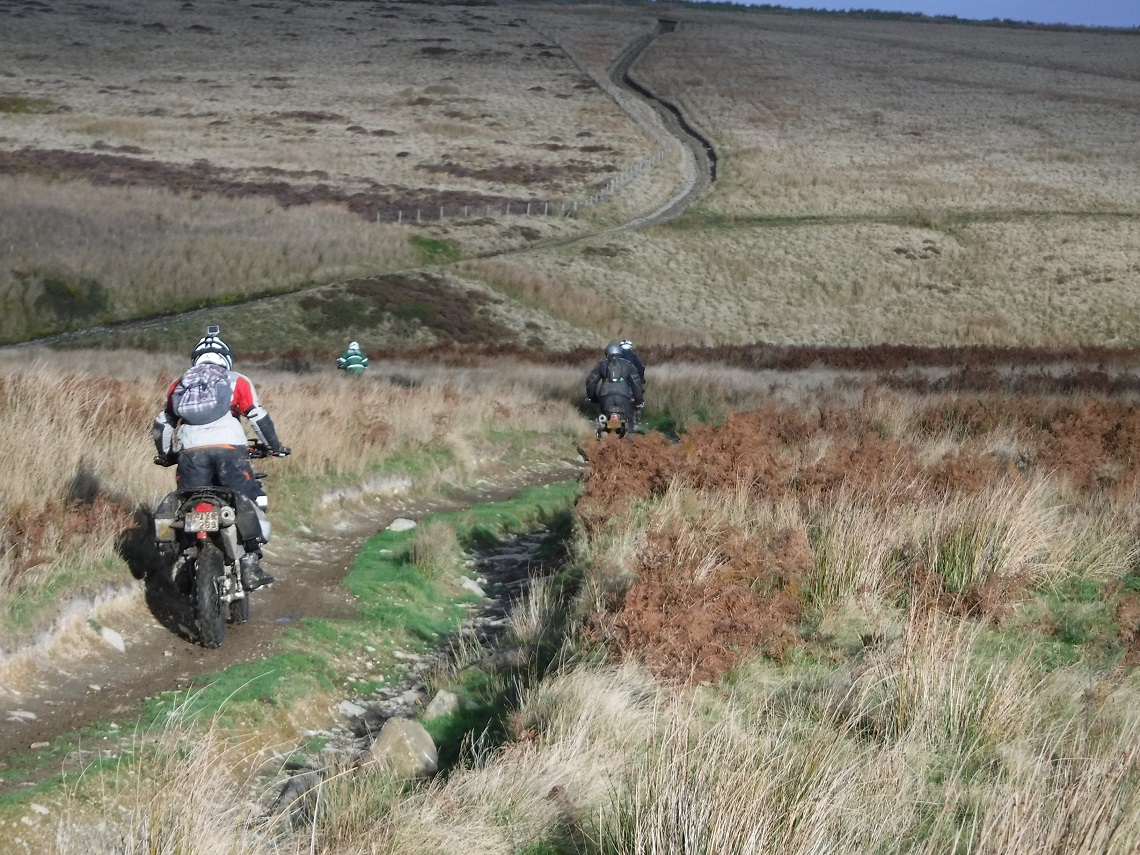 4-5 
Turn right if you wish to tackle this section known as Hafod Adams. It's very muddy and rutty to begin with as it heads on top of the moor. Stay on track, but be aware some of the ruts are deep and filled with mud.
When the trail heads down it becomes easier, but there's grass all over the top and in the wet it is a recipe for disaster. Just keep off the front brake! Pass the houses at the bottom and there are normally a lot of pheasants on the road. Take care.
5-6 
Head through the next gate and you are now on the downhill section. It's very rocky and you will bounce all the way down. Head through the next gate and continue down to the hardest section.
Unfortunately, there isn't a way around. If you are not confident it's better to get off now and walk ahead on foot. If needs be walk the bike down on the clutch.
6-7 
Proceed down the hardest part. There are rock slabs at an angle and these are not the easiest to ride down. It's better not to think about it and just go for it, you will be down before you know it. Take care in the wet, and it's probably best to avoid in icy conditions.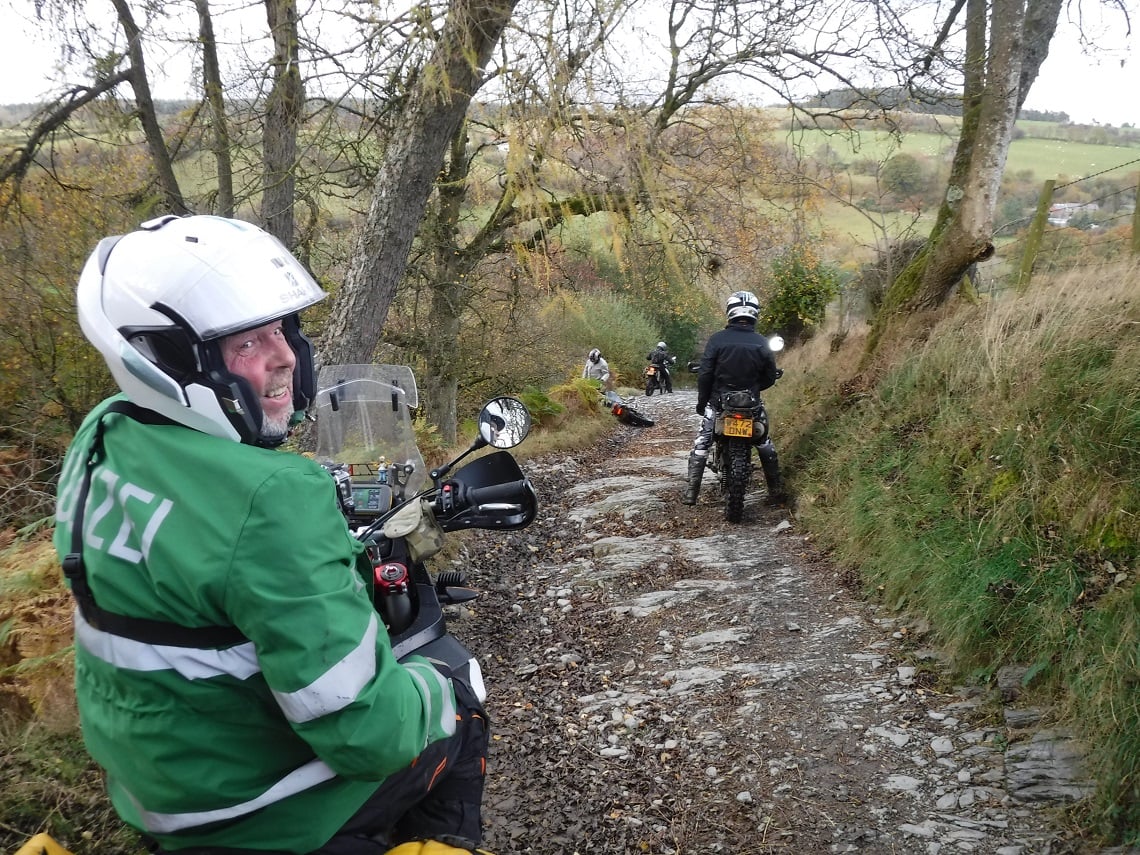 I've attempted this trail up and down in the ice and it's never ended well. The rock slabs just freeze over and nearly every time I've ended up off the bike. I've also seen a 4×4 lose it on this section and end up off trail and down the bank due to slipping on ice. Take care.
---
Did you know…
The market town of Llangollen is only a few miles to the north. If you use this as a base, whether camping, hostels or B&Bs, you will be rewarded with some of the finest trail riding Wales has to offer right on Llangollen's doorstep. In fact, a hard trail called Allt-y-badi starts from the town itself. Down is fairly easy, but up is difficult.
It has a steep, loose rock base and some rock steps to bounce up. I'd say my success rate at going up this trail is about 40%. The rest of the time I've ended up off the bike and had to abandon the climb and go round. Most of the trails are to the south of the town, but my favourite route is a (long) one day ride from Llangollen to Betws-y-coed and back again. It really is a good ride.