Paul Jennison rounds up a selection of this issue's products and puts them to the test…
Water purifier
Adventure boots
Helmet speakers
Adventure suit
Camelbak All Clear Water Purifier SRP £99.99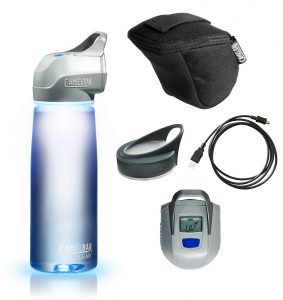 What is it: A water purification device that works off a UV cycle
On your travels there are often times when it is not advisable to drink the local tap water as the purification systems are not what they should be. And in some countries even the bottled water can be a bit suspect, which at best will leave you cutting a fast track to use the facilities.
There are a few different options on the market that can take care of the hidden nasties, such as water purification tablets, but they can be a little complicated to use. Camelbak has now produced a drinks bottle that has an innovative lid incorporating a microbiological UV water purifier that will neutralise the majority of waterborne bacteria in about 60 seconds. Simply fill the clear bottle from your chosen water source, screw on the cap and switch it on. This activates an ultra violet bulb in the lid. By rotating the bottle repeatedly through 180 degrees for those sixty seconds, the UV cycle will purify the water and it's ready to drink.
There is an LCD display in the cap that once activated will count down the seconds to completion. The Camelback can be charged by connecting to a USB port, with one full charge enough for 80 cycles and the bulb boasting a lifespan of 10,000 uses.
For an extra £15 there is a pre filter attachment that will strain out visible sediment and debris, which is especially useful when the water source is a clear running stream or river.
In a line: Effective, but not cheap.
TCX Track Evo Boots SRP £189.99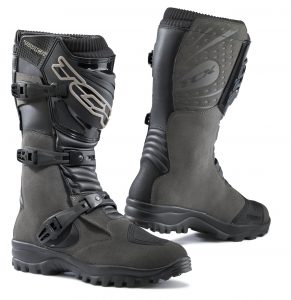 What is it: A good looking waterproof adventure boot that will also be at home on the trails
TCX is alive to the fact that the adventure motorcycling market is the biggest growth area in the industry. Moreover they realise that the regular rider wants a boot to suit their demands for on and off-road riding. Using their vast knowledge in the motorcycle boot manufacturing arena, TCX has produced the Track Evo; suitable for off-road and light endurance riding, whilst also making an ideal road touring boot.
The uppers are made from grey suede leather with a polyurethane shin guard and gear shift pad, as well as internal inserts for ankle, heel and toe plates to give the wearer a good level of foot and lower leg protection. The boot has a waterproof and breathable liner to keep feet dry and comfortable.
A newly designed sole is highly wear resistant with a nobbled tread for maximum grip on all types of terrain. There is an elastic collar to fit the calf and stop dirt getting into the top of the boot. For fastening there are three polyurethane adjustable buckles.
In a line: The Track Evo's have have immediate wear-ability straight from the box, and look cool.
Tork Xpro Helmet speakers SRP £52.99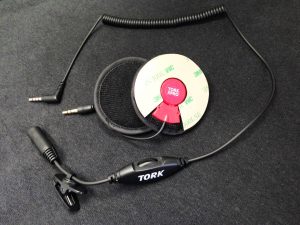 What is it: Top quality speakers to listen to your music on the move
If like me you like to have some music when riding your bike on a long tour, and you like to appreciate your favourite artist in high quality hi-fi, then these Xpro speakers are right up your street.
They fit neatly into the recesses next to the ears found in most helmets and are secured with adhesive Velcro. The thin wiring can then be easily tucked away inside the lining for a neat and tidy installation that only takes a few minutes. The headset has a 3.5mm jack plug that fits most devices, but the cable is quite short and does require the flexi extension lead with integral volume control that is included in the kit.
The system can easily be transferred to different helmets if required. As long as the speakers are positioned correctly then the resulting playback sound is better than any helmet speaker I've used previously, and being relatively slim-line at 10mm thick, I found them comfortable when riding.
In a line: The downside is the price, but if you really want good quality music when riding it may be one worth paying.
RST Adventure 2 SRP £249.99 (jacket), £199.99 (jeans)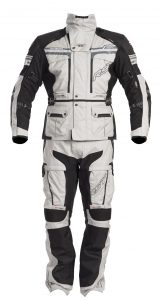 What is it: RST's follow up to their original adventure riding suit:
For the new V-Strom test on page 28, we were given a 'prototype' of RST's new Adventure 2 suit to try; it a follow up to last year's original Adventure garment.
The main differences between Adventure and Adventure 2 are that the arms are now fixed, rather than detachable at the elbow. Instead, they now have full length double zip and ventilation along the inside seam. The phone pocket has been moved so it doesn't sit directly behind front vent, a higher quality Cordura material has been used (helping justify the extra thirty pounds for the jacket and the extra twenty for the trousers over the outgoing suit), there's a removable throat coat, new colour schemes (the one pictured, plus all black), and sizes now go up to 4XL/52 (only up to 3XL/50 on old one). Obviously, a day's riding isn't long enough to test a suit properly (we'll have to spend more time with it in wet, cold conditions to achieve that), but on initial impressions the Adventure 2 is a decent priced and well fitted bit of kit. Personally, I would have liked bigger Velcro patches on the cuffs, the waist adjustment (to pull in the slack) would also have been easier to use had it been a hoop and Velcro strap, and the removable throat coat tickled my neck, but it did keep the draft out. The suit is a three-layer construction. See p104 for more information on what that means. NM
In a line: Nicely fitted suit at a good price with plenty of neat upgrades from the old one.