Ian Lloyd Neubauer heads off on a two-wheeled adventure along the roads of Cambodia and quickly realises that sometimes not all travel partners are compatible.
I don't consider myself a hardcore adventure rider. I don't camp, I can't pull apart an engine and I don't carry spare tyres. But on the few occasions, I've invited others to tag along on a ride, they've really regretted it. One time, when I went riding with my brother in Thailand, his bike broke down in the jungle and I had no choice but to ride off to get help. When I finally returned with a mechanic the next morning, he was so pissed off he called it quits on the trip and didn't speak to me for two years. 
Another time, I took a mate riding near my home in the Blue Mountains of Australia. Things were going swimmingly until he got stuck in the first muddy rut and overexerted himself trying to get out. "I nearly had a heart attack inside that bloody thing," he said, throwing his helmet on the ground and walking back to base without his bike. 
The moral of the fable? Novice and experienced riders don't mix well together off-road. But the lesson must've slipped my mind when my friend Eva from France asked if she could tag along on a week-long scramble along the coast of Cambodia. Sure, I thought. It would be nice to have some company on the road. Eva is a strong and independent woman, she loves her bikes and has a craving for adventure. What could possibly go wrong?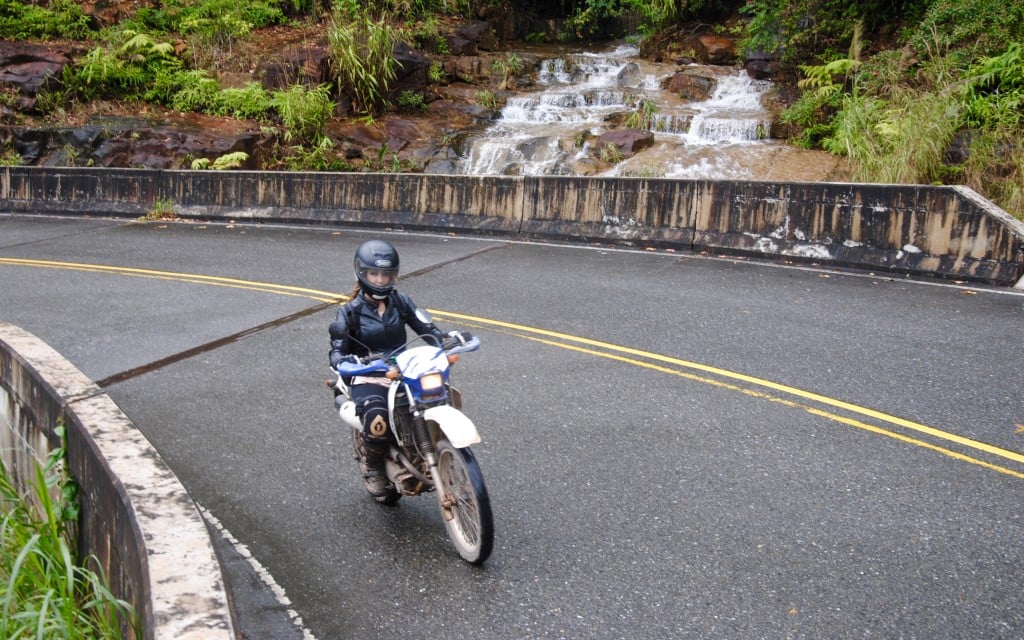 Riding Blind
 It was early in the afternoon when we tore out of the capital, Phnom Penh, Eva on a 20-year-old Honda Degree XL250 and myself on a taller Honda XR250. There was no question she knew how to ride as she zipped confidently through the mishmash of traffic as we hit the highway. But, as we got further out of town and the road started deteriorating, she slowed to half-speed. 
"I've never ridden on roads this bad," she said when we stopped for a breather. "You mean you've never ridden off-road before?" "No. Is it going to get much worse than this?" 
According to Cambodia's Ministry of Transport, half of the county's roads are of 'poor' or 'bad' quality while 70 percent have no gutters, causing regular inundation and washouts during the rainy season. It was August, the wettest month in Cambodia, when an average of 150mm of rain drenches the country in the space of four weeks. So yes, you could say the roads were going to get a hell of a lot worse. But no one likes a negative Nancy. "Nuh," I replied. "Maybe a little." 
After two hours on the road we verged onto a bumpy single-track to Phnom Chisor, a mountain-top temple built in the 11th century. Eva handled the terrain commendably – even when she took a little tumble on the dirt.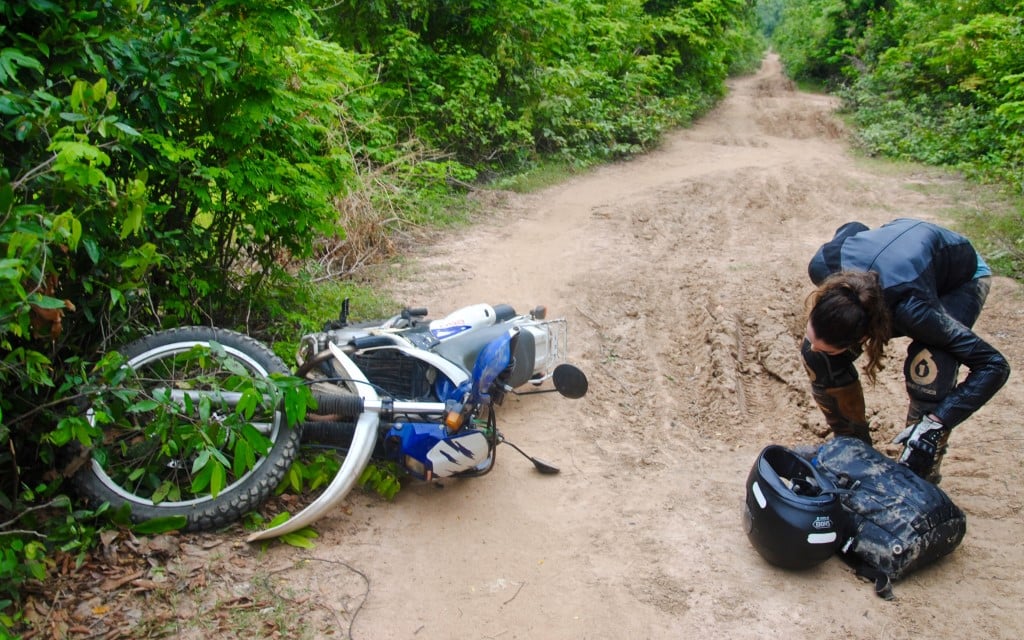 We parked our bikes at the foot of the little mountain and started the steep half-hour climb in 30C heat that was made even harder by our motocross boots, riding jackets and backpacks. By the time we reached the top, we were both absolutely stuffed, but the panoramic views of Cambodia's emerald-green countryside made it worth the effort. 
By the time we got back on the road, it was 5 pm. Google Maps told me it'd take us two hours to cover the 60-mile distance to our hotel in the town of Kampot. But it'd be dark in 90 minutes, and the last place you want to be is riding a motorbike on an unlit highway at night. "We need to ride fast," I told Eva. 
The first 30 miles was a dream as we zipped down a 'good' Cambodian road edged in rice fields and bathed in soft yellow light. But at the halfway mark the road degraded into a shamble of waterlogged potholes and Eva again slowed to half-speed. We were still 15 miles from Kampot when it got dark and we discovered both our headlights were pointing up at the sky instead of the road. With only a few metres of visibility, we slowed to a crawl. Then it started raining… hard. 
At one stage, I looked back and Eva was gone. I doubled back a mile and found her parked on the side of the road, soaking wet, miserable and on the verge of tears. "It won't start!" she cried. "I thought you'd left me here!" 
Her bike hadn't died, it had simply run out of fuel, which I remedied by flipping the reserve switch on her engine.
"How much longer?" she pleads. "I can't see the potholes." 
"Only 10 minutes," I lied. 
An hour later we pulled into our hotel in the town of Kampot. "OMG!" exclaimed Eva when we dismounted. 
"I never thought riding in Cambodia would be so hard. I'm not sure I can handle this for a week." 
"Of course you can," I told her. "You're tough as nails! Most men would've quit by now but you kicked ass!"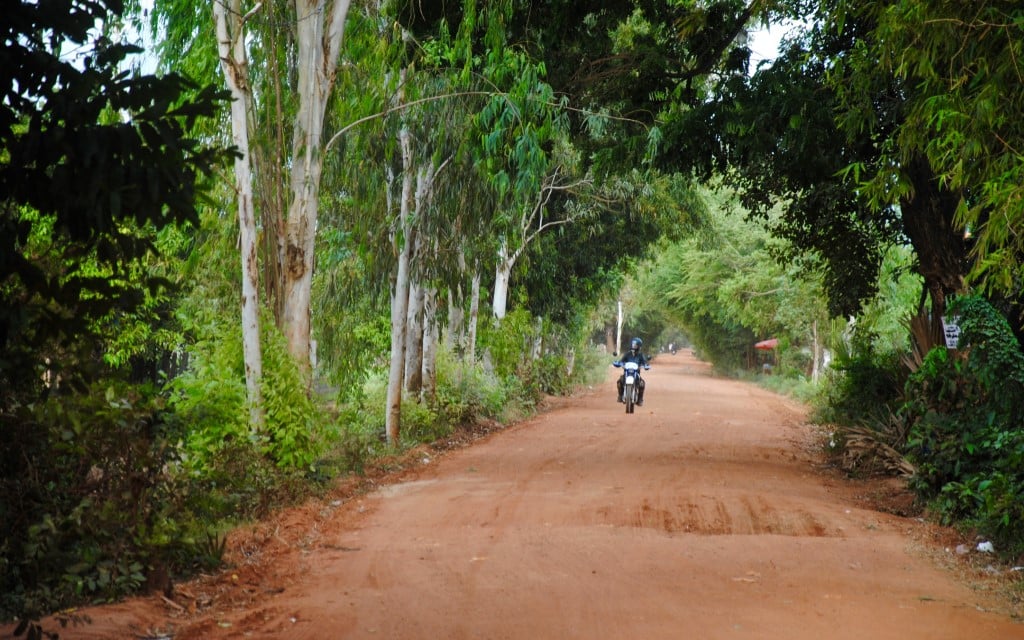 Fog, Wind and Rain 
The following morning it was raining heavily again and we didn't hit the road until 1 pm, leaving us with five-and-a-half hours of daylight to cover what Google Maps estimated to be a three-hour ride. 
We charged down the highway until we reached the turnoff for the 20-mile sprint up to Bokor Mountain. Newly built at a cost of £16 million, it was the first road we'd ever seen in Cambodia with actual gutters and a camber or raised middle section to drain water from the surface.
It was here that Eva showed her pedigree, gobbling up corners and bends with long, clean, uninterrupted racing lines. We passed waterfalls that kissed the road, punched through pockets of mist and curled around hairpin turns at speed, basically having the time of our lives. 
Then the heavens opened up and it started raining again. The mist turned into thick fog. By the time we reached the summit at 1,101m above sea level, it was blowing a gale. From here, you can supposedly see the entire Cambodian coastline and even the islands of Vietnam, though all we saw was fog. 
When we returned to the bottom of the mountain, Eva pulled over at a restaurant and ordered a three-course meal without consulting me. "I need to eat something to warm up," she said. 
I could see she wasn't enjoying herself, so I went with the flow even though I knew every minute we wasted here would mean two or three more minutes of riding in the dark. By the time we hit the highway, it was 4:30 pm, leaving us only two hours of daylight to cover a two-and-a-half-hour ride.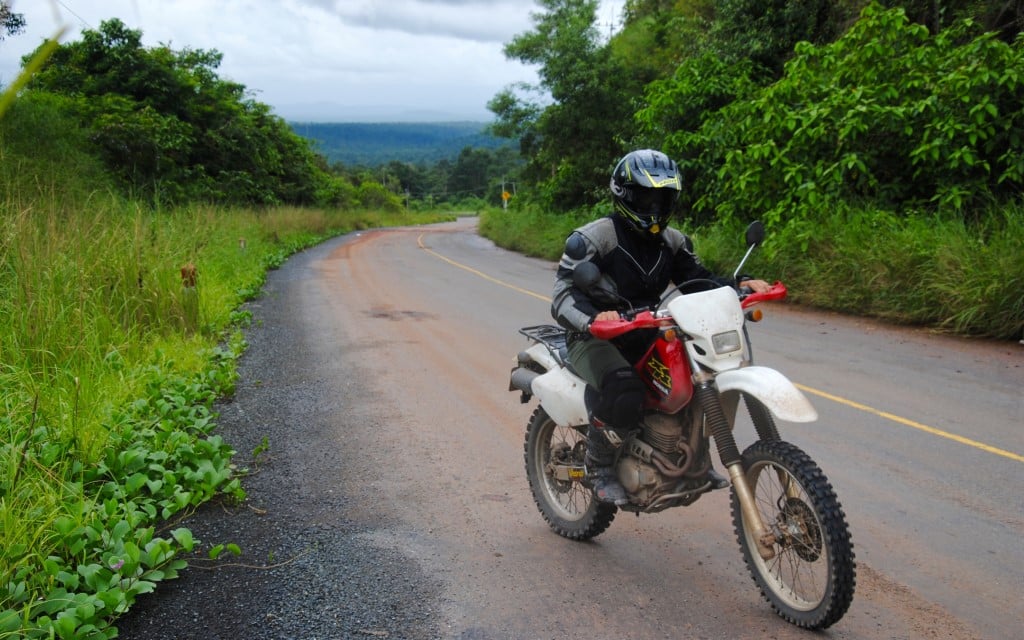 But the road was a nightmare. Every mile we come across huge washouts where the elements had chewed up poorly laid bitumen and left a riot of potholes filled with scuzzy warm water. With the off-road suspension, the switch between good and bad sections was not a huge problem for us until we reached the halfway mark and the rain returned with a vengeance.
We had to ride at half-speed along the straights while trucks and buses galloped past, showering us with mud. One driver hit his air horn when he was right up my ass and another coming in the opposite direction forced me off the road while he overtook. Then it got dark and things got really scary. 
An hour later, we reached our destination, a very shitty fishing port called Sre Ambel. The roads weren't rubbish-strewn; they were carpeted in rubbish. They weren't even roads – just streams of mud lined with mud-splattered homes and shopfronts. There were four or five guesthouses in town but they were cheap and uncheerful.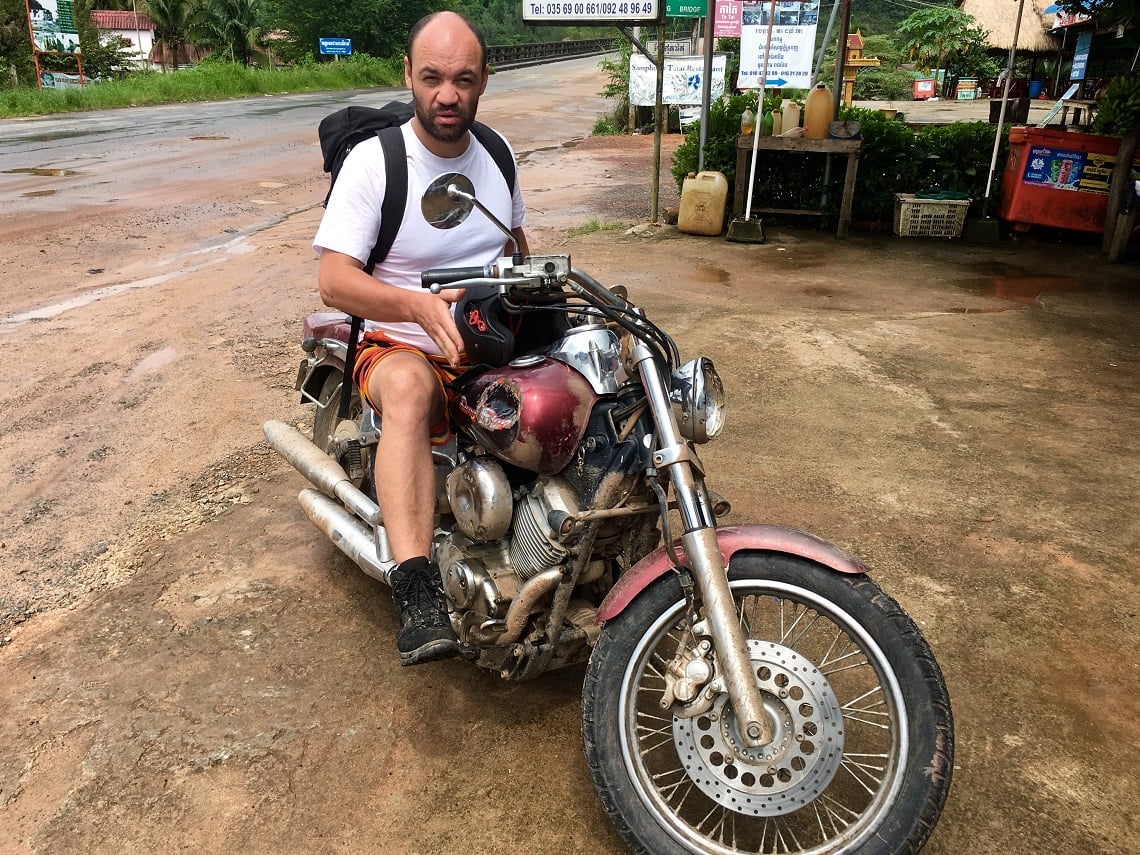 I suggested doubling back for 10 minutes where I saw a more modern hotel, but Eva wouldn't have a bar of it. "I just wanted to go to sleep," she cried. "And this 'night riding' thing you're into is nuts! How is it that you enjoy this? My whole body hurts. My hands, my bum, my knees, my back – everything!" 
I considered pointing out the fact we had to ride in the dark today because she insisted on stopping for lunch only two hours after breakfast. Ditto for what happened the day before; it took her two hours to get ready at the motorbike hire shop in Phnom Penh when I'd only budgeted for an hour.
Instead, I took the high road and explained how difficult things like childbirth or pushing oneself beyond all reasonable limits on a motorbike in a strange county can be highly rewarding – at least in retrospect. But Eva rolled her eyes. Her ride was over. 
The Road to Thailand 
A rift had formed between Eva and I that even a pro rider on a Dakar-spec KTM couldn't cross. As we parted company the following morning, before she headed back to Phnom Penh, she said 
"Sorry, but this just isn't for me." "Take care," I said, throwing a leg over my bike.
I can't help but feel disappointed with Eva for quitting and I'd be lying if I said I didn't miss her a little bit. But after a few minutes of throttling it along a riverbank without having to look back every two seconds to see where she was, my mood began to lift. Even the return of heavy rain failed to dampen my enthusiasm as I tore down muddy straights and flew over potholes en-route to the Thai border.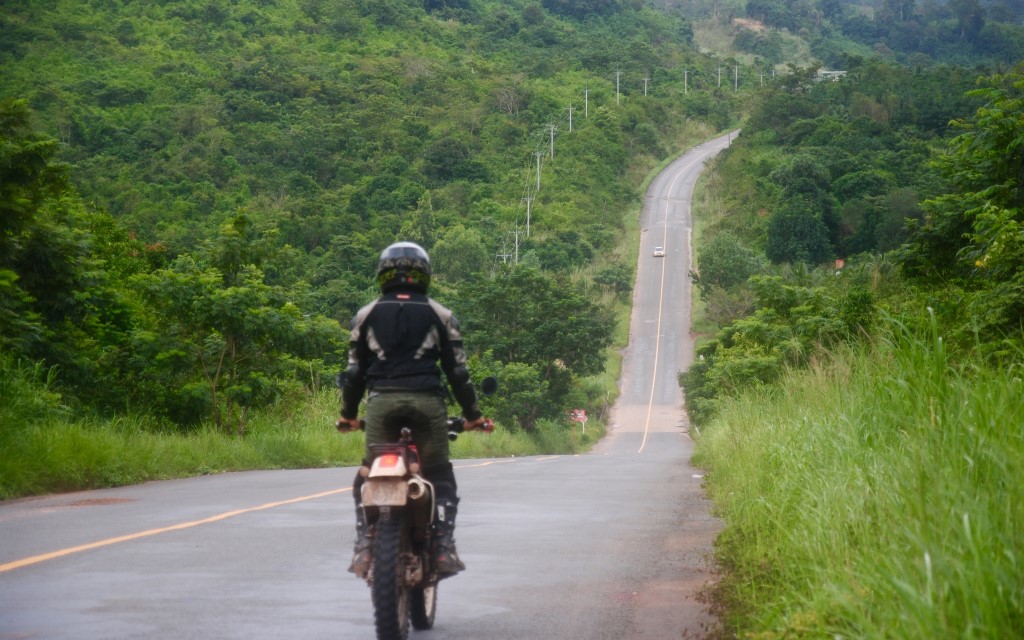 The other great thing about losing Eva was that I could see more of Cambodia in the same amount of time. I intended on making a sizeable detour, a 75-mile loop through Botum Sakor National Park. A wetland reserve covering a peninsula that's two and half times the size of Singapore. It protects globally endangered species like the Asian elephant, Siamese crocodile and hog deer. 
I expected the road through Botum Sakor to be the among the worst in Cambodia. Instead, I found a brand spanking new eight-lane freeway that I had all to myself, with the exception of the odd truck and a long-tailed macaque with a huge set of balls I saw eating his lunch in the middle of the road. 
When I reached the coast, I saw why the freeway was built, to provide access for Dara Sakor, a city-size Chinese-built casino and golf resort. A billboard at the entrance described it as a place of 'extravagant feasting and revelry'. But in truth, it was a white elephant with rows of empty buildings and the unfinished shell of a massive casino modelled on the White House. 
It was 2pm when I got back to the highway, leaving me plenty of wiggle room to complete the two-hour 60-mile hurdle to the border town of Koh Kong.
About 10 miles from the finishing line, I pulled over at a row of roadside stalls for a drink. At one stall I found a woman selling deep-fried crickets, water beetles and zebra tarantulas the size of my palm. "Taste good!" she says, putting a spider in her mouth in a failed-before-it-started attempt to show me they're good eating.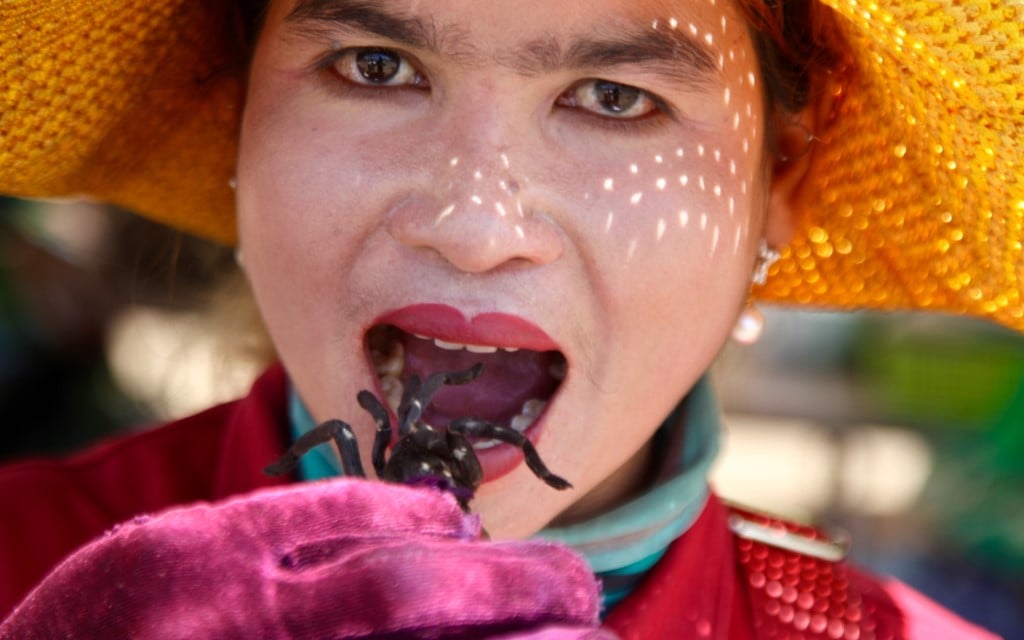 Then I saw the oddest thing – even odder than a woman eating a big hairy spider. A tourist on a lowered Honda Dragstar 400 – the last motorbike I would choose for these terrible roads. 
His name was John and he wasn't your average adventure rider. Dressed in running shoes, a T-shirt, candy-striped shorts a size too small and an open-face helmet that offered zero protection from the rain and bugs, he told me he was a disabled US Army veteran who lived in Phnom Penh.
He was riding to the Thai border to renew his Cambodian visa. But the road had not been kind to John. He slammed into an unmarked road divider last night, dented his petrol tank, busted his indicators and scraped the crap out of his arm. I ask him if he regretted the ride.
 "Hell, yes," he said. "I should've caught the bus. This is the wrong bike for the job." But when I asked John if the experience had put him off riding, the answer was a definitive 'no'. "I used to do all kinds of sports before I got injured in Iraq," he said. "Now I can't run, I can't swim, I can't even screw properly. But there's no way I'll ever give up riding – no matter how many times I come off." 
Now, this is the kind of dude I'd love to go riding with. Too bad that his bike was too slow.
---
Do it yourself
There are a dozen-odd shops in Phnom Penh that hire 250cc Japanese dirt bikes from the nineties for £11 a day. I chose Angkor Motorcycles (www.angkormotorcycles.com) because the owner, Ly
Ratha, offers roadside assistance. But, as my story shows, you'll need to check your bike thoroughly – brakes, tyres, indicators, oil levels and headlights – before you head off.
Officially, you need an international driver's license to ride in Cambodia, but the rental shops won't ask to see yours. If the cops stop you on the road, they'll demand a bribe whether you have a license or not. My advice is to say no. Never get angry or demonstrate impatience. Make a joke out of it instead but at the same time make it clear you won't fuel corruption.