James Oxley's been riding the Tiger 800 XCX for the past couple of months, but recently he had the chance to put a few miles on a 1200 XRT. The experience left him pondering which of the two Triumphs he'd buy, and his answer may surprise you…
Bob Dylan crashed one, Ted Simon rode his around the world, and Prince William has been known to take one out for a spin. The Triumph Tiger has been a willing accomplice to countless adventurers throughout its history, which dates back to the 1930s. It was an adventure bike before the phrase was coined and even played a role in the inception of this magazine.
A Tiger 885 was ABR publisher, Alun's regular ride when he thought a magazine by the name Adventure Biker Rider might not be such a bad idea. 
Fast forward to 2019 and the Tiger lineage lives on in the latest versions of the Tiger 800 and 1200, two of the most capable adventure bikes around. They may not boast the chart-topping sales figures of the mighty BMW GS, but swing your leg over these motorcycles and you'll quickly discover they are seriously accomplished machines. 
I was lucky enough to do just that in the making of this issue of ABR which gave me the opportunity to compare the two and find out which one is the best adventure bike. 
I've had the Tiger 800 XCx as a long-term review bike for the past five months. During that time, I've clocked around 5,000 miles on and off-road. Throughout, the Tiger 800 has proved a fantastic and rock-steady companion, so much so I've come to view it more as a friend than a machine (don't worry, I've not gone as far as naming it yet, although Tina the Tiger does have a nice ring to it).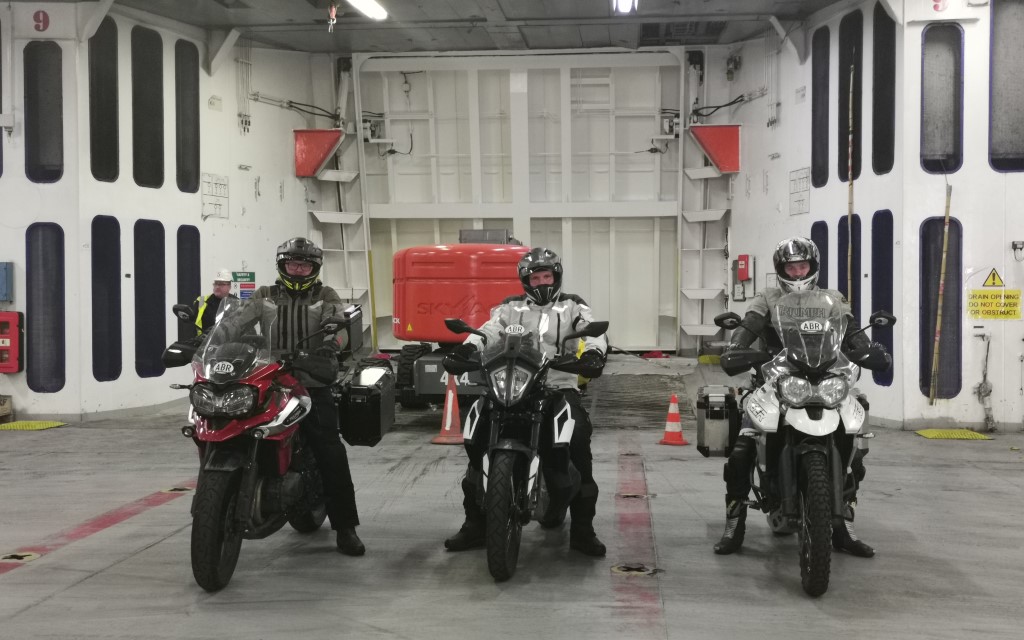 So, when the good folks at Triumph kindly agreed to lend me a Tiger 1200 XRt for a long weekend, I was genuinely excited to see if the bigger engine and price tag equated to a better bike. 
I rode the Tiger 1200 to the ABR Ireland Rally in Draperstown, Northern Ireland. The journey of around 800 miles included motorways, city riding and country lanes. Once at the rally, I clocked another 150 miles on twisting roads, with a few green lanes thrown in for fun. 
It was a superb long-weekend full of great riding, new friends and plenty of Guinness. It also provided the perfect test of the big Tiger 1200 and highlighted the different types of riding and rider it's suited to compared to its smaller capacity sibling. 
At this stage. I should say I didn't compare like-for-like models. Triumph's naming system is a bit baffling but bear with me. My Tiger 1200 XRt has an 'R' in the name. This means it is a more road-focused bike with a 19" cast front wheel. My Tiger 800 XCx has a 'C' in the name, which means it is a more off-road focused model, hence the 21" spoked front wheel.
In reality, this didn't make much difference to this test, but it's certainly worth looking into the model variations in more detail if you buy a Tiger. 
So, after riding the big and not so big Tigers, which one is the better adventure bike?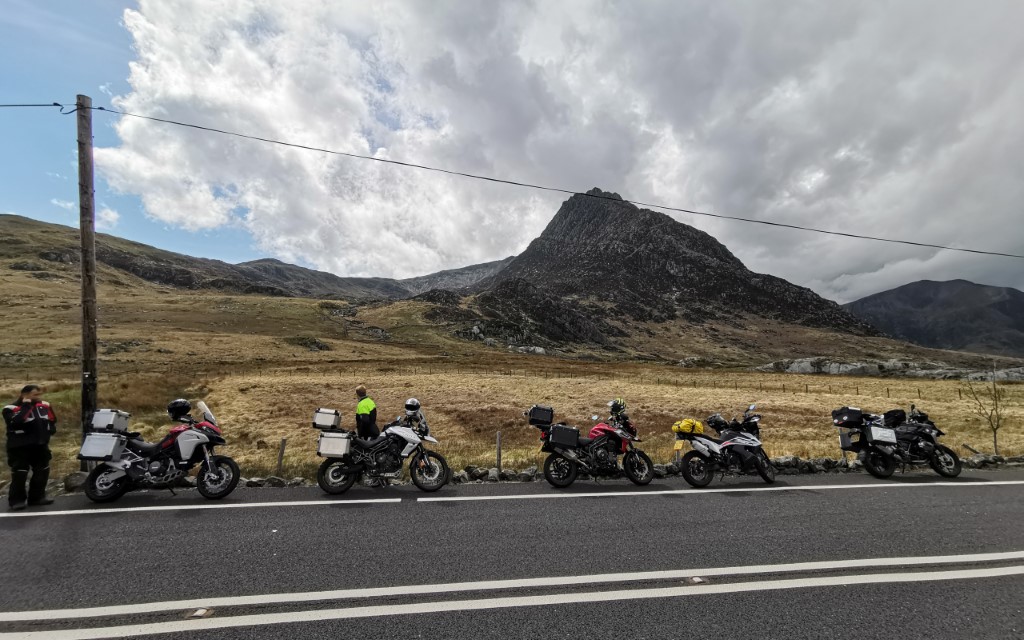 Power 
Both the 800 and 1200 boast Triumph's signature triple engines which are a joy to ride. They are smooth, torquey, and pack enough punch to exhilarate and scare in equal measure. They also emit a primal howl under acceleration that can't help but make your hairs stand on end. 
On paper, the 1200 wins in terms of power. Its 1215cc engine produces 139bhp, compared to 800cc and 94bhp on the smaller bike. I was expecting the leap in horsepower to result in a marked difference between the two, but that wasn't the case. 
Neither bolt off the line like a sports bike, but instead deliver their power smoothly. There's plenty of fun to be had, but it never feels out of control. There's no doubt the 1200 has more grunt, but it doesn't feel 43bhp more. I see this as a testament to what a great engine the 800 is, rather than anything lacking with the 1200. 
Comfort 
The Tiger 1200 is one of the most comfortable bikes I have ever ridden. I would seriously consider buying one if I was looking for a long-distance adventure touring bike. The seat cossets my cheeks affectionately, the hands-backside-feet position is gloriously relaxed, and the wind protection from that electronically adjustable screen saw me riding with my visor up at motorway speeds. 
Then there is that WP suspension, a feature of both bikes. It's sublime and glides along the undulations and ruts of the road like a magic carpet. On top of this, the 1200 has cruise control, heated seats for you and your pillion, and heated grips to ensure you travel in comfort and style all day long.
The Tiger 800 is also a very comfortable bike that I'd be happy to take on tour (and it too has cruise control and heated grips), but when it comes to comfort, the 1200 excels at what the 800 simply does very well, and your pillion would agree.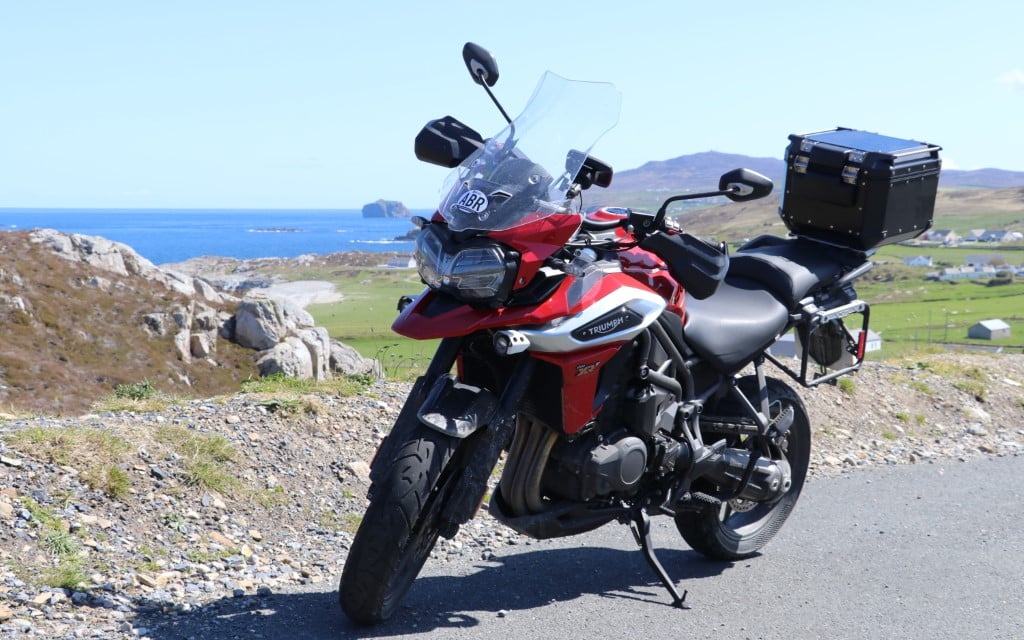 On-road 
These are two sensational road bikes. Whether you're cruising at speed on a motorway, leaning into turns on twisties, or filtering through a busy town centre, they are composed, confidence inspiring and huge fun to ride. 
Their handling is agile enough to swoop into turns, but also has a neutral quality that gives you the confidence to push your riding without fearing the bike will snap back if you get a turn wrong. The Tiger 1200 also benefits from semi-active electronic suspension, lean-sensitive ABS and traction control, and cornering LED headlights, which all come together to offer a little more than the 800 does. 
For longer rides, I'd choose the increased comfort the 1200 brings. The shaft drive is also a big plus point on the 1200 for me as it rids you of the hassle and cost of maintaining and changing your chain and sprockets. 
However, for carving along tight twisties, I'd choose the 800 which feels lighter and more agile than its big brother.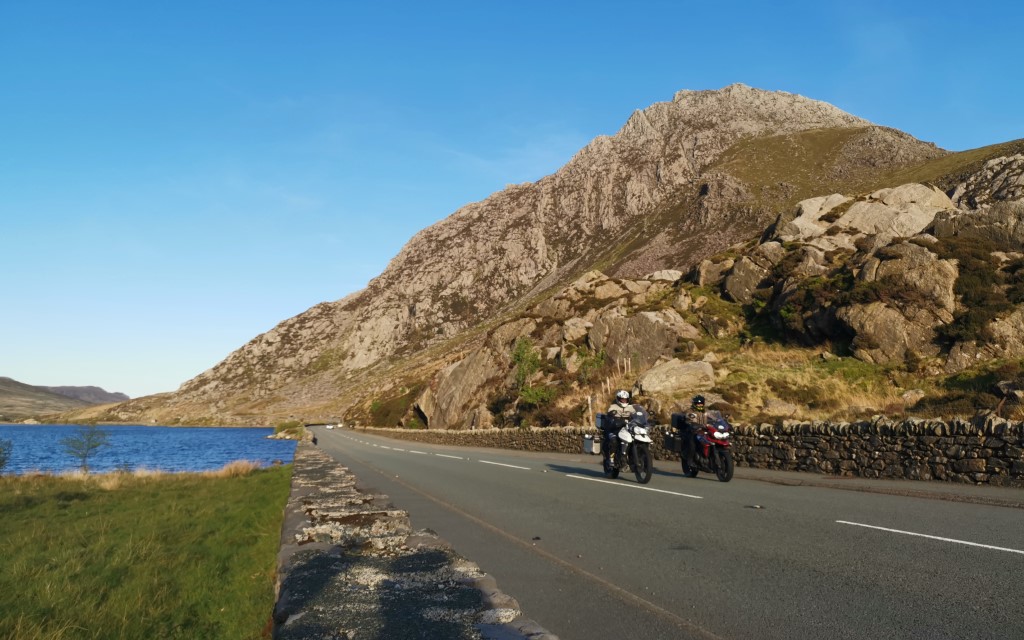 Off-road 
The 800 is an example of why adventure bikes, in general, are so bloody brilliant. On tarmac it is perfectly composed but take it off-road and it feels like a big dirt bike. It is enormously capable and fun on green lanes and rocky trails, so much so that I run out of talent way before the bike does. Again, the WP suspension is superb and really gives you the confidence to attack the trails. 
Initially, I didn't like the standing position on the Tiger 800. I felt I was pitched too far forward, particularly compared to the Africa Twin I'd been riding previously. However, it's something I've come to enjoy and it feels perfectly natural these days. 
Tigers are known to carry their weight quite high up, but it's never been an issue for me on the 800. The same can't be said for the 1200. In the right hands, I have no doubt it is very capable off-road, but it's a hefty beast and that 243kg of weight (compared to the 800's 208kg), held relatively high up, is a lot of bike to have sliding around beneath you.
I enjoyed riding it off-road, but I admit to being more wary than usual of getting it wrong. 
Both bikes feature an off-road mode which monitors and reduces the power delivery to the back wheel. The system works very well and let me push my riding harder, safe in the knowledge the system would help me out if I got it wrong.
Build quality 
Both bikes have a premium feel to them that gives you the impression you are sat on a quality piece of engineering. Nothing feels cheap or bolted on as an afterthought. There is a prestige associated with the Triumph brand these days which reflects the fact they design and produce quality motorcycles. 
Throughout my 5,000 or so miles of pretty hard riding on the Tiger 800 XCx, it hasn't missed a beat. It's been caked in mud and crud, slathered in winter road salt, and drenched by rain on numerous occasions, but it still sparkles in the sun when I clean it. This is a testament to the quality of the finish. 
Of course, I haven't ridden the 1200 as far, but I've no reason to think the build quality isn't just as high.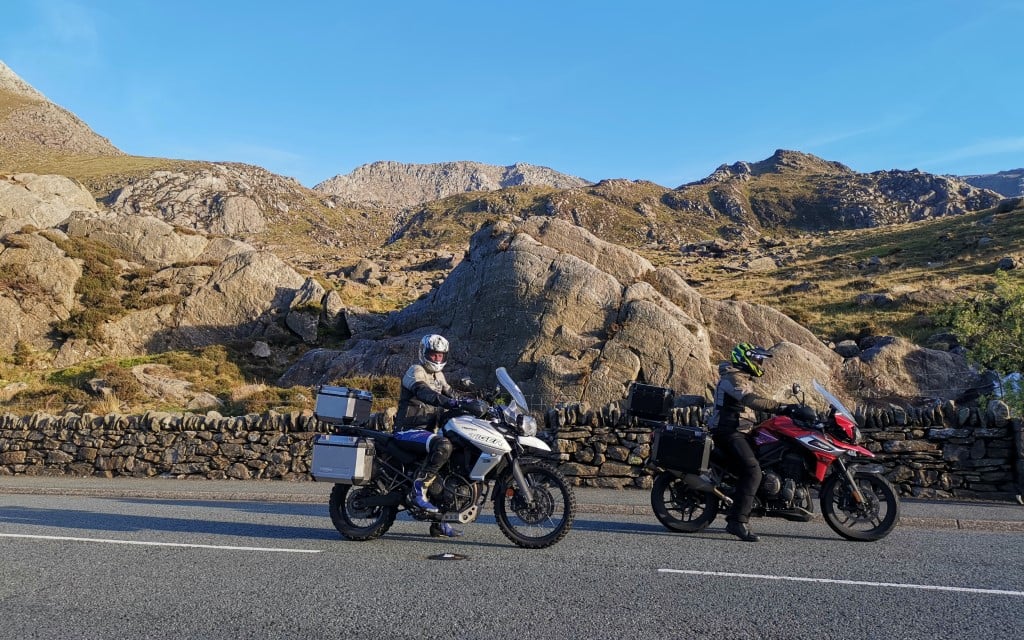 Price 
Tiger 800s range from £9,200 to £12,700 depending on the model you choose (my XCx cost £11,400). Tiger 1200s range from £12,200 to £17,100 (my XRt cost £16,300). That's a lot of cash to spend no matter which bike and model you choose, but you'll be getting a lot of motorcycle for your money. 
Value for money 
I reckon the Triumph Tiger 800 is one of the best value adventure bikes around. It performs to a high standard on and off-road, it's fun and comfortable to ride, it looks rugged, and boasts excellent build quality. 
That value for money increases when you learn the base model (£9,200) comes equipped with cruise control and a TFT dash as standard. The more expensive models feature WP rather than Showa suspension and extras like heated grips. They continue to offer good value, particularly when compared to the price and specs of competing bikes like the BMW F 850 GS, or the Africa Twin.
At £12,700, the base model Tiger 1200 is also a bit of a bargain for a big adventure bike (that's if you have 12 grand burning a hole in your pocket!). This is especially true when you learn it comes equipped with that sublime WP suspension as standard.
As you start looking at the better-specced versions, the price rises considerably. Whether the bells and whistles are worth adding a few thousand pounds to the price tag will be down to personal preference, but it's worth bearing in mind you'll be entering BMW R 1250 GS TE territory at this stage. 
Conclusion 
These are two exceptionally capable adventure bikes I would happily sling my leg over and ride to work, to the Alps or around the world. But if it was my cash, which would I choose? 
For long-distance mile-munching on fast roads, the 1200 is the better bike. Its superb comfort and refinement, shaft drive and extra power makes big days in the saddle a breeze. Little touches like a heated seat and electronically adjustable windscreen are the icing on the cake. 
However, if I was spending my own money, I'd opt for the Tiger 800 and I would choose the XCx version I've been testing. The reason being it's a better all-rounder than its big brother. 
For me, the Tiger 800 is a very capable motorway mile-muncher, it feels lighter and more agile in the twisties than 1200, and it also comes with extras, like heated grips and cruise control, that make riding long distances more enjoyable. The 800 is also hugely capable and enjoyable to ride off-road, more so than the 1200 whose extra weight can make it a bit of a handful. 
The Tiger 800 has also won a place in my heart, something not all bikes do. I genuinely feel a lot of affection for it. It's not just a machine, it's a friend and accomplice on my adventures. I'll genuinely be sad to say goodbye to Tina when Triumph ask for her back.