Bryn Davies checks out Bridgestone's new adventure-ready rubber.
If there's one thing I've learned about adventure motorcyclists, it's that we love to talk about tyres. Get a group of us around a campfire and a chat about which rubber is best for what and how many miles so-and-so got out of their back tyre could go on late into the night.
So, when I found out about Bridgestone's new off-road focussed adventure tyre, the Battlax Adventurecross AX41, I was pretty excited.  
The whole brief behind the Battlax Adventurecross AX41 was to make a set of tyres that would allow adventure riders to seamlessly switch from on to off-road without having to worry about what's keeping them upright.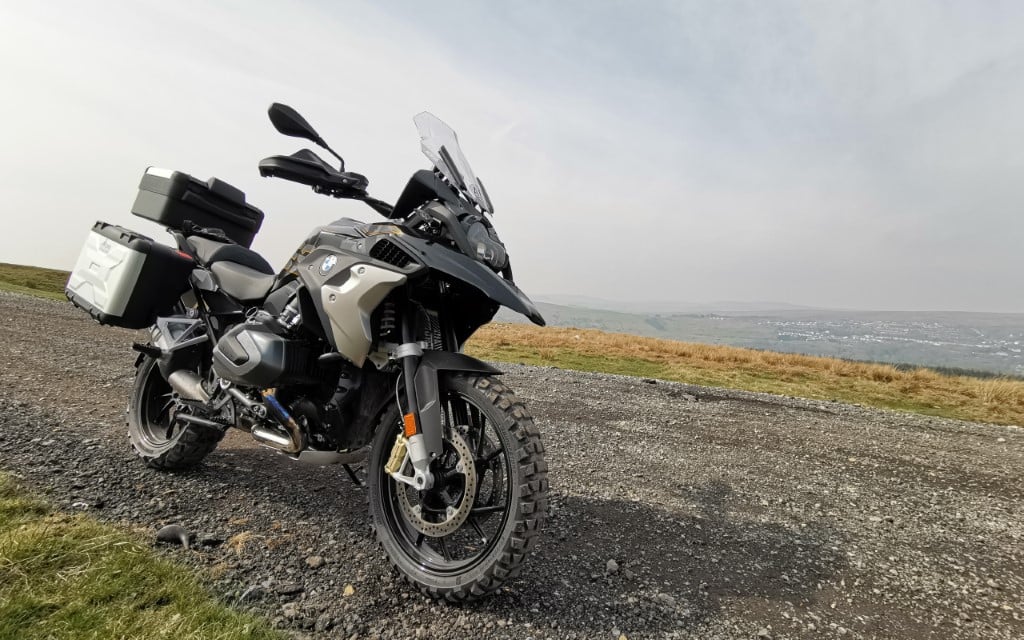 To do this, Bridgestone called upon the knowledge and technologies that the company has been implementing for years in both its popular Battlax and Battlecross tyres.  The result was an adventure-ready knobbly that compliments the road-biased and highly recommended Battlax Adventure A41. 
With an on/off-road mix of 40/60%, the Battlax Adventurecross AX41s are, on the face of it, the ideal tyre for adventure riders who like to hit the dirt, but what has Bridgestone done to make them stand out from the crowd?
It's all in the tread  
The Bridgestone Adventurecross AX41, which will cost you around £106.70 on the rear and £89.40 at the front, features an entirely new tread pattern that's been created to provide optimised traction and durability on muddy surfaces without neglecting tarmac duties. 
The tread features newly designed block shapes and Bridgestone has implemented, what it calls, 'irregular wear technology', which is intended to help reduce the heel and toe wear. Visually, this is represented by a straight wall on the leading edge of the block, where it's usual on other tyres to have sloped leading edges.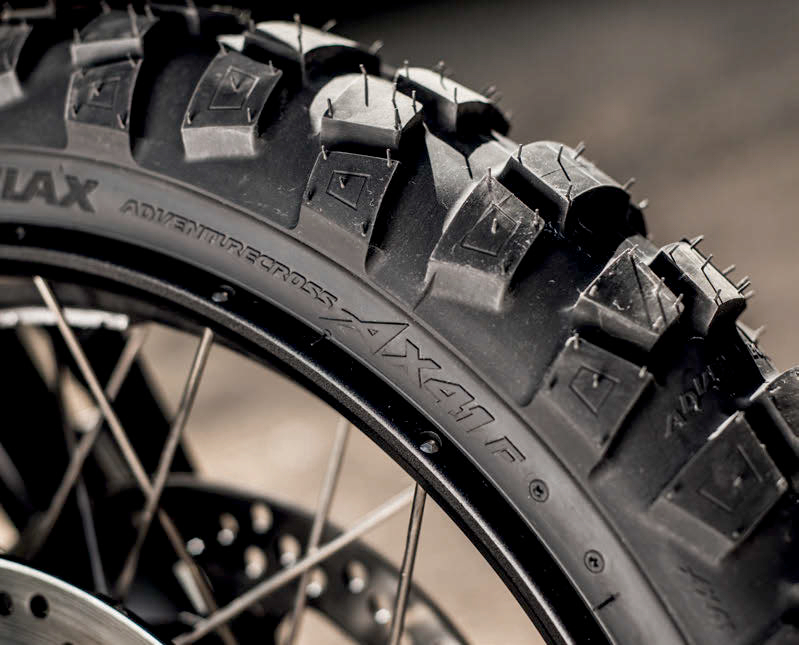 Essentially, by doing this, the tread suffers from less deformation when braking and when underload, and it also helps to prevent shearing of the trailing edge. All of this helps to provide a longer life to the tyres. 
In terms of the pattern, the blocks were designed specifically to be self-cleaning, throwing mud off rather than allowing it to stick to the sides of the tread blocks. In order to provide traction across all kinds of terrain, the AX41s make use of a staggered tread pattern which helps provide bite when the bike's leant over. On the road, this translates into brilliant high-speed handling and cornering (for an off -road-focussed tyre).
To further add durability, the rear tyre uses a 'high-toughness' compound with 30% more rigidity and strength than Bridgestone's popular road touring tyre, the Battlax Adventure A41.  This is to help provide better off-road performance and durability. 
I've had the Battlax Adventurecross AX41 tyres fitted to my R 1250 GS for a good three months now and have covered around 2,500 miles on them. Likewise, staff writer James has had a pair fitted to his Tiger 800 for about the same duration. Our riding has, admittedly, been mostly on tarmac, though you'd be pretty hard pushed to find any adventure bike rider in the UK whose sticks exclusively to the dirt.
But how do they ride? 
First and foremost, the tyres look fantastic on an adventure bike. Performance should trump style in the requirements hierarchy of new rubber, but it's worth mentioning just how aggressive and bad-ass the AX41s look when fitted to both the GS and the Tiger. 
My first ride on them was back to Stratford upon Avon from Wheelhouse Tyres in Sutton Coldfield. They were box-fresh going on to my GS, so I took it steady and let them scrub in.  There's noticeably more noise with these than there was with the A41s that were on the bike before, but that's to be expected when switching from a road-biased tyre to an off -road biased one. 
After scrubbing in, I took a ride to Wales for our Bridgestone Coast to Coast ride. It was on this journey that I discovered just how confidence-inspiring the AX41s are both on and off-road.
When covering motorway miles, the bike was steady and planted, even when riding at figures you shouldn't be. Dipping into the twisty lanes, they gripped to the tarmac exceptionally well and try as I may, I just couldn't push them to their limits with a 'realistic' riding style.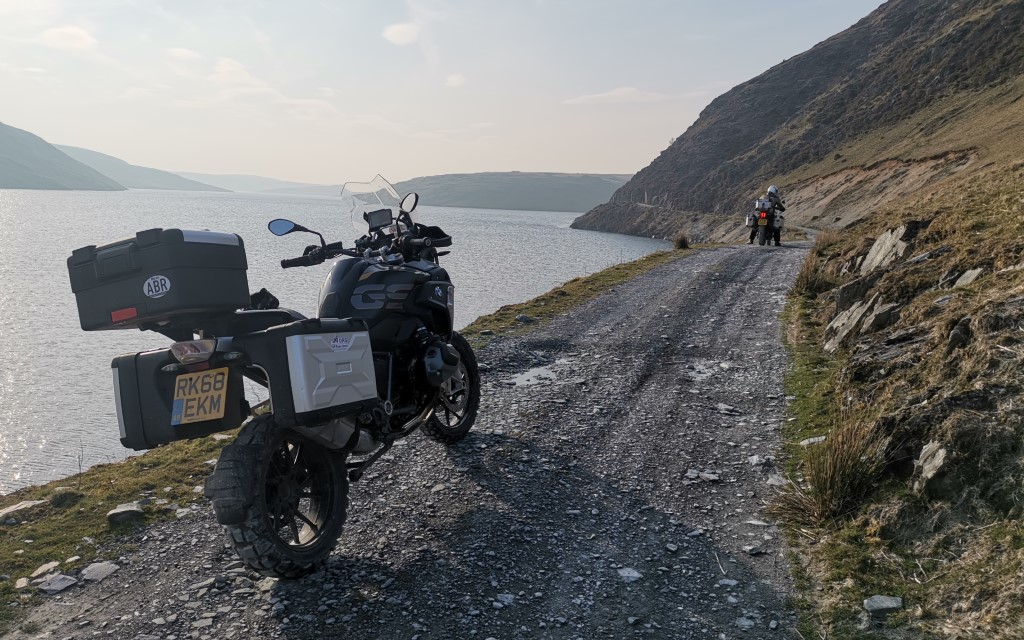 When we hit the green lanes, their off-road prowess was allowed to reveal itself. It didn't matter if it was loose rocks and gravel or sloppy mud, the AX41s gripped very well, and I reached my technical limit far before they showed any signs of stepping out of line. 
Since that Wales trip, I've been to Ireland and Scotland with them fitted, often riding two-up, and again they've been nothing but a pleasure, apart from when the tarmac's wet, at which point you'll want to reign yourself in a bit – though this is the case on many knobblies. 
I reckon I've still got about another 1,000 miles of life in the rear, while the front looks almost untouched. When it comes to time to change the tyres on the GS again, I'm going to find it hard not to reach straight for the AX41s again.