After 3,000 miles on the GS, Bryn Davies is getting to grips with how to get the most out of the big beast.
Over the making of this issue I have practically been inseparable from my long-term BMW R 1250 GS. My truck has been parked unused and I've been racking up the miles on the bike. Whether I've been commuting to and from the ABR office, joining the gang in Ireland for the ABR Ireland Rally, or riding green lanes on the Bridgestone England Coast to Coast route, the GS has proved to be a capable and so far reliable bike for each endeavour. 
That being said, I have been noticing a few areas that could do with adjusting to provide a more comfortable riding experience and to also protect the bike when the going does get rough. 
Useful MODS 
So, to address these areas, there are a number of modifications that I have made. Each one was fitted to remedy a specific pain point, and each one has improved the riding experience. Let me just get one thing straight though, I'm by no means saying the bike without these mods is useless. 
GIVI 5124D Smoked Windshield – £82.28 
After a couple of journeys that involved long motorway miles, I noticed that the standard screen on the GS was directing windblast at my forehead (I'm 6'2, those shorter may not have such issues).
It's adjustable, so I played around but to no avail – no matter where it was, I was getting buffeted. On a ride up to Scotland I decided to set the seat in its 'low' setting (which is wonderfully simple to do), and this improved my comfort by a fair bit, bringing my head further down behind the screen. I wasn't quite satisfied though.
So, I fitted the GIVI 5124D Windshield, which secures onto the standard screen mounting points. It's 5cm taller than the original, and boy does it make a difference! If you're regularly covering long distances on your GS, the taller screen is well worth considering, and the smoked effect compliments the black colour scheme of the bike. 
R&G Adventure Bars – £166.66 
The boxer engine is the crowning glory of the BMW GS range, but it looks awfully exposed when riding off-road if there are no engine bars in place to take the brunt of any drop or fall. The simple solution was to fit some engine bars and I turned to R&G. Made from 25.4mm gauge steel tubing, the bars offer a rugged look, but most importantly a peace of mind that I'm less likely to crack a cylinder head if I drop the bike.
I also fitted R&G Radiator Guards (£70.83), which do a great job of protecting this vulnerable area, R&G Bar End Sliders (£17.08), and an R&G Shaft Protector (£17.91). All of these sit relatively unnoticed on the bike, but they'll do the job if called upon and they're simple to fit.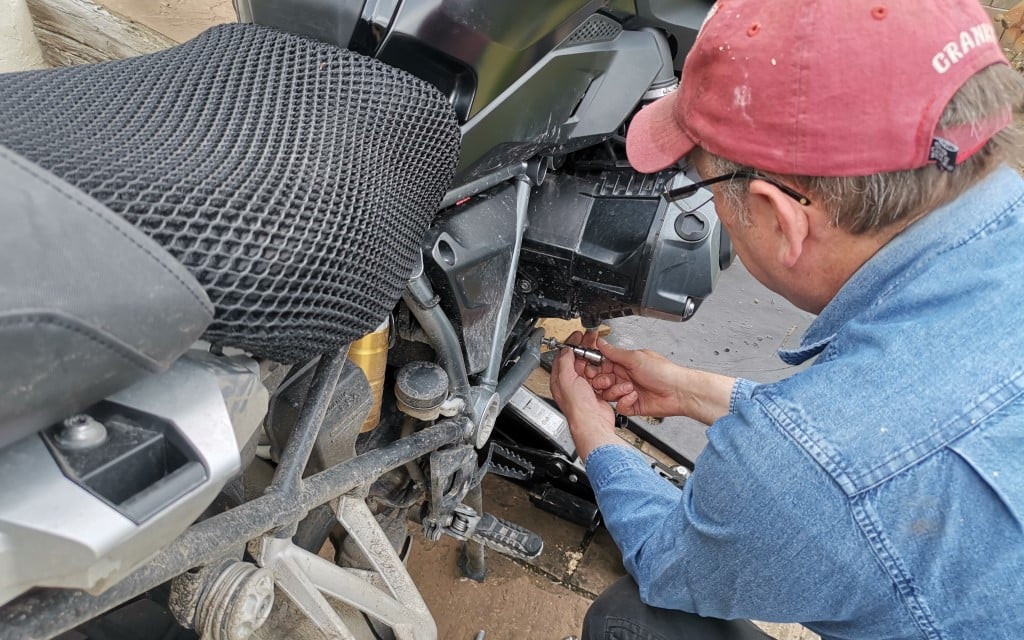 I also noticed that I was rubbing off the paint on the shaft with my boots, so installed the R&G Boot Guard Kit (£17.08) to help protect the bike on this area that sees abrasion. 
I've been thoroughly enjoying my time on the BMW R 1250 GS and have loved the way it eats up miles on the motorway but is also sporty enough when switched into Dynamic mode on the twisties. Before I added all these bits and bobs, it was a great bike, but with these few tweaks, it's almost perfect for me.