James Oxley puts 10 motorcycle comms units to the test.
BMW FIT FOR ALL
£140 | www.bmw-motorrad.co.uk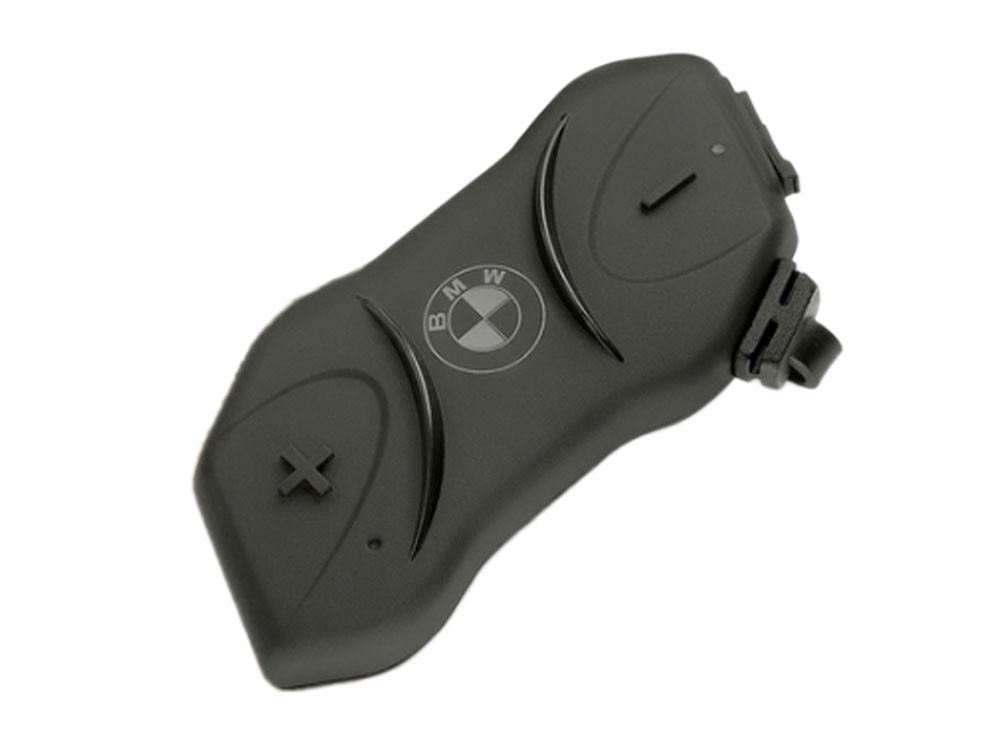 Being branded BMW, you might think that the Fit For All comms unit would only work with the company's range of helmets, but that's not the case. It integrates excellently with BMW lids, but it is also compatible with 'popular, other-make helmets', though there's no definitive list of what these are.
I tested it in conjunction with the GS Helmet, while riding my R 1250 GS, though I stopped short of slipping into BMW's Rallye Suit. In this lid, it fits seamlessly and tidily, with the controls on the outside of your helmet's shell being unobtrusive and in-fitting with the GS design. 
This is the best way to experience the Fit For All, as it integrates so well with BMW's products, such as my R 1250 GS's Navigator and TFT dash. Learning the controls of the device is easy, with every function being achieved via three buttons pressed in various combinations.
It uses Bluetooth connectivity to allow for connectivity between up to six riders when used in conjunction with the Bike-to-bike communication module, while you can connect to a pillion with no extras required.
The given battery life is up to eight hours, though I think BMW is underselling itself there – the 560 mAh battery has regularly lasted entire days in the saddle without needing a charge, including on an epic 14-hour-long jaunt around Scotland and back. 
Sound quality is great at low speeds, though I would definitely like it to be louder to offer greater clarity at 60mph+. I managed to listen to my audiobook on the motorway, but I was straining to make out what was being said, similarly with music. The clarity of audio when both receiving and making calls is very good, though. I also loved the simple-to-use voice commands which link up with Google Assistant or Siri.
IN A LINE: Exceptional value for money and seamless fit into BMW helmets

---
GIVI 1303S
£143.90 | www.givi.co.uk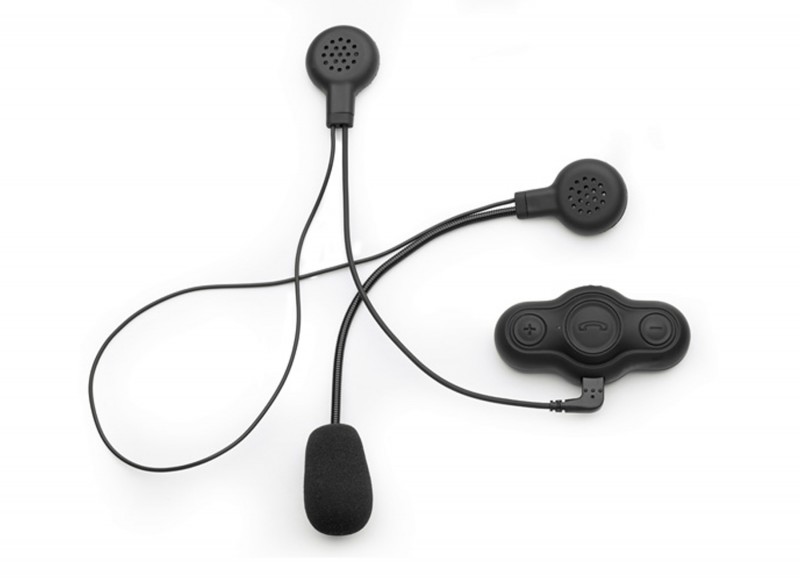 When it comes to intercom styling, the GIVI 1303S is as minimalist as you can get. It's a tiny device that is hardly noticeable perched on the side of your helmet. The diminutive design demands a simple and intuitive user experience, mainly because there is only room for two buttons. 
Depending on how long you push them for and in what combination, these buttons act as an on/off switch, volume control, Bluetooth pairing, music controls, and phone controls. I initially imagined this would be annoying without a control wheel or similar, but it's a simple system that I picked up quickly after a read of the instructions leaflet. 
Givi has aimed the 1303S at the budget end of the intercom market, so it does not come packed with as many features as the more expensive units in this test. However, it does all the basics very well; you can connect with a pillion or another rider, or sync with your phone and make calls and listen to music. It also has a voice dial option, although not the advance voice control of more expensive devices. 
The sound quality on the Givi is fine although not as rich as some higher-end devices, but you can hear voices clearly enough, less so at higher speeds. The intercom only works up to 200m in open terrain and talk time is only a claimed eight hours.
Not the best for touring or group rides, but perfectly fine for commuting and talking to a pillion during weekend jaunts. Considering the low cost, the 1303S provides a solid motorcycle comms experience at a very reasonable price.
 IN A LINE: Good looks and functionality at a great price for lone riding chats with a pillion.

---
INTERPHONE ACTIVE
£179.99 | www.nevis.uk.com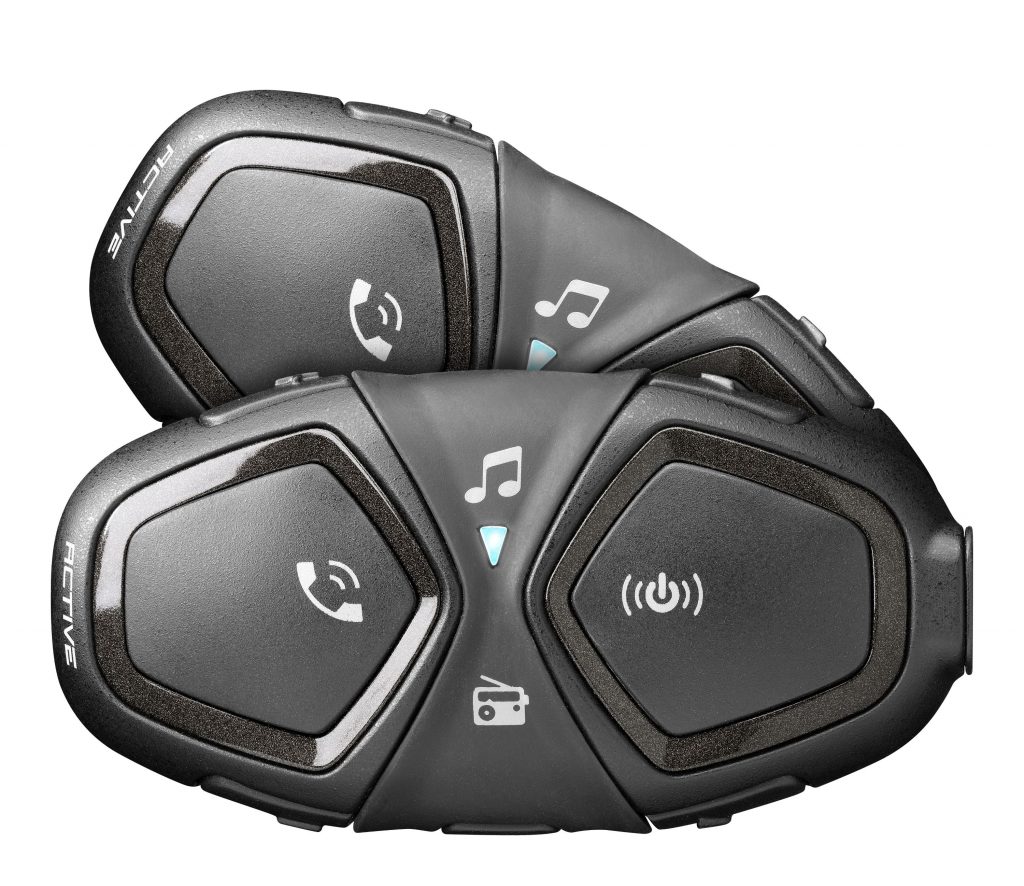 Sound quality on the Interphone Active is clear and crisp although I did struggle to hear speech clearly at motorway speeds when there was significant wind noise. However, bear in mind this is highly subjective and will be affected by the type of helmet you wear and how much wind protection your screen provides. 
The Interphone Active ticks all the boxes when it comes to core features of a Bluetooth intercom. You can connect to your phone and GPS, so you'll be able to listen to music, make calls and hear GPS directions from your SatNav. You can connect headsets and talk to a friend over a distance of around 0.6 miles and connect up to four riders at once. 
The unit itself features large buttons which are easy to use with gloves. It is also fully waterproof so if it were to be damaged in the rain, the unit would be covered by warranty. 
The Interphone Active may not have the refinement and ease-of-use of the higher-priced devices, but it does a solid job and would be good choice for the money-conscious buyer.
IN A LINE: Mid-range performance at a mid-range price.

---
AUTOCOM AIR
£189 | www.autocom.co.uk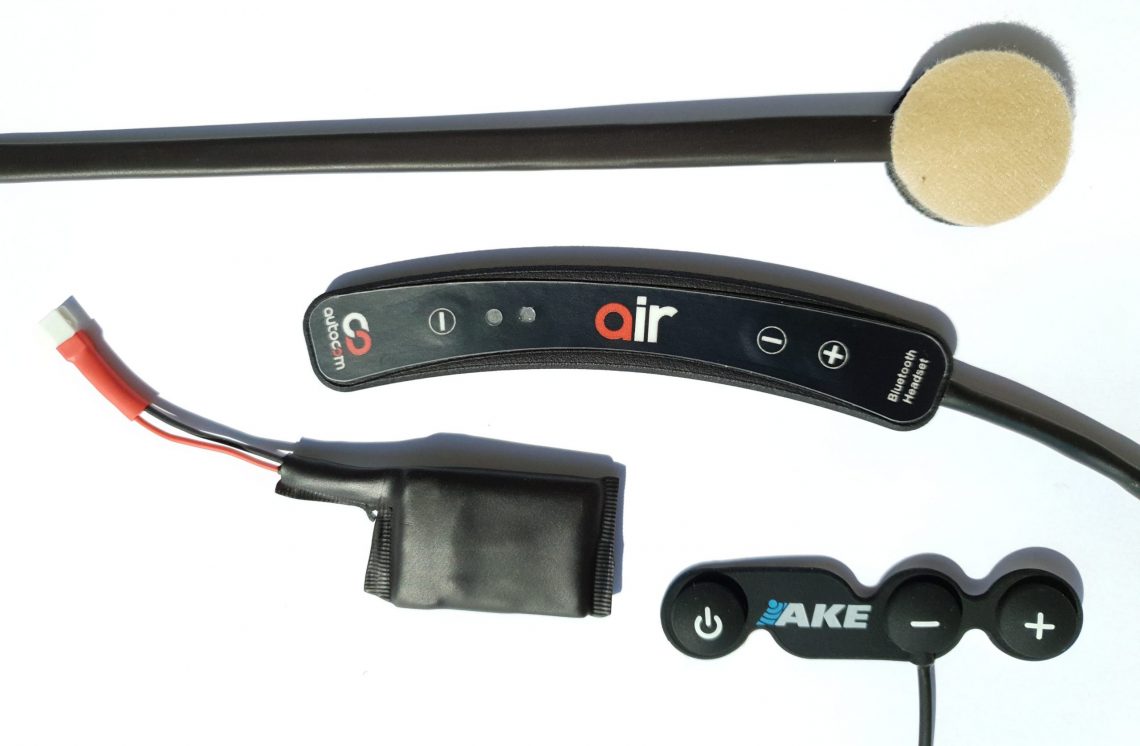 Autocom approaches the positioning of its intercom differently to the other brands in this test. The slimline device tucks neatly and discreetly between the collar and padding of your helmet. This connects to a small pad featuring three buttons which sticks to the outside of your helmet. It's a clever design, and while it may take a bit more time to install, the result is a lightweight and discreet intercom system. 
The other notable feature of the Autocom Air is the volume. Boy, this unit is loud. It easily competed with wind noise at motorway speeds meaning I could hear speech and music clearly. There was some distortion at maximum volume, but I can't imagine anyone wanting to turn it up that loud for long. 
The Autocom Air was designed as a rider-to-pillion intercom hence a range of only 200m, but the sound quality is so good it has been adopted by people looking to link with a fellow rider.
It isn't packed with features like some other devices in this test, but it performs the core functions of an intercom well. 
It will connect to a phone and a GPS so you can make phone calls, listen to music and hear SatNav directions. Noise cancellation reduces background noise and voice commands reduce the amount of time you need to be fumbling with a headset. Bear in mind, you'll need to touch a button to activate the voice command function.
IN A LINE: Loud volume, discreet positioning, great rider to pillion device.

---
MIDLAND BT NEXT PRO ULTRA RANGE
£234.99 | www.bikeittrade.com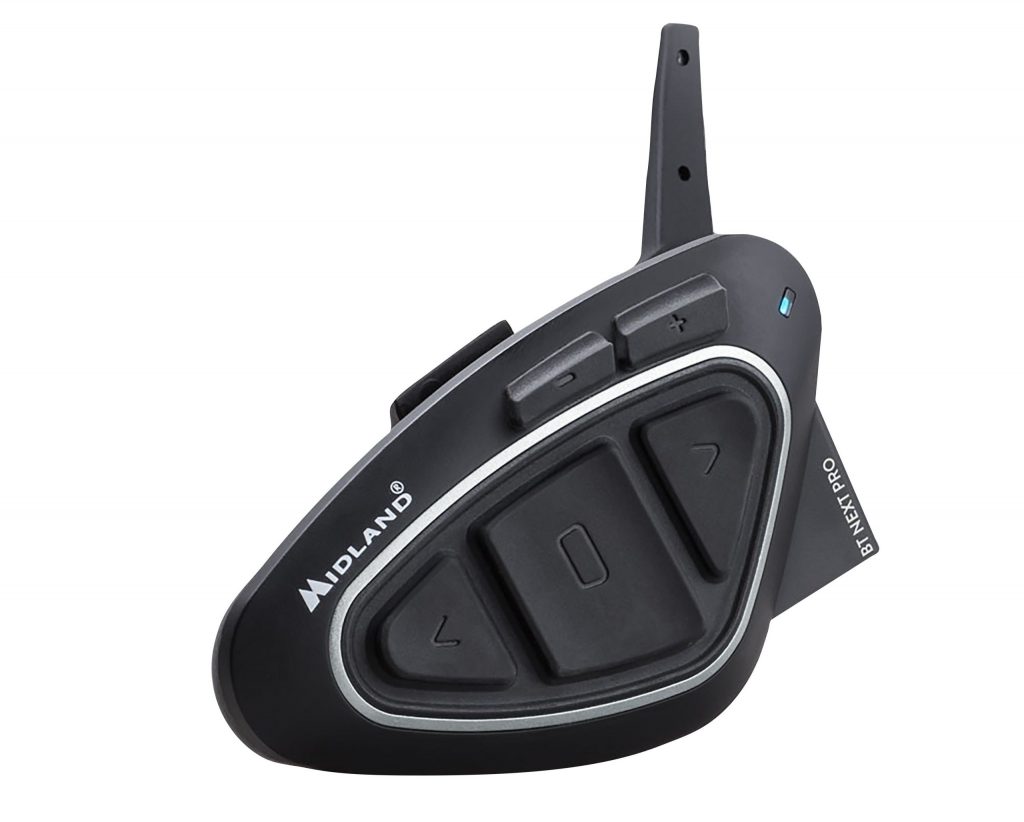 This Midland Bluetooth intercom boasts an impressive one-mile range and has some of the loudest speakers on test. The battery will last for up to 20 hours and the unit is waterproof which is a big plus in my book. With all this in mind, it should come as no surprise that it is priced towards the higher end of the market. However, for your money you'll get a device packed full of features that rival the likes of the SENA and Cardo units. 
These include voice control, group chats with up to eight people (on four bikes) and a noise suppression system which automatically controls the volume to compensate for background noise. It can also be connected to two mobile phones at the same time, handy if you've got a work and personal phone. 
The speakers overcame wind noise at speed although the sound did feature a lot of bass which can distort deeper voices. On the plus side, that bass does give music playback a richness missing in some other units. When adjusting the volume, I struggled a little pushing the slightly fiddly volume buttons while wearing thicker gloves.
Conveniently, if you buy two BT Next Pro units as a pair in the same box, they are already connected. If you do need to do this yourself at some point, it's relatively simple, just hold a button for seven seconds, then again for three seconds. You can also connect the Midland to a device from another manufacturer.
IN A LINE: Loud, long battery life and plenty of features at the higher end of the price range.

---
N-COM B901 R SERIES
£249.99 | www.motogear.co.uk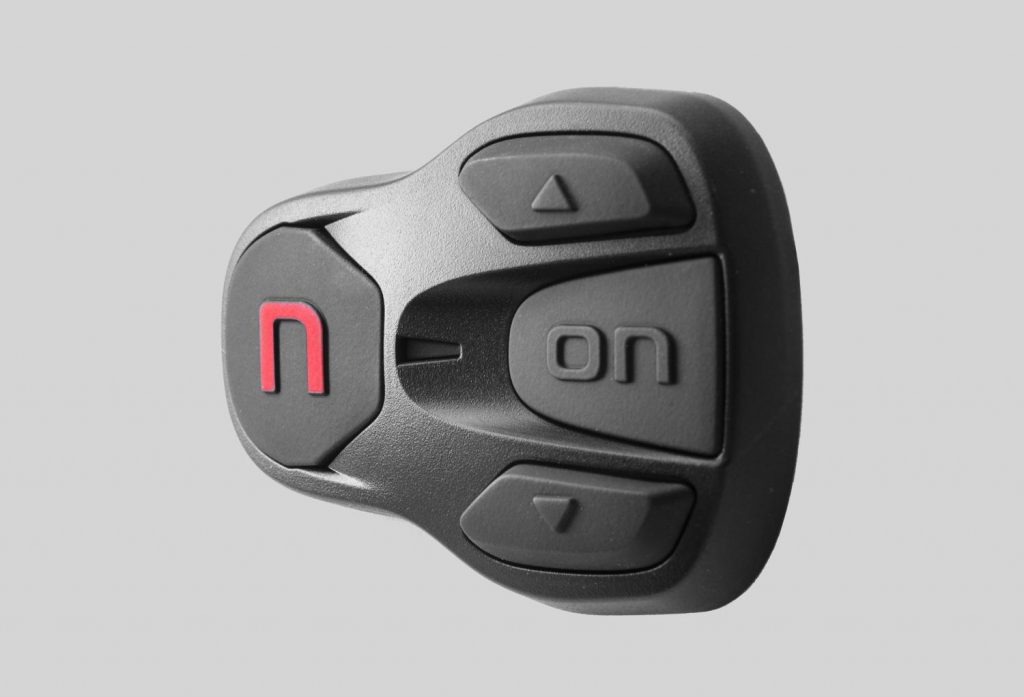 A first glance at the N-COM B901 R Series reveals a refreshingly large and easy-to-operate on-button along with two chunky volume controls, all placed on a slimline and unobtrusive pad stuck to the side of the helmet. 
This slimline approach has been achieved due to the fact the N-COM was designed by helmet manufacturer Nolan to fit its own lids. The battery and charging port are housed within the helmet, doing away with the need for a chunky intercom or wires hanging off the side of your head. 
The N-COM is a Bluetooth headset which allows for rider-to-rider communication up to about half a mile. It's not the longest in the test, but it is fine for riding with a mate and certainly a pillion. And they don't need to have Nolan helmets too. The N-COM will connect to other brands' Bluetooth headsets. Battery life lasts for up to 15 hours of talk time, which is very good. 
The sound quality is clear and the volume on the N-COM is loud enough to hear speech and music at speed on a bike with a screen, but you'll struggle on a naked bike above 65mph. Features include voice commands to turn the unit on and off and for making phone calls, as well as the ability to link to four other riders with N-COMs. 
The device automatically enters standby mode if your put your helmet down for any length of time, helping to save battery life. As soon as you pick your helmet up again, it kicks back into life.
IN A LINE: Mid-priced unit with decent spec. Worth the investment if you own a Nolan helmet for the integration.

---
SCHUBERTH SC1 ADVANCED
£249.99 | www.tranam.co.uk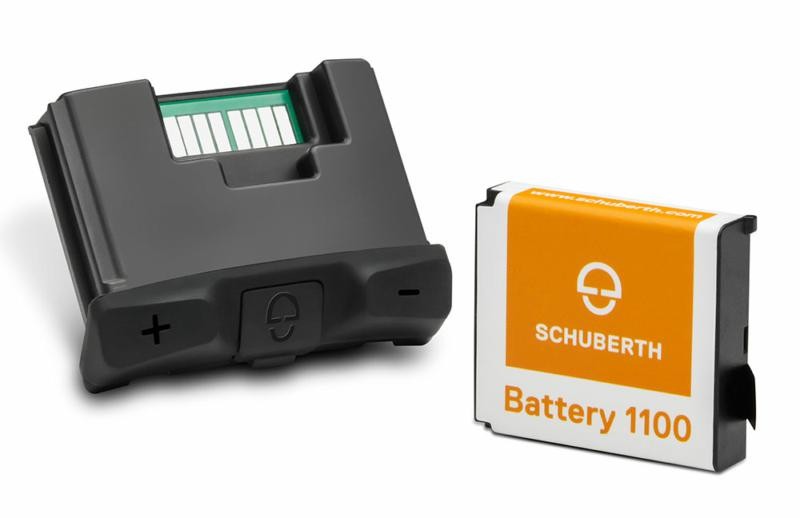 The SC1 Advanced is a Bluetooth rider-to-rider and rider-to-pillion comms unit that's been made for Schuberth by Sena. Specifically, the device is built to work and integrate seamlessly with the C4 and R2 helmets that the company manufactures, which both come pre-fitted with speakers and a microphone.
With this in mind, fitting the SC1 Advanced into these lids is as simple as it comes, being practically plug and play, with the control unit and battery easily slotting into their housings on the collar. 
Once installed, you can connect the unit to your phone via the dedicated Schuberth app (available on iOS and Android), which makes set up a straightforward affair. The headset is operated via two small buttons, with a variety of press combinations and durations responsible for navigating menus, changing volume, playing and pausing music etc.
The buttons have nice tactile feedback, though they are small and a bit fiddly to use when wearing winter gloves. 
Given that the headset uses Bluetooth rather than Mesh, the given range is up to 1,000m, though this is dependant on the terrain and line-of-sight, with town riding giving much shorter figures of a couple of hundred metres.
The sound quality is very good, with music sounding great and calls being crystal clear, though the volume is a little low for my liking, especially when riding at motorway speeds. This can be improved slightly by enabling 'Audio Boost' (which comes turned off as standard). 
Perhaps the best part of the SC1 Advanced is the battery life, with a given talk time of up to 14 hours and a standby time of one week. 
IN A LINE: Exceptional battery life and good quality audio – a great choice if you have a Schuberth C4 or R2

---
SENA 20S EVO
£259.00 | www.motohaus.com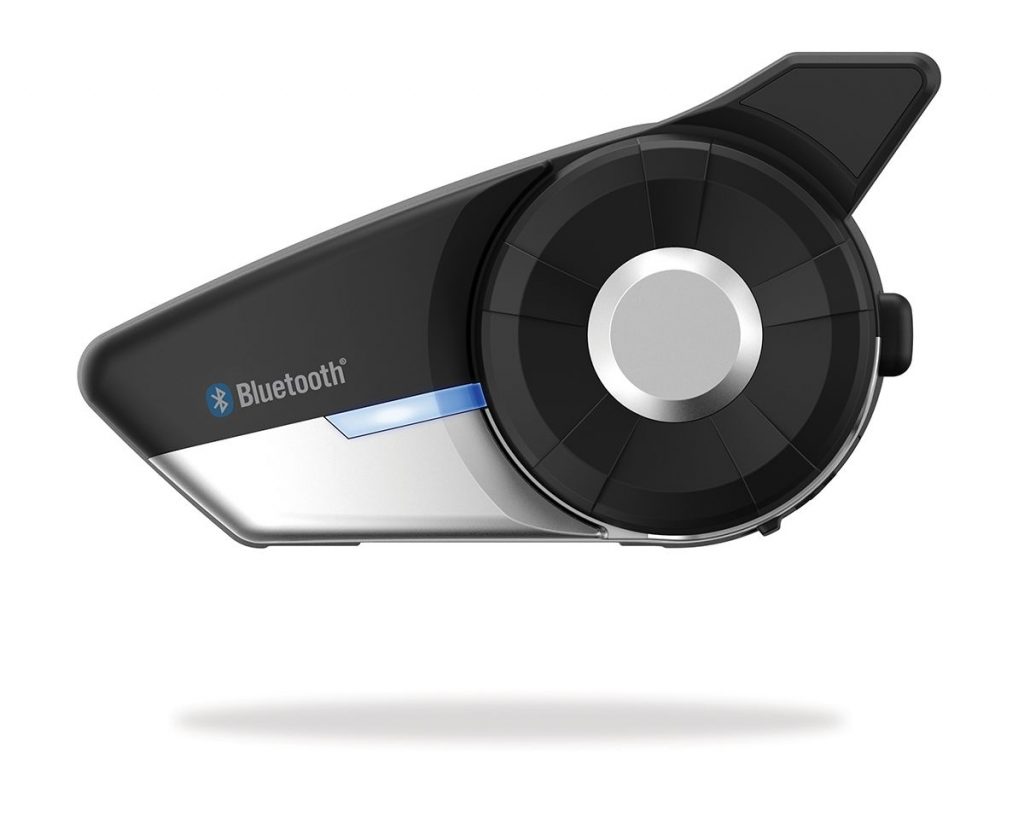 When it comes to buttons on headsets, the bigger the better, particularly when you're wearing thick gloves. The SENA 20S Evo excels in this area with its easy-to-use jog dial, which is a chunky wheel that controls most of the headset's functions. 
Overall, the SENA is an excellent device that is intuitive to use, easy to install and offers a myriad of features that you would expect from a high-end device at this price. These include voice command, noise control, the ability to connect with seven other riders and an impressive range of up to 1.2 miles. The battery also lasted for a full day's ride. 
In fact, the SENA would have vied for this test's best buy accolade but for three reasons. The first is sound quality. It is very good at lower and middling speeds, but it features a lot of bass. This meant that at motorway speeds I struggled to hear male voices on the phone or on the radio as they merged with ambient wind noise. 
Secondly, the SENA says the 20S EVO is water-resistant, not waterproof. I've used water-resistant headsets plenty of times in the rain before and I've never had a problem, but it doesn't instil as much confidence as a unit that is claimed to be fully waterproof. 
Thirdly, and this is a little unfair because this review has focused on Bluetooth headsets, but the Cardo in this test offers Mesh communication as well as Bluetooth. You'll pay an extra £60 for it, but if you ride regularly in a group, having the option to use mesh with its connectivity benefits gives the Cardo the edge over the SENA. 
That being said, Sena also has a Mesh-ready comms unit in its range, the 30K, and if the 20S Evo is anything to go by, the 30K will be well worth checking out.
IN A LINE: An excellent headset, but for the money, I'd like it to be fully waterproof.

---
CARDO PACKTALK BOLD
£314.99 | www.pama.com/cardo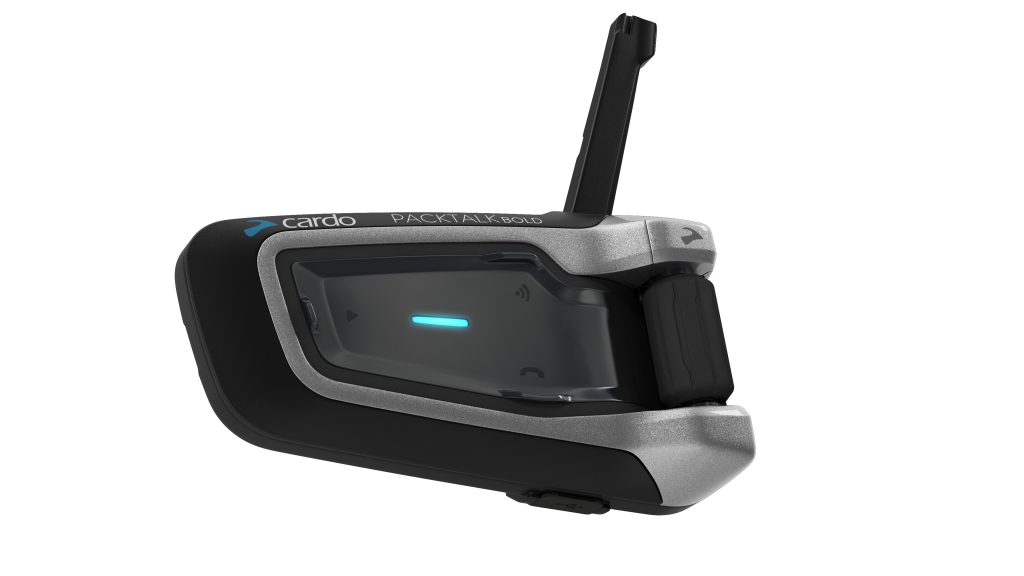 The Cardo combines all the features I look for in a headset with simple and intuitive use, as it should at this price. It's also the only device in this test to combine mesh communication as well as Bluetooth, which means it's a top choice for group riders. 
My favourite function is the voice command which works seamlessly. It negates the need to touch the device for operations like making phone calls and selecting music. Simply connect the Packtalk to your phone, say OK Google (or Siri if you're that way inclined), and give your command. 
Not that the Packtalk Bold is difficult to use manually. Initially, I was wary of the three small ridges that act as buttons but I needn't have worried. They simply guide your finger to the button areas which are easy to press down using gloves. 
The Cardo also features a control wheel to adjust volume, although press it down and it also acts as a fourth button. It's not quite as easy to use as the chunkier wheel on the Sena 20S Evo in this test, but after a couple of goes, I got used to it. 
The sound quality on the Cardo is one of the best I've heard on a helmet intercom. It's clear, crisp and loud enough to make a phone call, listen to music or even listen to an audiobook at motorway speeds. 
The automatic volume adjustment which lowers or raises the volume dependent on ambient noise is a blessing at traffic lights or when filtering. I also liked the noise control feature which stopped any annoying wind noise from my pillion's microphone coming through my speakers when we weren't talking. 
The Cardo was simple to connect with a pillion and fellow riders, as well as my phone, SatNav, and infotainment system on the Honda Goldwing I've been riding lately. The mesh system connects to up to 15 riders spread over five miles. If there are just two riders, device to device range is a respectable 0.9 miles. Battery life extends to 13 hours and the headset is fully waterproof.
IN A LINE: Excellent sound quality, packed with features, Bluetooth and mesh technology, and it's simple to use.