ABR readers get in touch to tell us all about their two-wheeled adventures…
Around the UK, but not around the world
Way back in January 2020, I saw an article in your magazine about the ABR RTW challenge. Its said to cover the 18,000 miles that it would take to ride around the globe, here in the UK, over one year. I thought I'd give it a bash.
How hard could it be? I had plans for a tour to Norway's

Nordkapp and the Baltic countries, as well as plenty trips in the UK. Well, I failed miserably! Of course, the pandemic put an end to most of my plans. However, it wasn't all bad news, and I did manage to fit in a domestic tour during lulls in the travel restrictions.
In August, I set off on what I called my 'N.E.W.S, Views, and Booze Tour'. I rode to the most northerly, easterly, westerly, and southerly points reachable by road in mainland Britain. On the way, I visited the highest roads, highest pubs, and the oldest pubs in Scotland, England, and Wales.
I even completed the Three Pubs Challenge in a way, by reaching the three highest pubs in those three countries in 24 hours. OK, so I elected to overnight at a friend's place in Wales for the evening and arrive at the Sportsmans Arms the next morning, but that was 24 hours after leaving Wanlock Head so I think it counts.
It was a great tour, covering 2,700 miles across two weeks on superb roads. Sadly the 18,000 miles of the RTW Challenge was beyond me. I only covered a measly 7,000 miles this year. Roll on 2021 and another attempt!
Thanks for a great magazine
KEV TWIDALE
(Ed. It sounds like you squeezed in some cracking riding during a challenging year. Well done Kev. If anyone else fancies taking on the Three Pub's Challenge, you'll find the route in issue 55 of ABR. Head over to www.adventurebikerider.com/shop to get a copy.)
Do I stick or twist?
I have owned my 2010 BMW R 1200 GS for 10 years. I love it, but recently, helped by looking at all the shiny new machines in ABR, I have been considering buying a new middleweight. The market is super hot and there's lots to choose from.
The KTM 790 Adventure R was looking light at 209kg, but is it a massive saving over my R1200GS? Well, as it turns out, not really. The GS weighs 229kg, and I don't think I'm really going to notice that weight on the gravel trails I want to travel. I am no riding God, I assure you, and if it comes to picking a motorcycle up when something goes wrong, lifting either 209kg or 229kg is going to be hard work regardless.
It appears to be a trend among manufacturers to add power and weight to the newer versions of their 'middle-weights' bikes. The Yahama Ténéré 700 is probably the closest I'd get to obtaining a serious weight advantage. I liked it when I gave one a test ride at the ABR Festival in 2019, but can I convince myself to drop the benefits of traction control and other comforts that I get on my GS?
I think I'll spend my savings on a few weeks of off-road training, a lighter exhaust, and some crash protection instead.
ANDY MALLETT
We have a winner!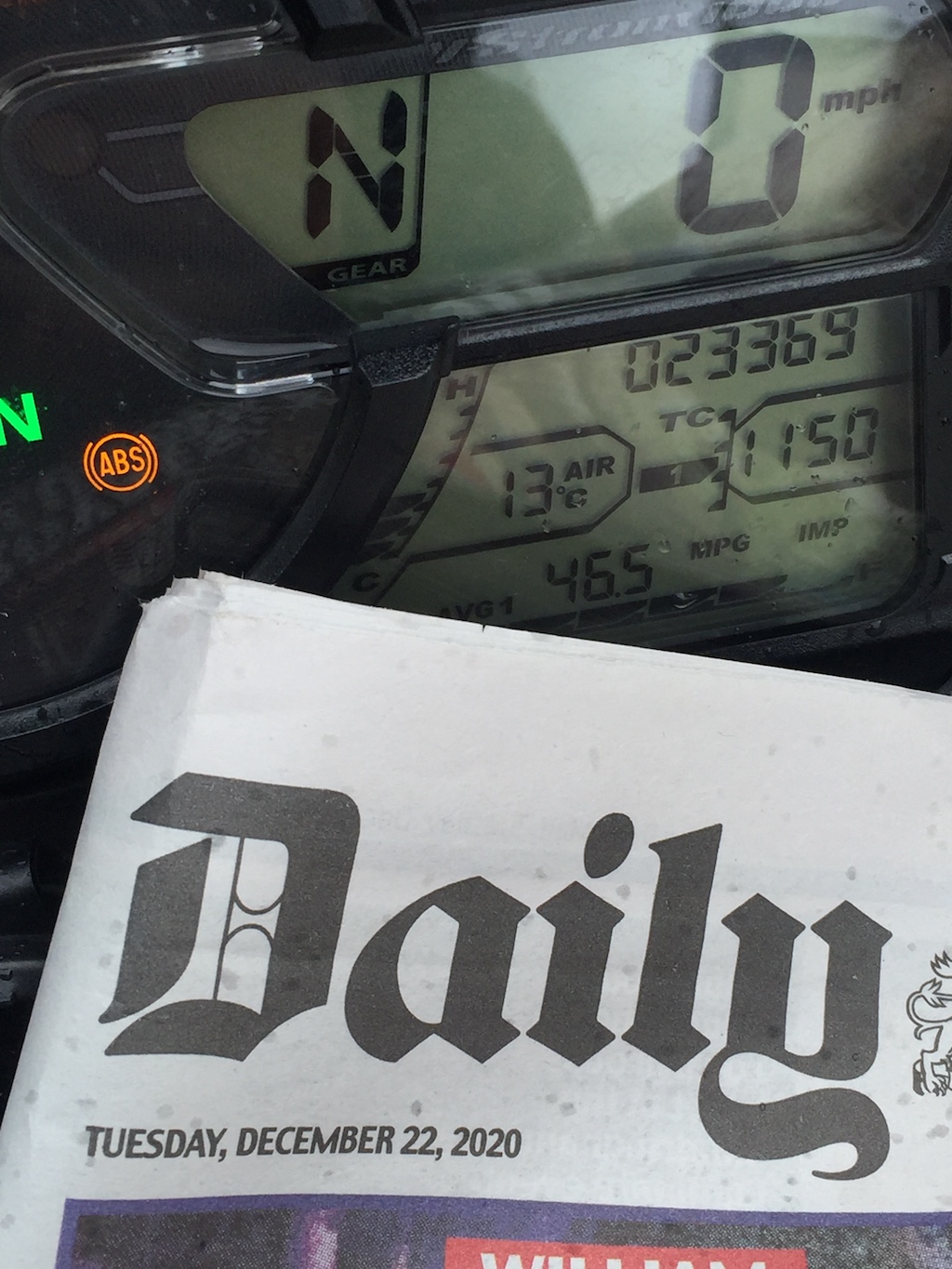 We all know 2020 has been a difficult year and it's understandable that there were few updates in recent ABR issues about the 18,000 mile RTW Challenge, but you did ask readers to submit proof of mileage. So, here's mine!
I managed to cover over 23,000 miles in 2020 on my new V-Strom 1000, which had previously only done 107 miles. It's only nine months' worth, but still a reasonable total!
NICK MACKEAN
(Ed. Wow, you almost doubled the highest mileage any of us clocked up in 2020, Nick. Nice work.)
Win a subscription to ABR
Want to see your name in the magazine and win a year's subscription? At Adventure Bike Rider we love to hear from our readers, so if you're planning an adventure, want to tell us about a previous one, or just want to share your thoughts on anything bike related, get in touch!
Send your letters to:
[email protected] and if yours is chosen as 'star letter' you'll win a year's subscription to Adventure Bike Rider magazine.