Planning an epic adventures doesn't have to break the bank, says adventure biker on a budget, Sam Manicom
Dear Sam, me and my mates are planning to ride our bikes across to India. We've got the bikes and we've just bought our support vehicle; it's a 4×4 and there are four of us. Do you think that's a big enough vehicle? We'd really appreciate your advice. Best wishes, Phil
Phew! Now I wasn't expecting that. My writing was temporarily ignored while I set about replying to Phil's email. Before I explained to him that he and his mates didn't actually have to have a support vehicle, I suggested he think about the bikes in more detail; the paperwork they were going to need and cost implications involved.
Paper Trails
There's always much talk among adventure motorcyclists of bikes and carnets, the document which allows you to temporarily import your bike into a country. Both are significant expenses and probably the greatest lump sums to be paid after your health insurance. The price of a Carnet de Passages en Douane (CPD) is based on the value of the bike you wish to import, and on a £10,000-plus vehicle you could be talking thousands. But exactly how necessary is a carnet?

They're not needed for travel into South and Central America for a start, but if you have one you could find your border crossings are smoother and faster. Not by much, though, and I think that South and Central America are probably the cheapest parts of the world to travel in at this time – partly because of the carnet issue.
In North America, a carnet isn't needed for visitors but as with most first-world countries, travel there is generally more expensive given the food and living costs. On balance, you won't be making much of a saving opting for North America simply to avoid carnet costs.
As for the rest of the world, you should have a carnet. Phil and his mates were certainly going to need them as they headed across Asia. Having said that, it is possible to travel without and I know people who've done so, but the bribes and fees they've had to pay out along the way are often equal to the amount a carnet would have cost them for that section of their trip.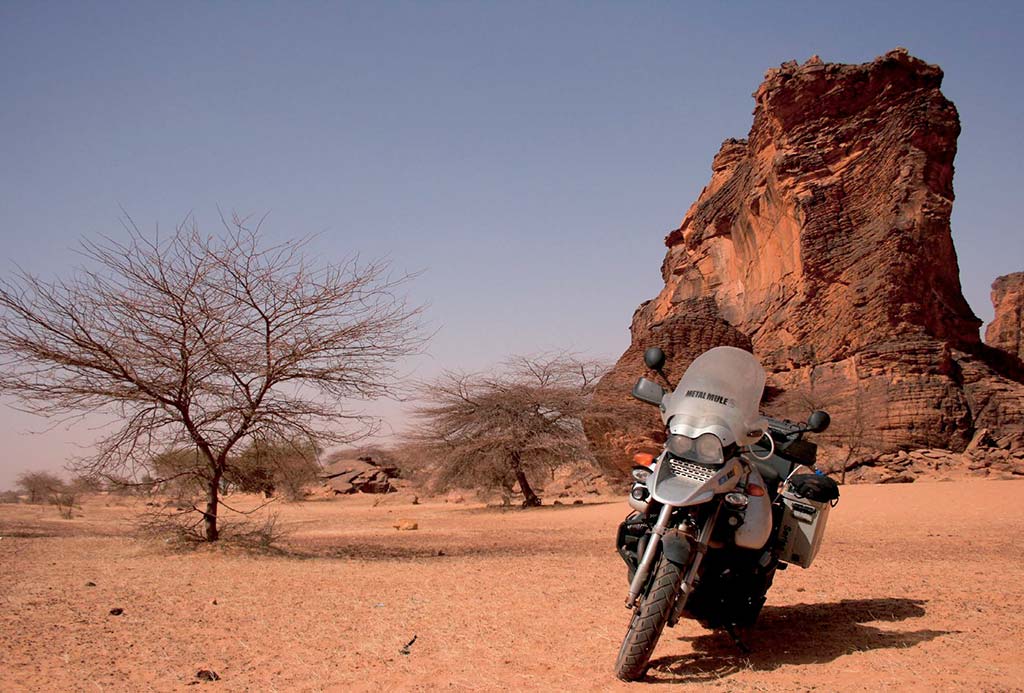 Think Bike!
Try to be brutally logical. Wipe away the dreamy stars that are inevitably lighting your eyes just for the moment: it's hard fact time. The cost of your bike is a key consideration. If your bike costs you less up front, then you'll obviously have more money left in the budget to spend on fuel as you travel. Other cash-related considerations when choosing your bike are:
SPEED
For the vast majority of your long-distance journey you'll be doing no more than 50mph. You don't need a bike that will do more, though you may well choose one because it's almost certainly going to be more comfortable.
OOMPH!
Modern bikes have proven that small cc vehicles are now more than capable of making an RTW, despite the shortcomings of some of the older models. But everyone deserves their "Yee-ha!" Paris-Dakar moments; for this reason you may wish to opt for something with a bit more oomph.
TRANSPORTATION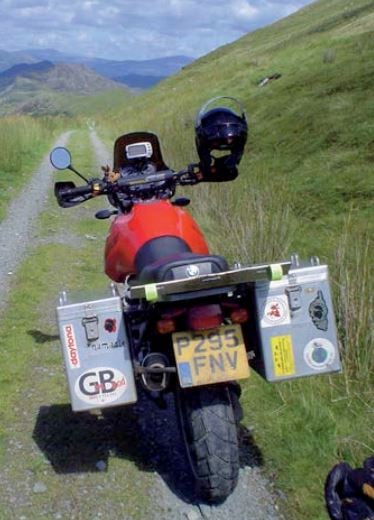 You'll save yourself a small fortune in shipping costs if you use a smaller, lighter bike. When you're flying or sea freighting your bike, it's the weight and the space it takes up that count. To get my GS down to a sensible size, I take as much of it to bits as I can. Bear in mind, though, that there will be many unknown factors when you reach your destination. Never take the bike down too far as you may have to reassemble it quickly and in far from ideal conditions.
Shipping your bike is often one of the biggest expenses you'll come across. The trick here is to choose a company that really knows what it's doing when it comes to bikes, like James Cargo. The company ships so many bikes around the world that it often shares space in containers with other cargo, which can cut the cost for you dramatically. Thinking outside the shipping crate will also save you money. Birgit and I crossed the Southern Atlantic from Africa to South America on a cruise liner. The 10-day luxury crossing was cheaper than flying us and shipping the bikes separately, and the bikes (two BMWs!) went on the manifest as 'hand luggage'.
GO-GO-JUICEE
A smaller bike is almost always going to use less fuel, unless it's an aging agricultural model. Modern bigger bikes are very fuel efficient, but you have to consider the carbs v fuel injection conundrum. Carbs make roadside maintenance easier, but fuel injection can be far more economical on the old go-go juice consumption and eliminates the need to swap jets with a change in altitude.
DO AS THE ROAMERS DO
If you choose wisely, then you'll be on a bike that's very similar to those found in the countries you're travelling. You'll be able to find spare parts locally, which will make them quicker and cheaper to source than having to ship them from the UK and could save yourself the expense of being stranded for weeks in a pricy hotel awaiting bike bits. The downside is that your bike will be more attractive to potential thieves if it's a familiar model.
CARNET DESIRES
This is the biggie. The cost of your carnet is worked out on two things: how much your bike is worth and which countries you're going to. There are countries like Egypt which have an import duty of 800% – that's eight times the value of your bike! Thankfully they're few, but it's another thing to take into account when planning your trip. Ask yourself: do I have to travel through these countries, and if so, must I do it by bike? It might be possible park your bike safely outside the exorbitant country and travel around it for a month on foot or by bus. Check whether you're legally allowed to leave your bike in a country while you go exploring though, otherwise you run the risk of it being confiscated.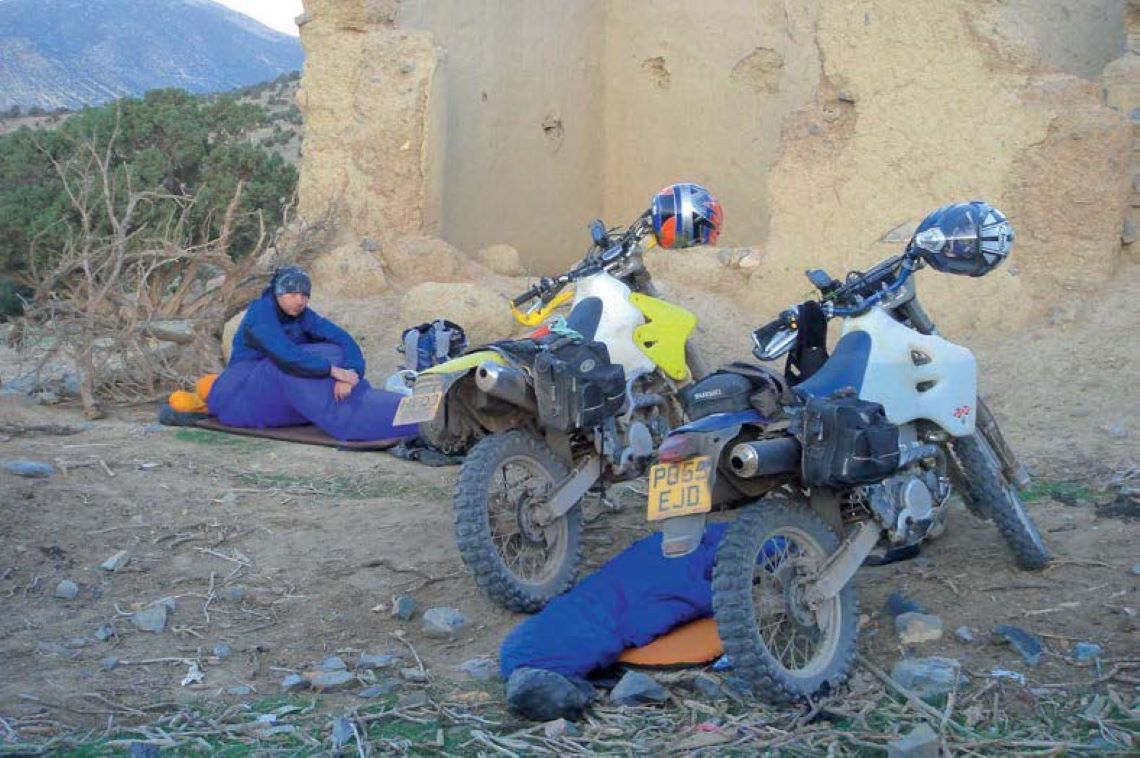 Earn While You Sojourn
One of the ways to save money and have an adventure is to work. Permits can be tricky to get hold of however, and you have to wonder if they're worth the hassle. The stickiest point in obtaining any work permit is establishing whether you fit the criteria and have the skills required for the job. There are more flexible routes to employment though; they aren't strictly legal but I don't think anyone would challenge you.
ODD JOBS
Over the years I've done many jobs on the road – 46 in fact! I like the idea of having a job now and then. 'Work' may be something you're trying to escape, but these sorts of jobs simply don't   t in with the concept and restrictions of real-life work. It's so easy to rock into a place and offer to wash someone's windows, or cut their lawn, or wash their car in return for a meal or place to sleep and many people are delighted to do just that.
One of the jobs I had was in Australia, picking fruit. Cherry tomatoes to be precise. It's a horrible job and few locals want to do it. The farmer who employed me was in a grim spot. He'd worked like the clappers during the growing season, the fruit was ripening on the vines and was ready for market, but there were no pickers to be had anywhere. He'd just ploughed three acres of crop back into the ground and was absolutely gutted about it. Sorry Australian officials, but having just come from a very hungry Africa, I couldn't stomach the sight of all that food going uneaten. I got stuck straight in alongside the few other 'illegals' the farmer had enlisted. We worked through very hot days, got covered in green tomato-plant sap and ended up with extremely tired backs from crawling around under the vines. But we also ended up with full stomachs, clear consciences and fatter wallets.
One of the funniest yet saddest and most sobering jobs I've had on the road was painting offices in Kampala, Uganda. The paint was so thin that it took seven coats to do what would take just two coats here! Another painting job was on a luxury campsite in South Africa. If we'd paid to stay on the site it would have cost us hundreds of dollars. In exchange for a free pitch we painted the four ablutions blocks on the site and to help our consciences we trained a local lad to do the job.
A couple of days work in return for a place to sleep, three squares and an experience can enrich more than your wallet. I've had the chance to do things that I'd never have had opportunity to back home. Sometimes the jobs are really grotty, which is why no local will take them on, but that's fine. It's not as if you're taking the grot job on as a career and the people you meet and get to work alongside will more than make up for it.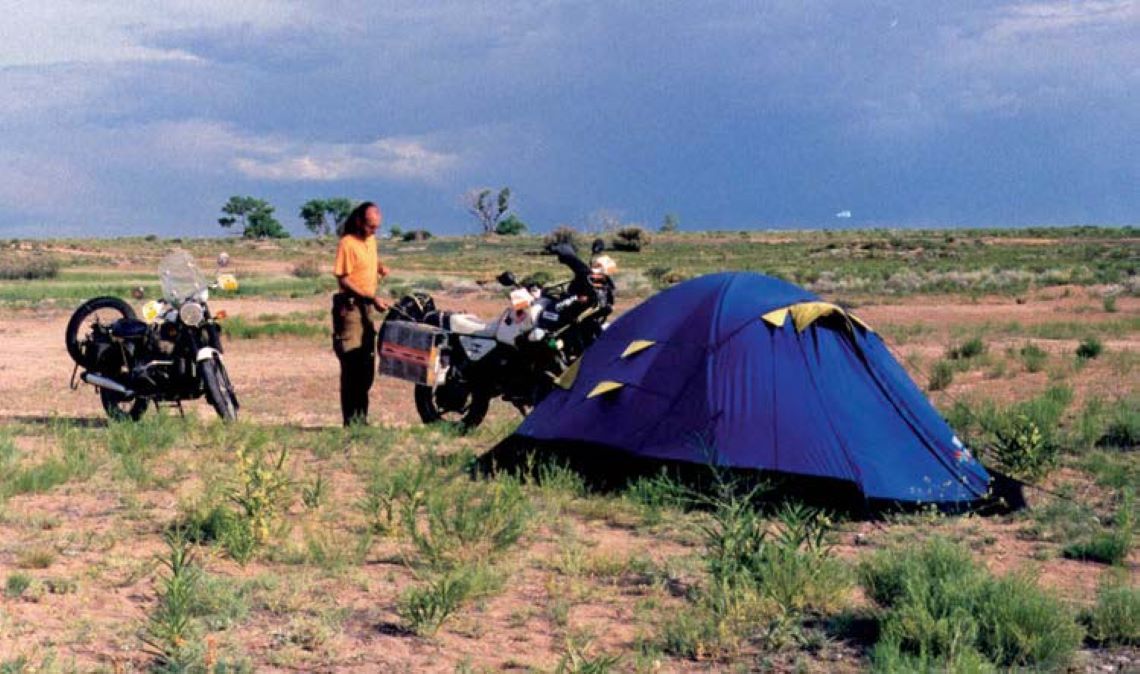 Slowly Does It
The only people I've met who weren't enjoying their trips around the world were those who were in a hurry, and as a result, seemed to spend all of their time, energy and money rushing from one stressful situation to the next. Quite often their stress levels were self-made and they were always complaining about how much everything cost. They needed their budget-busting beers at the end of each day in order to relax!
The best adventures are often those that stem from something going pear-shaped. Never mind money, when you're time-rich you have the opportunity to see adventures through to the end and embrace whatever fortune throws at you. You'll find it much easier to see the funny side of life, too, and you don't have to be a Scrooge to achieve the delicate cash vs time balance.
Does all of this make me sound like a tight-arse? Quite possibly, but we never felt as if we were missing out while travelling on a budget. Would we travel this way again? Absolutely! Once you've mastered the mindset of travelling cheaply there's no pain or abstinence involved; just pleasure, adrenaline and some very funny encounters with great people.
In the end, though, just go – whichever way you can, and whichever way makes you feel that you will get the most out of the adventure. It's your pocket, your budget, your individual set of circumstances, and your dreams which will make your trip.
Oh, and Phil's support vehicle? He and his mates had only bought a 4×4 because they thought you were supposed to have one. I had an email from him a couple of weeks later. The lads had sold it and used the cash to fund their adventure for another three months. 'We think we might even have enough money now to make it to Malaysia,' he wrote. Excellent stuff!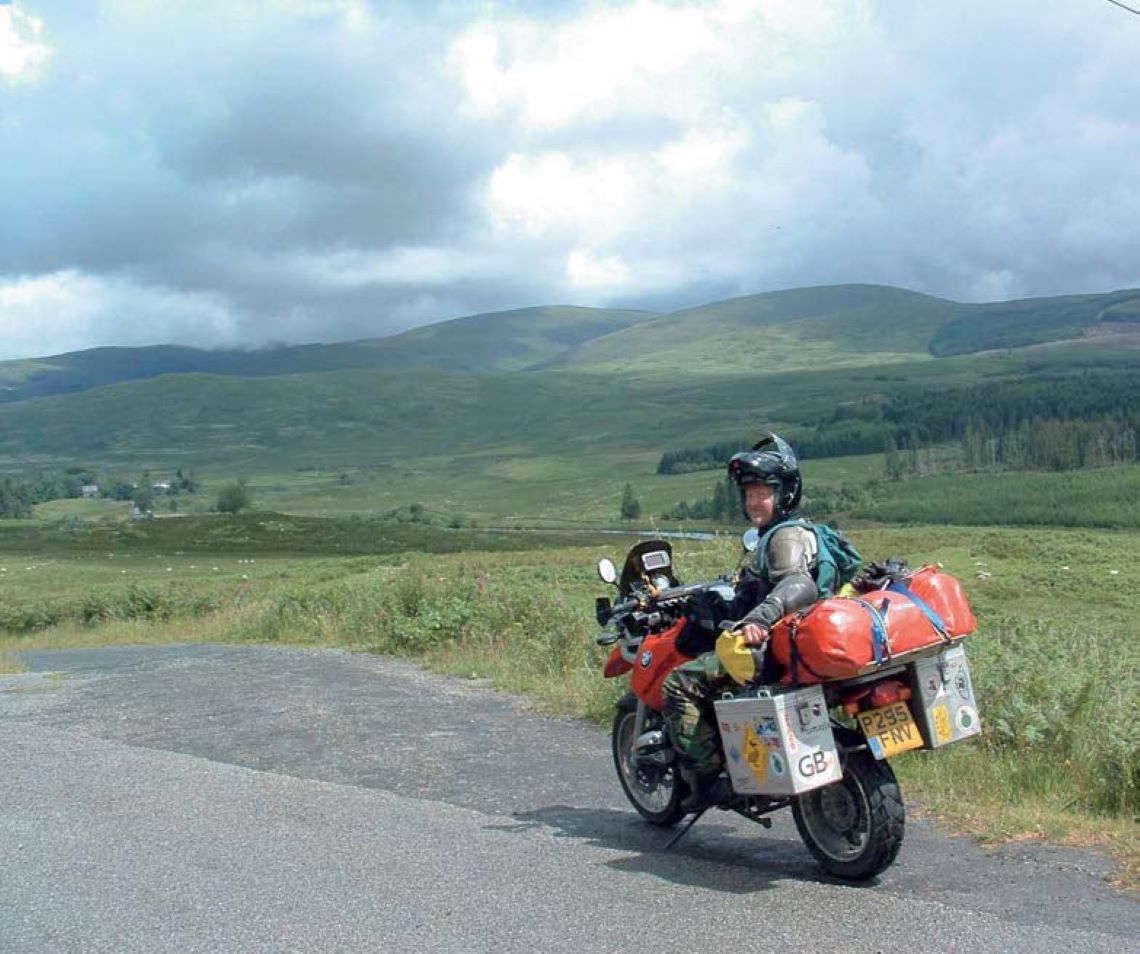 Top five cost-effective budget bikes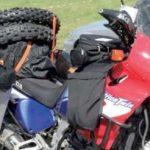 If I was choosing a budget bike to go on an RTW it would be one of the following. These won't cost much to buy or do up, but you'll have to hunt for a bike worth putting right…
➜ R80GS BMW – 1982 onwards
These are shaft-driven, bulletproof, high-mileage bikes with plenty of spare parts available. Easy to work on, which reduces the need for a mechanic. Downsides are that they're thirsty at speeds above 50mph and they're heavy in extreme off-road conditions; the very low centre of gravity helps with this though. You can snag a reasonable one for a couple of grand and they're really comfortable to ride.
➜ Honda Africa Twin – from 1989
Old but reliable. These bikes have really loyal fans though they're on the heavy side and replacement plastic parts are expensive. I'd look at changing the saddle as it'd be pretty darned uncomfortable to live on. Fuel consumption isn't as good as the R80 and it's chain driven, which costs in the long run and requires additional maintenance. This is a really fun bike to ride though and copes well. A good second-hand one should be around £2,000 pounds. Keep your eye on the XRV forum if you're looking to buy.
➜ Yamaha XT600 – from 1990
This is a tough old workhorse of a bike with an engine which is easy to work on. A 'big' single, the engine can cause some vibration through the handlebars, though not enough to worry about. The XT600 is light and has little plastic to break. This bike also has an uncomfortable skinny saddle, but that's easily fixed. Fuel consumption is pretty good at 41mpg average but you'll do a lot better than that at overlanding speeds. You can still find low-mileage versions of these for around £2,300.
➜ Suzuki DR650SE – from 1996
These bikes also have a rep for being bulletproof. We've seen them loaded with at least 200kg of rider and pillion, plus kit and they still pull well, though with those weights they aren't as fuel efficient as an overlander would like. Fuel consumption still isn't brilliant at 40mpg but it's in keeping with most of the other bikes listed here. You can still find these for around £2,000.
➜ Suzuki DR350 – from 1992
Loads smaller than the other options but I still favour this bike. It's a tough cookie, light, and goes for quite a way on a tank of fuel. There are plenty of aftermarket adaptations that can be made to it to increase comfort and range too. The low first gear makes it brilliant for the more rugged sections of a trip. One of the few things I'd want to do to this bike, besides increase the fuel tank size, would be to change the suspension. I think it's on the soft side, especially when carrying luggage. One of the main advantages of this bike is that you can easily find spare tyres in third-world countries as the tyre sizes are very much like those in use on local small cc bikes. Fuel consumption is an acceptable 45mpg. You can still find these in good condition for around £900.
Best of the rest…
If I were choosing a modern bike to go on, based on reliability, ability and fuel efficiency then I'd go with BMW F800 GS, BMW F650 GS, a Yamaha Super tenere XT660Z or a Suzuki DRZ400.
I'm just waiting for someone to bring out a shaft-driven bike in this sort of range. Having ridden one for nearly 20 years, I'm a great fan.
Sam's CV
I've tried my hand at numerous jobs on the road, here are a few to get you started…
Grape picker
Mango picker
Capsicum picker
Tomato picker
Cherry tomato picker (It's blooming hard work filling a bucket with cherry tomatoes!)
Boat detailing and trainee rigger
Yacht hull cleaner and painter
Van driver
Pick-up truck driver
Dumper-truck driver
Steamroller driver
Mini-digger driver
Sewer digger (once only, thank goodness!)
Waiter
Holiday company rep
DJ in a disco
Beach ice cream seller
Beach Cafe bar tender
Floor tile layer
Wall panel fitter
Gardner
Car washer
Painter and decorator (toilets and an amusements arcade!)
Window cleaner (in over five countries!)
Freelance writer
Ditch digger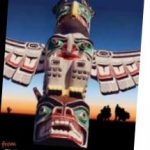 Sam Manicom travelled the world for eight years and 200,000 miles. He is the author of adventure motorcycle travel books, Into Africa, Under Asian Skies, Distant Suns and now his new book Tortillas to Totems. Available from www.sammanicom.com, and all good travel bookshops priced at £13.99 (plus £2.60 UK p+p)