No one knows the back end of Borneo quite like local boy Brandon Miles. Him and his mates are about to penetrate Hell's Gate, deep in the jungle valleys. Talk about devil may care….
It's great to have a bunch of friends who have the same interests as you, especially when it comes to finding awesome Enduro rides and trails. On a clear day in March 2010, after trying and failing to penetrate Hell's Gate the previous year, my friends and I decided that the day had finally come to triumph over this trail which has been bothering us for years.
The puzzle we had to solve was how to get to a small town called Ranau from Kota Marudu, both in the north of the island of Borneo. To do this would mean crossing over the Kinabalu Ridges, navigating rigid terrain and the steep walls of Mt Kinabalu. This was the part of the ride we always thought impossible. On our first recce we barely made it out of the jungle; afraid of getting stuck on the ridge without food, we had to abandon the ride. Other riders from nearby districts have also tried to penetrate this route and they too failed. We were lucky – no one on our recce was injured – but other groups have suffered nasty accidents. One guy sustained a broken leg and his companions had a really hard time trying to get him out of the valley so he could be treated.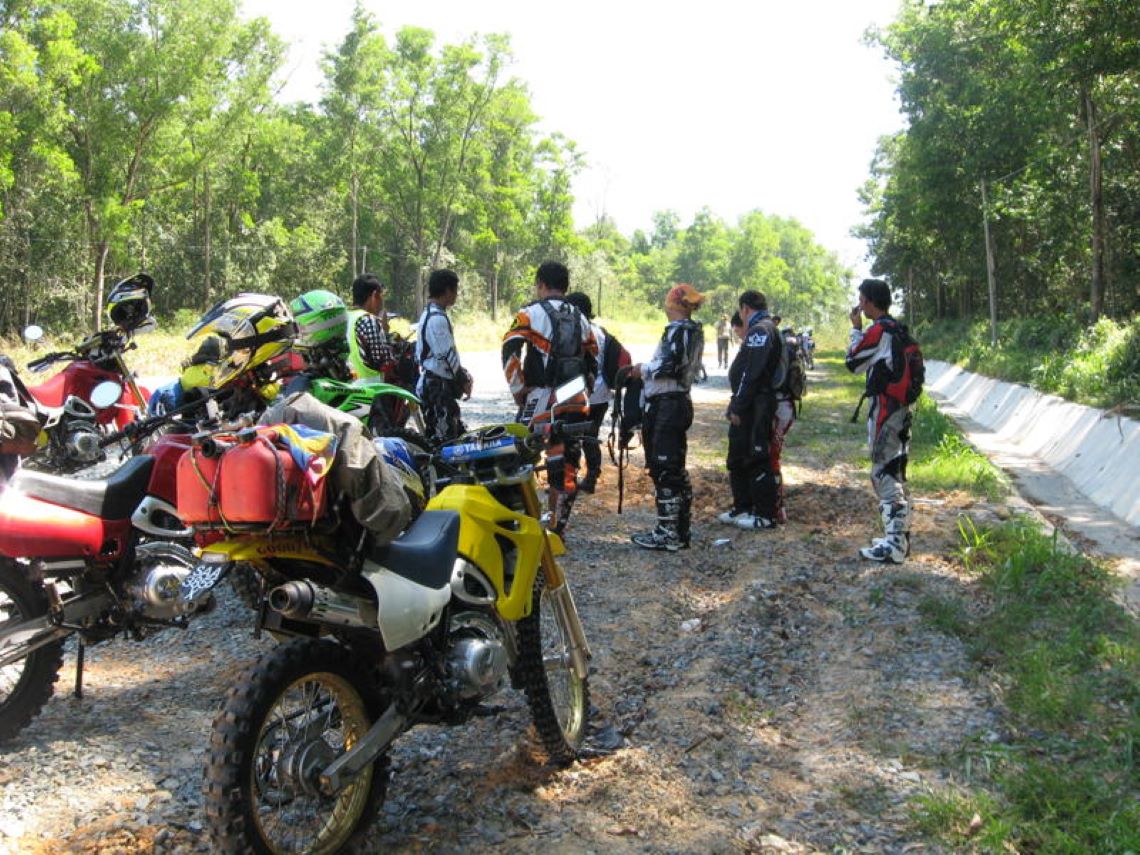 But on this day, thoroughly prepared and all pumped up with the excitement and adrenaline that comes with venturing into the unknown, we only had two objectives: penetrate Hell's Gate and have fun doing it. After a short team briefing we were off. With us we had tents and two days' food and water rations. For the next two hours we followed the tarmac road, heading north on the silk route.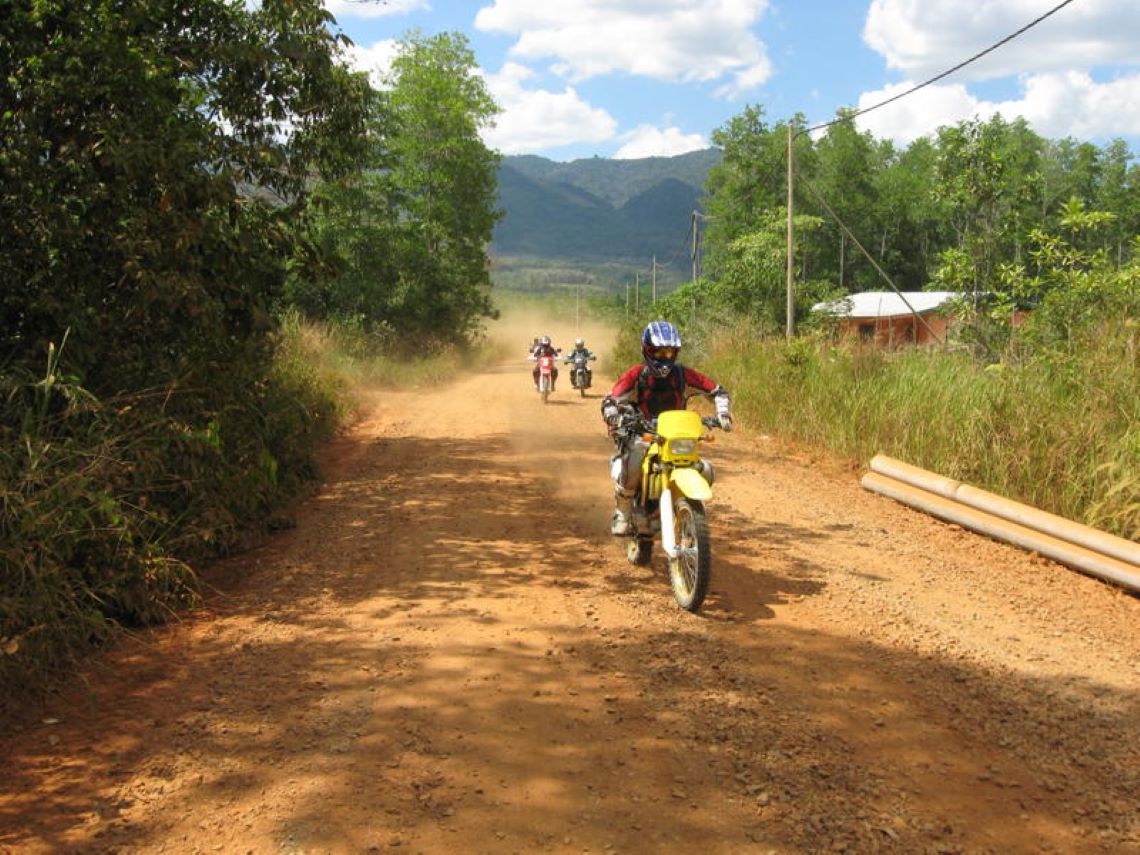 After passing through a small town the paved road gave way to a dry dirt track. Thick dust clouds rose up from the ground and enveloped us, making the ride pretty nerve wracking – it's like riding blindfolded. A few times I caught myself just short of the edge; I didn't dare think about what would happen if my front wheel went over the ridge. Looking down at the lower roads, I could see the riders below. It looked like a scene from the Dakar Rally as they left billowing dust trails behind them.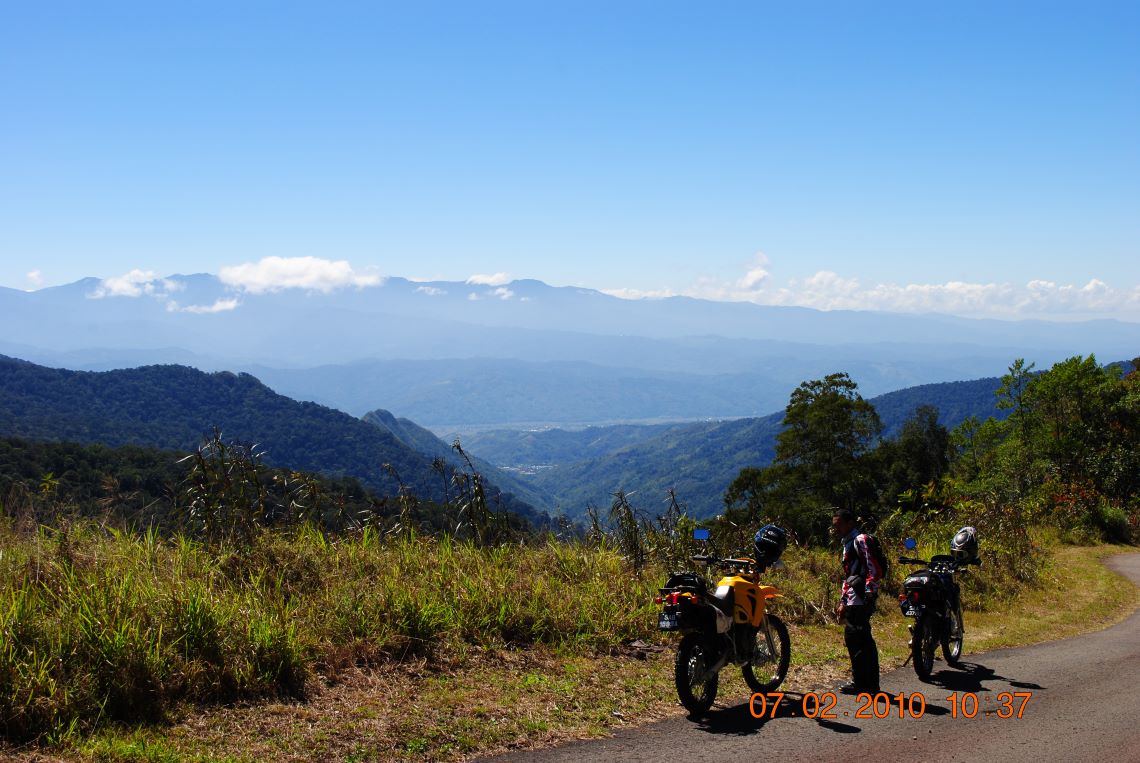 The road grew narrower the further we went and the villages fewer; I tried to remember if we were on the right track. Finally we emerged at a junction I recognised. We were headed the right way, on the road to Hell. Out of the 17 guys riding, eight of us has had been here before and knew all too well what we were letting ourselves in for. For the others, it was their first time as we set off on the second part of the ride over broken bridges and into the jungle, cutting through the undergrowth with our bikes on the tight single-track trail.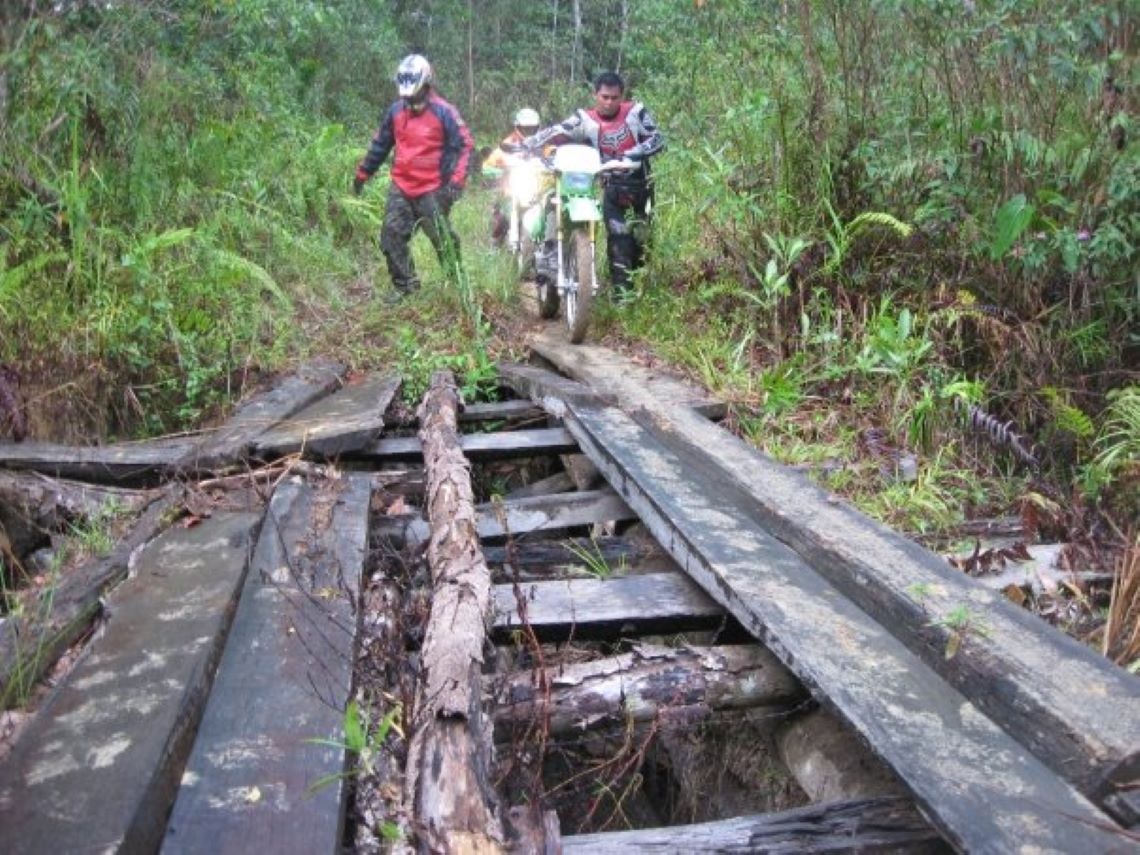 After a while, the track started to ascend. It was slippery and covered in moss. We struggled upwards, brutally punishing our bikes through the dense jungle. Riders were crashing and falling off into the bushes – the sight of legs and arms and spinning wheels was common on that track. The humidity was unbearable as we pushed, staggered and crawled our way up the trail. Some parts of the track were too slippery with mud and some parts were just too steep for the machines. Mezz, one of the riders, fainted from the heat, but he was soon revived and none the worse for it. The other guys were struggling to make it to the top as they used their bikes to bash their way through the thick undergrowth. The going got tougher and tougher the higher we climbed and eventually one rider shouted out, "What are we doing here? This is Hell!" That's when we decided to christen the route Hell's Gate. It seemed appropriate at the time and the name's stuck.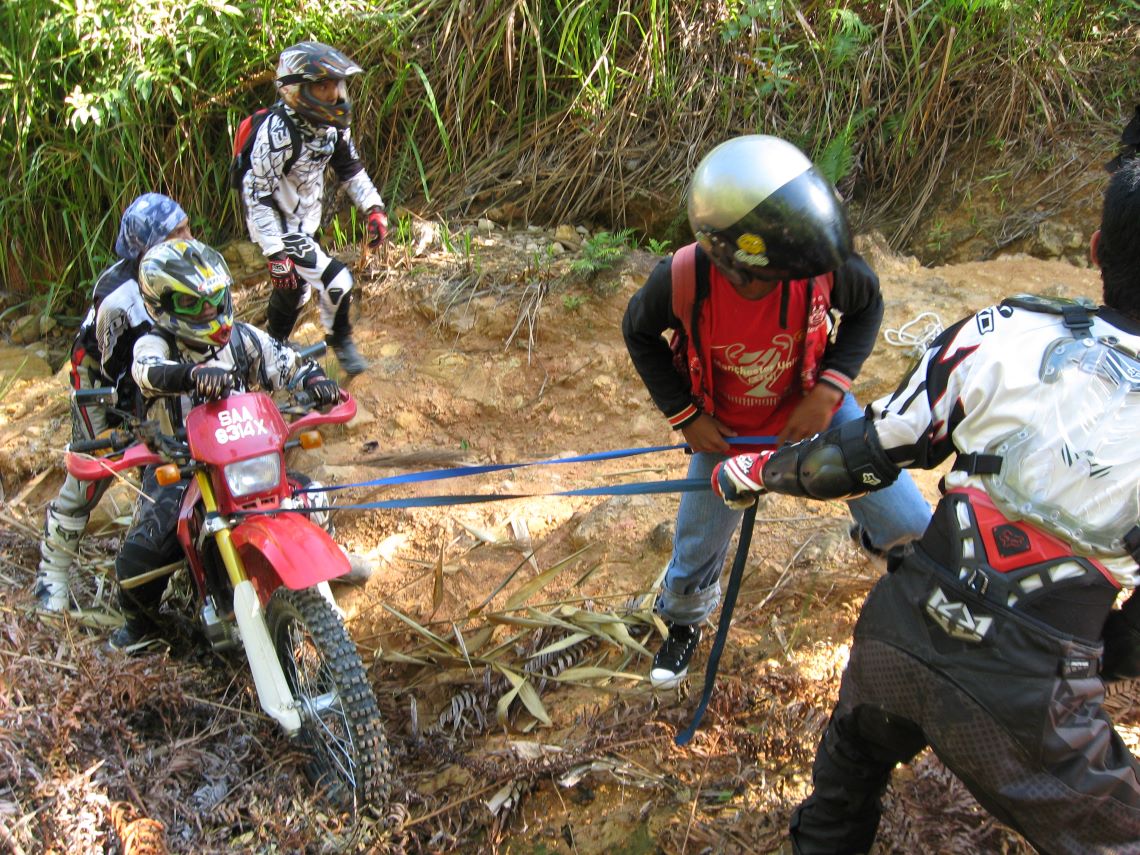 Eventually we found a spot high on the ridge close to a small stream where we could set up camp for the night. This was a good location for drinking-water and cooking, sheltered by the jungle's tall, strong trees. We divided the chores, some set about putting up the tents while the cooking team looked after the food; by 6.30 it was already dark.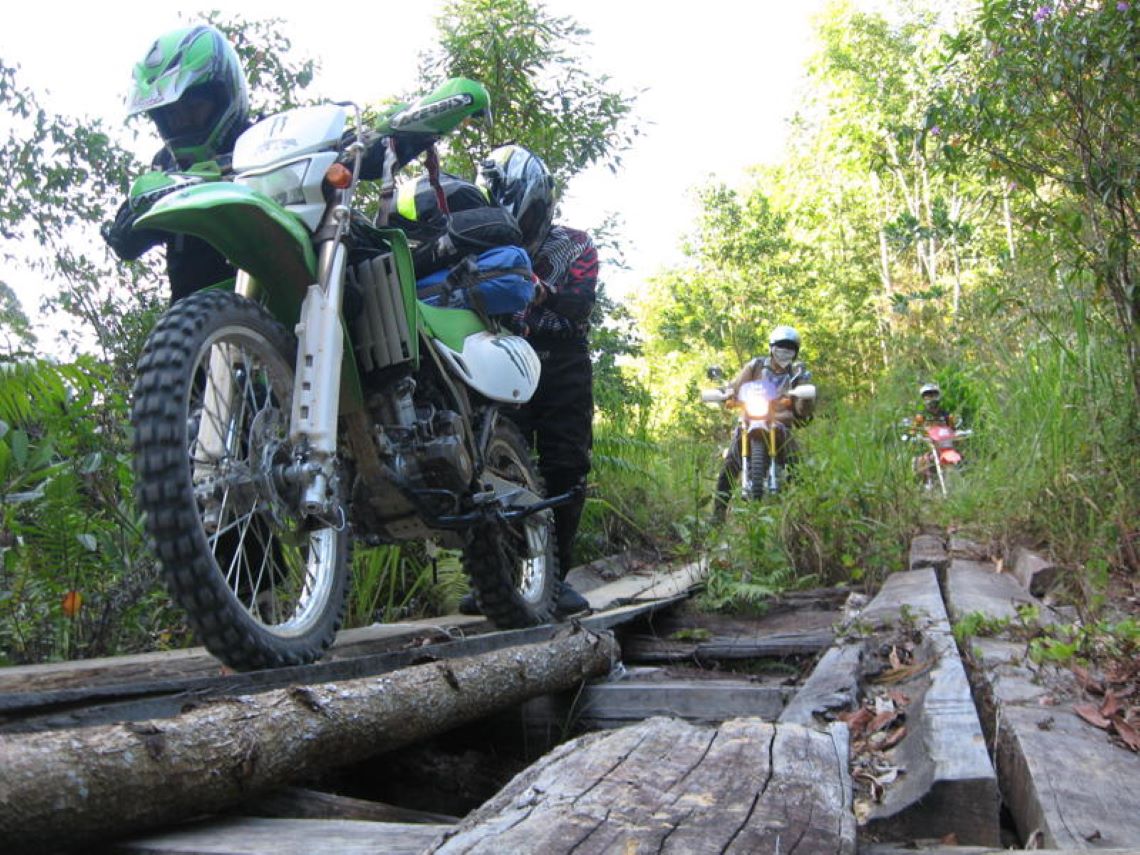 After dinner we sat around and had a post mortem of the day's ride. Much of the discussion was about the jungle trail and there was a lot of teasing and leg-pulling about various falls people had taken. At around 9.00pm someone had the great idea to go spear fishing down by the river; two hours later the guys came back from their night-time fishing trip and much to my surprise they'd actually caught around 15 fish! "Hands off, this is for breakfast!" They joked.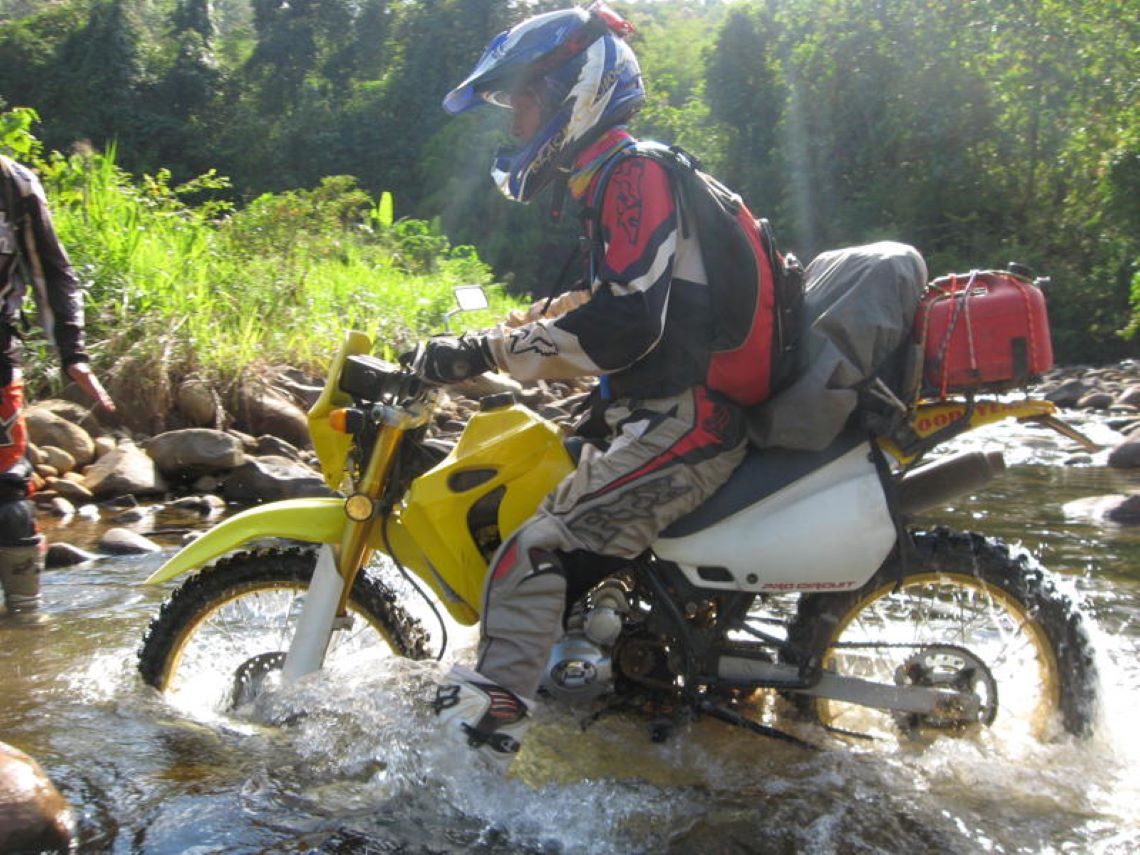 We began packing up all our gear the following morning, just as the sun was breaking through branches, and prepared ourselves for another day of torturous riding. Not five minutes down the trail from where we made camp, it started again: our brutal battle with the terrain. As I stood in the middle of the track wondering what to do next I could see riders crashing and falling in the mud and thick bushes. As far as I could see, the track ahead was like the surface of the moon. We negotiated potholes which were six foot deep, traversing around them, and climbed steep ascents which were like sheer earth walls. Slowly but surely the trail was taking its toll on everyone. Some of the guys had the look of a man who's given up on life; some looked like they were seething with barely containable rage. But most of the riders wore a look which said, "When the bloody hell are we going to get out of this shithole?"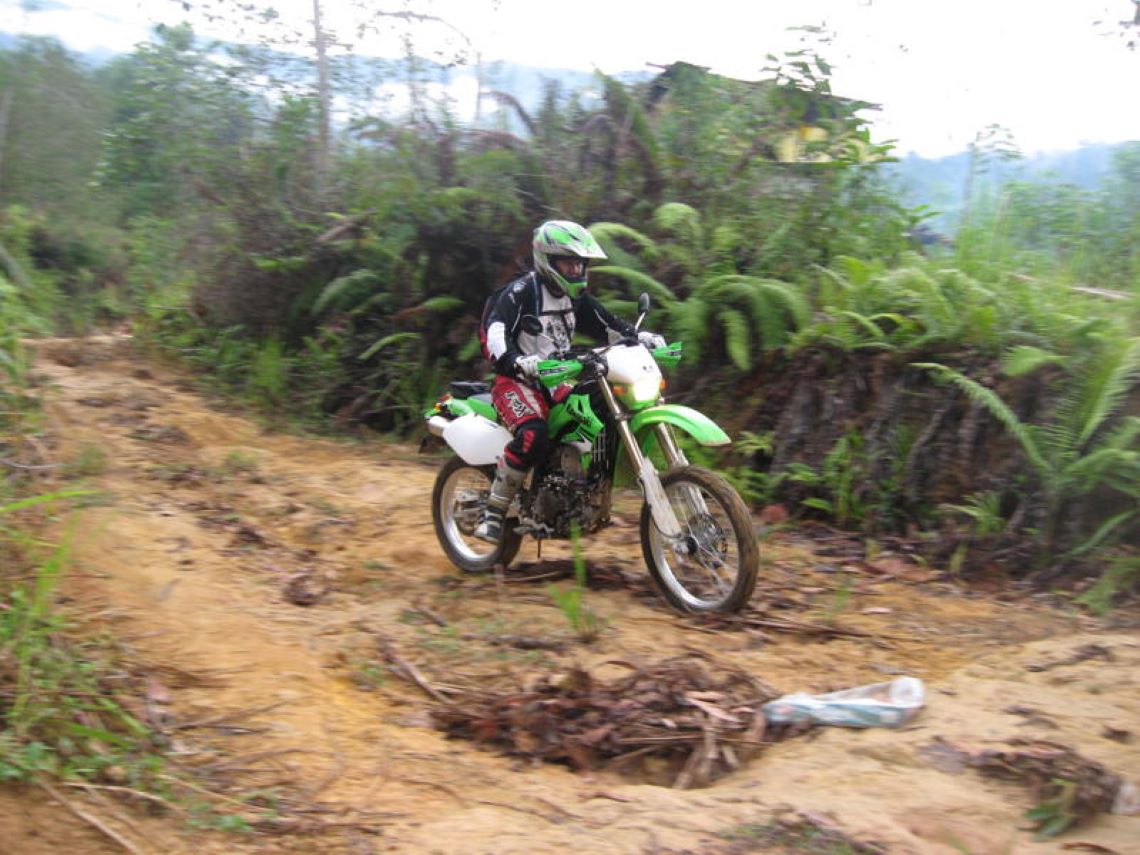 By 4.30 in the afternoon, after a day of bashing our way through bushes, dodging potholes and scaling slippery ascents, the whole while pulling the bikes along with us, we crested the final summit of the route. Caked in mud and totally knackered everyone parked up their bikes and collapsed into a panting heap on the dirt. After a while there came the sound of laughing and joking as everyone regained their sense of humour. The tensions slowly lifted and a kind of mad euphoria set in as we realised what we'd done – we'd made it! A shared look of relieved triumph was now on everyone's sweaty, dripping faces. Among the mumbling and laughing someone shouted out, "Now all I need is a Red Bull."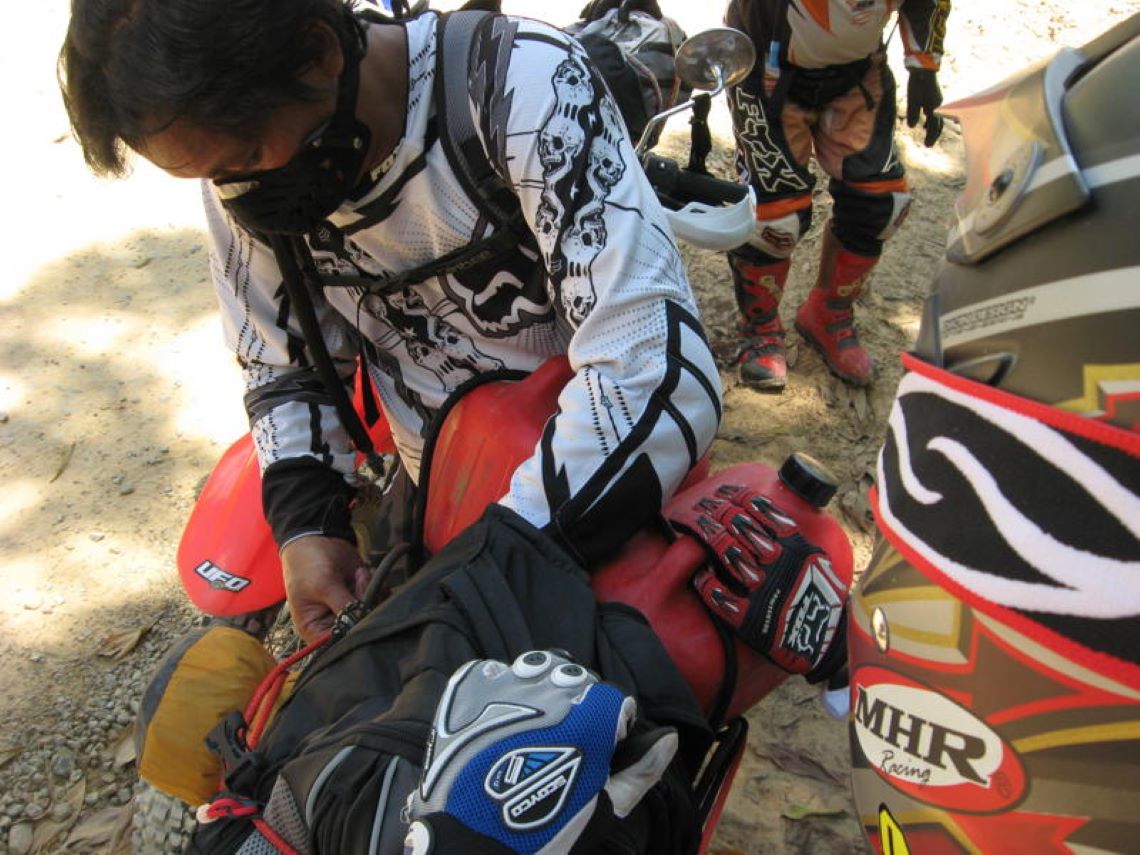 Cave New World
Gunung Mulu National Park near Miri, Sarawak, is a UNESCO World Heritage Site. It's around 53,000 hectares and famous for its unique network of limestone caves and unusual land formations called karsts, created when soluble limestone rock is dissolved. Among them is the Sarawak Chamber, thought to be the largest natural known chamber. Measuring 2,300ft (700m) long, 1,300ft (396m) wide and at least 230ft (70m) high, it's estimated there's room inside to park 40 Boeing 747s. Other notable caves are Deer Cave, Benarat Cave and Clearwater Cave, which contains parts one of the world's largest underground river systems. The real jungle celebrities however are the millions of bats that inhabit the caves. Almost every evening at sundown the bats can be seen leaving the caves in a mass exodus, which is an impressive sight to behold and attracts many tourists. Other native species to look out for in the park include the common gibbon, maroon leaf monkey, bearded pig and mouse-deer; there are also 250 bird species, including all eight of Borneo's hornbills.
Riding Endure In Borneo
When riding in mud and long distance over slippery surfaces, make sure you're constantly playing with the throttle. This will help prevent you from washing out every time your tyre starts to spin with loss of traction.
Plan your ride carefully. Borneo has many fantastic back routes and logging trails that link up small villages and these make for some very exciting riding. The weather plays a huge part in the state of these roads, however; floods, landslides burst river banks and damaged bridges are common after heavy rains. Make sure you're aware of alternative routes to your destination.
If you're riding alone, tell at least one person where you're going and roughly how long you expect to be away.
Fill your fuel tank at every available opportunity and make provisions to carry extra fuel on your bike. The rough terrain and steep ascents will mean you'll run out of fuel quicker than you expect!
Borneo is very humid and you'll sweat. Lots. Carry as much water as you're able, Camelbacks are ideal, and at least one day's ration of chocolate bars with you into the jungle.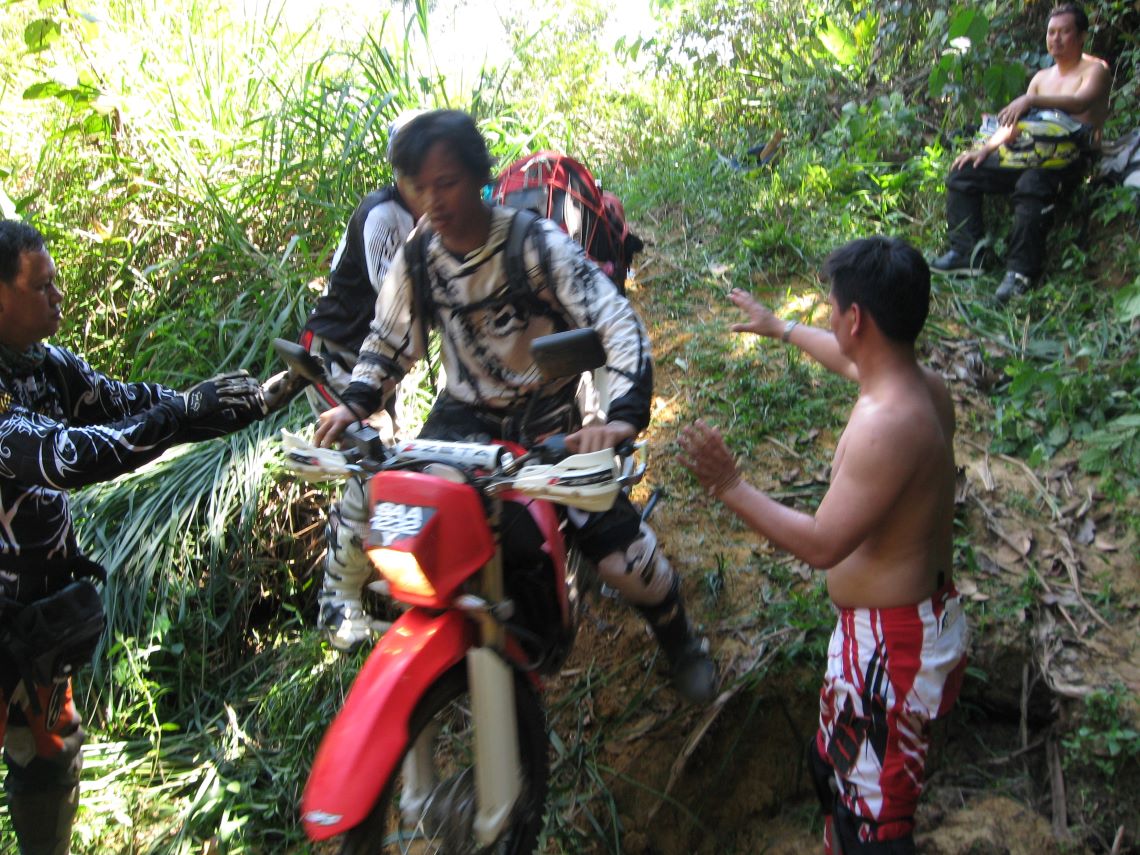 Top Trails
Hell's Gate
This is hardcore Enduro. Situated near the world heritage Mt Kinabalu, it's some of the toughest terrain in north Borneo; the single trails are the best.
Terian Valley
This is an old logging road which is partly abandoned and leads to a small village deep in the Crocker Valley.
The Lost World Of Maliau Basin
This is a mixture of tarmac and dirt road, a good area for biking and wildlife. It's also home to the stunning Maliau Falls behind which a legendary dragon is said to sleep.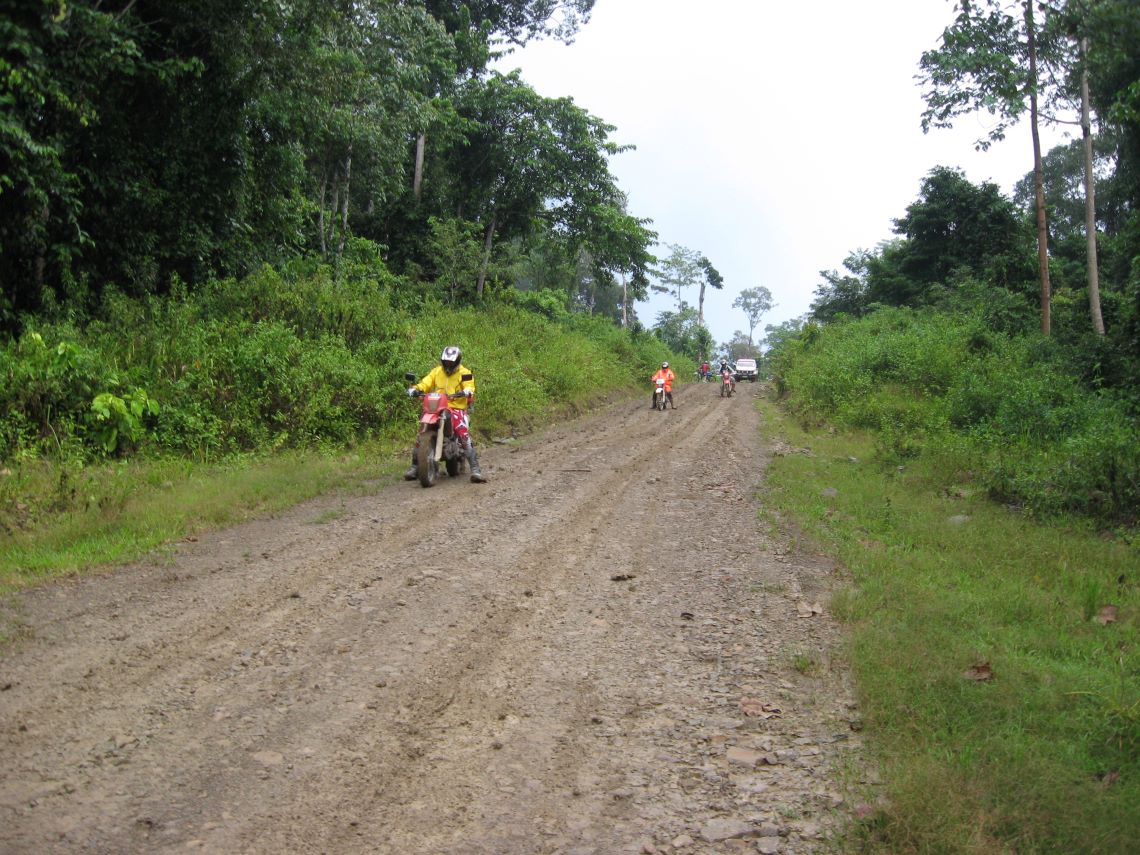 Kimanis
This is the best route for road bikes and very popular among riders in Borneo. It's a steep winding tarmac road which offers awesome vistas over the jungle and valleys.
Headhunter Valley
A mixture of dirt and tarmac road leading up to Kinabalu Park with good scenic views; parts of this route are very remote and ideal for getting off the beaten track.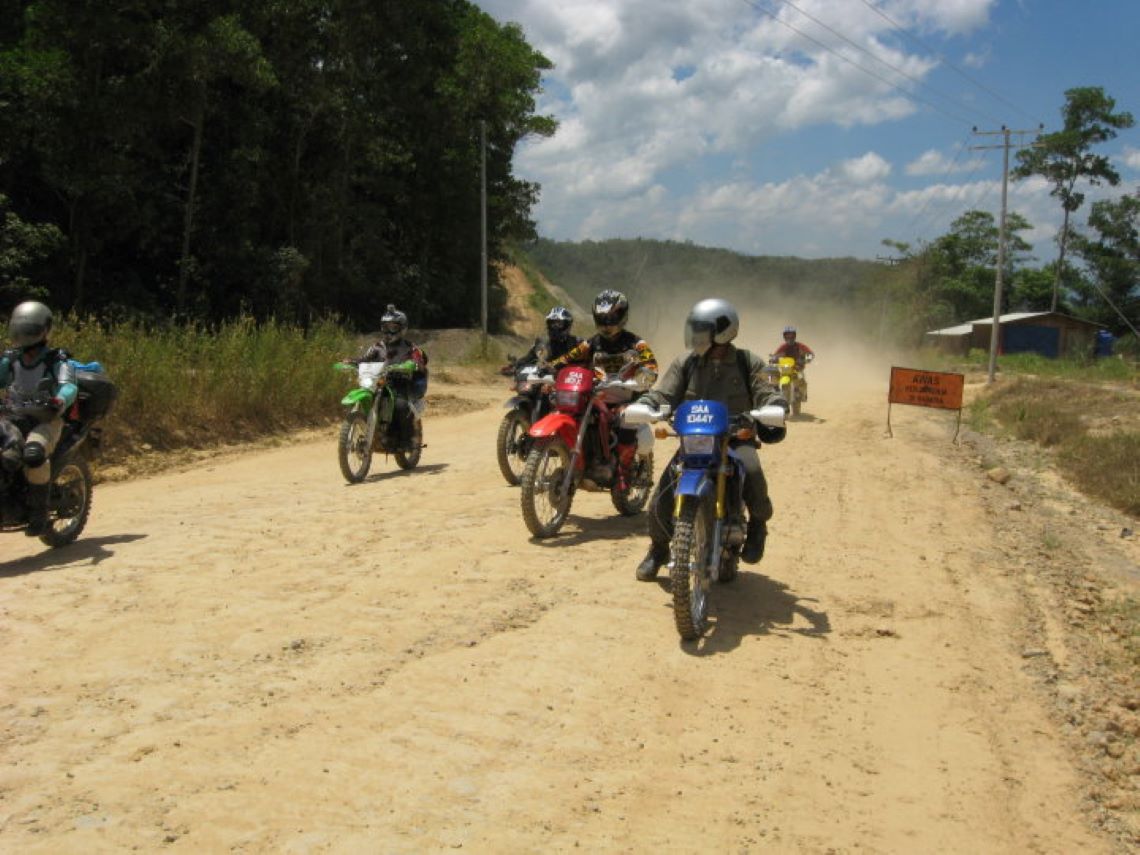 Tree People
Orangutans are synonymous with Borneo. They're the only species of great ape which is native to Asia and can be found on two islands, the other being Sumatra. Their natural habitat is in the jungles; in fact orangutans are the only truly arboreal great ape, spending virtually their whole lives up a tree. The name orangutan actually comes from the Malay orangutan meaning 'people of the forest'. The 'people' part's not far off either – orangutans share 97% of their DNA with us!
The fate of the orangutan's looking a bit bleak. The rainforests are disappearing at an alarming rate, to make way for lucrative palm oil plantations, and the destruction of their natural habitat has left many wild orangutans homeless, orphaned, captive and even maimed. Places like the Borneo Orangutan Survival Foundation (BOS) work towards rescuing and rehabilitating these creatures.
One of the best places to still see wild orangutans in Borneo is the Kinabatangan Wildlife Sanctuary. This is also a good place to enjoy other wildlife, like crocodiles, proboscis monkeys (the ones with the big weird-looking noses) and elephants.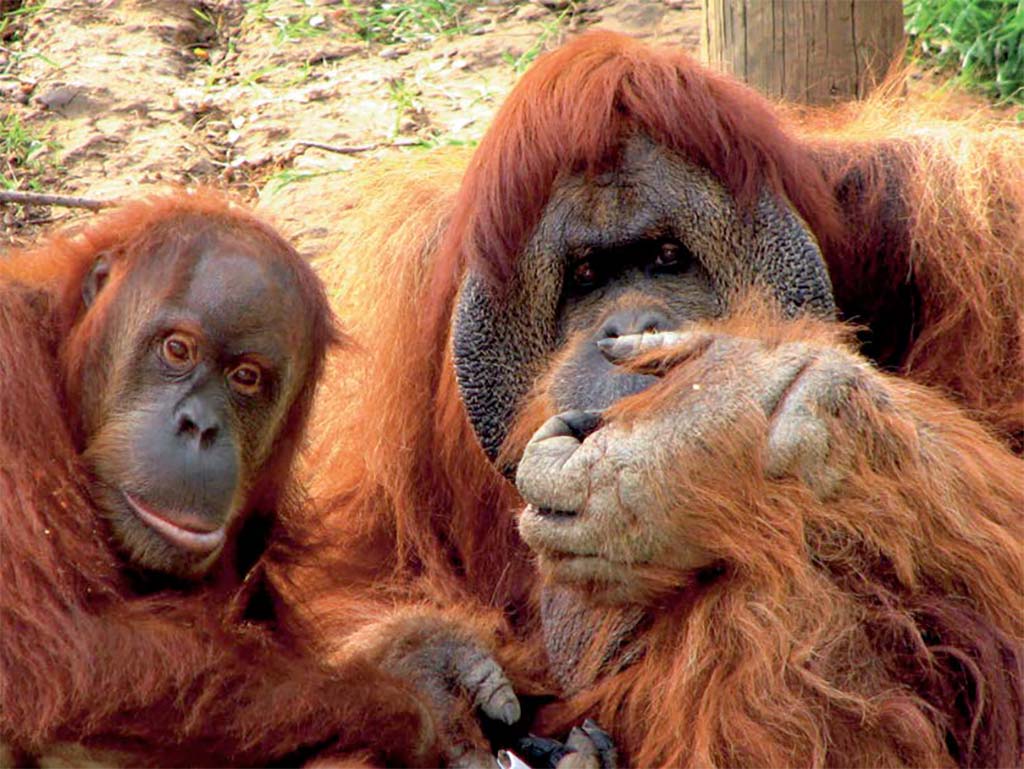 The Bikes
We use 2007 DMX150cc and BKZ 200cc dirt bikes. These are Malaysian-assembled motorcycles; the engines are originally Honda (DMX) and Suzuki (BKZ) air-cooled with both kick and switch starts. I ride a BKZ 200cc with good suspension which is tuned for Enduro or all-terrain riding. The DMX has much harder suspension, but it tends to handle corners better on tarmac. Both bikes have good torque and pick-up though, making them ideal for dealing with Borneo's terrain – this ain't fully loaded GS country!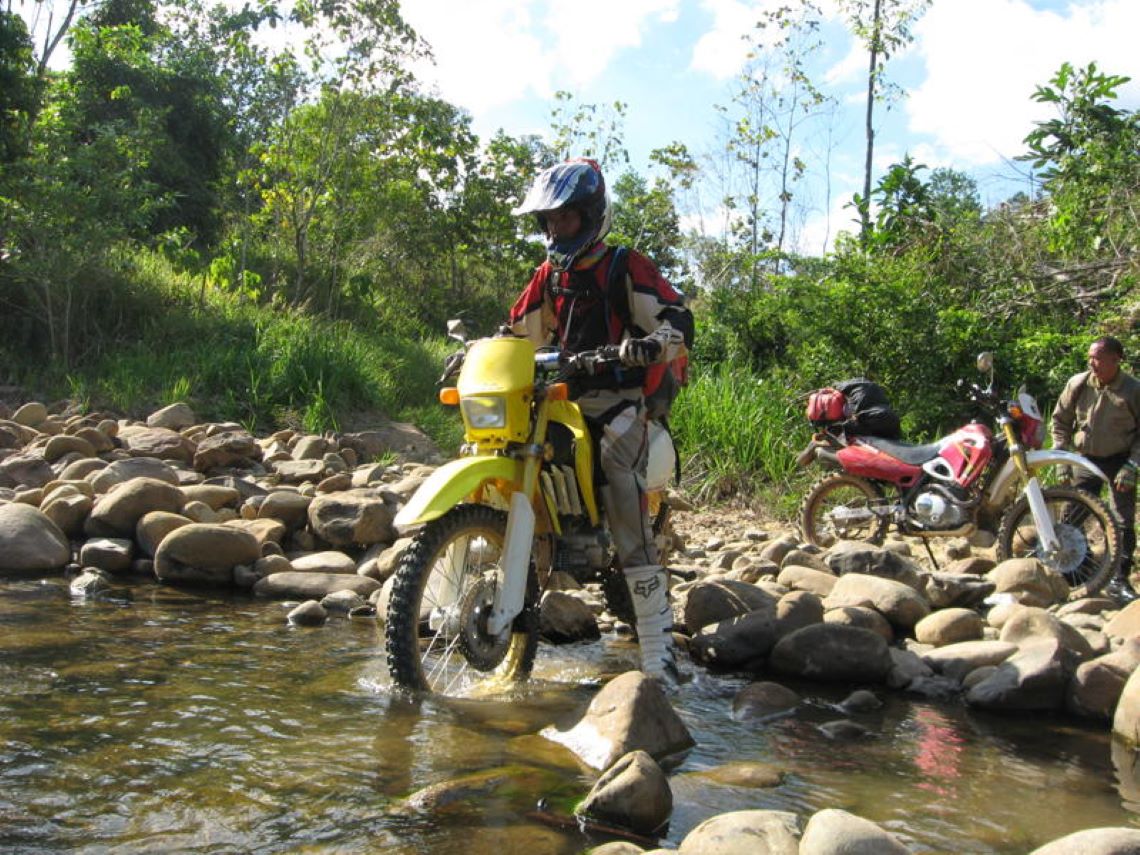 Who's writing
My name's Brandon Michael Miles and I'm a 36-year old Eurasian Sulug with some Portuguese, Dutch and Chinese thrown in there too. I grew up in Tawau, east of Borneo in a village called Brumas right in the heart of the jungle. Logging was a big part of my childhood and it meant we had to move around a lot; I was sent to a missionary school and that's where I learnt English. My interest in motorcycles piqued when I was 16. My uncle loaned me his Yamaha TY175 trail bike and I very shortly trashed it! My uncle was a good sport though, and he eventually taught me to ride properly – he's even let me borrow his Kawasaki KX, KDX, Honda CR and Suzuki Katana 1000 since, so I must be forgiven. I love riding in Borneo because of the unforgiving terrain, the friendly natives and most of all the mental and physical challenges. I've been stuck out in the jungle for two days and nights without food on a recce, but being with friends, it's always fun.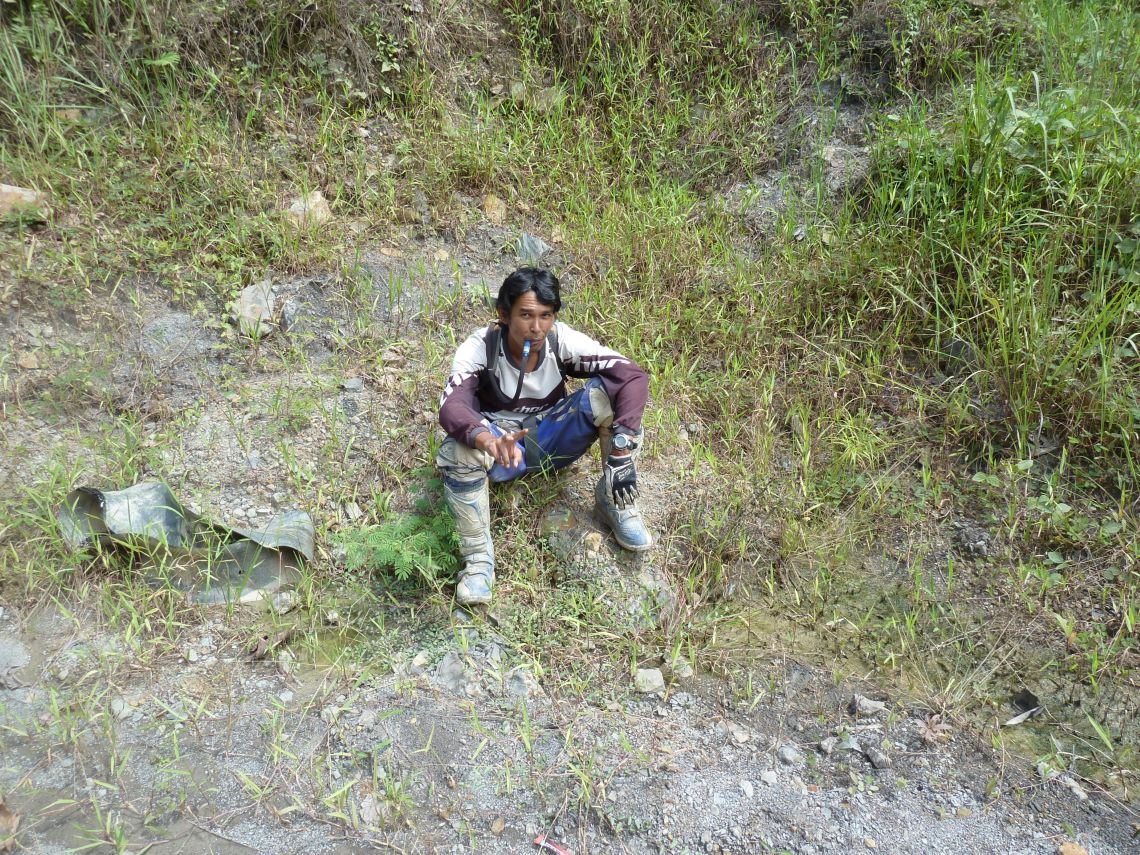 More Info
Fancy getting deep down and dirty in Borneo? See www.rideborneo.com.