TIPTOEING THE CHINA-MONGOLIA BORDER
Brothers Colin and Ryan Pyle conceived their Middle Kingdom Ride over a sarnie in Central Park. Five months later they set off on an epic 65-day circumnavigation of China
It was in March last year, while sitting eating lunch on a bench in Central Park, that my brother Colin and I conjured up the trip of a lifetime. Our dream motorcycle adventure: a circumnavigation of China, which we planned to document on film. When folks talk about New York being a place that inspires people to chase their dreams, they're not joking! It's a dynamic city and it dared us to think outside the box. After lunch, we marched straight down to the Apple store on 5th Avenue and began planning our route using Google maps.
We decided to circle the country's border in an anticlockwise direction. Starting in Shanghai, we planned to head north along the coast to the border of North Korea, and then follow the famous Silk Road out along the Karakoram Highway to the border of Pakistan. From China's western most point, we figured we'd drop south into Tibet via the most remote road in the world, the 219 Highway, which has an average altitude of 4,500m. After making our way through Western Tibet, we factored in some free time to visit Mount Everest Base Camp and Lhasa. After Tibet, we decided we'd make our way through Yunnan province and then on into southeast China before rolling into Shanghai again around mid-October.
By September 2010, we were struggling through a gruelling two-day preparatory session at BMW's Enduro Training Center in Hechlingen, Germany. Just two weeks after that we hit the road with videographer Chad for what ended up being a two-month 17,674km odyssey around China. While skirting the China-Mongolia border on the S303 Highway, we encountered some of the closest shaves and most spectacular views I've ever experienced on a motorcycle. This is the story of that particular stretch of our journey…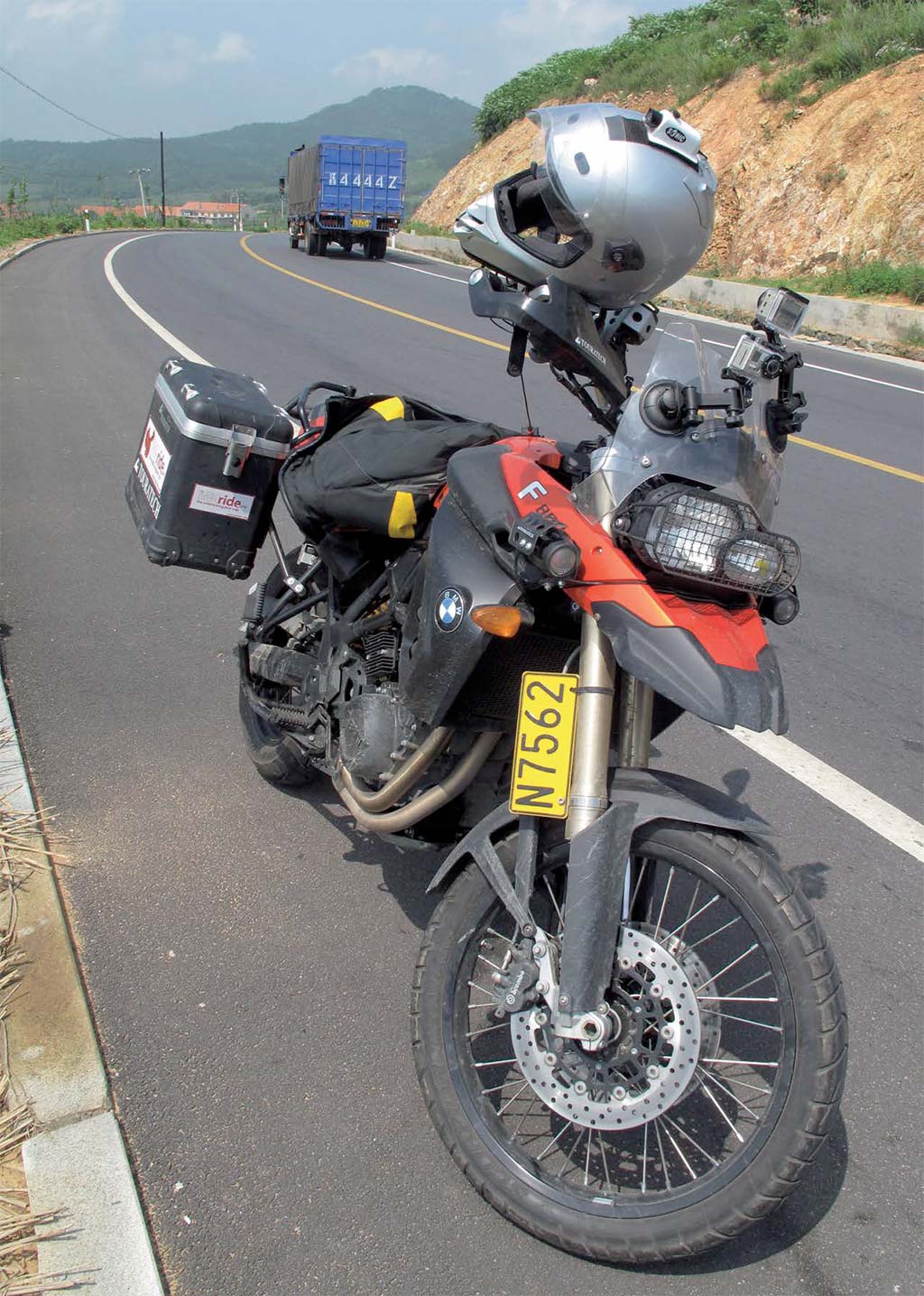 BORDERLANDS
The word 'Fear' doesn't even come close to describing my emotions at that moment; I was more in a state of gut-wrenching, exhilarated anticipation. My heart was pounding so hard I could hear its 'thump, thump, thumping' in my helmet. However you choose to describe it, I was concerned to say the least. We'd just been stopped by a Chinese military vehicle on the S303 along the border of China and Mongolia. The soldiers told us, in no uncertain terms, to leave the highway immediately.
We were heading west and, according to the militia, the road was closed. The decision to impart this information seemed to be made on a whim; the pre-pubescent gun-toting solider who told us to clear off was unable to give us a reason why the road was impassable. Following his orders would mean some serious backtracking. Two extra days' riding to be precise and some 1,000km back to Ulanhot over much the same ground. With just 350km to our next destination, obeying the soldiers just wasn't an option.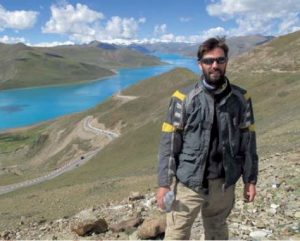 Not wanting to cause a fuss, we allowed ourselves to be escorted off the S303 and back onto the main road. We stopped at the intersection, to drink some water, study the map and discuss our route. After about ten minutes of skulking, the soldiers who'd hurried us off the S303 suddenly upped and left. That was our cue, our moment of reckoning. Quickly mounting the bikes, we did an about face and rode right back up the road we'd just been escorted down. We pulled onto the S303 and continued heading west, keeping an eye out for soldiers and blockades. Was the road really closed? And what would happen if we were caught again? My mind was going over the excuses we could offer up in our defence while I tried not to think about being locked up in a Chinese prison for blatantly disobeying the military. With so many questions racing through my head, I could hardly focus on the rapidly deteriorating road. What would the next 350km hold for Colin and I as we entered this forbidden military region?
Racing through the rolling green grasslands along the border of Mongolia was an amazing highlight on our epic ride around China. From the start of our adventure, the idea of trying to circumnavigate China on a motorcycle, sticking exclusively in its border regions, was ambitious at best. Some might say it's an idea best reserved for the mildly insane. China is one of the most heavily militarised countries in the world. In fact it actually has the world's largest standing army, and I think we saw just about every one of its soldiers on our nine-week odyssey. In saying that, at no time on our trip was our journey in closer contact with the Chinese military than along the surprisingly heavily policed border of China and Mongolia.
The lovely people of Mongolia aren't well known for having ambitions of territorial expansion, at least not since the days of Genghis Khan, so we were surprised by the Chinese military presence in the region; there were seemingly endless stops for passport checkpoints, and with the them came throngs of bored-looking 18-year-old kids, standing around, dangling AK-47s from their shoulders. Did I mention that I hate guns?
The remote S303 Highway, in the Chinese province of Inner Mongolia, is a road that I'd spent hours studying on Google Maps and Google Earth prior to our departure. From what I could see, the road actually makes up much of the border between China and Mongolia. The Google Earth images made it look incredibly isolated, surrounded by stunning grasslands. Sitting at my desk in Shanghai fine tuning the trip before the off, the S303 seemed like a road worth taking, no matter how difficult the logistics on the ground might be.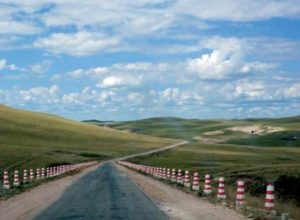 We first joined the S303 Highway the day before our military encounter. Having ridden 12 hours from Ulanhot, we arrived at the turning for the S303 late in the evening. There we were stopped at the military checkpoint where the soldiers indicated that the road was closed for the night. It was nearing sunset and the highway comprised what was essentially 350km of nothingness: no towns, no fuel stations, no hotels, no villages, nothing. The soldiers suggested it was best to wait until morning, and we agreed.
After filing up our fuel tanks, we found a small guesthouse just 1km from our turning to the S303 Highway. We pulled in and arranged rooms for the night. After enjoying a lovely home-cooked meal made by the family who run the guesthouse, cameraman Chad and I were in our room, looking through video footage from the day. When there was an unexpected knock on the door. It was the guesthouse-owner, who told us that we'd been summoned to the local police chief's office and must go there immediately; no reason was given.
This was not a good sign. We were deep in the borderlands and the S303 which we planned to ride the next day is largely off limits to foreigners. I quietly suspected that the small village in which we were staying was also off limits. Right away I began building up my worst-case scenario; it was 9pm and pitch-black outside. Were they going to make us pack up and leave? Were they going to arrest us? My stomach was turning, and I was starting to feel anxious.
Colin, Chad and I squeezed into our support vehicle and made the five-minute drive down to the local police station, following our guesthouse-owner on his motorcycle. The lights from our SUV illuminated both him and the road; the village was an eerie and empty place.
When we arrived at the police station we were directed to the chief's office. The police station was a one-floor building next to a small hotel on a road of nothingness. Given the late hour, I was surprised to see so many police officers still working. Upon entering the chief's office, I immediately recognised him as one of the faces at the military checkpoint earlier in the day. He was one of the people who'd recommended we stay the night and set off on the S303 Highway when it was daylight. Colin, Chad and I entered one by one and shook the police chief's hand, a common gesture of politeness and respect in this part of the world. His hand was clammy and his grip was limp; I hate that.
The first few words out of the police chief's mouth were enough to instil fear in Chad and I. We understood Chinese; Colin did not. It was obvious to both of us that our senior commander was intoxicated; in fact he was completely wasted. Our situation was now very uncertain. Drunken police or military are best avoided at all cost. The combination of alcohol and power rarely leads to anything positive. But as our current police chief slurred on about what an honour it was for his village to receive foreign guests, our minds eased slightly. We began to realise that our audience was a simple show of face. The police chief didn't have any problems with us being in the town, he just wanted to summon the foreigners to his office, to show his staff and assistants that he wielded great power. Luckily for us, the meeting ended fairly quickly and after another round of handshakes we were dismissed. We returned to our guesthouse without further incident. The flowing day would be a challenging ride and we'd need all the rest we could get.
When the sun started to rise the next morning there was a feeling of euphoria among the group. We'd spent the last few weeks building up to the S303 and today's journey. We were now ready to see if the stunning surroundings promised to us by Google Earth could match our expectations. Our breakfast of freshly steamed bread, hard-boiled eggs and coffee had become our standard for truck stop guesthouses and it would be enough nutrition to get us to the next town, which we predicted could be up to 10 hours away.
The morning air was cool and brusque; there was condensation on our bikes from the drop in temperature over night. Passing through China in August, everything was lush and lovely. I couldn't bring myself to imagine what changes the landscape would go through come winter. Temperatures in this part of the world often drop well below -30 C and that thought alone was enough to bring me bit of warmth!
Once on the bikes, we cautiously approached the military checkpoint where we'd been stopped the night before. They held up their promise, however, and the soldiers granted us access to the highway without issue. Heading west on the S303, we immediately began to climb. The first section of the journey was surprisingly mountainous. Chad decided he wanted to get a bit of filming in, so he stopped the SUV and climbed up the side of the mountain, to take some footage of me and Colin winding our way through the lovely switchback roads.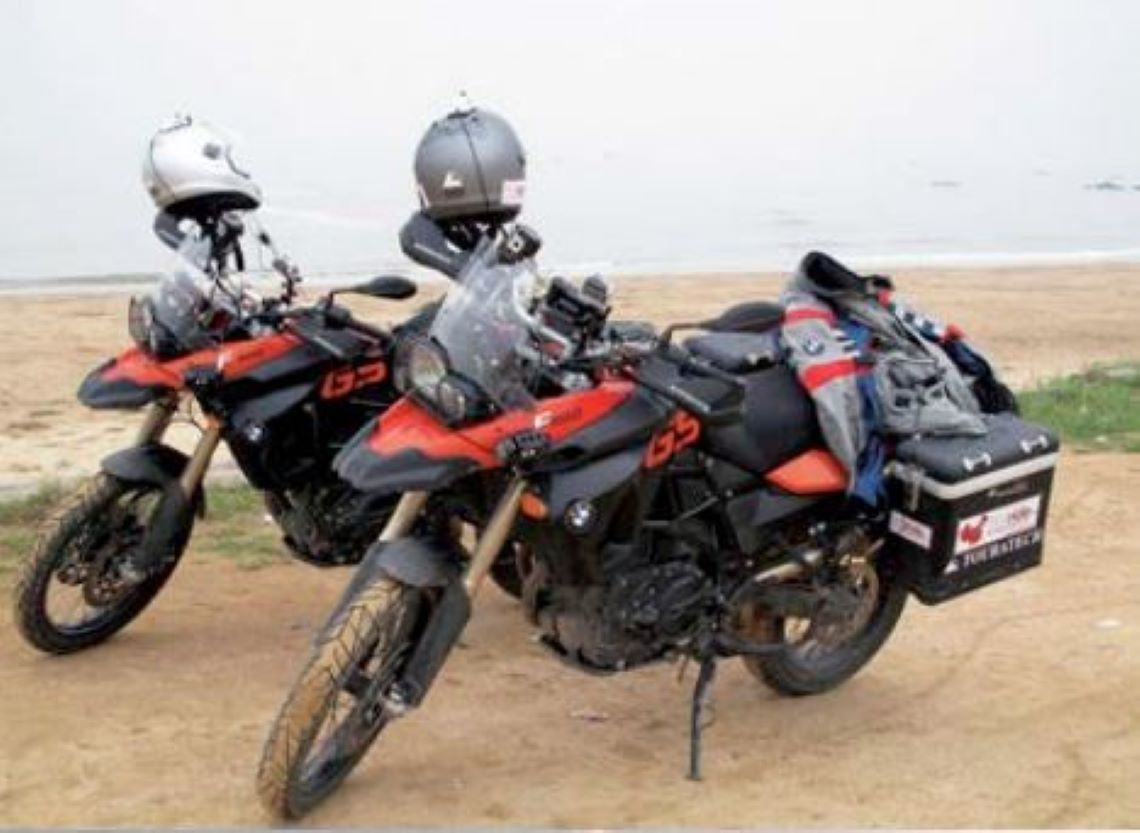 Filming complete, Colin and I turned the bikes around to pick up Chad from his spot on the mountainside. Cut back to the start of our story, and enter the prepubescent soldiers armed with assault rifles. They pulled their military vehicle right up in front of us and three young men with AK-47s stepped down. The road, they said, was closed. I radioed to Chad and told him to stay hidden in the hills until I called him again. The soldiers began asking a lot of questions about who we were and what we were doing. The helmet cameras spooked them and they wanted us off the road immediately. As we followed them off the S303, we passed Chad's hiding place up in the mountains. I don't think the soldiers knew he was there, which is just as well. It's one thing to get caught by the military with a series of small helmet cameras, but Chad was sporting a huge HD effort and that certainly wouldn't have gone over well with military boys.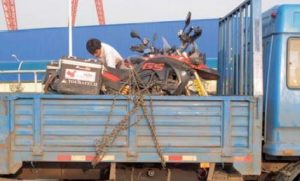 As I mentioned before (and much to our surprise), the soldiers seemed satisfied once we'd left the S303 and didn't stick around to make sure we'd cleared the region. Feeling a bit daring now the military were out of sight, we headed back towards the S303, to go and rescue Chad. Sure enough he was there, hiding behind some trees. He jumped into the SUV and we carried on west along the highway, completely disobeying the soldiers' orders.
My heart was in my throat wondering if the military had called ahead, to warn other soldiers of our presence on the road. The SUV was stuffed with tens of thousands of dollars-worth of camera equipment and footage from the first two weeks of our journey. Was the risk of riding on worth it? Should we have followed orders and turned back?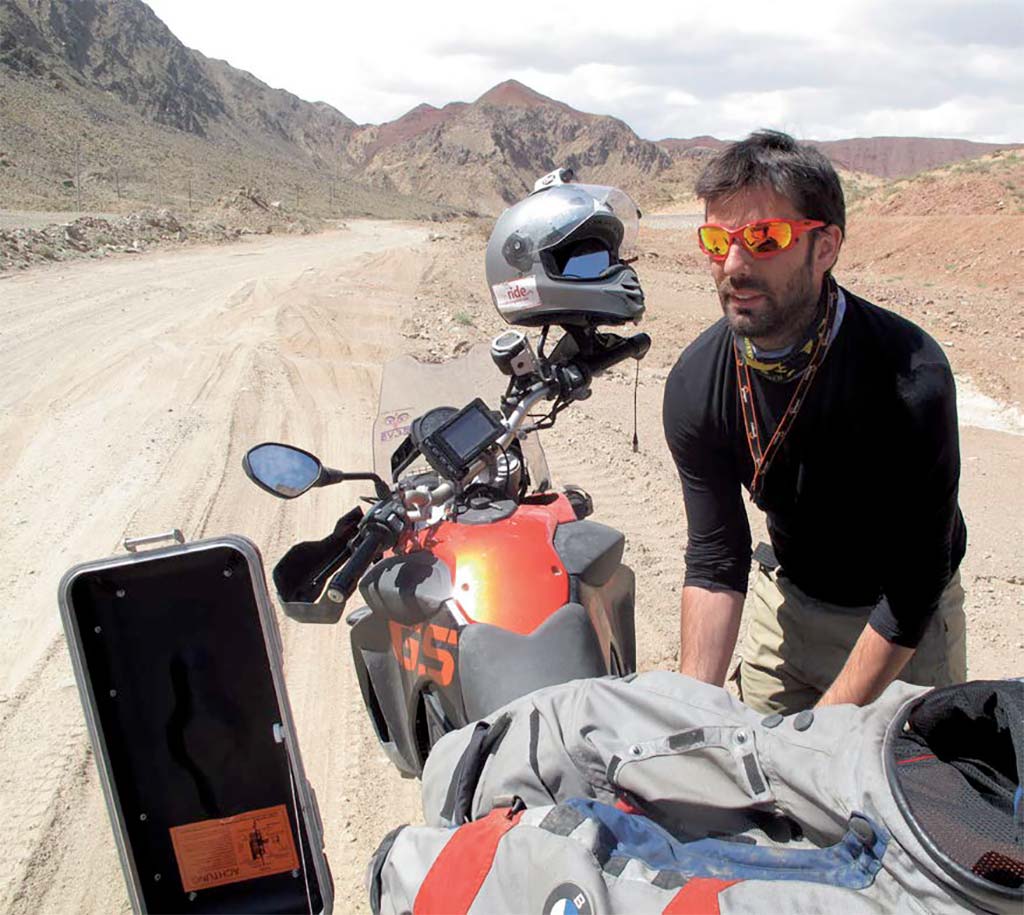 As we continued along the isolated S303 Highway, the road began deteriorating fast. Ten minutes after scooping Chad out of the mountains the highway turned from tarmac to gravel with huge potholes dotted about. Another 10 minutes' riding and another military base loomed ahead. This time, though, the soldiers didn't stop us or even blink as we flew past. We rode on undisturbed for half an hour, passing through dense forest and yet another guard post. After 20 minutes' hard riding we finally reached the picturesque grasslands that we knew from the Google Earth pictures we'd find. Stunning scenery and rolling green hills as far as the eye could see. Not a hint of life to be found anywhere, no herders, no yurts, nothing but extreme nature. This route and this land are spectacular specimens of untouched beauty.
Our supposed solitude only lasted another 10 minutes. As we emerged from the forest, we crossed an awesome open plain of lush green grasslands. And right in the middle of the valley was a massive military base. The command centre was perched high up on a small mountain in the middle of the plains, and the military had set up a roadblock where the road passed by the base. Pulling up to the roadblock, we all registered the soldiers' shock at seeing two big motorcycles and an SUV. But this was nothing compared to the looks on their faces when we removed our helmets and they realised we foreigners.
The soldiers began milling around us, trying to figure out what should be done. Anticipating a confrontation, we were pleasantly surprised when they simply asked us for our passports. The soldiers asked where we were headed and explained that we were on a 'no-stopping road' and that we shouldn't stop or dismount anywhere along the highway. Looking up at the military base on the hilltop, I wondered how far they could see in every direction from that lookout point. No stopping meant no filming; but at least we were on the road we wanted to be on, and the riding was excellent.
The following 200km was the most isolated stretch of road I've ever ridden to date. The rolling green hills were an exciting bit of riding and the gentle undulations meant I could pay more attention to the surrounding landscape. This part of the trip, heading west along the Mongolian boarder, was what Colin and I had been looking forward to most. Several other adventure riders had told me that Mongolia was an amazing country to ride in because of the beautiful landscape and the fact that it has so few roads. Although we were technically in China, I could still sense a bit of the isolation and beauty which lay several hundred meters to our right. The S303 Highway is claimed to be the longest paved single-lane road in China; luckily we hadn't had to contend with any on-coming traffic. This stretch of road, for this moment, was ours. With the weather warming, the sun out, and the lush green grass stretching endlessly in every direction, it was truly a great riding day and one that I'll remember for years to come.
As we rode, I began to notice a thick brown line running through the green grass to our right, but I couldn't figure out what it was. On a water break (yes, we stopped and filmed even though it was forbidden) we saw that the Chinese military had dug up a 20m-wide section of the grass along the entire Chinese-Mongolian border. This was most likely to stop herding animals from venturing back and forth across the border. 'What an amazing thing, to dig a physical line between two countries', I thought. It reminded me of being at school when kids used to draw lines in the sand with their feet and say, "don't you dare cross this line", and of course everyone always would. I was mildly tempted to take a big step or two into Mongolia but we decided against it. It was exciting enough just knowing that the road we were on was less than 100m from the most isolated part of western Mongolia.
The military had been out of sight and out of mind for over an hour now as we soaked up the solitude of the S303. Until that day, our ride from Shanghai to the border of North Korea to Inner Mongolia had been one of traffic and congestion. We'd passed through thousands of small towns and villages and seen dozens of accidents, nasty factories, crowded mega-cities and endless queues of trucks. But that day, on the magical S303 Highway, we got our first real taste of what it felt like to be 'out there', beyond the reaches of civilization. Later that night, we debated whether we were in fact the first foreigners to actually make the ride along that road, given the military presence and the road's remoteness. I reckon there's a pretty good chance we are, but no one can know for sure.
Middle Kingdom Ride – the uncut story!
Colin and Ryan are currently producing a full-length documentary film of their epic motorcycle journey around China. They're also in the process of writing a book about their experiences on the road. Both will be available later this year. To keep up to date with film and book news, go to www.mkride.com
Ryan's tips for riding in China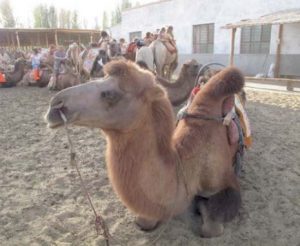 Be ready for anything! Cows, yaks, sheep, goats, tractors, people, babies, potholes the size of SUVs – everything ends up in the road in China and you have to be ready for it. Also, Mother Nature is really unpredictable there. Be ready for all kinds of weather to descend at anytime. It can go from 22C and sunny to 6C and near-freezing rain in just 90 minutes on the bike, so keep that rain suit and an extra base layer handy.
FYI China…
An international driver's licence is not recognised in China. You can ride around China with a licence from your home country on a temporary basis, but if you're planning on staying for a while, you'll need to get your home license converted to a Chinese licence. All major cities, including Shanghai and Beijing, have motor vehicle bureaus where you can convert your home licence to a Chinese one for £20 and a short computer test.
You cannot bring a motorcycle from a foreign country in to China, unless you're part of a recognised tour group such Globebusters' Silk Road tour from London to Beijing. This also means you can't get registration for a bike brought from outside of China. As an individual, you'll need to buy a bike in China; there are no motorcycle rental shops in China either.

Fortune rookies
Chinese culture is full of superstitions, particularly those associated with good and bad luck. Ensure yourself a fortuitous trip by following these simple Chinese good luck charms
✰ Red and gold are auspicious and fortuitous colours; yellow is associated with heaven and purple represents the North Star, the centre of the universe in Chinese cosmology
✰ Many Chinese superstitions stem from homonyms – words which sound the same but have two meanings. The Chinese for 'fish' and 'plenty' are pronounced the same (yu) which is why fish are considered lucky. The number eight is the same as the Chinese for prosperity and is thought to bring wealth
✰ Eating a full bowl of noodles which is made up of only one long noodle is said to preserve longevity… it certainly solves the chopstick problem
✰ The semi-precious stone jade is thought to bring fortune, good health and to ward off evil spirits, hence the popularity of jade pendants and bracelets.
✰ Dragons, bats, cranes, lions and deer are all fortuitous symbols
And try to avoid…
Pointing at the moon (your ears will get chopped off ); cutting your toenails at night (it will entice ghosts into the house) and beating anyone with a broom (It's bad luck – no shit?!)
Top 5 must-ride roads in China
1. G219 Highway from Kargilik, Xinjiang to Ali, Tibet; it's over 1,060km of intense off-road riding
2. G314 Highway from Kashgar, Xinjiang to Tashkorgan, Xinjiang; also known as the Karakoram Highway (KKH), which leads to the border of Pakistan
3. S303 Highway; cruises along the border of China and Mongolia and offers some of the most remote grassland scenery available
4. G312 Highway; crosses through the remote badlands of the Hexi Corridor in Eastern Xinjiang provinces, it offers amazing scenery – watch out for sand storms!
5. G214 Highway from Zhongdian, Yunnan to Lijiang, Yunnan; travels right along the amazing Yangtze River, and Tiger Leaping Gorge, and through some of China's most spectacular mountain scenery
Tiger Leaping Gorge
Tiger Leaping Gorge is a 16km-long canyon located on the Jinsha River; it's just 25m wide at its narrowest point and the cliff s plunge a jaw-dropping 2,000m into the rapids below. The gorge is so called because a tiger is said to have once cleared it in a single bound, to escape a hunter. There are lots of trail companies offering guided tours of the gorge, but it's possible to hike it alone. The best time of year to visit the gorge is May-June when the vegetation is in full bloom.
The bikes
We both used BMW F800 GSs for the Middle Kingdom Ride. The F800 GS is the perfect bike for China because it's lightweight, versatile, speedy and it handles well off-road. China is a rapidly developing country and there's a lot of road construction going on, which means endless detours and unexpected off-road riding. The F800 GS is light enough to pick its way through the dusty stuff, and that large front wheel is a godsend in thicker, heavier sand and gravel.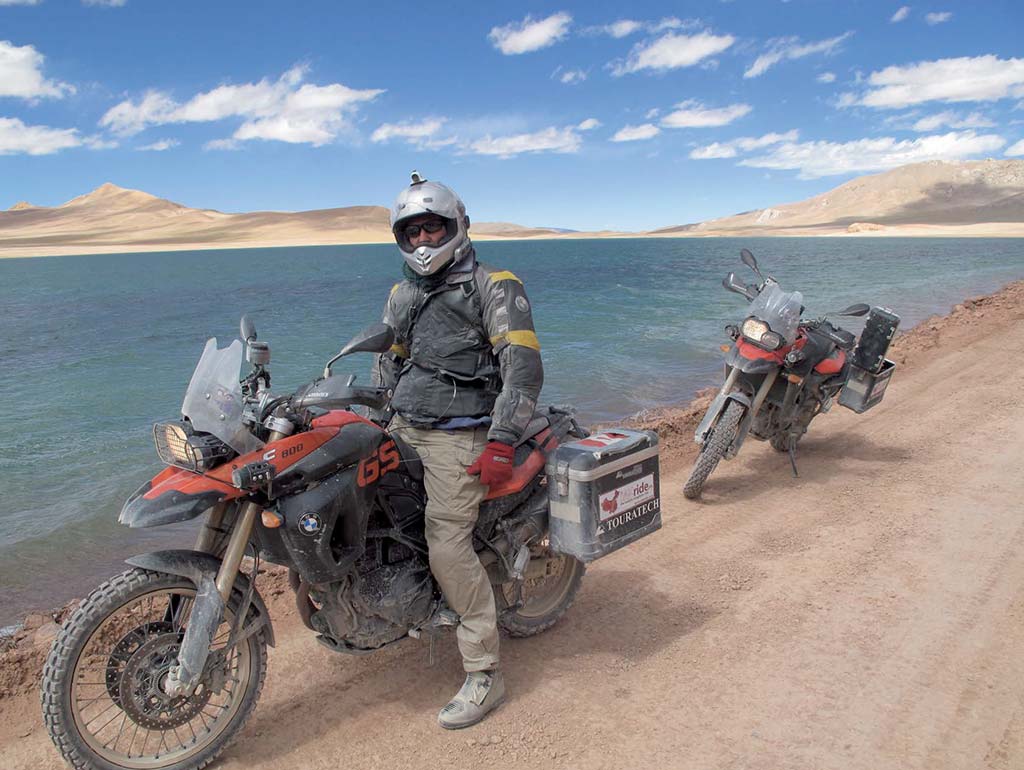 Who's riding?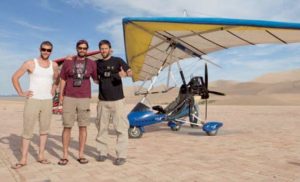 Colin Pyle
Colin's a 29-year-old former currency trader from Toronto. As a BMW R1200R owner, Colin had almost no off-road experience before deciding to attempt the Middle Kingdom adventure. Once he'd committed himself to the ride, however, Colin went all in, quitting his job and selling his house to circumnavigate China with his brother Ryan.
Ryan Pyle
Ryan is a 32-year-old documentary photographer. A resident of China for the last decade, he was the director and instigator of this operation, having travelled much of the country before. Based in Shanghai, Ryan procured the motorcycles, planned the route and organised the permits needed for their journey around China. Good job it all went according to plan, eh?
Chad
Chad is a 25-year-old still-photographer, videographer and hide-and-seek champion based in Shanghai, China. A long time friend of Ryan's, Chad was the first person to sign up for the MKRide and was an important piece of the puzzle. A competent videographer is crucial for any documentary and his performance was second to none.