FUN IN THE MUD IN THE ANDES
Adventure rider Aidy Leahy's on a one-man mission across South America, next stop: Peru. But are those rain clouds up ahead…?
Ever since my first biking trip around India with my brother Mike nearly 10 years ago, I've been hooked on adventure motorcycling. I've toured South East Asia, Indo-China, Mexico, Morocco, New Zealand, North America and most of Western Europe – both on-and off-road – but I'm always planning my next adventure.
Perhaps it was Che Guevara's Motorcycle Diaries that inspired me or maybe the thrill of travelling down the second-highest mountain range in the world. Whatever the reason, I felt drawn to South America. Looking at my battered and well-loved map of the world, I saw that huge expanse of purple stretching right across the Amazon and over the Andes and it filled me with awe. The planned holiday to Australia with my girlfriend would just have to wait…
Had I been more sensible, I'd have perhaps thought more about the climate and the seasons in South America. I neglected this part of the planning spectacularly, which probably goes some way towards explaining why the flights were so cheap. On arrival in Quito, however, I didn't need to intiende Espanol to realise that it was the wet season in many of the regions I hoped to visit. Little did I know how much of an impact this would have on my trip. Back home before departure my internet research was geared towards more immediate problems – like getting my hands on a bike.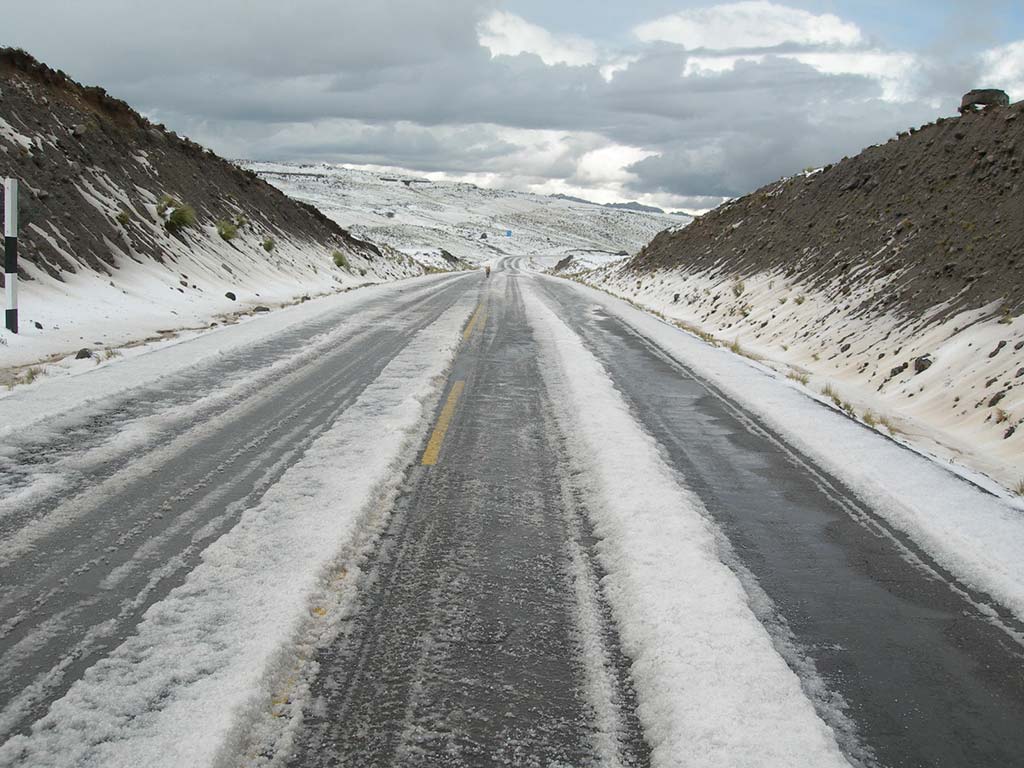 First things first: is it possible? Searching adventure biking forums, I hit a lot of dead ends, 'no, you can't buy a bike out there', 'no, you can't rent a bike out there', 'you'll get mugged/murdered/raped/all three'. Not being one for taking advice, however sage, I persevered and eventually found a chap based in Peru called Renato who said he could lend me his bike for a small fee. Result!
My friends and family (with the exception of Mike) were unimpressed. Organising a trip which relied totally on someone I'd only had the briefest contact with on the internet (and who was probably going to mug/murder/rape me) wasn't wise, apparently. They also said that I should try to learn some Spanish as otherwise the trip would be sheer stupidity.
So, after mastering the basic essentials una cerveza, por favor and armed with an i-Pod full of Spanish lessons, I landed in Ecuador. There was some initial confusion over the location of the bike, but as it happens Ecuador is really nice and not that far from Peru. Did I mention I'm not that good at organising? I met up with Renato and soon had the keys to his decidedly second-hand KLR650 in my sweaty mitts.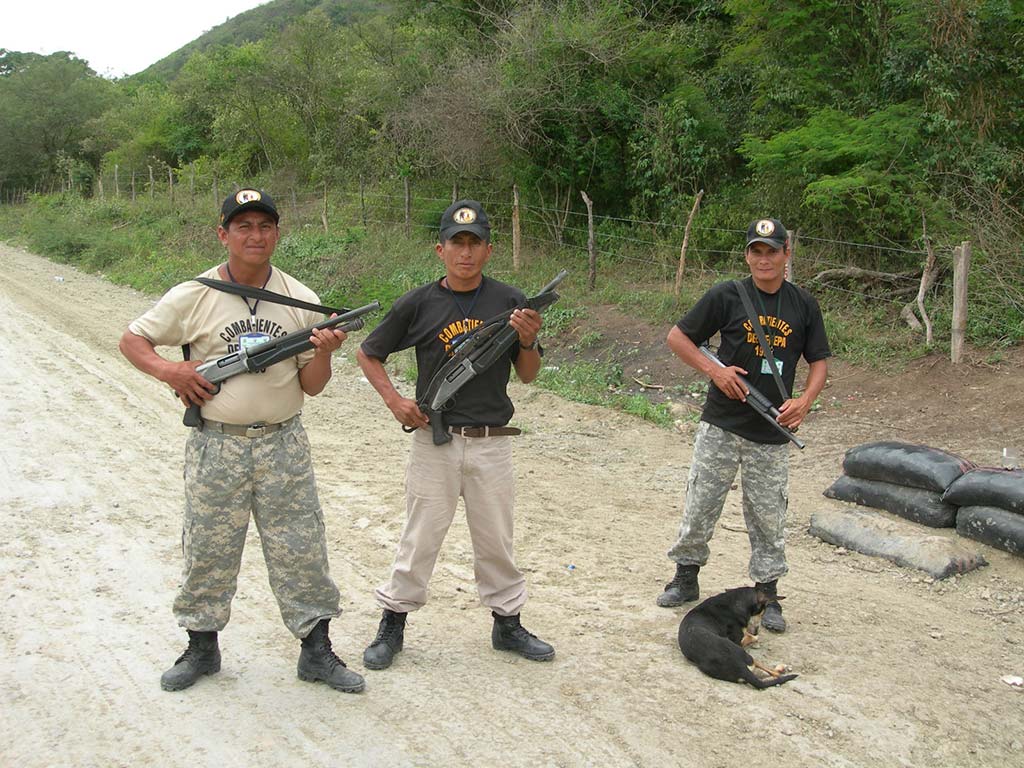 As it turned out, Renato's an absolute star! An Italian who lives in Belgium and is married to an Ecuadorian girl, he's a keen biker and was more than happy to help me out with a route. My plan was to head south, keep on the Andes and hope for the best. To be fair, that plan didn't change much, but it was good to glean some local knowledge nonetheless.
The decision to take the road less travelled was a good one. It started at the border crossing town of Zumba (I say town, it's more a small collection of dishevelled-looking buildings). The roads were mud with more pot holes than flat bits and the rain was pouring down. I wasn't even sure if I was going the right way, but my trip was underway and I couldn't have been happier.
Previous knowledge of border crossings has furnished me with this golden nugget of wisdom: never arrive at lunchtime. Of course, you'll never know when lunchtime might be, but I can tell you exactly when it is in South America. It starts as soon as the border guards catch sight of you and lasts for at least two hours. Patience is key to successfully crossing a border – that and being friendly. Even if the officials are deliberately wasting your time in the hope of a bribe, stay patient and cheerful.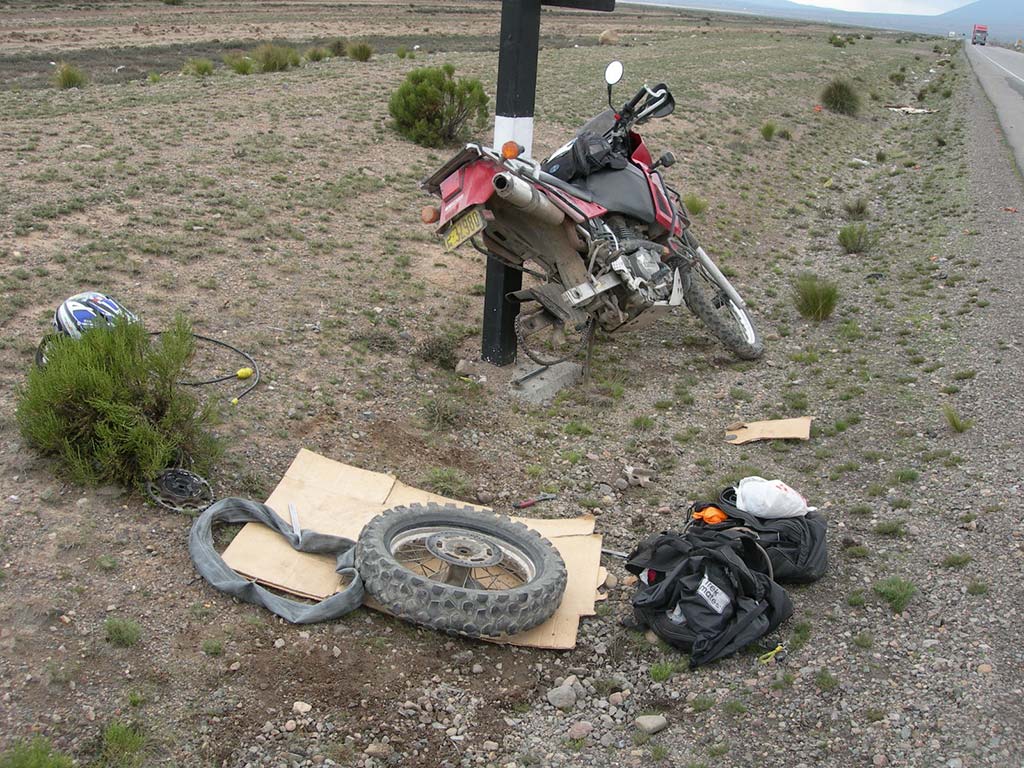 Another 288km later and I was in San Ignacio, Peru. Soaked on the outside by torrential rain and drenched on the inside by sweat. I was enjoying my feast of custard-filled pasties, chocolate and chocolate milkshakes, (which were to be my staple veggie-friendly diet for the next six weeks) while relaxing in my $3 hotel room and attempting to dry out.
At this point, I started to realise the implications of travelling through Peru during the rainy season. I'd like to say that I purposefully chose that time of year, so there'd be fewer tourists and my ride would be more of a challenge, but quite frankly, I cocked up. Rain I can deal with (I do live in England!), but the rainy season leads to much bigger problems, which became apparent over the next few days.
The following morning, full of enthusiasm and 84 ron fuel, I set off . As it was warm I decided to forgo the waterproofs. One drenching later, I was seriously regretting that move; riding in damp clammy trousers really isn't pleasant. Soon after this, I was stopped by three men armed with pump-action shotguns.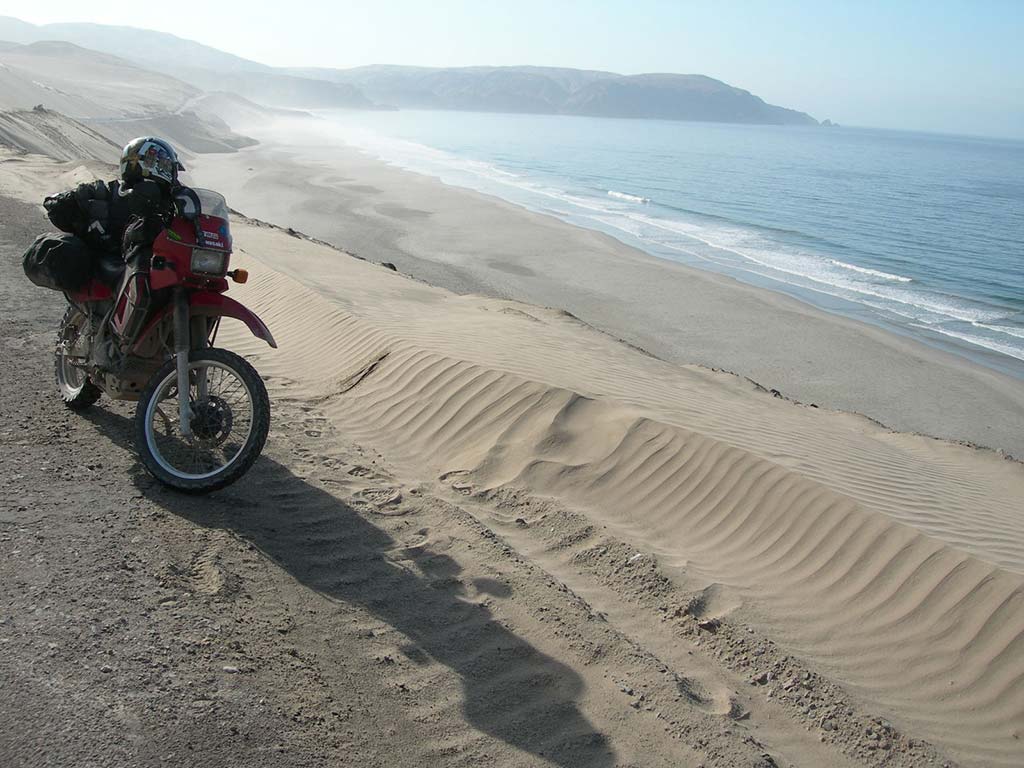 By the time I realised what they were holding it was too late. Thoughts quickly turned to the worst case scenario and all I could think was, 'give up everything except the passport, because that'll be a complete pain in the arse to replace'. A conversation then took place and after a while I came to the conclusion that if these were robbers then they were actually quite nice ones. As it turned out they were vigilantios, volunteers armed with guns and an elderly guard dog, who kept bandits at bay on that stretch of road. They ran on 'donations' from the drivers of passing vehicles, and I for one was not going to argue with them. 1.5 soles (33p) and a quick picture of them later and I was on my way.
Another 50km down the road and the back-bashing pot holes finally stopped long enough for me to focus on the countryside. It reminded me of Arizona with its rocky outcrops or maybe its dead-straight tarmac. There's always a moment in every trip where the countryside opens out, your bike's running well, you've got everything you need in your panniers and you think "Woo-hoo! I'm there!" This is the exact moment you dream about, the moment you'll remember when you're stuck back in your old job and feeling down. This is it!
It didn't last long though. Rio Utcumbamba had turned into a terrifically powerful torrent and had washed away part of the road up ahead. To make matters worse, the heavy rainfall had also caused landslides which were blocking parts of the road; it took me five hours to cover 65km.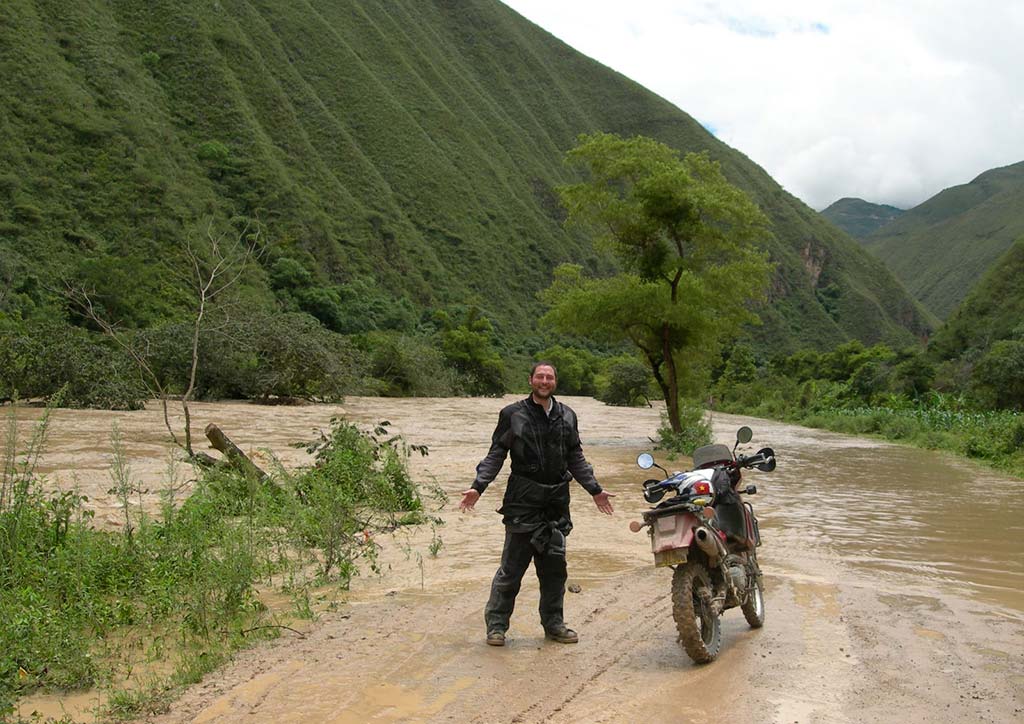 There were some great bits of twisty road after the carnage though, and I was plenty entertained just trying to stay on the bike. The tyres were so damn slippery that the KLR did a wheel-spin every time I accelerated – in all of the first three gears. I don't often do wheel-spins on the road – it usually happens just before I crash. This wasn't my attempt at being a hero. As a general rule, I also leave sliding the back end out on corners to the likes of Rossi and his mates, but the bloody KLR went sideways each time I was less than careful when backing off the throttle! It soon became apparent that it wasn't just the route which was ambitious.
After just 300km I was shattered. I found a hotel with the usual lack of heating and a huge pile of blankets – great for sleeping warm but crap for drying kit. After managing to turn on the ancient TV, I put my gloves and socks on top of its heat vents – dangerous, I know, but all that mattered to me was having dry hands and feet; I even had my hands on top of the TV at one point in an attempt to thaw them out!
It was all in vain though. The following day's ride was cut short just 11kms from the hotel by the river breaking its banks. The narrow road leading from the hotel was situated at the base of a steep-sided valley. The river had completely engulfed it and the water was by now at waist height. I didn't fancy running the gauntlet against the branches and trees hurtling towards me. Heading back to the hotel, I had the chance to put all my kit out in the sunshine to dry and do some bike maintenance. The bike, although basically sound and very capable, needed regular oil and chain adjustment. I also had to pay special attention to the nuts and bolts holding it together as bits were shaking loose and falling off with irritating regularity.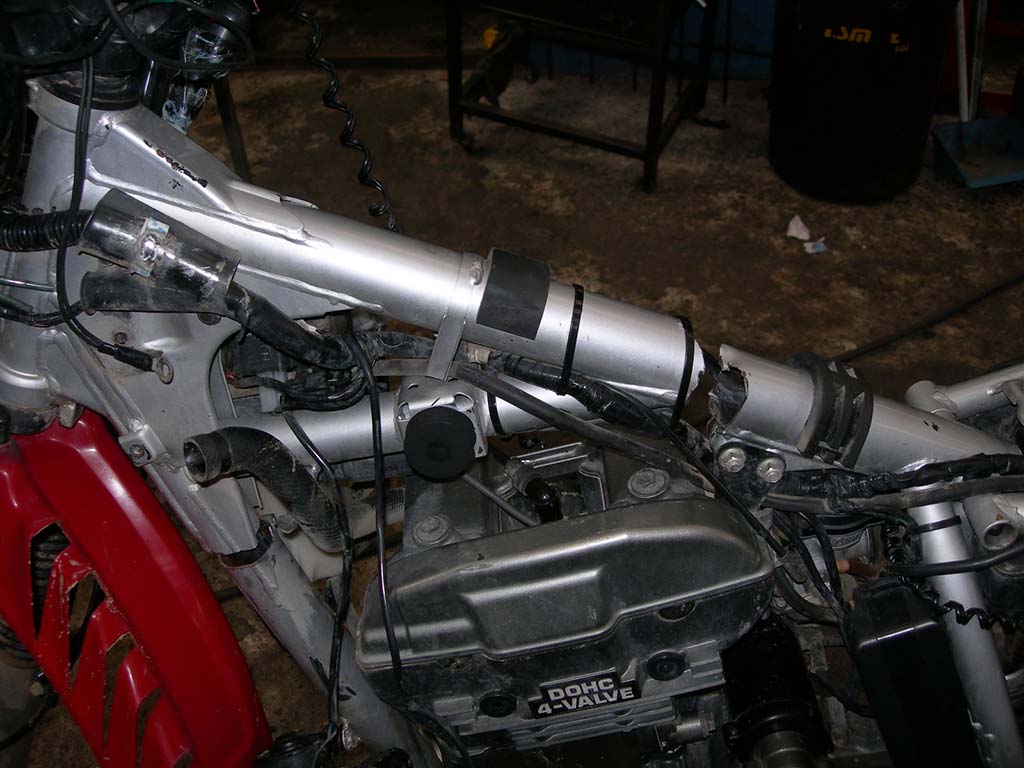 I set off at dawn the next day for Kuelap, one of the few Inca fortress to survive the Spanish invasion – it's bloody impressive too! I fully appreciated the insanely twisty dirt road to get there and the 360 views over the surrounding mountains were awe-inspiring. It was while admiring the vista that I saw the hair-raising drops on the outside of the twisties which I'd been 'appreciating' only moments earlier. I found myself wondering just how long it would take for a helicopter to rescue me, if I survived the fall that is… Looking at the map, the roads from here were going to be a challenge. On paper the roads looked straight, but there were three peaks and a river on the route ahead and a change in altitude of 96m to 3553m at least twice! (I love using the gps for info like this). Best get on then.
Despite my initial concerns, the ride went really well. I stopped off in Leimebamba, to check out the mummies which were found in the local mountains. I also took the opportunity to replenish water supplies. The day was far from over, however, and I still had 250km to cover. With five hours left before sunset I decided the afternoon would call for a more spirited ride, and I duly accepted the challenge.
Leaving Leimebamba, I felt on top of the world – literally. The air was so clean, the mountains were so sharp above the clouds and the roads were mental. Maybe it was the fact I was riding quicker, the altitude, a leak or because I'm a tit? Who knows? But when the bike ran out of fuel and went onto reserve I was in the middle of nowhere. I coaxed the bike along at 1/8 throttle, barely ticking over in a high gear and killed the engine on level or downhill sections; it still didn't stop the inevitable.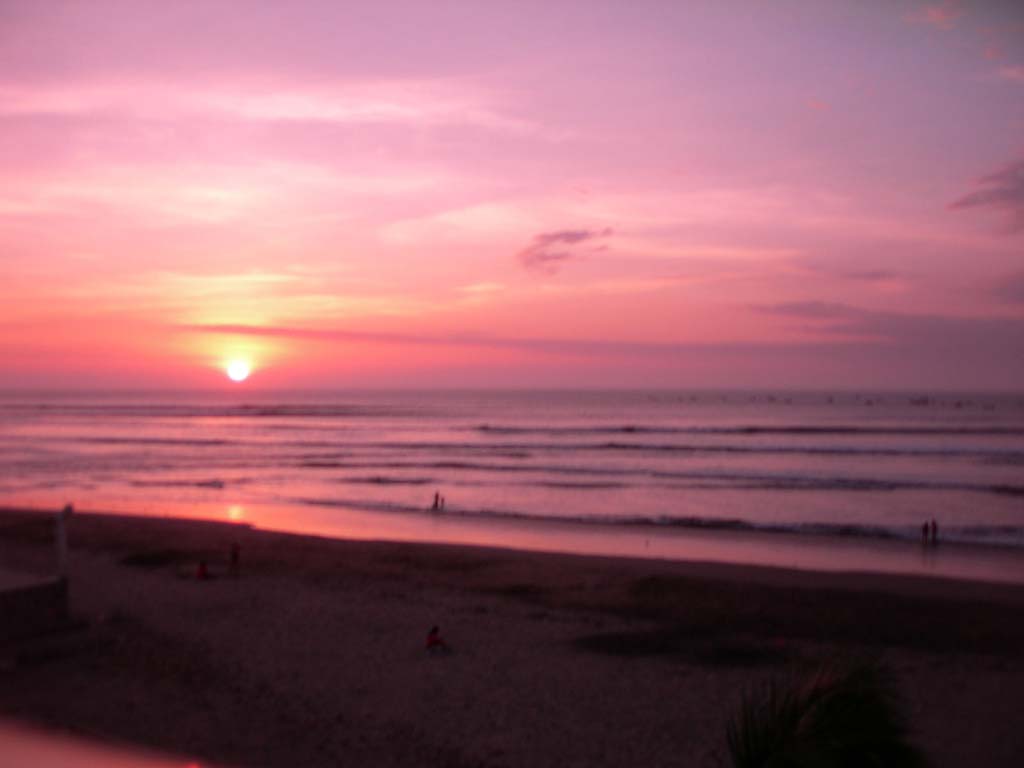 Pushing a fully laden bike at altitude is hard going. You get out of breath in a fraction of the time that it would take at sea level, and it's exhausting – especially if you're not exactly fit. Reaching the top of the mountain was lush. I coasted for a full 10km to the next town. Eerily quiet, and trying to maintain as much speed as possible around the corners, I felt like I was on a really, really heavy bicycle. After fuelling-up I bailed out and found a hotel for the night. Sometimes it's best to take the sensible option.
Back on the road the next day, I gave myself a big pat on the back for doing just that. The route was amazing but treacherous. Sheer drops on the outside of hairpin bends are tricky enough in daylight but attempting them in the dark with a standard-issue KLR lame headlamp would have been suicidal! On top of that, the road stayed at 3,000-plus meters for over 100km, which is bloody cold going even in the sunshine. Despite the daylight, I still got lost. My pronunciation of town names was probably to blame. At least I now know that Cajamarca sounds like Hackahackamarcharka. Tired, cold, hungry and pissed-off I made for the coast. The good thing about Peru is that you have a choice: mountains or coast, cold or warm, fantastic roads or boring pan Americano. Sometimes it's good just to chill out and thaw out for a few days. As soon as I warmed up, though, I was just itching to get back in the mountains.
The sheer size of the mountains in Peru is near impossible to describe. In one day, I rode from sea level to nearly 5,000m. That's like riding up Ben Nevis three-and-a-half times! I couldn't believe how long I was riding uphill for; up, up, up, past sun, through cloud, through rain, into snow. All the while me and the bike were gradually getting slower and more out of breath. It's without a doubt the hardest thing I've done, not only physically but also mentally. Maintaining the high level of concentration required while tired and cold made some of the Enduro races I've done in the UK seem ridiculously easy in comparison.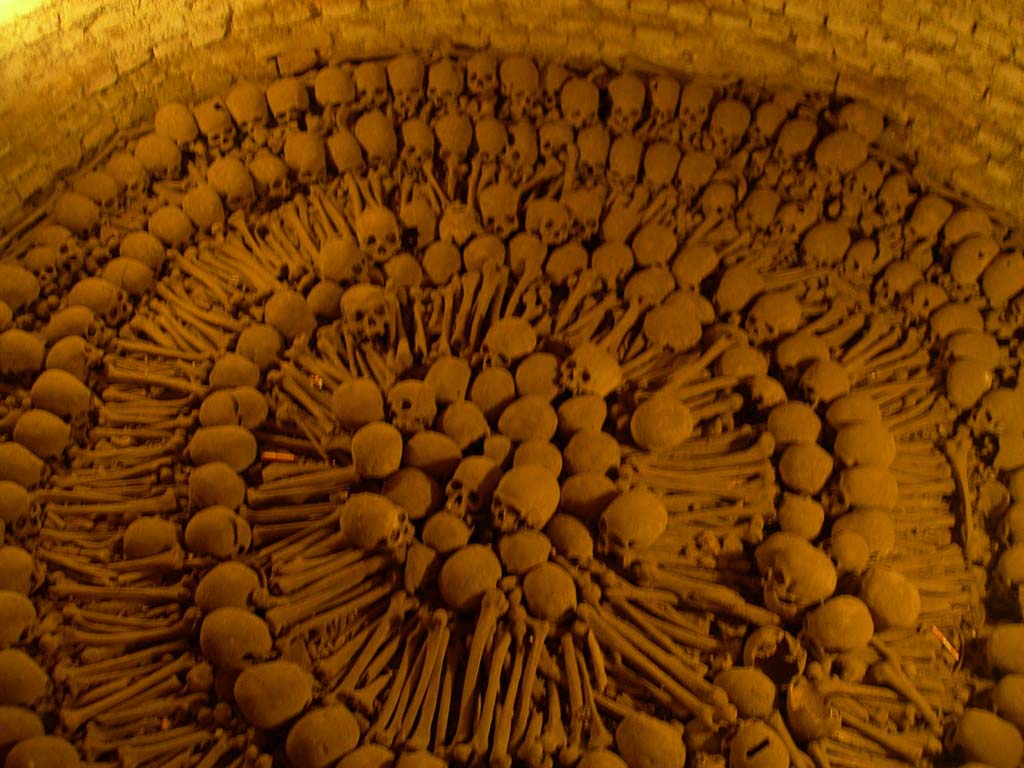 I ended up in Huaraz staying at a lovely hostel called Hotel Shatzi. Huaraz is a really good place for bikers, being close to the Tunnel de Kawish (highest road tunnel) and the Chavin de Huantar ruins. As it happened I'd timed my arrival perfectly for a massive Peruvian carnival. These events are brilliant. Fuelled by beer and loud music, everyone gets involved from children to OAPs. There were men dressed as women, swinging handbags and pinching bums; brass bands and brightly coloured face masks. The sight of little old ladies dancing down the street, chucking talcum powder from one hand and lager from the other will stay with me forever!
I was running out of time though. Although I had no real plan, I did have a flight home to catch – and it was non-transferable! I pushed hard over the next few days covering as much distance as I could – 350km, 400km, 650km a day. The conditions were so rough that I spent most of my time stood up on the pegs. I was pushing my body so hard that I could literally feel myself burning body fat. I'd lost over a stone so far on this trip and couldn't physically get enough calories into me to match the amount I was burning.
The bike was suffering too. It was by now lacking a speedo, a headlamp and a horn. All manner of things kept falling off, and the KLR was using 400ml of oil a day. I was determined to get to Cusco and Macchu Picchu though. I'd heard rumours that the whole area was closed to tourists due to adverse conditions, but I had to check it out for myself. Getting there was interesting. Cusco had suffered badly in the floods and the damage was apparent. Good job I had a bike capable of dirt riding as some of my route was definitely off piste. At one point I was forced to ride through fields and eventually used a small foot bridge to get over a river because the road had simply disappeared.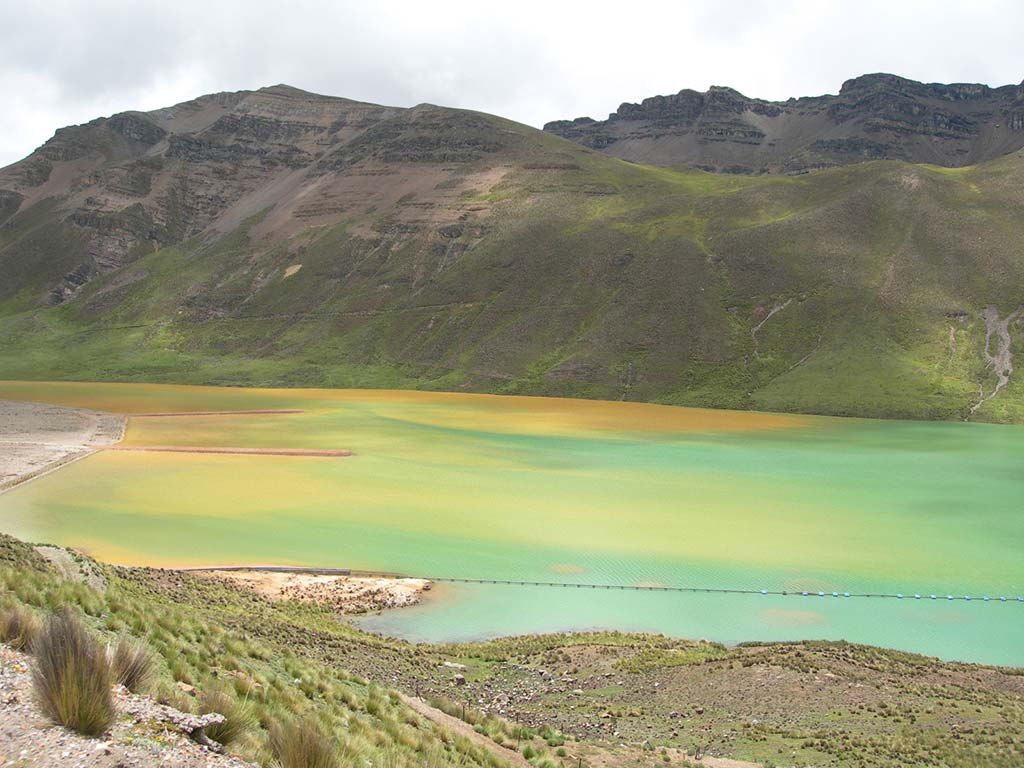 When I triumphantly arrived in Cusco there was no one to be seen; it was a ghost town. Macchu Picchu was closed because the rail track had been swept away. Tourists caught up in the deluge had had to be lifted out by helicopter. With the main tourist attraction closed, people were bypassing Cusco and everywhere was empty; I sat on my lonesome in restaurants and bars. Finding the Norton Rat's Tavern cheered me up though. A proper biker pub– it even had a book where passing bikers could leave a message and a photo. With just me and the barman there, we had a great conversation in drunken Spanglish.
With no reason to stay in the city, I decided to push on and into the unknown – by that I mean that the road I was riding wasn't on my map. I had no idea where I was going but I was sure it would be fun. A short while later I was stranded in the middle of nowhere at an altitude of 4,000m with the rain coming in horizontally, and a puncture.
Before I left England, I didn't 'do' tyre repairs. If I needed a tyre changing I'd take the wheel down to the garage and happily spend £10 to save skinned knuckles. If I was out on the trail, there was always someone there who could do it better and quicker than I could. I was happy to take a more supervisory/keep-out-of-the-way role. Before I left England however, Mike and my mate Jez insisted that I learn, saying only a wuss can't change a tyre and that it's a passage into manhood. They also mentioned that if I was alone in the middle of nowhere I'd have to do it myself, as you can only ride so far with a flat.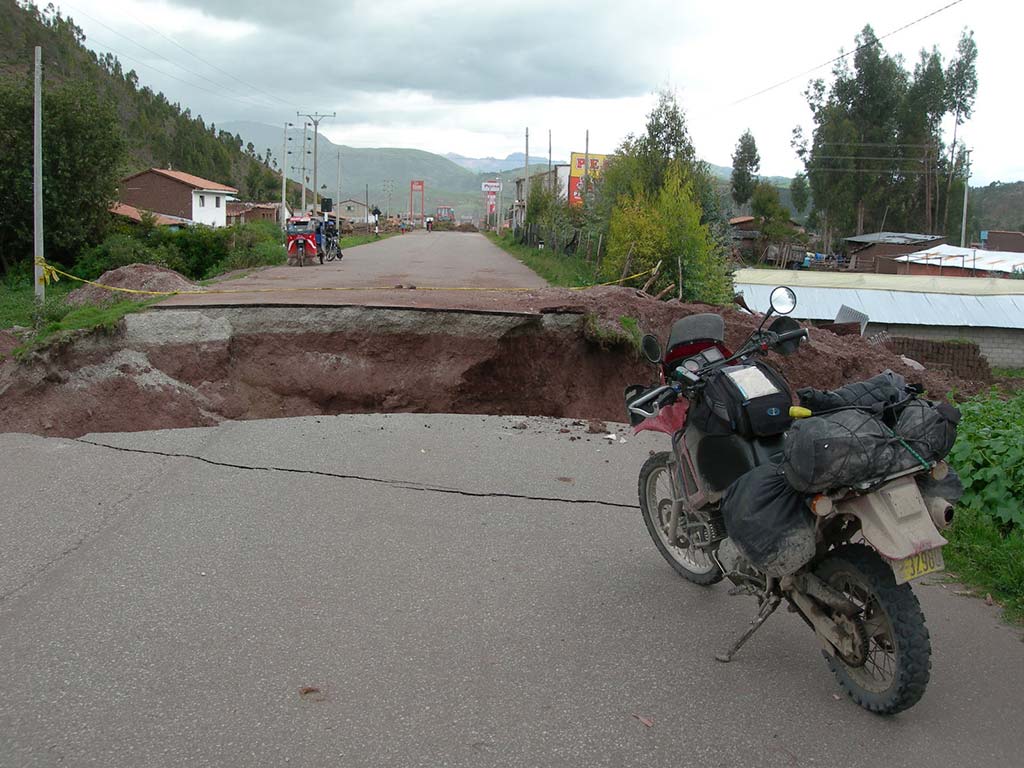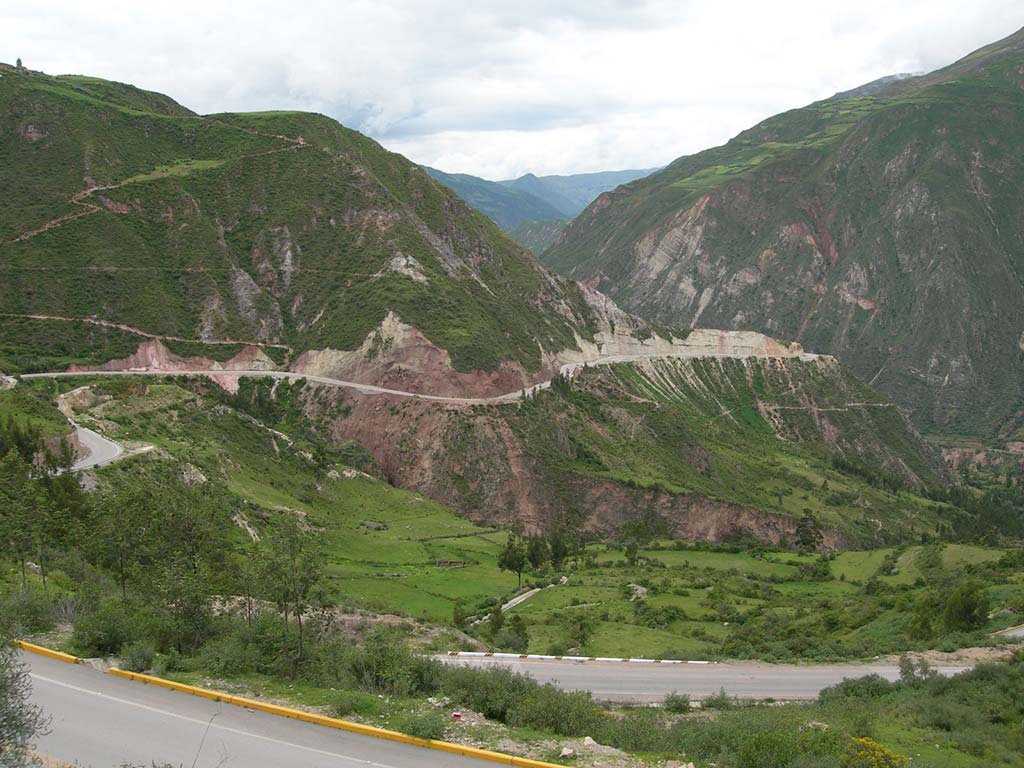 Those skills were about to be put to the test. I was in the middle of nowhere – and nowhere, it would seem, had no trees, rocks, branches, or anything useful that I could lean the bike against to get the back wheel out. I rode for 30km before I found a tree. It then took me… a while… to change the inner tube. But I persevered and eventually succeeded. It's funny how life treats you. At the time, I was freezing cold and wet, struggling away in the mud trying to kick the tyre off its bead and thinking 'why-oh-why do I get all the bad luck?' A few weeks later I realised the puncture was a blessing in disguise. It had taken me so long to fix that I'd essentially lost a day. On arriving in a town which had a suffered a massive earthquake just 24 hours before, it dawned on me that the puncture probably saved my life.
When you're travelling on your own you get lots of time to think about your own mortality; how lucky you are to be alive and making the most of it. While staying in a little mountain town called Huancavelica, I ended up passing the evening with a Peruvian English teacher, a beautiful dark-haired girl with eyes you could get lost in. She insisted that I go out to a nightclub with her (I want to state at this point that nothing happened between us, she had to get an early night as her llamas were being inseminated the next day. Honestly, I've heard some excuses…).
She asked me whether I'd noticed that the women drastically outnumbered the men in the village. She explained that the reason for this was the Maoist group Sendero Luminoso or 'Shining Path'. The group had waged a terrorist campaign against the government from 1980 to the early 90's and was believed to be responsible for the deaths of 40,000 – 60,000 men. These people became known locally as 'the disappeared' because their bodies were never found. The teacher told me how her brother, father and grandfather were among the disappeared. They were taken away into the jungle one day, never to be seen again. Seeing the obvious pain in her eyes was very humbling.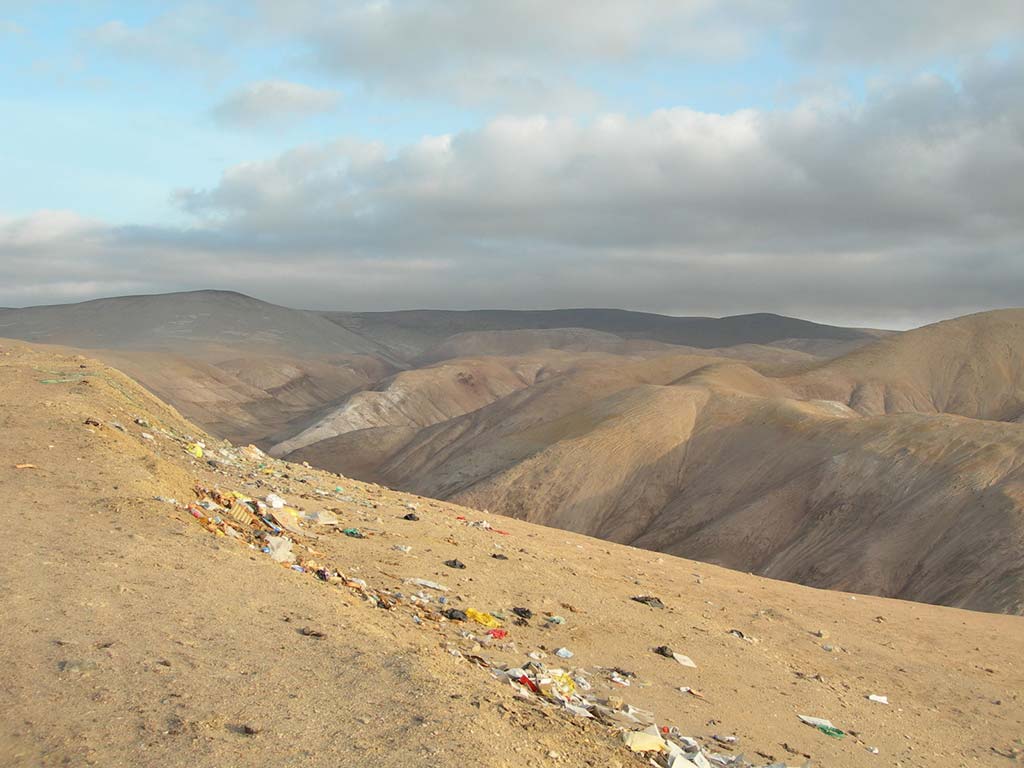 It's not just the scenery that makes travelling addictive and fun, 50 percent of it is the people who you meet on the way. Another encounter I had was with a great chap called Simon Buckley. We passed each other near Bolivia going in opposite directions. We were both riding KLR's, both eating the same chocolate bars, both smoking the same fags, both about the same age – the similarities were shocking. The only difference was that he was right at the end of a round the world trip and I was on a little biking holiday.
A week or so after we met, I went onto Simon's blog to see how he was getting on; I almost cried. While travelling down the pan Americano something had gone badly wrong with his bike, resulting in a fatal crash. He was found by a passing car, lying next to his bike in the middle of the road, dead. What made it even more upsetting was that the last photo he'd uploaded to his blog was of me when we met. Life is a precarious thing.
With this thought fresh in my mind, I decided that after 10,000km and with my bike the way it was (bald tyres, rattling steering head bearings and a strangely mushy feel to the handling) riding like a maniac around cliff top roads was tempting fate a little too much. From then on I resolved to take it easy and just concentrated on getting the bike and myself home in one piece.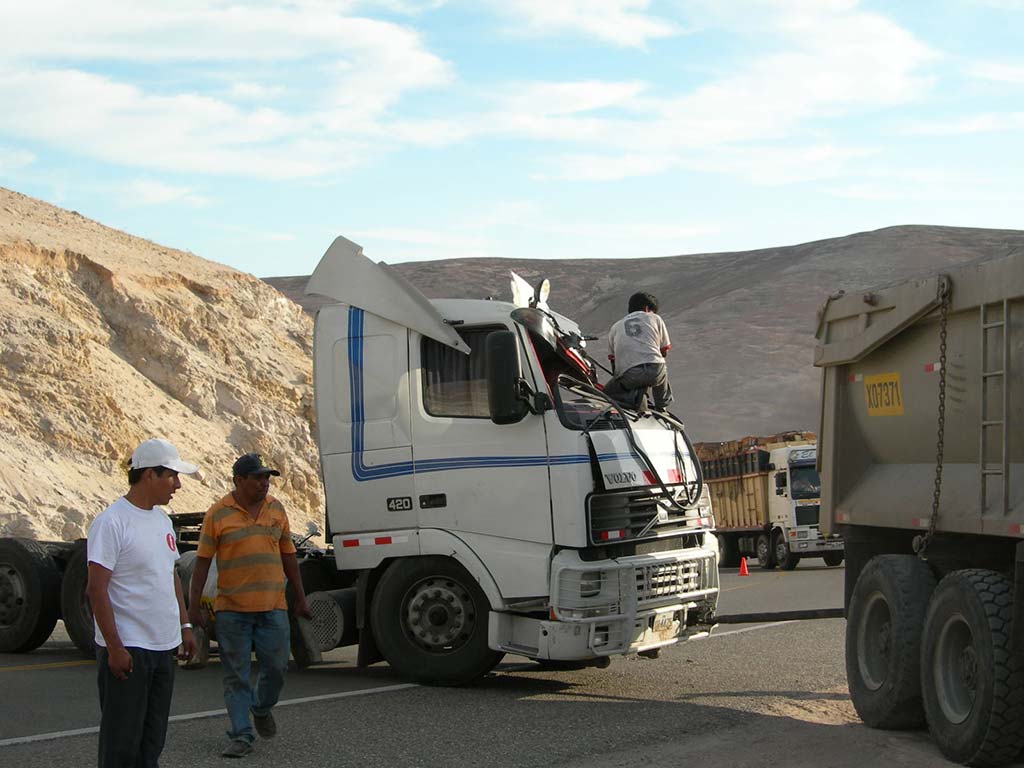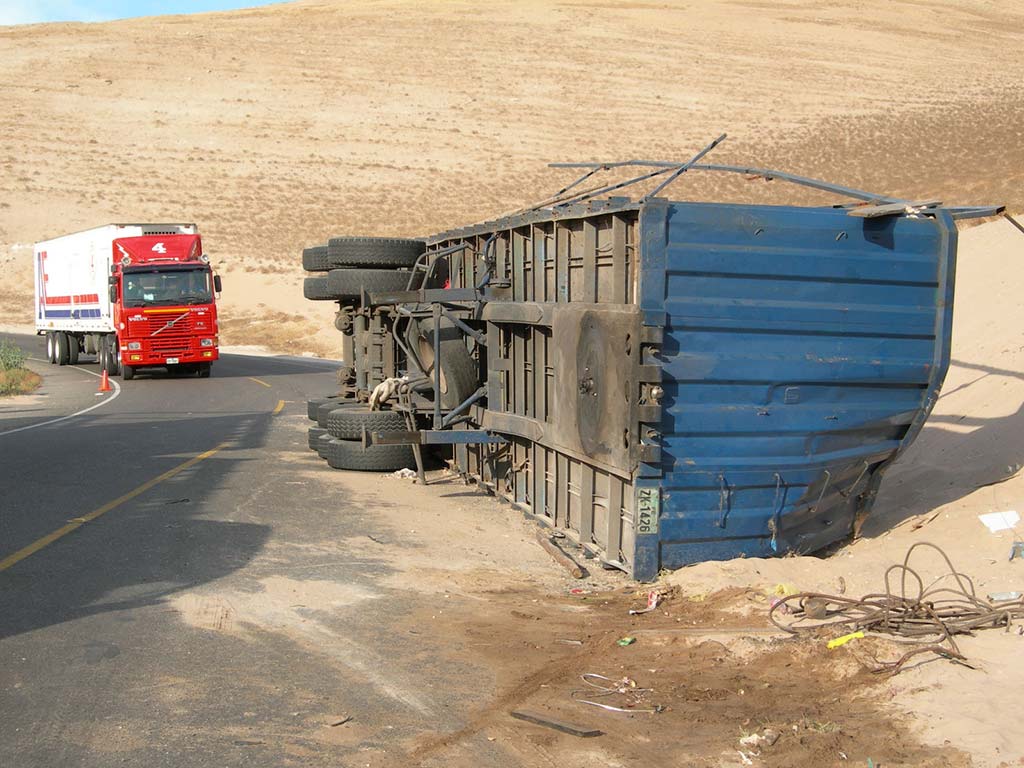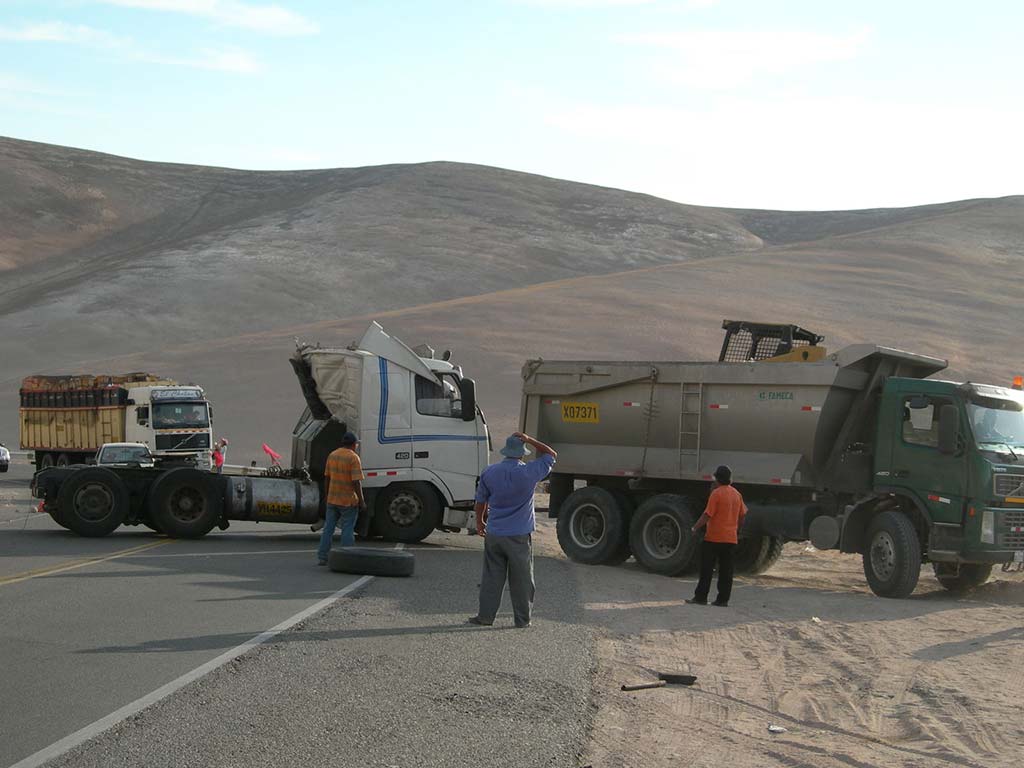 Fate had one last cruel twist though. Passing the border crossing out of Peru, I heard a loud bang and the bike began steering at both ends; a quick check over revealed nothing out of the ordinary. I continued for a while longer but the bike became so uncontrollable I decided to pull over and give it a thorough inspection. What I found scared me shitless. I had snapped the bike's steel frame completely in half. The upright / down tube was in two pieces and the huge round cross-member had broken too. All that was holding the bike together was a pair of crash bars held in place by two bolts. With three days till my flight home, 100's of km to travel and one very broken bike, this adventure went right down to the wire!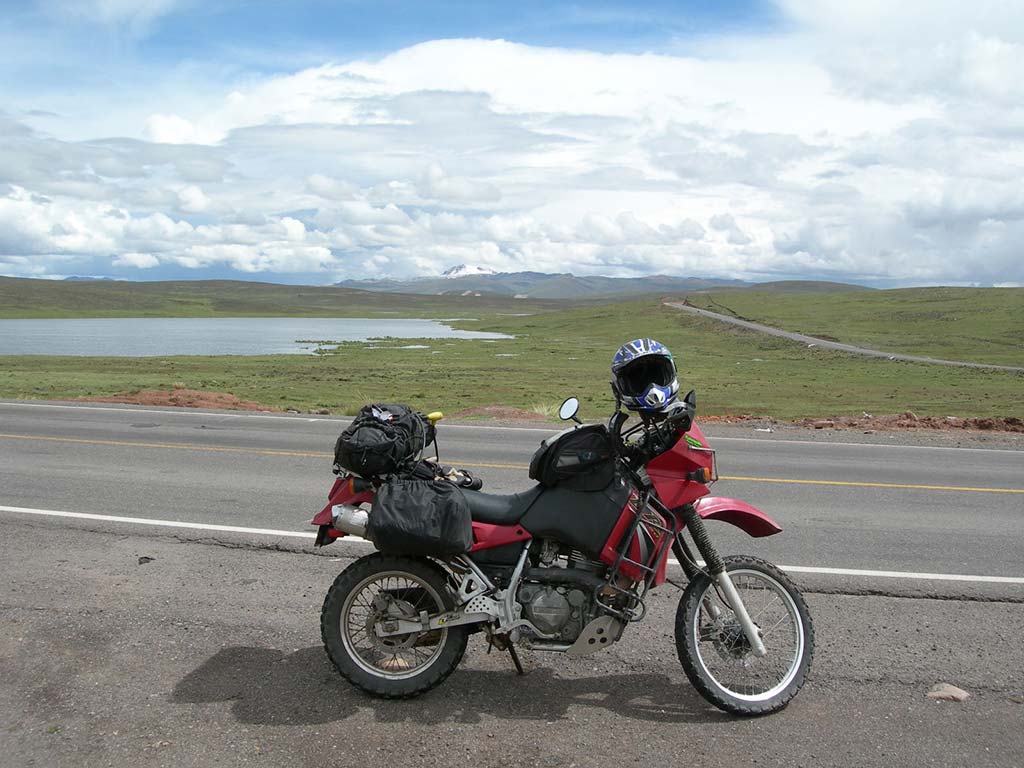 Wet, wet, wet!
Rainy season in Peru stretches from November-March in the Andes and until May in the more Jungley areas of the Amazon. Rainfall can last hours and is generally heavier in the afternoons. The rainy months represent around 80% of Peru's average annual rainfall, which can be anything from 1,600 to 2,300mm. The average humidity during rainy months is 91 percent, as opposed to 77 during the dry months. Peru's capitol, Lima, is on the coast and is famed for being virtually dry all year round.
Colca Condors
The Colca Canyon is one of the deepest in the world. At 10,725 feet, it's twice the depth of the Grand Canyon and 125 miles long. One of the canyon's main attractions is the wildlife, in particular its Andean condors which can be seen circling the canyon ridge on the early morning thermals. These magnificent birds have the largest wingspan of any land bird, measuring 3.2m across from tip-to-tip; they can weigh up to 10.4kg. The condor is a national symbol in South America and is central to Andean mythology. It was believed condors ruled the upper world and represented health and power. The Colca Canyon can be reached by motorcycle from Arequipa and there's several tour companies offering organised ride outs and bike hire in this area.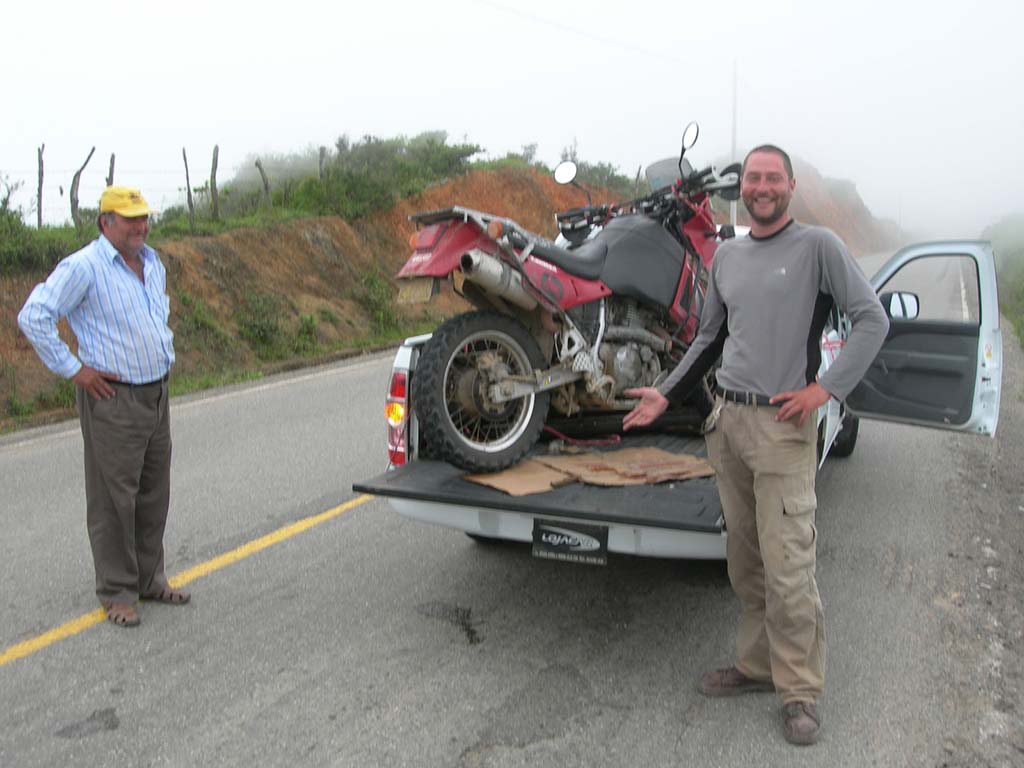 Top 5 tips for adventuring in Peru
Conditions range from hot, straight desert roads through twisty humid cloud-forest to wet dirt track high up in the mountains. You have to plan for every kind of weather. Take waterproofs and waterproof socks. You'll need them!
Learn Spanish
Don't touch electric showers, they're dodgy at best. Also all the usual common sense rules apply: don't touch drugs, the policeman is always right, bribes are the norm
Wet season doesn't mean just getting wet, often the roads will close due to landslides and flooding. Be prepared to alter your route and don't overestimate your daily range when planning routes over mountains
The higher into the mountains you venture, the friendlier the people you'll meet there
Must-ride Peru
Kuelap. Large ruins, gorgeous views and a fun road to get there.
Any road running from coast to mountain. Pacamayo to Cajamarca starts straight, gets bendy then twisty then hairpins then dirt. Bloody ace.
Tunnel de Kawish, the highest road tunnel in the world at approximately 4,650m
Norton Rat's Tavern (www.nortonrats.com) in Cusco. The smell of stale beer and fags made me feel at home.
The Andes – all of it! The further you go the better it gets

Nazca lines
The Nazca lines are ancient geoglyphs (ground drawings) located in Peru's Nazca dessert, a high arid plateau which stretches more than 80km between the towns of Nazca and Palpa on the Pampas de Jumana. The stylised outline drawings depict various human and animal forms including birds, fish and monkeys. The lines are believed to date back to around 400-650 AD and were made by removing the reddish dessert topsoil, to reveal the white rock beneath. The Nazca lines were declared a UNESCO in 1994. There are hundreds of Nazca figures on the plateau, the largest are over 200m across and the unusual dry, windless conditions have helped preserve them so most are still clearly visible from the air. Like crop circles, the Nazca lines pose a bit of a mystery as to their purpose and origin. One school of thought is that they're a kind of offering from the ancient Nazca people to their gods. Another more out-there theory is that they're landing markers for alien spacecraft! Neither explains exactly how this lost civilisation created such huge near-perfect geometric designs without the aid of airborne transport however. Flights over the dessert to see the Nazca lines are available, see www.visitperu.com for details.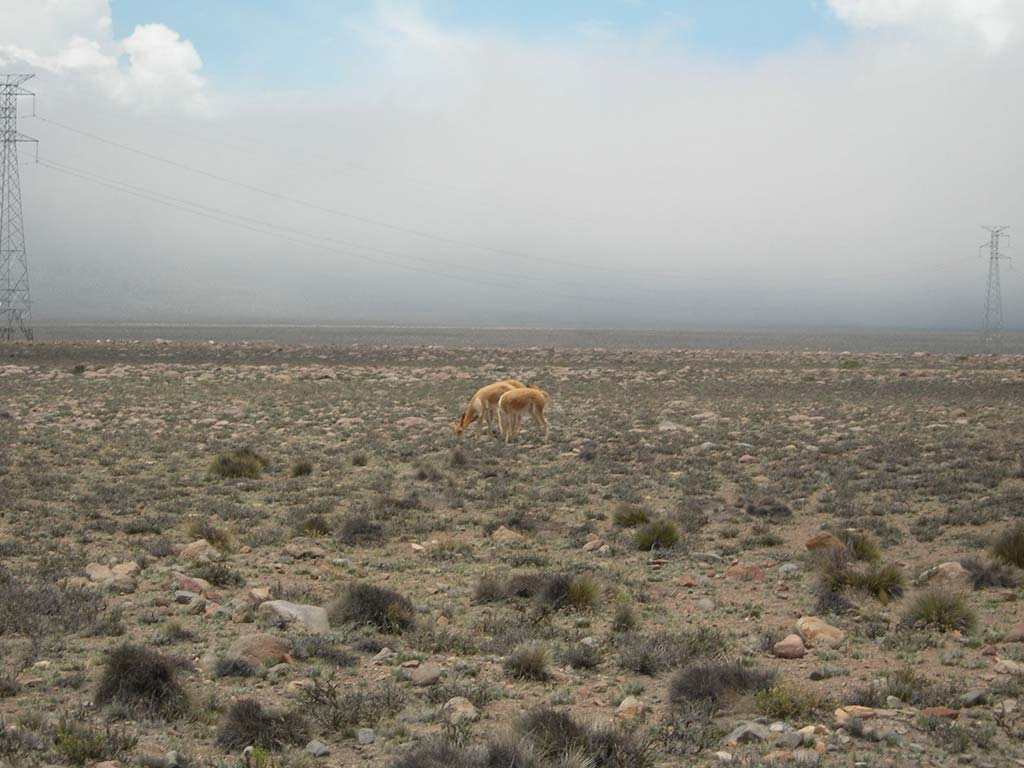 Kit list
All-in-one waterproofs
Waterproof socks
Two pairs of gloves, one winter, one summer
A sturdy pair of boots (NB: DM's won't cut it)
Bladder pack (my one was insulated so it was warm in the cold and cold when it was hot. It sat in my pannier and I drained it every day; an invaluable piece of kit)
GPS. Mine was rubbish but at least I could track back if I got lost and looking at the roads after on Google Earth was interesting; bring a 12v wiring kit for it.
Contact lenses. Glasses are no good in the rain
A good map
Sun block. It's cold but it's deceptively sunny
The bike
The Kawasaki KLR650 is a tried-and-tested workhorse. There's nothing exciting about it but it's simple enough to fix on the side of the road, big enough to be comfy and small enough to lift on your own. It's fun and quick on tarmac and sturdy enough for serious off-roading. A good compromise.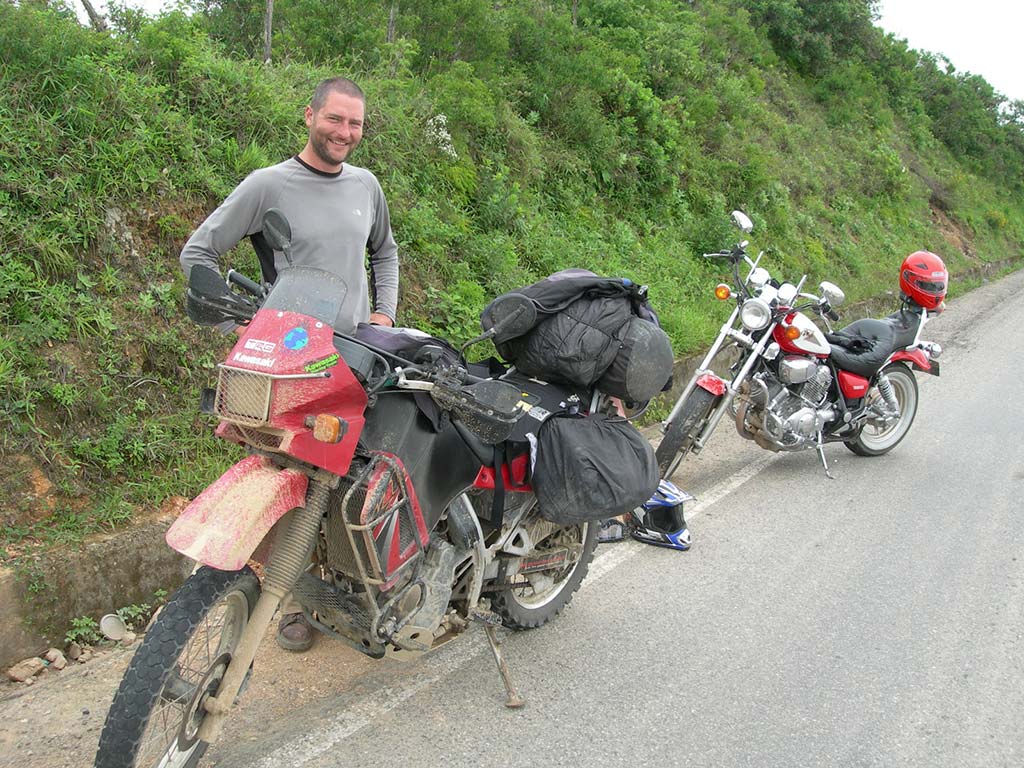 Who's writing
Aidy Leahy is a 33-year-old paramedic from sleepy Oxfordshire. He likes collecting Suzuki GSXRs but also owns a French stolen-recovered Yamaha XT600 (long story), an Alpher 250 Enduro bike and a 60-year-old BSA B31. He competes in trail bike rallies and Enduros when not suffering with too many broken bones, and has completed six or seven independent high-mileage adventure motorcycle tours all over the world. His passions include travelling, beer and guns. He dislikes time-wasting hypochondriacs who call 999 instead of using common sense. His ambition is to find a job where he can ride bikes around the world as a support medic.
Photos: Aidy Leahy