BOXING CLEVER
Aluminium Panniers are synonymous with adventure bikes and at the top of most riders' wish lists. Spencer Grey and Alun Davies check out 10 of the best
Choosing which panniers to buy is not a modern dilemma as I found out recently when I dived into the archives and came across a feature from The Motor Cycle magazine, dated 3 August 1950. In a feature entitled Our Luggage Problems the author, B. H. Davies (no relation), points out the critical nature of the problem back then: 'If the machine has a rigid frame, clothing and other gear packed in a flexible container will almost certainly fray. Flexing of a canvas bag under its straps will rub feminine underwear to rags, burst celluloid containers of shaving soap and wear holes in stout tweed.'
Fortunately for his readers, Davies also offered up a solution by advising that 'the panniers should be at least partly enclosed by light sheet metal casings'. And so, metal panniers were thrust into the mainstream and cross-dressing overlanders could return to the trails with confidence. Praise the lord. Anyways, that's the history lesson over and done with, so we'll move swiftly onto the modern dilemma; which metal panniers should you buy? One of the difficulties, certainly for first time buyers, is finding out who makes metal panniers. Unlike most other products, such as boots, or helmets, or jackets, there are few (if any) shops which stock multiple ranges of branded panniers. Most are sold directly by the manufacturers, and with many of those being small outfits, they can be difficult to find.
At the recent NEC Motorcycle Show, there were at best four companies displaying aluminium panniers and yet our research has dug up just short of 20, and no doubt we'll come across more as we delve further into the far corners of the internet.
With panniers being such an important item for touring, our aim is to bring you a comprehensive list of who's doing what and for how much. As we're restricted by space in the magazine we'll be letting you know what our initial impressions are, and over the following months, we'll be posting up more substantial and detailed reviews on the ABR website – www.adventurebikerider.com
Our criteria for assessing the panniers is based on the following: water-and dustproofing; robustness, strength and build quality; ease of fitting and detaching; value for money; weight and size; pillion friendly; looks and style; security; additional features such as carry handles and attachment points etc.
We're not (hopefully) going to crash test them as, to a great extent, every accident is different in its trajectory and outcome, and while a pannier may survive a 30m slide down smooth tarmac it could end up a sorry, unusable pile of alloy after falling heavily on sharp rocks or a curb. Plus, we'd all like to keep our bikes a little longer.
And I'll wrap up this intro with another quote from the very excitable B.H.Davies who when reviewing the latest AMC panniers back in 1950 pointed out they were: 'Handsome to a degree. A bride could take the cases into the Ritz without a blush and could entrust her flimsiest undies to them'. If you ever needed a reason to buy, eh?
What about the rest…?
The following companies were invited to participate in this review, but were unwilling or unable to submit products for testing in time for the magazine going to print.
Daerr
Bernd Tesch
SW Motech
Caja Sahel
BMW
Allit
ARD Cases and Panniers
This pannier test is ongoing, however, and we hope to bring you more alu pannier news and reviews in future issues and online at www.adventurebikerider.com
BRAND: TOURATECH
Model: Zega pro
Size: 38L, 45L
Price: single panniers from £369; frame and two pannier set from £825
ABR RATING 8 OUT OF 10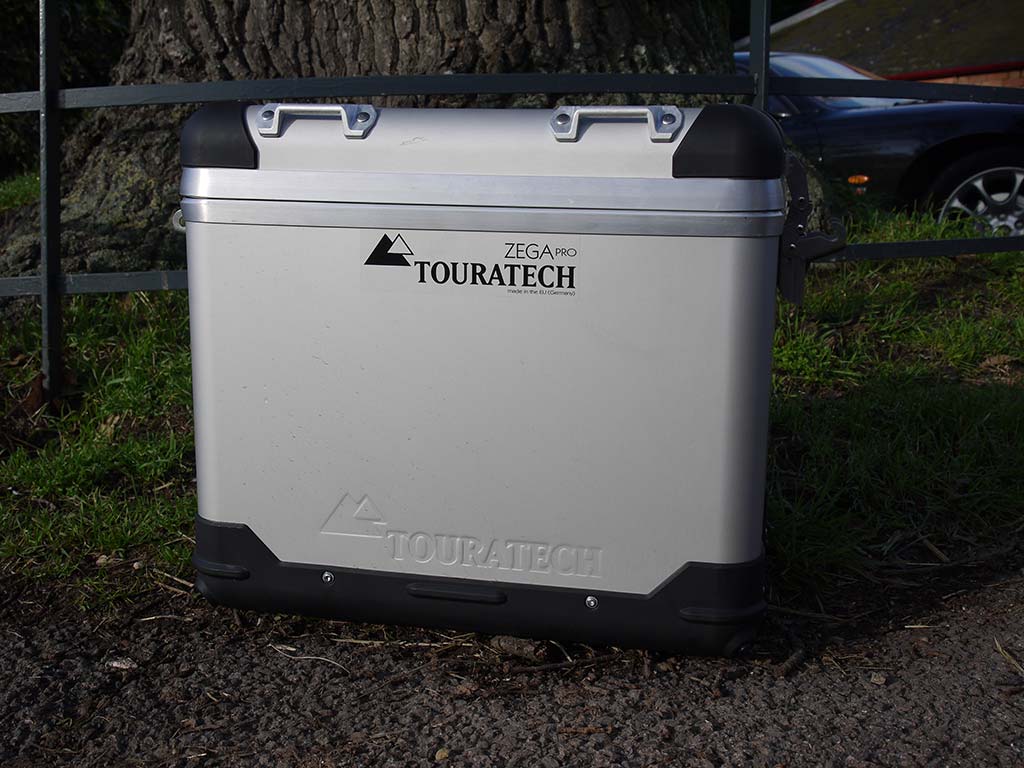 German company Touratech has played a leading role in the popularity of adventure motorcycles by offering a huge range of quality aftermarket products for riders wanting to battle-proof their machines, including the Zega range of aluminium panniers.
Fitting the Touratech frames to the bike was stress- free despite the basic, poorly translated instruction sheet. If you're paying £825 for a full pannier/rack set it's not unreasonable to expect better fitting details.
The Zega Pro are a big upgrade to the popular Zega, available with an anodised or polished finish and protected with replaceable plastic bumpers on hardwearing areas. They are, in our opinion, very well made and the best-lookers on the pannier catwalk – think professional, upmarket metal camera cases.
Security and stability on the bike are very good though access to the panniers and ease of mounting/dismounting is not the most user-friendly arrangement for day-to-day use. In standard form you'll need to buy four padlocks to secure the lids to the body or the optional integral locks – why these don't come as standard, lord knows. You'll also need to unload some of your gear before you can access the mechanism to detach the panniers from the bike.
The lids are detachable, which we like for versatility, plus the four offset attachment loops are spot on for stashing additional gear on top of the panniers. They're also hinged, aided by a (detachable) lanyard, which adds to security, as does an additional security clasp on the lid-locking mechanism. In short, it's all a bit fiddly but effective.
The weight of the panniers is acceptable and the dimensions place the Pros in the shorter, squatter end of the scale. Price-wise we're looking near the top end but the quality and professional look and feel of these panniers are up there too. The availability of aftermarket addons and spare parts means these panniers are hugely versatile, a long-term investment and a farkler's dream.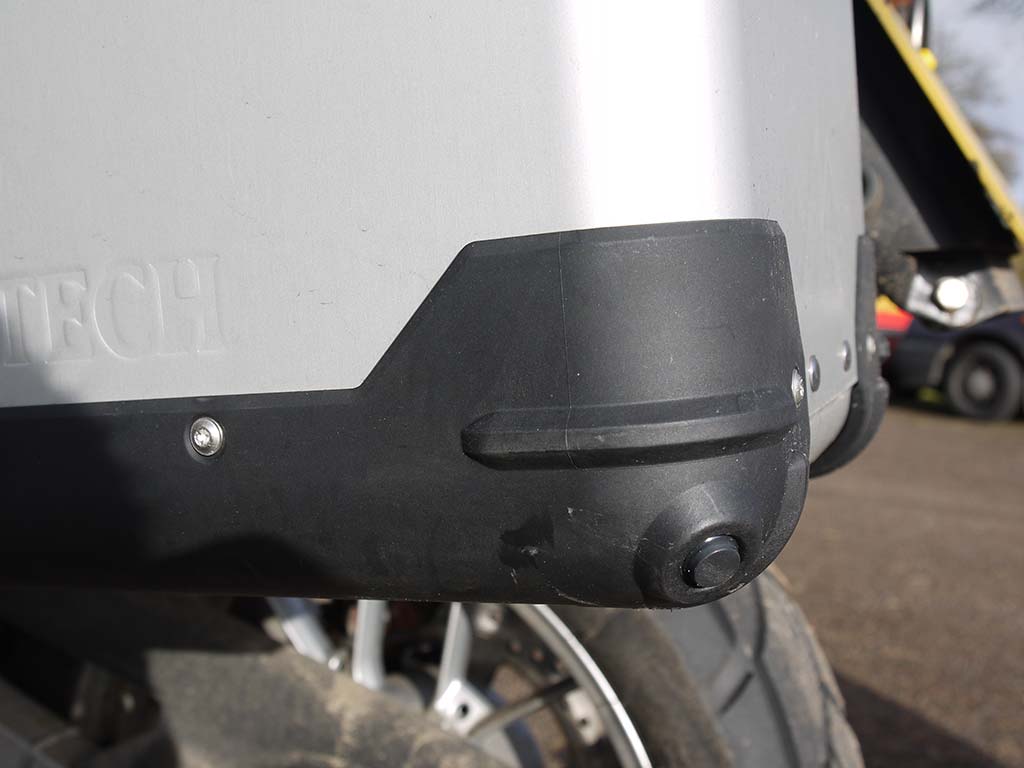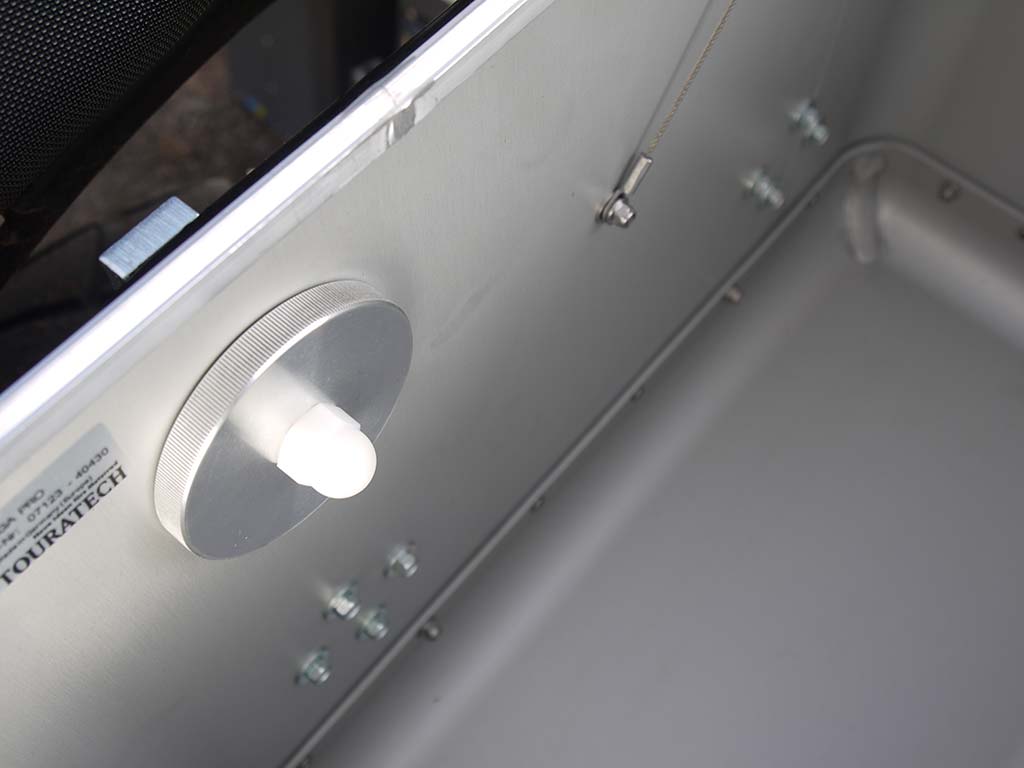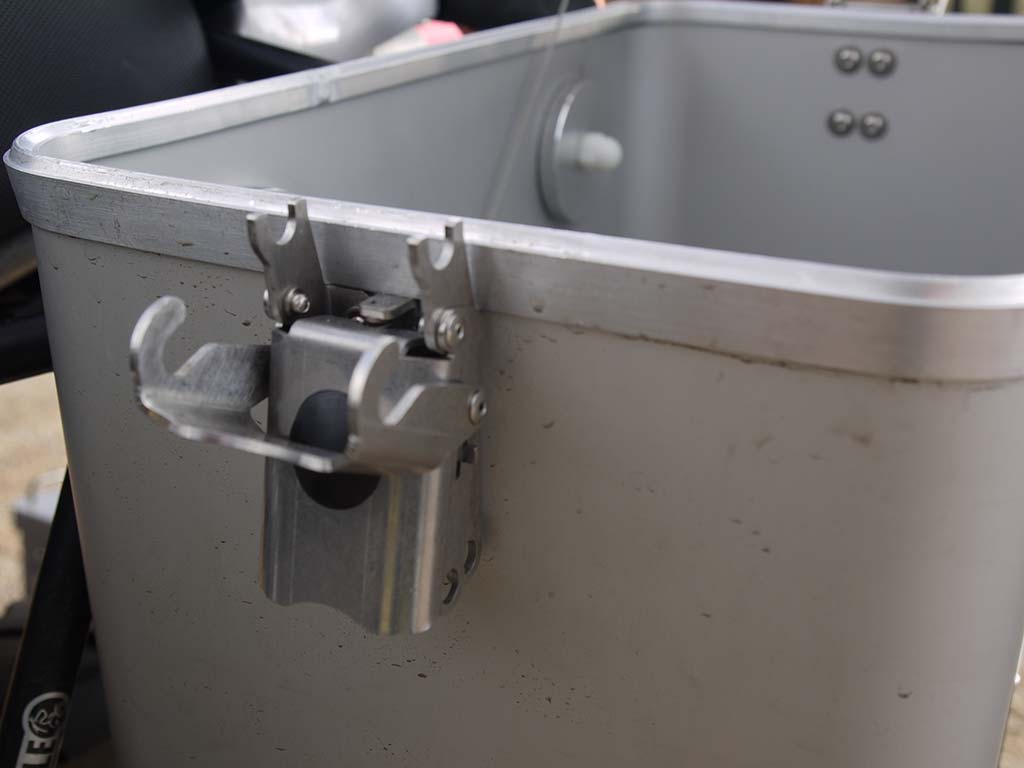 In a line: Look great and perform just as well
CONTACT: 01639 841765
Buy these if: you want a long-term relationship
Website rating: 3 out of 5
Navigating the menu is a bit fiddly (make sure you have your reading glasses to hand), but once you've selected the correct subsection there are nice clear pictures of all the luggage products and thorough spec and price listings. Worth having a virtual snoop around, even if you're not in the market for panniers.
BRAND: METAL MULE
Model: UTE pannier
Size: 31L, 38L, 45LL
Price: single panniers from £352; frame and two-pannier set from £1,199
ABR RATING 9 OUT OF 10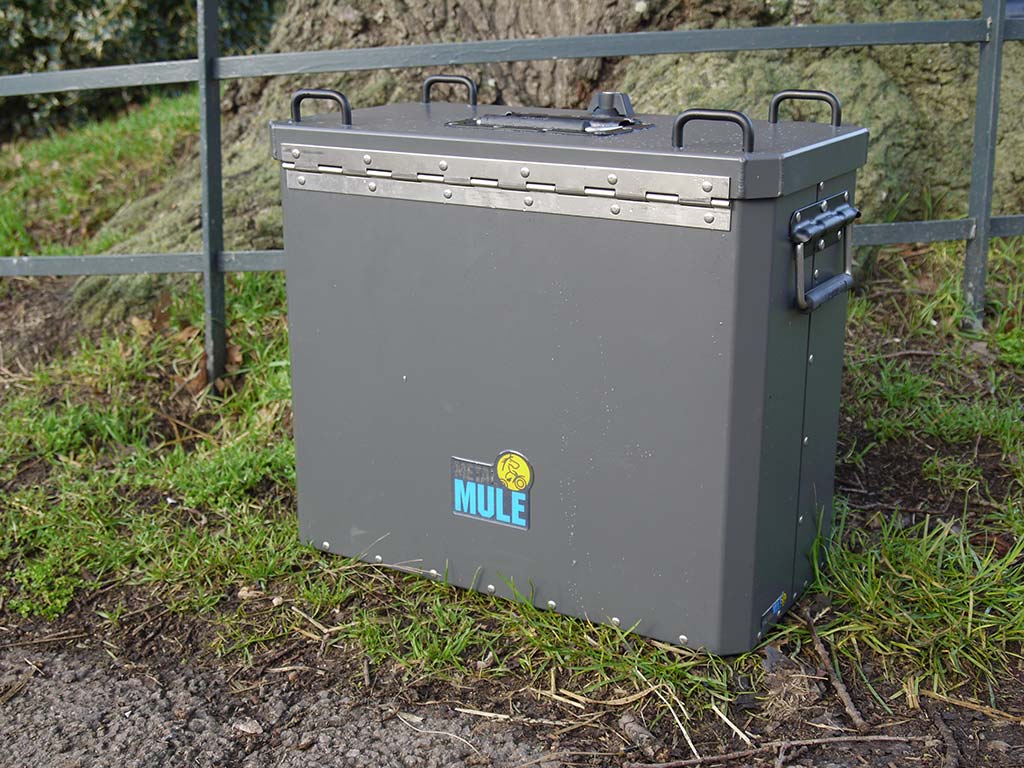 The price of these British-made panniers would wobble the knees of a free-spending Saudi oil tycoon; there's no getting away from it, Metal Mule panniers are expensive. But then if Harrods commissioned a set of upmarket ammo boxes, this is probably what they would look like.
The attention to detail, engineering, components and workmanship are as near to faultless as you're going to get when it comes to finding a couple of metal boxes to attach to your motorcycle. The best way to look at these panniers is as an investment, something that's going to enhance your motorcycle and the touring experience, and last a lifetime.
Fitting the Metal Mule frame to the bike was exact and simple and attaching the panniers to the frame is without doubt the most user-friendly experience bar none. I kid you not when I say you can attach and detach these panniers to the bike with one hand in less time than it takes to do so with any other on test using both hands. The company calls the system the Q-fit System, we call it the best out there. The built-in lid lock continues the no fuss theme making the Metal Mule panniers the easiest storage boxes to live with on a day-to-day basis.
Short of the casual thief who packs an angle grinder, blow torch, and sledgehammer, whatever you put in these panniers is going to still be there when you return to the bike. And it'll be dry. The panniers are taller and narrower than most on test, making for a slimmer profile, but non intrusive if you're packing a pillion.
The twin side grab-handles make carrying the pannier from the bike a breeze and although the top handle is a nice touch, we question the need for it. You also get four tie-down loops for lashing additional gear on top of the lid and four rubber feet, presumably so you don't mess up the Persian rug in the garage!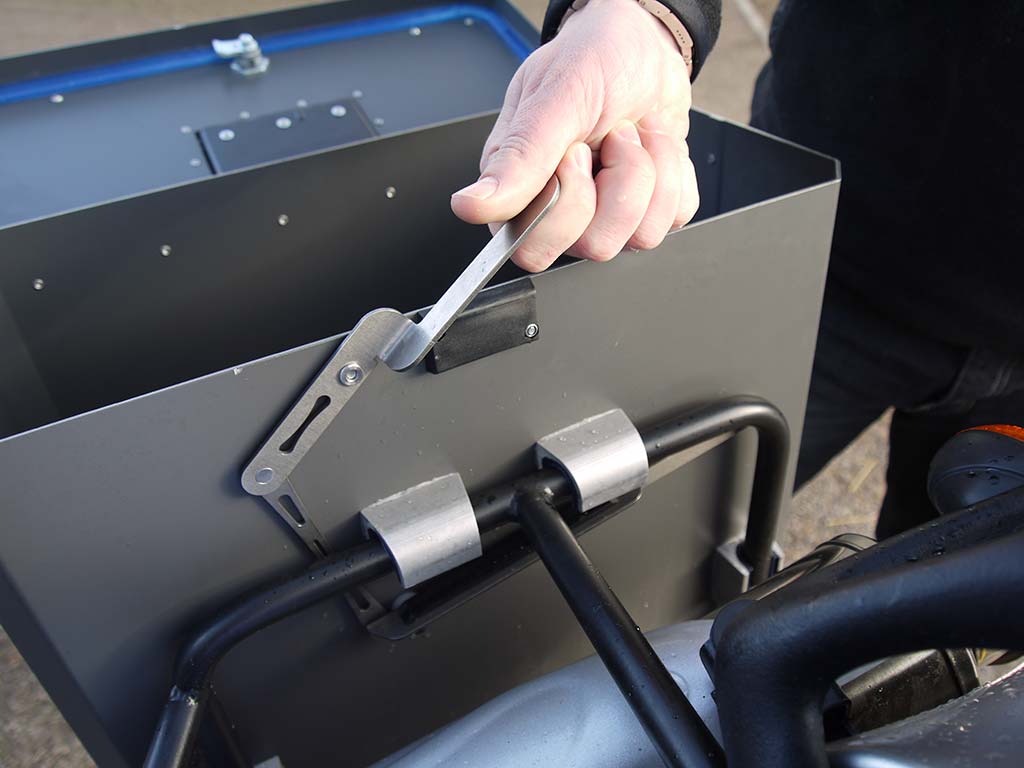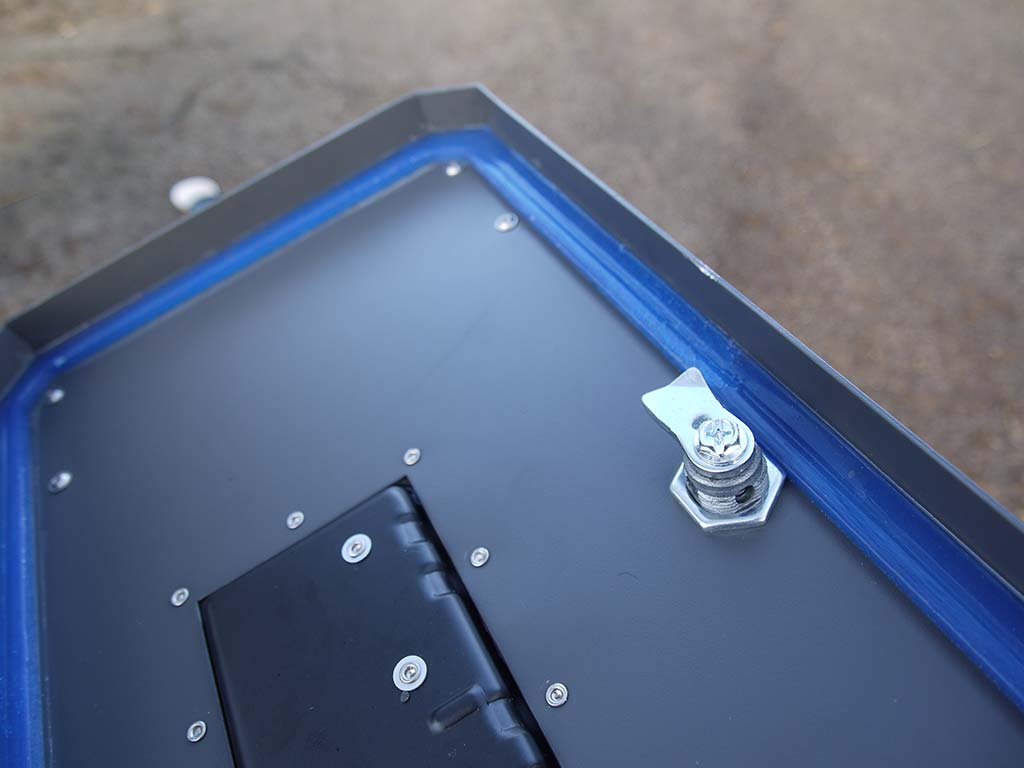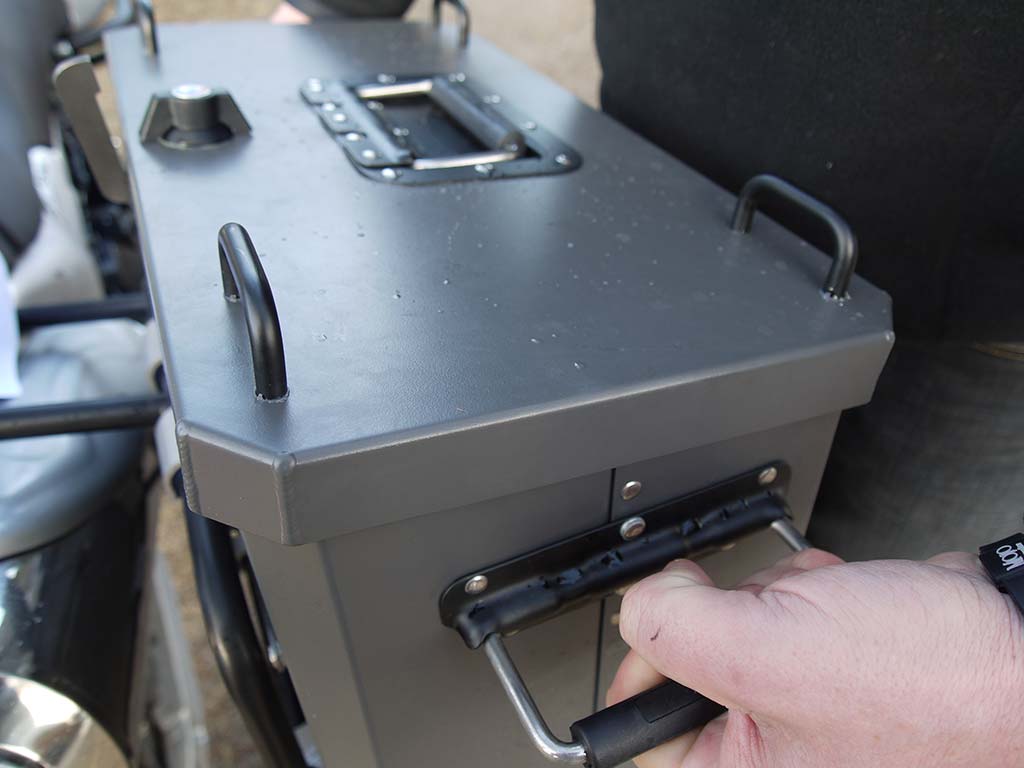 In a line: A work of pannier art
CONTACT: 01273 842094
Buy these if: panniers are your priority 
Website rating: 4 out of 5
If you like internet shopping you'll have a field day on this website building your own custom pannier set. Pricing and navigation is relatively clear and the site covers a wide range of bikes and set-ups.
BRAND: HEPCO & BECKER
Model: explorer range
Size: 38L, 45L
Price: single panniers from £230; frame and two-pannier set from £658
ABR RATING 7 OUT OF 10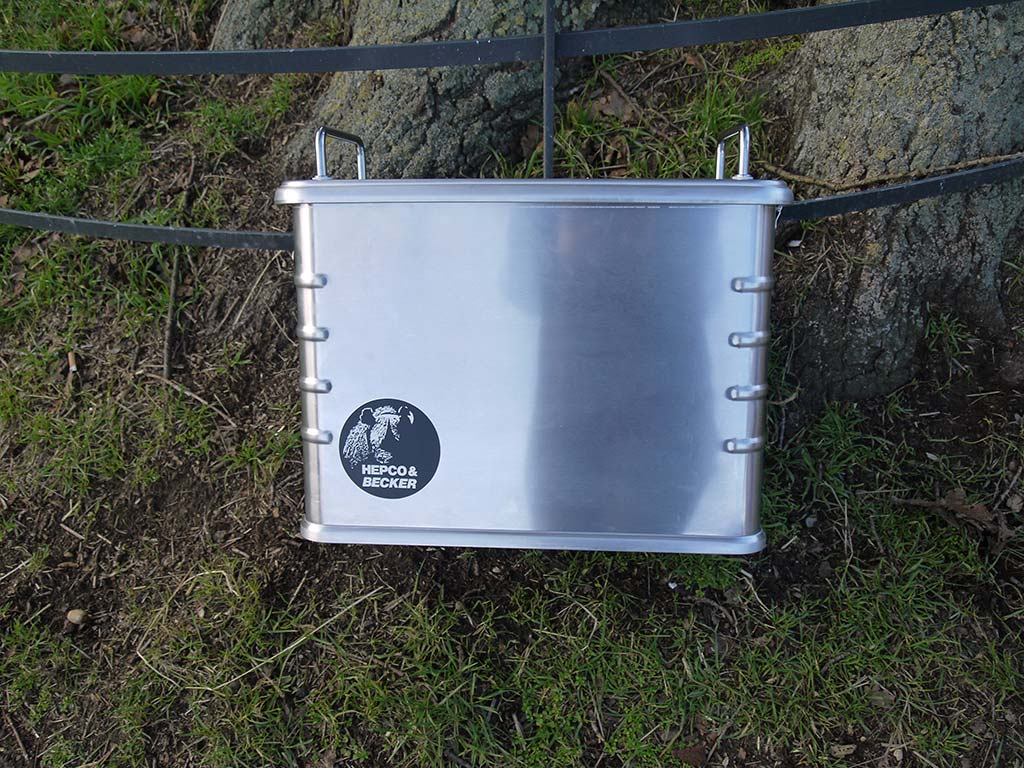 Let's start by talking about value for money. These are not the toughest or best-specified panniers on test but they are fantastic value if you're looking for a quality product with superior finish that'll enhance the look of your bike. Added to that, they are practical and easy to live with, plus we're sure that 90 percent of riders will find them robust enough to cope with their needs. In short, the Hepco & Becker are serious contenders.
The frames are of a smaller diameter and potentially less robust than the more expensive brands, but they fit on the bike with ease and were as stable as any on test. The mounting mechanism, which attaches the panniers to the frame, is secure and it's a no-fuss operation to attach/detach the boxes via a single lock – accessible without having to open the lid. It's this kind of slick functioning which will have you standing in the bar (just behind the guy with the Metal Mules) with panniers at your feet and a drink in your hand while your mates are still wrestling their panniers off the bike.
The lid comes with two big grab-handles, which help if you need to carry the pannier any distance, plus they make secure anchor points for stashing overflow gear. The lid is secured by a single integral lock with a fixed hinge at the end. This means the lid is not fully detachable but opens wide enough for full unrestricted access.
In use we've found the H&B to be fully water-and dust-proof, thanks to a well-thought-out design and an effective foam gasket, which sits neatly out of the way of harm under the outer lid lip. In short, we're impressed; if you can live with the oversized biscuit-tin looks we reckon you'll be well pleased with the performance.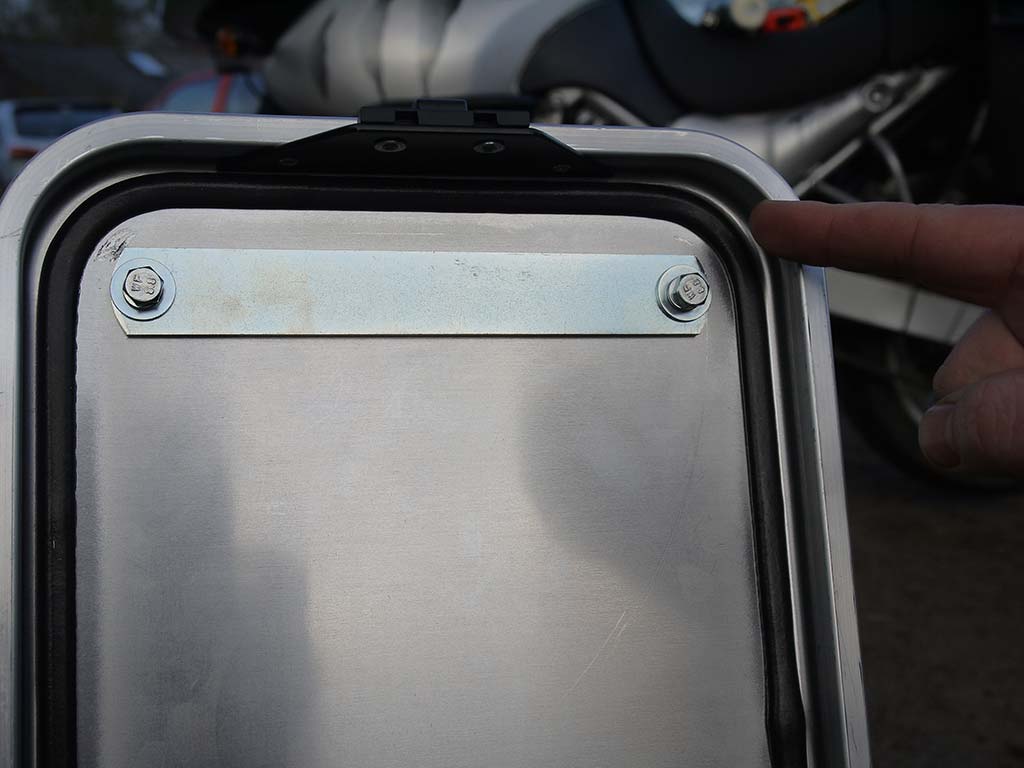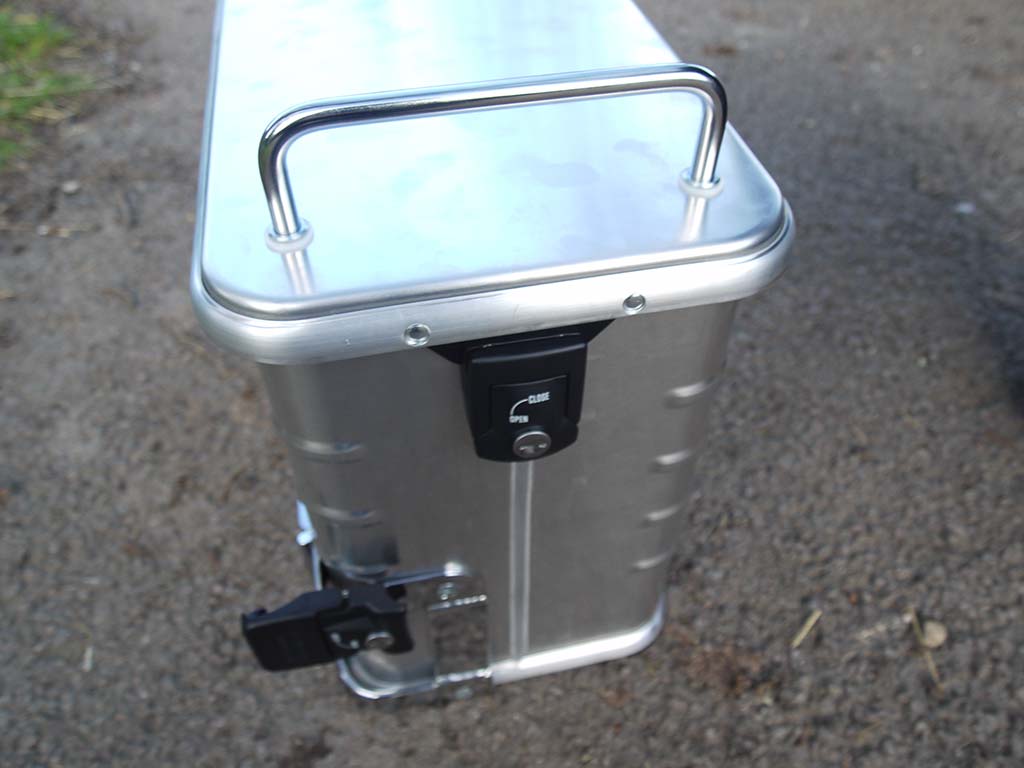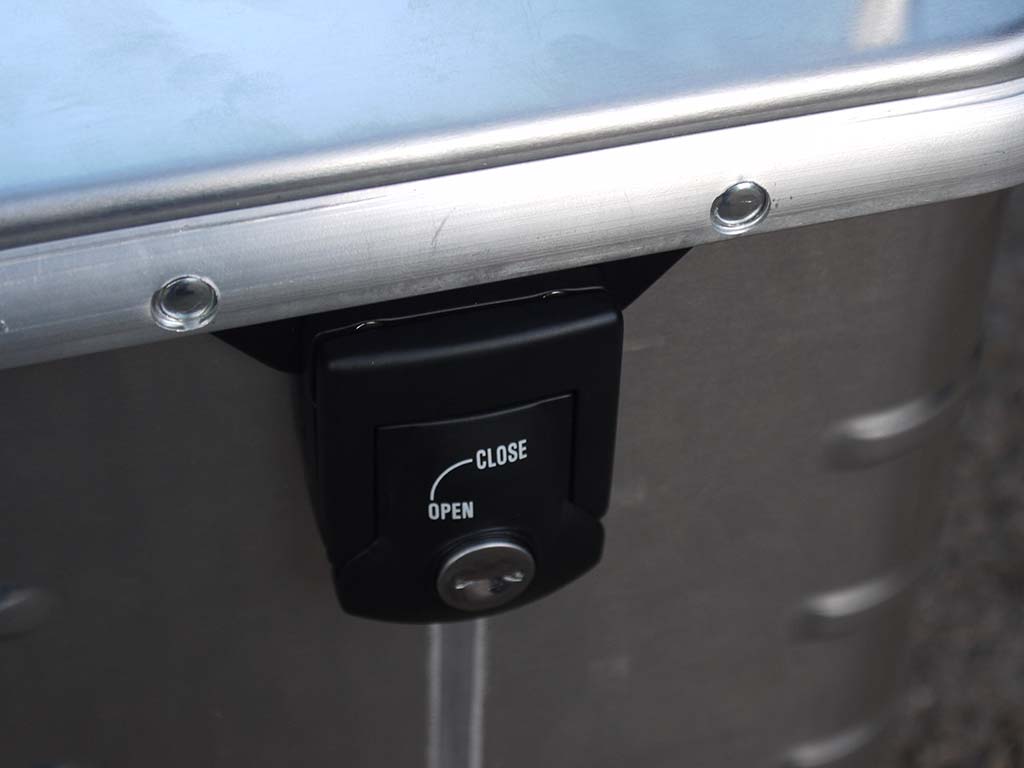 In a line: Great value, professionally made and Finished
CONTACT: 01775 680881
Buy these if: you want hassle-free good value
Website rating: 3 out of 5
The site requires a little time and patience as it's not the easiest to navigate, however it's a goldmine for bargains so your diligence will be well rewarded.
BRAND: KRAUSER
Model: Basic
Size: 35L, 38L, 45L
Price: single panniers from £262; frame and two-pannier set from £814
ABR RATING 6 OUT OF 10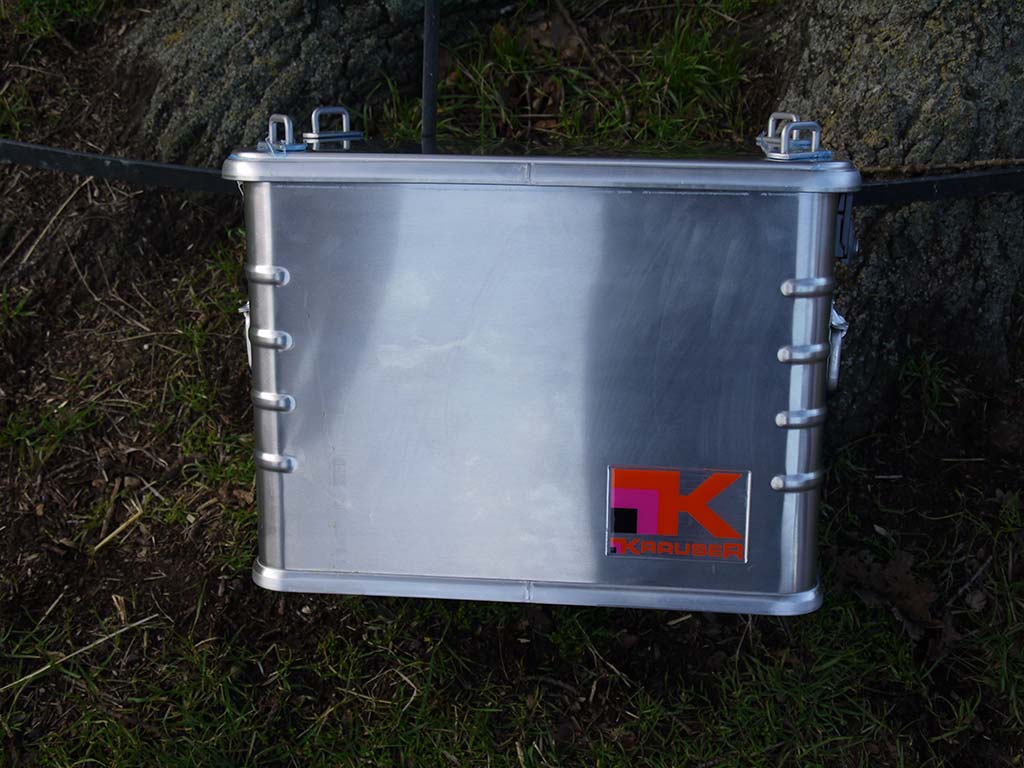 I experienced a strong case of deja vu when I first set eyes on the Krauser Alubox; I was sure I'd come across it before. And I had. The Krauser box is exactly the same as the Hepco & Becker, the lid, main body and tray are one and the same, as are the locking systems. And that's no bad thing. We like the ease of use of the professionally made and finished H&B boxes and rate them as a good value-for-money buy. So, the big question is, why are a set of Krauser panniers and a rack £156 more expensive than their Hepco & Becker counterparts, and can that considerable price difference be justified?
As far as the boxes go there are a couple of differences in how the features are laid out. The Krauser boxes come with four corner-mounted attachment loops on the lid as opposed to the two big grab handles on the H&B. A case could be made for four loops offering more security that two, but that's debatable. Where the smaller loops score over the larger handles is that they offer a lower profile and you'll not end up kicking them every time you swing a leg over the panniers.
In addition, the Krauser panniers come with twin carrying handles positioned on the sides of the panniers. No doubt some will find these useful, especially when attaching/detaching the panniers and carrying them from the bike. But are these differences worth an extra £156?
Only you can answer that one.
Where the panniers do differ is in the way they attach and lock to the frames. The Krauser come with a system which the company calls the K-Wing and it's totally different from that on offer from H&B. The K-Wing is secure, lockable and works well, but we're struggling to justify the extra expense over the H&B.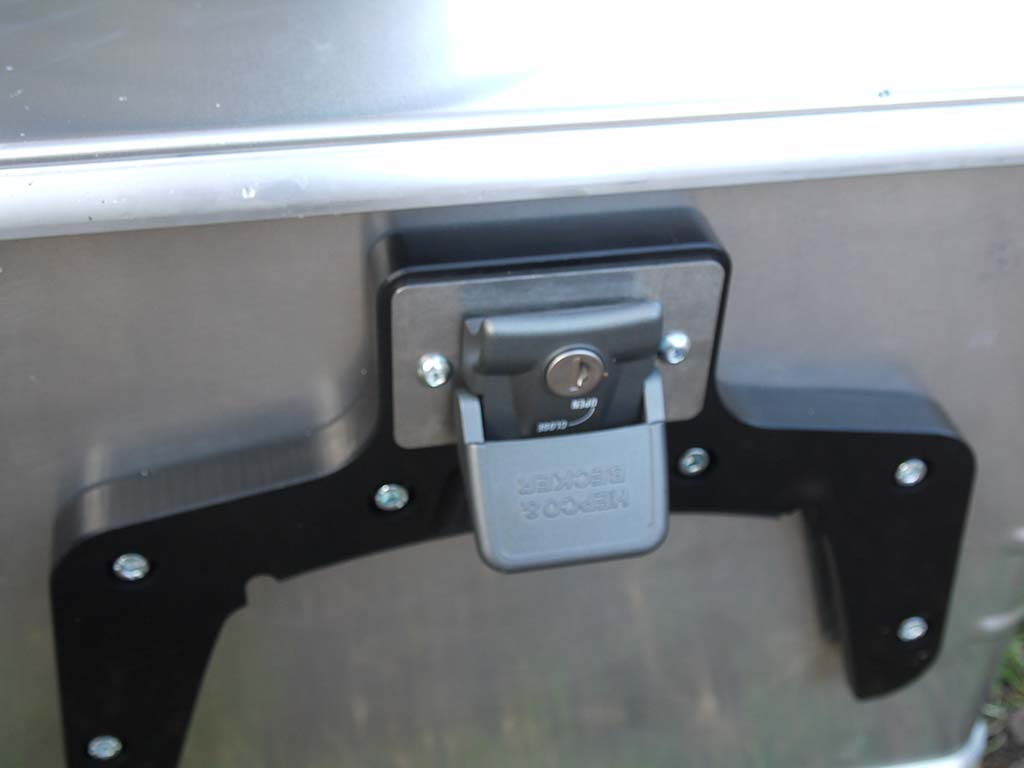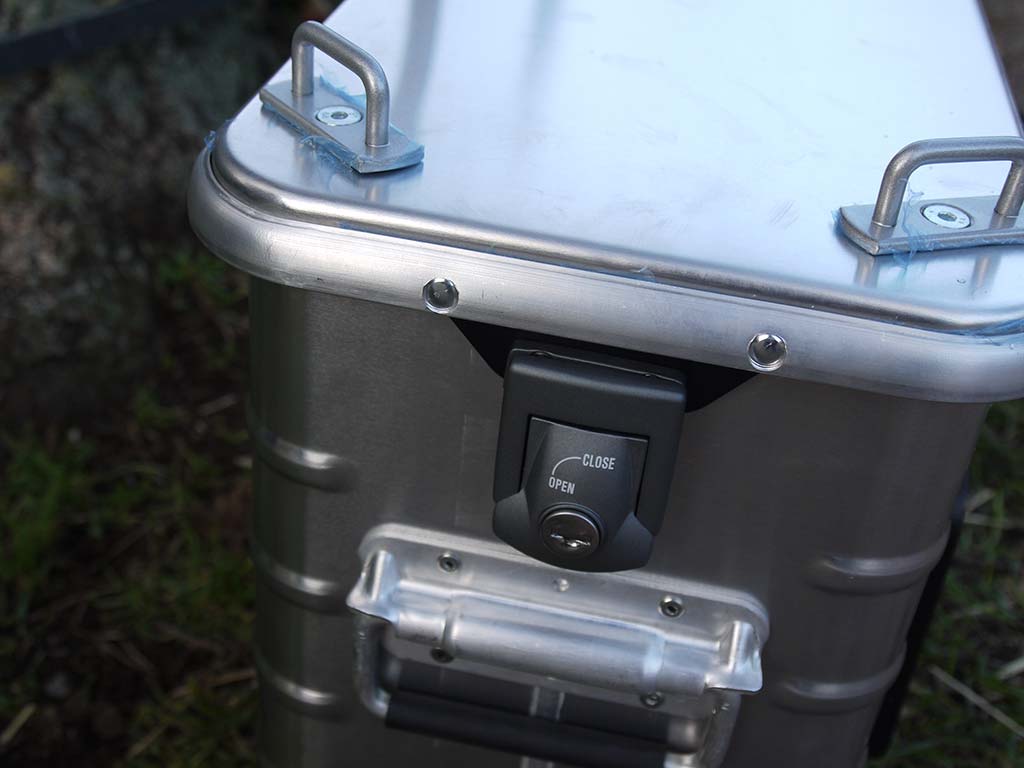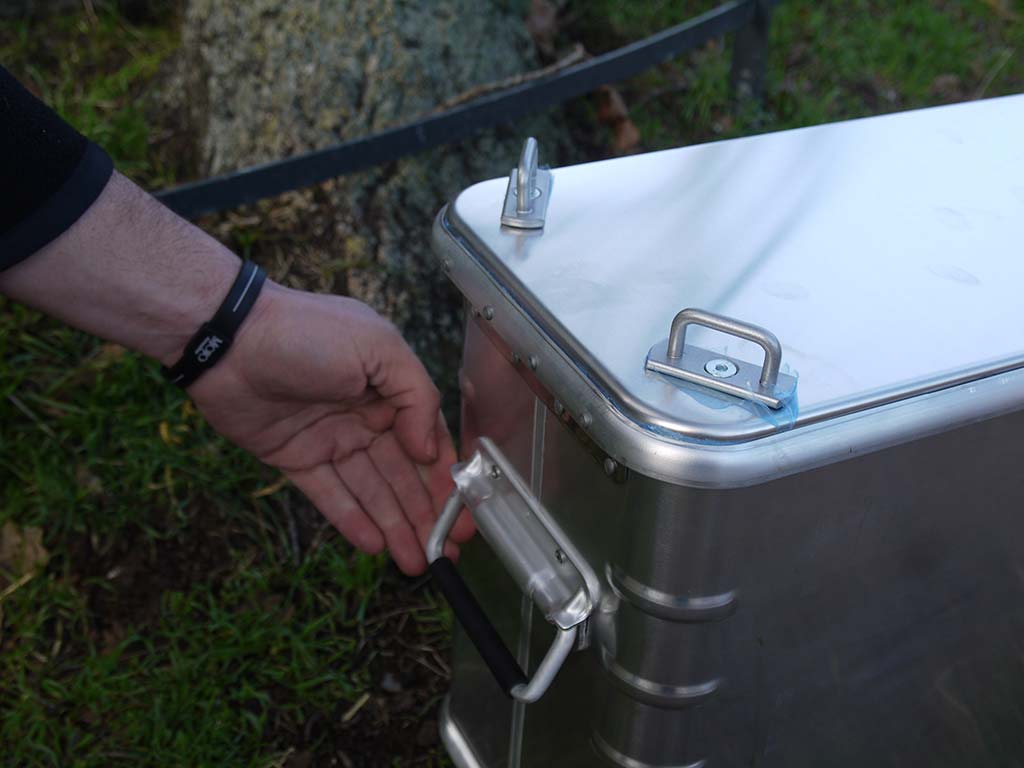 In a line: Good gear, but hard to justify the extra expense over the H&B
CONTACT: 01394 604040 for nearest dealer
Buy these if: you're feeling a bit flush 
Website rating: 5 out of 5
Available in German, English and Italiano, Krauser has put as much thought into the navigation and layout of its website as it has into building international relations. Very thorough pannier images, specs and descriptions. It's not an e-commerce site, but by the time you contact your local dealer you'll know the product inside out 
BRAND: JESSE
Model: Safari Panniers
Size: 44L, 55L
Price: Set of panniers, frame (plus adaptor to lower exhaust) and fittings from £1,185 frame and two-pannier set from £814
ABR RATING 7 OUT OF 10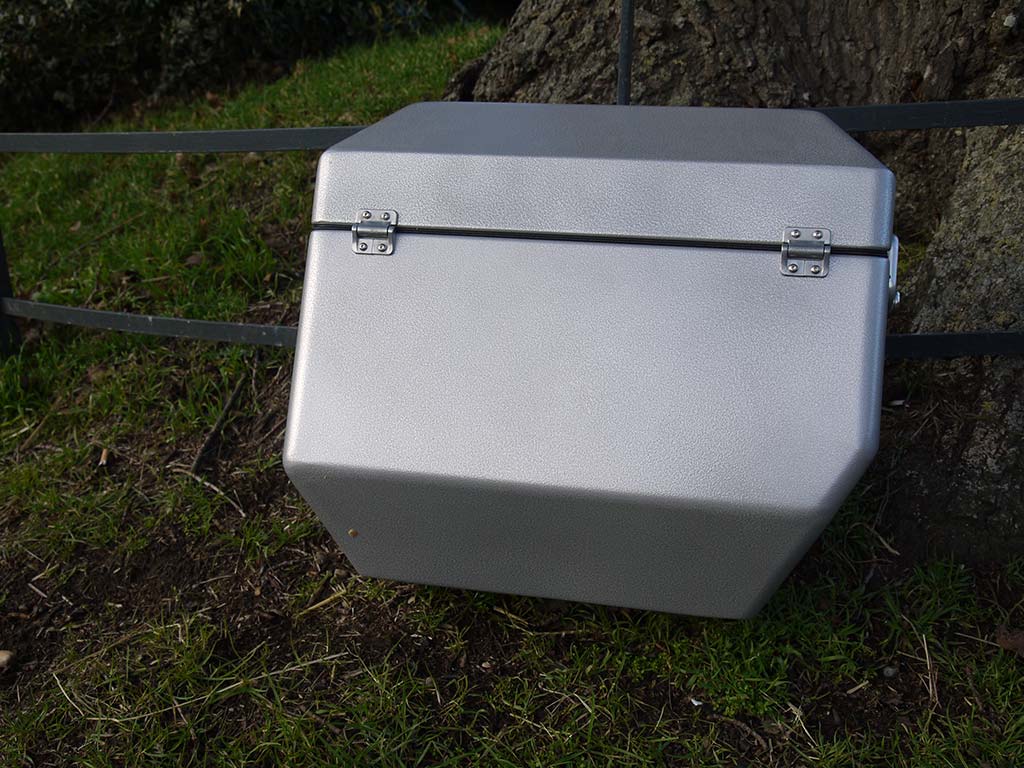 Al Jesse rode his bike round the world and wasn't too happy with his panniers. On his return, he decided to bash and bend a sheet of aluminium to suit his needs and the Jesse pannier was born. Jesse is a US company but the hands-on adventure motorcycling theme continues with the appointed UK distributors; Cliff and Jenny from Two Wheeled Trekkers have plenty of overseas miles under their belts, too.
These panniers split opinions more than any other; on the one hand there's the seemingly bombproof construction and the slim profile, while on the other there are the weird looks and they're less user-friendly than some on test.
The rack system is more complex than most, and you may need an exhaust adaptor for fitting, though it does allow the panniers to be positioned further for or aft, to better suit solo or two-up touring. The hinged lid does not detach, which some will like and others will not. It's also huge, and holds a claimed 10l of luggage, secured in place by a spring-loaded lid packer. There are no additional attachment points on the outside of the lid.
The lid is secured by two integral locking mechanisms and while the panniers proved to be water-tight we're concerned about the long-term robustness of the rubber seal that squashes between the lid and main body.
The shape of the boxes is unique; they are cut, folded and tapered, to reduce the severity of leading edges which, in the event of a fall or the bike sinking in to soft ground, is said to lessen the impact and resistance – though we've yet to put either of these claims to the test.
There's little doubt that the Jessies are built with the RTW rider in mind rather than the occasional tourer who likes his niceties. They are global touring storage facilities rather than an all-frills motorcycle accessory. They are expensive but will probably outlive you.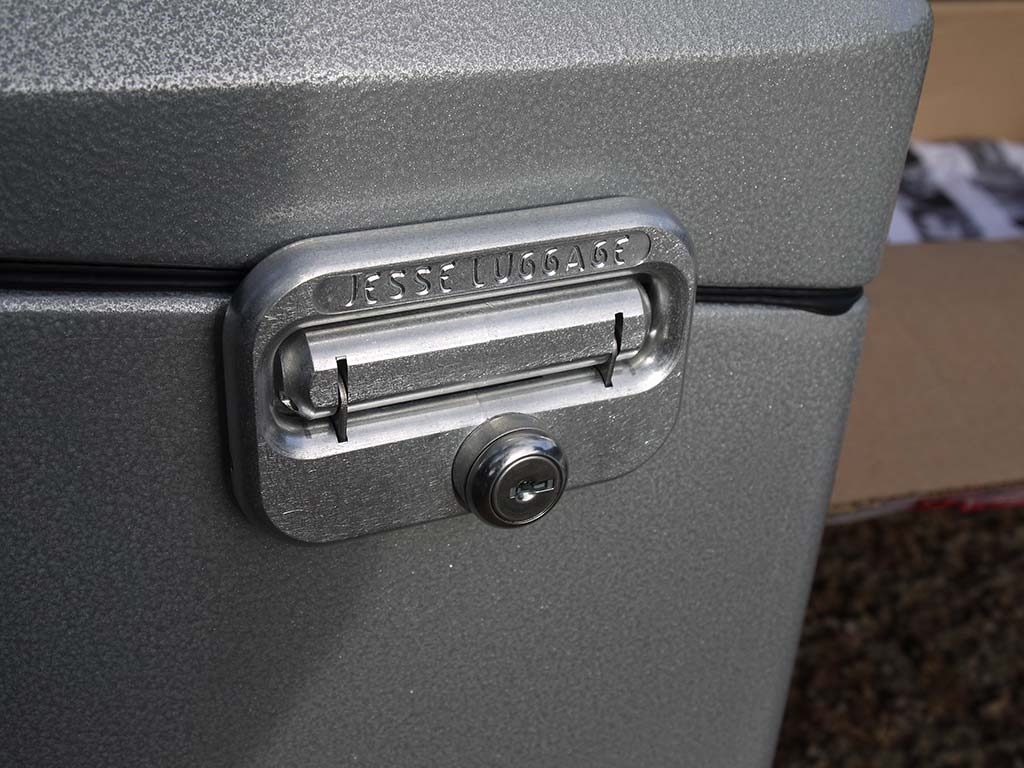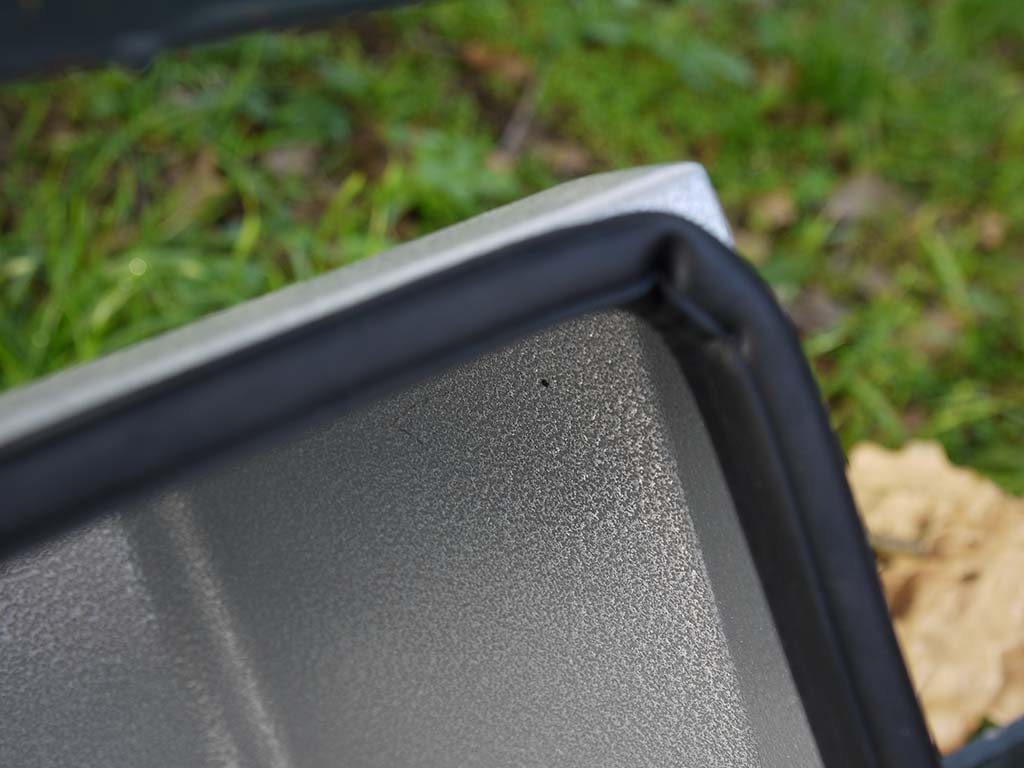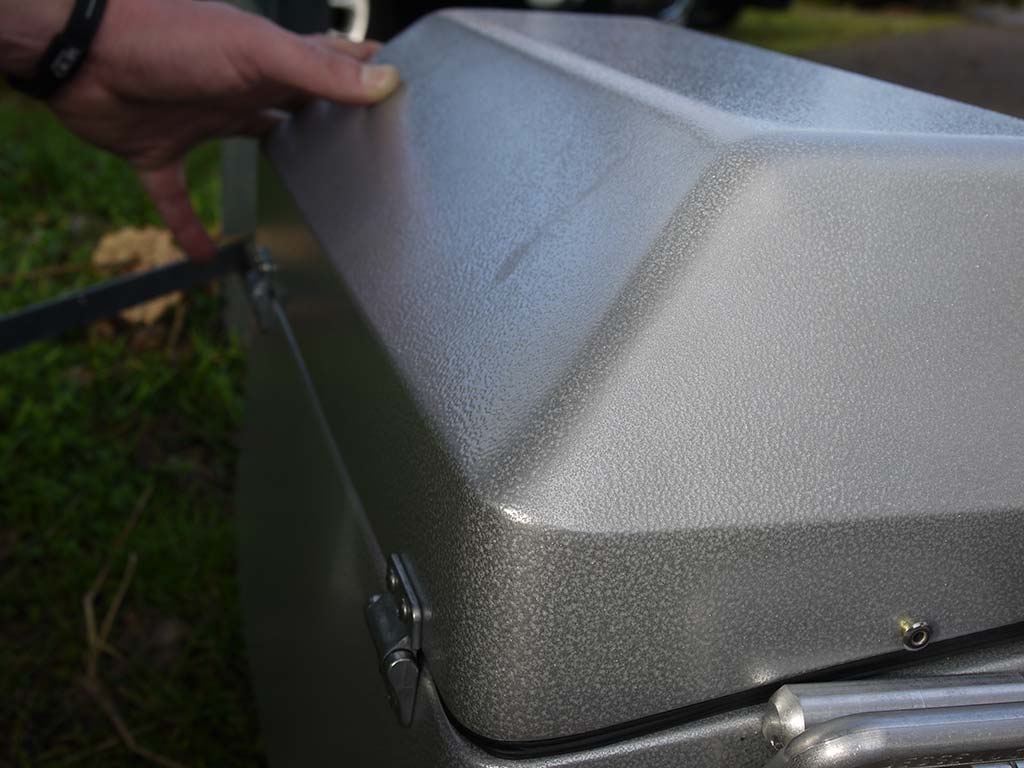 In a line: In the event of a nuclear war, climb in a Jesse.
CONTACT: 07966 015607
Buy these if: you're riding in warzones
Website rating: 4 out of 5
Very easy on the eyes. The homepage features large manufacturers' icons, to help you select the right panniers and frame for your bike. There are also pics of every make and model of bike with the Jesse panniers fitted, so you can see the finished product. Pricing is a little baffling but help is always on hand from the very knowledgeable and friendly Cliff.
BRAND: ALPOS
Model: Alpos
Size: 32L, 36L, 41L
Price: Single pannier from £91; S W Motech frame, adaptor kit and two panniers from £430
ABR RATING 5 OUT OF 10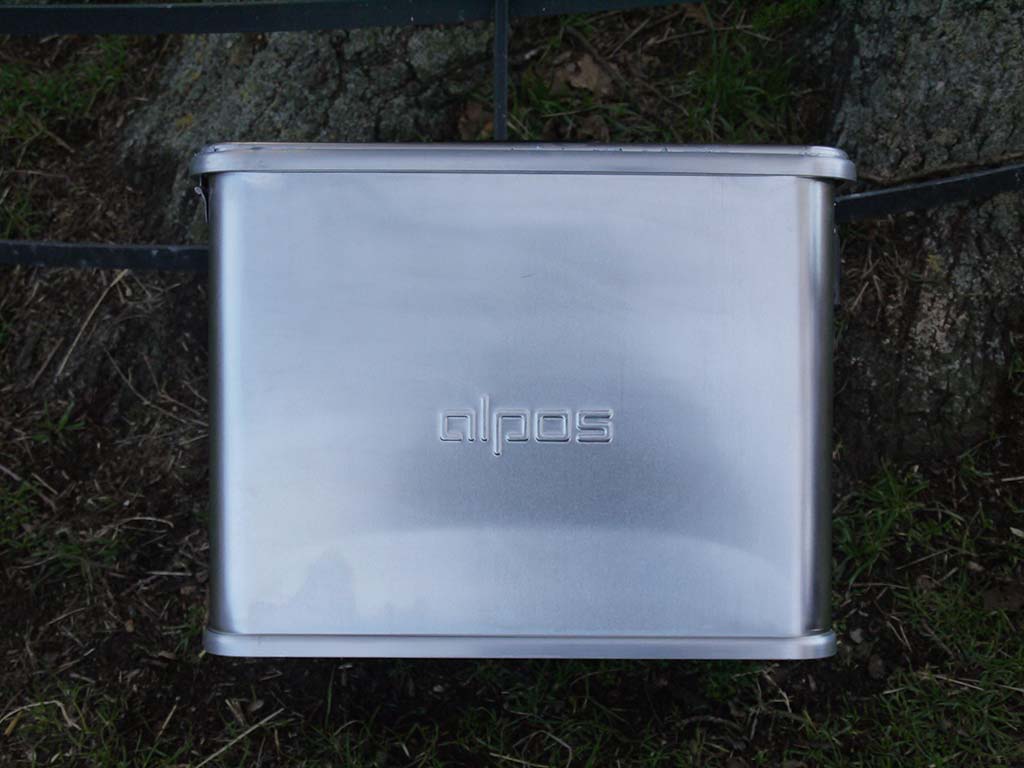 We're talking budget boxes here. When compared to most panniers on test the Alpos look and feel as if they should be cheap: think oversized biscuit tins or an old-fashioned bread bin and you've got it. That said, there is absolutely nothing to stop you setting off round the world with a set of Alpos on your bike and the odds are they will survive – so long as you don't make a habit of taking hard falls.
There's no doubt you get what you pay for with the Alpos, though they do come with a surprisingly good finish, better than some of the more expensive panniers. The lid locking/catch system is simple and crude and you'll need a separate padlock to secure it. The lid is hinged and non detachable and there's a single grab-handle which is handy for carrying the pannier. There are no attachment points on the outside of the lid.
On first inspection we were dubious about waterproofing on the Alpos but it remained dry as a bone when we attacked it with a power-washer. However, for a long arduous journey, we'd definitely use a waterproof inner bag, just to be sure.
The main box walls are not as sturdy as most and we'd be tempted to fit supports at attachment points. That said, the top and bottom sections of the main box have been beefed up. Alpos do not make dedicated frames or frame mounting kits and the boxes can be adapted to fit a number of frames from different manufacturers. We checked out the S W Motech frame and adaptor kit. While it's a straightforward job to put it all together it's best suited for those who are happy with DIY and handling a drill.
If you're on a budget the Alpos panniers will do the job. Just don't expect any frills or your mates to say, "those are the best panniers I've seen".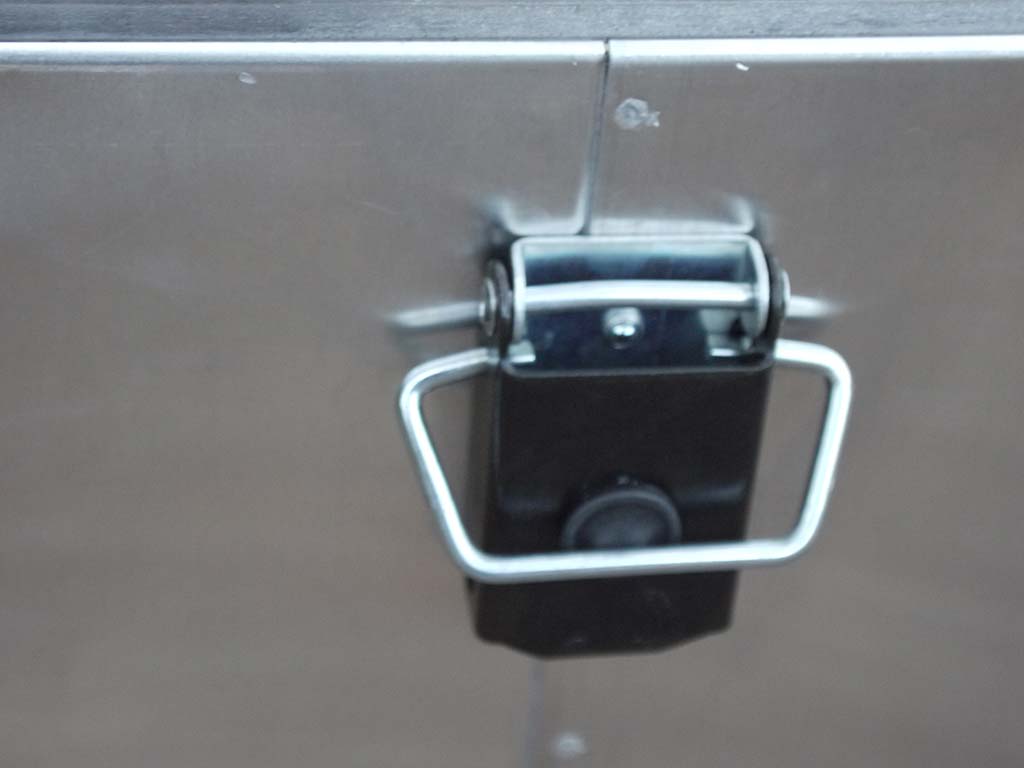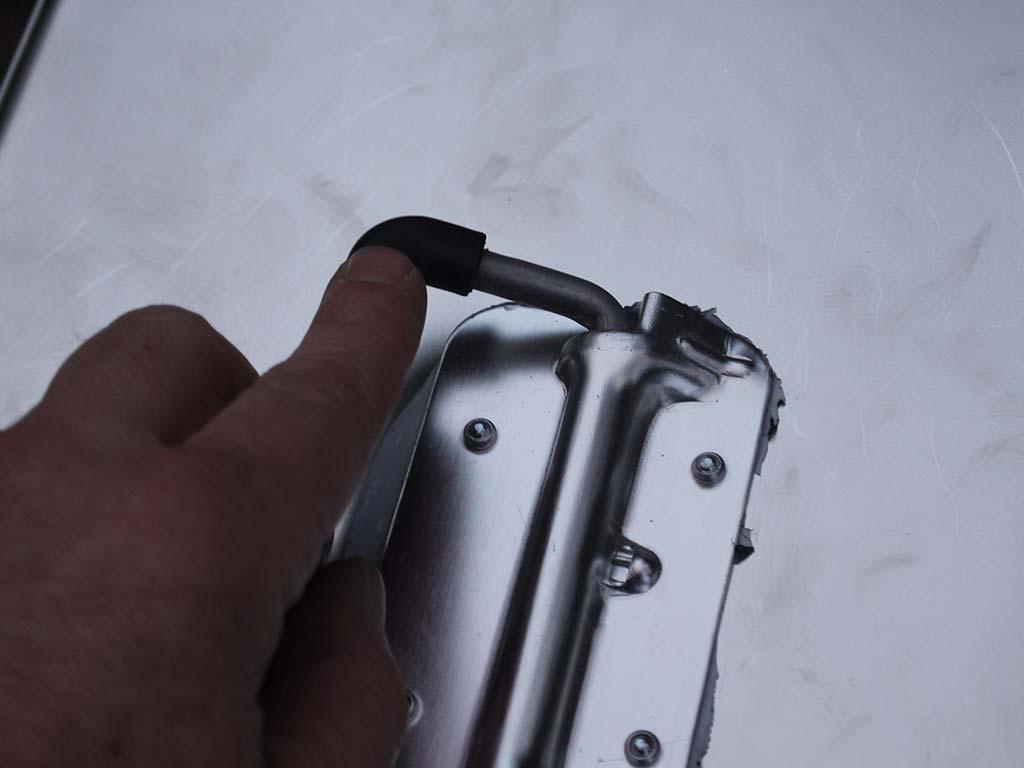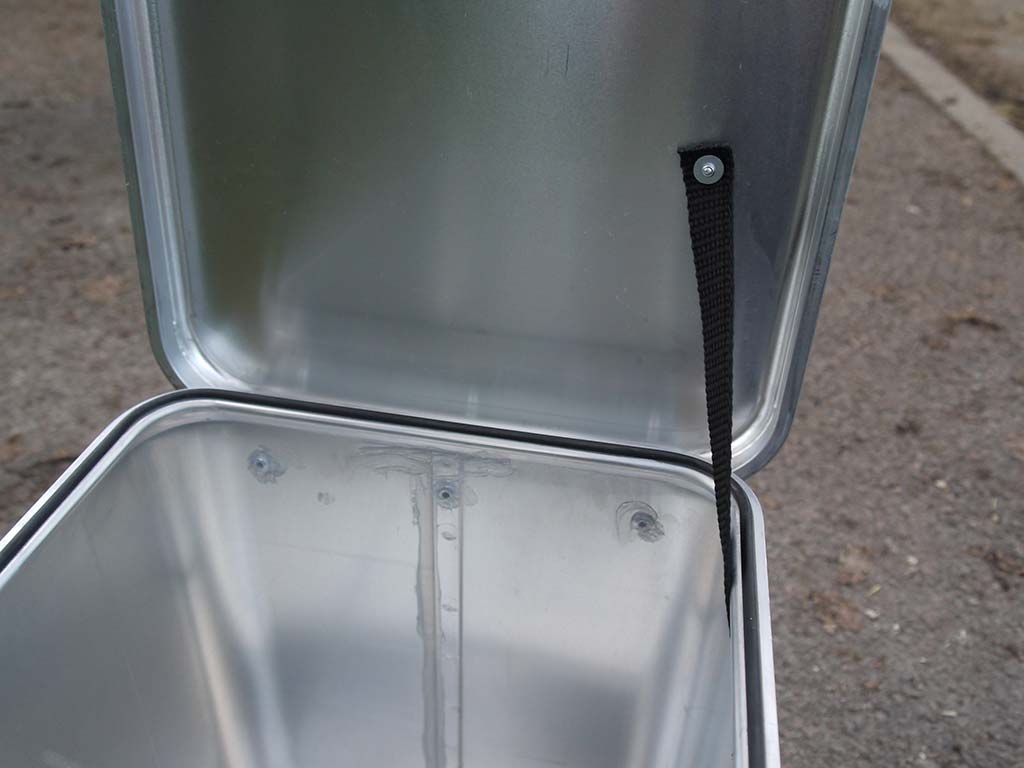 In a line: Cheap and cheerful does the job
CONTACT: 01252 870900
Buy these if: you're on a fairly tight budget
Website rating: 3 out of 5
Absolutely bursting with detailed product and manufacturer info. Navigation is a bit labyrinth-like, but well worth spending the time.
BRAND: G+G PANNIER SET
Model: Premium Pannier set
Size: 41l
Price: Set of two panniers Euro 340 (£285), mounting kit from Euro70 (£59)
ABR RATING 7 OUT OF 10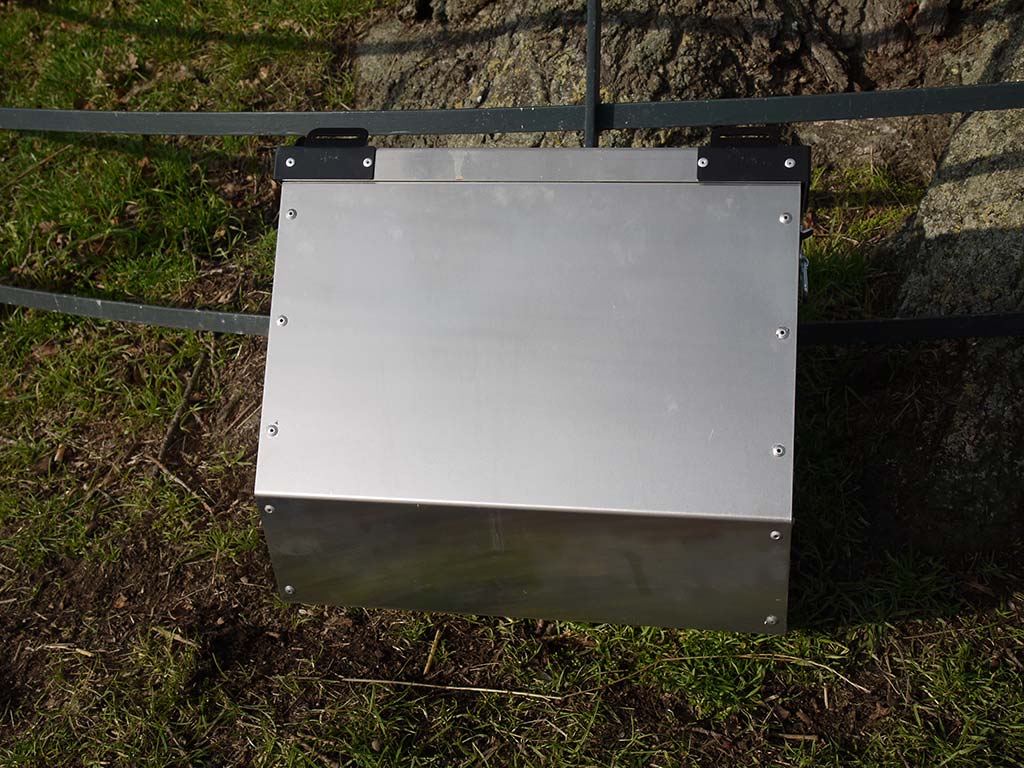 It would have been difficult to mention these panniers without quoting a posting on the ABR forum from a trusted site member: "I stopped off along the way at G&G panniers in Germany. Klaus speaks excellent English and he even offered Martin and myself a room for the night in his home, which we gladly accepted. After the sale he followed up via email to make sure that I was happy".
Now that's what we call service. And the overall feel-good factor continues as the quality of materials is high for a budget pannier, the polished finished is attractive and is better than some of the more expensive on test – plus they come anodised as standard in 2011. What better reason to treat yourself to a new pair?
Water and dust will be no problem as a well-positioned and constructed gasket is bonded to the box, and the detachable lid fits neatly. The riveted construction is improved by silicon sealing and it is all neatly done.
The system used to attach and detach the panniers is much like that used by Touratech, functional and secure if a little fiddly, and you can modify the system to fit on a range of racks, including the Hepco & Becker.
As value goes this is one of the surprises; the product is simply better than the price would suggest, and benefits from obviously being thoughtfully engineered.
At 6.3 kg, the weight is above average, but the overall dimensions are big and offer plenty of usable space for gear – length 17.5 inches, width 10.5 inches, height 15.5 inches. However, tall and wide (with a tapered bottom) could mean you trade stability and slick filtering. That said, your passengers will be happy enough as they do not obstruct or interfere with pillion comfort or position.
With an integrated lock there is no need for separate padlocks. All the space you need is available for fitting accessories as these panniers are very clean lined and don't have side handles to obstruct secondary brackets and mounts.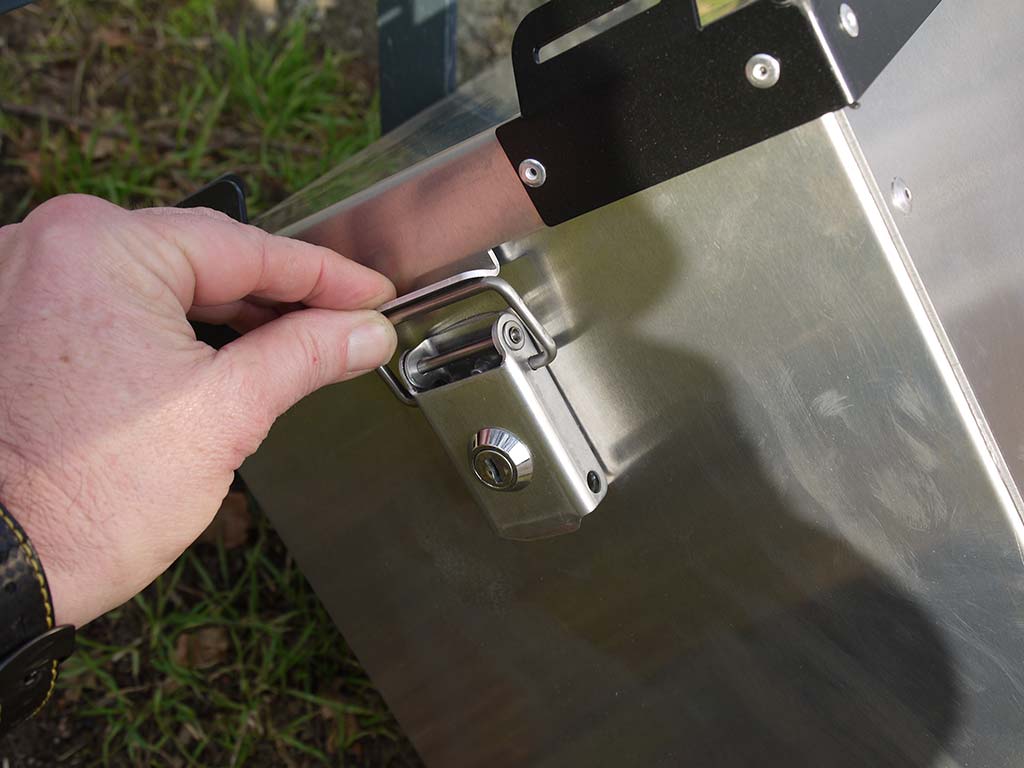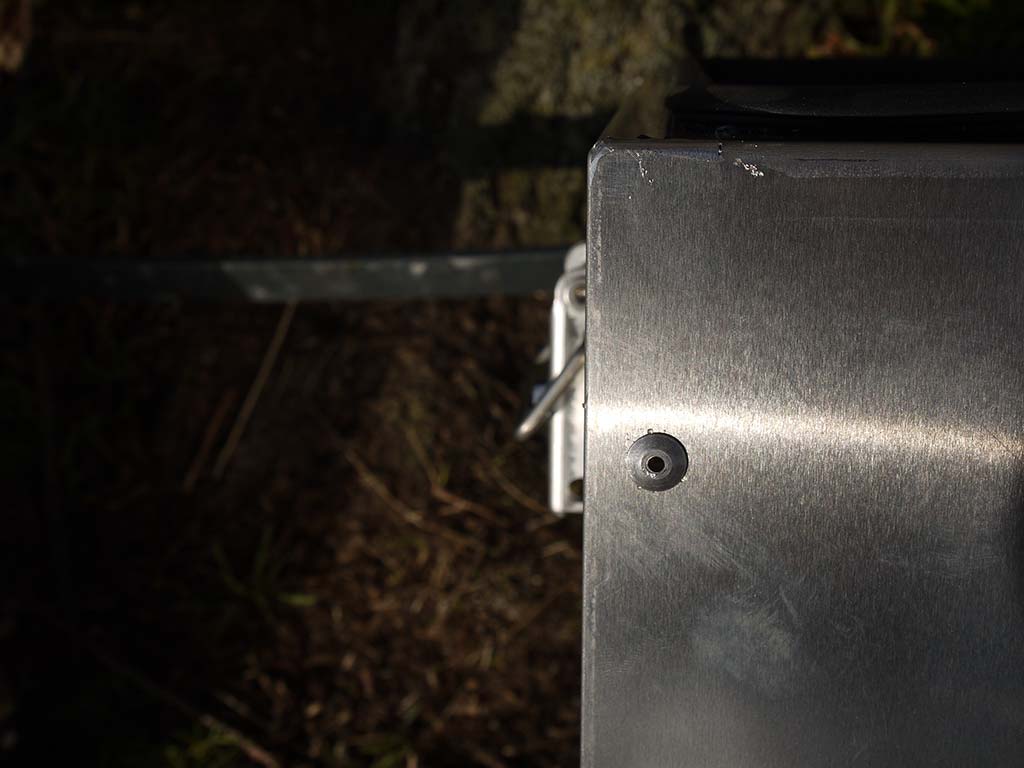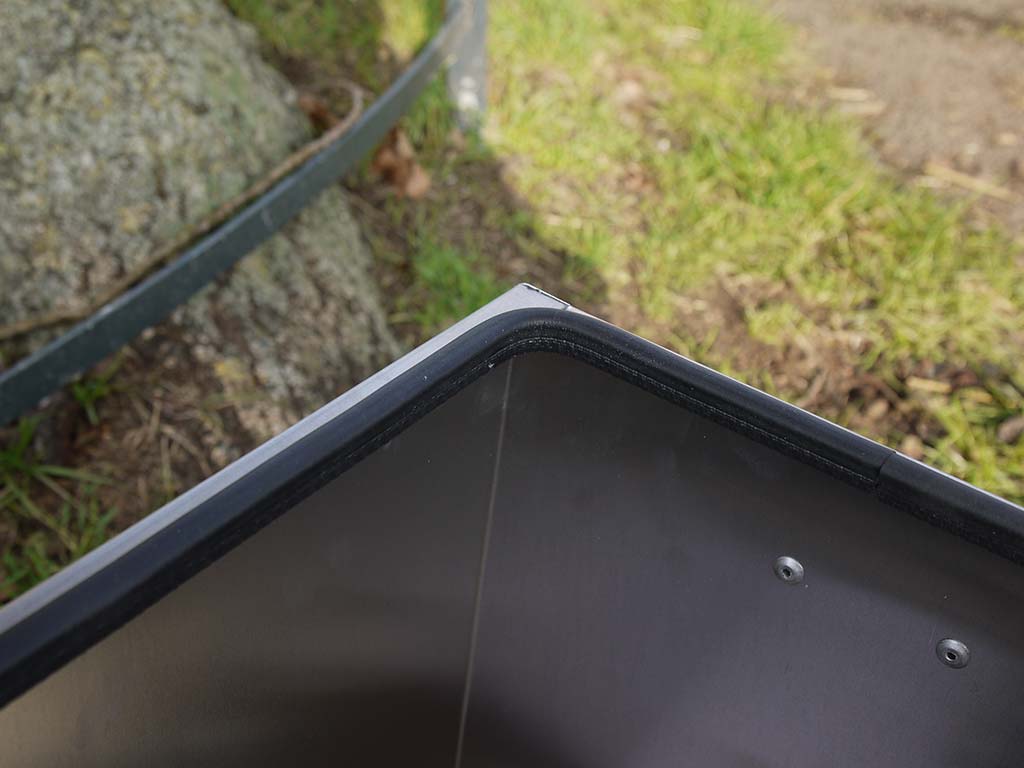 In a line: You get a lot for your money
CONTACT: [email protected]
Buy these if: you've an eye for a bargain 
Website rating: 4 out of 5
Just like their product: neat, smart, does the basics with ease and looks nice while you're doing it. All of us e-numpties can't go wrong with this site, lots of pictures and clear information.
BRAND: WORLDBEATER
Model: Project VND
Size: Made to order
Price: Set of panniers with frame and fittings (BMW only) £875
ABR RATING 7 OUT OF 10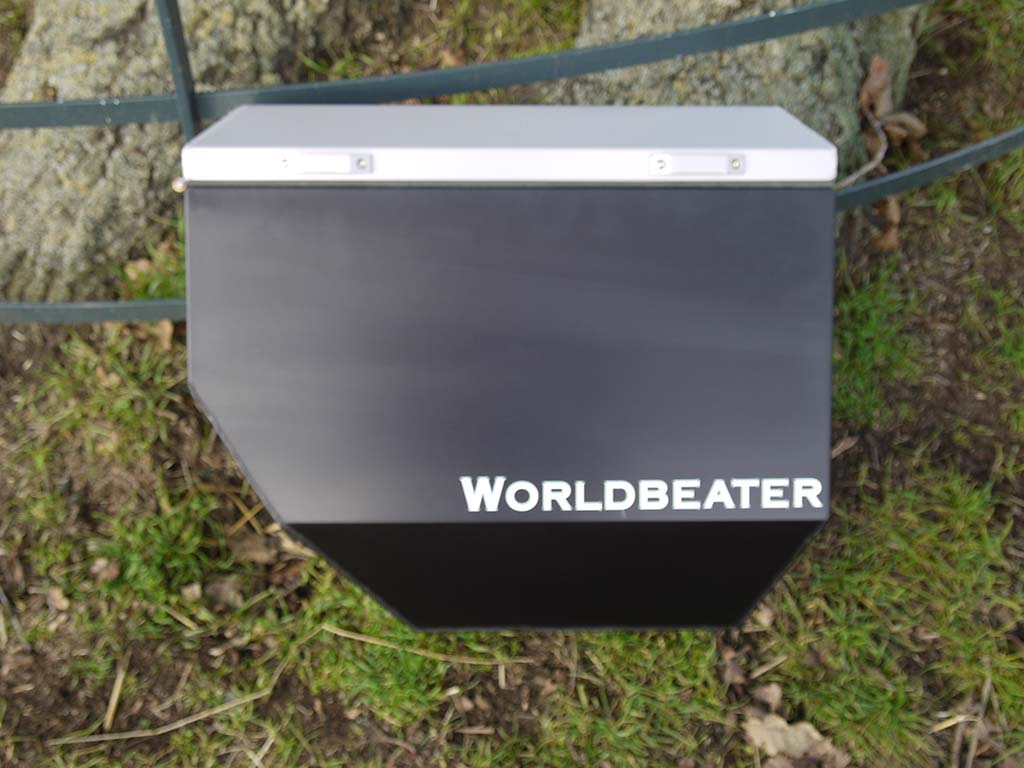 It has to be said, these panniers were hand delivered to the ABR office with the highest level of enthusiasm and passion for this style of motorcycling and products. We were left positively buoyed by the initial meeting with maker, Vern, and we hadn't even checked out the panniers.
To the product; the panniers feature quality, solid weld rather than rivets, and although we are sceptical about foam seals, these are better than average. Sculpted around the outer edges of the box, the VND foam provides a very good seal, which proved itself under a powerhose. Longer term we have reservations about durability, but for now, it's a pass.
The very neat and clean look helps to give these British-made panniers a premium feel, nothing looks cheap, perhaps the hinges for the lid could be a little neater, but I'm being picky.
The mounting system (BMW only) is complex but beautifully engineered, no problems with quality or function but a little daunting when you open the box and something that looks like C3PO is staring back at you.
Where value is concerned, there is no doubt that that this is a nice top-end item with regard to quality, construction and detail. At 5.3 kg, weight is good and they are cavernous at 21″ x 9″ x 18″. These are long, tall, sleek panniers, tapered towards the bottom and they sit nicely on the bike with a streamlined end result. If you want to look different to the mainstream then these may catch your eye – if you have the budget for them.
Security is good; the hinged lid means it can't be detached, but it's easy to live with and the single latch is robust and sturdy. Sadly, there's no integrated lock on these so you will need to buy padlocks, and at this price, we'd have liked to have seen an integrated lock as standard.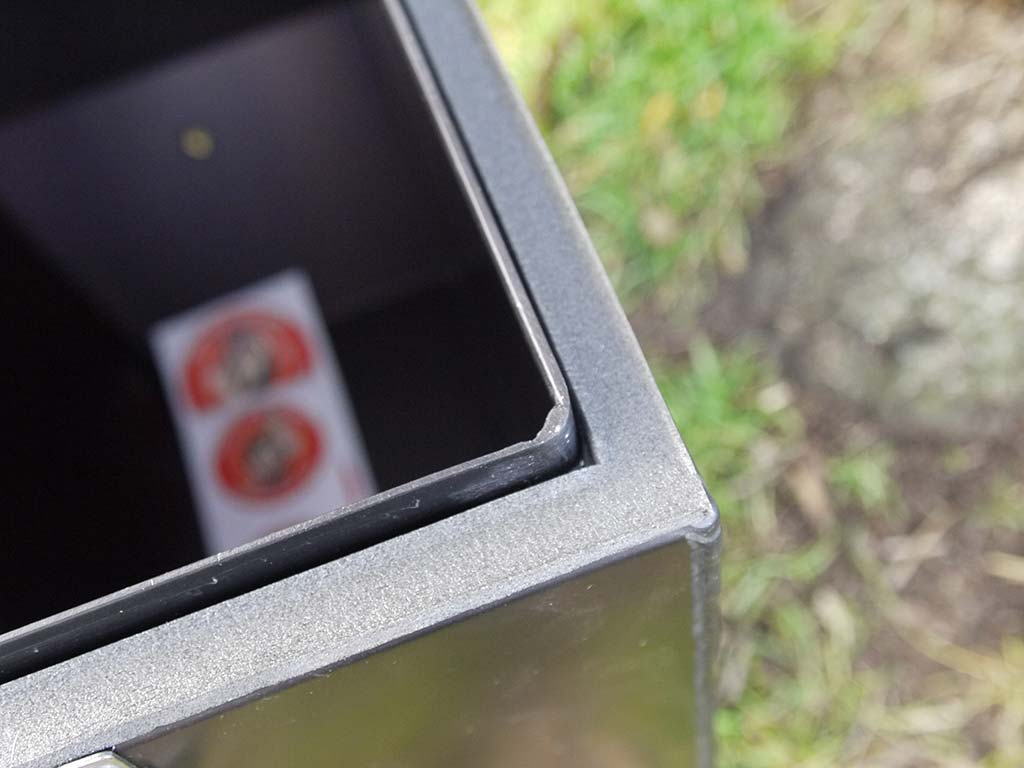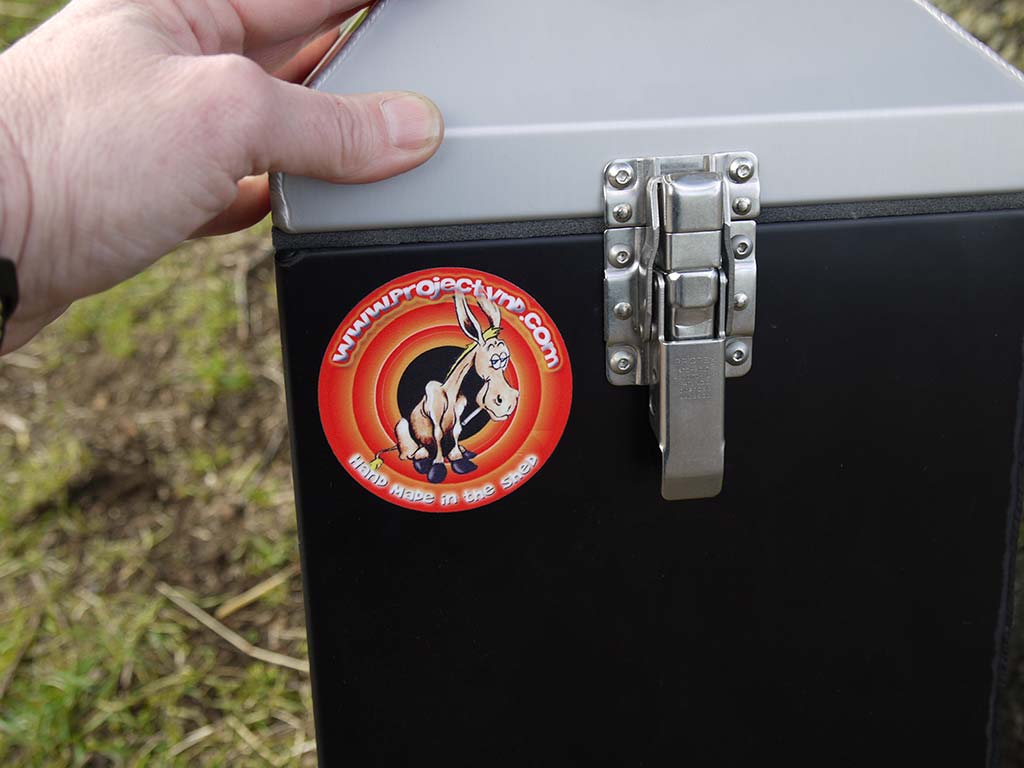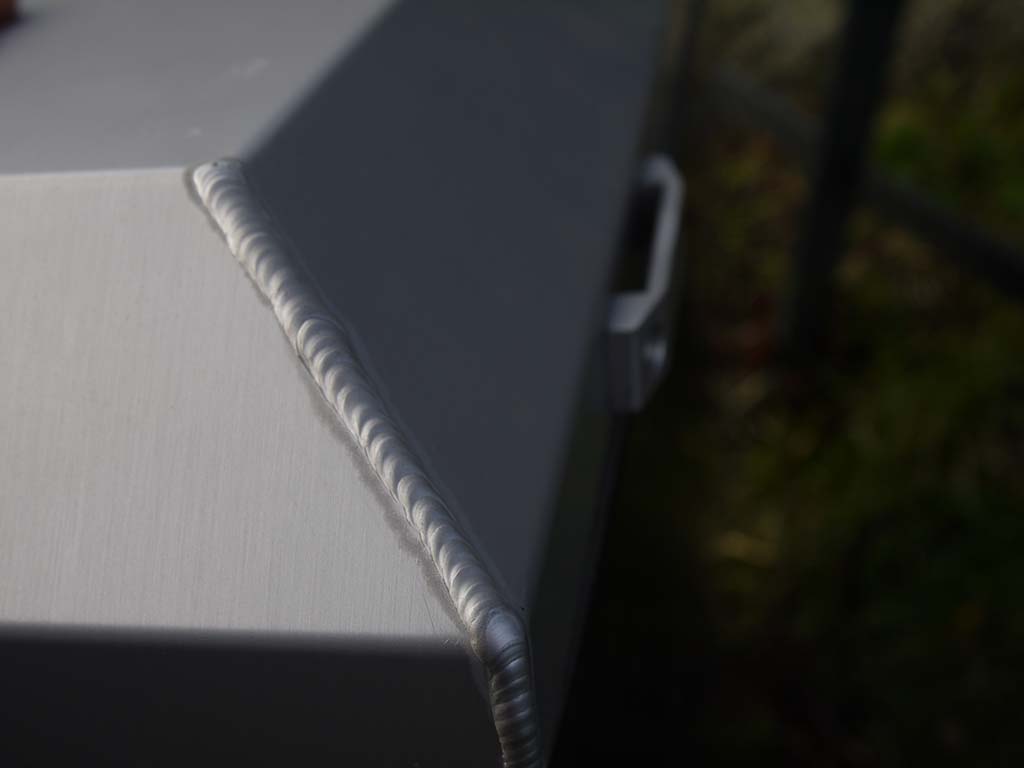 In a line: Great quality alternative to the 'big' brands.
CONTACT: 01829 771040
Buy these if: you want British-made bespoke
Website rating: 3 out of 5
Not so much an e-commerce site as a behind the scenes look at Worldbeater panniers. The site gives an excellent overview of what's achievable with VND bespoke luggage, how it's made and the man behind the metal. These are the Savile Row option if tailored tins are appealing.
BRAND: STAHLKOFFER
Model: Stahlkoffer
Size: 33l, 35l
Price: Frame and two-pannier set from £475
ABR RATING 8 OUT OF 10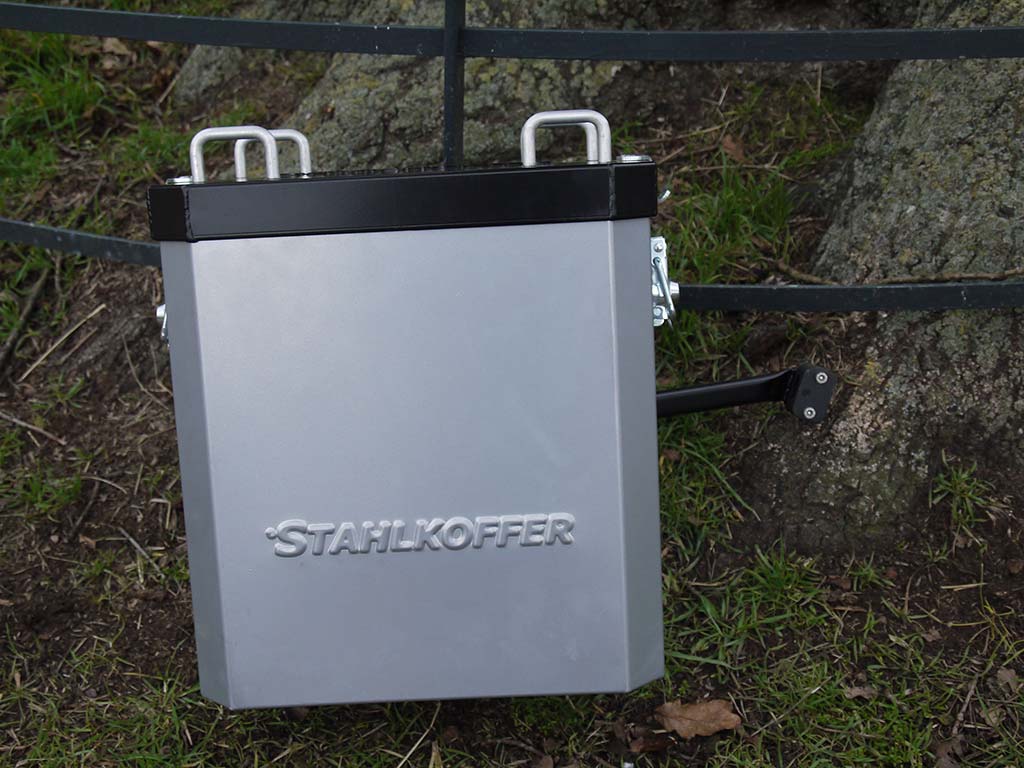 British-made panniers from the Black Country, the spiritual home of metal bashing – we're sure if you ask Bernie (the proprietor) nicely enough he'd even include a packet of pork scratchings with your new boxes.
So, what have we? The Stahlkoffer panniers have that hard-as-nails ammobox look, and if we're being brutally honest they could be said to be the poor man's – or maybe the smart man's when you take into account the price – Metal Mules.
The company supplies a dedicated rack to fit most BMWs, Yamaha Tenere and the KTM 990, and the mounting mechanism fits the rack, which means you'll need to do a bit of DIY if you want these panniers and own anything other. The rack and mount supplied is effective and secure, but the locking-bar mechanism is agricultural and fiddly when compared to more expensive kit.
From the top, we have a fully detachable lid, which comes with four attachment loops – spot on for carrying all the stuff you can't fit in the panniers. The lid is secured to the main body by two latches which include integral locks – which we like. Water and dust is kept out via a foam rand stuck to the inner of the lid; while it's been fine on test it has the potential to be a weak spot in the longer term.
The main box is welded with not a rivet in sight. We've found it to be exceptionally sturdy and robust, and at the price quoted these are looking very good value for a set of aluminium boxes that could well outlive you and the bike. The finishing is not as pretty or professional as, say, the Touratech or Metal Mules, so those spending over 10k on a new BMW may be put off. If you have an older bike, however, put the Stahlkoffer on your short list.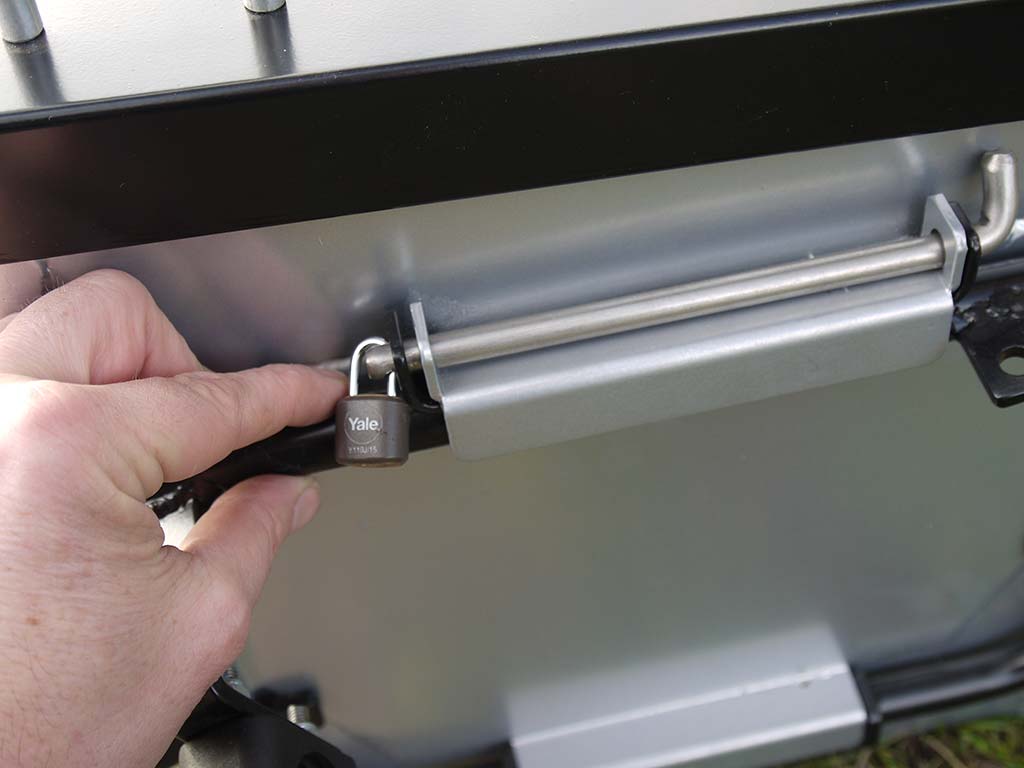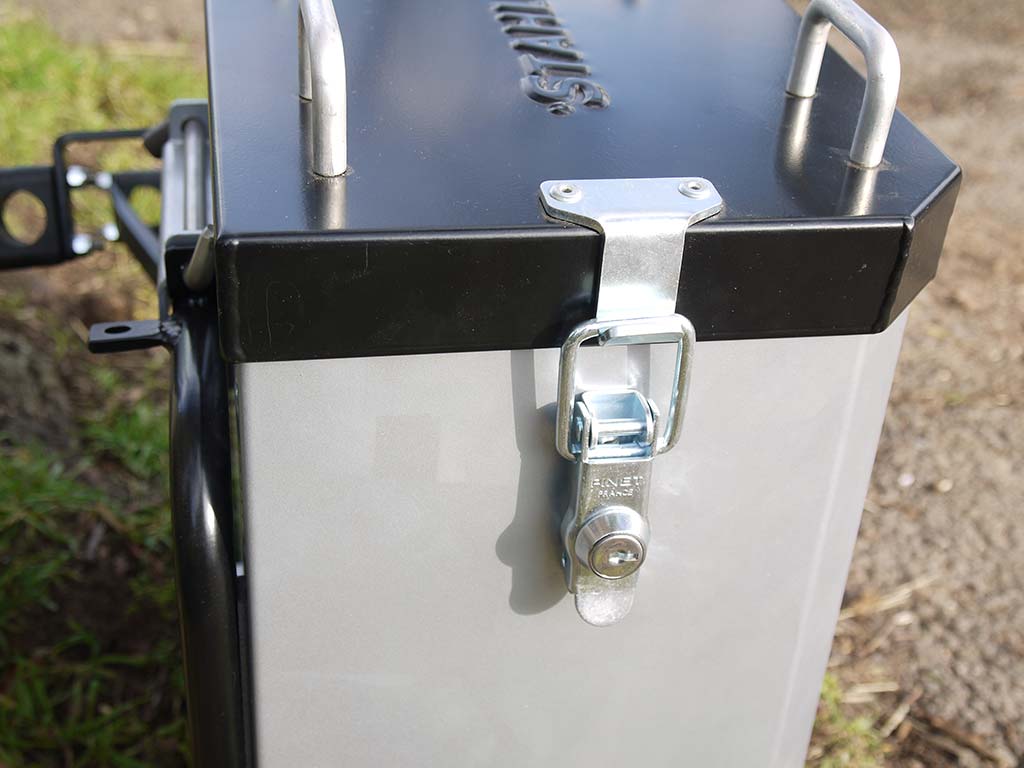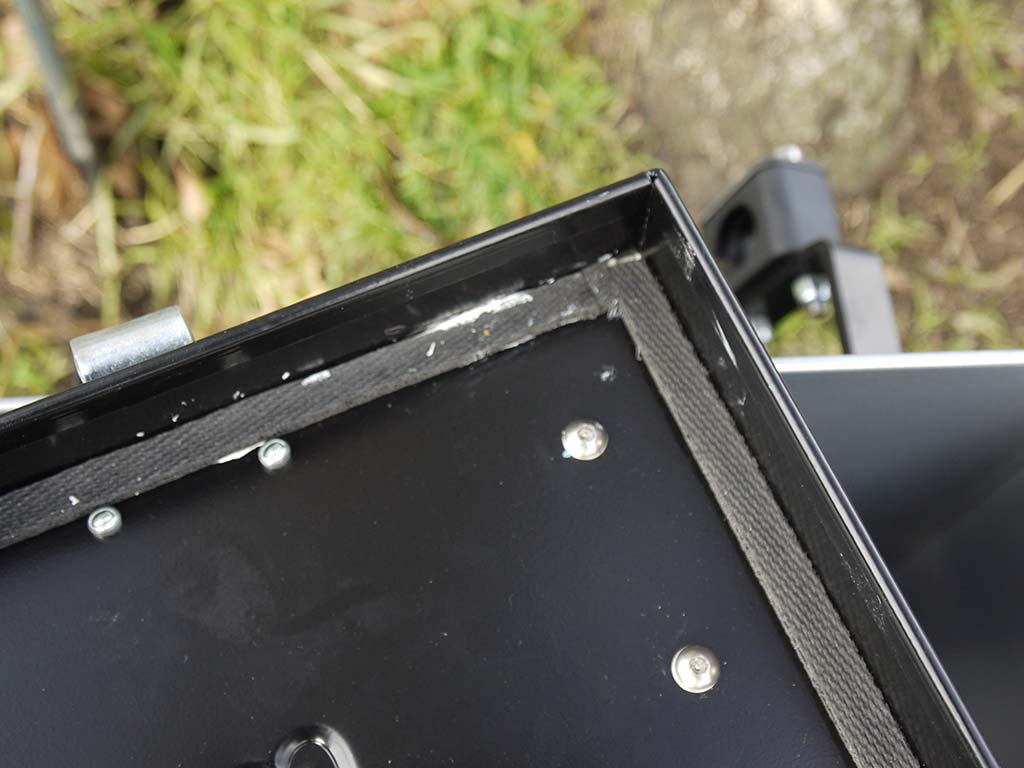 In a line: The looks and performance of panniers twice the price.
CONTACT: 07710 149726
Buy these if: you want function not fashion
Website rating: 3 out of 5
Simple and effective dropdown menus and price charts make using this site easy, and all the pics of lovely-looking luggage will whet your appetite for aluminium.
BRAND: HEAVY DUTIES
Model: Heavy Duties
Size: 39L, 48L
Price: Single pannier from Euro 90 (£76); frame and two-pannier set from Euro 330 (£280)
ABR RATING 6 OUT OF 10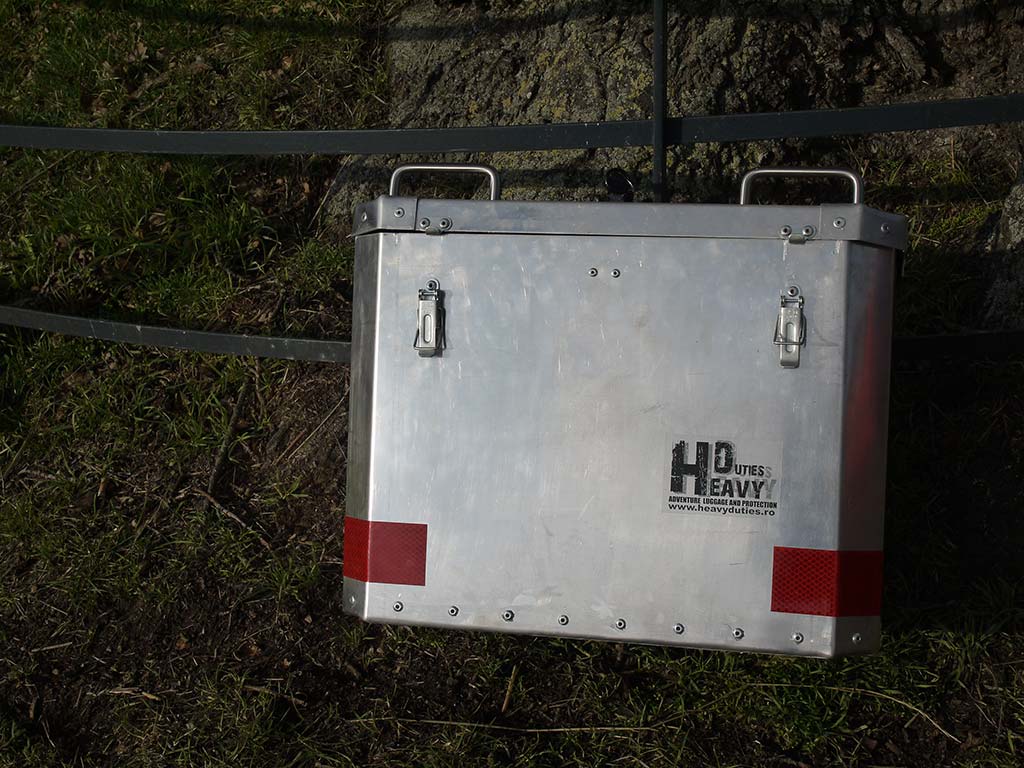 Heavy Duties are made by a couple of Romanian brothers with a passion for motorbikes and travel. They began making panniers four years ago, for their own needs, but encouraged by others they now offer them on a commercial basis at great value for money.
It's fair to say that these panniers look homemade. The finishing is without doubt the most basic of all the boxes on test and it would be difficult to see these panniers sitting comfortably on the shelves of a highly polished motorcycle dealership. That said, if function rather than looks is your priority then read on because these are a serious bit of heavy duty kit at a cracking price that'll stay with you on the RTW trip.
The boxes are constructed using rivets and seam sealer and, as stated above, some of the finishing is rudimentary – it's plain to see that the corner strengtheners have been hand hammered into shape. The panniers also come fully lined with isoprene insulation and reflector stickers on the outside – a nice touch.
The frame-mounting system is very secure, though these are not the easiest panniers to detach and attach. From the top down you get a hinged lid, which is non detachable and secured by a couple of latches, plus an integral top mounted lock for security. You also get four substantial loops for lashing down overflow gear.
The main boxes are put together using 2mm aluminium plate and more rivets than we've the time to count. There's no doubting the robust nature of the Heavy Duties and at these sorts of prices we'd be getting picky pointing out faults. In summary, even the most cost conscious DIY-er would find it difficult to make panniers in the garage for the price of the Heavy Duties.
The panniers passed the pressure-hose test but on a long trip we'd advise packing along a water tight liner bag, for peace of mind.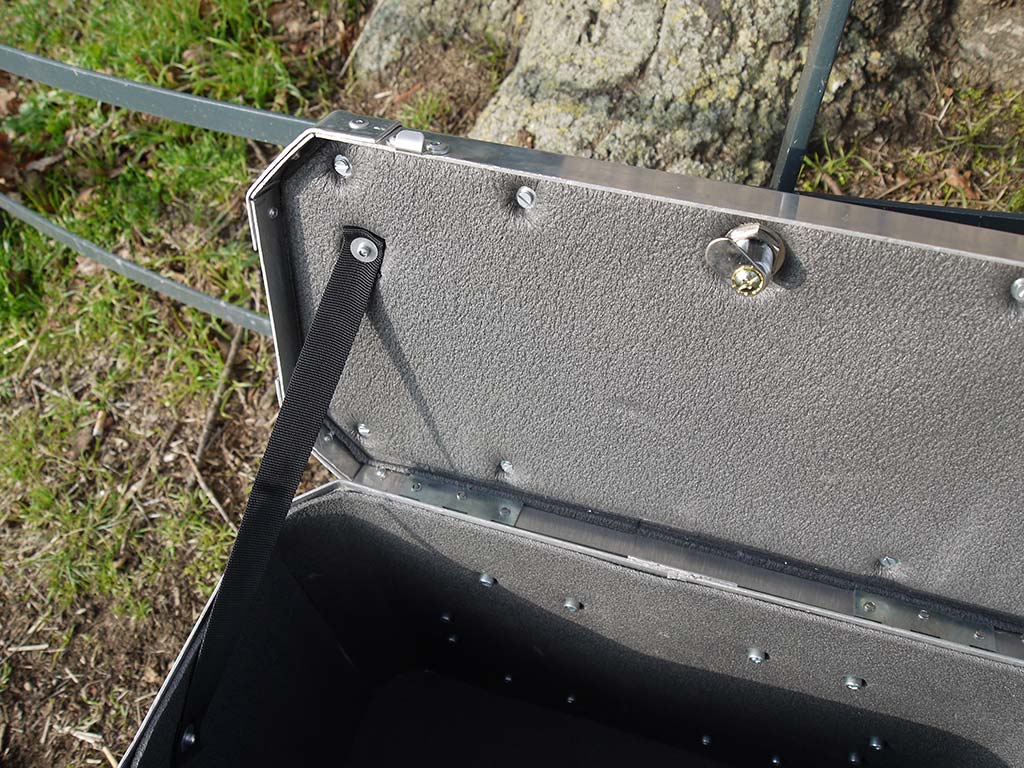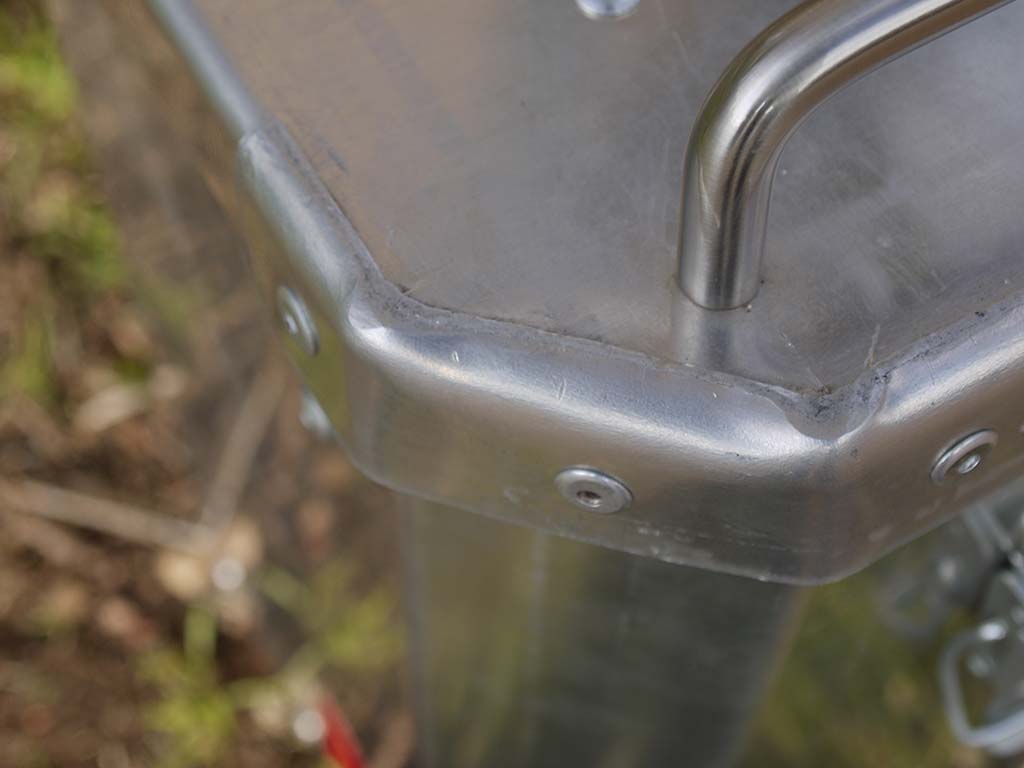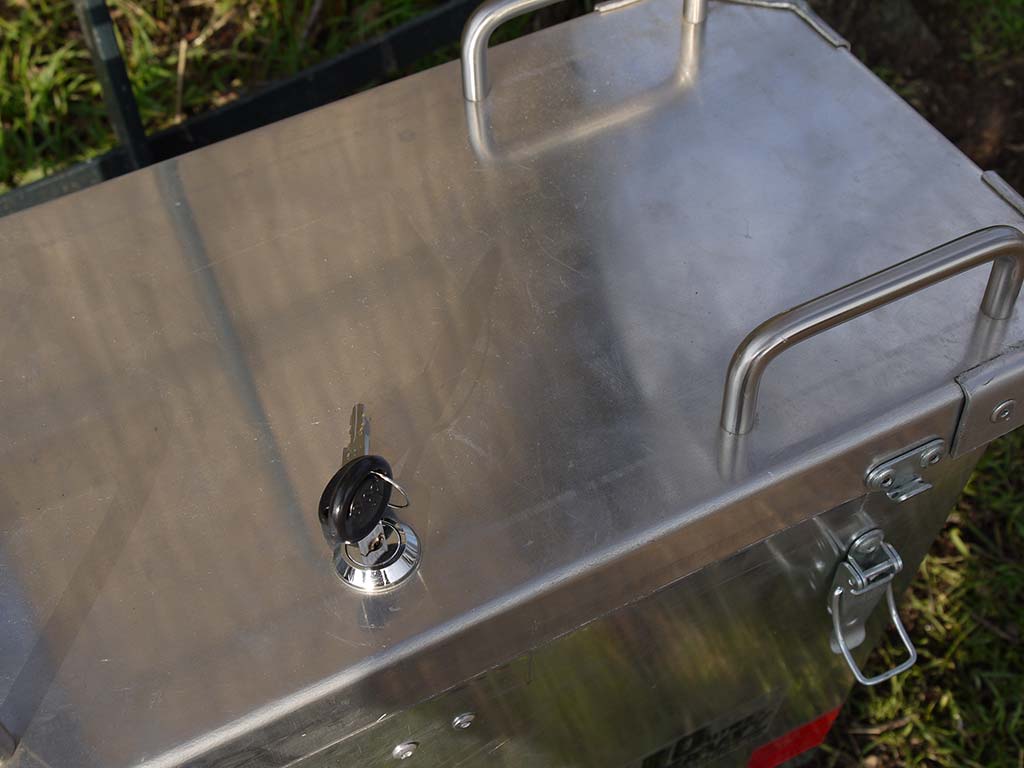 In a line: Not pretty, robust and cheap
CONTACT: 004 0721836178
Buy these if: you're a hardcore no-frills rider
Website rating: 5 out of 5
An idiot's guide to buying luggage online couldn't be simpler to use than this site. Clear photos with price charts and product info mean it's impossible to get it wrong and the gallery slide show of panniers in action provides great inspiration.