Iain Palmer throws his leg over the new Multi, but is it an Italian stallion?
My initial impression of the new Multistrada wasn't favourable. After all, Ducati isn't known for its off-road adventure antics. The old Multi seems to have gone relatively unnoticed by the biking world and dismissed as a bit odd-ball – maybe these owners are keeping it a secret and quietly getting on with their exclusive ownership, satisfied in the knowledge that the rest of the world is missing out.
The new Multi is such a different beast that you wonder what has recently happened at Ducati. Have the Ducati guys been quietly trekking around the world developing some sort of revolutionary swiss-army bike? If they have, they've kept it extremely quiet and inter-web free.
So where has this sudden interest come from? Has Ducati decided to jump on the rapidly expanding adventure band wagon? Did it think that riders would be naïve enough to dump their Beemers and KTMs at the drop of an Italian hat? Ducati certainly went all out to convince the world that a new type of bike had arrived, going to great lengths to show how the new Multi was conceived and how it would change the biking world. Maybe this was all just marketing hype or maybe, just maybe, Ducati Engineers were genuinely excited about what they had created. They must have known that they couldn't compete with BMW's past and current pedigree – after all, there were no celebrities in sight singing Ducati's praises. Could this have been a major faux-pas, especially in a celebrity-ridden (excuse the pun), image-conscious major market like the UK? Maybe they were worried that Ewan and Charley would turn their noses up at it, or maybe they suspected the bike wouldn't withstand the type of abuse E and C would inflict on it. I remained dubious as the pre-launch hype continued and the bike disappeared off my top 10 list. (Don't pretend you don't have one).
I remember going to the Bike show in 2009 and seeing the new Multi for the first time. I wasn't that bothered about wading through the crowds to get a closer look so only really walked by thinking, 'what a lot of fuss about nothing'. Towards the end of the day the crowds cleared and I thought it might be worthwhile having a closer inspection, as I was passing, you understand. No sitting was allowed but I was immediately struck by how flimsy the already-broken hand-guards were and how much exposed bodywork there was – there's no way this thing has been tested off-road, surely? There were a few thoughtful details but maybe these were borrowed ideas and maybe that's why they have been blinding everyone with science? Was it just me and was I missing the point? Either way, months and many magazine reviews later, I still wasn't convinced and the Multi still wasn't on the list.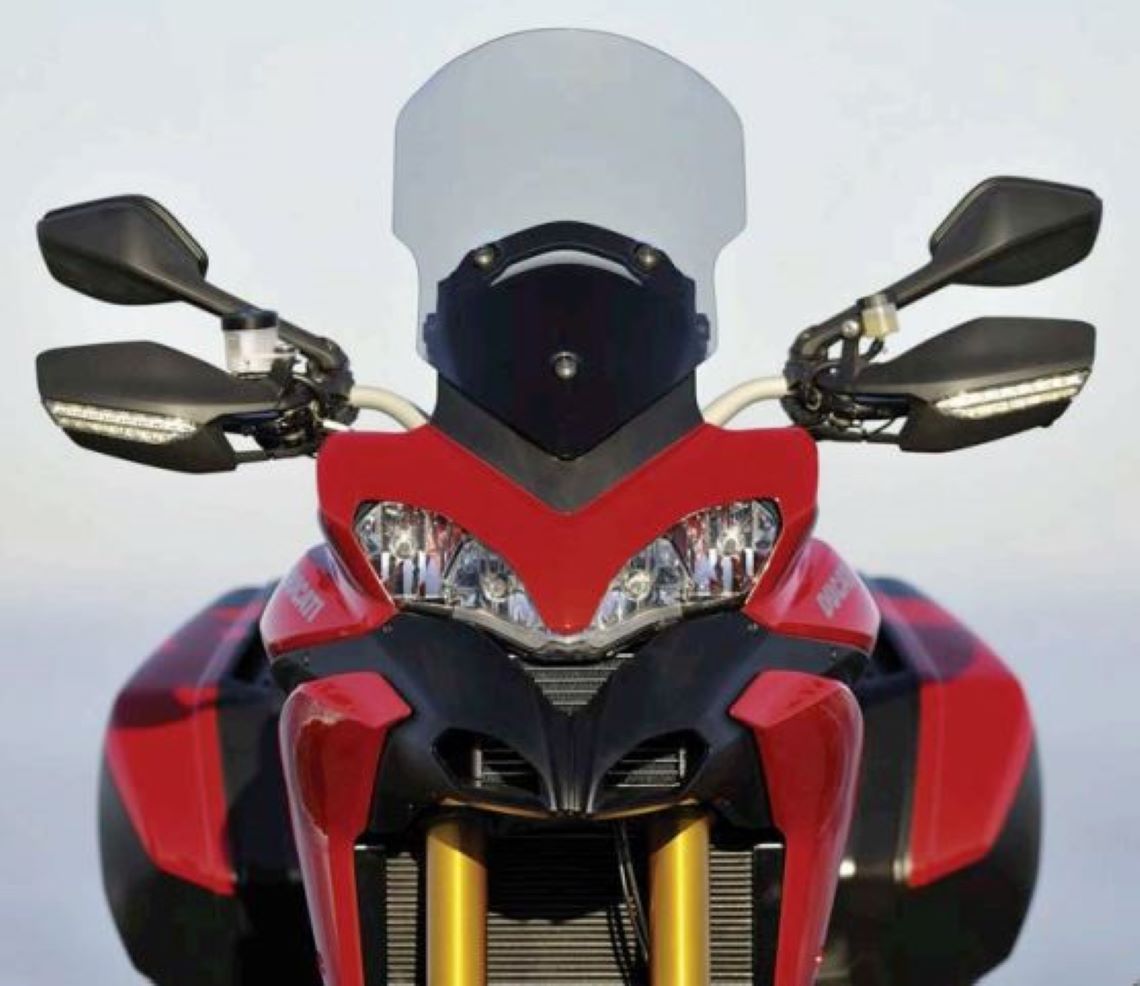 A couple of major trips then followed on my Tiger 1050. A superb machine with everything I wanted from a bike, except maybe one thing – serious grunt. This is difficult and expensive to extract from modern bikes. I didn't do any real off -road work with the Tiger so its on-road attributes suited me. Hang on, though. Maybe that's the point of the 'soft-roader' Multistrada. It's really a road-going machine with a smattering of off-road garnish, no? A sports bike in wellies. Also, does an Adventure bike really need 150bhp and could such a bike cope with it anyway? There are 35 more horses than my Tiger on offer and all for less than 11 big ones. Besides, why should serious muscle be reserved for sports bikes? A test ride was needed to finally send these questions and doubts to Bedfordshire.
In May 2010, I found a dealer which was not only within 30 minutes' ride of me but kind enough to lend me its 'S' demo for the afternoon. Not having been a previous customer of theirs nor Ducati owner, I thought this was especially generous of Parkinsons in Colchester – thanks Jim. Another Ducati/KTM dealer was only offering a strict 30-minute ride, so they didn't get my business.
Within a few minutes, the bike was back on the list; after a couple of hours I was smitten and the Multi was positively top of the list. Within 24 hours, after the day's events had fully sunk in, a deposit was placed and a two-month wait was to follow. I opted for the base version, reasons for which will become clearer later. Right, which colour? There's lots of discussion about colour. 'Black is fastest'. 'White is the most striking'. For me, it's Italian so it had to be red.
COMFORT
Stepping onto the Multi, I was greeted with a familiar V-Twin vibe from my Buell ownership days. I immediately felt at home in the saddle and the ergonomics seemed perfect for my 6ft, endurogeared frame, complete with obligatory Arai Tour-X bash-hat. I felt the part. The LCD instrumentation is excellent and tells you everything you could possibly need to know, including air temperature, fuel level and gear selection.
Seating is a constant topic of discussion among distance riders and a primary consideration for those long days in the saddle. While other aspects of the bike can be adjusted to suit your needs, seat comfort is not one of them and can be elusive. The Multi's is well sculptured with decent padding so the numb-rump syndrome is well suppressed. The riding position is just about the best I've experienced and the standing-on-pegs posture equally so. I was also pleasantly surprised how light and smooth the clutch action is. Suffering from a repetitive strain injury on a couple of my left digits, a heavy clutch operation quickly brings on the agony. A major relief there.
The only real area of discomfort came from the minimal screen. It sits too close to the rider to properly deflect the air and is very narrow, to allow for hand-guard clearance on full lock. The vertical adjustment still pointed the wind blast under my chin. Fitting a larger screen, positioned further forward with fully adjustable mechanism has transformed the cruising ability with much less turbulence and wind noise. It also provides better weather protection and a bug-free visor.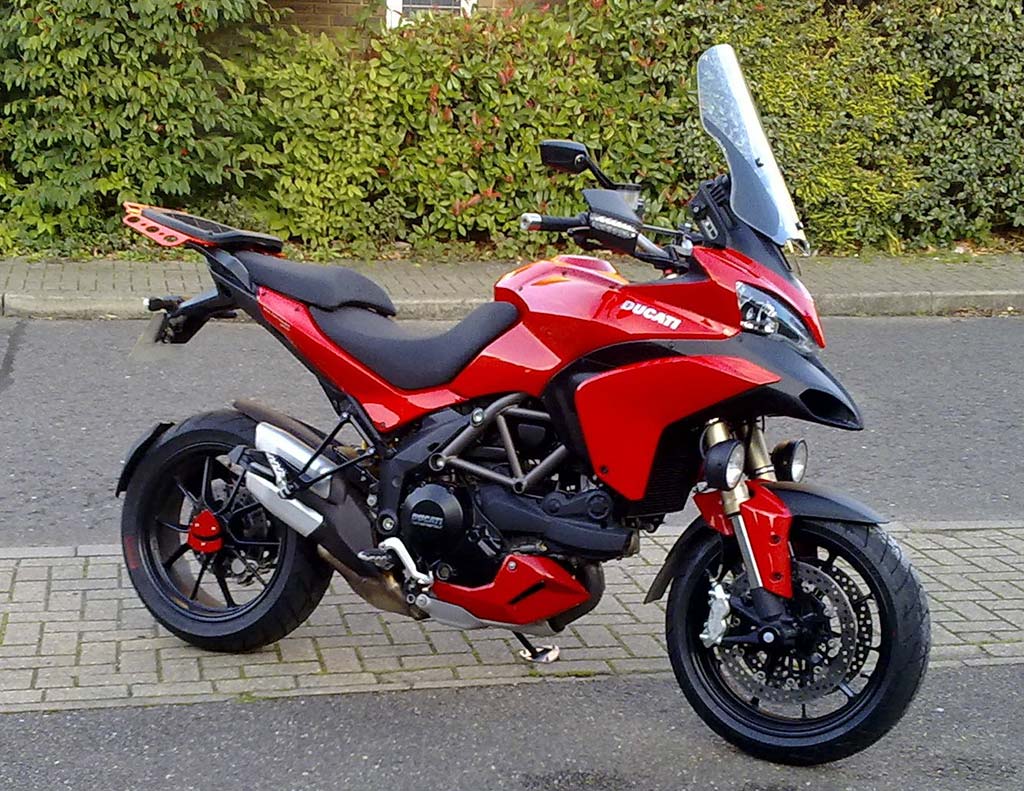 PERFORMANCE
Class-leading performance is without question nor rival and the 150 horses are never in doubt. The V-twin may be a bit vibey and agricultural-sounding at lower speeds but the smoothness and linear urgency at the higher rpms is an absolute delight. There is plenty of power and torque everywhere and you're rarely wanting for more on the open road even when fully loaded. A pillion does little to dampen the performance but a smooth action with the right wrist is required to keep things tidy and less scary for the passenger.
Stopping power is more than taken care of, the twin discs providing huge amounts of fade-free retardation with perfect modulation and feel. The six-speed gearing is spot-on but selection has presented a few issues. False neutrals were common and didn't improve as the miles increased. More worrying was the issue of changing down from sixth where occasionally the box wouldn't engage fifth and you were left with no engine braking and a rapidly approaching corner. This led to an overly cautious approach in case the worst happened, which was a complete dampener on the riding enjoyment. A new gear shifter has sorted these issues, providing much more positive engagement and feel.
My only area of complaint with regards to the engine performance is the sound track – it doesn't match the drama of the power delivery. I'm not a huge fan of ridiculously loud exhausts but it would be nice to hear a deep rumble from the twins. I'm not prepared to spend £1,600 on the optional Termignoni so will be looking at other alternatives.
HANDLING
I don't think anyone can teach Ducati anything about handling and the Multi doesn't disappoint. The purpose-made, dual-compound Pirellis are excellent. Their softer edges give plenty of confidence and feedback in the twisties, while their harder centre section deals with the longer stints on the straighter stuff. The traction control is a reassuring feature helping to tame the huge torque, although it requires real provocation to intervene, even in the wet – a real testament to the tyre technology. The suspension units both ends provide stable and secure progress and exploring the entire profile of the tyres is without drama. The ride can be a little choppy and nervous on poor surfaces but the sporty setup is worth this compromise.
My base model doesn't have the electronic suspension but I figured I was only missing one or two percent of the bike's full potential. I also didn't want to become obsessed with settings and preferences for all the potential endless scenarios. I've managed quite well up until now without this feature. I've found a setting I like and just dial in extra pre-load as required.
OFF-ROAD
I haven't ventured off-road too far, except the odd dirt track. Not because I had to but because I thought I needed to. Some of the fixtures and fittings seem a bit flimsy and I wouldn't want to drop it. I'm sure each 'off' will be expensive and could potentially leave me stranded. However, most of my riding is on the hard stuff so I would rather have the bike lean towards those attributes. I'm not naive enough to think the Enduro mode will suddenly turn me into an off-road expert so I won't be exploring my, nor the bike's, limitations.
There's plenty of ground clearance and suspension travel, making dry tracks an absolute breeze and a joy to ride on. The ergonomics, especially the wide bars, are great for steady progress in these sorts of conditions, too.
LOAD LUGGAGE
At a glance, the luggage options seem limited. The panniers look the part but their 57l offers only average capacity and the larger right-hand case will just about take my Arai Tour-X (and not much else). Globe trotters will probably seek a more suitable aftermarket setup although options are currently limited. I have supplemented my panniers with a versatile rear carrier which also gives me the flexibility to carry longer items like tents, poles, etc – a top box is more limiting to what you can carry but can offer a more secure means of storage.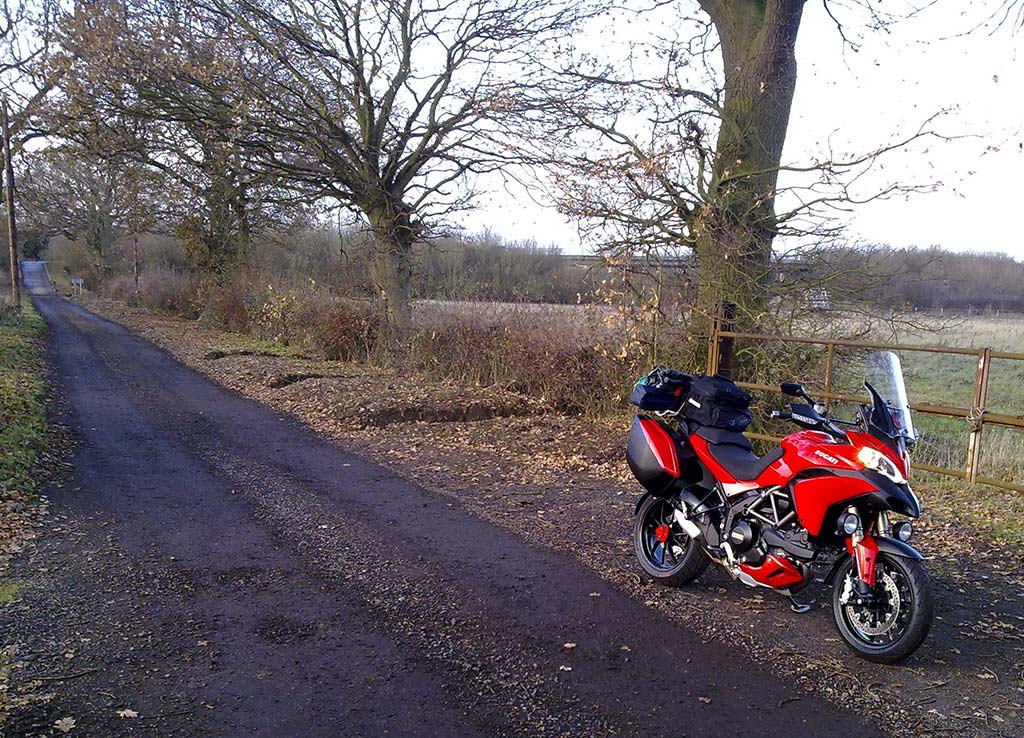 VERDICT
I now understand what this bike is all about but I'm still unconvinced by Ducati's marketing angle – namely its off-road aspirations. The bike is certainly an innovative leap forward but it could have been taken to another dimension with a bit more thought into the adventure capability aspects. Maybe Ducati will learn from this and the next version will be a bit more capable, like a BMW or KTM evolution but I wouldn't want the Multi to lose its sporting edge. Or maybe Ducati really knows its customer base – possibly ex sports-bike riders who now seek more comfort but still need to satisfy their latest techno craving?
Technology is no bad thing unless it's applied too liberally (F1 and Moto GP are prime examples) but it certainly makes for an advantage on the Multistrada, to bring you the best all-rounder ever created.
I've added a few of my own modifications and think I now have the perfect bike; I can't see a legitimate alternative at the moment but the others are catching up fast.
In the last six months of ownership the Multi has now covered over 4,000 miles without major concern.
All things considered, I think the Multistrada is excellent value for money. It is brimming with Italian character and the base version is an absolute bargain at £11k for a new-generation, freshly-launched 150bhp Ducati, with all the same electronic engine trickery as the £14k sport and touring versions, including traction control and key-less ignition.
Is it the best bike I've ever owned? Yes. Would I recommend it? Definitely. Grab one before Ducati realises its mistake.
Ratings
(out of 5)
As a long distance tourer 5
Off Road Capability 2
Around Town 5
Accessory Availability 4
Reliability 4
Handling 5
Engine 5
Economy 4
Value for money 5
Overall rating 4.5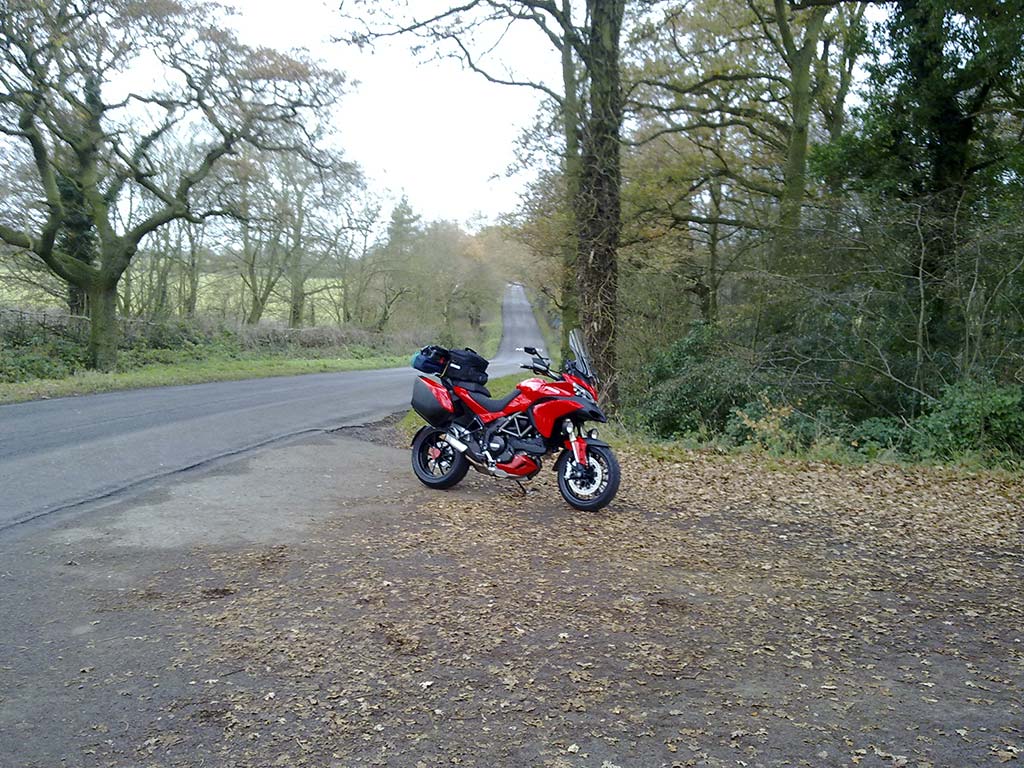 In Short
The Multistrada 1200 is a very good bike and Ducati should be complemented for going all out to produce a bike that is clearly well outside its comfort zone. To bring all their latest design and technology capabilities into one completely new product is a huge achievement. It has been unanimously well received by the press and its launch appears to have gone relatively smoothly – although delivery times were a bit vague. The Ducati Engineers must be on a high right now.
The adventure bike market has never had it so good and this bike sets a new benchmark.
TIME OWNED
6 months
MILEAGE
4,200 miles
I LIKE
The complete concept
I DISLIKE
A few flimsy components
IN A LINE
Struts around like it owns the place – which it does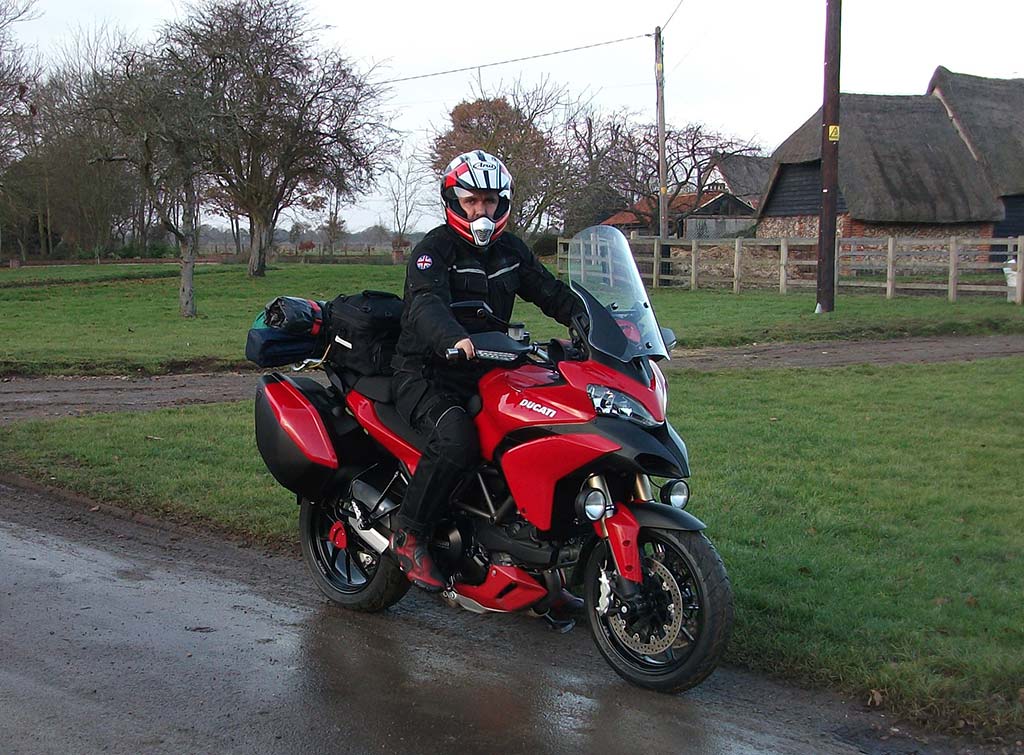 THE STATS
Manufacturer: Ducati
Model: Multistrada 1200
List Price: £10,995
Top Speed: 155 mph
Insurance Group: 17
Engine Size: 1198
Engine Type: L-Twin, 4 valve per cylinder, Desmodromic
Compression Ratio: 11.5:1
BHP: 150 (110.3kW) @9250 rpm
Torque: 118.7 Nm (87.5 lb/ft) @7500 rpm
Gears: Six
Fuel Capacity: 20 litres (av. 45mpg)
Seat Height: 850 mm
Dry Weight: 189 kg
Front Suspension:
Upside-down Marzocchi units, 55mm Dia
Adjustable pre-load and compression/ rebound damping.
170mm wheel travel
Rear Suspension:
Single-sided swing arm
Sachs Mono-shock
Adjustable pre-load and compression/rebound damping
170mm wheel travel
Front Tyre: Pirelli Scorpion Trail 120/70 x 17″
Rear Tyre: Pirelli Scorpion Trail 190/55 x 17″
Front Brake: Twin radially mounted Brembo four piston, two pad calipers actuated by a master cylinder with an adjustable lever. 2 x 320mm discs
Rear Brake: Single Brembo Caliper, 245mm Disc