YAMAHA TENERE XT 660 Z
Rider: ALUN DAVIES Time On Test: 36 MONTHS Miles Covered So Far: 10,000
The summer of 76. NASA landed the Viking 1 craft on Mars, Israeli Commando's took their annual holiday at Uganda's Entebe Airport and the New York serial killer Son of Sam claimed his first victim.
Meanwhile, in good old blighty, the tarmac was melting, the country was suffering a severe drought and the UK was starting to look more Sahara than a well watered green and pleasant land. It was, and still is, the hottest summer on record. A fitting time then for Yamaha to introduce the XT 500, the fore-runner of the Tenere.
The XT 500 was the first motorcycle to make me go all Elvis at the knees. As a budding teenage motorcyclist I recall collecting pictures of the new Yamaha, and whilst not quite going so far as sticking them on my bedroom wall, I kept a scrapbook of the bike I was going to own when I was earning enough dosh.
The XT remained in production until 1981, and was superseded by the XT600Z the first of the line to carry the 'Tenere' mark. Fast forward to 1989, a year in which the Davies wallet was fat enough to consider buying a new motorcycle, and I found myself riding back from a dealer in the Black Country on a brand new Yamaha XTZ 600 Tenere. The blue and yellow 1989 model was the third version of the 'Tenere' to be released and featured a frame mounted fairing, twin headlights and a small screen plus a 23L tank, electric start, 46bhp and weighed in at 185kg.
The XTZ looked nothing like the original XT but, it was the latest incarnation and I was able to ride back into Stratford upon Avon looking as if I'd just rode in from Dakar rather than Dudley.
However, my preferred riding style at the time was either full-on, headdown, let's-be-having-'em on a sports bike, or slow, balanced and measured on a trials machine. The Tenere satisfied none of these techniques and if the truth be told I knew I'd made a mistake on the ride back from the dealers. If memory serves me well then I kept the 'Ten' for about six months before chopping it in for a Kawasaki ZX10, which for a brief moment meant I was riding the fastest rocket ship on the road.
But needs change, as does our outlook on life and few years ago I felt it were time to reacquaint with the Tenere. The 2008 XT660Z version looked a lot different to the 1989 model though it still shared the 'adventure' looks; a 23L tank, 46bhp and was only 2kg lighter. The bigger difference was with the rider, who had given up on sports bikes and trials riding many years ago and now dreamt of riding off into the wide sandy yonder on a daily basis.
Okay, so after near enough three years of ownership here's my take on the Yamaha Tenere XT660Z

Price
The current new price of £6,999 is a couple of grand higher than the launch price in 2008, but that's inflation and currency fluctuation for you. That said, it's competitively priced when measured against the competition and there are some cracking value second hand machines to be had.
Ergonomics
First up; I'm 6ft 2in and anywhere between 16st and 17st depending on if I step on the scales after a particularly heavy curry night. There's no getting away from it the 'Ten' is a tall bike and can appear intimidating to those of a lower stature, and even for 6fters swinging a leg over can induce a palpitating hamstring.
From the off I found the seat and leg settings spot on and a set of 20mm bar risers completed the feng shui. The small screen is deceptively effective and I've never found the need to change to the taller touring screen which appears to be popular suggesting that others of different stature would not share that opinion. But no screen suits all.
I've heard mixed reports about the seat from other riders, though I have to say it's another component I've never been pained enough to change. There's a fair old step, and it does have pronounced edges but I've found it comfy enough for high mileage days though once again there's a lot of after market sheepskins and airhawks adorning the XT660Z so not all would agree.
I've taken the other half on a few long day's out and whilst she's never been ecstatic about the experience she's not handed in her cards either. But then she's below average size and weight and I'm sure that has a bearing – larger passengers may not find the back of the Ten such a hoot.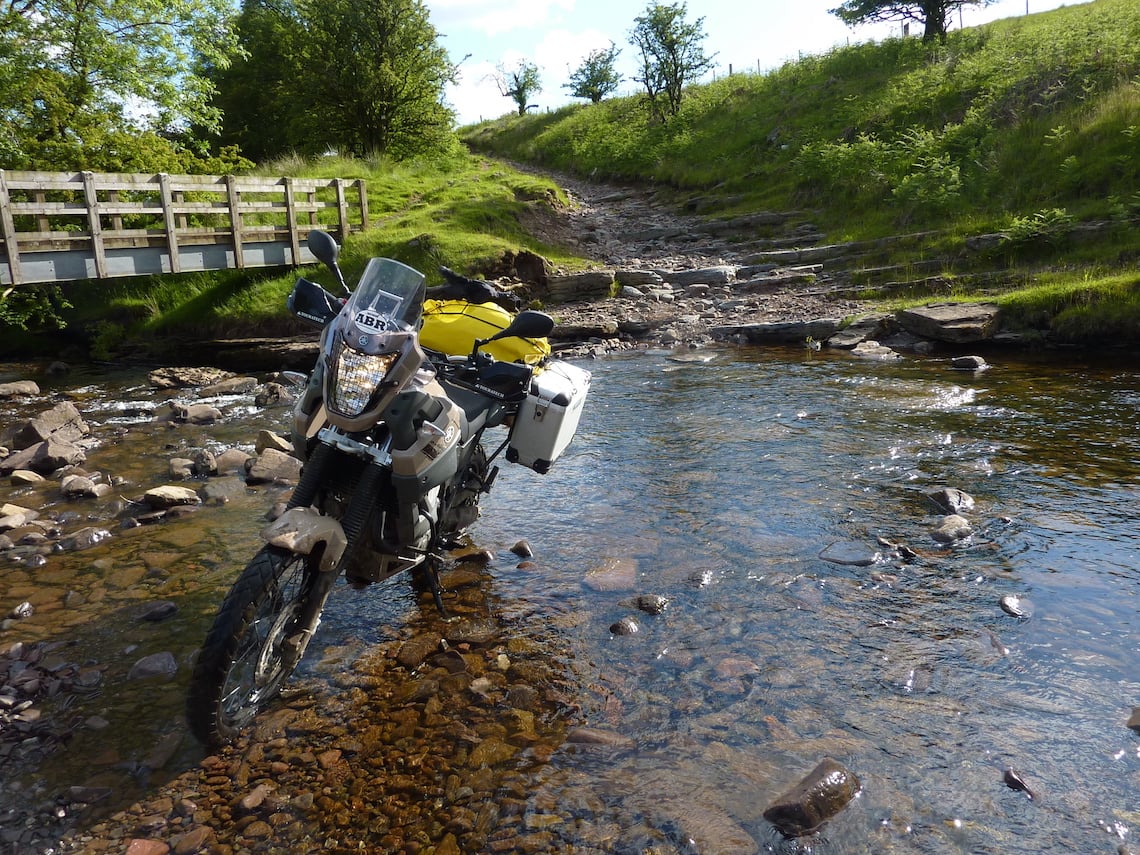 Add On's
My intention was to predominantly use the Tenere for solo rides to rallys and for bopping down green lanes near and far. It was also the bike I bought with the thought that it would be comfy enough for the ride down to Morocco and capable enough to ride to the top of the sand dunes when in the Sahara.
So, a quick trip down to Touratech and I fitted it out with handguards, crash bars, pannier racks, panniers, engine guard, headlight grill, brake extender, Camel Toe sidestand plate and a couple of other smaller protective bits of bling, just because they had them on offer. As the bike was going to be used as a purposeful dual purpose machine I also swapped the stock tyres for a set of Continental TKC 80's.
I'm well aware that the above list is not exhaustive and that many Tenere owners change or alter airboxes, filters, suspension and carry out fuelling modifications. As of today the only item on the additional wish list I'm seriously considering is the after market suspension.
On the Road
I remember riding the Tenere home to Stratford upon Avon on the evening that I bought it from the original owner down in Portsmouth and thinking that it was a lot more accomplished than I'd thought it would be. The bike cruises at 80mph comfortably and stress-free though where the claimed 120 top speed comes from I've no idea. Short of riding over the North Face of the Eiger I find it running out of steam at around 100mph and a lot less on hills. That said, I didn't buy the Yamaha for high speed touring and setting sail down a motorway or autobahn at 70mph is fine by me.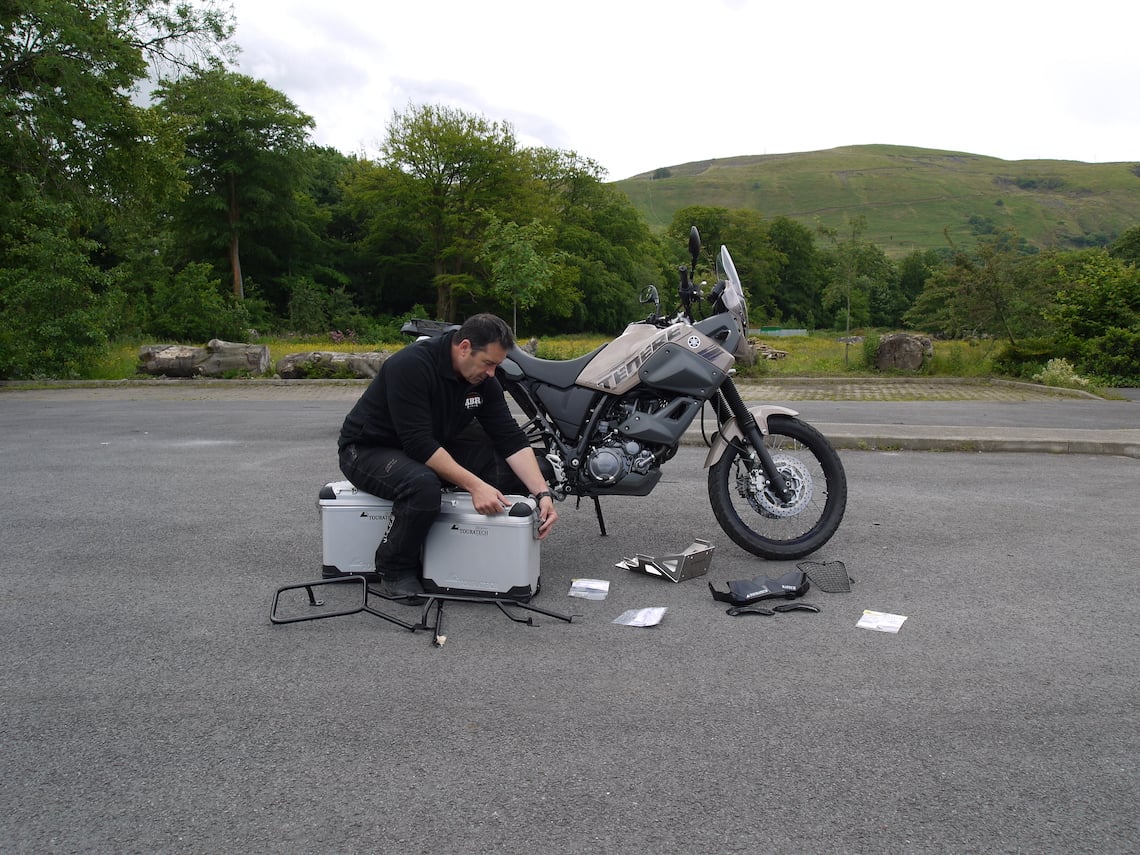 The bike handles like it looks. There's a lot of suspension travel on the Tenere and it tends to squat and dive a fair bit but never enough to bother me when ridden within it's limitations. In fact I quite like the ride and it certainly get's me out of that frame of mind where I'm looking for the smallest of openings to overtake the car in front. It relaxes the part of the brain connected to the throttle control, and I quite like that effect.
One thing of note about the XT660Z is that the engine judders considerably if you open the throttle bellow 3000rpm. There are fuelling modifications to counter this effect but I've found that it was something I quickly got used to.
Fuel economy has been varied and I've returned anything between 70mpg and 48mpg depending on the ferocity of my right hand and the conditions. With a 23L tank and gentle throttle use over 350 miles between fill-ups is achievable.
Off Road
The Tenere is a big old boy, weighing in at 183kg and, as stated above, it's tall. Which means, for many riders it's a daunting task taking the bike off road on anything more challenging than gravel roads. The first gear is high, it's a long way to the floor to take a dab and when ridden slow you can feel it's top heavy slant a lot more than you'd like too.
If you want to get the best out of this bike off road, then unless you're above average experience, you're going to have to ride it at a faster pace than you'll be wanting to. Many a time I've pointed the Tenere at a particularly gnarley line and waited for the inevitable only to find that both the bike and I arrive at the other side intact and gagging for more of the same. It's a very capable off roader in the right hands and when ridden with confidence.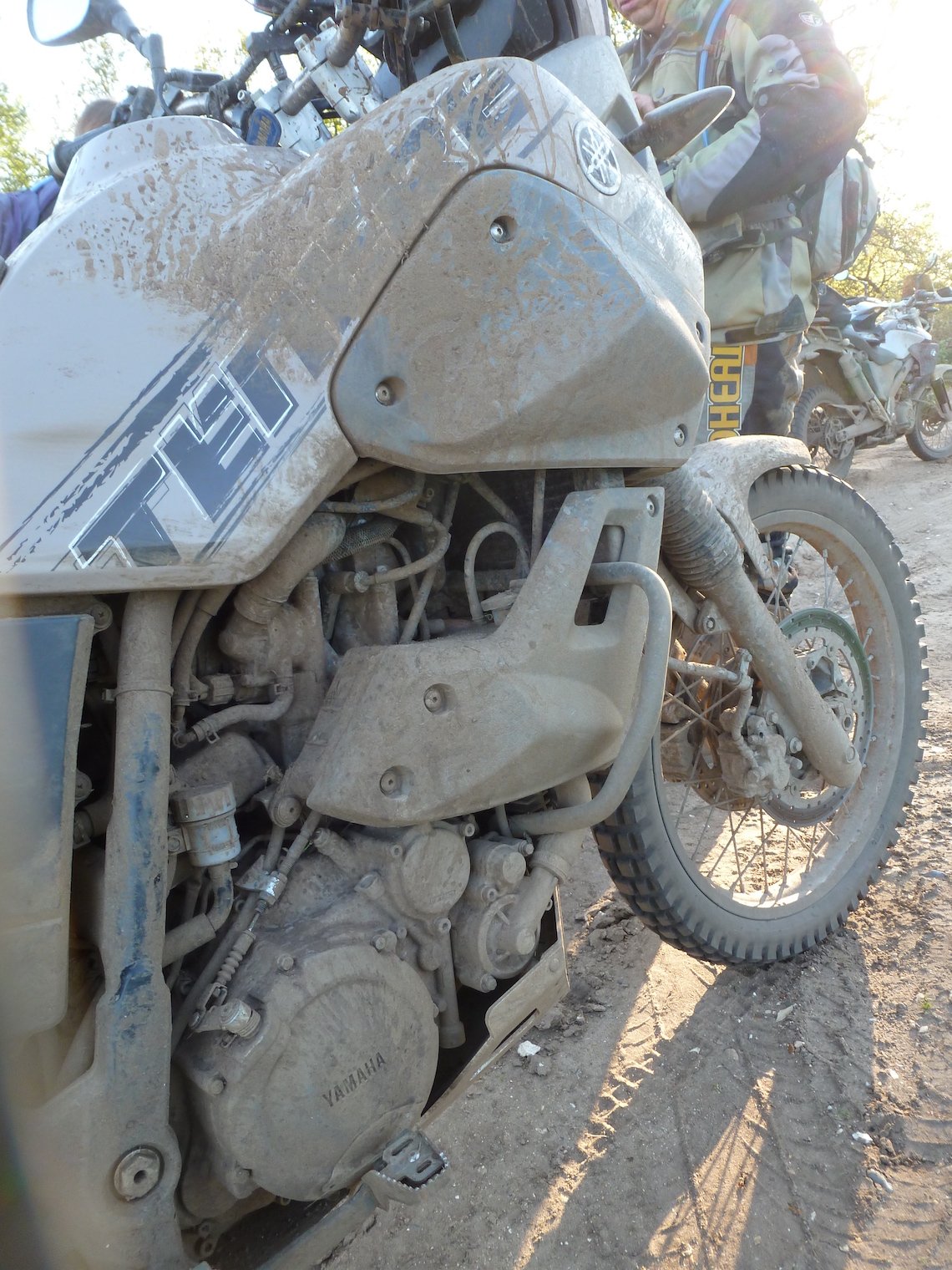 Over the years I've completed some of the harder green lanes in Mid Wales fully loaded with panniers and a tail pack without a spill but have dropped the bike on many an occasion when riding at walking pace on less challenging terrain. But if you do drop the Ten, you'll be pleased to know that it crashes well and I've yet to chalk up any damage.
Reliability
Always started first press of the button, it's never let me down, it's taken plenty of abuse and still looks like a reasonably new bike – though I'm sure the 'Desert Brown' or 'Hearing Aid beige' colour scheme helps with this.
Search the web and the ABR forum and review section and you'll find others that have had faults but I'm only commenting on the machine that's towed my ass around for over the past three years.
Pros and Cons
PROS
■ Big tank and range
■ Genuine dual purpose machine
■ Reliable
■ Good build quality
■ Good looks (subjective, of course)
CONS
■ It's still heavy for an off-roader (206kg fully fuelled)
■ Height (for some)
■ Engine juddering below 3000rpm (it's fixable)
VERDICT
■ As long as I've still got aspirations of travelling down to Morocco (solo) in reasonable comfort and having fun on the dunes and trails I'll not be selling the Yamaha Tenere XT660Z
Photos: Alun Davies