Moto Guzzi aimed to create a 'classic travel enduro' for its first new adventure bike since the demise of the Stelvio. James Oxley travelled to Sardinia to find out exactly what that means, and to see if the Italian manufacturer has achieved its aim.
I admit to being nervous flying over the Tyrrhenian Sea on a plane destined for the Italian island of Sardinia. I was keeping a secret from my fellow passengers and I wasn't sure how long it could stay under wraps.
In a couple of hours, I'd be attending the international press launch of Moto Guzzi's new V85 TT (TT meaning tutto terreno or all-terrain), the manufacturer's first new adventure bike since the demise of the Stelvio a few years ago. The flight should have been an opportunity to relax and catch up on some reading, but I couldn't help but feel like a fraud.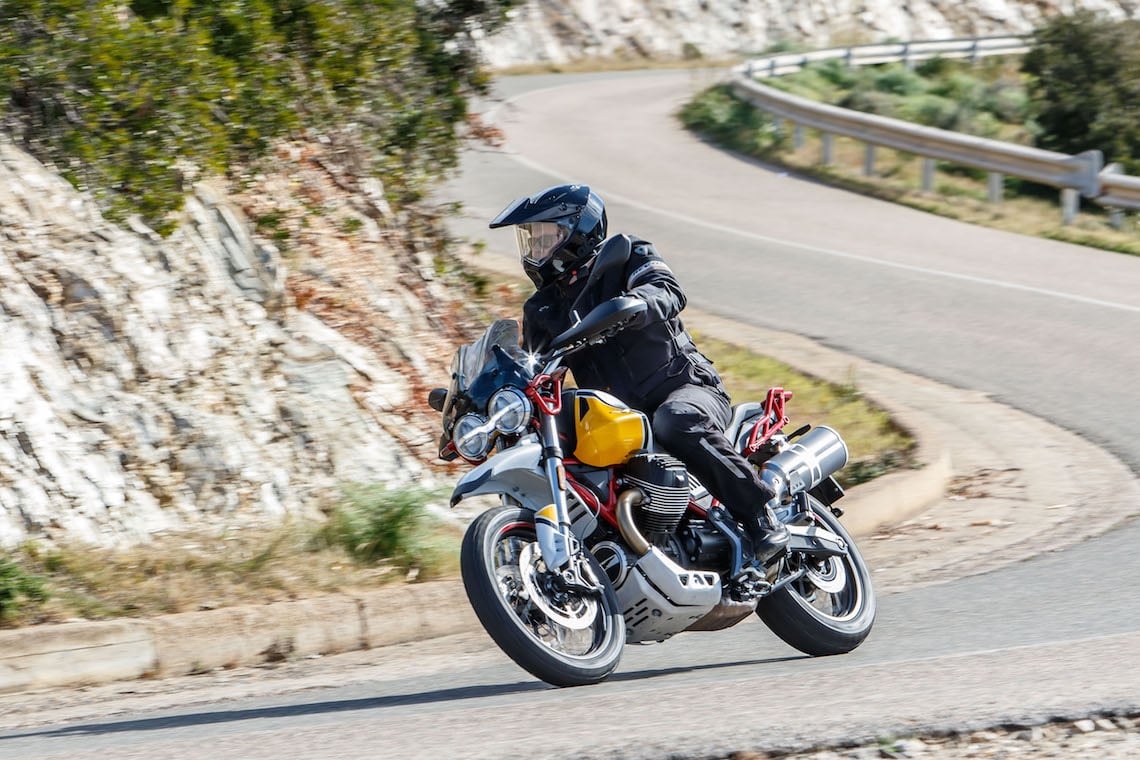 My nervousness stemmed from the fact that, unlike the pack of experienced motorcycle journalists relaxing in their seats around me, I'd never attended the press launch of a new bike before. Actually, I had only been a full-time motorcycle journo for four months.
The fact I was now representing Adventure Bike Rider magazine and I was about to test a new adventure bike put, in my mind, a rather hefty weight of expectation on my shoulders to, well… know what I was doing.
I'd tried to reassure myself that I wasn't a complete newbie. You see, one of the reasons I'd managed to bag the best job in the world, writing for ABR, wasn't because I'd already had a glittering career in the motorcycle press. Instead, it was because I love to travel by bike. In fact, I'm rather fanatical about it.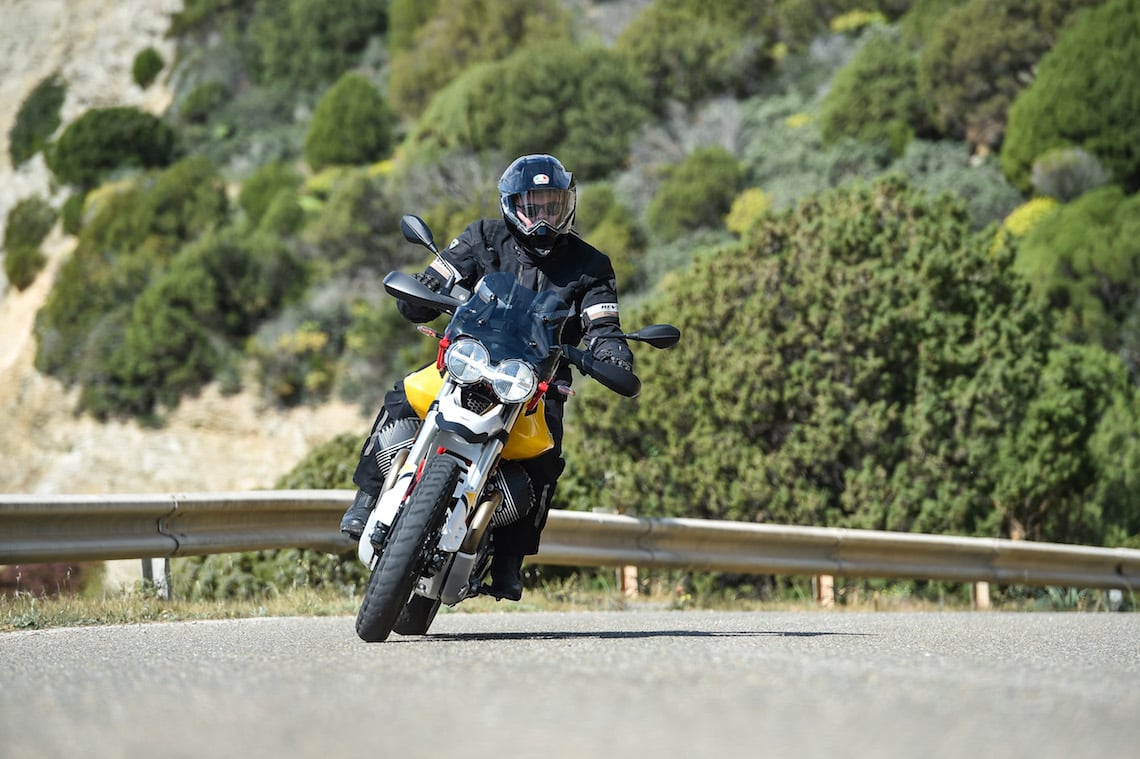 Flying high
I've ridden tens of thousands of miles over the past few years. I've commuted daily through chaotic city streets, scaled mountain passes, traversed rocky trails, and regularly battled adverse weather conditions that should have seen me leave the bike in the garage and take the car (I had no choice, I didn't own a car).
These experiences have helped me build up a bank of knowledge about travelling by motorcycle, both at home and abroad, which I now use to help inform and hopefully inspire ABR readers through the pages of this great magazine.
However, as I sat on the plane with a group of long-serving motorcycle journalism pros, I was starting to feel like the new kid at school who'd been moved up a year and was trying to fit in with the big boys.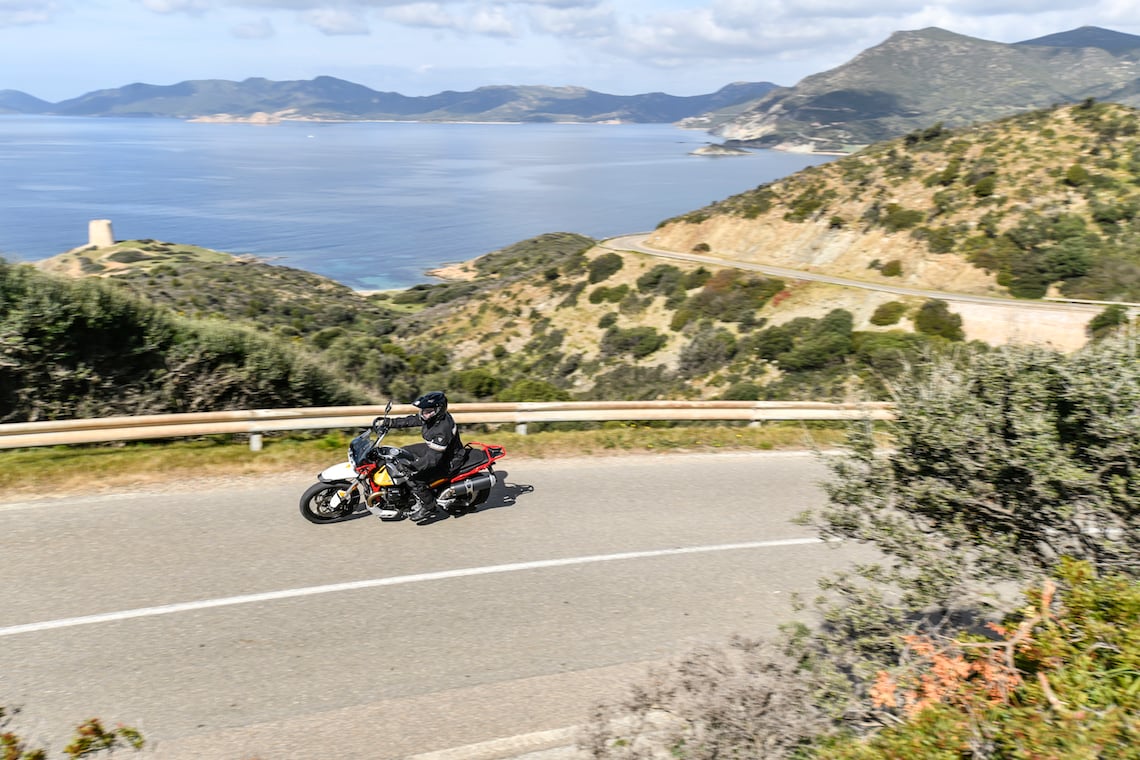 I couldn't hold my secret in any longer, so I blurted it out to a member of our group sat next to me. There, I'd said it. I'd now be a press pack pariah, but at least my conscience was clear. He looked at me and smiled, before spending the next few minutes explaining about the workings of motorcycle media launches.
I landed at Cagliari airport more knowledgeable about the challenges to come over the next two days, and I'd learned yet again that honesty is the best policy. Anyway, a bunch of savvy bike journos can smell bullshit a mile off, so they had probably clocked my press launch virginity already.
Once we landed in Cagliari, a minibus was waiting to take us to our hotel, the Is Molas Resort in Southern Sardinia. Lunch was soon laid on, followed by a Prosecco reception. I was having a thoroughly nice time, but I couldn't quite figure out when I would actually be riding the motorcycle I'd travelled all this way for.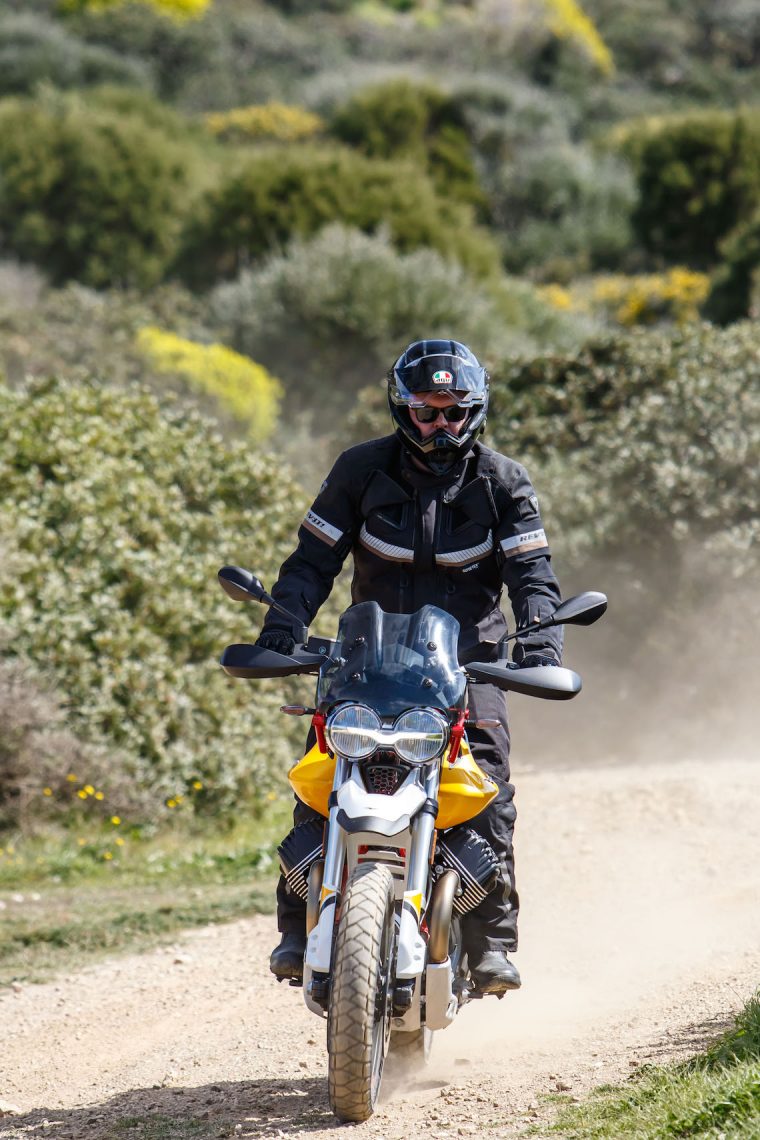 A first look
That evening, we got a first close-up view of the V85 TT during a presentation by a collection of dapper-looking gentlemen from Moto Guzzi in Italy. It was a gorgeous-looking bike to behold and the stylish Italian gents went about explaining the design ethos behind the V85 TT, which they called a 'classic travel enduro'.
To you and I, this may sound like three words strung together to appeal to as many potential buyers as possible, but according to Moto Guzzi, this phrase represents a new niche it wants to carve out slap bang in the centre of the mid-size adventure bike market.
The company's thinking was this: At one end of the scale you have motorcycles with a veneer of adventure styling but are really only designed to be ridden on the road (think 17-inch front wheels and short travel suspension). At the other end, there are off-road-focused bikes that are great in the dirt but sacrifice road comfort and handling (think 21-inch front wheels and spongey suspension as you wallow around corners).

The V85 TT, so Moto Guzzi says, sits firmly in the middle as a do-it-all bike. They claimed it is good off-road, it's great on the asphalt, and its retro styling and shaft drive make it a different animal to anything else being offered in the mid-size adventure bike market.
This all sounded very plausible as I made notes, but I didn't have a clue if it was the god's honest truth or marketing hyperbole, but the next morning I set out to find out for myself. As I walked out of the hotel lobby I was met by a brilliant blue Sardinian sky and a row of V85 TTs glistening in the morning sun. It was a stunning sight.
I had a choice between selecting a solid-coloured 'Blu Atlante' bike which comes equipped with Metzeler Tourance Next tyres, or a stunning yellow and white 'Giallo Sahara' version with a red frame, sporting the slightly more off-road focused Michelin Anakee Adventure rubber.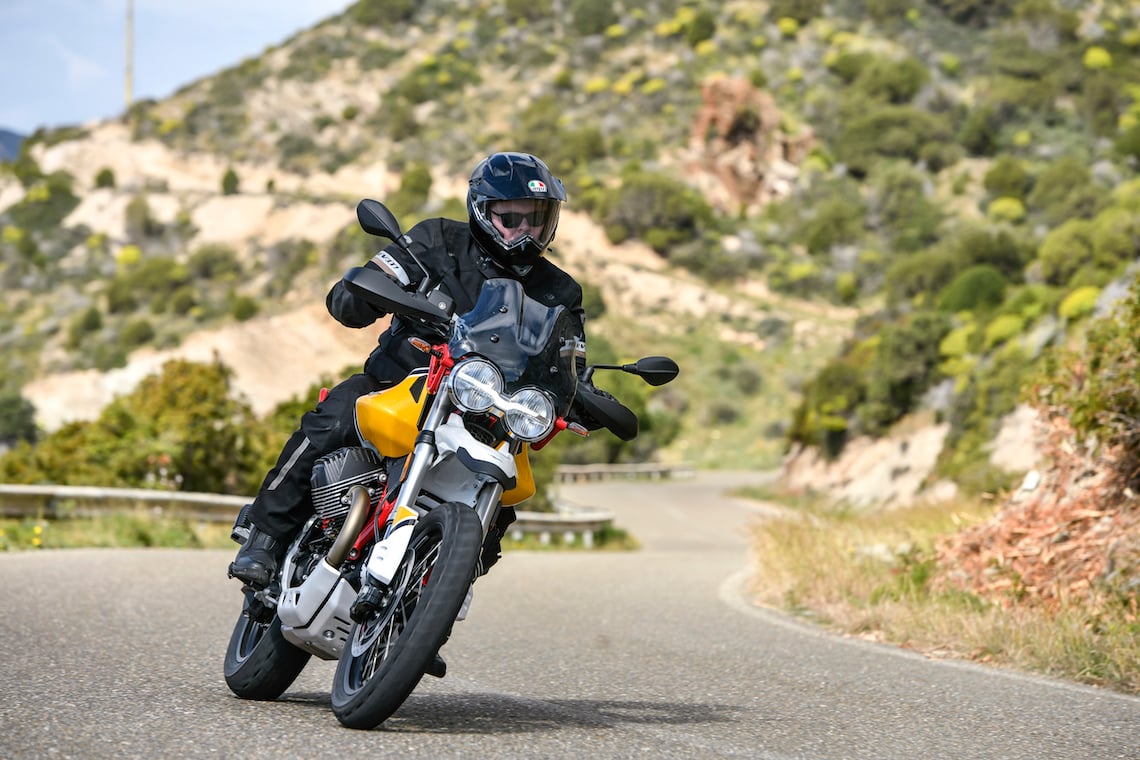 Stunning dual-colour scheme
I made a beeline for the yellow and white bike. The privilege of the dual colour scheme will set you back an extra £200 at a dealership but that paint job, reminiscent of the Moto Guzzi V65 TT dual sport of the 1980s, is worth every penny in my book.
Before I left for Sardinia, I'd taken a look at the current crop of motorcycles in the manufacturer's line-up. This revealed a selection of classy, retro-styled cruisers and modern classics that draw design cues from almost 100 years of bike-building history.
In designing its new adventure bike, Moto Guzzi continued with this approach, embracing its heritage in the signature lines of the 23l fuel tank, and in the way the cylinder heads of the distinctive 90-degree transverse V-twin engine protrude below.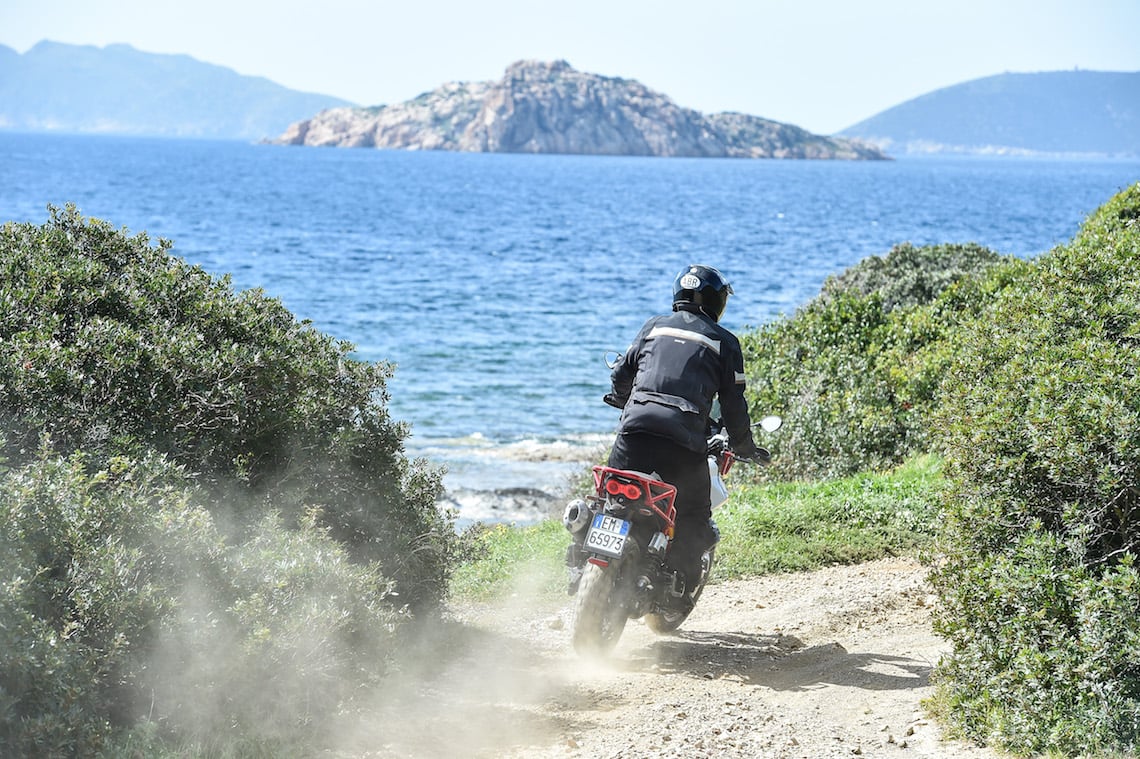 On closer inspection, the bike's finish seemed top draw. Nothing felt cheap or bolted on as an afterthought, and the attention to detail gave the V85 TT a premium feel. The switchgear is uncluttered, almost minimalist, with glossy buttons that provide good tactile feedback. The luxurious-looking seat is embossed with the Italian firm's logo, and LED lights cut across the headlamps to light up the shape of the Moto Guzzi emblem.
Neat touches like this may not affect the performance of a bike, but they do give the impression that a lot of care and attention has gone into designing it. This is a comforting thought if you plan to shell out £10,899 for the base model, or £11,099 for the dual-colour version.
Starting up the V85 TT for the first time was an absolute pleasure and a very different experience to most adventure bikes. Hitting the starter switch results in the 853cc air-cooled engine growling and shaking to life, like a grizzly bear awaking from hibernation. The bike then throbs rhythmically between your legs, its vibrations passing through every bone in your body and out into the world. Safe to say, the V85 TT has you engaged right from the start.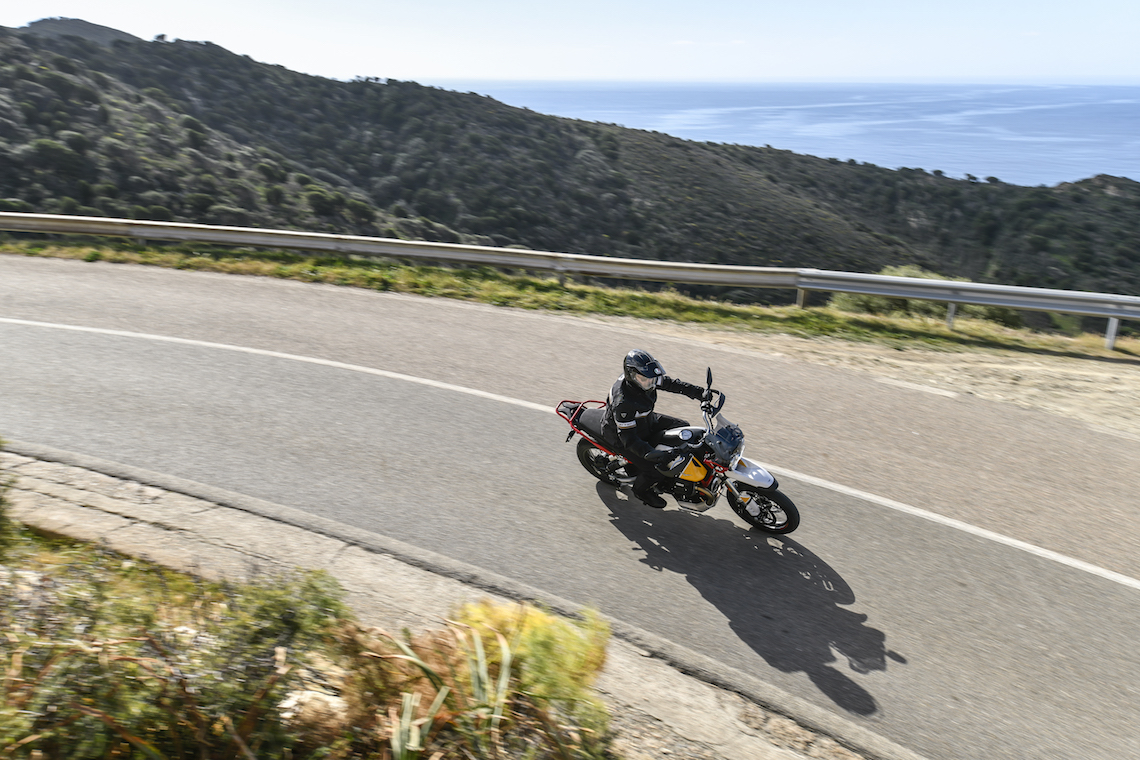 A primal experience
Noticeable when the bike idles is the distinctive sideways rocking motion that has become synonymous with Moto Guzzi since its 90-degree transverse V-twin engine was first developed in the '60s. If you like your motorbike engines to be silky smooth then look elsewhere. This is a primal experience from an engine that oozes character. It is unmistakably a Moto Guzzi and I loved every shuddering moment.
That's not to say the V85 TT is a dinosaur of a bike reliant on nostalgia. The fly-by-wire throttle allows for three rider modes (road, rain and off-road) which are accessed by a double-tap of the starter switch. Cruise control comes as standard, as does a 4.3-inch TFT screen. It's not the biggest I've seen, but it was nicely laid out, clear to read and at no time did the reflection of the Sardinian sun obscure it.
All around me I could hear Moto Guzzi engines erupting into life and I was itching to get riding. I'd fastened my helmet strap and I was putting on my gloves when we were all asked to get off our bikes for a demonstration of how the V85 TT's Bluetooth connectivity works with a smartphone.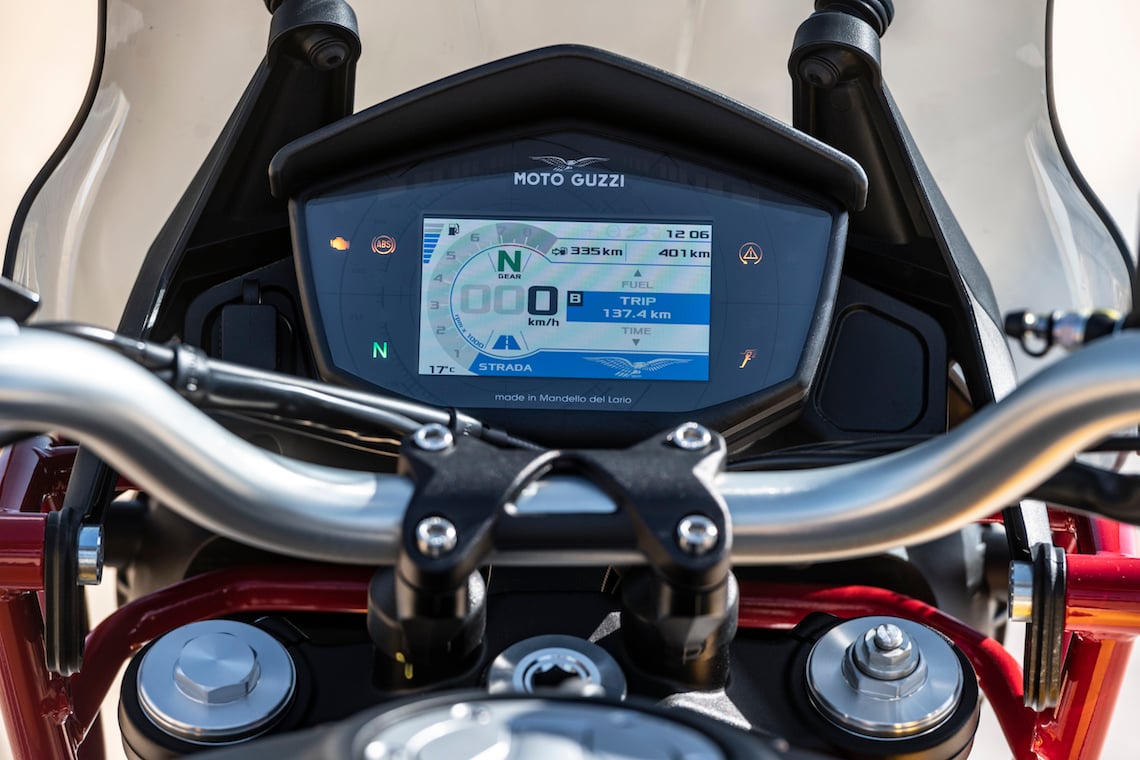 The Bluetooth functions include the standard fare. If you listen to music and make and receive phone calls through a helmet communicator, details will appear on the dash and can be controlled through the bike's switchgear. By downloading the Moto Guzzi app, you can also set a destination and basic turn-by-turn directions will appear on screen in the form of arrows. It's not as sophisticated as a full SatNav, but it's a handy little feature.
I returned to the bike and got to experience the raucous joy of being in the midst of a pack of Moto Guzzi motorcycles, all pulling out of the hotel car park and accelerating up the road together. That sideways rocking motion from the engine disappeared as I opened the throttle and worked through the gears. What remained was an intoxicating growl which turned into a roar under hard acceleration.
We started the day's ride on a few straight stretches of road so I took the opportunity to focus on the fundamentals. Back at the hotel, I found I could plant both feet firmly on the ground with room to spare thanks to the 830mm seat height – you can buy an 810mm lower saddle or an 850mm higher seat as optional extras. I'm 6ft tall, but the shorter riders among our group didn't seem to have problems putting both feet on the ground.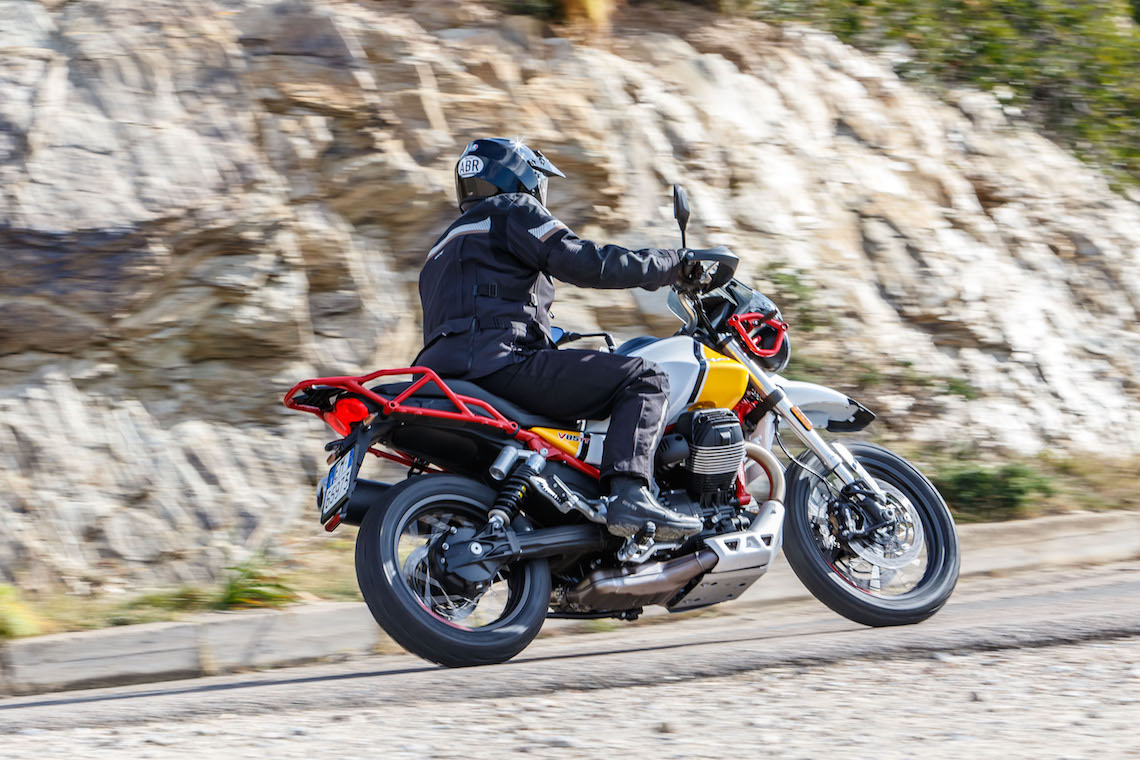 Comfortable riding position
A low seat height sometimes means I feel cramped when riding a bike, but this wasn't the case with the V85 TT. I found the riding position extremely comfortable. The magical hands, backside, feet triangle immediately felt natural. It isn't as upright as some adventure bikes, but it was a relaxed position to be in. 
The switchgear, as well as looking classy, was easy and intuitive to use. There was no rummaging with my thumb desperately trying to find buttons to turn on full beams or cruise control for example. Flicking through the menu on the TFT display was also straightforward while riding. I somehow managed to set the language to Italian for a short while, but this was quickly remedied.
The seat felt as comfortable as it looked, not too hard, not too soft, but just right. An extra piece of cushioning has been placed just behind the rider's backside, I assume to stop you from sliding backwards under acceleration. It's another nice little touch on a clearly well-thought-out bike.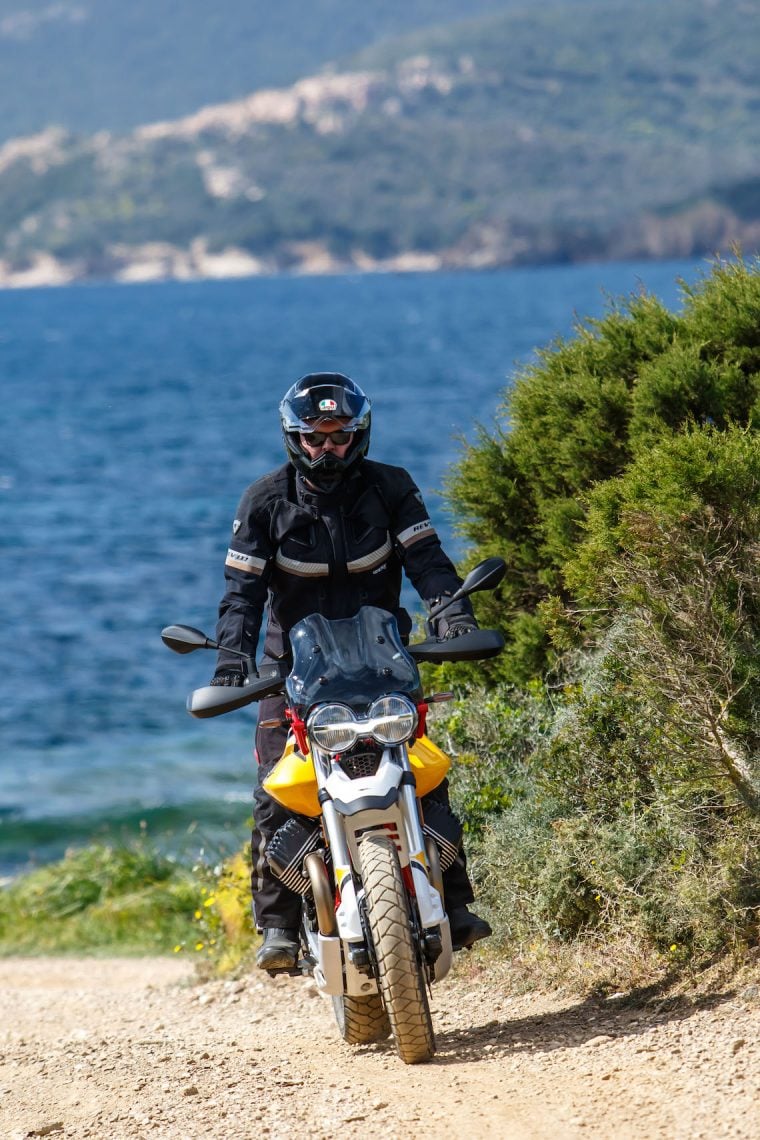 Soon enough, our ride leader led us to down the coast where we were met with sweeping views of sparkling seas and miles of sandy white beaches. Just as spectacular as the scenery was the twisting coastal road that wound its way along the contours of the land, clinging to the cliff edge.
The V85 TT was in its element. A nudge of counter-steering and the bike swooped into the bends. Its agile handling belied the bike's relatively hefty weight (229kg wet) as I flicked it from side to side through tight corners and sweeping bends.
The suspension is adjustable at the front and rear for preload and rebound, but I found the stock settings to be just about right and I didn't experience any wallowing in the corners. There was a bit of fork dive under braking, but it wasn't as severe as I've experienced on some other adventure bikes, the Honda Africa Twin being a good example.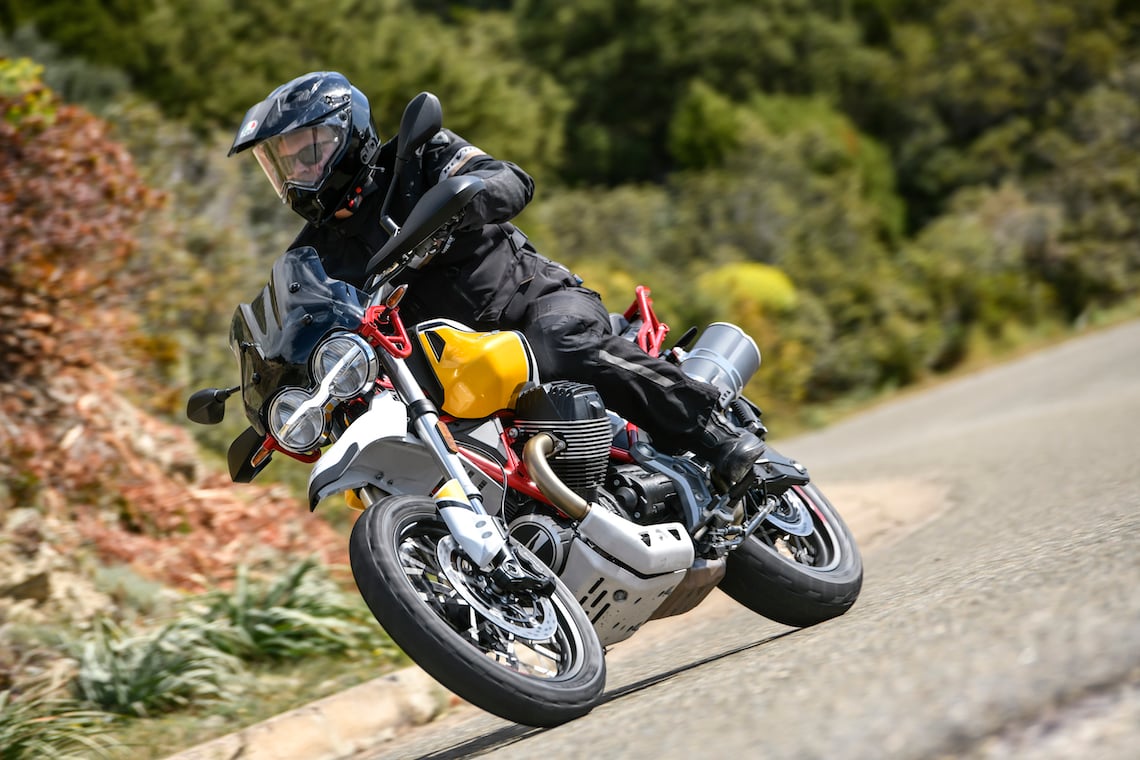 Double-disc Brembos
Talking of brakes, the double-disc Brembos at the front and single disc at the rear did a solid job of slowing me down. They're not the most powerful brakes you'll find, but they did everything I needed without fuss. I was enjoying every second of getting to know the V85 TT, especially that raucous growl from the engine as I accelerated out of each glorious turn.
Various photo stops gave me the chance to assess the low-speed manoeuvrability of the bike. I undertook various U-turns on the narrow coastal road, and jostled for position with 20 other bikes on small rocky pull-ins. The V85 TT was easy to move around and felt light and nimble at low speeds for a bike of its bulk.
There was nothing snatchy about the power delivery and the clutch was light. It all made me think the Moto Guzzi would prove a capable commuter in the city, where slow control is vital.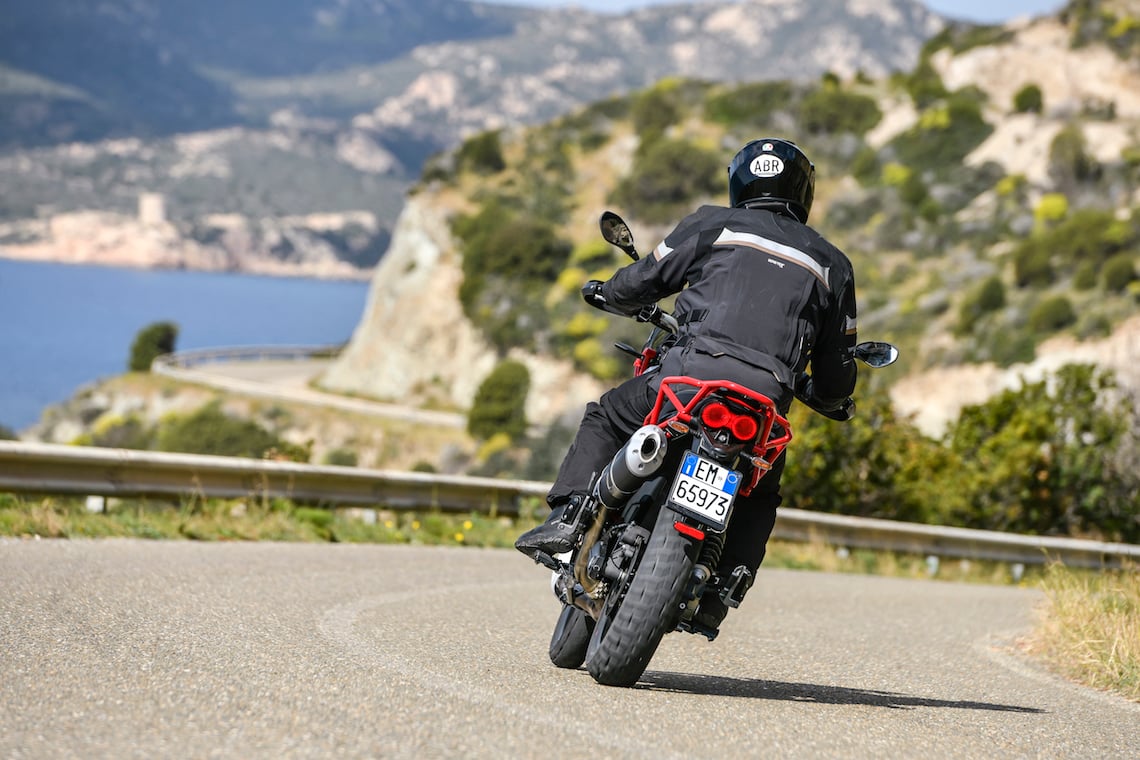 With photography duties over we were given the freedom to test the V85 TT back along the sublime coastal road then up into the mountains. To be honest, it would have been a great afternoon on pretty much any bike, which is why I assume manufacturers choose exotic locations to launch their new motorcycles. With this in mind, I switched my mind off from the world around me and focussed on the strip of road ahead and the bike between my legs.
What struck me most was what effortless fun the V85 TT was to ride no matter what I did with it. That 19-inch spoked front wheel turned eagerly into every bend, its Michelin Anakee Adventure tyres providing plenty of grip on the dry, smooth road surface.
If you love riding twisting mountain passes during your summer tours, you'll enjoy the V85 TT. Likewise, if you enjoy snaking along country lanes on a weekend, or even carving your way around your local ring road's roundabouts on the way to work, the handling and power of the Moto Guzzi won't disappoint.

Short screen
One aspect that I found lacking was the rather short stock screen. During the presentation from the dapper Italian gents the previous night, they had shown a wind tunnel graphic of air passing over the screen and onto the rider. It looked like air was simply being funnelled into the rider's chest and face. I can now testify that is exactly what it does.
At low speeds, it felt fine, but at 60mph and above it felt like riding a naked bike. Wind blasted into my chest, shoulders and face, forcing me to hang onto the handlebars and duck down as low as possible. If this was annoying and distracting on a sunny ride in Sardinia, I can only imagine what it will feel like on a wet and windy day on the M25.
While there are benefits to a smaller screen on off-road-focused motorbikes, including better vision of the trail ahead, the V85 TT isn't a dirt bike. Chances are, buyers will want to tour on it at some point. I assure you, 300 miles spent dashing across France to the Alps at toll road speeds isn't going to be fun with this screen. Thankfully, there is a taller option available as an accessory, but you'll have to pay extra for it.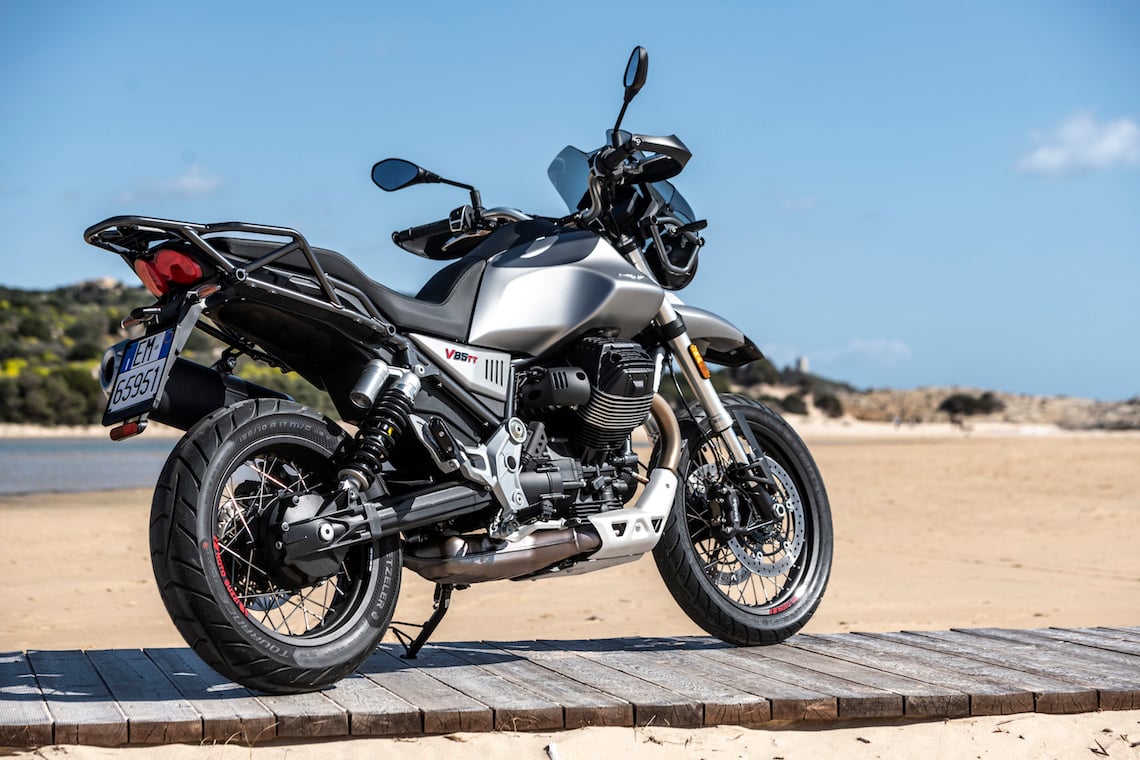 After a spot of lunch in a quaint little town in the hills, I took the opportunity to swap bikes and ride the base model V85 TT. The difference between the two is minimal, which is reflected in the fact there is only a £200 price gap between them.
The slightly cheaper bike features a single colour paint scheme instead of the two-tone version I'd been riding so far. It also comes equipped with Metzeler Tourance Next road tyres instead of the slightly off-road-focused Michelin Anakee Adventures I'd been riding.
The difference between the tyres is by no means night and day, but the Metzlers did feel grippier, inspiring more confidence in the corners. I was still riding these tyres on the base model bike as we ended our day's road ride, pulling up to our hotel entrance turn-off. An optional off-road route was offered up and a band of us eagerly headed off in search of dirt.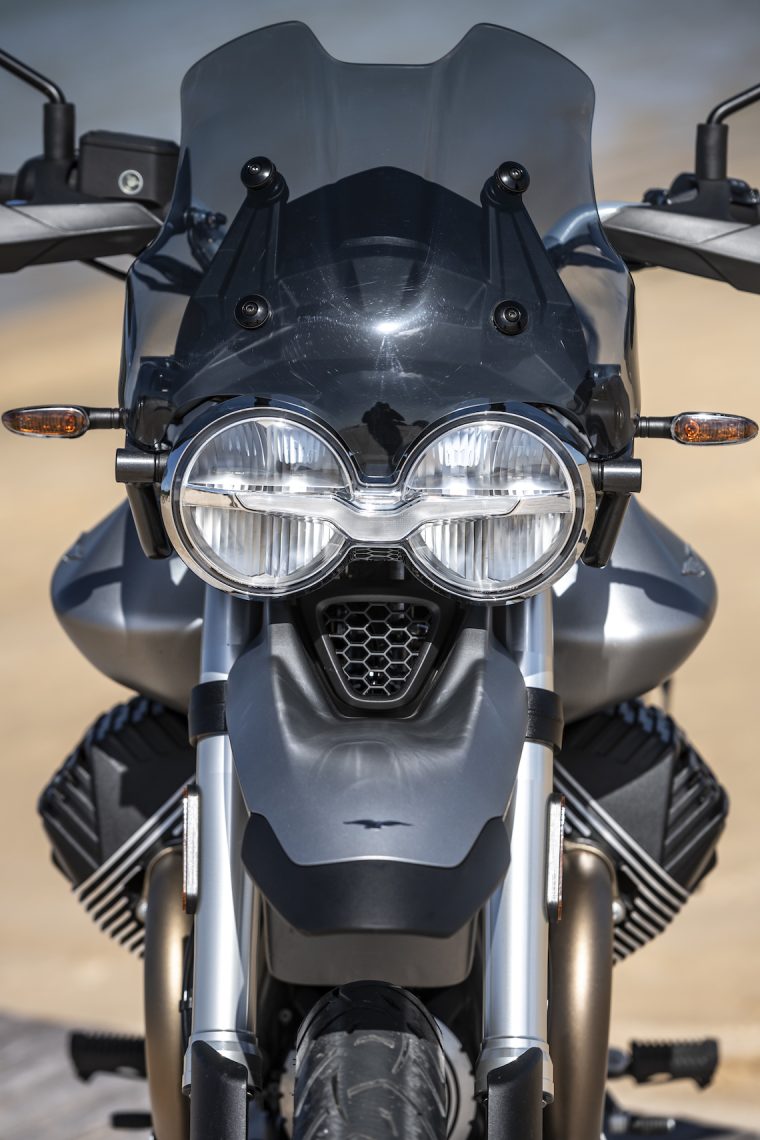 Sliding around off-road
At this point, let me say the terrain wasn't challenging enough to test the V85 TT's off-road ability to the limit, but after a day on the asphalt, it felt good to stand up and feel the bike slide around beneath me. The standing position, like the rest of the V85 TT's ergonomics, felt natural and comfortable. The bars could have been a tad higher for my liking, but I certainly didn't feel like I was leaning uncomfortably far forward.
The Guzzi handled narrow, sandy and rocky trails with ease, nimbly rolling over the rockier areas. Its 170mm suspension travel at the front and rear soaked up any bumps, dips and obstacles quite happily. Yet again, the V85 TT felt more than within its comfort zone and was proving a lot of fun ride.
It's hard to draw too many conclusions on the V85 TT's off-road credentials from half an hour spent riding a stretch of sandy and rocky trail. I'm sure the suspension would bottom out if pushed harder over tougher terrain, but the bike proved it can not only handle light off-roading with ease, but it's actually a lot of fun to ride while doing so.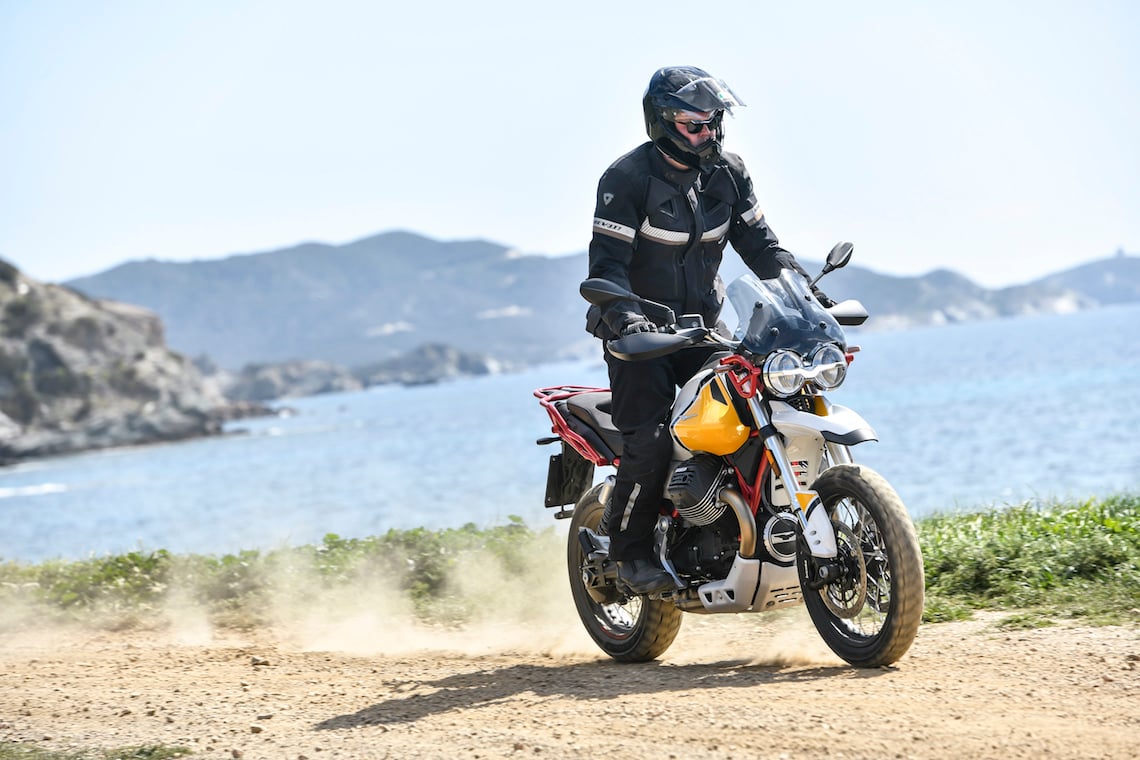 Conclusion
It's easy to get excited when riding a new bike for the first time, especially in such glittering surroundings. I'd lived in a VIP bubble for two days at my first international motorcycle launch and I'd enjoyed every second of it. However, the reality is UK buyers won't be carving along the coastal roads of Sardinia on their V85 TTs on a daily basis.
I've logged enough cold, wet, and monotonous motorway miles in my time to recognise issues that may appear tiny niggles on a sunny day abroad, but which turn into full blown annoyances when you live with a bike on a daily basis. The V85 TT's anaemic screen is one of them. This is a shame because as a long-distance touring bike the V85 TT has a lot going for it.
It has a large fuel tank (23l), shaft drive, all-day comfort, cruise control and handguards as standard, and enough grunt to get you and your luggage wherever you want to go. And if your adventures involve straying off-road from time to time, the bike is capable of taking you down gravel trails and beyond.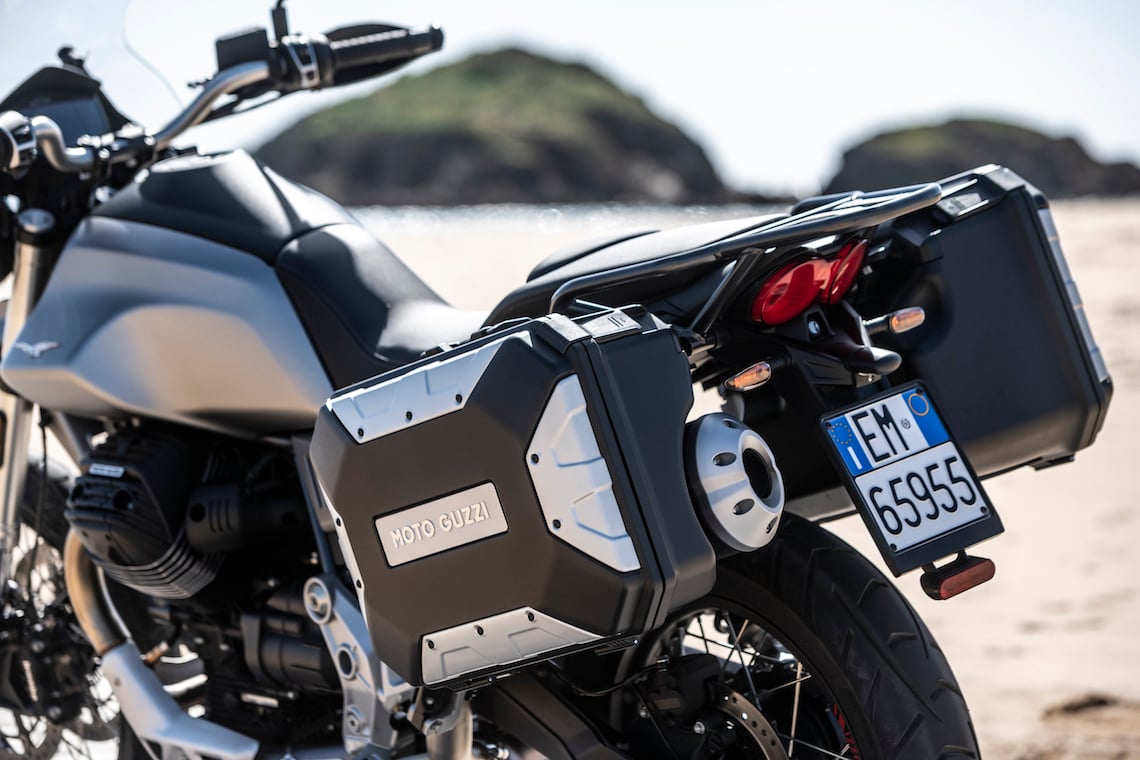 On paper, the V85 TT's 80bhp output is lacking compared to most other mid-size adventure bikes currently on the market by around 15 to 30bhp. Despite this, there was plenty of power to play with and I never once found myself craving more ponies.
The small screen aside, it's hard to find fault with the V85 TT. It's a credit to Moto Guzzi's engineers that the bike felt so at ease no matter how it was ridden. It's not the fastest or the most rugged adventure bike, but it is capable and possesses an X-factor that can't help but put a smile on your face when you ride it.
And, it really did offer up something tantalisingly different to other motorcycles I've ridden. It has the character and looks of a cruiser, with the capabilities of an adventure bike. I reckon Moto Guzzi has succeeded in producing its 'classic travel enduro'.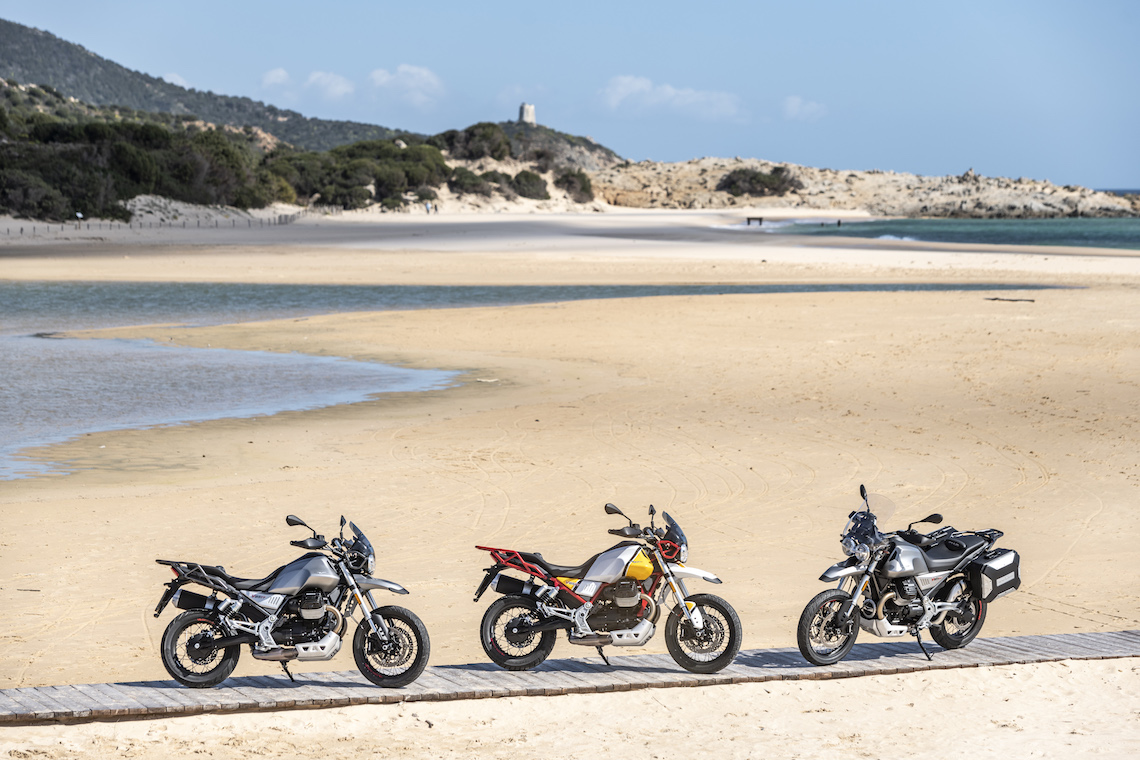 Back home
I returned to Heathrow Airport at 10 pm on a dark, cold night after loving every second of my first motorcycle launch. I was also completely knackered after taking four flights in the space of two days. Feeling groggy and not looking forward to my journey home, I switched on my engine in the airport car park and my mind suddenly flashed back to starting up the V85 TT for the first time.
I heard the growl of its V-twin barking into life and felt the vibration of that engine rumbling through my body. At that moment, I caught a glimpse of myself in the mirror. Staring back at me was a tired face in desperate need of sleep, but which sported a huge grin stretching from ear to ear. The Moto Guzzi V85 TT will do that to you.