After receiving treatment for a near-fatal heart condition, Lyndon Poskitt decided to quit his job and set off on a five-year motorcycle journey around the world. Along the way, he competed in some of the world's toughest rally races. Ollie Rooke catches up with the man from Yorkshire to find out more…
ABR: Hi Lyndon, thanks for taking the time to chat with us. So, how did your life on two wheels begin?
Lyndon Poskitt: I started riding motorcycles when I was 10 years old when my Dad bought me a trials bike. I actually wanted a motocross bike, but he thought it was too dangerous. The deal was that once I'd learnt how to ride trials, and I'd shown that I could control it, then I could get a motocross bike.
I stuck with trials until I was 16 venturing into enduro and motocross, then Supermoto road racing. I ended up doing a bit of everything really. I was just mad about two wheels.
ABR: So how did you go from weekend races to riding around the world for five years?
LP: I'm an aerospace engineer by profession and in 2005 I was offered a position in the USA, so I moved to the States and started cross-country desert racing. Then I ventured onto big bikes. I was racing the KTM 950 Super Enduro in the Baja 1000 in 2007 and kind of went from there really.
I'd always wanted to race the Dakar, so after plenty more races I finally decided to do it in 2013, after a full year of fundraising to make it happen. I was successful and finished 46th with my Dad as my mechanic, which was pretty cool.
Then, shortly after that, I had an accident running a marathon. It was the first one I'd done. At the 11-mile mark, I'd pushed myself far too much, poisoned my body, and basically just collapsed.
I was in hospital for a long time, off work for nine weeks, and I found out I had a leaking valve in my heart. Shortly after that, I decided to quit my job, sell everything, and go travelling around the world. Because life's too short.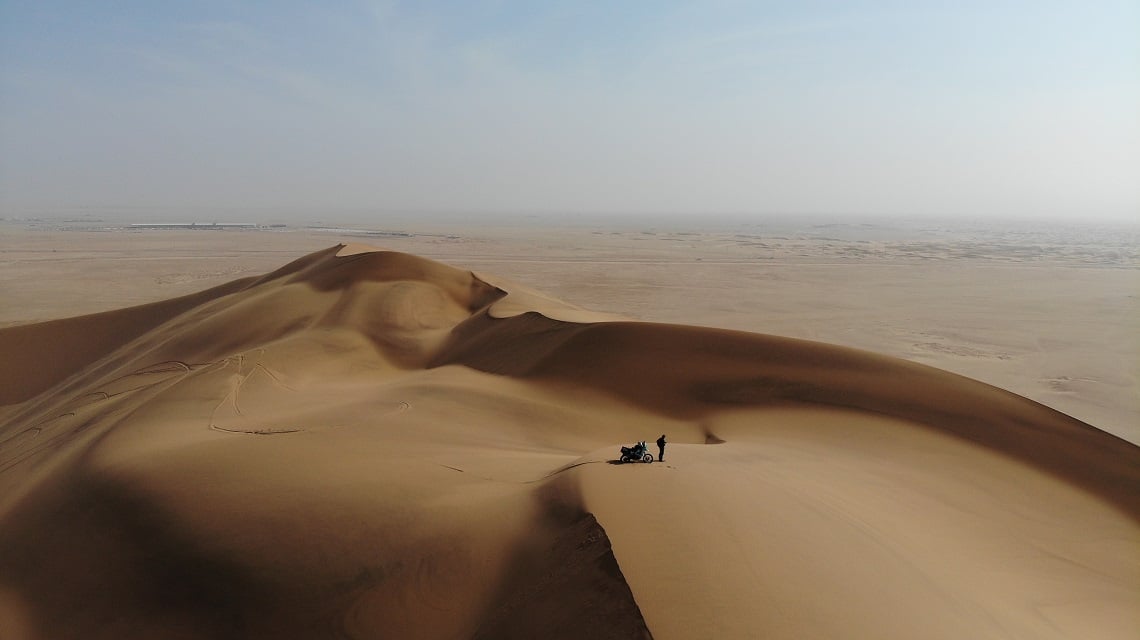 "I figured I could just keep going"
ABR: So that was the start of Races to Places. For those not familiar with the project, talk us through it.
LP: My idea was to build an adventure bike, capable of riding long distances around the world, that was also a rally bike. Then I'd ride it around the world for 18 months and, because I was on this rally bike, I could stop off and do some races on the way. That was the dream.
ABR: Why did you build your own bike?
LP: I'd raced and travelled around America on the KTM 950, in fact, I still have it, it's done well over 100,000 miles. But I wanted a bike that'd be a bit more accessible for some of the tougher races around the world, like those in sand dunes. The 950 can do it, but it's a bit big to lug around the dunes. So, I built my own using my skills as an engineer, based on the KTM 690 Rally.
ABR: How did that initial 18-month dream turn into a five-year epic?
LP: By the time I'd been on the road for 10 months, I'd made it to Russia, and only managed two races. I realised, despite Ewan and Charley doing their trip in four months, there was no way I'd make it round in 18.
When you're solo travelling, you're travelling the way you want to do it, and you've got no one else telling you how to do things.
I wasn't in a rush to get back to work because I'd left it. I had enough budget to last for ages because I'd sold everything I owned. In fact, I was spending less than I expected, so I figured I could just keep going.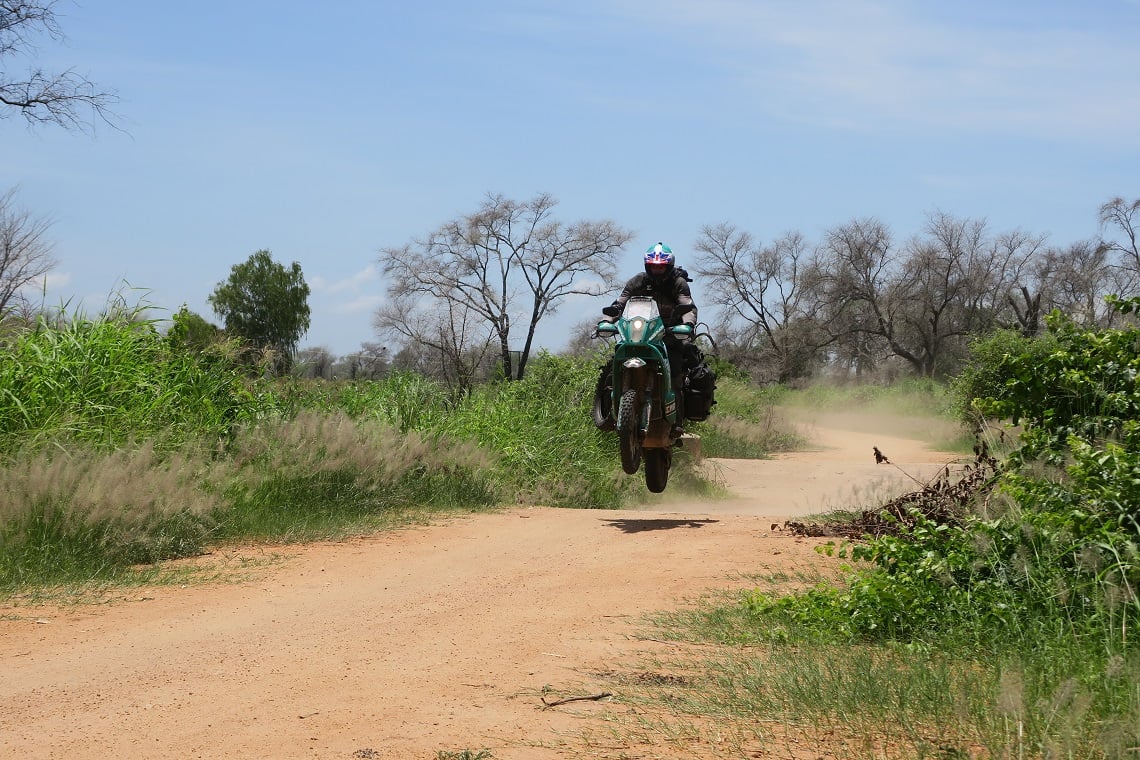 ABR: As a rally racer, I guess you weren't really sticking to the tarmac on your way round?
LP: I always tried to do as much as possible off-road, and I reckon at least 50% of my journey was off-road. It's just impossible to do it all off-road, you have to make distance sometimes and hit the highway.
For example, in South America on the west coast, you can just ride off-road everywhere, it's amazing. On the west side of the Andes, it was absolutely epic. But then when I came down the east side there was nothing, just one single road.
"A pretty unique way to travel and made for the best memories"
ABR: By sticking to the rough stuff, did you find that you were seeing a different, less touristy side of the places you were riding through?
LP: Absolutely. For example, I reckon the riding I did in Namibia was at least 60% hardcore off-road, like really difficult riverbed riding, soft sands, with elephants and lions close by, and people wouldn't normally do that.
And, because of that, I got to pass through villages where the villagers looked at me like I was an alien. I never saw another overland vehicle. That made me realise that seeking out those tough tracks was a pretty unique way to travel and made for the best memories.
I took that experience as I travelled further north in Africa through Tanzania and Kenya.
I always tried to go out of the way, and I found some great little villages, people, and cultures. In Namibia, I spent time with a little Himba tribe and it was just fascinating. It's like 'wow, where am I?'
I got communicating with them and it was amazing. In the evenings I would sit there in my tent and just think, I can't believe what I've seen today.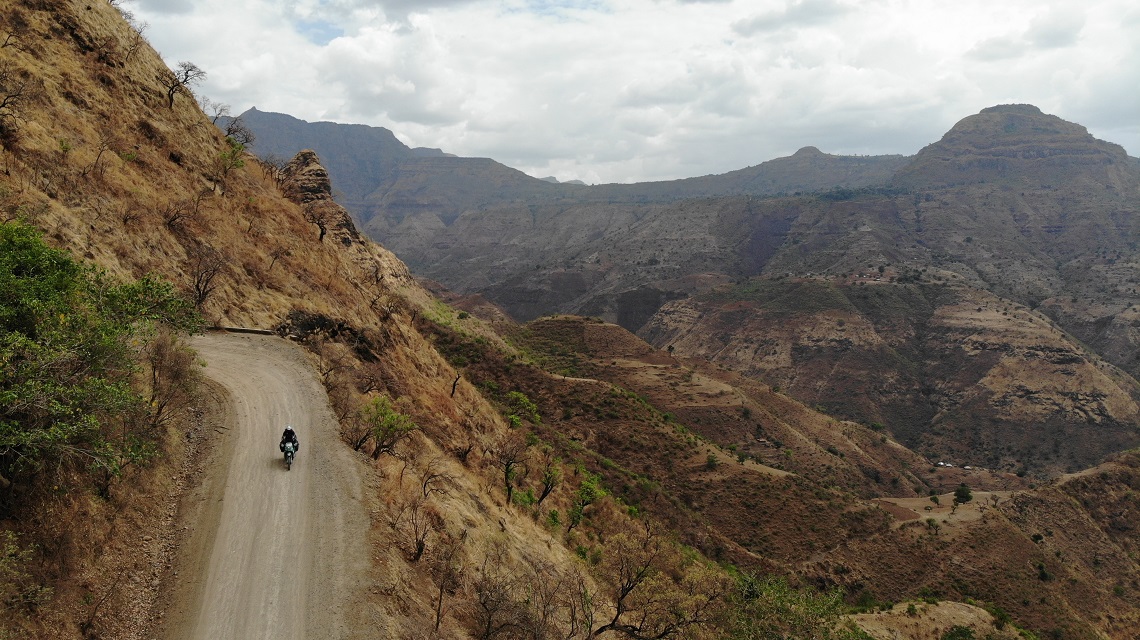 ABR: That sounds brilliant. Did your goal of ticking off rally races along the way also change the way you travelled?
LP: For me, rally racing is just a high-speed adventure ride. It was like the riding that I was doing day in, day out, but against the clock. The races were just an extended part of the travels. They were just a bit more stressful and caused a few more things to break.
ABR: You captured plenty of attention along the way with your self-shot documentary of the trip. How did the Races to Places series come about?
LP: It was planned from the beginning. I even filmed the build of my bike in the workshop before it all started. By the time I got to Russia, I had a million views, and that's when I thought 'oh wow, this could really work.'
The next three years I just tried to make an exceptional series and give people cool, unique content to watch. After that, it started to make enough money to pay for editing, so I could just send the clips to someone and focus on the actual riding. And that's when I decided, right it's time to finish this thing. It took me two more years mind you.
ABR: Had you got tired of life on the road by that point?
LP: I still had Africa to do. I wanted to do it properly like I'd done the other continents. But I knew Africa would be the hardest and most dangerous of all of them. And I was right, it was.
Plus, I'd met Camilla, who is now my wife. I was lucky enough that she accepted that the trip had to go on. With this in mind, we made a plan to meet each other every three months while it took me as long as it would take to finish what I'd started
ABR: How was the eventual homecoming?
LP: I finally got back up to Egypt, crossed back into Europe, and rode back into the UK, pretty unspectacularly if I'm honest. A lot of people expected me to do the Trans Euro Trail but I was done. I would never change any of it, but I was ready for it to all be over after five years on the road.
I'd achieved it, I'd done it, I was so happy that I'd done it. But I was also looking forward to my next challenge in life.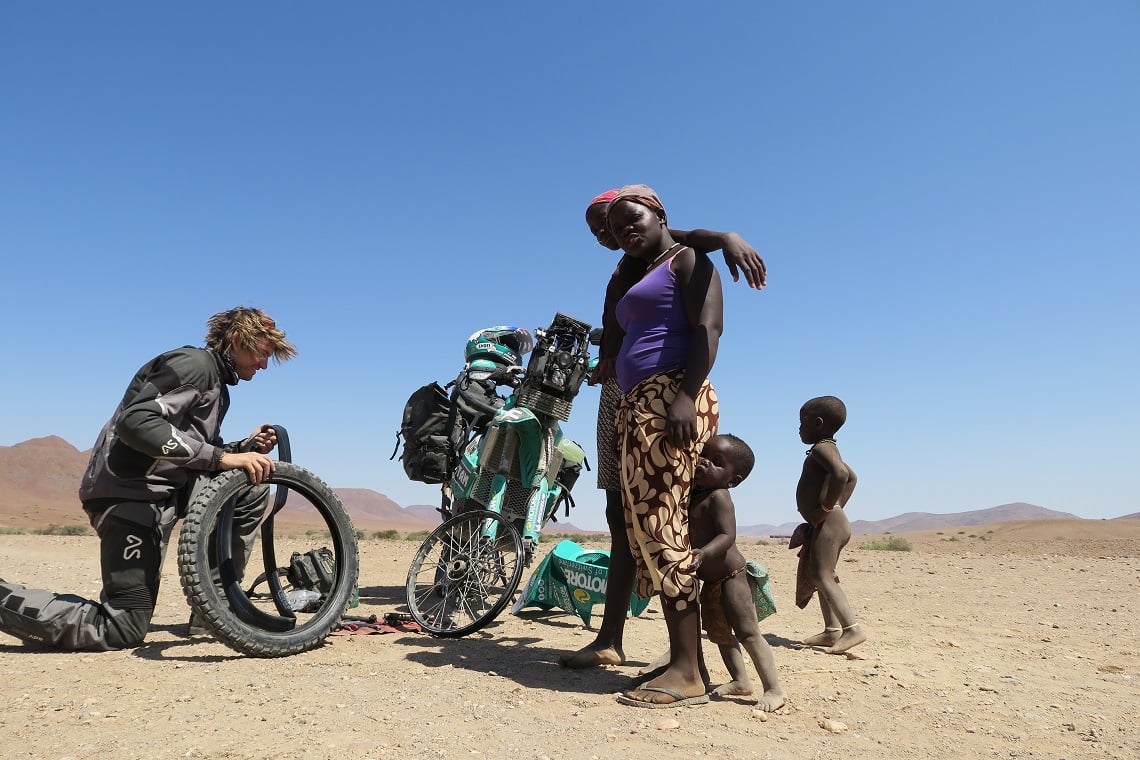 "99.9% of people are loving, caring, and just want to help anybody"
ABR: So, looking back on that trip, where would you send would-be RTW travellers if they were setting off tomorrow?
LP: The nicest, most welcoming, and safest place to travel in the world is Japan.
The people are so caring and friendly. You're not supposed to wild camp in Japan, I'd have the police coming up to me after I'd pitched my tent, but all they'd say is 'be gone by eight o'clock tomorrow morning'.
Adventure riding wise, off the top of my head, Patagonia in South America is fantastic.
Around the mountains between Chile and Argentina, crossing over the Andes, it's all just bonkers. Amazing adventure riding. If I had two weeks to go anywhere in the world on an adventure ride, it'd be there.
One of the most spectacular places in the world is also Utah, in America. The riding is great, it's the ultimate place for rallying, and the scenery is just amazing. Like you're on the moon. And, from a wildlife perspective, the entire continent of Africa. It's just mad, I've never been so scared sleeping in my tent.
ABR: On the flip side, is there anywhere you had trouble travelling through?
LP: I'd say 99.9% of people everywhere in the world are loving, caring, and just want to help anybody. It's really unfortunate about the other 0.1%.
And yes, there were some bad situations but I don't like to dwell on them or even really talk about them. It was just a one-off, wrong place, wrong time, just move on.
ABR: What are you up to now?
LP: When I got back, I knew I wanted to be in the south of Spain. There I could ride desert trails as much as I wanted and be close to Morocco and Portugal to run my rally school. I have a 150-mile off-road route from my workshop. I don't even have to put the bikes in the van, I just set off.
Running the rally school is great too. We geared ourselves up to give people a Dakar Rally experience. So, in the Portugal ride, every time you finish a 'stage', you're in different accommodation for the night. But it's an experience too.
Even though there are people who have gone on to ride the Dakar after the school, I think over half the people coming to the school are people who just want to have a taste of what it's like.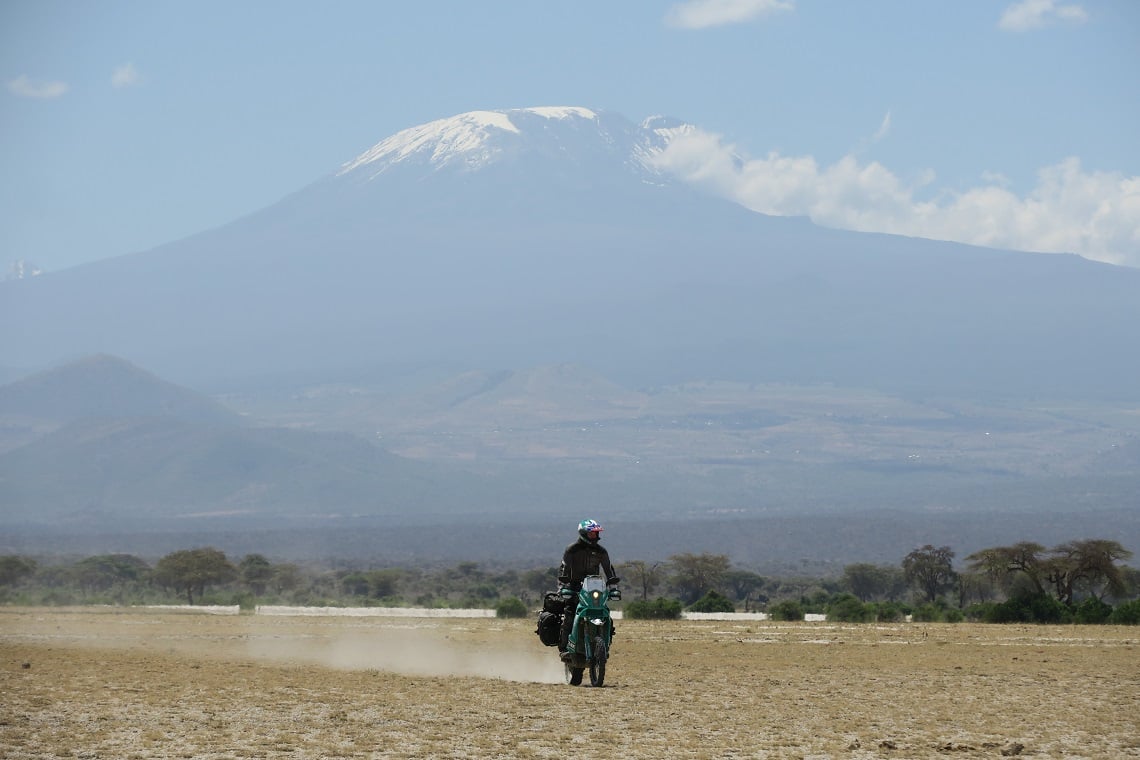 "I never give up"
ABR: You were also on the Husqvarna Norden 901 press launch recently with ABR's bike tester Julian, how did that come about?
LP: I was racing KTMs since 2007, and I tried to get KTM to work with me on a few projects over the years, but it just never happened. In the end, I think doing things my own way really worked for me, and KTM was also probably less keen to work with me because I'd built my own bike.
But then the possibility came up to be involved with the new Husqvarna Norden 901. It took a while though. One of the most important things for me will always to be credible and authentic, so I didn't just want to be bought by Husqvarna.
All I want to do is encourage people to get on motorbikes and have fun, and if Husqvarna could let me do that with the Norden 901 then I was in. And they agreed.
ABR: You don't seem to stop or let up at all. So, what can we expect to see from you in the future?
LP: I never give up. Now my rally school is up and running, I'm already thinking about my next project. My mind never stops. I'm writing a book at the moment. I just need to be able to get the words down on the pages. I think people will love to read it, all the stuff that didn't go in my video series is in the book basically.
There's no way I'd have the same drive if I was still working in aerospace on aeroplanes. I love what I do, and a big part of the love now is sharing my experience with other people.
---
Quickfire questions to Lyndon Poskitt:
Tent or hotel?
Tent for sure.
The one place you've always wanted to ride.
Antarctica.
Favourite place to ride in the UK?
I used to love going green laning in Wales. A relaxed day on the trails, a sausage sandwich in my backpack, and with a load of mates. Perfect.
What do you miss most when you're on the road?
Mum's Sunday dinners. That's one of the things I really missed when I travelled through Africa. When I got home it tasted so good.