With an iron butt challenge postponed, Bryn Davies travels to wales to put the Tracer 9 GT through its paces
I hate to be the guy who goes back on his word… But, I've gone back on my word. In the last issue of ABR magazine, in my piece about the Tracer 9 GT, I triumphantly declared that I was so enthused by Yamaha's adventure sports bike that I was going to complete an Iron Butt (1,000 miles in 24 hours) on it before this issue went to print.
Did I do it? I'm afraid not. But I do have a good reason for my unkept promise. In preparation for my Iron Butt, I joined the rest of the ABR team for a ride to Treorchy in South Wales to get some beef (read about that on page 60). On that day, we rode around 270 miles in 12 hours, and by the end of it my chest and shoulders were giving me a lot of grief.
If you missed my last piece, I'll quickly explain that the reason for the painful shoulders and chest was open-heart surgery a few months back. So, rather than risk causing damage or more pain than necessary, I decided that it would be wise to postpone the Iron Butt until the new year.
I cannot blame the Tracer 9 GT for my discomfort at all. It was more a case of my body groaning after being asked to do something it hadn't done for a long time. In fact, the slightly sporty (though still upright) seating position of the Tracer turned out to be very well suited for a long day in the saddle, more so than I expected it to be. My main gripe from this perspective was the knee bend which, for a 6'2" rider, was just tight enough to have me stretching my legs out at every opportunity towards the end of the day.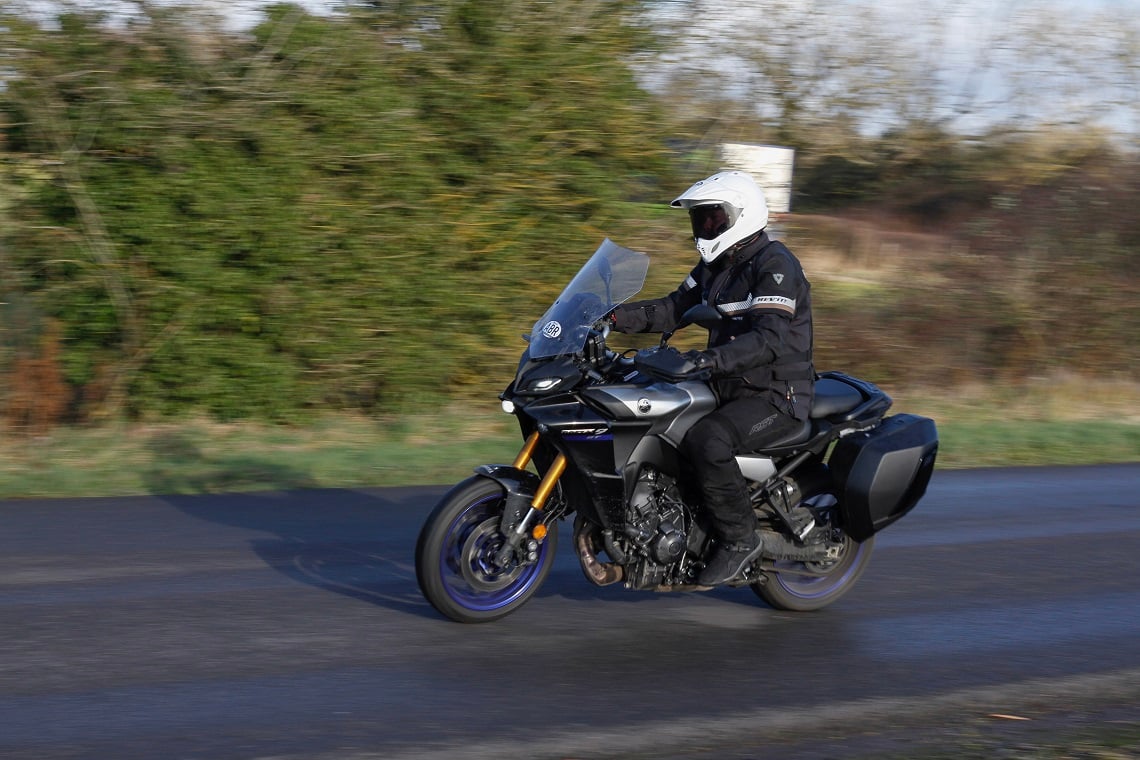 Aside from being my first 'long' ride since surgery, the Treorchy Beef Run gave me the perfect opportunity to try the Tracer out in a way many, if not most, buyers would be riding it. That's munching motorway miles and then playing around on sweeping A-roads and mountain passes, with the occasional nadgery B-road thrown in for fun.
It's exactly this type of use that Yamaha designed the Tracer 9 GT for. Enough in-saddle comfort to cover distances without hassle, and thrilling enough performance to make the twisty roads at your destination as enjoyable as possible. And let me tell you, that's exactly what you get.
On the motorway, the Tracer 9 GT impressed. I doubt I was as happy as Alun on his BMW R 1250 RT, but the large screen, cruise control, heated grips, and decent weather protection from the bulbous tank made for stress-free riding in cold temperatures. I'd be more than happy to roll off the ferry in Calais, point my front wheel in the direction of the Alps and eat up the miles. The only thing that would get in my way would be the relatively small 18l fuel tank, which gave me a range of under 200 miles (for touring I'd like more).
When we got off the motorways and headed into the Brecon Beacons, the Tracer 9 GT came alive. It's a fun bike to ride and you can really make the most of the 890cc engine between your legs without feeling like you're going to kill yourself.
It howls with a twist of the throttle, it dives effortlessly into corners, and it's well balanced and easy to handle when you're making your way through traffic.
But in my relatively short time on the bike, there are only two things that I'd change about it, and they're both related to the dash. The display is physically split into two, presumably to separate information and make it easier to see at a glance, but the reality is that the whole thing is a bit cluttered and rather ugly to look at. A nice TFT wouldn't go amiss here.
Then there's the actual usability and navigation of the information on the screen. To make your way through menus and settings, you use a small scroll wheel on the right-hand switchgear. It's a little fiddly and hard to see what you're changing.
And when it comes to selecting rider modes and suspension settings, the vague naming of each mode (Mode 1 – 4, and A1 – A2) means that it's more of a guess at what you're selecting. Of course, with extended ownership, you'll become used to all of this, but the Tracer's dash usability could do with a bit of an update in my opinion.
Despite that, it's safe to say that I've been thoroughly enjoying my time on the Tracer 9 GT. For road-only riders, it's a jack of all trades. It'll whisk you cross country and it'll throw you around mountain roads. It's a fun bike to ride yet it's also practical, and with a price of £12,202 for the top-spec GT model, it's bloody good value for money too.