Ollie Rooke explains how the engine on Honda's flagship adventure bike, the CRF1100l Africa Twin, is music to his ears
In my early days as a biker, I never really understood what other riders meant when they said they loved an engine. I'd stand around Rykas café in Dorking with a steaming cup of tea, nodding sagely as someone explained why the four-cylinder powerplant in their bike was the greatest ever made. But, despite my nods and platitudes, I have to confess that I never really got what they were on about.
That was partly down to naivety. I simply hadn't ridden enough bikes, or indeed ridden for long enough, to tune in to the subtleties of what was going on down below. But there was another reason too, I just hadn't met the right engine yet. Happily, I have now.
It sits inside Honda's CRF1100L Africa Twin, and a week ago I found myself called to defend that powerplant when Honda announced that it would be housed in the new NT1100 tourer. A story ABR ran online prompted a few naysaying comments on social media, with some suggesting the Africa Twin's engine wouldn't cut it in a sports tourer.
This seems to be quite a recurring criticism of the Africa Twin, with people pointing out that it's down on power compared to some of the other big hitters in the adventure biking world. And yes, the Honda isn't as quick as say the Ducati Multistrada V4 or the KTM 1290 Super Adventure. But let me tell you, it doesn't matter one jot.
The 101bhp of the Africa Twin more than powerful enough to launch you off the line at traffic lights in front of 99% of other road users.
It also has the ability to cruise at speeds worthy of a custodial sentence without breaking a sweat.
I've spent two years riding the 1100cc engine found in both the Adventure Sports and standard models, and I'm not bored of it yet. I doubt you will be either.
And that's just the sports half of sports touring. Because, aside from being a genuinely exciting engine, it's also an easy one to live with. All that torque means you can amble along without touching the throttle if you're travelling at a snail's pace in traffic, before snapping into an overtake in almost any gear at any given speed. And the noise from the exhaust is just sumptuous.
We have a lot of bikes come through ABR HQ, but the Africa Twin's stock exhaust is the best I've heard in a long time. The raspy, throaty roar that comes when you shift up and dip below 4,000rpm is a hell of a soundtrack for any ride. So, if you ever bump into me down at Rykas on a Sunday ride. I'd advise you to steer well clear if you don't want your ear chewed off about the benefits of the Africa Twin's engine. You have been warned.
---
Spin it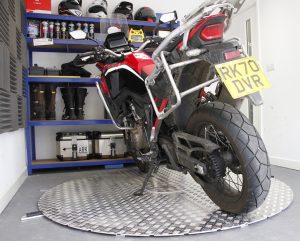 There's no denying that, at 226kg wet, the Africa Twin is a bit of a lump when it's time to moved it around the garage. Couple that with the fact that the entrance to the ABR Garage is on a bit of a slope, and you can imagine that reversing the Honda out for a ride can get a little hairy at times.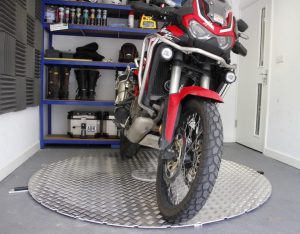 That's why I've enjoyed using the Spin-It recently, a sturdy aluminium motorcycle turntable. All I have to do is ride onto the turntable, which can hold bikes twice the weight of the Africa Twin, put the kickstand down, spin it around on the rollers and voila, the Honda is ready to be ridden straight out on another adventure.
There's a foot-operated lock to keep it from moving when I ride on and off, and the device can be lifted onto two feet and stored vertically to save space when there's more bikes in the garage. Head to www.carturntables.co.uk/motorcycle-turntable to find out more.