James Oxley and Ollie Rooke put a selection of heated motorcycle gear to the test to help you stay warm in the saddle this winter
As editor of ABR, some people assume that I enjoy nothing better than being up to my testicles in snow while ploughing a virgin path across a frozen wasteland. Or, that I get my kicks out of aching from head to toe after a gruelling day riding an iron butt.
And, while the challenge of tackling this sort of thing does hold a certain appeal, the reality is that, whenever I undertake any kind of journey on two wheels, I do everything in my power to make those trips as comfortable as possible.
This is where heated gear comes in. If you've ever ridden through a UK winter, you'll know it's not all about Sunday rides on clear, crisp mornings under brilliant blue skies. There are also plenty of dark evenings, freezing temperatures, snow, ice, and driving rain.
In these circumstances, heated gear is an absolute godsend. So if any idiots suggest that you're a wimp for investing in it, don't even bother to argue with them. Instead, merrily wave them on their chilly way and feel perfectly smug as they freeze their tits off while you enjoy a warm and pleasurable ride.
Lose the layers
Before I found heated gear, I endured some thoroughly miserable experiences during the winter months. I'd truss myself up in multiple layers of thermal undies, T-shirts, jumpers, thermal jackets and trousers, and then finally put on a four-season motorcycle suit over the top.
If you've ever done the same, you'll know how cumbersome and bloody awkward all those layers are to move around in on the bike. And, at some stage, the cold always eventually found its way through.
But why does this matter? Well, not only does feeling bitterly cold detract from the joy of riding a motorcycle, it can also be damn dangerous.
Your mind won't be as alert, your reaction times will be slower, your concentration will falter, and numbing hands and feet will reduce your control over your bike, which is all a recipe for a mishap.
And, even if you do manage to stay warm, the lack of flexibility caused by those multiple layers means it's all too tempting to skip those important yet cumbersome safety checks.
The joy of heated gear is that it solves both these problems in a flash. Not only does it keep you warm, it also reduces the need to wear so many bulky layers so you can stay toasty and flexible in the saddle.
Heating your core
In this group test, we've taken a look at a selection of heated gear created to keep you warm from your neck to your toes. This includes a number of jackets and vests designed to keep your core and upper body warm.
In late autumn and early spring, I'll simply wear a T-shirt underneath my heated jacket or vest with my motorcycle jacket on top. However, for bitterly cold journeys in the depths of winter, even the warmth created by a heated vest can be overcome by a freezing wind blast as you ride, so I'll throw on an insulated jacket over my heated one. With this in mind, it's important to choose heated clothing that has a close fit but isn't too constrictive.
Looking after your extremities
So, we've kept our core body temperature up with a jacket or vest, but if your bike doesn't have heated grips, I'd recommend investing in a pair of gloves with warming properties too.
These can be wired directly into your bike's battery, connected to a heated jacket, or powered by a separate battery (be wary of bulky battery packs that might feel cumbersome to wear).
Ideally, the gloves will have a heating element on the palm as well as the back of the hands, which is more effective than a glove that simply heats the back of your fingers. It's also important to make sure your heated gloves are waterproof and provide plenty of abrasion and impact resistance in the event of an accident.
In this group test, we also looked at socks and trousers designed to keep you warm. Now, you may well find that a combination of a heated jacket/vest and gloves is enough to keep your core and extremities warm, but if you have a lengthy commute during the winter months, you may find full body heated coverage is very welcome indeed.
Power up
You'll find a lot of riders will plug their heated jacket directly into their bike using a wire that draws power from your motorcycle's battery. This is the most reliable way to keep a jacket powered, and good quality heated gear will come with a selection of fuses to suit your bike's needs.
Alternatively, you can opt for a design that uses a battery pack. This approach will continue to keep you warm when you stop and walk away from your bike, but battery packs can feel bulky to wear and they may run out of charge before the end of your ride.
Before you buy, also make sure you take a close look at the controller that operates the heating element. It should clearly state which temperature setting you are in (often low, medium, or high), and you should be able to cycle through those settings quickly and easily using thick winter gloves while you're riding.
In this review, we tested all the gear involved on its highest heat settings to ensure it's up to job of keeping you warm when temperatures plummet. We also plugged everything into our bikes (where applicable) to discover if the clothing caused any battery issues, but none occurred.
So, without further ado, let's check out some heated gear.
---
GERBING PREMIUM HEATED JACKET
£199.99 | www.gerbing.co.uk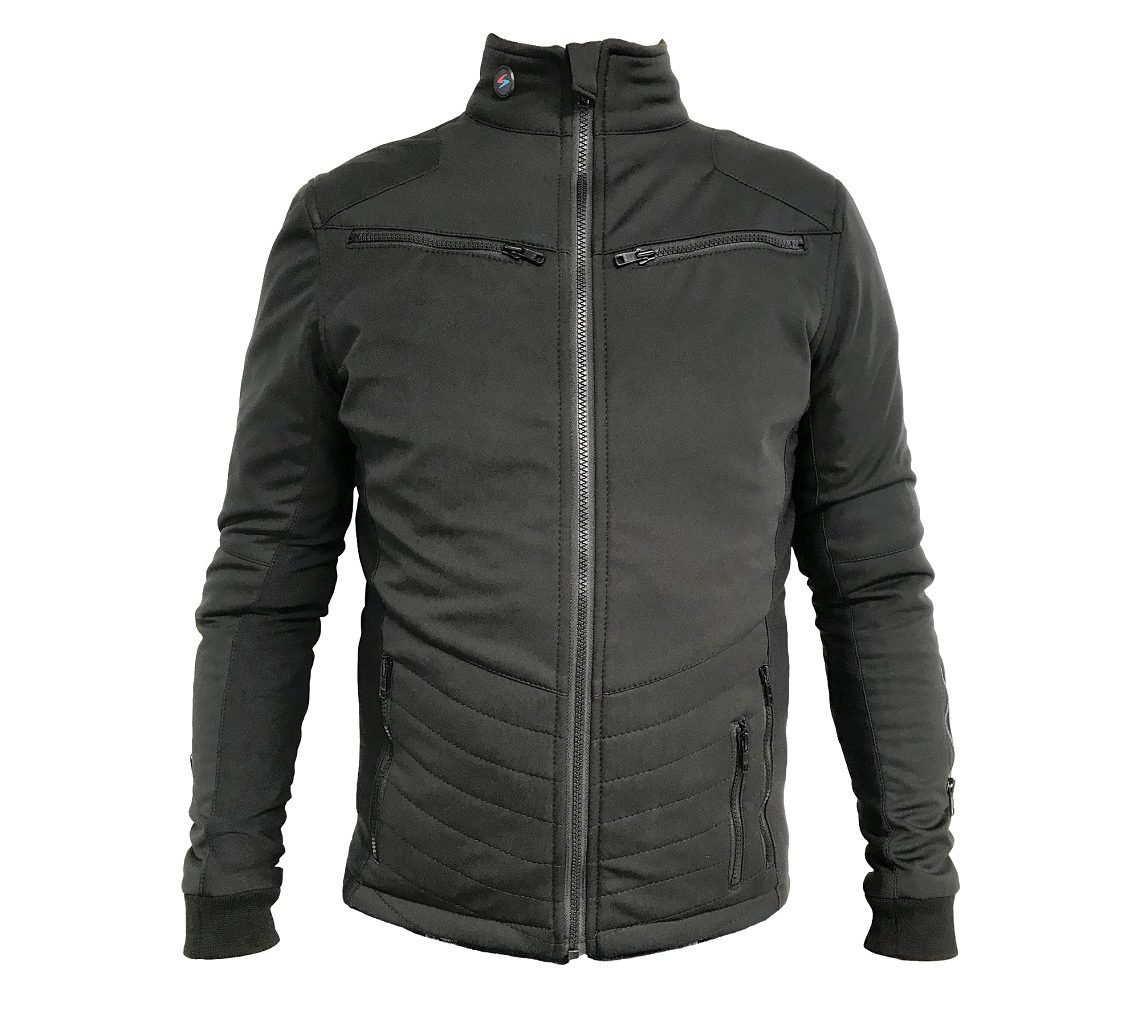 If you watched Great Britain's swimming team at this year's Olympics, you may have noticed that our athletes were clad in Gerbing heated jackets to keep their muscles warm between races. Well, if it's good enough for Team GB, then it should certainly be good enough for me, so I turned to Gerbing's Premium Heated Jacket during a recent cold-weather ride in Wales.
From the off, I was impressed. The jacket is soft and comfortable with plush collars and cuffs, and I was happy walking around in it off the bike because it looks pretty damn stylish too.
The jacket offered a close fit which felt substantial but not bulky under my motorcycle jacket, although I did feel some of the inner cabling rubbing against my elbows and forearms when I was in the riding position.
When it comes to heat, Gerbing's jacket excels, perhaps a little too well. Let me explain. Without the optional £40 controller, the jacket blasts out heat at the 100% setting. For me, while riding in weather hovering around 0C, it proved too hot to handle.
Luckily, I had the controller at my disposal, and I was able to adjust the jacket through the 25%, 50%, 75% and 100% settings which meant I could get the temperature just about perfect. That heat controller is well-designed, with an easy-to-press button and a clear indicator letting me know which power mode I had selected.
So, the Gerbing jacket looks and feels good (just make sure you buy the controller) but I did have an issue when trying to connect a pair of heated gloves to the cables positioned near the bottom of each sleeve. These cables are too short to connect Gerbing's heated gloves to without a huge amount of faffing around, and I eventually gave up and relied on a set of cable extenders to use them instead.
ABR Verdict – 8/10
In a line: A seriously hot piece of kit, but make sure you can dial down the heat by buying the optional controller
Style: 8/10
Comfort: 8/10
Heating properties: 10/10
Ease of use: 8/10
---
KEIS J501RP PREMIUM HEATED JACKET
£200 | www.keisapparel.com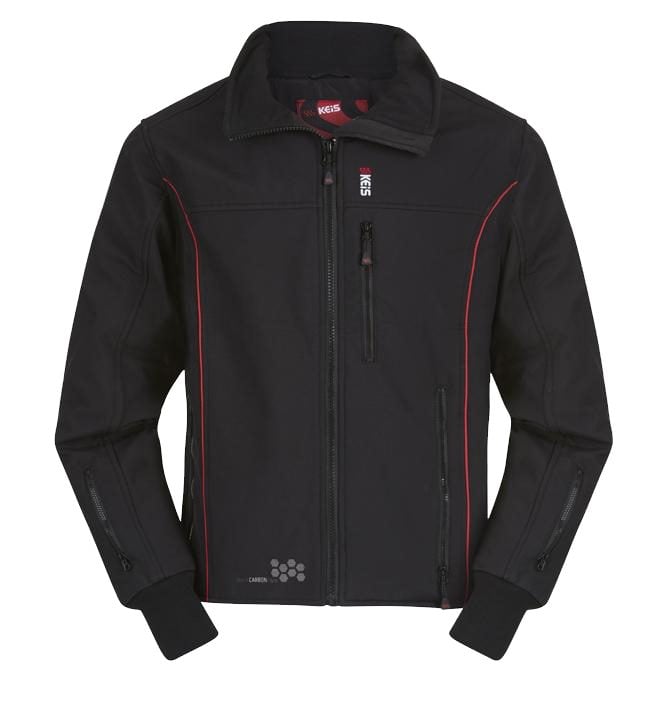 British company Keis is one of the world's leading brands of heated motorcycle gear, along with Gerbing. So, it should come as no surprise that both manufacturers are heavily featured in this group test.
First up is Keis' J501RP Premium Heated Jacket, which features a simple yet stylish design that could easily be mistaken for a casual jacket. It's fastened using a central zipper and there are two good-sized zipped outer pockets for storage, as well as stash pockets for wires to stop them dangling down.
The Keis jacket, which is made from polyester, feels substantial to wear but it fitted snugly under my motorcycle jacket without restricting movement in the saddle. This snug fit was aided by the use of elasticated side panels. To be honest, the thermal properties of the jacket were so good, I didn't bother to turn it on during a number of rides.
But, this is a heated jacket after all and it did an excellent job of keeping me warm when I switched it on as the cold weather struck. With temperatures hovering around freezing, the jacket's heating panels on the chest, back, arms, and neck (made with flexible micro carbon fibre) all radiated plenty of heat as I sat cosily in the saddle.
Not even wind chill at 70mph could sap the warmth it created, and as far as its heating properties go, I can't knock them. In fact, I found myself turning the jacket down to the low and medium settings using the controller (bought separately) that was easy to operate while wearing winter gloves.
The fleece-lined collar and elasticated cuffs are nice touches, the latter making it easy to slip the jacket under gloves. And it was great to see it also featured discreet connectors for heated trousers and gloves.
ABR Verdict – 9/10
In a line: Very good heating properties from a comfortable jacket that will keep you warm all winter
Style: 8/10
Comfort: 9/10
Heating properties: 9/10
Ease of use: 9/10
---
MOSKO MOTO ECTOTHERM INSULATED HEATED JACKET
£255.51 | www.moskomoto.eu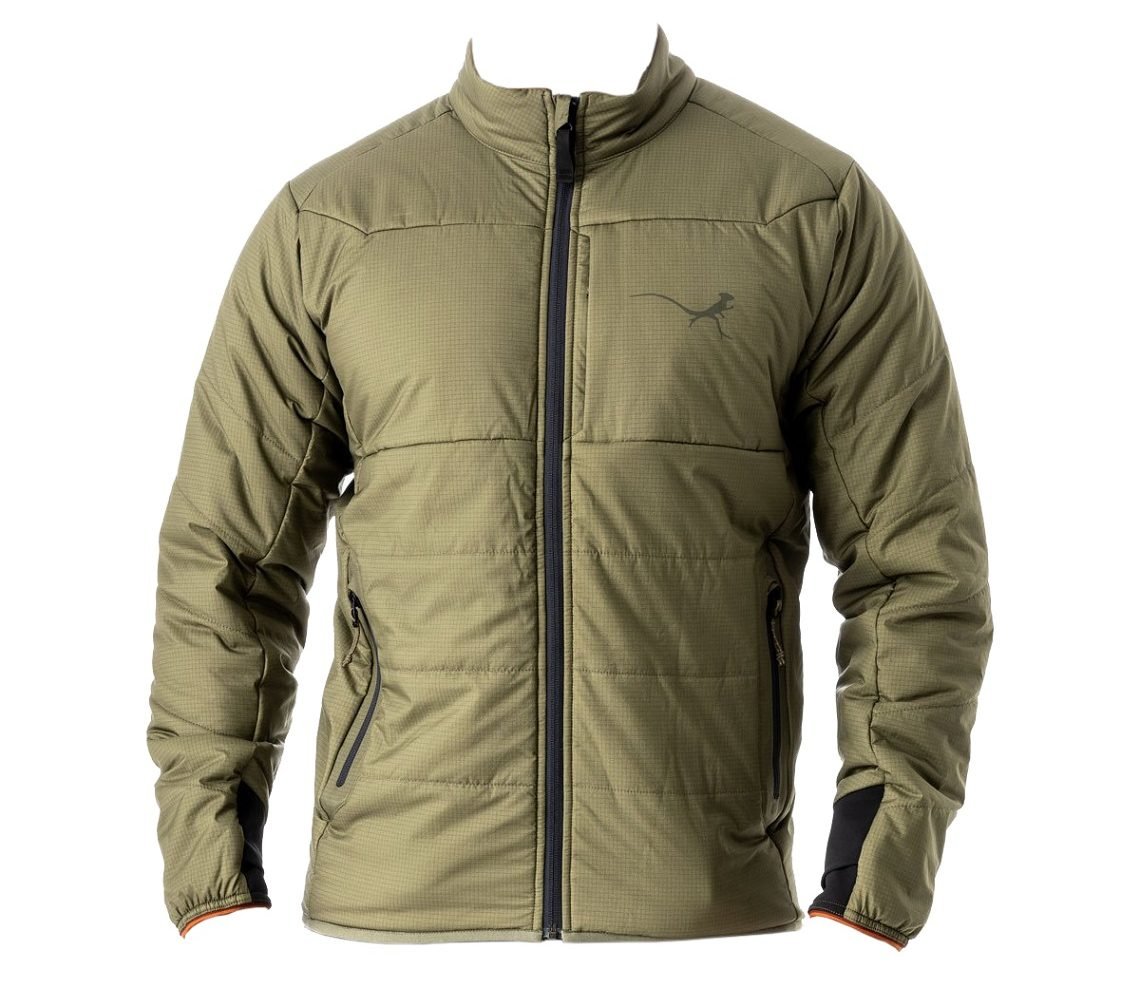 American gear manufacturer Mosko Moto produces some seriously good kit for adventure bikers, with a range of robust soft luggage, riding gear, and stylish casual apparel too. So, I was intrigued to see if the team could marry good looks with top performance when it came to the Ectotherm heated jacket.
First impressions are good. The Ectotherm looks seriously cool. In fact, there's nothing to suggest that it's a piece of motorcycle clothing, and instead, it looks more like a thermal jacket you'd wear on a winter walk. The good times continued when I slipped it on. It feels the most lightweight on test and proved very comfortable to wear underneath a motorcycle jacket, as well as off the bike.
But it became clear the Ectotherm was made with riding in mind when I jumped in the saddle. After plugging it directly into my bike, I quickly felt the carbon fibre heating elements kick in along the arms, chest, and back. While it's not as hot as the Gerbing jacket on test, the combination of its heating elements and Primaloft insulation provided an even warmth across my body.
It was interesting to discover that Mosko Moto has included a sewn-in heat controller at the hem of the jacket, instead of a separate plug-in controller connected by a wire. This flapped down for access while riding and could be folded away when off the bike. While it was easy to reach and cycle through the three heat settings in the saddle, I did struggle to see what setting I was in because the button was tucked away by my waist.
Despite this, I was hugely impressed by the Ectotherm which offers a great balance of comfort, style, and practicality. It's just a shame there are no cable ports included at the end of the sleeves to plug in a pair of heated gloves.
ABR Verdict – 9/10
In a line: Style, comfort, and heat combine in an excellent jacket
Style: 9/10
Comfort: 10/10
Heating properties: 9/10
Ease of use: 8/10
---
KEIS V501RP PREMIUM HEATED VEST
£140 | www.keisapparel.com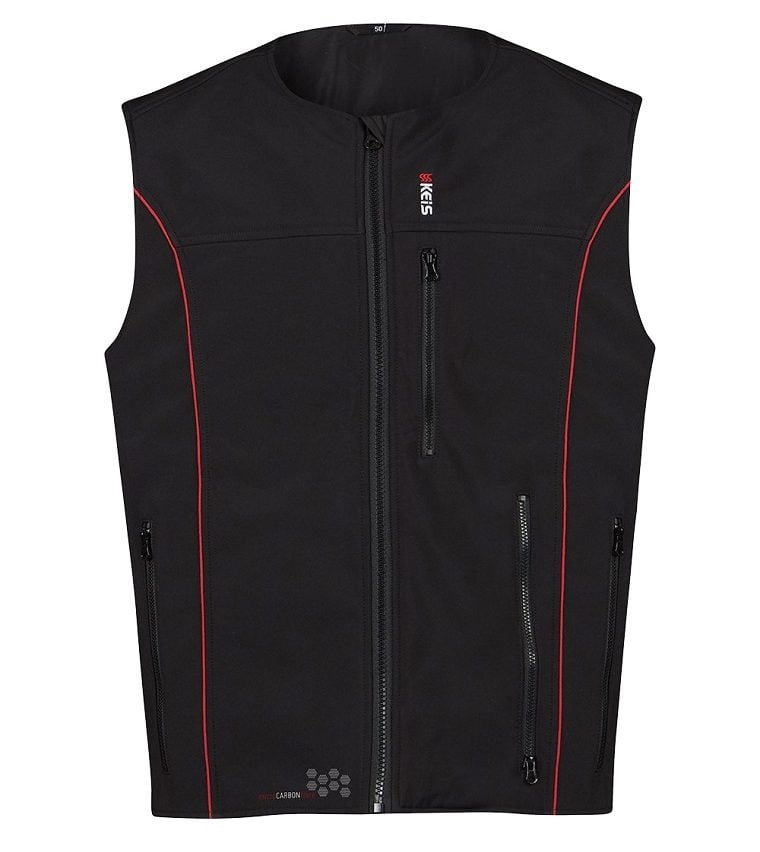 If you want to keep your core warm in the saddle but you don't want to deal with the extra bulk associated with a heated jacket, then a heated vest is the answer. This offering from Keis is very much the same as the brand's V501RP jacket that I reviewed at the beginning of this group test, with one very noticeable difference being it has no sleeves.
In terms of fit, it offered more freedom of movement than the long sleeve version while still keeping my body toasty thanks to excellent micro carbon fibre heating elements in the chest and back. However, it's not as warm to wear while walking around off the bike.
Again, the 100% polyester vest can be set to low, medium, or high-temperature settings using the optional controller (if you decide not to buy it, the jacket automatically blasts out its high setting which is hot but not uncomfortably so).
However, the obvious downside to a vest is the fact it doesn't keep your arms warm, and I admit mine got chilly as I motored up and down the A46 testing the cold-weather riding credentials of the Keis vest.
For this reason, I always opt for a heated jacket with long sleeves when I ride in cold weather, but if you prefer the lighter weight properties of a vest, I'd recommended wearing a thermal layer over the top to help keep your arms warm. This is especially helpful on faster motorway journeys when wind chill is noticeably colder.
However, as a vest, the Keis V501RP did an excellent job of keeping my core body warm which is exactly what it was designed to do. And if you want to attach a pair of heated gloves, you'll just need to run wires down the sleeves of your bike jacket to plug into those gloves.
ABR Verdict – 9/10
In a line: It does a great job of keeping your core body warm, but beware of chilly arms
Style: 8/10
Comfort: 9/10
Heating properties: 9/10
Ease of use: 9/10
---
GERBING HEATED VEST LINER
£179.99 | www.gerbing.co.uk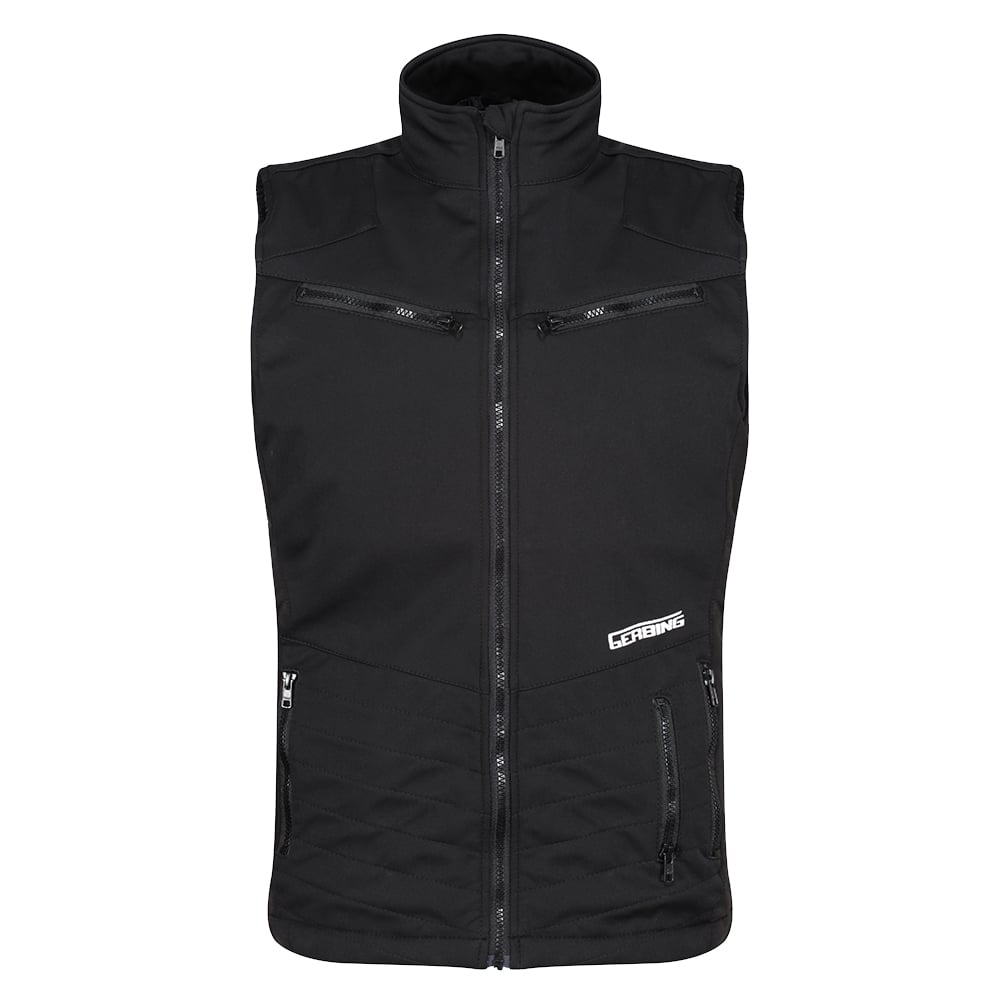 Take Gerbing's Premium Heated Jacket, chop off the arms and £20 off the list price, then add in the optional heat controller, and you get the Heated Vest Liner. So, after a day spent wearing the brand's long-sleeve jacket, I was intrigued to see how different the vest would feel on a cold winter's ride.
Immediately I was impressed. Much like the jacket, Gerbing has given the vest a snug, compression fit, aided by stretch panels down each side of the body, which is designed to keep the heating pads at the chest, back, and collar, as close to your body as possible.
The heating elements are just as effective as those found in the jacket, so I was grateful to Gerbing for including the controller in the price of the vest, as it allowed me to dial down the heat setting.
On the road, it kept my core delightfully warm as the MicroWirePro conducted heat evenly across my upper body. The lack of sleeves obviously meant my arms were colder than if I was me as much as I thought it would and I managed to stay warm and comfortable.
Gerbing's offering features a simple, yet stylish design and, off the bike, it looks like a quality casual bodywarmer.
It's fastened using a main central zipper down the front and features four zipped pockets for storage. There's also a zipped pocket to store the cables neatly away.
Overall, the vest did an excellent job of keeping me warm on cold December days, and by using the included heat controller, I was able to tailor the four settings to suit the weather conditions and wind chill as I rode. This was easy to do while wearing thick winter gloves. My only disappointment was the fact there were no ports to connect heated gloves or trousers.
ABR Verdict – 9/10
In a line: Excellent heating properties and comfort combined
Style: 8/10
Comfort: 9/10
Heating properties: 10/10
Ease of use: 8/10
---
GERBING XR HEATED GLOVE
£169.99 | wwww.gerbing.co.uk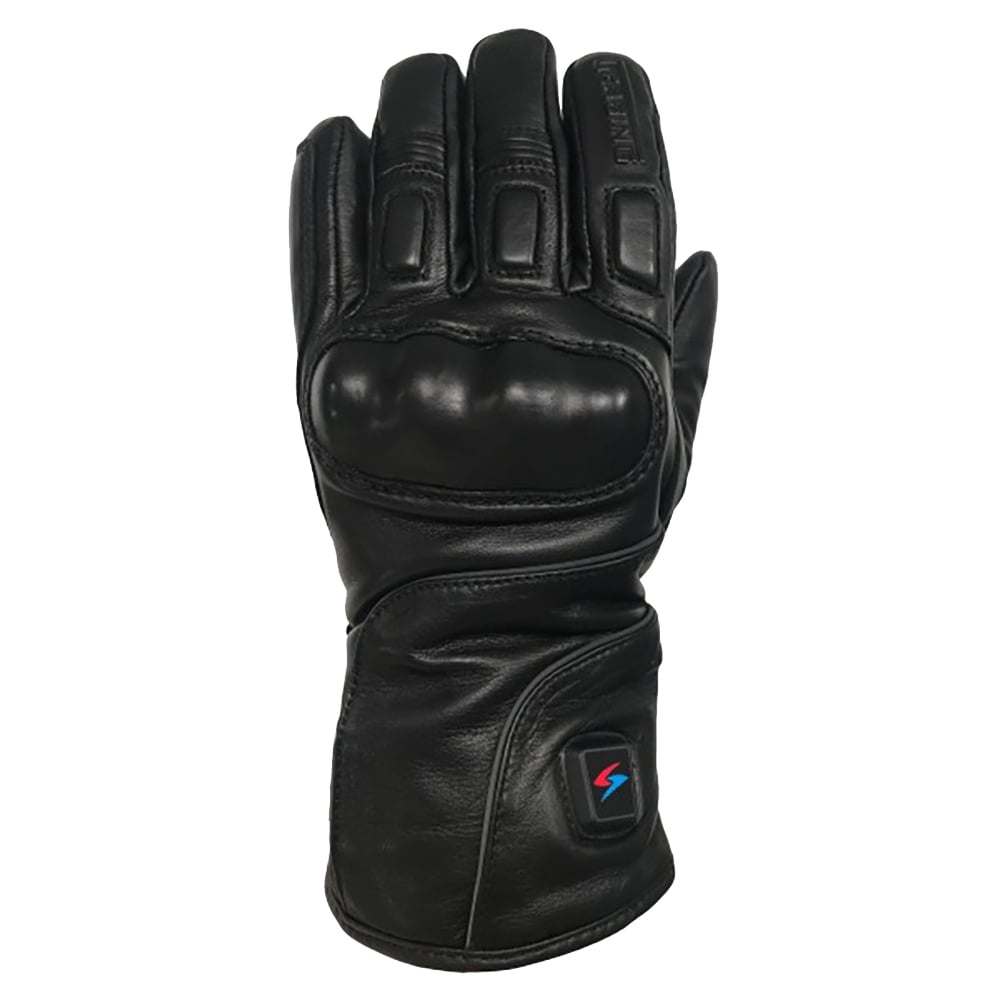 With 40 years' worth of experience at keeping bikers warm, you know you're in good hands when you buy a piece of Gerbing heated gear. With that in mind, I was expecting big things from the XR heated glove.
But my first impressions were mixed. The gloves feel like a premium offering, and the inside is plush and soft. However, they're pretty bulky and a cumbersome. One of the benefits of heated gloves is that manufacturers can cut back on insulation and improve the dexterity and feel you have at the handlebars, but this isn't the case with the XRs.
Nonetheless, this approach means that the XR gloves are supremely warm in bitterly cold weather. With the MicroWirePro heating elements sitting across the tops of my hands and fingers, I felt warm and comfortable even at the lowest 25% power setting. When I ramped the heating up to 50% or even 75%, I enjoyed a seriously toasty ride. There's also an unlockable 100% mode, which I imagine is best suited to riders braving Arctic conditions or those blessed with asbestos hands.
The power buttons, located on the backs of the wrist, are easy to use on the go while wearing the thick gloves. However, the modes are indicated by a ring of colour around the button, and I found them a little tricky to make out in bright sunlight (which I know isn't a common problem during a UK winter).
Gerbing has designed the XR gloves with a short cuff to fit inside your motorcycle jacket's sleeves, but in practice, I found it a struggle to do this and I ended up riding with the cuff over the sleeve. This wouldn't be ideal if it had started raining because water would have run down my sleeve and into the glove.
Despite this, Gerbing has produced a seriously high-performing winter glove that packs one hell of a punch when it comes to heat.
ABR Verdict – 8/10
In a line: Bulky yet supremely hot winter glove
Style: 8/10
Comfort: 8/10
Heating properties: 10/10
Ease of use: 8/10
---
RST PARAGON 6 HEATED WATERPROOF GLOVE
£189.99 | www.rst-moto.com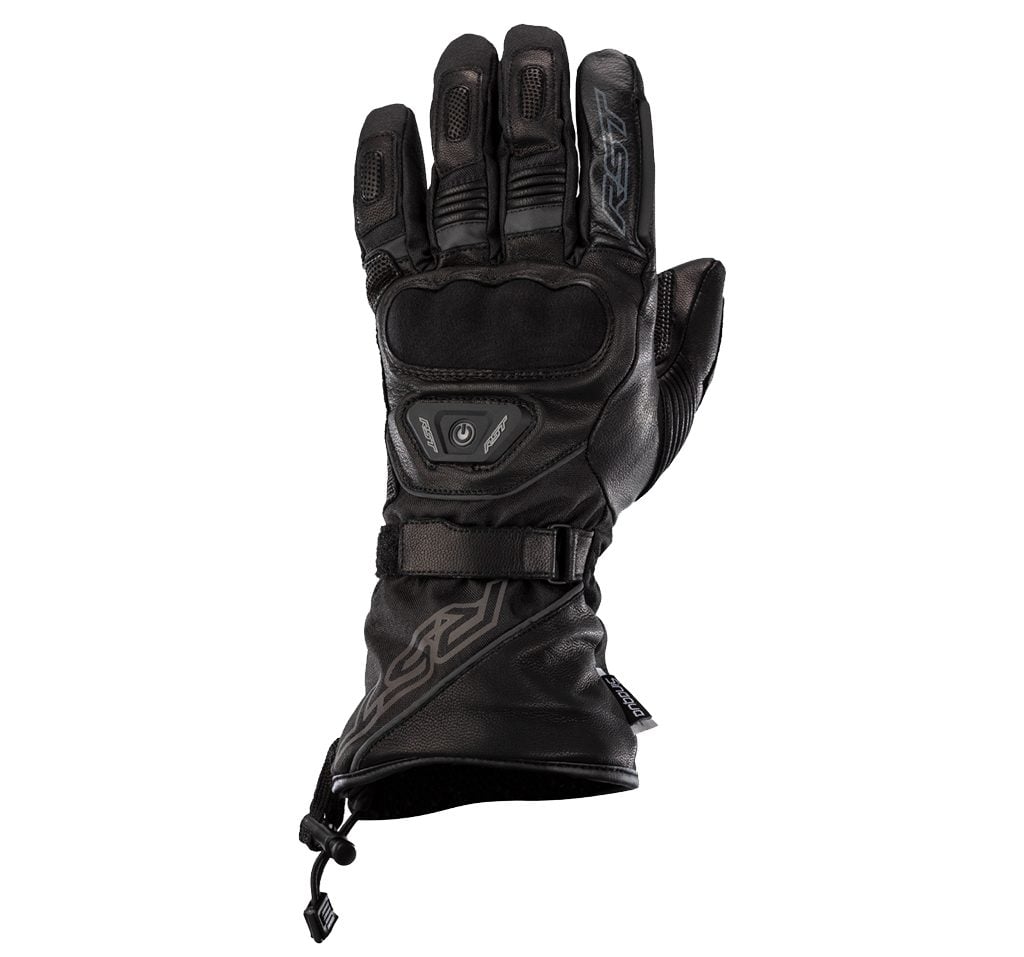 While Keis and Gerbing are the main players in the heated motorcycle gear world, there are a number of other company's out there producing kit too. Popular British brand RST is one of those, and its entry into this group test is the latest generation of its heated Paragon glove.
Unlike the Keis and Gerbing gloves on test, the Paragon isn't designed to run off your bike's battery but instead relies solely on two separate power packs which are stored neatly away in a zipped waterproof pocket on each cuff.
On the hottest of the three heat settings, the batteries will last for about two-and-a-half hours, or on the lowest setting, for up to four hours. Whether this is long enough will depend on your individual needs.
In terms of heat, the Paragon gave an even spread of warmth along the tops of my fingers, and the top half of the back of my hands, but nothing underneath. They weren't as hot as the Gerbing gloves on test, but they did provide enough warmth to keep wind chill at bay on a cold December afternoon while travelling at 60mph.
The heat setting controllers are located prominently on the back of each hand and were easy to cycle through.
The RST gloves are made from a mixture of nylon and leather, and feature reinforced areas in the palms and knuckles for increased abrasion resistance.
There is also armour on the knuckles for impact protection. Waterproofing comes in the form of a SinAqua membrane which did a good job of keeping my hands dry.
Overall, the Paragon feels comfortable and flexible to wear, although it doesn't have the same high-quality feel of the other gloves on test. And I do have a couple of other niggles. The first being the oversized cuff which was too large to fit under my jacket, leading to rain running down my sleeves and into the gloves.
ABR Verdict – 7/10
In a line: A warm and comfortable pair of gloves for shorter rides due to the need to recharge the battery packs
Style: 7/10
Comfort: 8/10
Heating properties: 7/10
Ease of use: 7/10
---
KEIS G301 3 FINGER HEATED GLOVES
£200 | www.keisapparel.com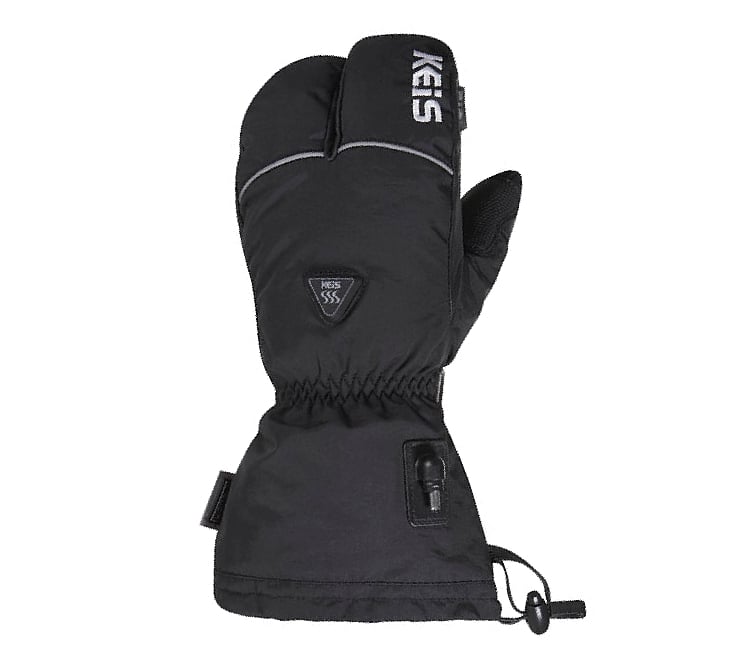 I would recommend all the Keis products I've reviewed in this group test to anyone looking for heated gear to ride in this winter. So, I was disappointed to find the G301 gloves didn't quite match up to the rest of the brand's gear in terms of the amount of heat they produced.
Sure, they were warm, but unlike the jacket and vest, they never felt hot. And on a relatively mild 5C day, I had them permanently on the highest of the three settings.
This is a shame because, like the rest of the Keiss gear on test, the G301 is clearly a well-made and thoughtfully designed piece of kit.
While the three-finger approach doesn't look particularly stylish, it has been utilised to reduce airflow around the fingers to keep the heat inside and the cold out.
The gloves are made from a combination of nylon and leather, and they felt flexible and comfortable to wear. They also offered plenty of feel at the controls of my bike, and they didn't feel as bulky as so many of the winter gloves on the market often do. The dual Velcro fastener provided a tight fit around my wrist, but I couldn't fit the large cuff under my motorcycle jacket's sleeve.
Armour comes in the form of a scaphoid protector but there isn't any on the knuckles which is a shame.
Inside the gloves, you'll find microfibre carbon heating panels across the tops of the fingers and the backs of the hands, as well as 3M Thinsulate insulation to help reatain the heat produced.
I connected the gloves to my Keis heated jacket which was simple to do, and I could cycle through the three heat settings using the easy-to-operate buttons on top of the gloves. If you power the gloves using the separate battery packs provided, they tuck away neatly into a zipped pocket.
Overall, Keis has produced a well-made riding glove, but on the coldest of days, you'll find yourself wishing you could turn up the heat.
ABR Verdict – 7/10
In a line: A well-made glove that could have been hotter
Style: 6/10
Comfort: 8/10
Heating properties: 7/10
Ease of use: 9/10
---
KEIS T103RP HEATED TROUSERS
£165 | www.keisapparel.com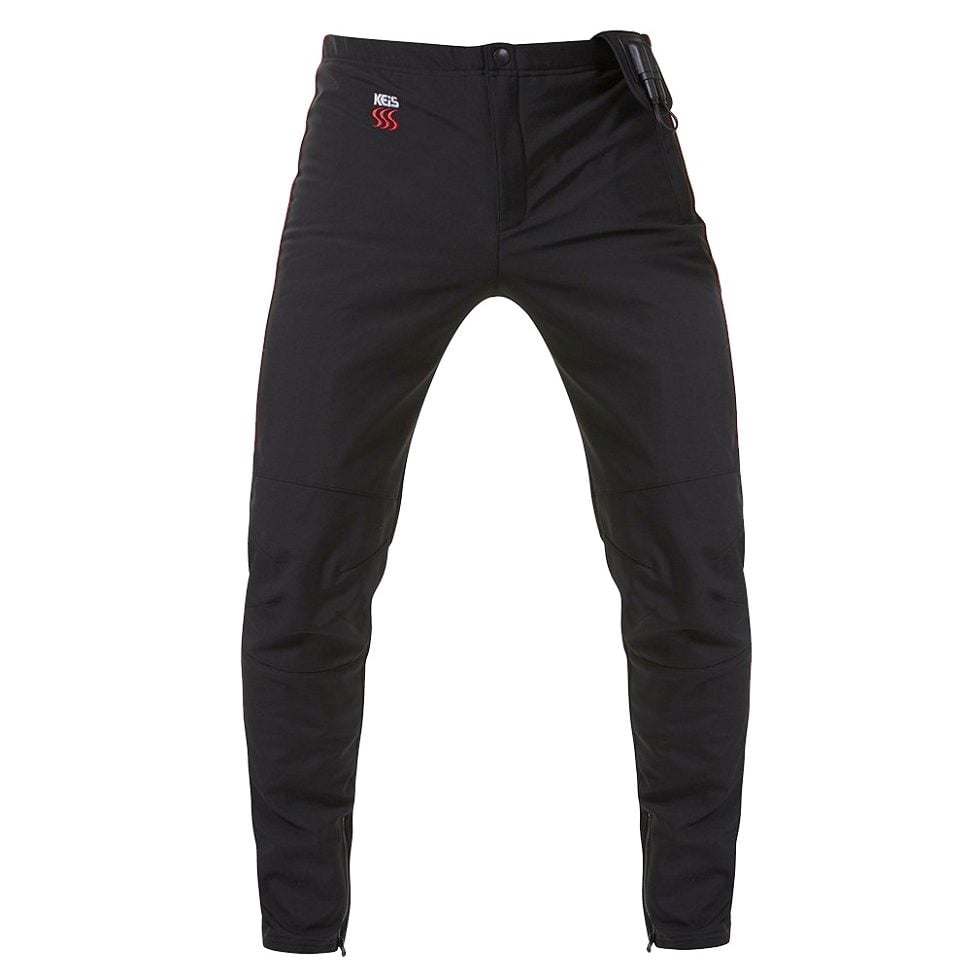 It can be all too easy to overlook the importance of keeping your legs warm on a motorcycle, especially if you've already spent your hard-earned cash on a heated jacket and gloves for winter riding. However, our legs are as exposed to the elements as our chest and arms, if not more, so it's certainly worth considering snapping up a set of heated trousers.
In the T103RP, Keis has produced a pair that will either simply plug into your heated jacket so the two work in unison, or directly into your bike's battery. They are designed to be worn under your motorcycle jeans or textiles, so Keis can't be criticised too much for producing a garment that looks a little like a pair of pyjama bottoms.
However, the elasticated waist and lightweight, stretchy rear panels ensure a very comfortable and cosy fit, and there was no hint of any seams or leads rubbing anywhere. And there's very little bulk to them which meant they slipped over my textile riding trousers easily.
Once on the bike, the Keis trousers felt light and flexible to wear, much like a slightly thicker pair of thermal undies. But the joy of Keis' offering is the fact heating panels on the front of the trouser kept my legs nice and warm.
That heat was, however, concentrated on the front of my thighs and I didn't feel too much warmth elsewhere. This is likely due to the fact the polyester fabric was stretched tight across the front of my thighs as I rode a Yamaha Tracer 9 GT during the test.
Despite this, Keis' heated trousers are a useful piece of kit, particularly on long-distance journeys in cold weather when your legs will take a battering from the elements and warm thighs are a blessing. I'll certainly be sporting a pair on my next winter trip.
ABR Verdict – 8/10
In a line: A lightweight and comfortable pair of trousers to heat your legs
Style: 7/10
Comfort: 9/10
Heating properties: 8/10
Ease of use: 9/10
---
GERBING HEATED TROUSER LINER
£189.99 | wwww.gerbing.co.uk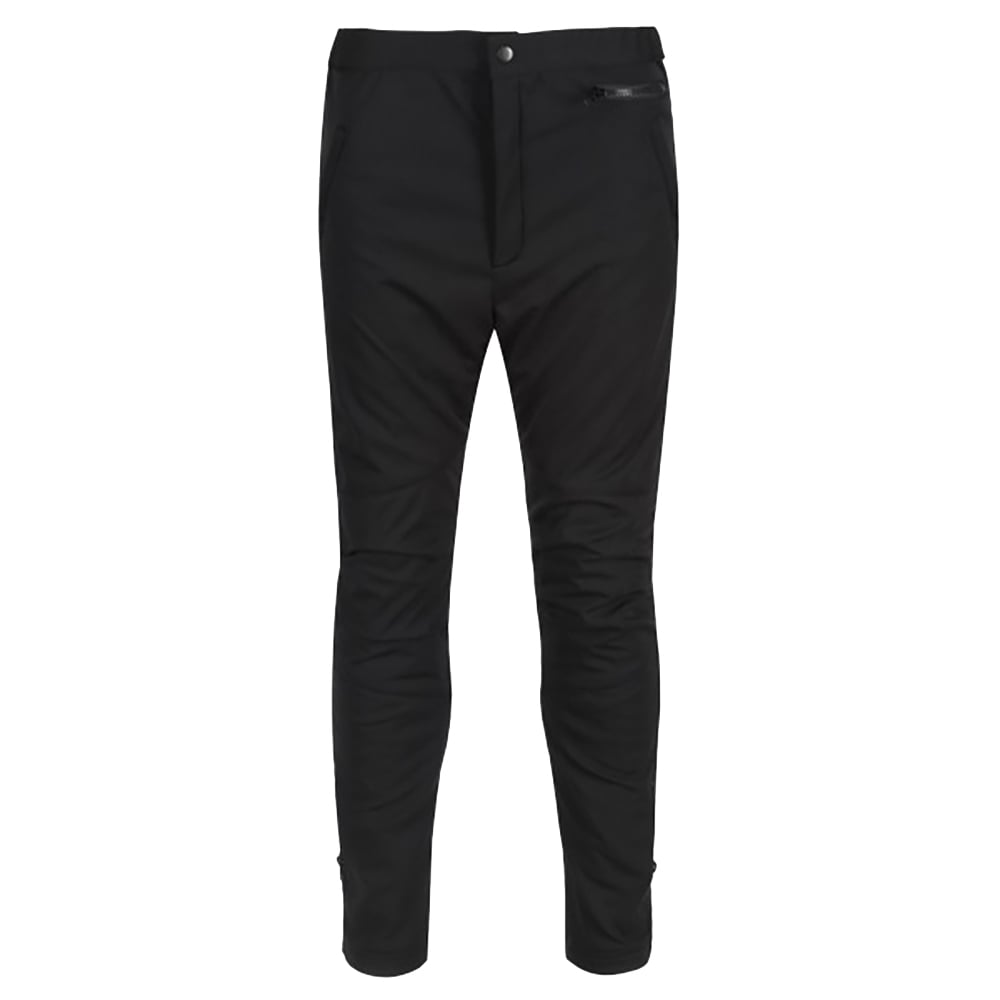 When I first slipped Gerbing's heated trousers on, I was surprised at just how bulky they were. They fit, and indeed look, like a thick pair of tracksuit bottoms rather than a set of long johns.
In fact, I had to pair them with a relatively loose-fitting pair of biking trousers and loosen up the buckles on my adventure boots to keep things comfortable in the saddle. But even then, I certainly noticed the extra bulk they added to my riding set-up.
This extra level of insulation seems to be a running theme with Gerbing's heated gear in this test, and on the plus side, it does mean it's all exceptionally warm.
Heating elements run down the front from the waist of the trousers to midway down the shin, as well as at the hips and across the seat, which means coverage is comprehensive.
The trousers can be connected to a Gerbing jacket to mirror the heat setting it's running on, or they can be plugged directly into an optional heat controller, or your bike. Like other pieces of Gerbing gear, 100% power is pretty damn toasty, so I made sure to use a heat controller to keep life comfortable on my rides.
There are also handwarmer pockets, Velcro adjustment straps at the waist, and cables to connect to heated socks, rounding off a pretty comprehensive package.
While the bulkiness of the trousers did mean I've thought twice about wearing them on shorter rides due to the faff of putting on my biking kit over the top of them, there's no doubt that they would do an excellent job on long days in the saddle in freezing conditions this winter. If I was heading off to Siberia tomorrow, I would definitely be wearing a pair of Gerbing's heated trousers.
ABR Verdict – 8/10
In a line: Bulky but highly effective heated trousers.
Style: 7/10
Comfort: 7/10
Heating properties: 10/10
Ease of use: 7/10
---
KEIS S302 HEATED SOCKS
£85 | www.keisapparel.com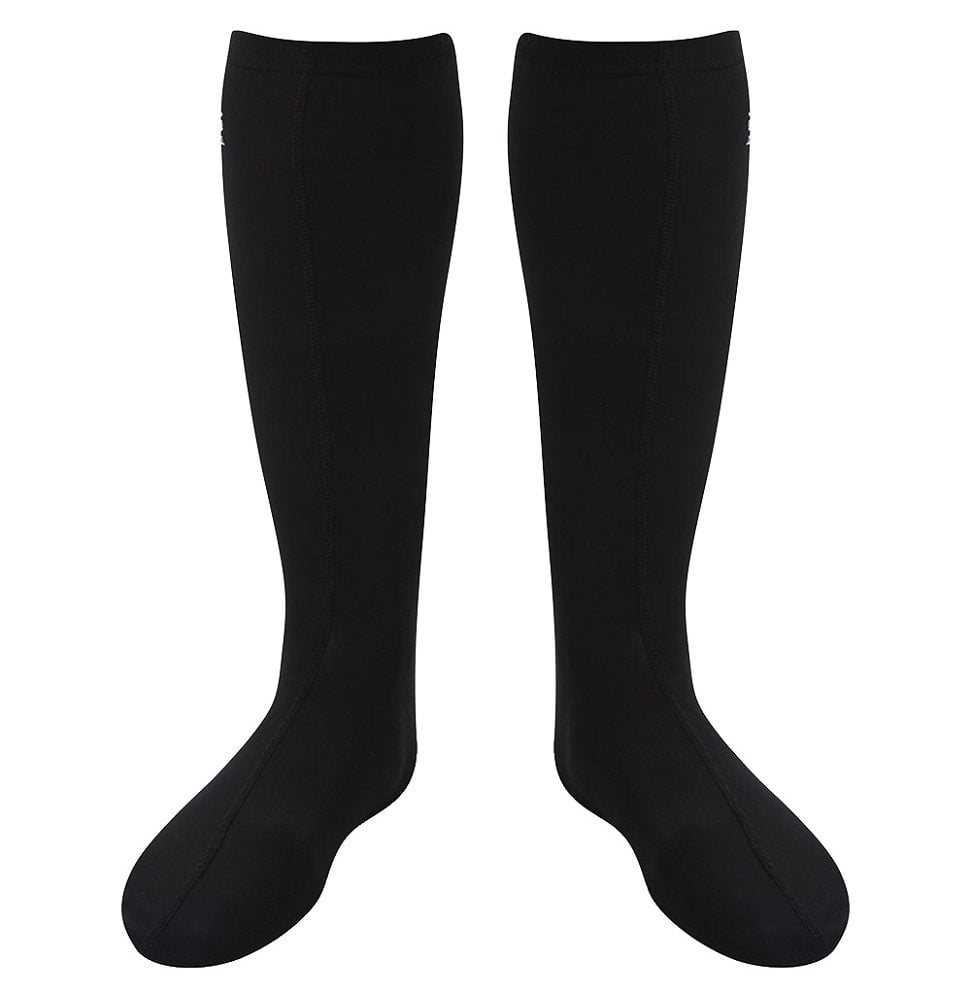 As I put on my riding gear at the ABR offices one cold December morning over a heated jacket, trousers, and gloves, I thought the addition of a pair of warmth-giving socks might be a bit of an overkill.
But, as I motored towards the M40, I began to feel the heat from the micro-alloy element seeping through my toes, a little like the hot water bottle my mum used to put at the foot of my bed on cold nights when I was a kid (and still does when I visit home).
I soon realised I'd been missing something all my motorcycling life, and that was toasty feet on cold days. OK, this isn't a piece of kit I'd bother putting on for short rides, but on my journey from the Midlands to my family home in the South West of England on dark winter nights, my feet often go numb from the cold. In these circumstances, a pair of Keis S302 heated socks would be most welcome.
Made from 85% polyester and 15% Spandex, they boast a stretchy feel and are designed to be worn over a normal pair of socks.
They are on the baggy side as Keis has combined the medium and large sizes together, but they felt soft and comfortable to wear, with no seams or leads rubbing on my feet.
Each sock has a lead which simply plugged into my Keis heated trousers, or alternatively, you can power them directly from your bike's battery.
The S302's rise up to just below the knee and feature an elasticated opening designed to keep them up, although mine did fall down a little. Most of the heat was concentrated around my toes which got very hot. Elsewhere, there was a nice temperate warmth and I found the overall feeling very pleasant indeed.
ABR Verdict – 9/10
In a line: If you ride in the depths of winter and suffer from cold feet, get yourself a pair
Style: 7/10
Comfort: 9/10
Heating properties: 8/10
Ease of use: 9/10