Bryn Davies puts 12 pairs of laminated textile trousers to the test
In issues 45 and 46 of Adventure Bike Rider we reviewed laminated textile jackets. If you happened to read those, then you'll be aware that we're of the opinion that bonding a waterproof membrane to the inside of the outer shell (laminating it) is the way to go.
Rather than the all-in-one, three-layer systems (that is, an outer, a removable waterproof lining, and a removable thermal layer) that quickly get saturated with water, are heavy and bulky, and a hassle to use effectively, laminates provide effective waterproofing, better comfort, a more user-friendly experience and they're usually lighter, more agile and less cumbersome to wear – something that's important when adventure riding.
With this in mind, and following on from the reviews we did earlier this year, we're looking at the trousers to match the jackets. You'll notice that these trousers are a fair bit more expensive than their three-layer counterparts, and that's largely down to the increased cost to manufacture products that are more technical construction.
We've brought you 12 pairs of trousers from varying manufacturers, and we're looking at examples from across the price range, starting at a reasonable £219.99 and ranging all the way up to a wallet-busting £799.99. When it comes to textile trousers, regardless of whether you're choosing a three-layer or laminated pair, the most important thing to consider is the fit.
Us bikers come in all different shapes and sizes, and manufacturers don't sing off the same hymn sheet when it comes to sizing measurements. With this in mind, it's often the case that some trousers will fit better than others, and it's always best to try a pair on before you buy them.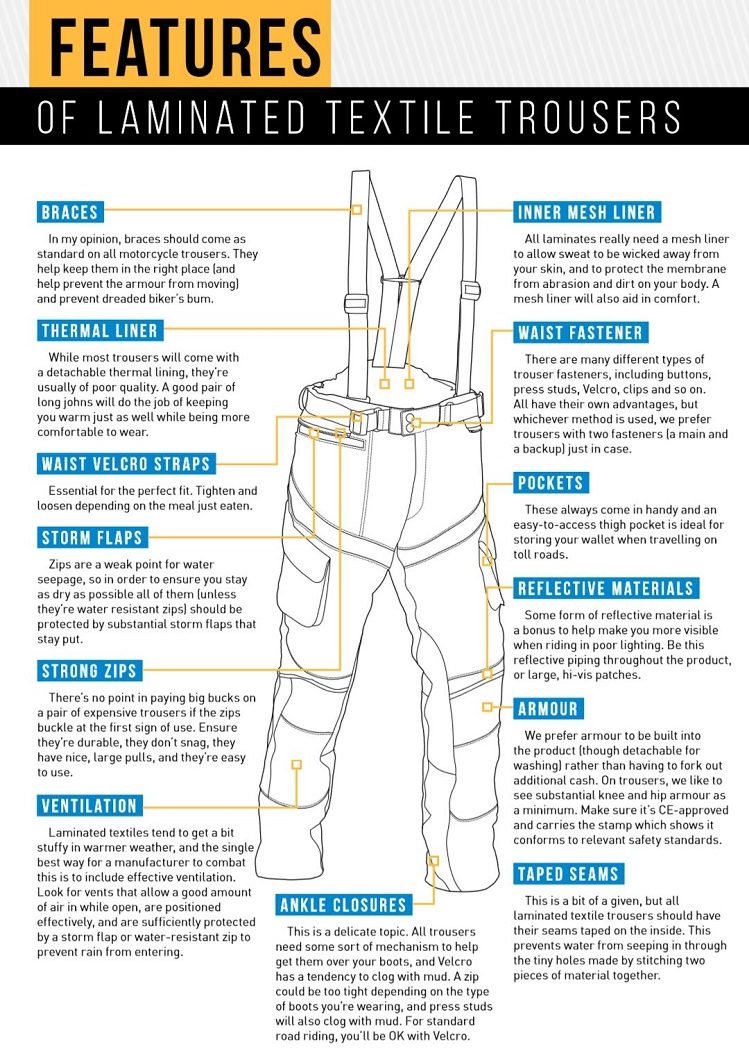 The overall cut and fit of a pair of trousers will be the most important factor in how comfortable they are for you to wear, and in turn how comfortable you are in the saddle.
Bad fitting trousers will dig in, ride up or drag along the floor, and if you want them to be as effective as possible (both in terms of weather protection and protection in an accident), you'll want to spend some time making sure you're buying trousers that fit right. Aside from the fit, another thing worth considering is the protection on offer.
Most of the laminated trousers in this review will come with armour inserts included. Typically, you'll find them at the knees and hips, but it's always welcome if there's additional impact protection on the tail bone as well.
You'll want to make sure that, at an absolute minimum, this armour is CE-approved to level one (level two is more protective) to ensure they're up to standard. Armour should be removable so that the trousers can be put through the wash, and adjustable so that you can fine-tune it's placement (knee armour that sits on your shins isn't going to be much use).
After protection comes ventilation. There's no denying that laminated gear runs warmer than a non-laminated kit, and that's because of the waterproof membrane that's always in place. In summer months, your trousers will get stuffy and warm, but there's a way that manufacturers can combat the likelihood of you overheating, and that's by incorporating an effective ventilation system.
If you're a rider who sticks to tarmac and your style is more gentle bimble than Dakar rally raid, you can get away with smaller vents, but if you're going to be working hard off-road, you'll want the largest, most well-equipped ventilation system going.
Once you've covered fit, protection and ventilation, assess whether the trousers have enough pockets to suit your needs. I find it incredibly frustrating when I'm wearing a pair of trousers and I have nowhere to put my phone and wallet, so I like to ensure that they have zippered thigh pockets to allow for easy access to cards/cash on toll roads.
Hip pockets should be considered essential. The zips on these pockets should all be protected by a substantial storm flap that will help keep the water out of them – if they're not, a water-resistant zip is essential, and if they feature neither of these, I wouldn't want to put anything in them. As with most products, you do get what you pay for, though there are always exceptions to that rule.
---
What is a waterproof membrane?
It seems as though there's a lot of confusion out there about what exactly a waterproof membrane is, and what it means when a material is laminated. Simply put, a waterproof membrane is a very thin sheet of durable material which has pores that are too small to let water droplets through.
In laminated gear, this is bonded to the inside of the outer protective material. Most people will have heard of Gore-Tex, but there are other, just as effective membranes on the market. The thing that makes laminated kit so expensive is that bonding it to the inner is a task that requires skilled operators, especially when it comes to taping the seams (something that is required if a pair of trousers are to be deemed waterproof).
---
MACNA LOGIC
£219.99 www.factoryagencies.co.uk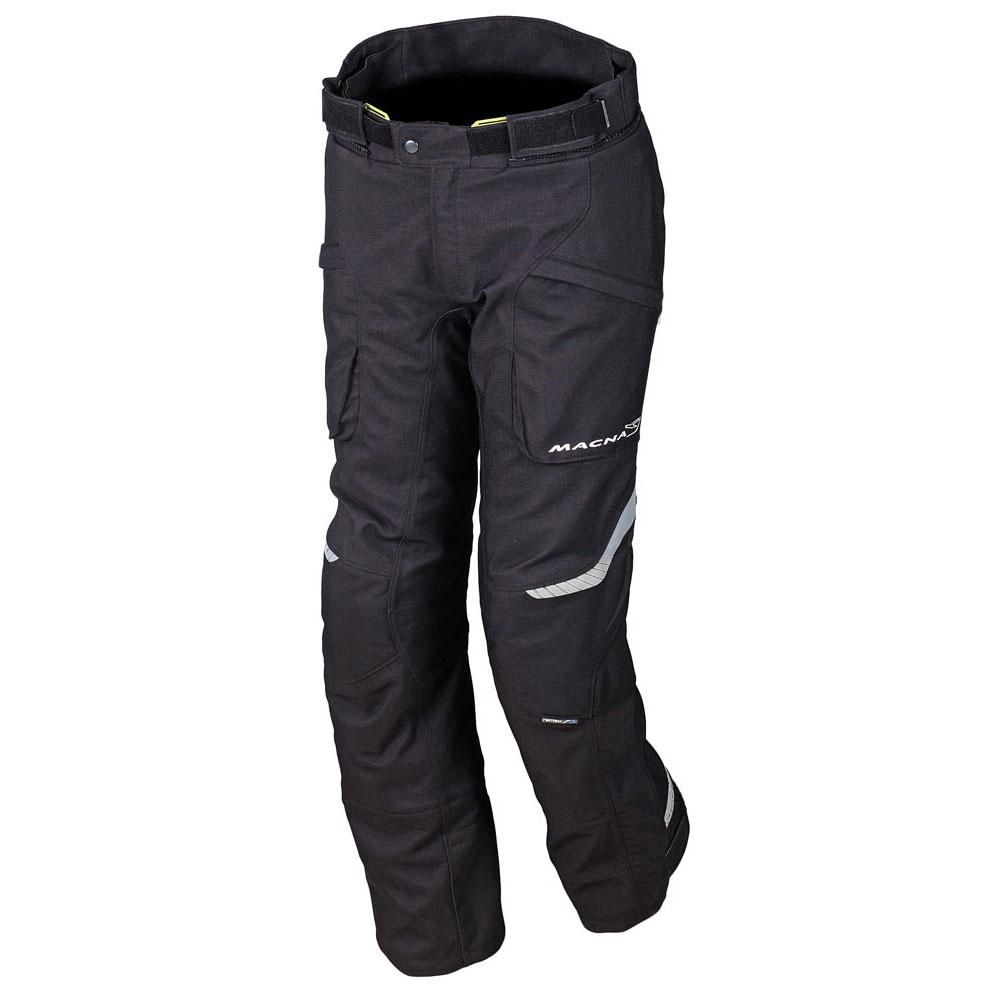 At £219.99 the Macna Logic trousers are the cheapest product in this review by over £100. Usually, when there's such a large discrepancy between the prices you can bet that the cheapest is going to disappoint, but that's not necessarily the case here. While they do have a more 'budget' feel to them compared to, say, the Halvarssons Wish Pants, the Logic trousers are well equipped for road riding in all but the worst weather.
Despite the trousers' low price tag, Macna hasn't skimped out and you get a removable thermal liner, included CE-approved knee armour and pockets for hip armour (which can be bought separately). The thermal liner is a nice addition, though it's of basic quality and would be better swapped out for some winter thermals, and it's great to see that the knee armour is so easy to adjust.
While the trousers come in a block black design, there is some nice detailing on the outside knee and heels which will help make them stand out more in poor conditions. The two zippered pockets are well placed and large enough to hold the essentials (wallet and keys), and the zip is protected by a small two-way storm flap.
There are two vents on the outer thigh, though these are of limited effectiveness and if you're going to be riding in warm weather you'll be wishing you had more.
The trousers come ready to fit braces (though none are included), and the adjustable waist straps do a surprisingly good job of keeping the trousers up, even if they are a bit of a fiddle. At the bottom, the heels of the trousers have been reinforced to cope with the demands of such a high wear area.
IN A LINE:  A good budget buy.
ABR Rating – 7/10
MOOSE RACING ADV1 PANTS
£363 www.partseurope.eu

The ADV1 Pants are part of Moose's ADV1 range, which is comprised of a jacket (as reviewed in issue 45 of Adventure Bike Rider magazine), the trousers we're reviewing here, and a pair of gloves.
Considering these trousers are the second cheapest in this test, they are mighty impressive. They feel bombproof and it's quite clear to see that Moose Racing has put a great deal of thought into the design, with there being a number of well-thought-out features throughout. Waterproofing is provided by a tried and tested Sympatex membrane, and this does a great job of keeping rain out.
There are four pockets (two hip pockets and two thigh pockets), all of which are of decent size and are protected by water-resistant zips. Venting is taken care of by huge zips that run the length of each outside leg, and a thoughtfully included gaiter at the cuffs will help keep you protected from the elements.
While there's no thermal lining included, you do get CE-approved D30 armour inserts on the knees and hips, and this is well placed and comfortable.
Removable braces are included as standard, and these work great to pull the high-sided seat of the trouser up to the small of the back, providing a comfortable and reassuring fit. High abrasion-resistant material is incorporated throughout in areas that are likely to see more wear, and leather patches are implemented down the length of the inside leg.
Three Velcro adjusters on the cuff allow you to get a spot on fit around your boots, and the mesh lining and a luxuriously soft waistband create a very comfortable wearing experience. Honestly, these trousers are so well featured for their price that I'd encourage anyone in the market for a pair of laminated textile trousers to try them out. The only downside, for me at least, is that they're only available in a boring black.
IN A LINE:  Superb adventure motorcycling trousers for the price.
ABR Rating – 9/10
HALVARSSONS WISH PANTS
£399 www.jofama.se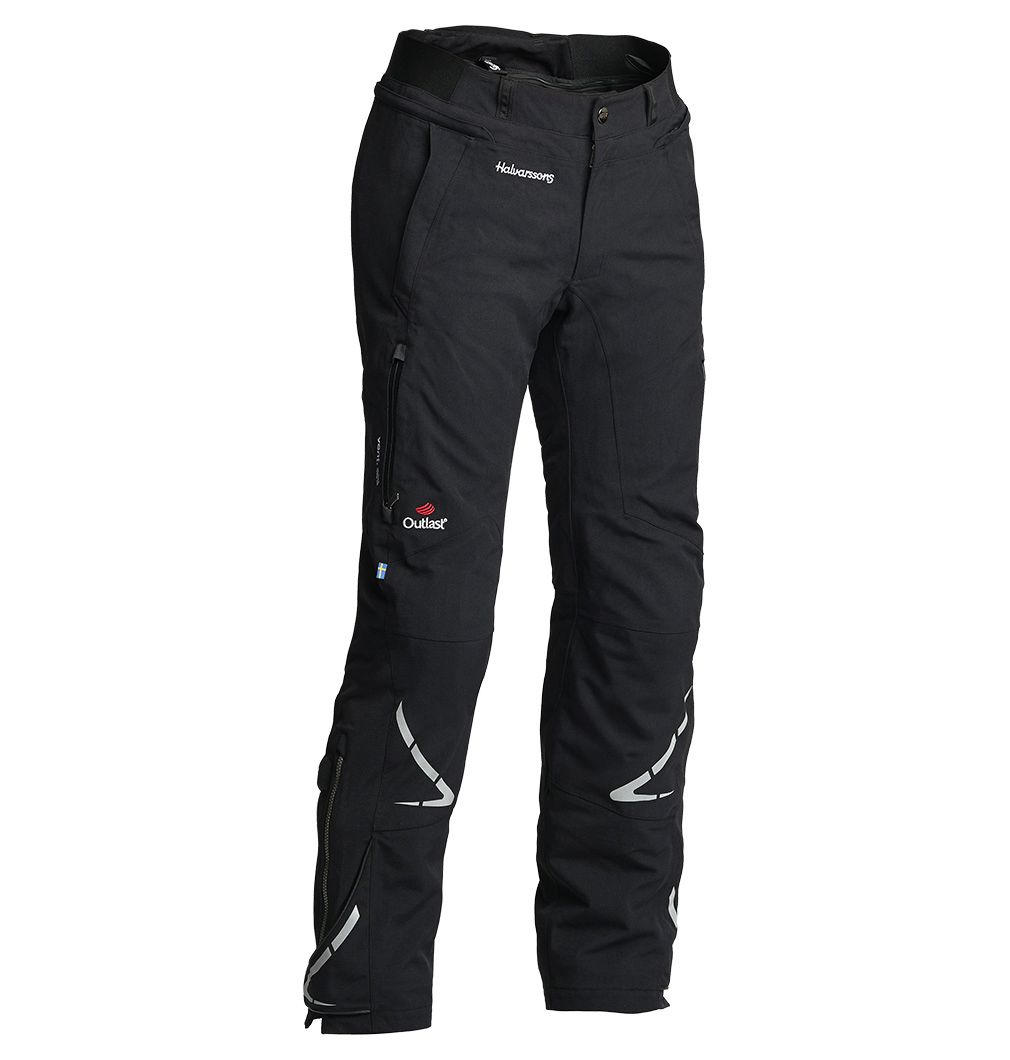 The Wish Pants were released earlier in 2018 alongside a range of new laminated motorcycle clothing from the Swedish manufacturer Halvarssons. We tested the Walkyr jacket (£519) in issue 45 of Adventure Bike Rider magazine (which is the matching jacket for these trousers) and found it to be a great laminated jacket with the outstanding feature being the comfort provided.
Fortunately, this is passed down to the Wish Pants as well, and they benefit from the same impressive fit and feel. As mentioned above, the shining beacon of the Wish Pants is their comfort. Typically, laminated motorcycle gear has a rigid feeling to it that is a barrier to achieving top-tier comfort levels, the Wish Pants, however, are nice and soft, they drape nicely and they have a superb fit that's ideal for touring.
This extra comfort doesn't seem to come at a cost either, and the trousers are well-featured throughout. Like the Moose Racing ADV1, it's a shame that the Wish Pants only come in black, though I wouldn't be surprised if Halvarssons expands this range with some new colours in the future.
Impressively (for the price) CE-level 2 armour inserts are provided at the hips and knees and these are well incorporated. The Outlast liner is one of the best thermal liners you can get in a pair of laminated trousers, and this is removable for those times when it'd be just that bit too warm.
Ventilation comes in the form of two small zippered vents on the thighs and these will be adequate for most of the temperatures you're likely to experience in the UK, though if you're working hard off-road you'll probably be wanting a more substantial venting system.
While the trousers come with braces as standard and the waistband is comfortable against the skin, they don't come with any waist adjustment straps, which is a bit of an oversight in my eyes.
IN A LINE:  Top-tier comfort and ideal for road touring in bad conditions
ABR Rating – 8/10
RICHA ATLANTIC GTX TROUSERS
£419.99 www.nevis.uk.com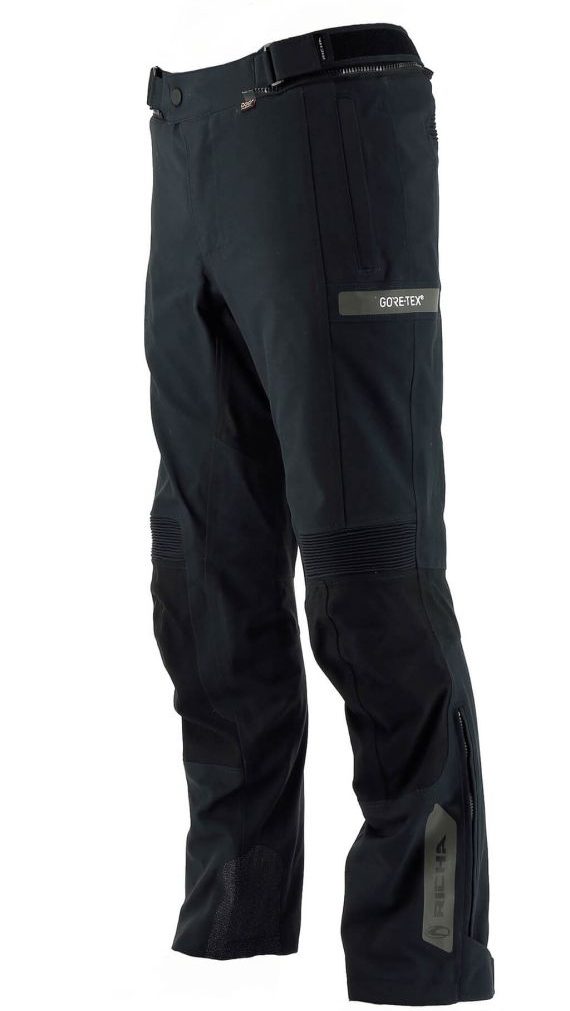 The Atlantic GTX Trousers are Richa's submission into this review and they're designed in conjunction with the jacket that shares the Atlantic GTX name. We reviewed that in issue 45 of Adventure Bike Rider magazine, awarding it an impressive 9/10 and saying that it was a 'very good touring jacket that's well designed and well made'.
The trousers keep the ball rolling and they impress in the same way that the jacket did. At £419.99, the Atlantic GTX Trousers are the first product in this review to make use of a GoreTex membrane to provide protection from the elements.
This does a great job of keeping the wet stuff out, but best of all it's a great indicator of the overall quality of the trousers and the components that are used. GoreTex doesn't give just anyone a licence to use its membranes, and strict quality measures have to be passed.
Moving on and you get Aramacor high abrasion-resistant reinforcements on the knees, and Gecko Stretch fabric on the back of the knees and crotch to help provide an unrestricted fit, and it does this nicely.
D30 CE-level 1 protectors come as standard in the knees, though you'll have to fork out some extra cash if you want the hip inserts as well. Braces are included as standard. Throughout the product, there's a nice amount of reflective detailing that does a good job of making the black trousers stand out a bit more, and the detachable thermal lining is of a nice quality to provide warmth for those winter rides.
You get two zippered hip pockets which are of adequate size, though I would have liked to have seen some thigh pockets as well. Ventilation is, unfortunately, nonexistent on these, making them unsuitable for warm weather riding.
IN A LINE:  They're well-made throughout, but they're missing a couple of key features.
ABR Rating – 7/10
BMW ENDUROGUARD PANTS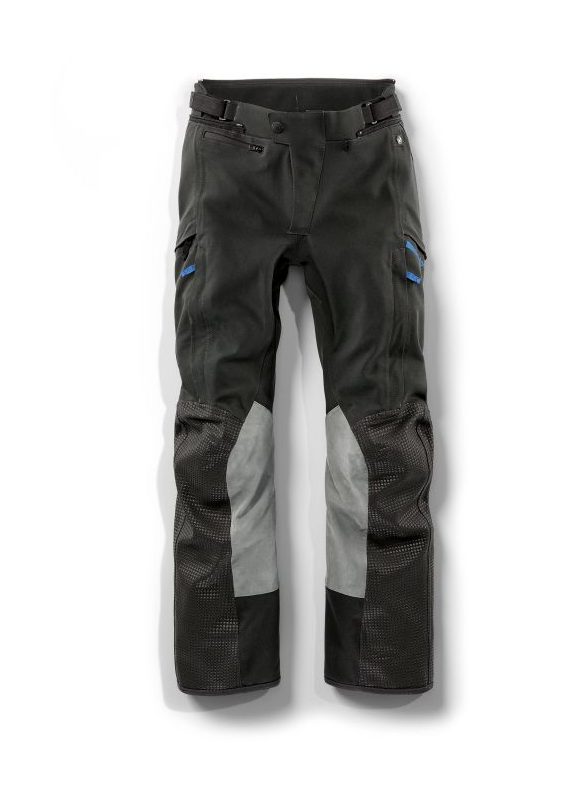 BMW has a good reputation when it comes to riding gear, and in 2017 the company launched the EnduroGuard Suit, a laminated textile jacket and trousers combo that's been designed to appeal to adventure riders who seek out adventures off the tarmac and in remote locations where the weather can be unpredictable.
The big talking point of the EnduroGuard Pants is the inclusion of a Schoeller C-Change membrane to provide weather protection. This is a really neat piece of technology.
Essentially it's an adaptive membrane that opens its pores when it's warm on the inside (to help cool you down and allow sweat to escape), and closes them when it's cold, allowing a level of internal moisture and temperature control that's impressive. Of course, you're not going to experience the benefits of the C-Change membrane at all times, but it's impressive when the conditions are right.
To complement the membrane, you get two nicely-placed vents on the front of the thigh, and these do a good job of drawing cooling air in, though they would be better if they opened wider.
Impact protection is provided by some very substantial NP2 armour inserts on the hips and knees (there's also a pouch for tailbone armour if you want to use it), and these help the trousers to provide a reassuring and comfortable fit.
The knees are reinforced with a bomb-proof feeling fabric that's been developed by BMW and Schoeller, and leather pads on the inner knees help you grip the tank when standing up.  While the kit feels well-made throughout, I just can't get my head around the pocket design. You get three zippered pockets, but not one of them is large enough to be useful and I struggled to get my hand into any of them.
IN A LINE:  Adventure-ready textile touring trousers.
ABR Rating – 8/10
KTM MANAGUA GTX TECH-AIR
£533.16 www.ktm.com/gb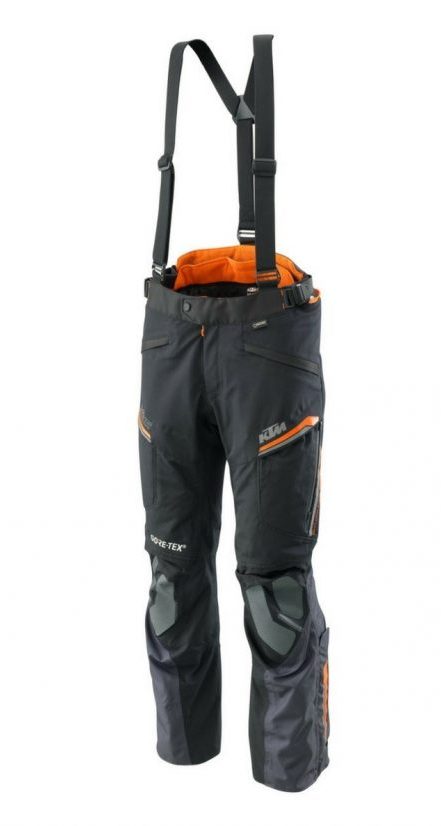 With the Managua Pants, KTM has teamed up with Alpinestars to bring you a pair of high-quality laminated textile touring trousers. Complete with orange detailing and a KTM logo on the thigh, these trousers are aimed at one group of riders only – those who ride KTMs.
It's not all about branding and making a statement though, and the Managua Pants make use of Alpinestars' knowledge and experience of manufacturing kit that performs when it needs to.
In my eyes, these are some of the best looking touring trousers around. They look rugged, they sit well on the hips and legs, and the logos and detailing are tastefully included. Braces are included as standard, and the waistband has a great amount of adjustment in it along with a double popper at the front.
Weather protection comes in the form of a GoreTex membrane, and this does a great job of keeping the wet stuff out, even in extreme conditions. On the flip side, if things start to get too warm, you get two great, large vents on the front of the thigh which can be peeled open, and these work brilliantly to let cooling air in.
The included thermal lining is of good quality, and it's comfortable next to skin, while the inner mesh lining is exceptionally soft and makes wearing these trousers a pleasure.
Impact protection comes in the form of substantial and comfortably included CE level 2 armour inserts on the knees, while there are pouches that will allow you to use hip armour if you wish. At this price though, you'd expect to see them included.
Despite the marketing blurb stating that there are several pockets on the trousers, I could only find the two hip pockets in my time wearing them. These are zippered and well placed, though they're too small for my liking and barely contain my phone.
IN A LINE:  Perfect trousers if you ride a KTM.
ABR Rating – 9/10
SPIDI GLOBETRACKER H2OUT
£549.99 www.spidiuk.com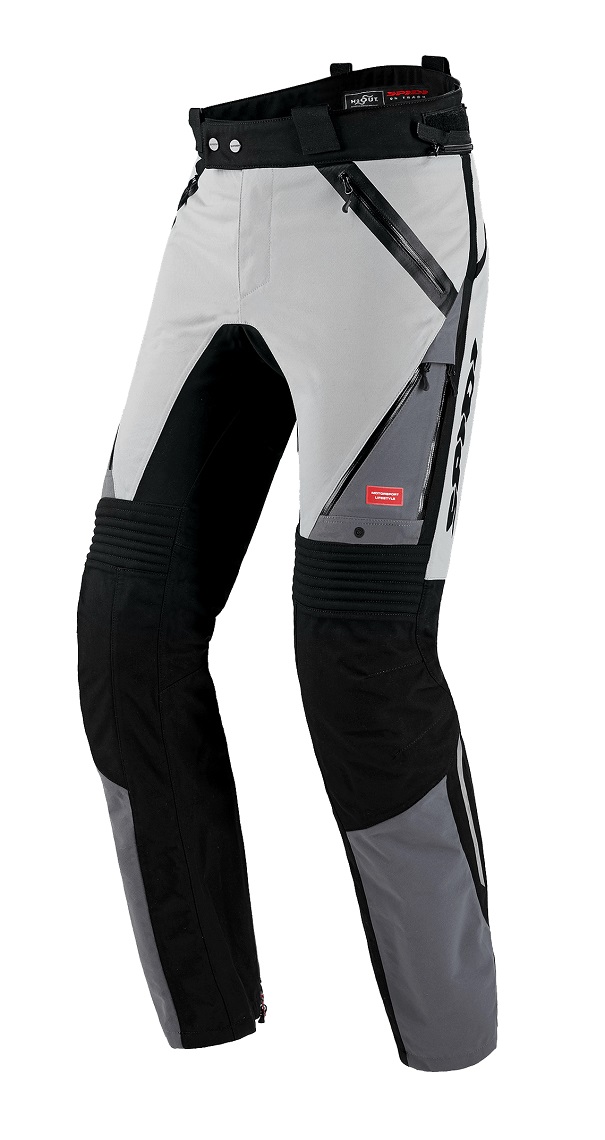 Like a lot of the other trousers in this review, the Spidi Globetracker H2Out Trousers are part of a jacket and trousers set. We reviewed the Globetracker H2Out jacket (£749.99) in issue 46 of Adventure Bike Rider and found it to be 'very comfortable and versatile, with the best thermal liner jacket on the market'.
Really, the same could be said about the trousers as they take the same design cues and impress in the same ways. Ventilation on the trousers is good, with there being two large, mesh-backed vents on the front of the thigh.
These are well positioned to allow a good intake of air, though the method of securing them in an open position (which works in a similar way to a curtain tieback) is a bit of a fiddle and certainly not something you're able to do on the fly. All of the zips on the vents are water-resistant, which is great to see.
You get two hip pockets and, like the vents, these feature water-resistant zips. They're of adequate size, but I often found myself wanting more, perhaps a well-placed thigh pocket wouldn't go amiss.
The waist is easily adjustable thanks to Velcro staps, and the trousers come with braces included as standard. Ergonomically, the Globetracker trousers excel. The accordion panels under the knees allow for an unrestricted fit when sat in the saddle and walking around, and the cut of the trousers is spot on.
The included CE-approved armour on the hips and knees is also well positioned and incorporated, and doesn't negatively impact comfort at all.
I would have liked to have seen reinforcements in high wear areas, and in particular around the cuffs of the ankles. Like the trousers' jacket counterpart, the thermal lining is one of the best around. It provides a lot of warmth and feels lovely next to the skin. If you choose to remove it when the temperatures rise, then it's nice to know that there's a soft mesh lining inside that'll help protect the waterproof membrane and also wick sweat away from your skin.
IN A LINE:  Comfortable and a pleasure to wear.
ABR Rating – 8/10
ALPINESTARS REVENANT PANTS
£599.99 www.alpinestars.com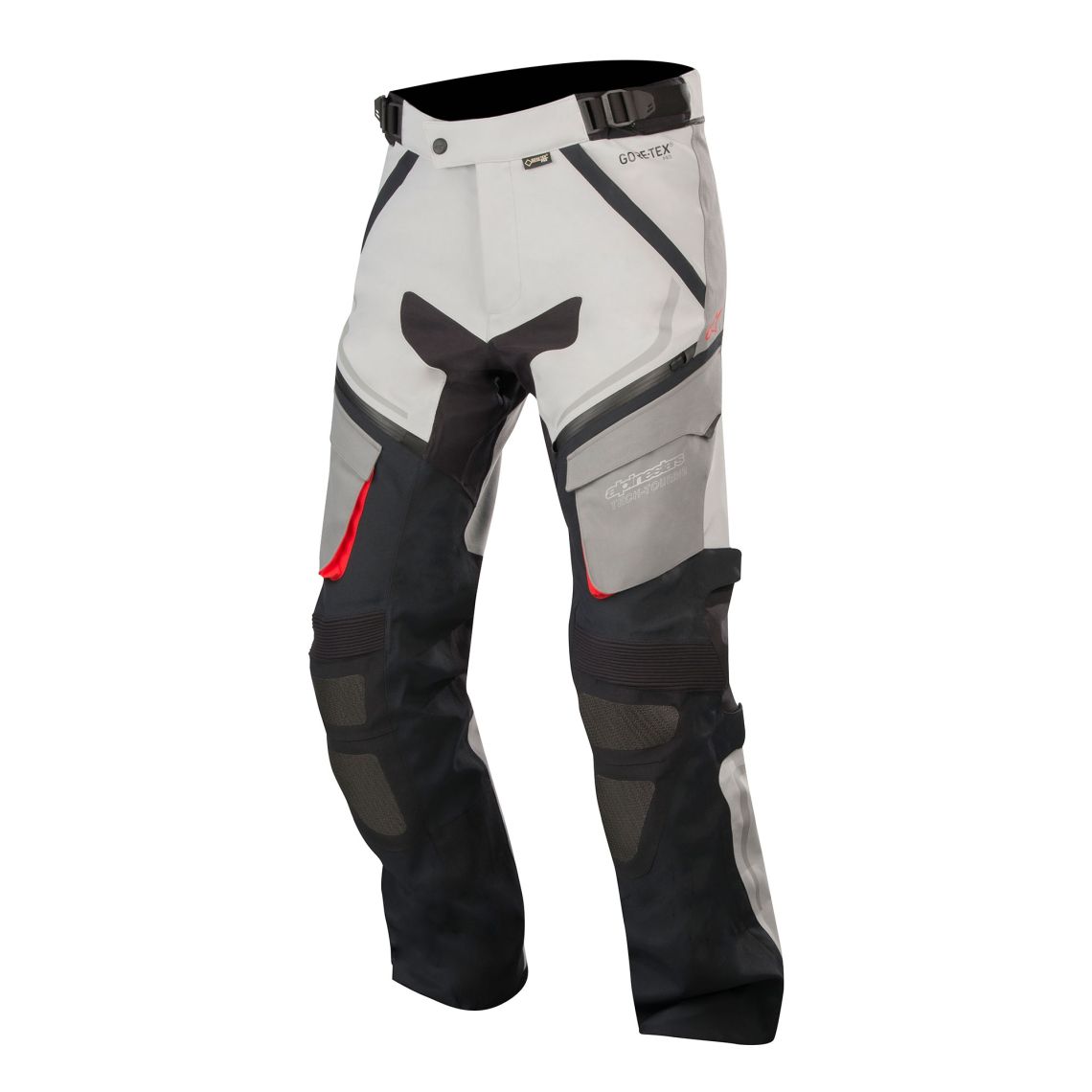 At a penny shy of £600 the Alpinestars Revenant Pants represent a serious investment and, as such, you'd expect them to off er great performance. With a GoreTex lining, water-resistant zips throughout and a lovely, lightweight feel to them, the early signs are good.
The inner mesh lining is also one of the most comfortable that I've had the pleasure of wearing. Removable braces come as standard, negating the need for a belt, while the waist is adjustable via two buckles that are easy enough to adjust.
The knees of the product are reinforced to help deal with abrasion in the event of an off, and you get four decent-sized pockets which all feature water-resistant zips. The Revenant Pants suffer from a problem that a lot of us Brits run into when trying out Alpinestars products: the sizing is way off and you'll definitely want to make sure you try these on before you buy them.
It'd be worth bringing your riding boots along to the shop as well, as the ankle cuffs are a little restrictive and if you wear chunky boots you may struggle to fit the trousers over the top of them.
Protection comes in the form of Alpinestars' comfortable and substantial CE level 2 Bio Air armour on the knees. These sit a little too low for my liking (being just below the knee), and the amount of adjustment on offer isn't enough to get them sitting right.
You do get padding for the hips, but it's nothing substantial, and there are no pouches for you to add your own armour. If your body fits the shape of these trousers they're well worth checking out. They're lightweight and they feel solid and well-made throughout. There are a few niggles though, and you'll have to decide whether you can put up with them.
IN A LINE:  They have the potential to be great, but fall short in a few areas.
ABR Rating – 7/10
REV'IT! DOMINATOR 2 GTX TROUSERS
£649.99 www.revitsport.com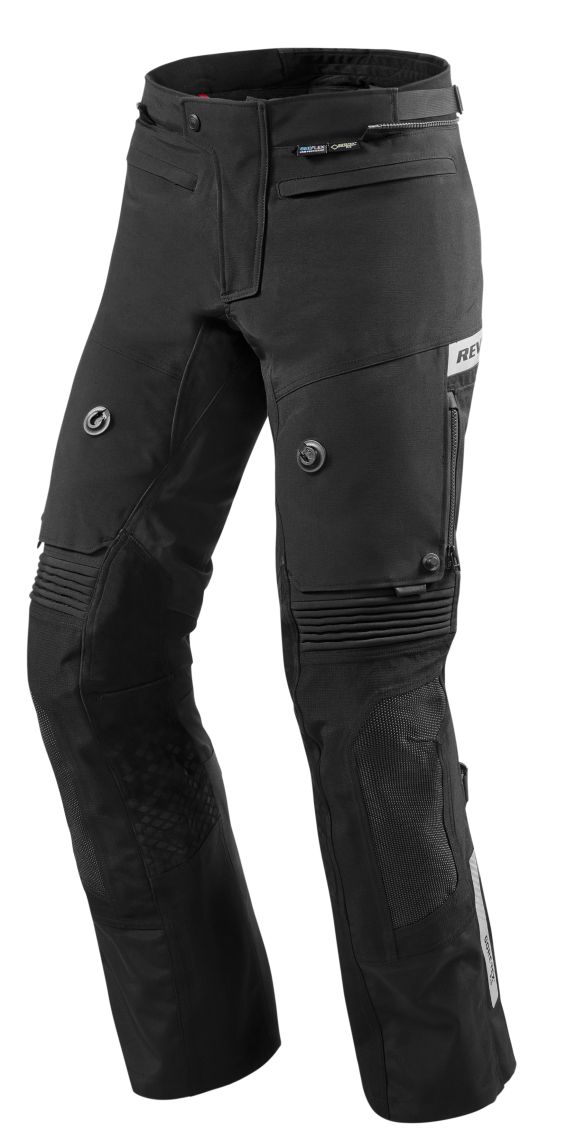 REV'IT! has really been knocking it out of the park recently with its adventure motorcycling kit, and although the Dominator 2 GTX Trousers are £649.99, that seems like a bargain when you consider that they're on-par with the three more expensive pairs of trousers in this review.
The REV'IT! Dominator has been my go-to adventure riding jacket over the past few years, and I think the Dominator 2 Trousers will be taking pride of place in my wardrobe as well.
Featuring a GoreTex membrane laminated to a GoreTex Pro Armacor fabric (a 600 denier nylon with high abrasion resistance), it's clear to tell that a lot of thought and effort has gone into the design and manufacture of these trousers.
First of all, the ventilation system is fantastic. In a system that's also used on the excellent Dominator Jacket, the trousers have two huge vents on the thighs which are held open by a magnetic stud that's easy to operate on the fly and with gloved-up hands. When open they allow a huge amount of air through and, when closed, thanks to the design, they're air and watertight.
These vents are coupled up with two rear exhaust vents, and they do a fantastic job of drawing cooling air through the trousers. Protection comes in the form of Kevlar reinforced areas and Seeflex CE-level 2 armour on the knees and this all comes together to create a pair of trousers that feel genuinely bombproof.
Leather patches on the seat and inner legs help you grip the bike in adverse conditions, and the trousers have a fantastic, ergonomic fit for comfort.
There's very little I can complain about with these trousers, though the trousers would benefit from the inclusion of braces as standard, and I would have liked at least one, large thigh pocket (though I can see that these have been sacrificed in favour of the ventilation system). I'd also expect hip armour to be included at £649.99.
IN A LINE: REV'IT! can do no wrong at the moment, these are almost perfect adventure touring trousers
ABR Rating – 9/10
KLIM BADLANDS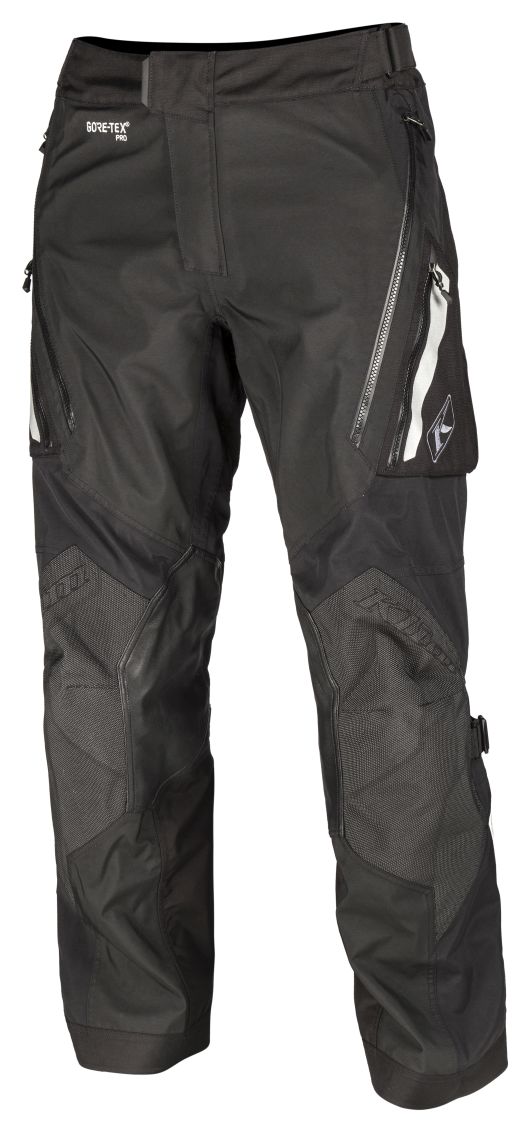 Klim's reputation in the adventure motorcycle clothing scene is almost unrivalled, particularly across the pond in the US. Head out onto one of the many dirt tracks and you'll lose count of the amount of Klim gear you see. The Badlands Pro Pants have been designed specifically with adventure motorcycling in mind, and there are a number of features throughout that make them ideal for the task.
Reinforced knee patches and hefty CE-approved armour on the knees, hips and coccyx give you the reassurance you need when riding off-road, and the excellent ventilation system works very well in warm weather.
I essentially spent the whole month of October in my Klim Badlands Pro Pants, taking them on a tour around Italy and then on a 12-day trip through Colorado and Utah. Throughout that time they were subjected to a wide variety of riding conditions, from baking sun on the Stelvio Pass to snow and temperatures of -8C in Colorado.
They also endured a few thousand miles of tarmac, and more dirt roads than I care to remember, and the result is a pair of trousers that, if they were washed down, still look brand new. It's safe to say, the Klim Badlands Pro Pants are built to last and, in my experience, they're suitable for all of the riding conditions you're likely to encounter as an adventure motorcyclist.
If I have any complaints and, as a reviewer, I suppose I have to, it's that the waist adjusters aren't the best. I was having to constantly readjust the trousers and Velcro straps through my rides. This can be remedied, however, with the simple inclusion of a pair of braces, such as the Klim Deluxe Braces. I also found the press studs on the cuff to get a bit tough to use after a few dusty trails.
IN A LINE:  Superb. They'll handle everything an adventure ride will throw at them.
ABR Rating – 9/10
HIDEOUT HI-PRO ADV PANTS
£720 www.hideout-leather.co.uk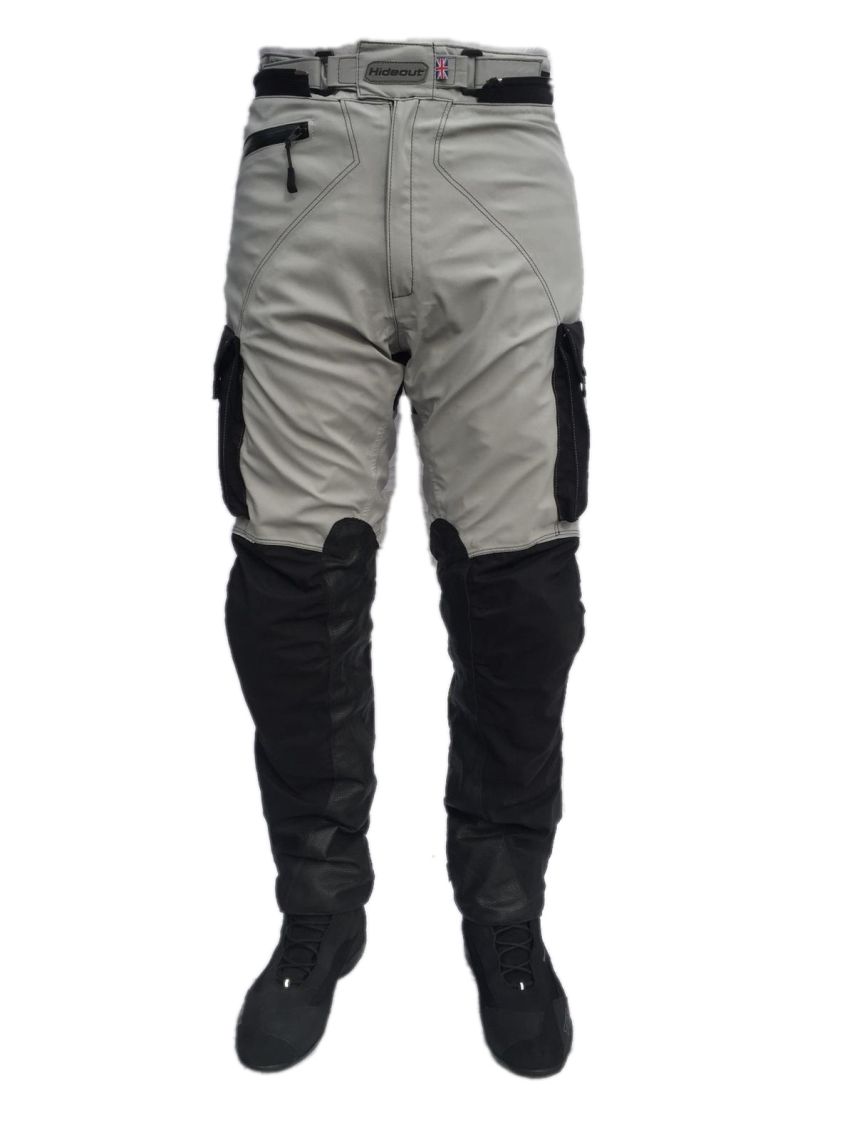 When Hideout planned to make the Hi-Pro range of gear, it set out to create textile riding garments that were as protective as leather with the comfort and flexibility of textile while providing a high level of waterproofing. Aſt er trying out the Hi-Pro Adventure Pants, I think they've done a cracking job of achieving that goal. Manufactured in England, Hideout gear comes with a stellar reputation.
The amount of thought and time that goes into each and every one of the company's products is impressive, and the Hi-Pro Adventure Pants impress in that regard. It might come as a bit of a surprise to hear, but textile motorcycle gear typically offers the least amount of abrasion resistance out of leathers, textiles and motorcycle-specific jeans.
There are exceptions, of course, where high-wear areas have been beefed up with reinforced panels, but in the Hi-Pro Adventure Pants, you'll find a full Kevlar lining.
From a safety perspective, this is an excellent inclusion, and when it's coupled with the CE-level 2 D30 hip and knee armour, these are the most protective trousers in this test. It comes at a cost, though.
A Kevlar lining will always make a garment a little bit warmer to wear, and that's the case here.
The lack of vents, coupled with the lining, means that these trousers run warm. That said, in the autumn, winter and early spring months, you'll be more than glad of the extra warmth and protection that these offer (and, with no vents, there's less chance of water seeping through zips and getting you wet).
While you can get the Hideout Hi-Pro Adventure Pants made to fit, in their standard sizes they have been specifically tailored to cater for the UK rider. With this in mind, the sizing is in line with what you'd expect, and I found the fit to be spot on for touring.
IN A LINE: The Hi-Pro Adventure Pants offer top quality, protection and comfort.
ABR Rating – 9/10
RUKKA NAVIGATORR TROUSER
£799.99 www.tranam.co.uk

It's not particularly surprising to see a Rukka product sitting pretty at the top of the price scale in a group test, and I'm sure I don't have to tell you that £799.99 is a heck of a lot of money for a pair of trousers.
At this price, there's a lot of pressure on the Navigatorrs to perform and, having worn them on a number of trips over the past two years (along with the excellent Navigatorr jacket), I can confidently state that they do.
If you're after a pair of trousers that will keep you warm, dry and protected throughout the autumn, winter and spring months, then you have to be considering these. On first use, you might find them to be a bit bulky, stiff and restrictive, but give them time to wear in and you'll be glad you did.
The insulating liner is one of the warmest I've come across in motorcycle gear and I felt toasty right down to temperatures around 0C. The trousers make use of a Gore-Tex membrane to provide waterproofing, and I haven't been touched by the rain at all when wearing these.
Protection comes in the form of CE-level 1 D30 armour at the knees and hips that's been specifically designed for Rukka. It provides a huge area of coverage (in certain positions, the knee armour even touched the top of my boots) and a very reassuring fit.
The included braces are some of the best I've used. As mentioned, these trousers are ideal for the cooler seasons, but when the temperatures start to rise they can get a bit stuffy.
Removing the thermal lining and the two vents on the thighs will help cool you down to an extent, but it's not the most effective ventilation system I've seen.
It's worth keeping in mind the quality of these trousers when you scoff at the price. Buy these, and I'd be willing to bet that, if you looked after them, they'd still be doing their job in 15-20 years time.
IN A LINE:  Top quality trousers that are ideal for cold-weather riding.
ABR Rating – 9/10