What makes expensive laminated jackets worth the cash? Alun Davies found out
In issue 45 we checked out the more affordable laminates under £700. In this issue we review the top of the range wallet busters. I've a passion for gear testing, especially when it comes to textile clothing, boots and all types of outdoor gear.
My dad spent his life working in the rag trade; first as a cutter, then designer and eventually in total charge of production for the UK company that made the protective clothing for British Rail, the GPO and many other household names back in the 60s and 70s.
He was one of the first in the UK to use Gore-Tex and designed and made a raincoat for a famous pipe smoking Prime Minister of the day. I grew up surrounded by patterns, material, cutting edge samples and all the new hi-tech breathable fabrics. I rarely, if ever, got wet.
One of my first jobs was a quality control engineer at Clarks Shoes, and I would spend the working week pulling apart footwear, checking the strength of fabrics, leather and components, inspecting the build quality and ware testing the finished products.
Over the past 25 years, I've been professionally testing all types of outdoor gear from high-end climbing jackets through to rucksacks, tents and stoves in locations all over the world. I've also been riding motorcycles for over 40 years and testing motorcycle clothing for a living over the past decade.
Why do I tell you all this? In a word, trust. This review is for laminated motorcycle jackets costing over £700, and in some cases over £1,000. That's a huge chunk of money for an item of clothing and I know from personal observations that there are reviews of these products in magazines and on websites where the reviewer demonstrates little knowledge or insight of the purpose, features technology or construction techniques involved. I want you to be able to read this review and then head to the dealers with more confidence. It's as simple as that.
Just how waterproof is waterproof?
Let's put it this way, no jacket is waterproof, and given enough time out in the rain all jackets will leak to a certain extent. And I'm not talking about the material here, I'm just pointing out the inherent weakness of having openings at the neck, cuffs, waistline and zips. At some point water will ingress, guaranteed.
Is any jacket waterproof and breathable?
Now here's a contentious subject. The only fact worth quoting is that Gore-Tex and other waterproof fabrics are, technically, breathable. I know so, as I've seen so in textile laboratories on three different continents. What this means is that at a nano level the structure of the fabric (i.e. Gore-Tex) has pores small enough to keep out water molecules, but large enough to let vapour molecules pass through.
Waterproof and breathable
Where the confusion and misinformation creeps in is when those same waterproof/breathable materials are cut, shaped and bonded to the inside of an outer, harder waring face fabric containing pockets and armour and are worn by a human being. We call them motorcycle jackets.
Let's be clear about this; a jacket will not breath through pockets, nor armour, nor an outer face fabric that is dirty or saturated, nor when worn over a non-wicking base or mid layer, and even then a jacket will only stand a chance of breathing if there is a clear pressure difference between the hot, clammy conditions on the inside and the atmosphere on the outside.
Pay special attention to what I say here. A jacket simply cannot breathe in the typically wet British climate or in rainy conditions, the science does not allow it. For a waterproof/breathable jacket to breathe you need to be standing in the sort of cold, dry and rarefied air as found on an icy alpine summit, and if you've just run up that mountain in your jacket and are pumping out sweat and all other things are equal, then your jacket will breathe. When you're sitting on a motorcycle the only way to remain cool and dry on the inside is good ventilation and design. Period.
Laminated or 3-layer jackets. What's the essential difference?
A laminated waterproof jacket (such as those in this review) is one where the waterproof membrane (i.e. Gore-Tex) is bonded to the inner side of a protective outer fabric (i.e. Cordura). To all intents and purposes, it appears to be a single piece of fabric.
Most laminate jackets still come with a lightweight inner liner, usually a mesh of some sort. This serves the dual purpose of protecting the membrane and accommodating the fitment of armour. In addition, some laminates also feature a thin, detachable inner thermal layer, just like those found on 3-layer jackets.
A 3-layer jacket comes with an outer protective layer, a detachable waterproof mid-layer and a detachable thermal inner layer which make up the three layers. This style of jacket is common in the motorcycle industry, involves a less-expensive manufacturing process and are lower priced than laminated counterparts.
It must be remembered that the outer layer of a 3-layer jacket is not waterproof, it is simply treated with a durable water repellent (DWR) coating to encourage water droplets to 'bead' and run off the fabric. DWR is only of use in light showers and becomes overwhelmed in heavier or extended rain. It also becomes ineffective over time and garments need to be re-proofed on a regular basis.
The disadvantages of a 3-layer jacket is that the non-waterproof 'outer' layer quickly becomes saturated, heavy and cold. In addition, vents are less effective as there is a water and windproof layer under the vents.
There are also far better standalone thermal layers than those that come as standard with a 3-layer jacket. For example, a Rab thermal jacket (very popular with mountaineers) is more comfortable, efficient and warmer than a stock thermal layer found in both 3-layer and laminated motorcycle jackets.
In our opinion, a laminated jacket offers better weather protection than a 3-layer, plus it allows for more versatility in building your own layering system using far superior standalone products.
Why spend over £700 on a jacket?
Indeed, why splash out on an expensive jacket when a far cheaper jacket will cover the fundamentals?
We buy and dress in motorcycle jackets for, primarily, a single practical reason; protection. Protection from the elements, and in particular, wind, rain and cold, plus protection in the event of a fall. If they are comfortable and fit, essentially that's it.
But as with most things in life, we eventually decide on which item to purchase for several complex practical and emotional reasons. Price is pretty much always a consideration, as is value and by value, I mean a £1,000 jacket that performs at a high level for 10 years offers better value than a £300 jacket which lasts a couple of years before it's in need of replacement.
The more expensive jackets also come with top quality components and fabrics. They've been designed, constructed and quality checked to far more exacting standards and they are not the off-the-shelf mass-produced garments that have simply been brand tagged.
And as much as we like to deny or discredit the fact, most of us have been conditioned to be swayed by brand image, design and looks when it comes to a final decision. When you glance in the mirror and see 'Thor' looking back there's a very good chance you're going to buy.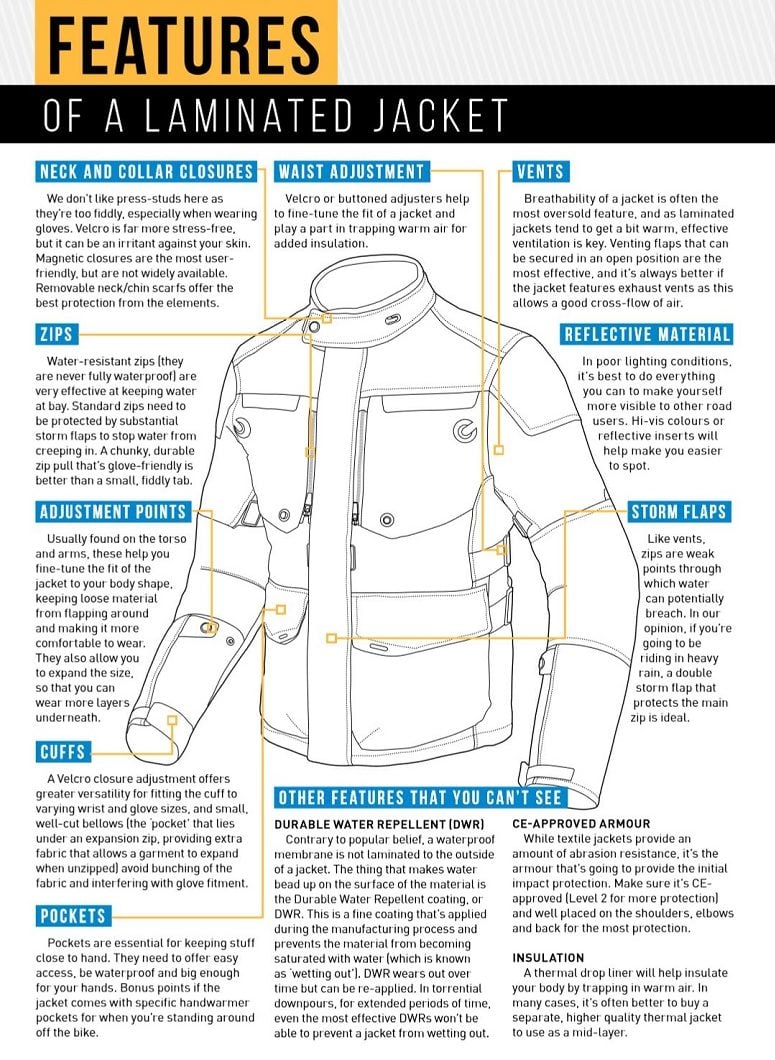 BMW Enduroguard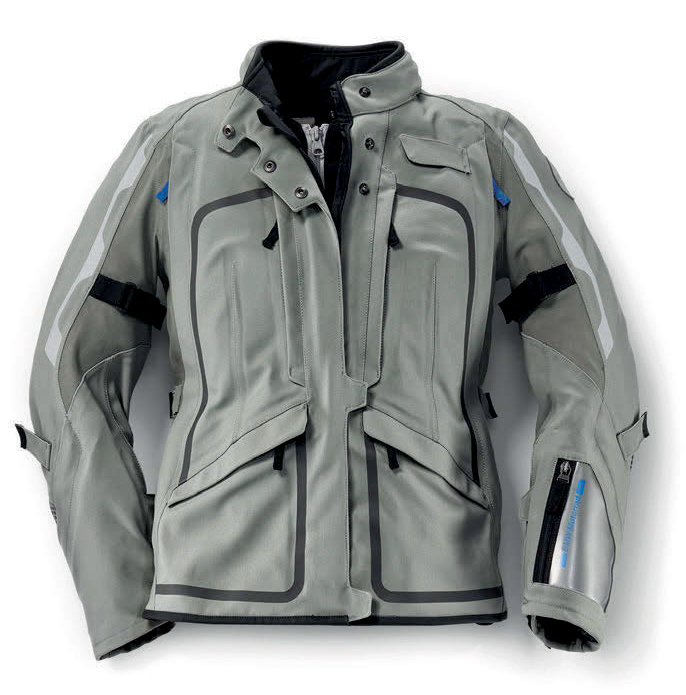 It's not very often we check out a BMW product that doubles up as the lowest priced product on test, but that's the case here with the EnduroGuard. BMW claims this jacket has been designed following feedback from world-renowned enduro riders and, with that in mind, we're not surprised to find that venting has been afforded special attention.
Maybe one of the reasons for the competitive price is that BMW has avoided using Gore-Tex, a very expensive component. But don't let that put you off, as the company has collaborated with Swiss textile company Schoeller Textiles.
If that's a new name to you, then let me reassure you that Schoeller has an excellent top rating in the protective clothing sector and is hugely popular in alpine markets. The membrane (the waterproof part) is tagged up as a BMW Climate Membrane, which we've not come across before, but assume it's an off-the-shelf waterproof/ breathable membrane branded by BMW and laminated to the Schoeller fabric. We're comfortable with that.
Without effective venting, a bulky and heavy motorcycle jacket is going to run very hot in warm weather conditions, especially so when it's a laminate such as the EnduroGuard. The venting performance of the EnduroGuard is good, but we're not that taken with the close-fitting cuffs of the inner lining, which we don't think are essential and will certainly make for hot and sweaty forearms during summer months.
The jacket comes with a full inner lining, which will protect the membrane and waterproof taping from damage, adds warmth and feels more comfortable next to skin. But it also adds to the bulk and weight, and some will question the need for such a substantial extensive extra layer in a laminate construction.
The jacket is what we'd class as on overly boxy cut and, with little in the way of waist adjustment, riders of a more athletic build with wide shoulders and big chests will find there's a lot of spare fabric to flap around the waist area. I'd certainly recommend a fit test. We found the length spot on. When first worn, the jacket and fabric is heavy and very stiff and has the feel of something that'll survive a nuclear blast.
No doubt it'll soften up and become more comfortable over time, as will the substantial CE-approved crash protection at the shoulders, elbows and back.
The EnduroGuard features a lot of nice little touches, such as a storm hood built in the neck, a soft feel scrim fabric at the neck, which aids comfort and enough useful and waterproof pockets to keep a premier league hoarder happy. I also really appreciate the convenience of the see-through pocket on the left wrist.
IN A LINE: A well-made, highly-featured and ultra-protective product that's also competitively priced, but it's not without a few niggles.

| | | |
| --- | --- | --- |
| Built-in Storm hood | Useful Forearm pocket | Abrasion-resistant fabric |
 KTM Managua GTX Techair
£721.68 www.ktm.com/gb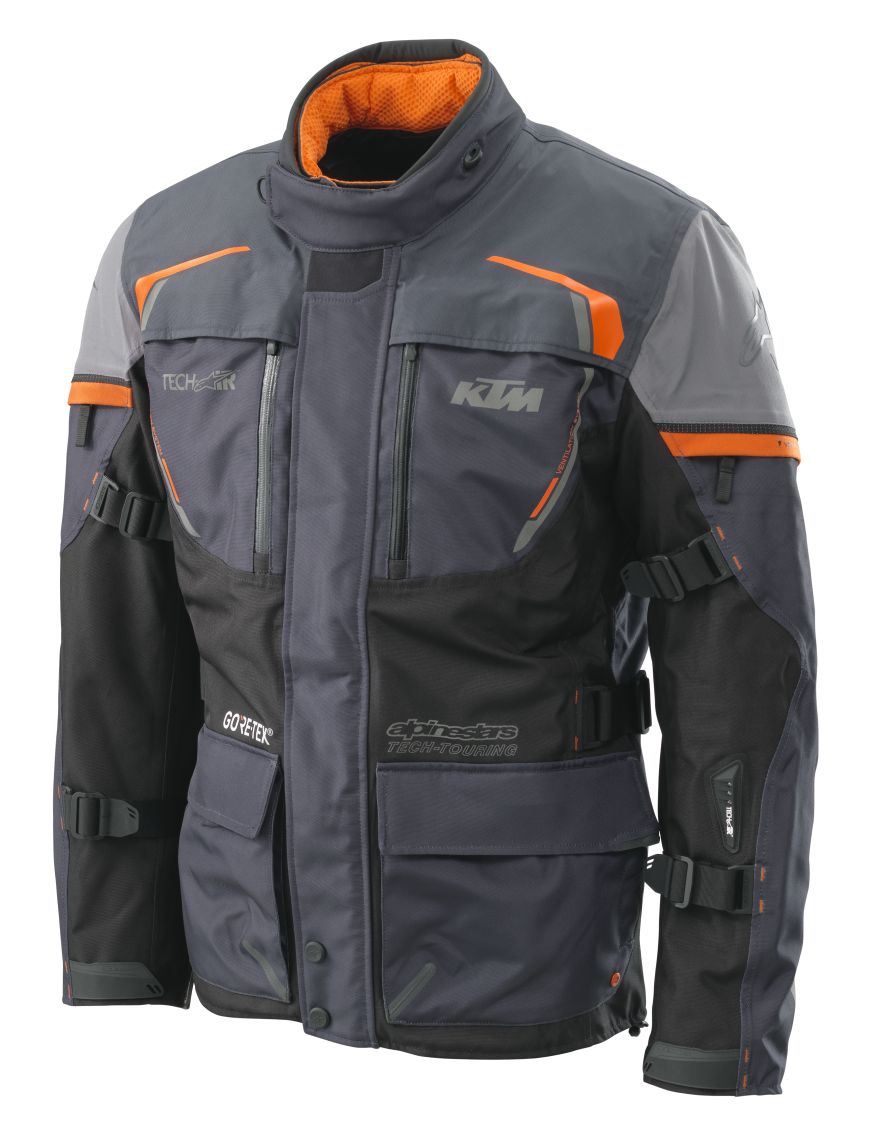 On a few lucky occasions, I can pick up a garment and straight off the bat go, yeah, this is the one. I certainly felt that way with the KTM Managua GTX Techair, which was a perfect fit, looks the part and comes with just about every feature I value.
The Managua is made by well-respected motorcycle gear manufacturer Alpinestars, exclusively for KTM. And KTM has made no attempt to hide that fact with Alpinestars getting a swing tag and a prominent logo on the jacket. As you'd expect, there are flashes of orange and Ready To Race logos, but it's not as in-your-face as you'd expect and, I have to say, this is a very good looking jacket.
The 'Techair' in the name is in reference to Alpinestars' airbag technology system, for which this jacket is compatible. We'll be checking out the airbag system in a later issue of ABR, but the jacket comes with connectors in place and a forearm light display that indicates the readiness of the airbag.
The Managua comes with a waterproof Gore-Tex membrane bonded to the outer and protected by a thin mesh lining on the inside. You get the necessary CE-approved armour at the shoulders, elbows, chest and back, plus there's a detachable thermal liner. Personally, I detach these thermal liners, find a long-term home for them and wear something more substantial when there's a need.
The outer of this jacket is a complex mix of fabrics that are harder wearing where they need to be and more flexible in areas that aid comfort and movement. In short, it's an impressively thought-out design and is very user friendly and comfortable from the off.
Useful features include a soft-to-skin neck lining, drawcords to batten down the hemline, water-resistant zips and storm flaps to protect the waterproof pockets, plus there are ventilation options on the upper arms, chest and an exhaust vent at the rear.
To customise the fit and cinch loose fabric from flapping around you get twin adjustment straps on the arms and a waist belt with good adjustment. In addition, and unlike with some other jackets on test, the Managua does not come with excessive material at the cuffs, which makes glove fitting a PITA.
I appreciate the use of top-spec YKK zips all round and the water-resistant variety where needed. Plus, the fact that the jacket includes a useful (more like essential) inner pocket behind the storm flap, which you can access without unzipping the main front zip, tells me someone is paying attention to my, and your, needs
I'd like to see a small easy-to-access pocket on the forearm, but other than that I'm impressed with the Managua and, given the features and quality of components, impressed with the price.
IN A LINE: Stylish and good enough to make you want to buy a KTM motorcycle as an accessory.

| | | |
| --- | --- | --- |
| Techair inflatable vest ready | Water-resistant zips all round | Efficient air vents |
Dane Sealand Gore-Tex Pro
£749 www.daneclothing.uk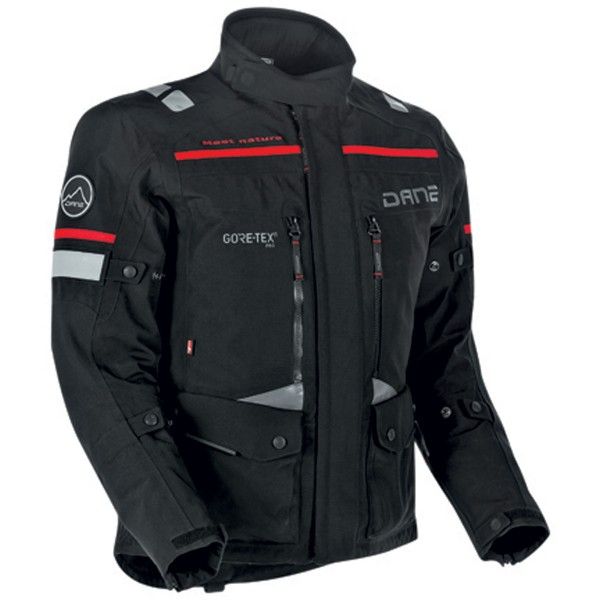 Dane is a brand that's reasonably new to ABR and the UK market. However, I've been using one of the company's laminated jackets (not the Sealand) extensively over the past few years, in conditions ranging from long days out in cold and sleety UK winters, right through to a blisteringly hot ride through the Paracas Desert in Peru, where temperatures were up in the 40 degrees.
That experience has told me that Dane makes very good products using top components and fabrics and the jackets are well-thought-out. The company only tends to include a feature if you genuinely need it, rather than some who load up on extras to make impressive swing tag marketing material.
For example, the Sealand does not feature a back of the jacket bum bag style pocket, but then I can't remember the last time I ever used one, and therefore do not miss having one in the slightest. On the other hand, you may find one essential and if so, this is not the jacket for you.
There's an impressive name call on the fabrics, with the outer being a mix of hard-wearing Cordura and ARMARCOR, and it's backed up by a Gore-Tex Pro membrane. No skimping there. You also get a protective inner mesh lining and a thin detachable thermal liner – which is, in my opinion, a feature that could be done away with. I'll say it again; there are much better thermal products available that can be worn under motorcycle jackets when the conditions demand.
The construction is far less complex than some jackets on test and does not suffer as a result. The fit and feel is good from the off, though I reckon some are going to find the fit at the arms a little restrictive. Let's put it this way, Arnold Schwarzenegger would not wear Dane. That said, the cuffs are neat, tidy and glove-friendly and there's little in the way of excess fabric to frustrate.
Fit and protection can be fine-tuned via twin waist adjusters and a couple of draw traps to batten down the hems. The Sealand also comes with a well-thought-out double front zip configuration backed by substantial storm flaps, which will help keep the elements out and allows for access to an inner chest pocket without having to totally unzip the jacket and let any rain in. A nice touch.
You get two front waterproof pockets and a couple of comfortable fleece-lined hand warmer pouches, plus there are inner storage compartments. There's also a user-friendly magnetic closure at the neck which is lined with a very comfy grid fleece fabric.
The Dane is more of a smart and stylishly designed jacket rather than the safari man look which can, and is, being way overdone by some manufacturers. A few red flashes and reflective strips set off and complement what is essentially an all black jacket.
When the temperature rises, there are twin ventilation slits at chest height behind water-resistant zips and twin exhaust ports at the rear, again protected by water-resistant zips. Should you take a tumble, the Sealand is fitted with substantial and confidence-inspiring CE level 2 protection at the elbows, shoulders and back.
IN A LINE: Top quality components in a well-designed, no-nonsense jacket that does the job.

Magnetic Neck fasteners
Twin Exhaust vents at the back
Mobile phone pocket in
detachable thermal liner
Spidi Globetracker H2Out
£749.99 spidiuk.com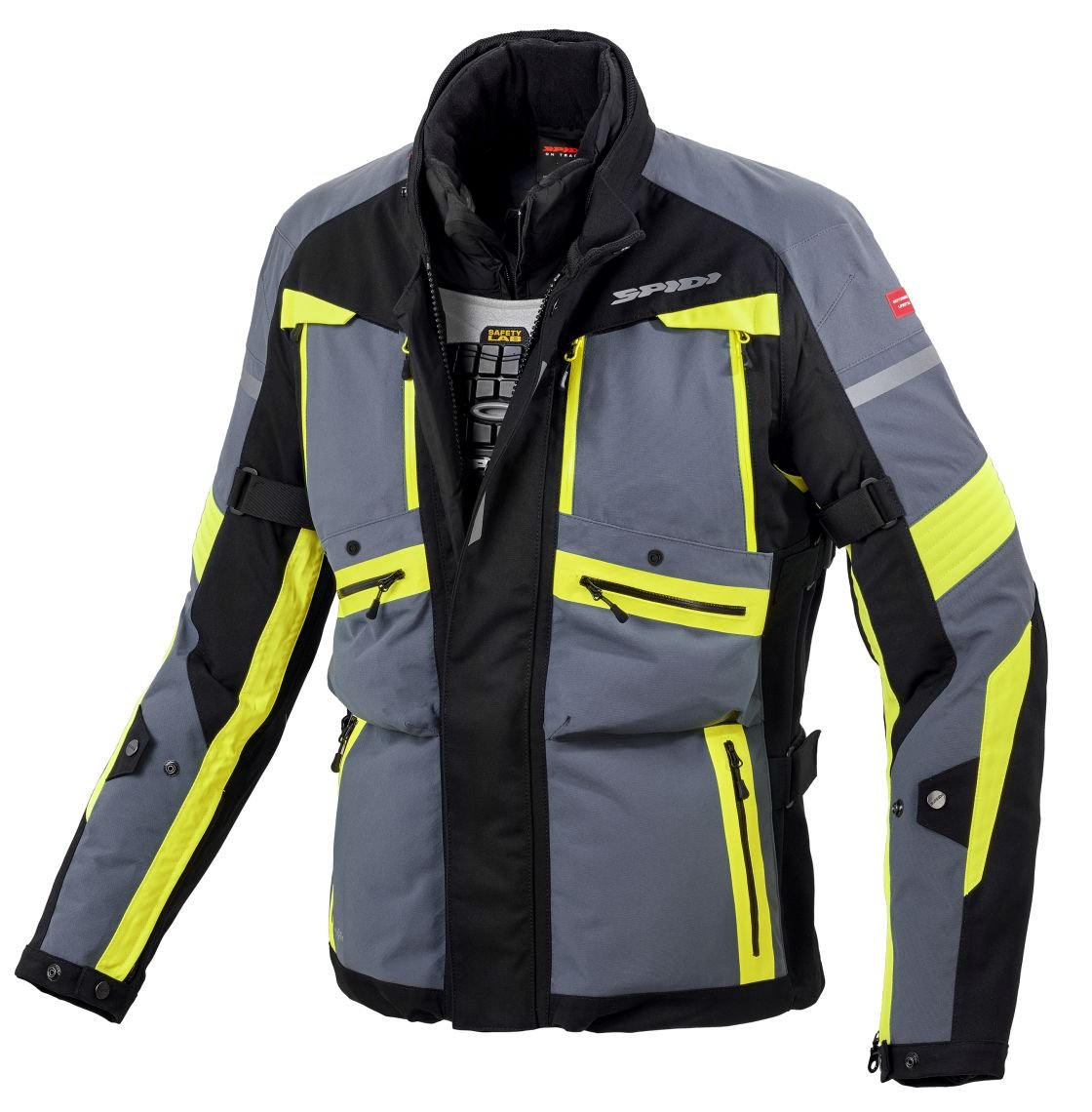 I've worn this jacket on a couple of extremely wet days and been impressed with the performance. The cut and fit are spot on and allow for good freedom of movement, while the fabric is not overly stiff and heavy unlike some on test. In short, it's comfortable straight off the peg and easy to live with.
What you get is a slightly stretchy and abrasion-resistant Cebonner outer fabric backed by a waterproof/breathable Dermizas membrane. The membrane is protected by an inner mesh lining, which also accommodates CE-certified protection at the shoulders and elbows, and there are pouches to fit various back and chest protectors, but they are extras.
Next up, you get a detachable thermal inner jacket where you can forget everything you've ever learnt about the limitations and poor performance of thermal liners usually found in motorcycle jackets. The Spidi Globetracker H2Out jacket is the first we've come across that features a performance, Therolite-filled, thermal jacket that you could wear as a standalone item – think The North Face style puffa jacket and you've got it. First class Spidi.
The fit is good and there are adjustment points to fine-tune at the arms, back and hems to stop loose fabric flapping and to batten down the hatches.
If you like hi-vis on a jacket then you'll love the Globetracker, as it comes with extensive bright yellow flashes and stripes. In many instances, the extensive use of hi-vis can detract from the look of the jacket, but not so with the Spidi. It still remains stylish, rather than the rider looking like someone from an emergency service.
The venting options on this jacket are some of the most effective we've come across with twin fold-down patches on the chest and a huge exhaust vent that you can also fold down to create a refreshing flow-through in hot conditions. There's also a couple of vent slots on the arms. All are protected by water-resistant zips, which we like.
There are four waterproof outer pockets all protected by water-resistant zips. To access the inner pocket you need to undo the front zip, which we're not too keen on, plus the cuffs are secured by press studs (we prefer Velco), but in fairness, they are well designed without excess fabric to get in the way.
One niggle is the neck fastener, which is closed by using a small Velcro tab secured on a press stud. In use, the tab comes away from the press stud too easily, and I just know I'm going to lose it at some point, at which time I'll not be able to cinch the neck tight. This needs re-designing.
IN A LINE: Very comfortable and versatile, with the best thermal liner jacket on the market. Some features could be better designed.

| | | |
| --- | --- | --- |
| Unobstructed chest ventilation | Extensive use of water-resistant zips | The best thermal liner by a mile |
Alpinestars Big Sur Gore-Tex Pro
£899.99 www.alpinestars.com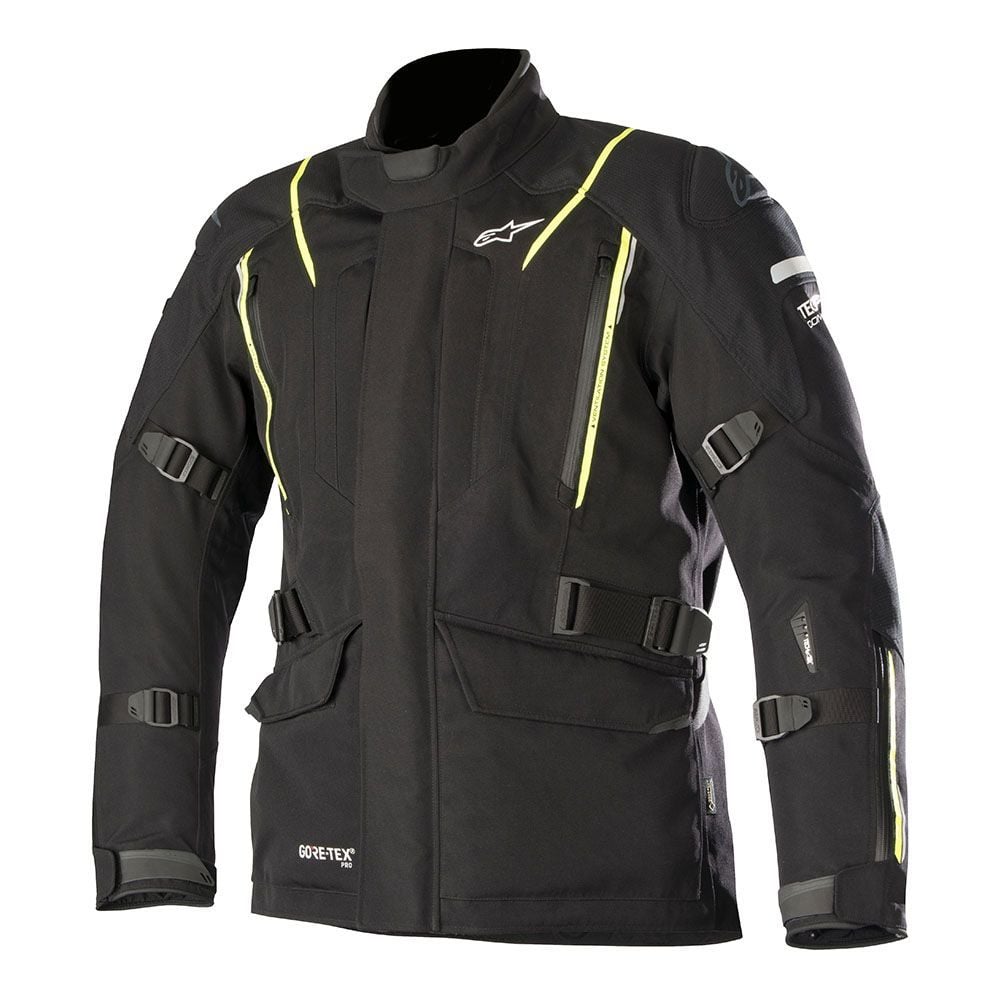 The Big Sur comes with a big price tag, and a large chunk of that will be down to the use of a Gore-Tex Pro membrane and the Alpinestars Tech-Air system compatibility.
Gore-Tex is expensive, Gore-Tex Pro even more so, and in lab tests we've witnessed they do not necessarily outperform competing membranes. However, one thing you can be sure of when you see a Gore-Tex swing tag is the quality of construction and the performance of any other fabrics used in the garment. Gore-Tex insists on exacting standards for a licence to use their fabrics and technology, and as a buyer you will benefit more from that than any claimed breathability.
The Tech-Air system is Alpinestars' class-leading airbag technology, which works when a series of sensors detect a crash and inflate the airbag. The Big Sur comes with Tech-Air connectors built-in, plus an LED display on the forearm to indicate the airbag's status. If you're a rider looking to benefit from airbag technology, you can stop reading right now and order the Big Sur.
A lot of thought and expertise has gone into this jacket. From the off, it has that reassuringly bombproof feel without being overly stiff and uncomfortable. There's tougher, more abrasive resistant material where it's needed on the back and forearms, plus accordion-style stretch inserts at the shoulders and elbows to aid freedom of movement.
The standard protection includes CE-approved inserts at the shoulders and elbows, with the back and chest areas featuring poly-foam padding. CE chest and back pads are upgrades. There is additional external protection at the shoulders – think knee sliders on the shoulders. Plus, when coupled with the Tech-Air airbag, this jacket is just about as good as it's going to get if protection is your main buying criteria.
Ventilation is via a couple of large chest slits and twin exhaust ports at the rear, and all are protected with water-resistant zips. You get four waterproof decent-sized front pockets and a large bum bag style rear pocket, which in total volume will suffice for all. The waterproof inner pocket is positioned behind the main front zip, which is inconvenient for use, but is well protected.
Style wise the jacket is, er, black, though it does feature a number of reflective strips, which are grey in colour and discrete until exposed to bright light. The fit is good and can be fine-tuned with adjusters at the waist, forearm and bicep.
The jacket also comes with a thin, detachable inner thermal liner, that we're not overly fussed about, and comfortable, user-friendly closures at the cuffs and neck.
IN A LINE: There's very little to dislike about the Big Sur and if you're looking for top-spec protection, this is a jacket to check out.

| | | |
| --- | --- | --- |
| Tech-air inflatable airbag ready | Comfortable collar fit and lining | Twin exhaust ports at the rear |
Klim Badlands
£1,025 www.adventure-spec.com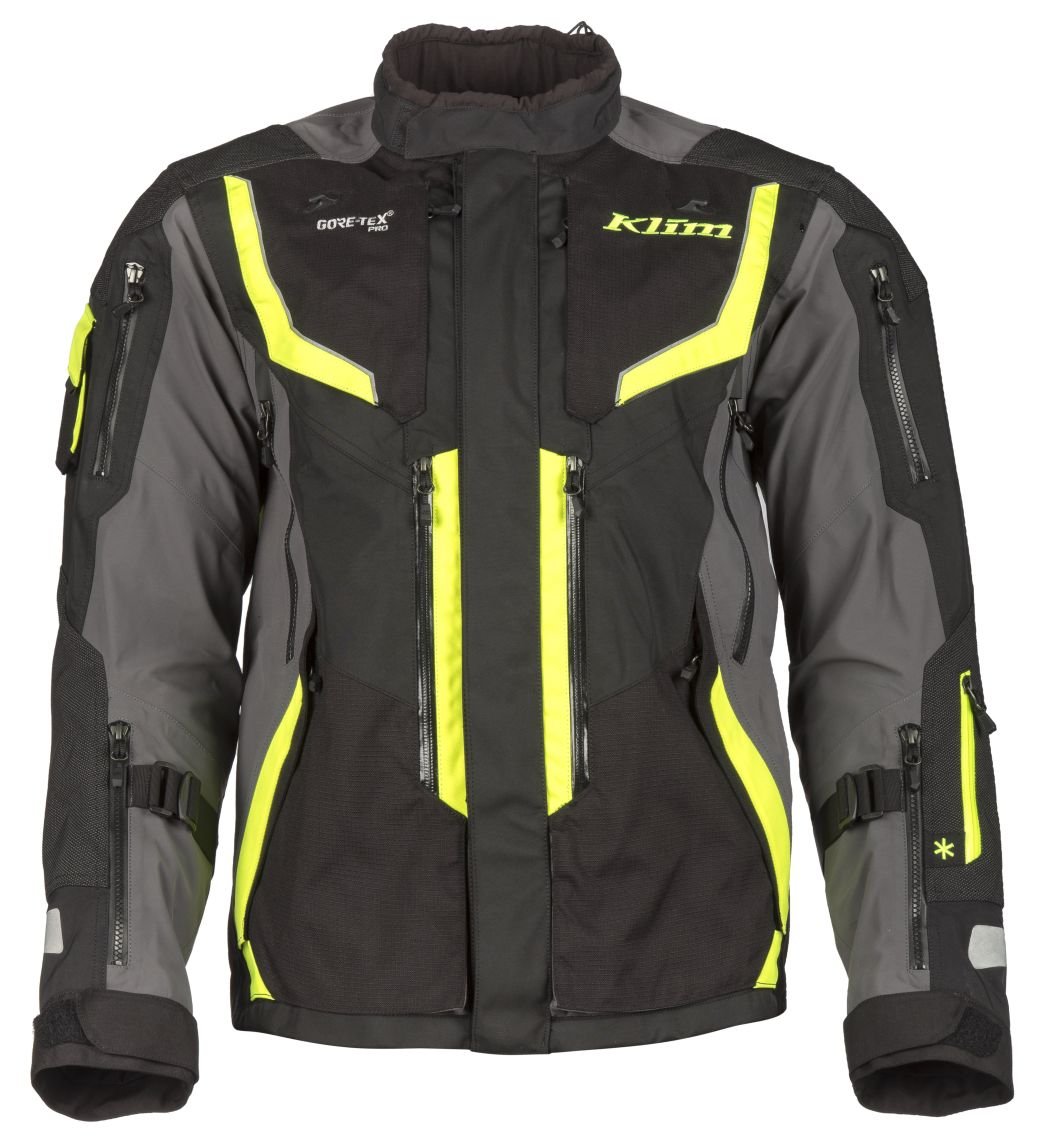 If you're a regular, long term reader of ABR with a keen eye for jackets, you'll have noticed that I've been regularly wearing the same Klim (pronounced climb) jacket for the past eight or so years. It's my go-to jacket and has now reached the equivalent of 'comfy slippers' status in the Davies wardrobe.
Over that time, it's been subject to falls and slides on all types of ground, from gravel laden desert piste to hard-packed mud and a few scrapes across the tarmac. Plus, it's been through more undergrowth and hedges than any jacket I've ever owned. And it still looks good, is still in one piece and all the components work as they did on day one. First class.
That said, I still experience a sharp intake of breath when I see the words 'motorcycle jacket' followed by a price of over £1,000 pounds, and the Badlands is not the most expensive in this test.
What attracted me to Klim in the first instance was the brand's dedication to just supplying a protective outer shell using top components, only the essential features and a construction technique that differed from the motorcycle norm.
There was no inefficient, non-essential 'thermal layer', nor features that looked good on swing tags but were just clutter in use, just a hard-wearing shell where the rider chooses their own separate mid and base layer. This reminded me of all the good points I'd become accustomed to when testing the best outdoor clothing. I later found out that Klim was founded by people who'd cut their textile teeth in the outdoor industry.
This is the third version of the Badlands jacket and it comes with a complex assortment of fabrics to optimise weight and protection; you get Cordura, Klim's own SuperFabric and a Gore-Tex Pro membrane on a jacket that comes with a great cut, fit and exceptional arm articulation. It has a super abrasive feel and handle in all the right areas.
Protection is some of the most extensive and best on the market with Aero Pro 030 CE level 2 armour at shoulders, arms and back, a couple of soft pads at the chest and a kidney belt. The ventilation options on the Badlands are legion, with a total of 12 vents offering what we reckon to be the most versatility available, capable of keeping you as cool as you're going to get in hot weather short of riding in a string vest.
The collar area comes with a soft fleece lining for comfort, a cinch cord for battening down the hatches and a couple of loops to hook the neckline open in warm weather. All contribute to a superb level of user-friendly detail.
Additional features include hem cinches, hi-vis slashes, a SPOT personal tracker pocket on the upper arm, bum bag pocket at the rear and a useful forearm pocket, along with the more traditional stash pockets. One point of note is that the external pockets are not waterproof, something we'd like to see revised in the future.
IN A LINE: A superb jacket that will probably outlive you.

Useful pocket combo,
water-resistant zips
Substantial protection
Comfortable neckline,
secure opening tabs
Hideout Hi-Pro Adventure
£1,050 www.hideout-leather.co.uk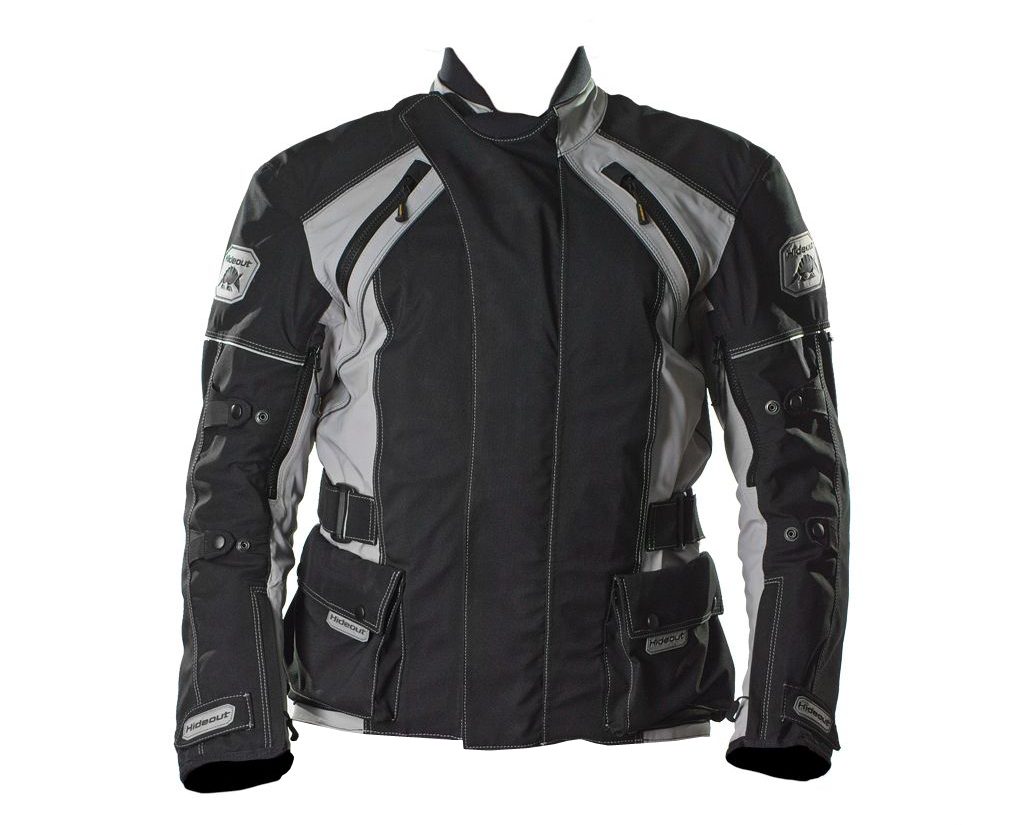 Hideout is a UK-based company better known and famous for making custom-made leather motorcycle suits tailored to fit (they made the leather suits used for the motorcycle chase sequence in Mission Impossible).
Over the past seven years the folks at Hideout have applied their expertise to making textile adventure suits and jackets, and you can either buy from their ready-made size chart or benefit from their made to measure service. It goes without saying, if everything fits in the right place then a jacket will be far more comfortable and it's far more likely that armour will stay in place in the event of a fall.
The construction of this jacket features an outer fabric bonded with a waterproof membrane, with an inner mesh liner to protect the membrane – just as we like it.
The membrane is a C-Change waterproof/ breathable laminate, which you might not be familiar with, but it is made by the highly respected Swiss company Schoeller Textiles. Schoeller is second to none in this sector and indeed, the C-Change material won the coveted 'product innovation of the year' title when introduced back in 2006.
The 'innovative' tag comes from the membrane's ability to react to changing temperatures to further aid performance in heat retention and breathability.
You get a level 2 CE approval for both the armour and jacket, which means the abrasion resistance of the fabric is on a par with leather – always nice to know. The D30 armour comes fitted at the elbows and shoulders, with a substantial and confidence inspiring back protector.
The Hi-Pro Adventure can be bought off the peg or made to measure, which means whatever your size and shape there is going to be a Hideout Hi-Pro Adventure jacket to fit you perfectly. Any fine-tuning is by way of twin waist adjusters to cinch in loose material.
In use, the neck and cuff closures are neat, comfortable and, in the case of the cuffs, userfriendly – there's little in the way of excess fabric to frustrate the gloving up experience. For hot weather riding, you get a couple of chest vents and an exhaust port at the rear to aid the flow of air, and all vent openings are protected by top-spec water-resistant YKK zips.
Storage options include two large waterproof patch pockets, plus a couple of additional front pouches and twin internal pockets, though both can only be accessed by opening the front zip. It would have been better if one had been positioned under the storm flap for easy access. All of the pocket zips are YKK water-resistant, plus the main front zip, which is additionally protected by a double storm flap. All in all, this jacket is as waterproof as it gets.
IN A LINE: It's expensive, but it is exceptionally well made in the UK using top quality components and, with a made to measure service, you can be absolutely sure it's going to fit.

| | | |
| --- | --- | --- |
| Chest vents for cooling | Waterproof pockets for safe storage | Double storm flaps for protection |
Rukka Navigatorr
£1,099.99 www.tranam.co.uk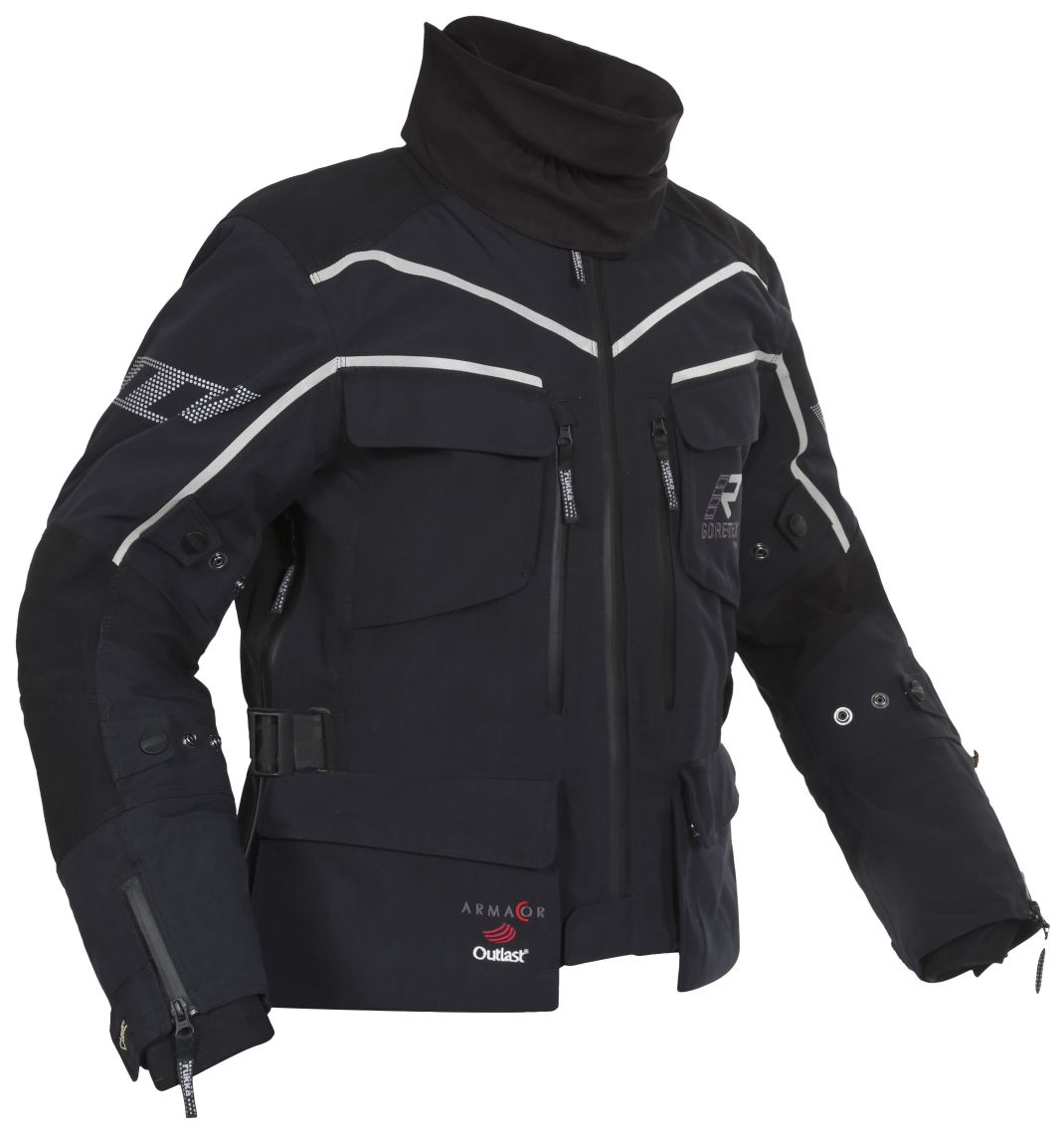 If you've been doing your own research of laminated motorcycle jackets, it's almost guaranteed that you will have come across Rukka. The Finnish brand has been manufacturing top quality motorcycle garments for over half a century, and the brand's jackets have become favourites in the ABR offices, typically offering incredible durability, comfort and weather protection.
In most reviews, you'd expect to see Rukka at the top end of the price scale, and it's a similar tale here, with the Navigatorr, which sits itself at the premium end, retailing at £1,099.99, but is it worth your money?
I've put the jacket through its paces over the past year, wearing it for a few thousand miles on rides through Scotland and Ireland in winter, amongst others, and I'll begin by saying that in terms of weather protection, this is one of the best jackets I've (Bryn) tried.
The Gore-Tex waterproof membrane keeps rain out with ease, I've experienced no water ingress from the various zips, the included windproof neck collar provides welcome protection from wind chill, and in terms of warmth the Navigatorr excels, with the Outlast mid-layer doing a great job of insulating you.
Protection from the road is provided by Aramacor reinforced patches in areas that are likely to see abrasion in the event of an off, and CE-approved D30 armour is included at the shoulders and elbows, while you also get a substantial, CE-approved D30 back protector as standard as well (you'd expect it at this price).
The cut of the jacket allows for a very comfortable fit when sat in the adventure stance, and there's no riding up at the back when reaching for the handlebars. All-day comfort is excellent, and I've often found myself on 12-hour-plus days on the bike with no complaints. There's ample storage provided by the pockets, and the two hip pockets are marked as waterproof, though I have noticed them getting a bit damp in extended periods of riding in the rain.
For me, the jacket is the perfect three-season garment, if those seasons are autumn, spring and winter in the UK. Although there are vents, the jacket runs very warm in the summer sun and you'll be wishing you had something a bit lighter weight on.
All in all, if you're looking for a protective motorcycle jacket that'll allow you to ride throughout autumn, winter and spring in comfort, then the Navigatorr is one of the best around. It can feel a bit restrictive in its fit at first, and it's a heavy jacket, but once you've broken it in, it's comfortable enough to sleep in. Yes, it's bloody expensive, but you pay for quality here, and the added Rukka five-year warranty adds extra peace of mind.
IN A LINE: A fantastic jacket for the colder seasons.

| | | |
| --- | --- | --- |
| Waterproof Pockets | Windproof Gaiter | Water-resistant zips |
REV'IT! Dominator GTX
£1,099.99 www.revitsport.com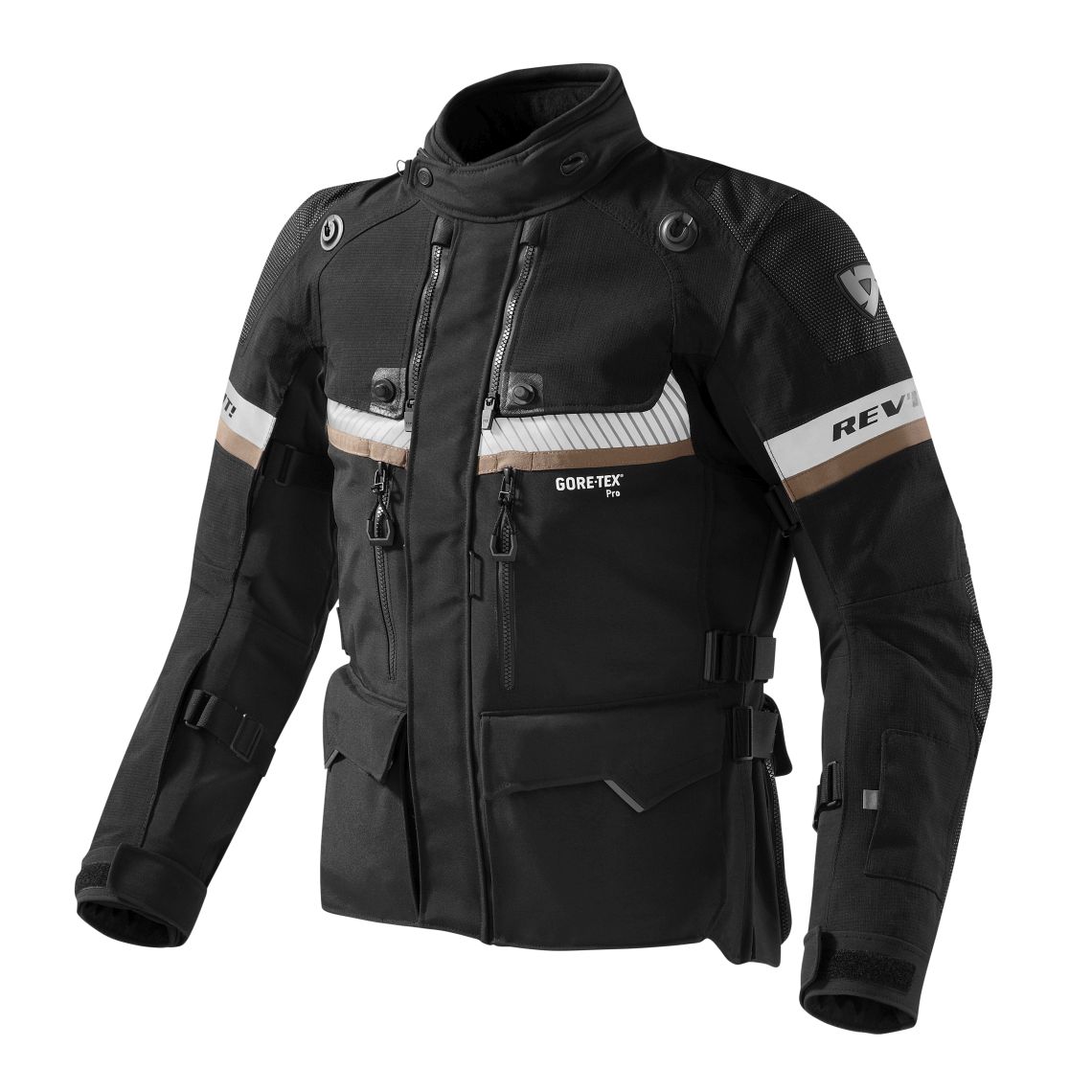 Joint-top in terms of price, the Rev'it! Dominator GTX is sitting amongst some serious competition from highly respected manufacturers that have traditionally ruled the top end of the price chart. Which means this needs to be a seriously good jacket to pull in the sales.
First impressions are favourable and the jacket is our preferred style of a tough outer layer fabric bonded by a quality membrane (Gore-Tex Pro), which in turn is protected by an inner liner. The substantial and confidence inspiring protection is supplied via level 2 CE-approved Seeflex armour at the shoulders, elbows and back. There's also a kidney belt.
There's a complex mix of top-spec material used in the construction, with the outer featuring a combination of hardwearing, durable, abrasion-resistant and stretch fabrics – Gore-Tex Pro 600 Denier, Armacor, Talisman, Kevlar and Neoprene. The idea being tough materials are layered where they are most required and flexible inserts feature at points that most affect comfort and fit. The end result is a jacket that feels substantial and ultra-protective, whilst at the same time is comfortable to wear. Spot on.
The fit is fine-tuned via twin arm and waist adjusters, plus there's a couple of expandable bellows at the hem to allow for over enthusiastic lunch stops.
The Dominator also comes equipped with inner zips and outer attachment points to allow the fitting of a Rev'it! inner vest, plus an 'adventure neck brace'. We've not tested these products, but the fact that the jacket accommodates the fitment will be of interest to some readers.
Venting is by way of twin arms and chest vents, plus two exhaust ports at the rear. In addition, the two chest pockets are mesh-lined and can be opened for extra cooling should the conditions need it.
Useful features include thumb loop hand warmer cuffs, which can be zipped out when not needed, a double storm flap for protection over the main zip, a hook for securing the collar open in hot weather and enough inner and outer pockets to keep a squirrel happy.
These include a useful forearm pouch (for earplugs), an inner chest pocket, which you do not have to open the main zip to access, and an expandable bum bag style pocket at the rear. Exposed pockets and vent slits are backed up with water-resistant zips.
There are a couple of features that I'm not too enamoured with. They are more to do with personal preference and would not be deal breakers, but I would have preferred user-friendly Velcro adjusters for the neck and chest vents, rather than press studs and moulded fitment points.
IN A LINE: An exceptionally well-made, practical, stylish and tough jacket that should prove to be an excellent long-term investment.

| | | |
| --- | --- | --- |
| Secured chest vent opening | Excellent user-friendly zip pulls | Bellows-style large rear pocket |