Chris Willet tackles the world-class Karakoram Highway through Pakistan's Hunza valley
Imagine if you will, a machine in the style of the virtual holiday creator from Total Recall. Your mind will be transported to the best motorcycling scenario your imagination can create. It's not just about sweeping roads, deserted trails, a brilliant bike with which you have an unbreakable bond, scenery that is so immense it could only be CGI, switchbacks up and down soaring mountains, minimal traffic and no rain.
Here you get so much more for your money – cool air but hot sun on your back, a great bunch of mates who you can totally trust, friendly Police who will stop you at checkpoints and lay on sweet milky tea made from a mountain stream, villages perched on the sides of steep valleys with rivers of impossibly blue snowmelt raging below, villagers who will invite you into their homes to share stories and the fruit from their garden, the world's highest mountains staggering their snow-capped peaks to fill the horizon and (but not finally) lush vegetation showing off the kinds of autumnal reds, yellows and oranges that should not exist in nature.
True, you don't get the blonde or brunette bit, but for the moment, even that's a bonus. For now, the machine doesn't exist although amazingly you can have it for real – but you will have to earn it! It's there to be found in the Hunza Valley in northern Pakistan.
You get there by riding on the Karakoram Highway (KKH) either south from the southwest corner of China (not the good bit of China) or heading north from Abbottabad in Pakistan. If you rode from the Iranian border as we did, it is payback for the sort of riding experience which could be imposed by a punishment machine of the future, but that's another story.
Abbottabad (infamous as the 'hiding place' of Bin Laden) is a pollution-coated traffic jam to be endured rather than enjoyed. We were lucky to be led by a kind local to a guest house with safe parking in a garden patrolled by peacocks which also offered the excellent biking breakfast of egg paratha – a greasy chapatti with a couple of fried eggs and ketchup rolled up inside.
Heading due north out of the city on the busy highway we were given tantalising views of forested hills and the paddy flats which ring the southern edge of the Karakoram Mountains. Traffic was slow and heavy, the road surface a highly polished soft tarmac dusted with a talc-like sand and deep ruts caused by massively overloaded trucks ploughing round the bends.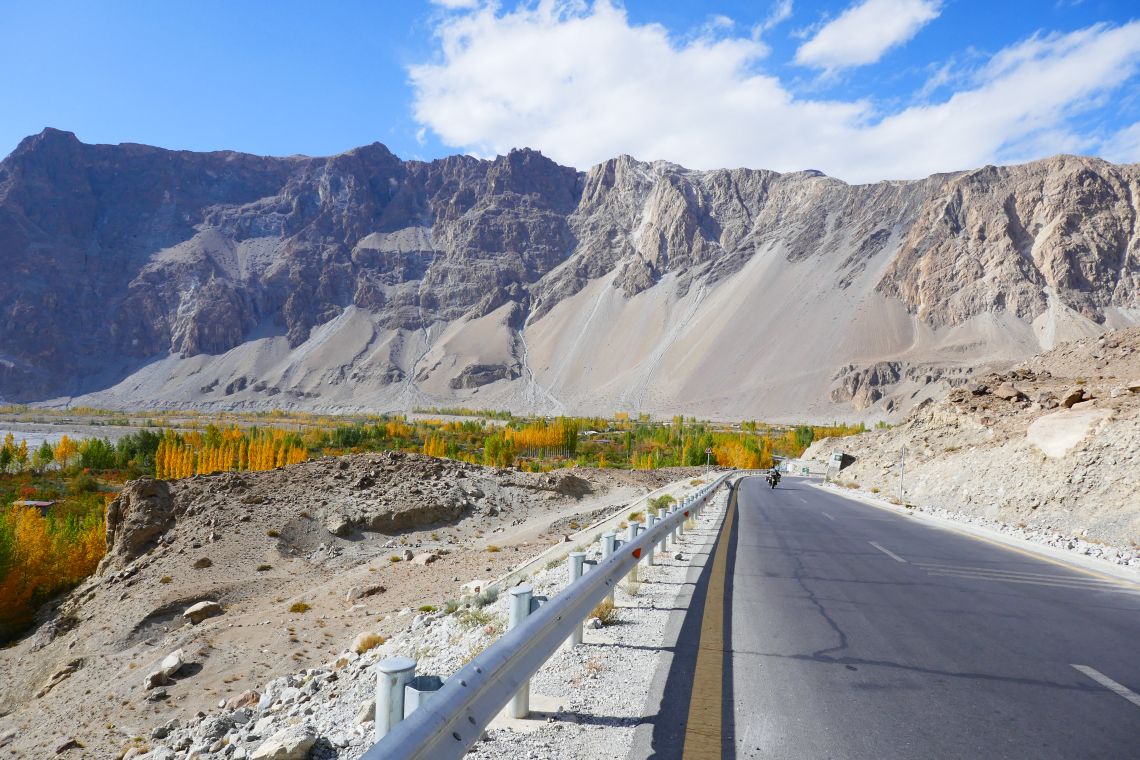 This combination caused the first incident of the 'throwing your bike down the road' type I've had in years. Spectacular though it was (all recorded on helmet cam) I was lucky to merely scuff my jacket and rub the corner off a Givi pannier which would get patched up a few weeks later in India.
The engine bars and rugged luggage saved my Tiger 800XCX from any significant damage (this is not the place to break down) and the absence of sudden deceleration or roadside furniture allowed me to stand up before the bike had finished sliding. I've suffered a greater injury on the dance floor at a wedding, so after a brief moment to gather ourselves we were back on the road and on to the mountain 'resort' of Naran.
This ribbon town of run-down hotels and open-air restaurants was in end-of-season shutdown. Our cheap lodgings were only survivable by sleeping under a pile of rough blankets, but the bikes attracted a bunch of guys from Lahore who insisted on buying us dinner then took us to their lodge in the woods for a campfire, dodgy singing to Pak folk songs and good-natured, if futile, discussion on whether the Pak army is the best in the world. And yes, it's OK to say 'Pak'.
An early start in the freezing darkness of the deep valley awaited us, and breakfast on the road involved a comical exchange where a sketch of a cow's udder crossed out (intended to mean 'without milk') was understood as 'we want eggs'.
Eventually, the sun rose over the peaks and it got hot. Very hot. The road steadily broke down to a single lane dirt track and weaving around rocks to miss the Chinese trucks coming the other way called for courage and determination.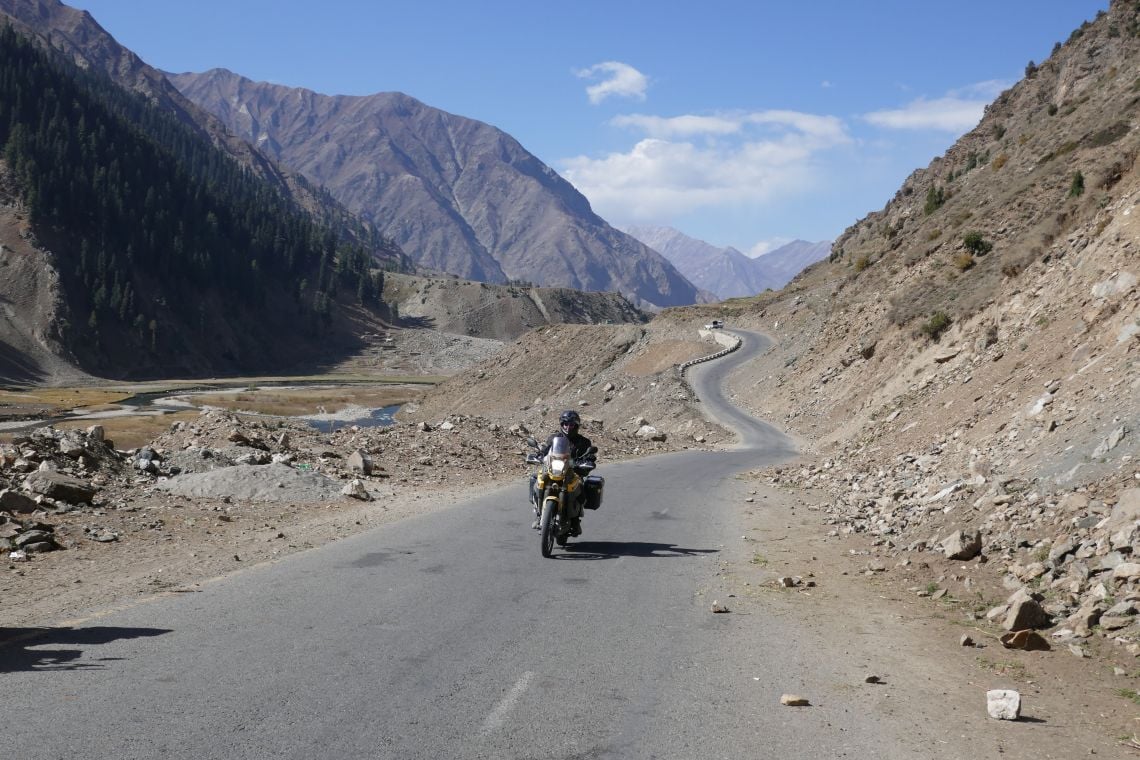 Almost without realising we were climbing steadily up and up until we were stopped by an angry and flustered Policeman on top of the world. Just sitting for a couple of minutes caused us to freeze up, without the effort of riding the sub-zero temperatures started to bite and the thin air became apparent.
After the usual passport checks, we had to wait for an escort down the mountain. In Pakistan, such Police escorts are obligatory 90% of the time although why is never explained.
It's for our security although there is no threat. It's to stop us from getting lost but there is only one road. It's to keep the locals away but they are friendly and we want to engage. After a while of gibbering, it became apparent no escort was available and before the Policeman could say any more we spotted the drop in his resolve and sped off.
Down, down, down on the ear-popping zigzag of a brand new Chinese built ladder of road carved into the side of the mountain, we were back on 'black top'.
The geology was jaw-dropping, it looked like someone had interrupted the forming of the planet by taking the lid off the earth like the top off of a hard-boiled egg to reveal contorted geological configurations frozen in time.
At the next checkpoint, the Policeman thrust a dense lump of rock into my hand saying in decent English 'how much is this worth?' as if every westerner knew the value of everything, especially my bike, a question which became utterly tiresome.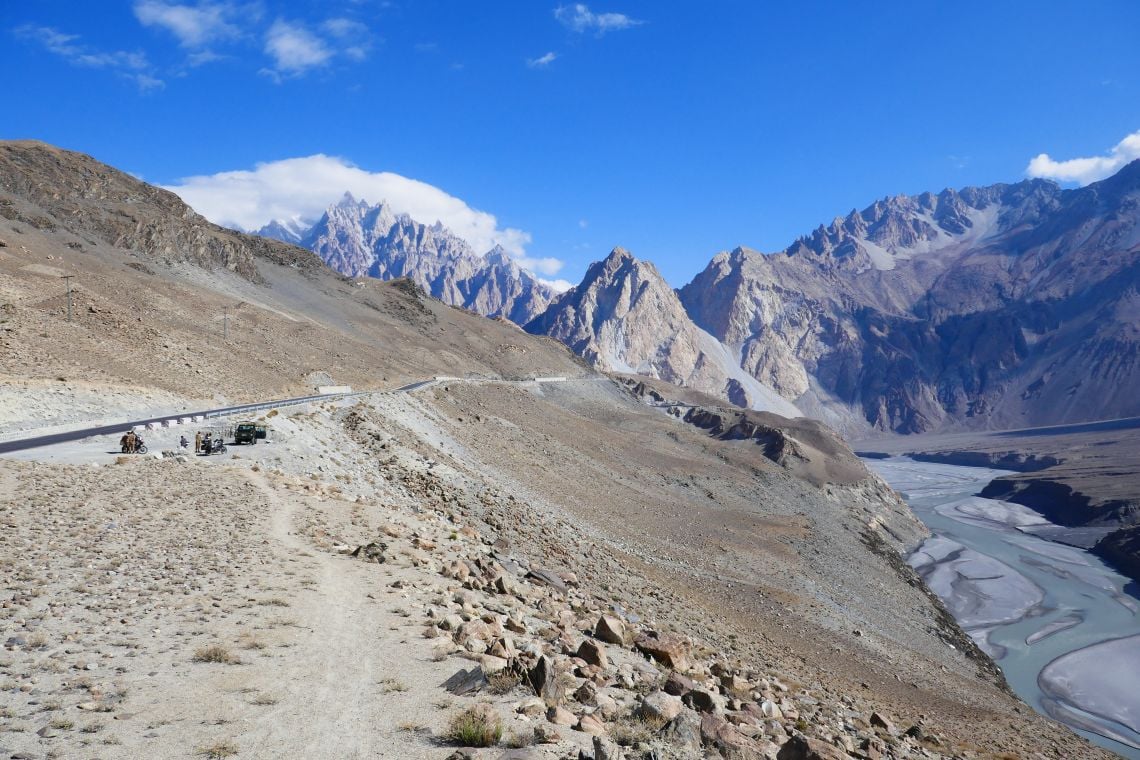 My mistake was to say, 'I don't know but I can tell by the rust it has a high iron content'. Dollar signs were obviously pinging around in his head as we were surrounded by a trillion tons of the stuff. This encouraged his mate to appear with another piece.
'How much is this worth?', he asked. 'I don't know, but I can tell by the green it has a high copper content. If it's worth anything I think the Chinese would have taken it by now though', I replied.
Thus started an infuriating wait while he painstakingly transcribed details from our passports with the inevitable questions about our fathers (which should apparently be included in the document, we made up a different and more outrageous patronym every time this happened) and of course more questions about rocks.
Carrying on, the scenery was ever-changing. Roadside fruit and butchery (not for the faint-hearted) stalls became less frequent and the prices slowly increased, we passed broad river plains, copses in the full throes of autumn and literally the biggest glacier in the world, complete with a café and souvenir shop.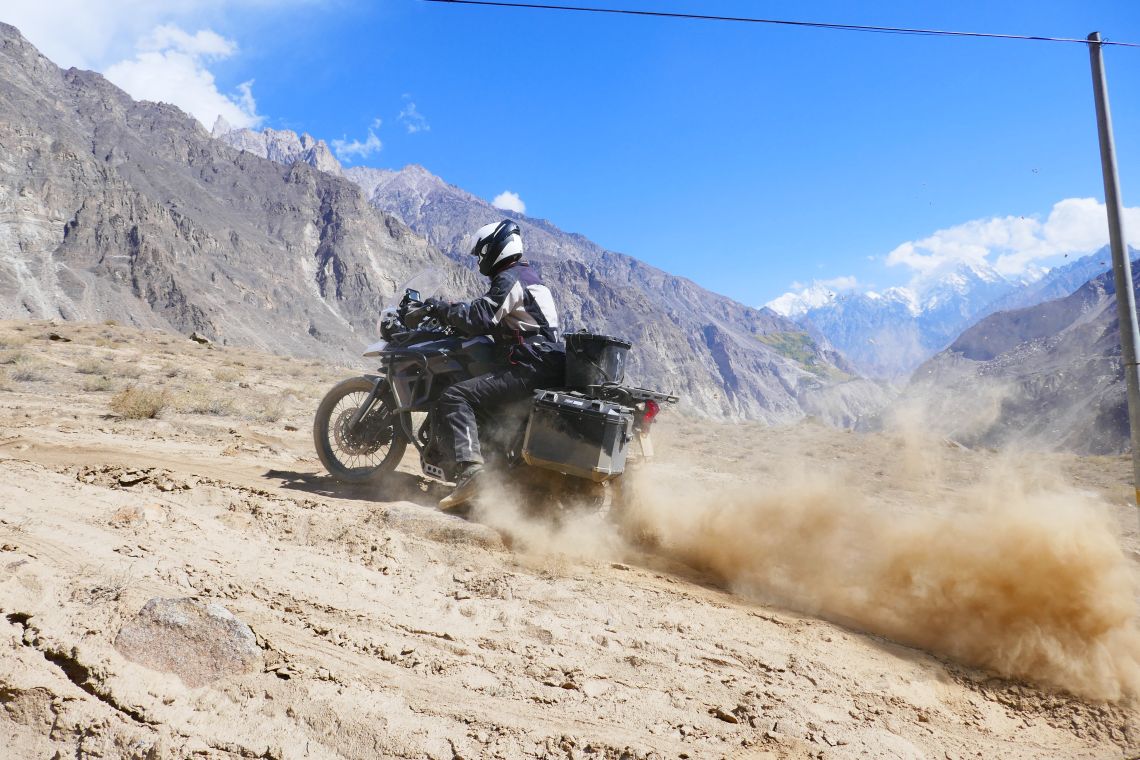 Our overnight stop was at the absurdly picturesque town of Karimabad (towns with names ending in bad mean 'fertile place') and the Eagle Nest Hotel which is highly-priced less for its quality than its barely accessible location on the back wall of what the Welsh call a Cwm (the Scots, a Corrie) looking down on the town with the famous mountain, Nanga Parbat, just around the corner.
The sunset early behind the ridge and cold descended to replace it.
The next morning was another push north to within a spit of the Chinese border, but not before exploring the ancient Baltit Fort, including an excellent guided tour in English (the same one had by Prince Charles apparently) with gruesome tales of what people did to each other there over the centuries.
The KKH follows the Hunza River, iridescent blue against the white rock and stunningly framed by the snow-capped peaks. Huge lagoons formed from mineral-rich meltwater host brightly coloured boats plying between stilt villages clinging to the rim. Precarious bridges of varying quality invite you to explore the 'other side', each overseen by an old crone clearly modelled on a Troll.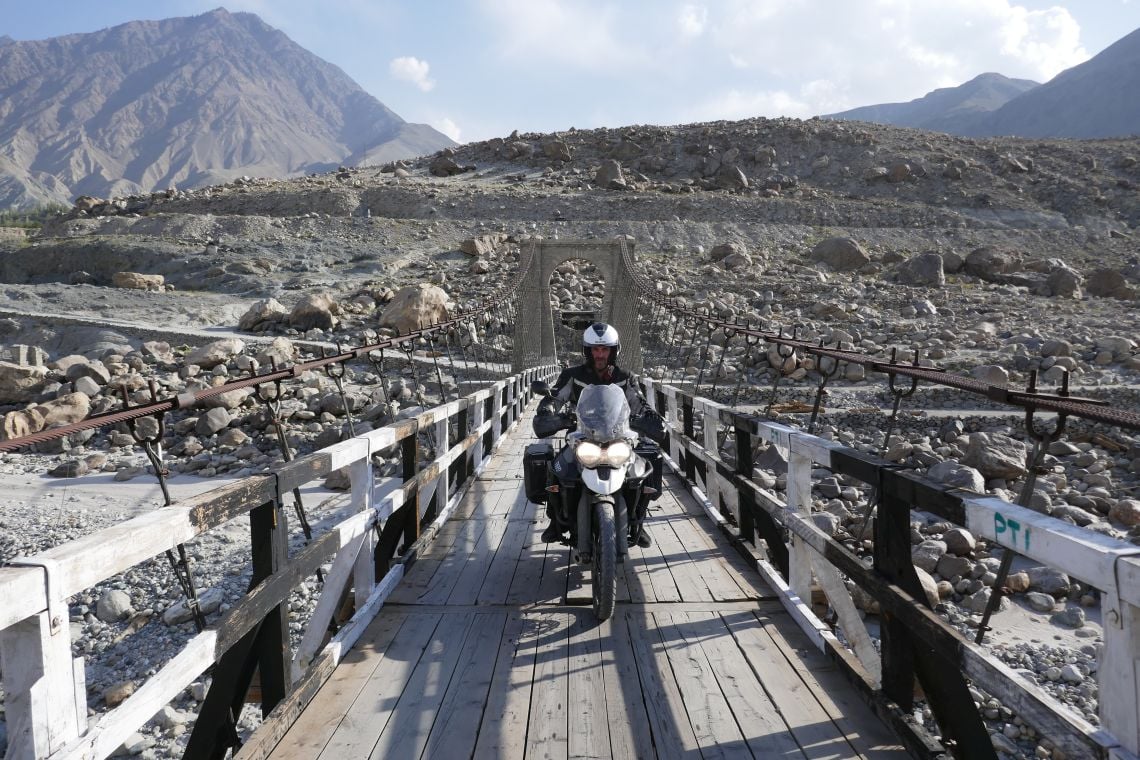 She will appear from a cave house on your approach and scowl at you- then scowl some more, ten minutes later when you come back to re-join the road, the diversion having led to a clump of birch trees or a deserted hamlet of mud huts.
Our last night on the way up was the darkly depressing 'border town' of Sost, an hour down the mountain from the actual border. Our eager but dodgy inn-keep went on his moped for some Yak meat to make us a passable curry and rustled up some local hooch which was made just palatable with a good measure of grapefruit juice.
We left our kit there to travel fast (very fast actually) and light to the snow-covered border post on the Khungerab Pass, altitude 5,000 metres (16,000 feet). The final leg to the border is classified as a nature reserve complete with rangers. We didn't see any nature, but we did pay for the obligatory ticket to enter, a bit like Woburn Safari park charging everyone to use the M1.
After the usual photos, reaching into China to shake hands with guards and using the world's highest ATM, we blagged some hot noodles from a random friendly couple and a brew from a film crew, got a bollocking from the Police for trying (and largely failing) to ride across the glacial moraine spilling across the pass and then decided it was getting chilly (about -3c) so we headed for home.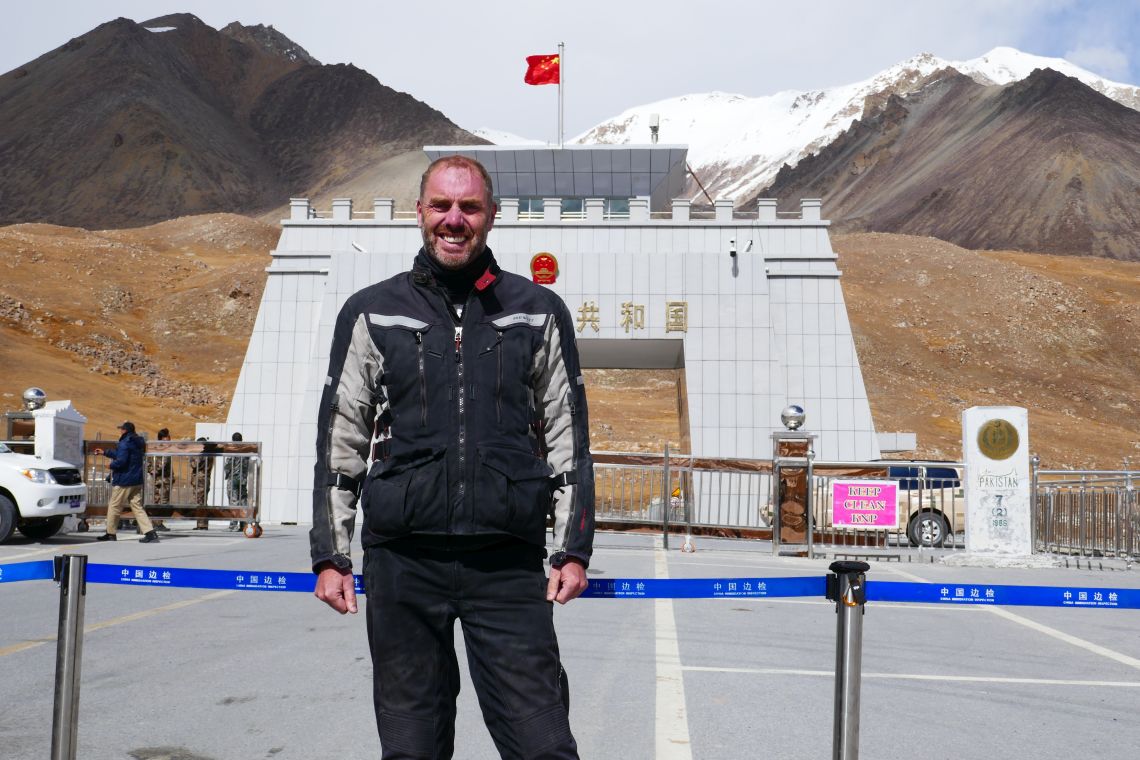 During a leisurely brew stop we met some fellow riders who both sadly had unfortunate ends to their trips later on, a humbling reminder of how fortunate we were to have no show stoppers. Our route down was the same as the route up, but of course the scenery differed by 180 degrees.
We planned a day off in Karimabad but the 'off' bit turned into a testosterone-fuelled ride up rough mountain tracks to see a glacier which snakes down K2, the second-highest mountain in the world.
The day involved encounters with locals who rewarded us for turning their villages into dust storms with cups of sweet chai and biscuits, apples picked from their trees, uncut emeralds (seriously) and most importantly unconditional hospitality.
Passing fields of Hashish two weeks off harvest time we walked to the edge of the glacier accompanied by local boys with whom we shared the common joy of 'throwing stones at things'. Who knew glaciers are so dirty?
The ride down to Gilgit, the major city in the area, was no less spectacular despite the dwindling novelty, and if it is possible to take 'mental photos' my memory had run out of space.
Of our trip from UK to India, Pakistan provided both the highlights and, with endless days of Police escorts and enforced lock-downs in hotels, the lowlights. It's a country I'll never forget and like childbirth (so I'm told) the bad memories will pass with time only leaving the good.
---
The Bike
My 2015 Triumph Tiger 800XCX was bought used for this trip, mainly for the fantastic triple engine and its reliability/simplicity. Givi Trekker Outback luggage (brilliant), a sheepskin seat cover made from my Mum's old coat (brilliant) and Heed crash bars (also brilliant) were retrofitted. We had new Tourance Next tyres in Istanbul, which were pricey, but they lasted the rest of the journey.
I can honestly say I never held back for the sake of the bike, I raced flat out on road and tackled outrageous off-road terrain with aggression; the fully-loaded Tiger handled it all and I'd take the same bike around again. But don't get hung up on the bike, we met people on all sorts of machines, doing it is the important thing.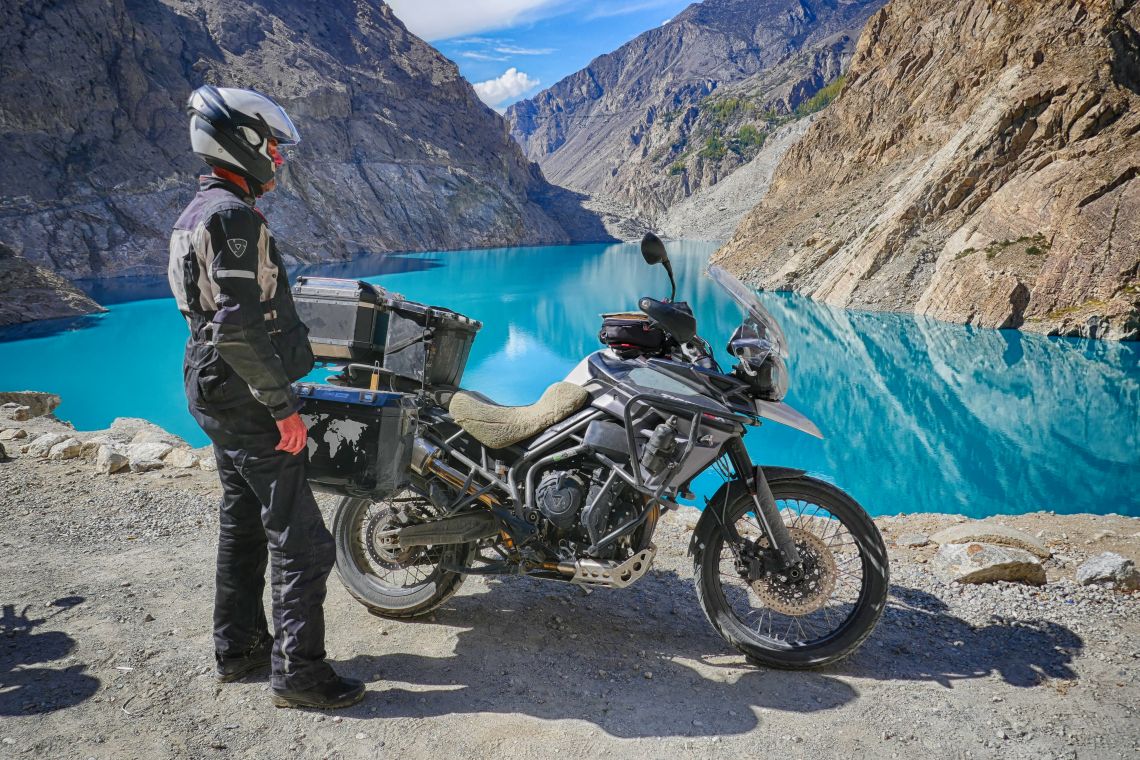 ---
How to ride the Karakoram Highway
We left the UK in late August (perfect timing) heading to India through the Balkans, Turkey, Iran and Pakistan taking in the KKH right up to the Chinese border because it 'looked good on the map'. We had Chinese visas as a backup, but only single-entry tickets for Pakistan.
Having shaken the hands of the Chinese border guards, we retraced our route to Lahore (no alternatives without entering Kashmir) before turning left to the Wagah border with India and in a 2,500mile clockwise loop ending in Mumbai although carrying on north through the Stans would be a good trip.
Riding in Pakistan is dangerous and demanding, but you soon get into the groove. Finding places to stay is easy, WiFi is available, the people are friendly if you make the effort to engage, and the food is ok.
Booking.com is popular and only certain city hotels will take foreigners, but in the countryside, a basic B&B with egg paratha breakfast is about £12 so it's not worth rough camping unless you want to. The entire trip took us about six months of planning and 11 weeks to do, including two weeks in an Indian hospital with Dengue fever. Not a highlight.
You could do it in half that if you were pushed. It takes a lot of planning (which is rewarding too), bundles of cash (money fixes things like insurance in Montenegro, Macedonia, Kosovo and Turkey and the requirement for Brits, Canadians and Americans to have an escort in Iran or China) and it'll take about a month to get there from Europe.
Your itinerary will be at the whim of Pakistani Police anywhere south of Lahore. You'll also need a Carnet (a surety that you won't sell your bike in another country). Once on the road life is good. Think of the Hunza Valley as a wonderful scenic playground and not just another place you pass through on your travels.