Mats Engeler ships his bike to Madagascar to explore the island's southern regions and discovers that even the best-laid plans can fall apart after illness and a motorcycle accident.
Madagascar, which sits 250 miles off the southeast coast of Africa, is the fourth largest island in the world and Antananarivo, the country's capital, is nicknamed 'Tana'. This island in the Indian Ocean is mostly known for its endemic flora and fauna and, of course, King Julien.
We were wondering what else could be found there, and so we planned a 2,000-mile trip around the island. We had 23 riding days, just enough to follow the coastline of the southern part of the island. My travel companions were George and Kevin. 
George is a diehard 1200GS Adventure fan, but for this trip he switched to a lighter bike. He chose KTM 690 Enduro with rally kit conversion. Kevin is new to dirt riding and rides a 2014 KTM 690 Enduro. I ride a KTM 950 Adventure S, which I chose because of its simplicity and durability.
We picked them up from the DHL warehouse in Antananarivo, custom handling and insurance was already sorted by Klaus Demel, who shipped our bikes for us from Germany. We were hungry for adventure and wanted to leave town as soon as possible. 
Unfortunately, the shock of my KTM 950 Adventure was slightly leaking after being shipped. Francois Serrano from Moto Tour Madagascar, convinced his friend at KTM Antananarivo to squeeze in my shock service the next morning. At noon the next day George, Kevin and I were riding to Tsiroanomandidy. Before nightfall we reached our destination and prepared the bikes for the next day.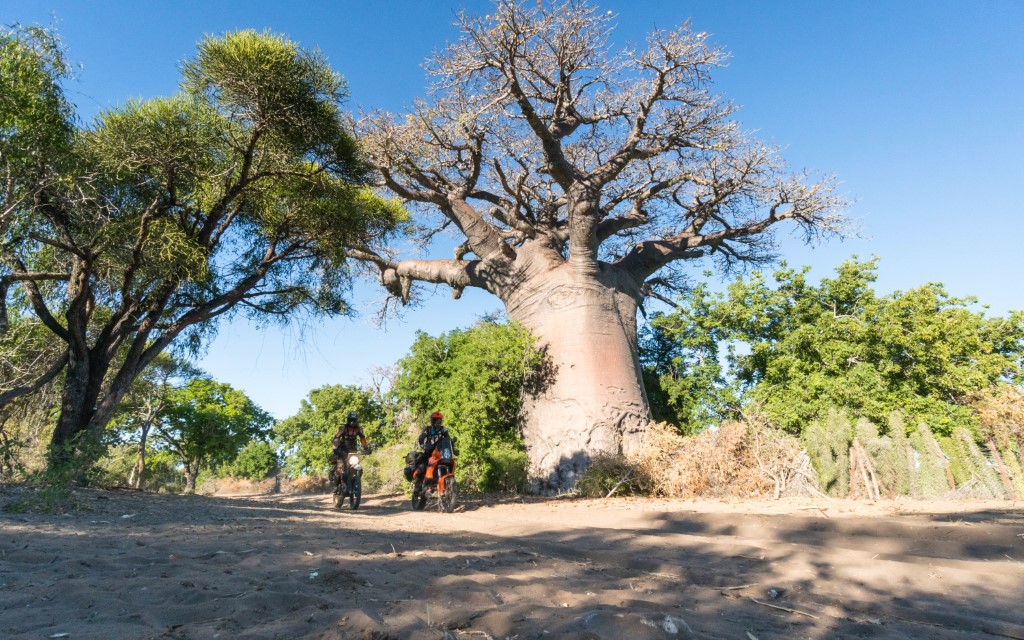 Tsiroanomandidy – Maintirano 250 miles: Man down, Bike down
We wanted to reach Morafenobe, a small town halfway on our route to Maintirano. Considering this was going to be our first day on the dirt, this was quite a task, so we set out early. The riding was easy and the dirt road in good condition, but as the day went on the conditions became more challenging.
After just 25 miles, Kevin found a rut and went down. He was OK, but the crash had damaged his radiator and left it leaking. We sealed the hole with Epoxy metal and half an hour later we were back on the road. We left the highlands of Madagascar and took a break in Beravina in the afternoon. The heat was intense, and riding was more difficult. 
Kevin was tired, but we didn't have the luxury of long breaks; Morafenobe was still 50 miles away and we wanted to reach it before dark. In these last few miles we hadn't seen another person or vehicle for hours, and George had ridden a few minutes ahead.
We closed the gap on him and found him on the side of the dirt road. It turned out that oncoming bikers tried to overtake each other. To avoid crashing into them, George had to swerve off the road and crashed. He complained about severe pain in his ribs but was able to move on. 
After a long and gruelling day, we eventually reached Morafenobe. In the morning George's pain was worse and Maintirano was still 90 miles away. Kevin exchanged bikes with George to give him the weight advantage of the stock 690.
Riding in pain is tough, and George crashed again, hitting the deck on the exact same side as the day before. Kevin too struggled with the heavier machine and crashed as well, it seems he was still tired from the day before. George was ahead of us when I lost sight of Kevin in my mirror. Having turned around and found him, he told me that the bike wouldn't start anymore.
The battery was dead, and it became clear that it wouldn't be possible to make it to Maintirano with this bike. The best solution was to send Kevin back to the last village and see if he could stay overnight. He agreed, so off he went while I tried to catch up with George. The plan was to come back the next day with a new battery to recover Kevin and the bike.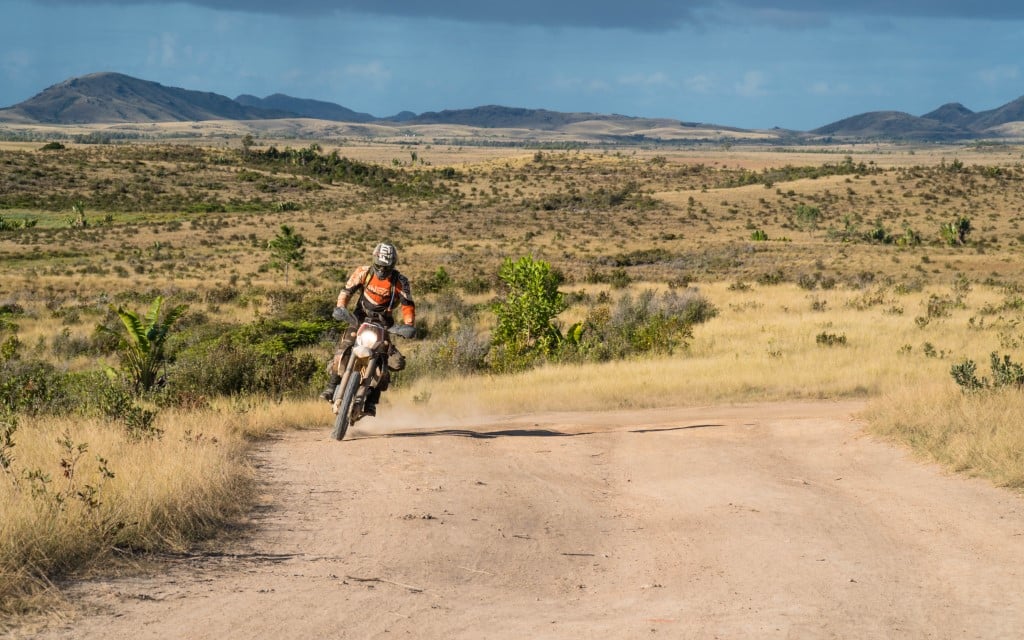 Recovery
I left Maintirano at 6 am, and after two and a half hours was back at the village where Kevin had stayed. Changing the battery was no big deal, and it looked as though we'd be back on the road soon. When I pushed the ignition, the start fuse burned out. We were clueless.
Repairing it without a wiring diagram is almost impossible and after three hours we gave up and needed a plan B. The weekly truck would be passing through the village tomorrow, and it could take Kevin and the bike to Maintirano. There weren't really any other options for Kevin than to stay in the village another night. I, however, got to enjoy the ride back to Maintirano, which was amazing. The dirt road was just right for my 950. 
There were some technical sections, but nothing really difficult, and the sunset over the savanna was amazing. When I returned to George, it was clear to see that his condition hadn't improved and during dinner we discussed what we should do.
Maintirano has a hospital, but there is no X-ray machine, so it wasn't really worth going there. We decided to fly him out with a chartered three-seat plane to Antananarivo, from where he could fly to Austria as soon as possible. To get Kevin and the bike to Maintirano we rented a pickup truck because we didn't want to rely on the weekly truck.
The recovery took the entire next day, and Kevin and the bike arrived late in the evening. He got sick in the village and did not look the best, but at least we were united again. Our emergency program worked, but it was sad to see George's trip end after just two days of riding. Flying him out was the best we could do. When he was back in Austria, doctors diagnosed four broken ribs and a similar amount of cracked ones. 
Maintirano – Bekopaka 140 Miles
We pushed the dead bike to Colis Express the next morning, from where it would be sent back to François in Antananarivo. It was time to say farewell to George, but for Kevin and me it would be another long day and 140 miles to Bekopaka.
Kevin was still sick, and the heat was wearing him out. We took a break in Ampanihy and found out that Kevin's bike had lost its license plate during the ride. We moved on and tried to reach Bekopaka where we could find touristic infrastructure and a nice hotel.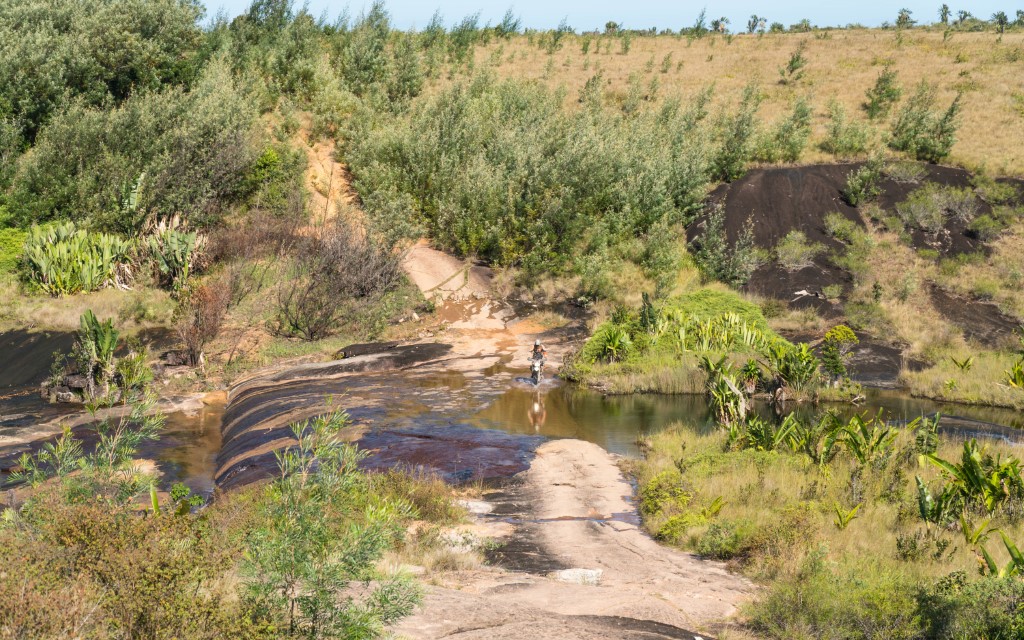 After crossing a larger river, the track turned into a single trail in the bush. When we left the bush a vast area of grassland welcomed us. Good GPS routes and careful riding are absolute musts in such conditions. The ground wasn't visible because the height of the grass-covered it in every direction, so we made slow progress and the 30 miles in this grass felt endless.
As we approached Bekopaka we arrived at a village and thought we had seen the worst of the grassy trails, but here the route became narrower and overgrown again and it was almost dark already. We were extremely slow in these conditions and it took us another hour of riding in the dark before we reached Bekopaka, which was just 10 miles away at this point.
This was definitely the hardest day of riding so far and I was impressed by Kevin's determination. He was sick, crashed a few times and had little energy left when we arrived in Bekopaka. From Bekopaka the Tsingy de Bemaraha National Park can be accessed, which is one of Madagascar's most interesting landscapes. 
Tsingy De Bemaraha 
In the morning I went to the national park office and picked up my guide for the park. Kevin stayed in the hotel and tried to recover. Tsingy de Bemaraha National Park is an impressive rock ridge. The rocks are sharp as knives and carved from limestone. Some plants sit on top of them and their roots reach all the way to the bottom, only down there they find soil in the endless system of tunnels, cracks and caves. We first walked through the bottom of the rocks and then climbed higher until we made it all the way to the top to enjoy the amazing panorama. Late that afternoon I returned to the hotel. Fortunately, Kevin was starting to feel better, but was still quite sick. 
Bekopaka – Morondava 136 Miles 
We crossed the Manambolo River on a ferry after sunrise. A few miles after the river we had to manoeuvre our bikes through some large waterholes. It wasn't exactly easy, but the rest of the ride was straightforward, and we made fast progress.
We even had time for lunch in Belo Tsiribihina's legendary 'Mad Zebu' restaurant. From Belo Tsiribihina to Morondava the riding was even easier and after passing through the infamous Avenue of the Baobabs, where Madagascar's iconic baobab trees line the trail, we made it to Morondava without any problems.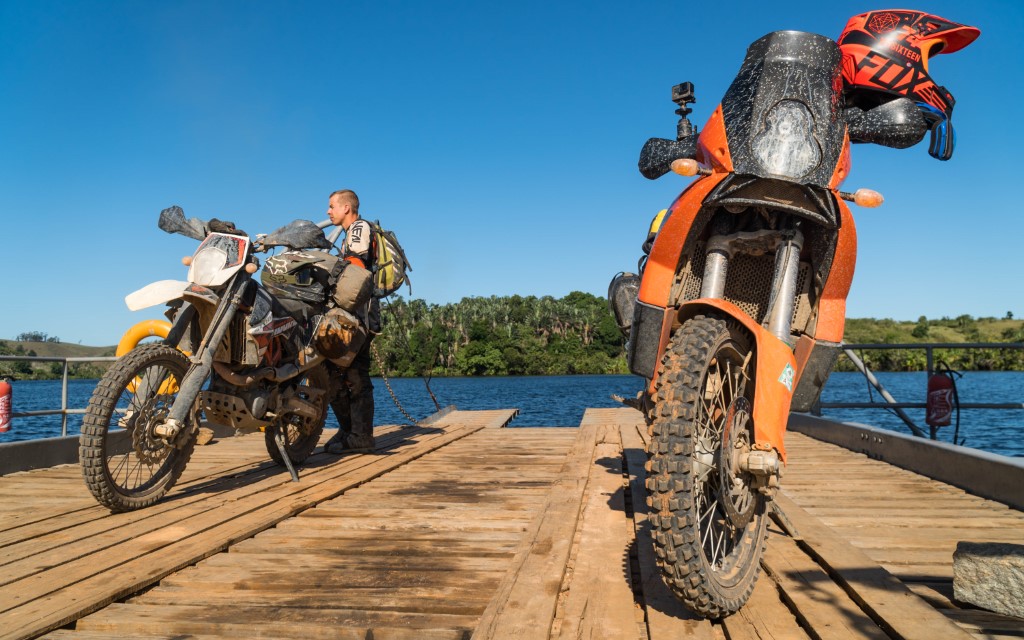 Morondava – Belo Sur Mer 55 Miles: Drowning
The ride to Belo Sur Mer was supposed to be easy, but just outside the town we left the paved road and soon got stuck on a large river crossing. I knew that this crossing was sometimes impassable because of the water depth.
There were local people waiting with wooden sticks to help carry bikes across. We decided that if we followed the track marked by poles it wouldn't be a problem. The locals also gave us a thumbs up, and I slowly entered the water.
My bike drowned until it was underwater all the way up to the seat. We should have walked the river to check how deep it was! Just because the track is marked with sticks, it doesn't really mean it is always the shallowest option. 
My 950's motor got flooded through, and a lot of work was waiting for us on the other side of the river. I had to remove the exhaust system, clean the spark plugs and separate oil from water in the swamp. The sun was brutal and there was no shade, it took us four hours to finally get the bike going again. 
In this area, villagers build barriers on the road and demand money from passing travellers. It seemed to be OK because local people were paying too. It wasn't expensive, and it's advised to have small banknotes handy to help with negotiations. In Belo Sur Mer we checked in at Dauphin Vezzo Lodge, which would be our home for the next two nights. 
Rest day Belo Sur Mer: Mangrove Fishing
Fixing the bike in the gruelling sun led to me getting sun stroke. I had shivers and was sweating at night, but fortunately it was gone in the morning. Our hosts were amazing and even arranged a fishing trip in the nearby lagoons. It was interesting to see the technique they use and to help out a bit.
Kevin slept almost the entire day and tried to recover. The channel of Mozambique is rich with marine life and a large variety of fish are caught by the fisherman there. At dinner Kevin looked worse than he had all trip, and even refused to touch our lobster. He wanted to be back in bed as soon as possible.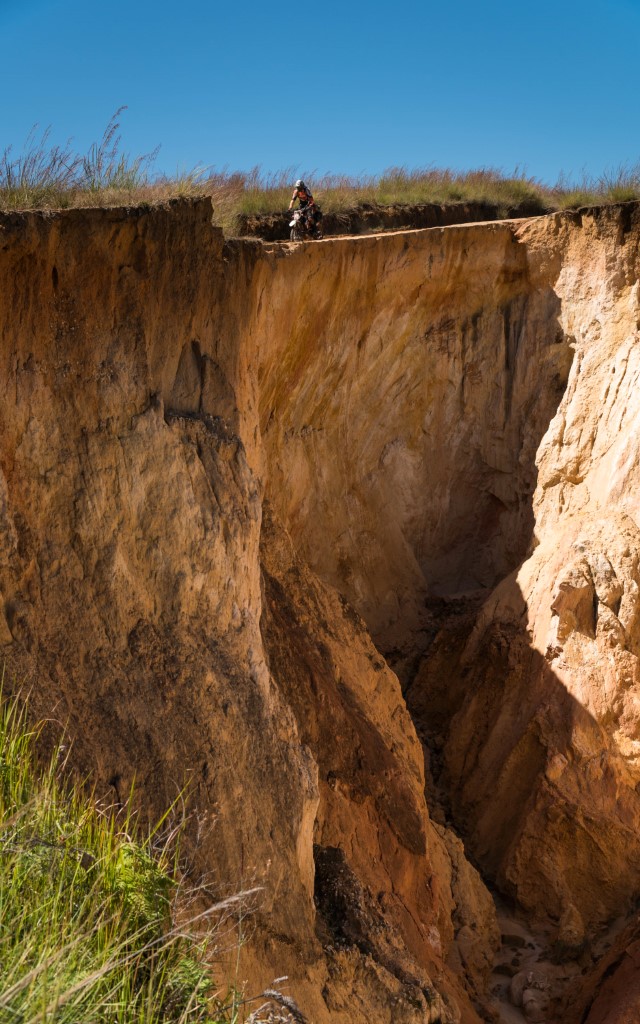 Belo Sur Mer – Manja – Morombe 170 Miles 
The 60-mile ride to Manja was without any problems. We reached the town early afternoon and stayed overnight. For the most part, it was a windy dirt-road through the bush. Kevin felt much better and his riding progressed with some energy coming back.
It was another 110 miles to Morombe, the first part to the Mangoky River was very scenic and the landscape kept changing constantly. After crossing the river, the road was fast, and we arrived in Morombe early. It finally seemed like we were on a roll and could do distances in a short time. The riding terrain had also become much easier after we left Bekopaka. 
Morombe – Toliara 150 Miles 
Morombe to Toliara was the part of the trip we'd been highly anticipating. We expected deep sand as the route follows the coastline for most of the day. Kevin was finally OK and his physical condition wasn't holding him back anymore.
I was confident that he'd be able to challenge the deep sand on the day's route. For the 150 miles, I carried some extra fuel for him on my bike. In sand, the bikes consume more petrol, and we wanted to make sure not to run out. We had also been warned of thorns in the southern part of the country, so staying on the track was important to avoid punctures. 
The riding was a blast, but after some time the sand got very deep. The narrow wheels of oxcarts created deep ruts and it was difficult to go straight. The ruts required some extra speed and Kevin wasn't able to keep up with the speed necessary for my heavy bike.
As I waited for him I realised that my luggage bag was cut by thorns, and I had lost some of my baggage. I heard Kevin messing with the bike in the distance, so I walked back to see if he was all right. 
There was no way to turn around my bike on the narrow track with deep ruts. Walking back in the blazing sun with full gear on was hell. After about 400m I found Kevin. He fell behind because he'd been collecting the stuff I lost! As I sat fixing my luggage, he took off ahead. I had problems getting my bike up to speed and dipped over.
I picked up the heavy bike just to drop it again a few hundred metres later. This time it wasn't so easy, I had to pull it back into the rut and then pick it up. With the exertion taking its toll, I knew if I dropped it again I wouldn't be able to pick it up by myself. Finally, I found my speed and the wind began to cool down my body temperature.
The sand became shallower and the track had everything you could dream of as an adventure motorcyclist, fast corners and all colours of sand you can imagine. We were both going fast, and Kevin seemed to enjoy the sand as well.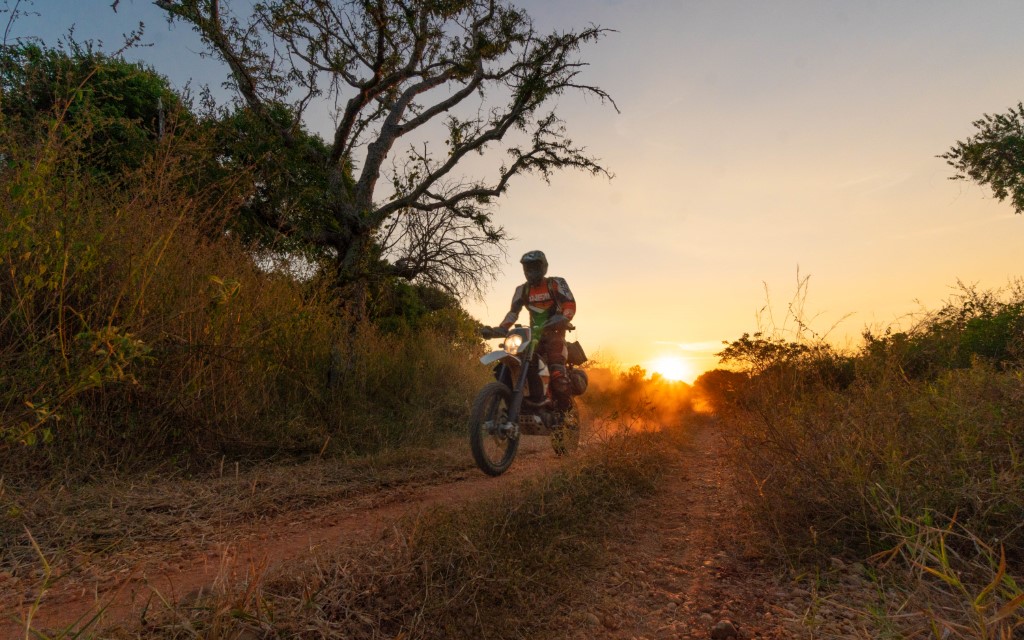 Toliara: A Nice Surprise 
When we drove around town searching for a cash machine we got stopped by Bruno, a dirt biker and designer living in Toliara who invited us for dinner in his guesthouse. Bakuba Lodge is heaven on earth, the dinner was delicious, and I doubt that we could have found anything better in Toliara. Alex, the owner of the KTM shop in Toliara, joined us and we received a lot of valuable information concerning our route. 
The ferry from Saint Augustin to Soalara was out of service and we had to take the detour to Efoetsy via Andranovory and Betioky.
Toliara – Efoetsy 170 Miles 
The ride to Efoetsy was straightforward. Tarmac until Andranovory, and dirt road to Betioky, where we refilled our tanks. From Betioky to the coast was the longest straight dirt road I had ever taken. We were the only guests at Le Domaine d' Ambola near Efoetsy, and had the entire beach to ourselves.
This place was so nice that we decided to stay another day and relax. The manager of the guesthouse helped us to find fuel in the village, we refilled the bikes and loaded an additional 10 litres on each bike. The plan was to go directly to Ambovombe, rather than do the 125-mile detour to Ampanihy just for fuel. 
Ambola – Ambovombe 235 Miles 
These 235 miles would be the longest distance of riding in one day we'd do without seeing a petrol station. We made fast progress at an average of 40mph, which was no problem in the south of Madagascar. We passed the surfer town of Itampolo and crossed a dry river at Androka.
At the second dry river we turned towards the ocean and wanted to ride along the beach to Lavanono. In some spots, the beach was really narrow and only passable during low tide and there were no tracks at all, just some fishermen who live there in very simple houses.
At the end of the beach, we had to make it up to a 130m-high rock ridge above the ocean. It wasn't an easy task, deep sand and tight corners didn't allow us to build up the speed. After I waited for Kevin, my bike wouldn't start anymore. I realised that the pole of my battery got disconnected from the inner parts of the battery. 
After two hours, I was able to somehow fix it and jumpstart the bike. It seemed to work fine, and we made it to Tsihombe. It was almost dark, and we had to choose to move on or stay. We opted to ride the 40 miles to Ambovombe in dawn and the last bit in dark. Just 30 minutes after we left I had a puncture, and it got dark while we fixed it.
I also found out that my battery wasn't charging, and the bike wouldn't start again. Jumpstarting it worked, but when I took off the cables the engine died. We realised that the riding for me was over for tonight and needed a quick solution.
We pushed the bike back to some food stalls we had seen earlier and hoped that the locals would let us stay there. A long day was almost over, and we prepared for an uncomfortable night without sleeping bags. The road was almost empty, but after about half an hour we were able to stop a truck. Fortunately, the driver agreed to load my bike and take it to Ambovombe where we arrived late at night. 
In the morning I soldered my battery, and once it was recharged it did not cause any problems anymore. We rode to Fort Dauphin, which is the most southern city in Madagascar and a very nice town. The landscape and climate on the east coast changed, it was less hot and gone were the thorn bushes and sand.
Everything was green and a relaxed vibe was in the air. Unfortunately, this didn't apply for us, we were nervous to make it back in time to Tana and catch our flight back home and we had been warned about the muddy dirt roads in eastern Madagascar on more than one occasion.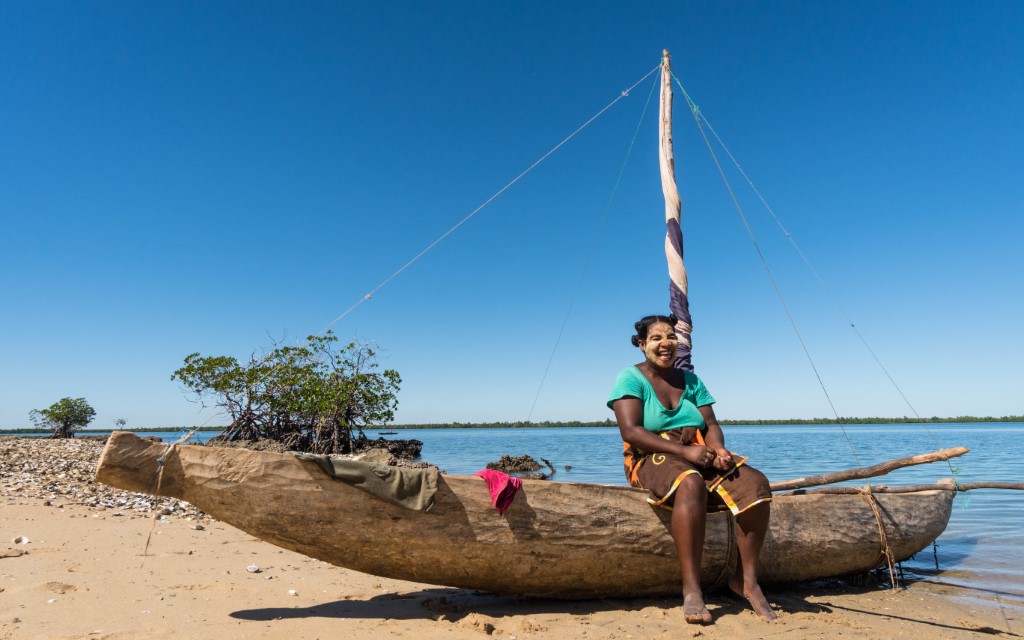 We left the town and rode through lush forests, and between us and Manakara lay 13 ferries. The riding was nice and not difficult at all, a large part of the road was under construction or already finished and we made good progress between ferries. Using the ferries was so easy.
If they weren't on our side of the river, honking the horn was enough to make them pick us up. On one ferry we realised that Kevin had had a puncture, which was quickly fixed. We eventually made it to Vangaindrano before dark in just one day. 
We left the city in the morning and rode tarmac the entire day. We spent our last extra day in Ranomafana National Park chasing lemurs. We were back in civilisation with touristic infrastructure and all kinds of simple pleasures we had no access to in the last three weeks.
The highlands of Madagascar are beautiful, and architecture changed one last time, the houses were beautiful, and villages well arranged. Riding on windy paved road was a welcome change, the road was in great condition and good to ride. We returned to Antananarivo the day before flying out.
It was well worth doing this trip, the struggles at the beginning are not what we will remember. The overall experience and discovering new places is what drives us. Madagascar is to bikers what Hawaii is to surfers, and we'll be coming back again. 
---
The Bikes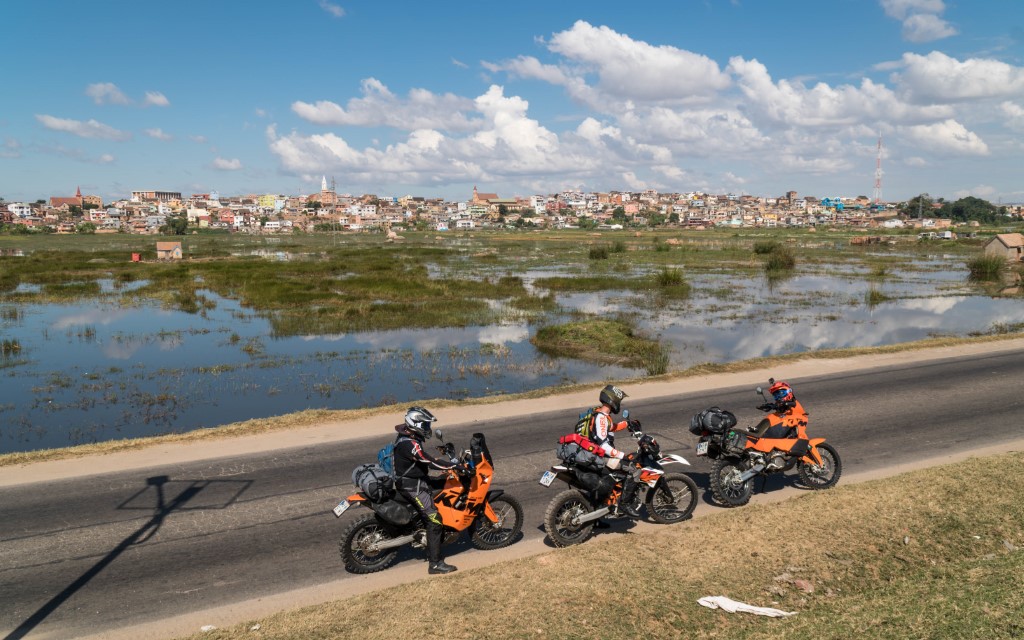 KTM 950 ADVENTURE S 2003 
Modifications include a Wings exhaust and Scotts stabiliser. The bike has 50,000 miles on the clock. The oil pressure switch started leaking, which I ignored until the end of the trip, and the battery pole separated from the battery internals due to vibrations. 
KTM 690 ENDURO 2008 
Modified with the following parts from Rally Replica: new carburettor, wiring, fairing, front tanks, airbox, skid plate and a custom exhaust system. The new battery expanded and started leaking, this may have been caused by a short circuit in the bike's electrical system. 
KTM 690 ENDURO 2014 
Bone stock with Akrapovic slip-on fitted. The bike did not have any problems.
---
Want to ride in Madagascar?
Is it safe to ride Madagascar? 
For the current situation we consulted François Serrano from www.moto-tour-madagascar.mg, he ensured us that he never had any problems concerning safety on his tours in 25 years. Driving at night should be avoided, which local people also advised. 
Accommodation 
Good hotels and guesthouses can be found in areas with touristic infrastructure and planning overnight stays in advance can make this adventure very pleasant. Sometimes, good hotels can be found in areas where you'd least expect them. In rural areas, some basic guesthouses can be found and almost every village will be able to host stranded travellers for a night. 
Fuel 
Distances between towns with gas stations can be large and it is sometimes necessary to carry extra fuel. In many villages, fuel can be bought from jerry cans. Ask in smaller shops, usually, people know who could have fuel. It is advised to filter this fuel while filling. 
When to go? 
Avoid the rainy season of November to April, as many major dirt roads are impassable during this period. We travelled in late May and most areas were dry. In the southwest of Madagascar, it rarely rains at all, while on the east coast it can rain all year round. 
How to get there 
To get to Madagascar from the UK, it is best to go via Paris Charles de Gaulle, where Kenya Airways operate direct flights to Antananarivo. Expect to pay around £500 – £600. There are no passenger ferries that run from the African mainland to Madagascar, so if you're riding in the African continent, you'll still have to fly over. Check www.skyscanner.net for the best prices. 
Who to go with 
Moto Tour Madagascar offers a number of guided tours around the island of Madagascar, taking in the country's best roads, trails and sights. With options of pure off-road adventures to magnificent roads trips, Moto Tour Madagascar offer rides from 7-13 days long. Head to www.moto-tour-madagascar.mg for more information. 
Currency/Money 
Malagasy Ariary and Malagasy Franc but Ariary is the one used on a day to day basis. Sometimes locals try to confuse tourists by calling high amounts and then claim they mean Malagasy Franc. There is the option to buy a Malagasy debit card and make a cash deposit, this is extremely popular in all of Madagascar and even works in the tiniest village. It can also be used to withdraw cash in a village. 
Who is it for? 
During the dry season, the south of Madagascar is not very technical for adventure bikes. Distances paired with heat and lack of infrastructure are the challenges of Madagascar. Landscape and riding terrains constantly change and the sunsets are magnificent. 
Any advice? 
If you have to cross water holes or rivers, make sure you check the water depth by yourself. Locals usually hang out there and try to make some extra money by cheating travellers about the depth. Leave camping gear at home, it is easy to find suitable guesthouses for very little money. Try to spend the nights close to touristic infrastructure for some extra comfort.