Graham Field takes his dying Kawasaki KLR 650 on a retirement ride to home shores.
Yeah and after the show I'm gonna ride it back to Bulgaria,' I told anyone who asked. My battered £750 KLR 650 was on display at the London Motorcycle Show, a very proud moment, and a place I never expected to be on a bike that had taken me to Mongolia, South Korea and Iraq among its distant destinations. 
The thing that was not apparent to the frowning onlookers was that I had installed a 685cc upgrade. I have a reconditioned cylinder head and bigger bore. So, after the show, I rode onto the February roads, still running in my rebuilt top end.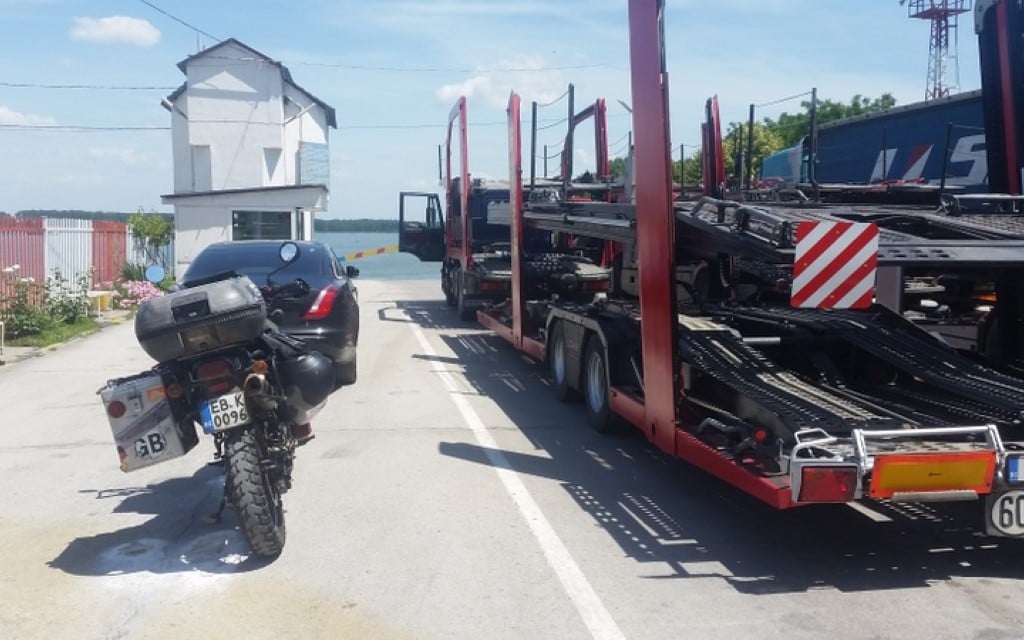 I happily headed back home to Bulgaria. At the end of the second day the engine missed a beat and then lost the rhythm completely. I pulled onto the hard shoulder and saw the entire rear of the bike was covered in oil. The engine had seized, the future was dripping onto the tarmac with a hopelessness that was beyond consideration and financial calculation. 
I pushed it off the exit ramp and to a fuel station where I optimistically purchased some oil. As I opened the filler cap a puff of white mist came out. It was the soul leaving the bike. When I pressed the starter button all I got was a death rattle.
That's it, nothing else to do… except drink excessively. I got a taxi to a hotel. Posted a photo of the futility on Facebook and went to find alcohol.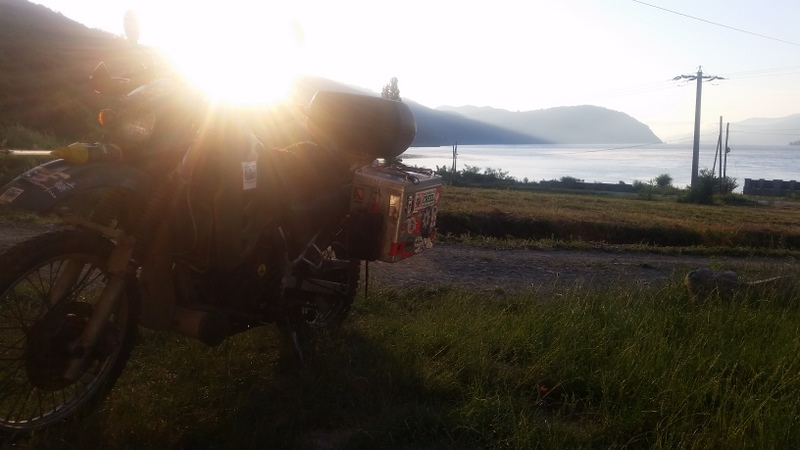 I had no idea what I was going to do beyond a bit of immediate escapism. As I walked back to my room with my carrier bag my phone rang, a friend in Bulgaria had seen my post. 
"What are you going to do?" They asked. I hadn't even thought beyond the next can. "We'll be there in 24 hours with a van, we're leaving tonight." 
Facebook at its best. Sure enough, 36 hours later I was stripping the engine in a workshop in Sofia, everything is fixable but this was beyond economical repair. The bike, the journeys, the whole ethos of my trips, my books, is that they can be done on a budget, less is more, you don't need a privileged life, sponsorship and back up crews to ride to your dreams and this was the end of it.
The bike went back to my shed in bits and collected dust for 18 months. It saddened me to see it abandoned and incomplete, it deserved better.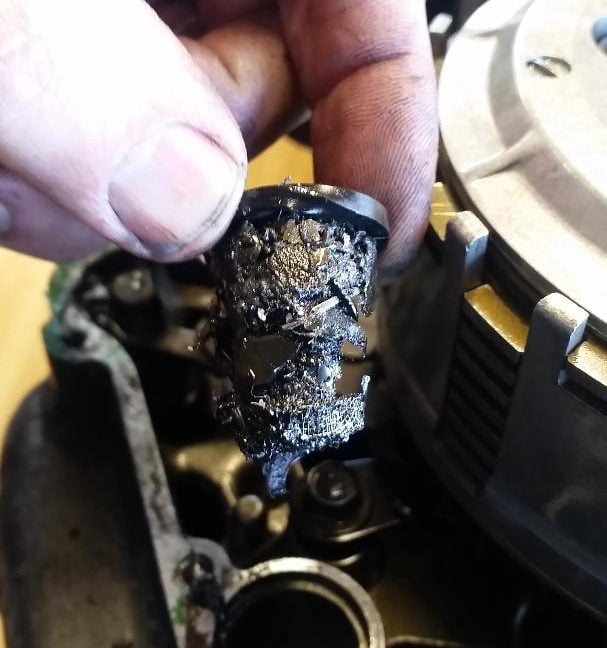 I found a complete running engine bolted to a stand, with carb, electrics and everything on eBay for £300 complete with a battery and exhaust. I poured in some fuel, pressed the starter and it fired up. Over winter the KLR came back to life.
It had such altered characteristics, I liked it… a lot. It felt loose, responsive, it was like a seductress in its ability to coerce me into squeezing the throttle harder than seemed necessary. It kept taking me off the road to spin out in the mud on every test ride. 
The question still arose, what was I going to do with it? It had its dignity back, now it was ready for a respectable retirement. I was going to take it back to the UK, it could make the occasional show appearance, and I would have some transport when I was back there.
So, with one pannier (the other was in the UK already, as part of a display for a pannier replica book box set) I set off. I knew the engine would use a little oil, but that was nothing new to me. I'd just keep an eye on it.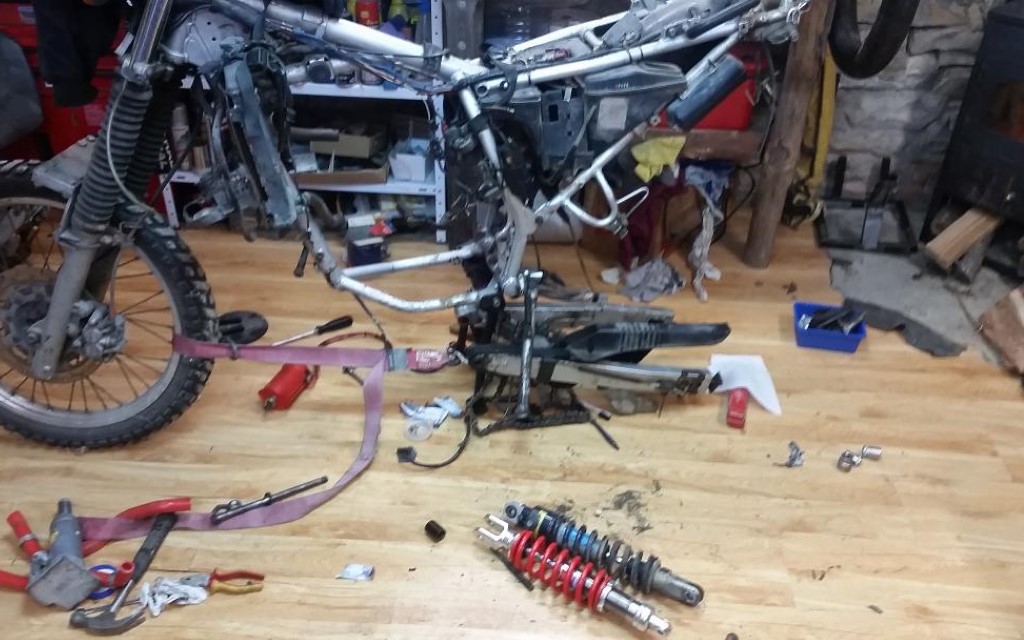 Now, I've done the trip between Bulgaria and the UK quite a few times in the three years I've lived there. Back in 2013 it was an adventure to the land of the Cyrillic alphabet, where the horse and cart is still a regular form of transport.
Nowadays, the distance is little more than a commute. The last time I did it was on my Triumph Tiger when I achieved Iron Butt status doing 1,200 miles in 21 hours. This time I'll take some back roads, cross the Danube on the ferry and follow it through Romania. 
Three hours into my journey I stop for to a little snack, glance in the oil level glass and see nothing. As I tilt the bike towards me, it remains clear. I'm carrying two spare litres with me and pour half of it into the engine to bring the oil back up to an acceptable level.
Perhaps I didn't top it up before I left, I thought to myself. I sit and contemplate, I need to be back in the UK in five days. I look at Ryanair flights, but the short notice surcharge makes it financially unviable.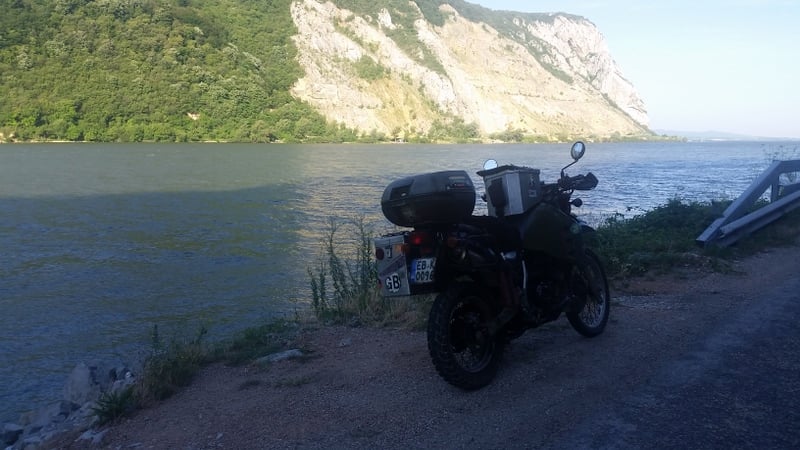 Shit, this is one sick engine, what am I going to do? If I turn back, not only have I wasted my pre-booked ferry fee, but basically the money I spent on this engine is wasted and I'll waste more on an overpriced flight. Besides, I've already written a book about a U-turn.
Screw it, I'm just going to keep going. Anyway, I left my wash bag in Romania last month; I may as well at least go back to that hotel and retrieve it. It contained my Swiss army knife, my Jägermeister hipflask and a wealth of hair care products. 
There is something significant about a ferry crossing, it may only be 15 minutes, but it adds a level of commitment to your trip. At the hotel I pick up my left luggage and top up the oil again as diners look on.
Distracted, self-conscious and simultaneously stealing their WiFi to book a cheaper hotel, I leave without putting the filler cap back on. I soon realise and turn back, where a waiting 'long hair' hands it to me, apparently, he shouted after me, but I'd been oblivious.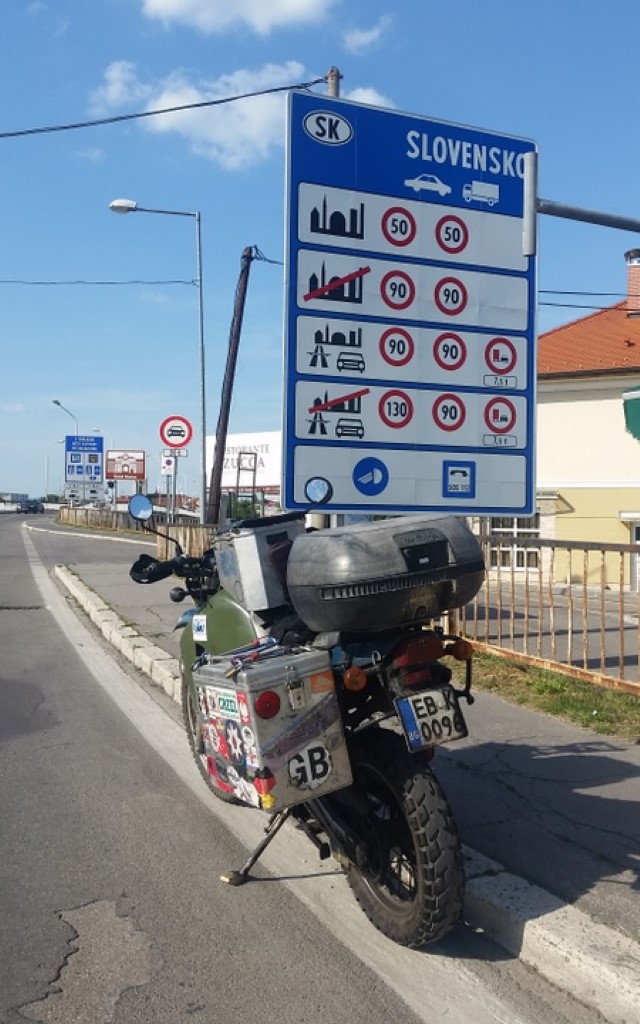 In the morning, still unsure, I simply carry on. Anyway, I love these roads, following the Danube, there are steep rocky cliffs, it almost makes canyon status in places and there are castles on hill tops and ancient walls half submerged. The road is smooth, the traffic scarce and the bends sweeping.
In the first big town I buy three litres of cheap oil, top up and head towards a back-road crossing into Hungary. 
I run parallel with the motorway plodding at a pace of progress without stress. As I approach the town where the engine seized two and half years ago, I try not to think about it, but it's like trying not to think of a pink elephant… What are you thinking about? I suppose I'm past the point of no return now.
No one is going to come and rescue me this far from home. I'm trying to remember the triumphant point where I had done 1,000 miles from the Hook of Holland on my Iron Butt ride. It was round here somewhere, OK so only 1,000 miles to go then.
In a lay-by top up stop, I'm approached by a working girl. She's either pregnant or has an impressive beer belly. "Sorry babe, I'm sure it would be wonderful but I've spent all me money on lube, if ya know what I mean, be safe."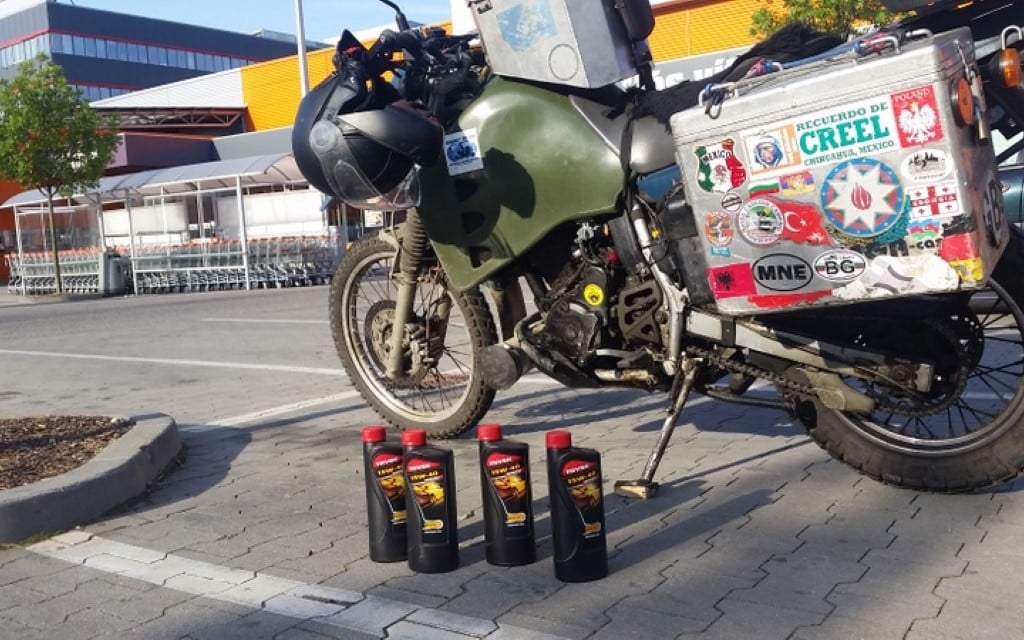 When I get up off my knees, having made sure this time I replaced the filler cap, I throw my leg over the bike and whaddya know, it won't start, totally dead, not even a red light. I tighten up the battery terminals and it comes back to life, the hooker leaves, deciding I'm not going to need a bump or a jump.
I bypass Budapest and get back on the 'B' roads crossing to Slovakia. I've used all three litres of the oil that I bought this morning. In a cheap hotel I sleep on pseudo silk sheets and slip in and out of sleep. 
It's Friday and I want to be past Bratislava before rush hour. North of the city, I find a DIY shop and buy four litres of oil. Roads that run parallel with motorways are ideal, you get to see some villages without a massive diversion, that is until I divert into quaint, neat, anal stringent, expensive Austria. 
On a single lane road, I pop out in the Czech Republic. I'm not going to zigzag over the motorway, I get on it and do a steady speed. I'm not sure what speed, but it's steady and so dull my eyes are closing so I take a road side nap and am woken by a wind that is blowing in some very dark clouds. 
Prague is a disaster of indecision, do I want to avoid the city or the motorways? You can't do both and I manage neither, stuck in city traffic my clutch cable frays and stretches, so I jump on the ring road and head up towards the German border as the rain catches me.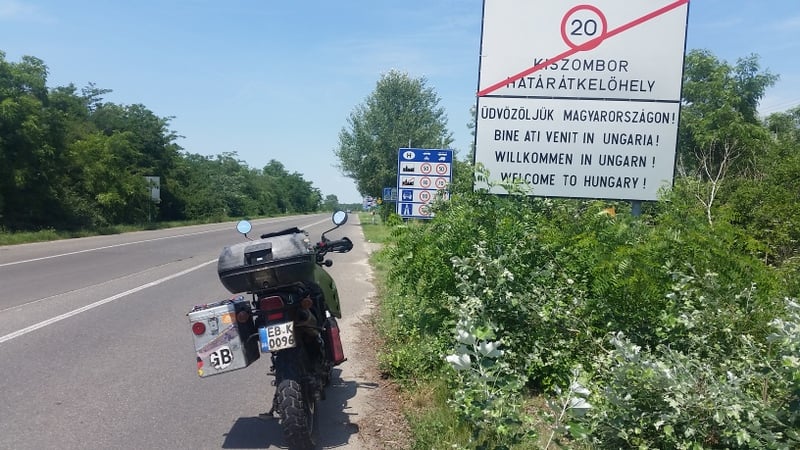 Before I get to Dresden I pull off the highway to put more oil in the bike, with ignition and helmet off I hear the constant thunder, and it is constant. I catch lightning out of the corner of my eye and then ride right into it.
Heavy pelting rain. Then a crack that cuts through everything, and an instant flash, I'm in the middle of the storm. It's only a few miles to a service station but it's too late. I'm soaked now and there's no escape.
Hazard lights flash and the cars become stationary and part like the Red Sea. It's customary in these parts to allow emergency vehicles to get through to the blockage at the front, the parting is also convenient for Bulgarian plated, liberty taking motorcyclists.
The problem is a flooded road, the dip under a bridge has left the autobahn submerged, and the brown water is flowing with a strong current into a field below taking out the crops with its force. I could just sit here, like everyone else, but they have shelter, I can't get any wetter. The rain is torrential and hammering on my helmet, I'm going to be here for hours. 
At the other side of the flood is the service station slip road. It's an easy and instant decision. I'm going to push my bike through this. I don't know how deep it is, so I'm not doing it with a running engine.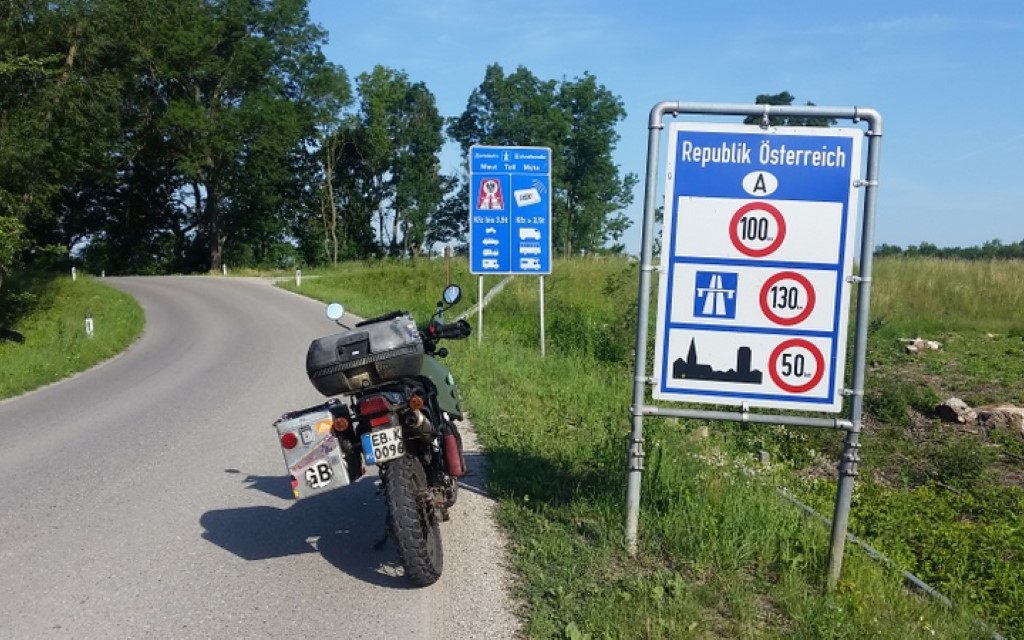 At first, I take high steps until the point where the level is above my boot tops and I feel the water flood in as I wade forward. I feel the burning on my back of every waiting driver willing me to drop the bike, but I don't. I put it on its stand and take a photo.
Under the bridge I instinctively stop, but I can't get any wetter, it's just below my waist now. Up the other side, it gets easier as the levels subside even if it is up the incline. I've done it, I faced adversity and overcame. 
I empty my boots in the middle of the autobahn and put my soaking socks back in. I pull the drifting weeds and grass from the KLR's engine and with sodden determination press the starter. It fires up. I have a long, empty autobahn ahead of me, a stagnant procession of traffic on the other side and I leave that dark thunderous nightmare behind. Clouds lift, the sky lightens and so does the mood. 
That was brilliant! It was like a Mongolian river crossing, the feeling of obstruction and adversity, a need for decisions beyond the signposts, I feel liberated and I really never expected to experience that on a German autobahn. The KLR continues to overcome the obstacles of the impassable, from Kazakhstan to Kassel it's beaten them and carried me on. 
I spend the night at Moto Soul a potential palace, and a place that will undoubtedly become a biking Mecca. You may have heard of it here first and mark my words this place is going to be big.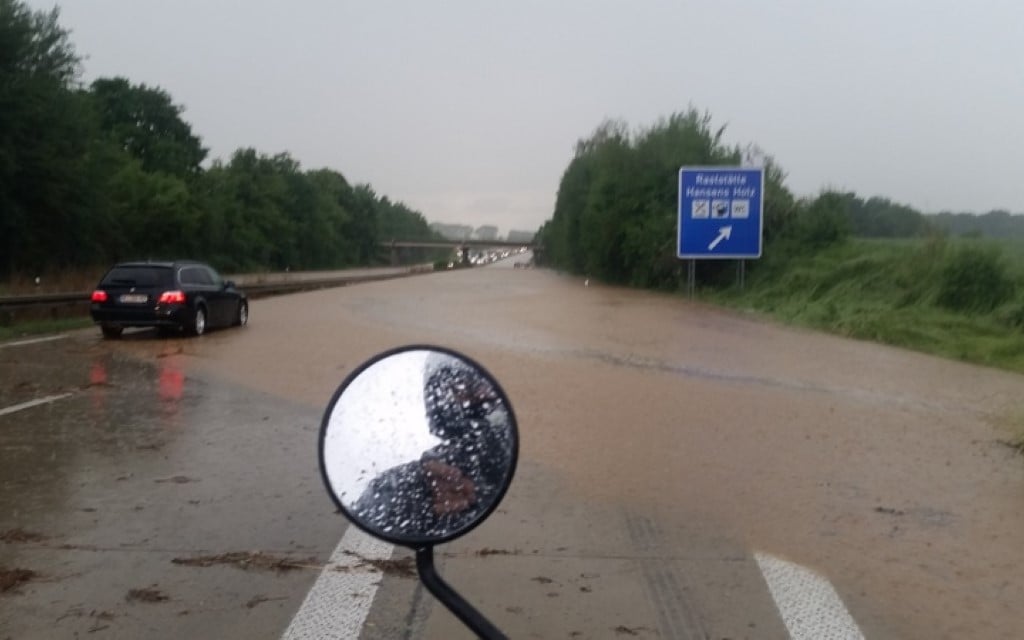 At 5 am, my oil consumption is now consuming all my thoughts. My clothes are still damp but the dawn I ride into has promise, until the clouds come down with a cold greyness and the rain comes back.
Not the kind that makes you wet, it just brings you down. I put on my heated jacket. The effect is instant, orgasmic and multiple. I audibly voice my pleasure in my helmet as the warmth spreads over my upper torso warming a body I'd left too long before I listened to its needs. 
Another DIY shop and this time I find five litres of oil for €15 and buy two cans. I think this is going to last me. The autobahn drags on, and on, I'm now the slowest vehicle on the road. Other than a Polish tanker struggling up a hill I overtake nothing. 
My mind is fully focused on the engine now, it doesn't wander or dream, no motorcycle meditation, no fanaticism, and nothing is planned or processed in my head. I can't be torn from the torturous thoughts of a dying engine in a no man's land of rescue and repatriation. 
I've got the offer of a Belgium homestay, it's not on the most direct route, but they do have a bike trailer and I may need it. In roadworks at Düsseldorf with an embankment at the side, the bike splutters and dies, fuel? No, it's not even on reserve. Seized? No, phew there is still oil. What can I do? The noise of the passing traffic adds to the stress. I press the starter, with choke it fires up, I rev it hard, throw my leg over and slip the clutch back into the traffic.
Out of the roadworks, it dies again and is even more reluctant to restart. Off the slip road, top up with fuel and then decide to take off the tank and replace the spark plug. It looks unwell, I'd be off colour too if I'd smoked that much for that long. It fires up and I ride on. I head west into Belgium, again I have to top up the oil, it's an hourly procedure now.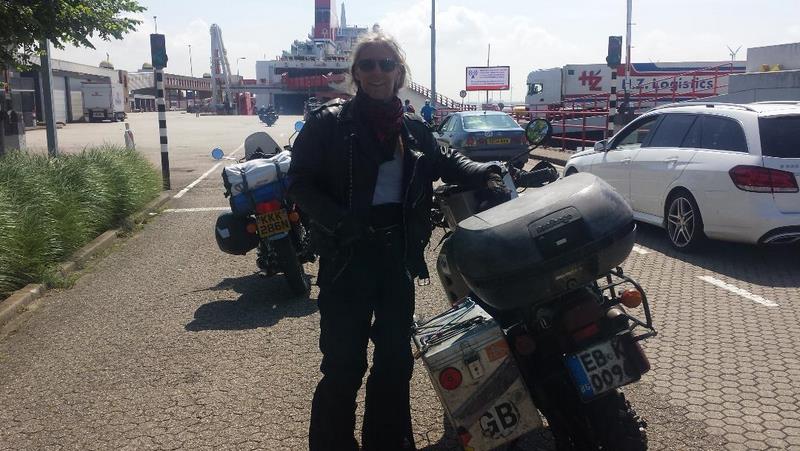 I'm just over 100 miles away from the port. After much needed sleep I wave goodbye through a cloud of blue smoke, I can see the concern on their faces. My concern consumes me, will I make it? Was I stupid to do that diversion? But man, I needed that break, and they could relate from a similar ride, a knocking bottom end from Iran through Turkey to my village.
Utter empathy, I needed that too. I'm just hoping so hard, doing frantic mental calculations now, how far it is? How fast am I going? I don't see any trucks so nothing to gauge my speed, maybe 50mph? Google says two hours, but it's clearly going to take longer, though it's not all motorway so, at some point, I will be doing the limit.
What time is it now? What time did I leave? If I break down, they have to get here, and get the bike on the trailer. How long will that take? Where will I stop for the next oil check? When did I fill up? Düsseldorf, how far was that? But it wasn't a full tank, will it last? How far have I got to go? Where will I stop to check oil again, will that be the last stop? Oh, my fuckin' god.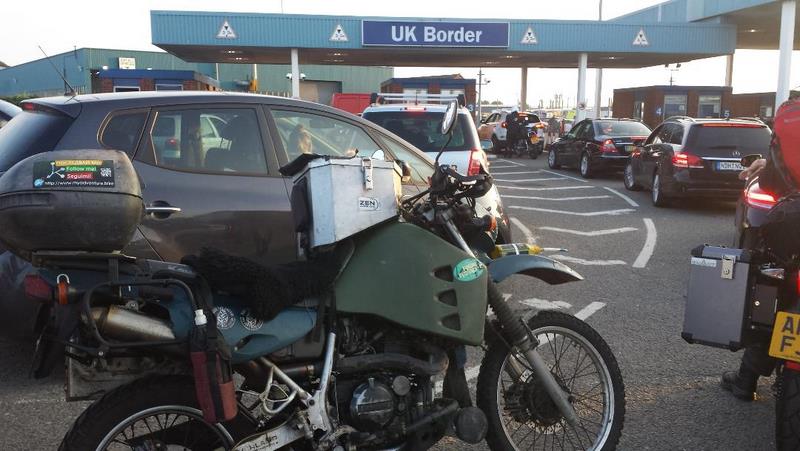 I stop at services after only 45 minutes, put in more oil, and it won't start. I push it to the fuel pump and put in enough to get me back. Pay, press the starter, it barely turns the engine over, but I know it's not a dying battery, it's a dying engine, it won't start, it fires, it starts, let's go, I don't want to stop again. 
Google says 33 miles, 37 minutes, except it's going to be more. I'm still sweating it, and the bike feels different, reluctant, and hard. I don't want to stop again. I go through a tunnel and there is no hard shoulder, not here, not here, don't break down here. Hook of Holland is signposted and I'm daring to contemplate a Facebook status saying 'yeah I made it', but I haven't yet, and I don't want to jinx it. 
Onto the ridge of the last road, canals on each side, I knock it into neutral as I approach red lights, the clutch won't pull in far enough to disengage the engine, the cable fraying so much now. I'm shaking, it's warm and the skies are blue, but I'm shaking. Around the last few bends and I can see the ferry, I can push it from here, I've been pushing it since I left Bulgaria. Is there any ride as stressful as a deadline on a dying bike?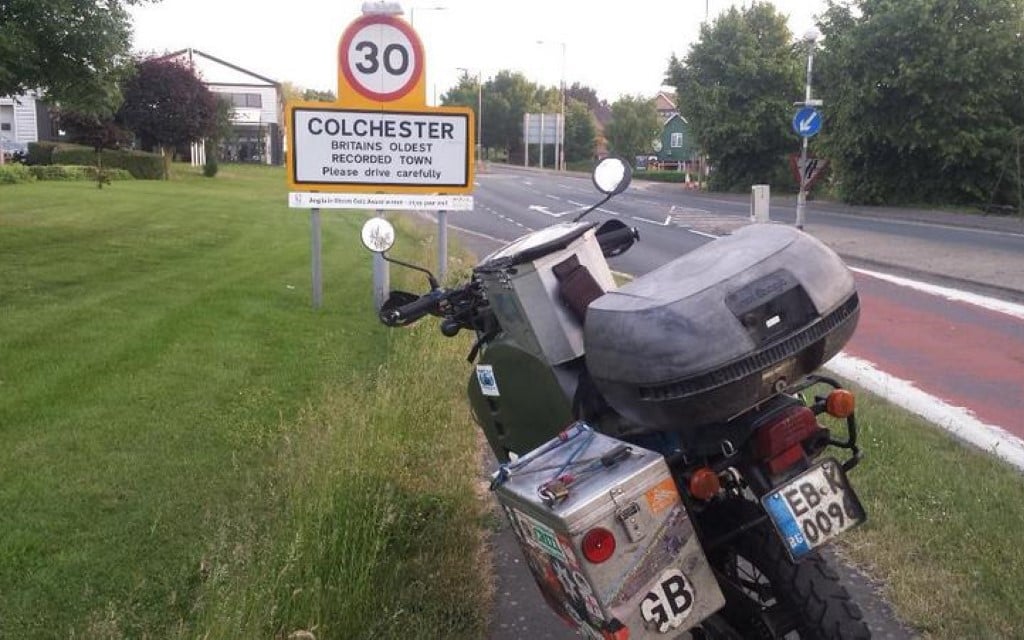 On the ferry I put my still damp boots on my mirrors and go for a beer and vent the journey into this article. We dock to an evening sun, the Harleys rev and tick over with a lumpy reluctance long before our lane starts to move.
A group of GT750s rattle with their multiple two-stroke revolutions and I push my bike into the line and wait until it moves, and the bike fires up. I make it to the border control and the engine stalls. Push to passport control and now the familiar road to Colchester.
And one last photo at the town sign. Again, the bike feels different, almost enthusiastic; it wants to be spanked again. Loud exhaust, loose engine, responsive throttle action, sleazy leaning round corners I know so well. We made it, and now you can retire. Your work is done, what a swansong, what a last ride.
I hope as the stress subsides I can find some enjoyment in that journey and in future journeys I'll be able to say, 'well it's not as bad as that ride from Bulgaria'. 
The sunsets into a misty sky. No death rattle, just a sigh. OK, maybe I'll ride it to the Copdock show… I've still got some oil left.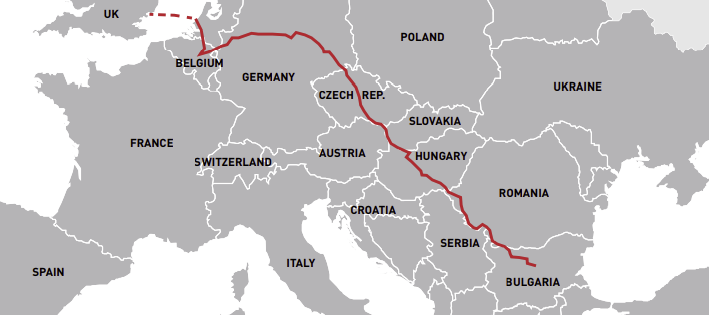 ---
The Bike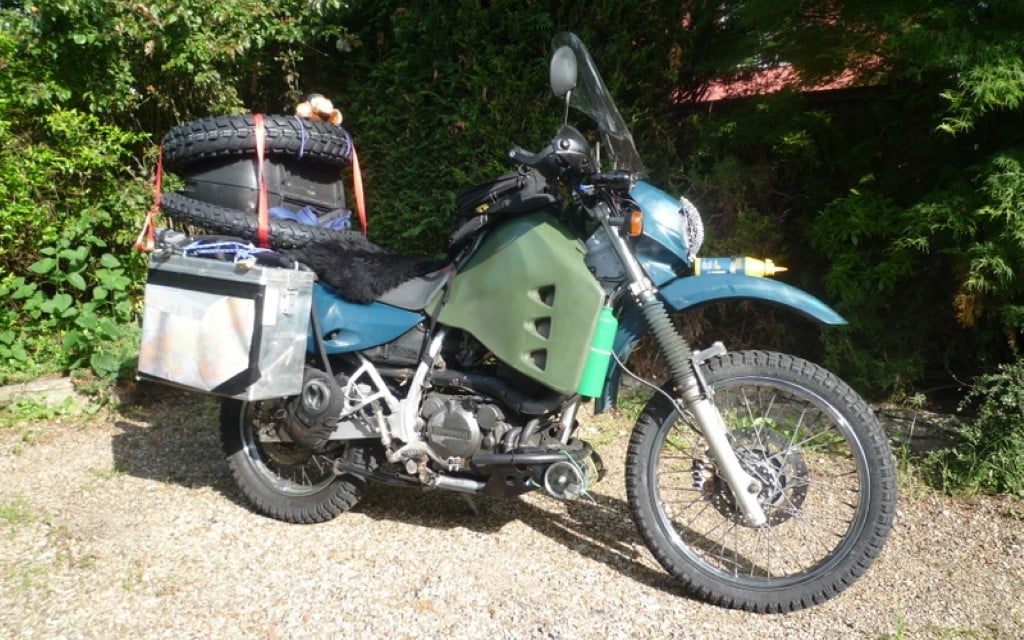 A 22-year-old KLR 650 purchased off eBay in 2009 for £750. I was going to Mongolia, alone. I didn't know what to expect and if something awful happened I wanted a bike I could walk away from, something inexpensive, a bike that didn't own me.
Except I didn't walk away from it, we became great travel buddies and continued to South Korea. We've gone through Iraq, to the coast of the Caspian Sea, and all over Eastern Europe together. Ironically, now it has such sentimental value I would never want to part ways with it, hence our journey to its graceful retirement.
I think it's beyond economical repair, its work is done and it's been replaced with a younger model, although some parts from the original bike travel on the replacement, something old, something new something borrowed.