Following on from our laminated textile jacket review in Issue 29 of Adventure Bike Rider, Mike Beddows has been out using and abusing eight of the best-laminated trousers to help you complete your suit.
If you caught the last issue of Adventure Bike Rider magazine, in which we reviewed laminated textile jackets, then you'll be aware that we're of the opinion that bonding a waterproof membrane to the inside of the outer shell is the way forward. Rather than the all-in-one three-layer systems (that is an outer, a removable waterproof lining, and a removable thermal layer) that quickly get saturated with water, are heavy and bulky, and a hassle to use effectively, laminates provide effective waterproofing, better comfort, a more user-friendly experience and they're usually lighter and less cumbersome to wear.
With this in mind and following on from last issue's test, we're looking at the trousers to match. You'll notice that laminated trousers are a fair bit more expensive than their three-layer counterparts and that's down to the increased manufacturing costs, but we've brought you eight pairs of pants from across the price range, starting at £115 and ranging all the way up to £600.
When it comes to textile trousers, whether you're opting for the three-layer kind or laminated, the most important thing to consider is the fit. As us bikers come in different shapes and sizes, and manufacturers don't sing off the same sheet when it comes to sizing measurements, it's often the case that some trousers fit better than others.
The overall cut and fit will largely determine how comfortable they are for you to wear, and in turn how comfortable you are in the saddle. Bad fitting pants will dig in, ride up or drag along the floor, and if you want them to be as effective as possible it's worth getting the fit right. With this in mind, we always recommend heading down to your local bike shop and trying on the kit you're considering buying so that you can get a feel for how well it fits you.
Aside from the fit, other things worth considering are whether the pants have enough pockets to suit your needs. We like it if they have a zippered thigh pocket to allow for easy access to cards/ cash on toll roads, and it's essential that they also feature hip pockets. The zips on these pockets should be protected by a substantial storm flap, and if they're not then they should be of the water resistant type.
You'll find that most of the laminated trousers in this review come with armour inserts included. These will provide the impact protection you'll need if you're unfortunate enough to come off your bike and it's essential that these are CE-approved (level 1 is OK, level 2 is preferred) to ensure that they're up to standard. Armour should be removable so that the trousers can be put through the wash.
As with most of the tests we perform here at ABR it's pretty obvious that you get what you pay for, though there are some exceptions when it comes to laminated trousers (the brilliant Klim Overland pants come to mind). So, with that in mind, let's move on to the reviews!
---
What is a waterproof membrane, and what on earth is breathability?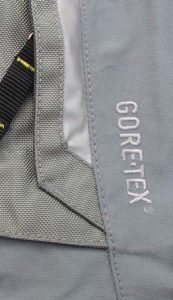 Simply put a waterproof membrane is a very thin sheet of tough, durable material with pours that are too small to let water droplets through. This is either incorporated into motorcycle gear in one of two ways; as a detachable liner (as seen in three-layer systems) or it's bonded (laminated) to the inside of the outer fabric.
The membrane that most people will be familiar with is GoreTex, but there are other equally good membranes on the market.
When the term breathability is used it refers to a waterproof membrane's ability to allow moisture particles to escape from the inside of a garment, preventing the wearer from getting wet from their own sweat. When it comes to breathability it's worth bearing in mind that while a membrane may well be breathable in lab conditions, it's unlikely that you'll experience those same conditions while riding. The best way to prevent yourself from getting wet on the inside is to master the effective use of the ventilation provided on your garments.
---
Dealing with abrasion
If you have an accident there are three things that could happen. You're either going to slide, tumble or both, and the outer material of your trousers has to deal with this. CE-rated armour takes care of the tumbling and impact whilst the fabrics of the outer shell will help protect you from the abrasion caused by sliding down the tarmac.
CORDURA® fabric is what many of the most respected brands use when they need to make a product that's durable, versatile and reliable. It is a variety of nylon which is extremely tear and scuff resistant and its strength to weight ratio is very high.
Kevlar, as an aramid fibre is best used when heat will be an issue, like when you're sliding down the road and generating a lot of friction. Aramid fabrics have very high melting points so they help protect the skin from burns associated with friction.
You'll notice that some of the trousers on test use Armacor in the outer material. Armacor is a high-tech Kevlar and Cordura weave used on the crash zones of top of the range motorcycle garments. Armacor offers superior abrasion resistance to many standard textiles and provides a desirable combination of strength, durability and weather protection.
Not all products on test incorporate Armacor technology though. Those that do are Rukka, Dane, REV'IT, Klim and Touratech.
---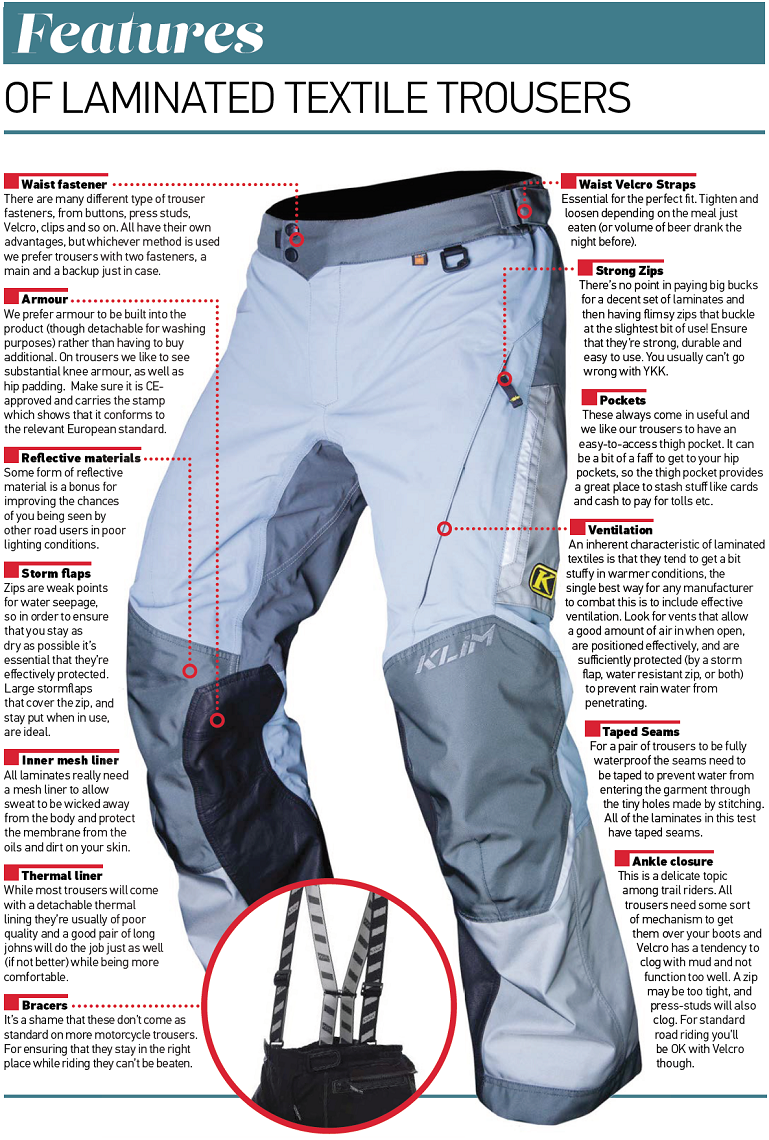 ---
Tucano Urbano Panta Urbis
£115.99 | www.tucanourbano.com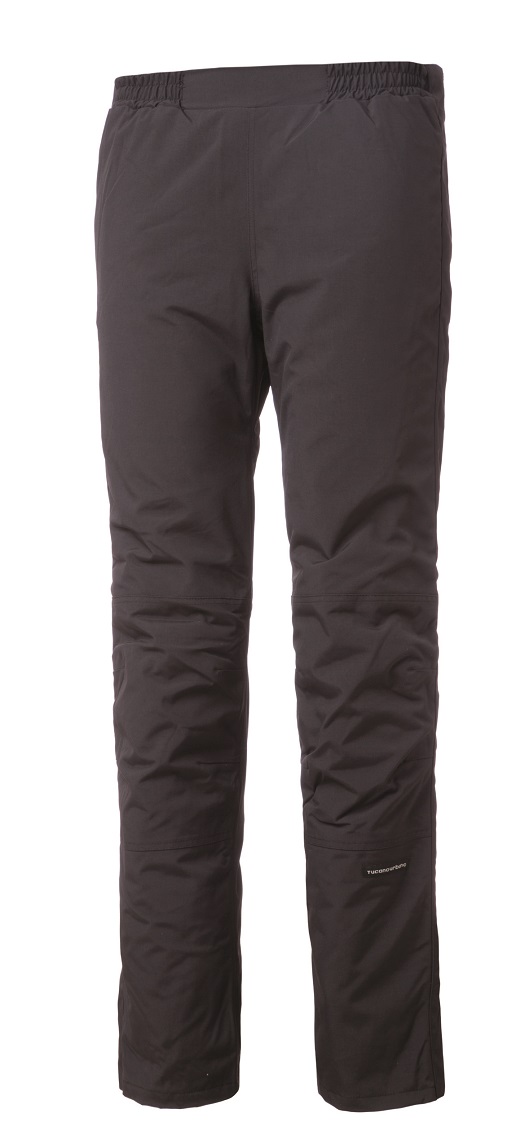 I was really looking forward to wearing these after testing the Tucano Urbano Diluvio waterproof over jacket, I was thoroughly impressed by the waterproofs and picked up the Panta Urbis with high expectations. My first impression, based on price alone, was 'what a bargain'. Though as with most things in this world, you really do get what you pay for.
Both legs on the Panta Urbis have a zip extending the length of the outside of the leg and this is protected by a full-length storm flap. They literally unzip in half so that you end up with a front half and a back half. An included, removable thermal liner is attached by buttons and press studs all the way down each leg. While I can see the use of a full-length zip for ease of putting the trousers on, for it to have a zip all the way down the leg, even with a storm flap, doesn't seem logical. On extended rides in the rain, water will enter.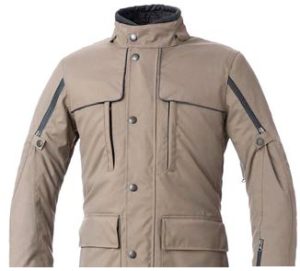 You get an elastic waist but there's no adjustment whatsoever and the Panta Urbis are supplied without armour as standard. The good news is that there are internal knee pockets where additionally purchased armour can be inserted. Beyond the laminate, there is a fixed liner, though unfortunately, this is not a mesh liner. My legs felt sweaty and clammy during testing and I'm sure this would not have been the case with a mesh liner that would wick sweat away from the skin.
So, who would these trousers be suitable for? Tucano are very popular in the Italian scooter market and it's obvious that these pants are designed for a business person who commutes on a scooter. Instead of having to put a wet foot through a normal trouser leg, which may result in wet or dirt on your suit, simply unzipping the Panta Urbis fully and moulding the trouser around your leg before zipping back up would get round this.
As simple as that sounds, it is not so easy in practice. In my test, it required two people to do this, one to hold, one to zip.
But it's time for a bit of a reality check, it's hardly fair to compare this product to alternatives costing three times as much in a like for like test. You do get what you pay for and in the event of a brief shower, they do the job required of keeping you dry. But if you're looking for a pair of laminated textile trousers for more serious use, we'd look elsewhere.
In a line: Good for commuting, but you get what you pay for.
ABR Rating: 5/10
| | | |
| --- | --- | --- |
| Velcro adjustment | The zips extend the length of the leg | Detachable thermal lining |
---
Klim Overland
£359 | www.adventure-spec.com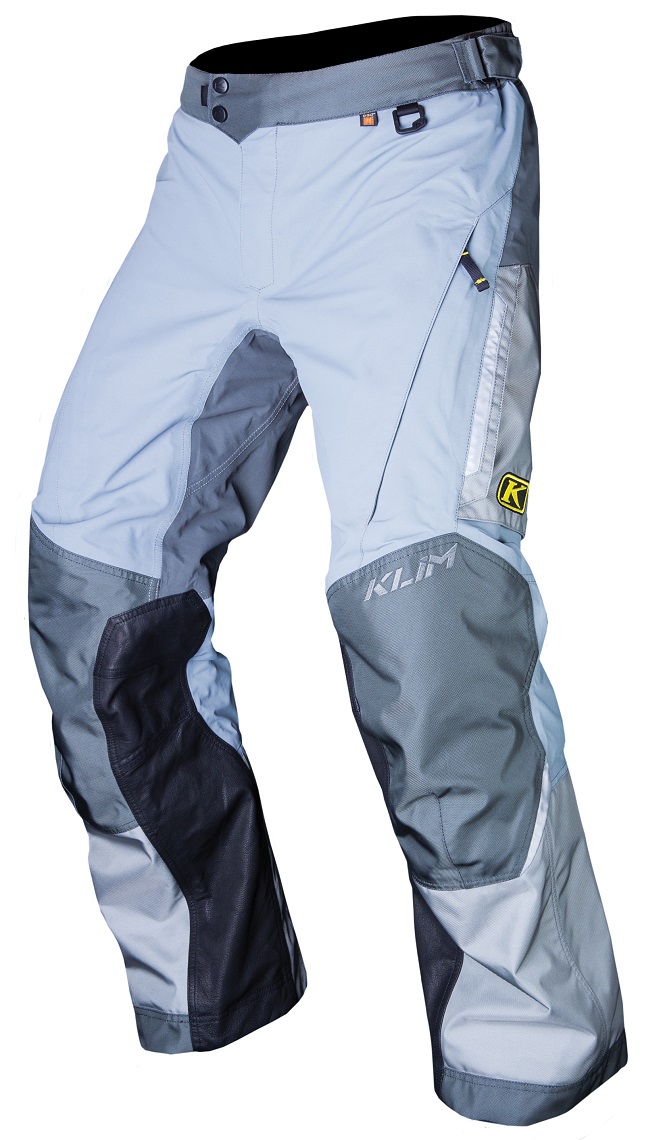 When it comes to laminated kits, one of the first brands that comes to mind is Klim. The American company has a great reputation for its laminated textiles and in the last issue of Adventure Bike Rider we had the pleasure of testing the Overland Jacket, which won our 'Best Budget Buy' accolade. The trousers we have in for this review are the second half of the Overland suit and if the jacket is anything to go by then they'll offer exceptional value for money, fantastic performance and great comfort.
I must admit that I am a bit biased when it comes to Klim trousers having owned, worn and enjoyed a pair for the past two years. The Overland trousers look fantastic; they are fairly lightweight and come in either black or grey with the option of choosing a standard or long leg. At 6'4" the long leg fitted me perfectly.
The trousers have a host of technologies and features included and you get a GoreTex Pro Shell Armacor fabric, 3M Scotchlite reflective material to help make you more visible and CE-approved D30 impact protection on the knees and hips. The Scotchlite reflective material runs as strips on each leg, a strip on each thigh and a small patch on the knee area; a good amount of coverage. All armour contained is in pouches that are easy to access and you are able to remove the armour if required.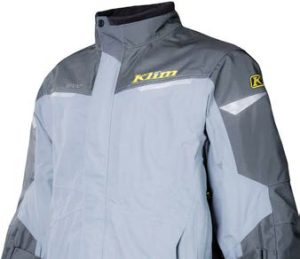 The trousers have a Velcro-adjustable waist and they come with two press studs to fasten, a great feature as I always like a backup in case one fails. There is a large leather patch on the inside of the boot for protection from the exhaust and this is a good addition as I've managed to burn holes in this area before.
In terms of ventilation, the Overland pants excel, the legs have two air intake vents on the front and two exhaust vents at the rear allowing a great, cooling cross-flow of air in use. There are two large thigh pockets and all zips come with tags to allow easy use even when gloved up. The leg fasteners for over the boot are Velcro which is a bit of a letdown as they become clogged with dirt very easily, causing them to fail and flap around.
The trousers aren't supplied with any sort of thermal liner and while that's not such a bad thing for the price, some will be disappointed in the omission.
In a line: Great looking, great value, great performance: best in test.
ABR Rating: 8/10
| | |
| --- | --- |
| Heat resistant panels | Large ventilation points |
---
Dane Lyngby Gore Tex Pro
£300 | www.daneclothing.uk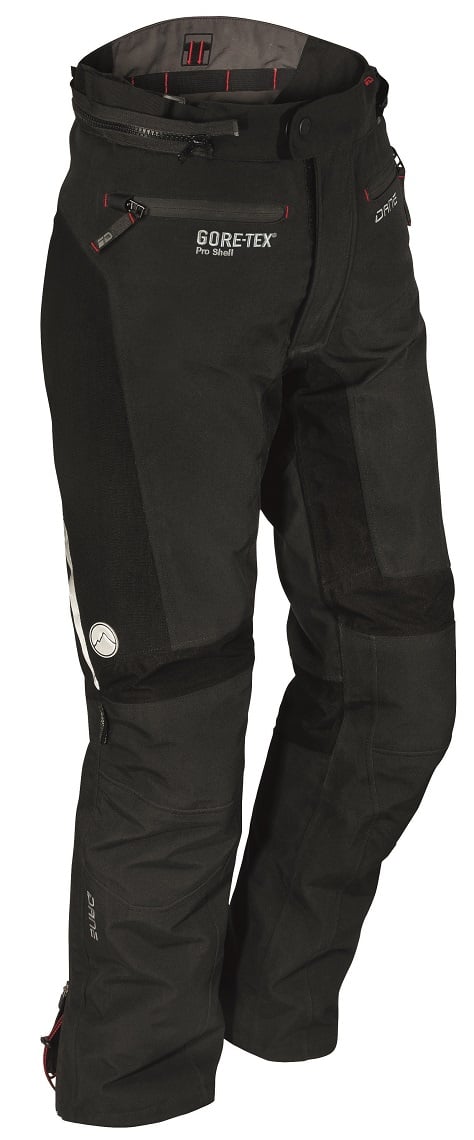 While Dane is relatively new to the UK we've been testing the company's kit quite a lot recently and if there's one thing that stands out about the brand and the products on offer it's that it offers kit that's technically great, but at reasonable prices that won't make you wince so much when you open your wallet. For this review, we have Dane's highest spec laminated textile trousers, the Lyngby pants. Being the highest spec in their range also means they carry the highest Dane price tag, but I think this is reasonable considering what's on offer and when compared to others in this test.
The Dane Lyngby trousers are made using quality components exactly where they are needed. They have Armacor panels on the sides, knees and seat for extra abrasion resistance and extra wear-resistant leather patches on the seat for comfort. Impact protection is provided by CE-approved SASTEC armour on the knees and there's the provision to add hip panels if you wish. You also get adjustable Velcro waist straps to ensure that you get the perfect waist fit. The single magnetic press-stud waist fastener is easy to use, though we would have preferred a backup method of securing the waist.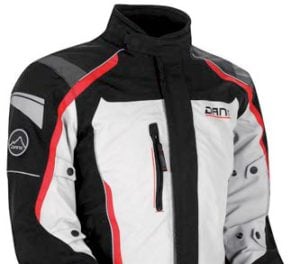 There is a drawstring toggle behind the ankle expansion zip and this enables the bottom of the trousers to be secured to your boots to prevent the material from riding up when moving from sitting to standing position and back again. This is a feature that we've only seen on the Dane Lyngby and I like the idea and it works well, though I have to wonder how long the drawstring will last for.
The trousers on test were a long leg, and where long length pants have usually fitted me spot on, these dragged on the floor, so be warned and note that it's probably best to try these on first. With the insulating liner removed they're pretty lightweight and unrestrictive and will make a great pair of trousers for enduro and adventure riders.
All in all, I like these trousers. I was very comfortable in them, they're extremely lightweight and I consider the price to be right considering the quality and specification.
In a line: Well-priced and a good alternative to the KTM HQ Adventure.
ABR Rating: 8/10
| | | |
| --- | --- | --- |
| Zips with easy-to-use pulls | Drawstring secures pants to boots | Plenty of ankle adjustment |
---
KTM HQ Adventure Pants
£411.68 | www.ktm.com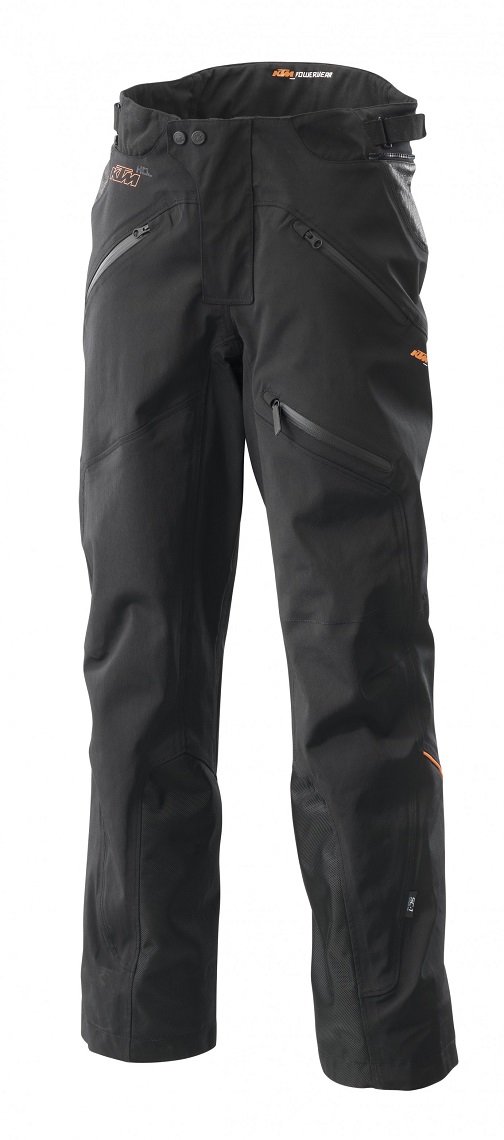 While KTM is well-known for its ready to race motorcycles, the Austrian brand also produces a very well specced range of clothing and have even expanded into non-bike related products. In the last issue of ABR we checked out the KTM HQ Adventure Jacket and rated it 9/10, but how do the matching trousers measure up?
I chose to wear these trousers above all the others on test on a recent ten-day Euro trip where I'd be riding a mixture of tarmac and trails. While the HQ Adventures come with a Sympatex membrane to keep the wet stuff out, I was a bit apprehensive as they do not have any vents, and I expected temperatures to top 30C. Throughout the course of the ride, they endured hours in the saddle and bore the brunt of a few falls on rocky trails. My legs did not get overly sweaty despite the lack of vents, with the built-in mesh liner doing its job perfectly and wicking the sweat away from my skin.
The HQ Adventure Pants come with built-in SAS-TEC armour at the knees and hips and this was adequate for the trip and it did not feel restrictive. It's worth noting, however, that the protection on offer is not as substantial as that which can be found in some of the other pants on test. You also get a removable thermal lining which works well, but the trousers fare better without it attached as they're less bulky and restrictive.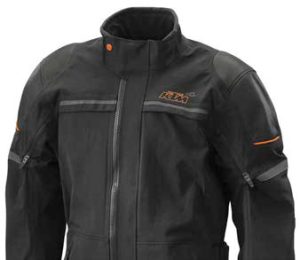 The lads with me commented that the HQ Adventure Pants looked like drainpipes, highlighting the snug fit of them. This isn't necessarily a bad thing, though, as the material doesn't flap in the wind at high speed. The thigh pocket on the left leg is a great feature and is ideal for keeping loose change in for tolls, and it has a water-resistant zip to help keep the water out.
The ankle zip was my only real concern; it is very difficult to fasten over biking boots and when zipped, the trousers rode up easily. With the ankles riding up they looked a bit odd and felt slightly uncomfortable when standing on the pegs. These pants are what I'd class as more of an enduro/adventure trouser.
They are as at home on the trails as they are tarmac and aside from the troublesome ankle zips the only other potential downside is that they are KTM branded and this may count a lot of 'non-KTM' people out but to discredit a pair of trousers as good as these because of the branding would be a shame.
In a line: Fantastic lightweight trouser with many benefits.
ABR Rating: 7/10
| | | |
| --- | --- | --- |
| Easy access thigh zip | Ankle zips difficult to do up wearing boots | Waist fastening system |
---
Klim Badlands
£525 | www.adventure-spec.com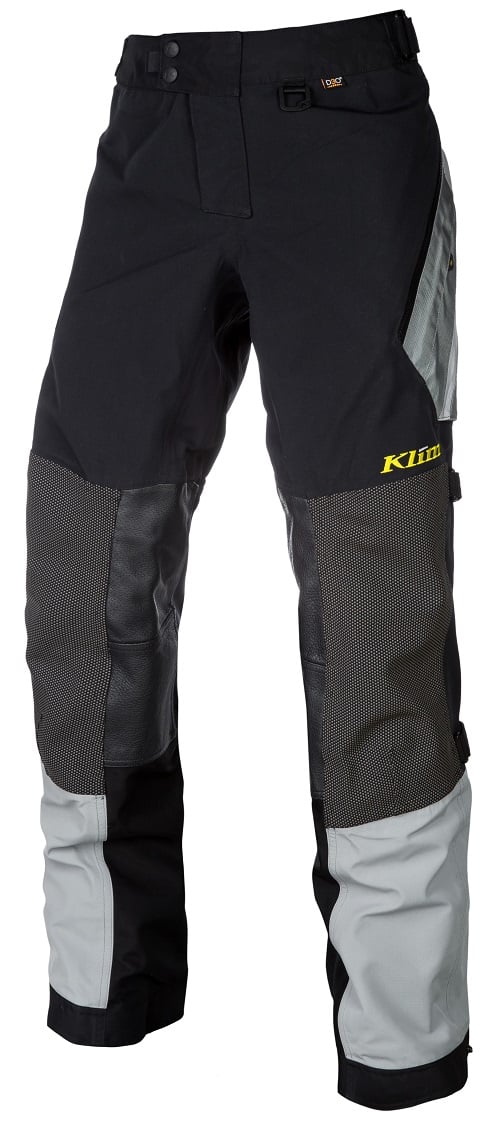 The second trouser in this test from Klim are the Badlands Pro. These are the third most expensive model on offer from Klim after the Adventure Rally and Adventure Rally Air. The Badlands trousers look absolutely fantastic and so they should with such a high price tag.
These are another great pair of trousers and they offer more substantial protection than the Kilm's budget option, the Overland trousers. Despite this, I question whether the additional benefits are worth the extra £166. The main differences are the more substantial armour protection with the addition of a foam pad on the rear of the trouser.
There is a zip to attach the trousers to a jacket (to form the Badlands suit, of which the jacket was highly recommended in the last issue of Adventure Bike Rider being rated 9/10). The Badlands have a more durable material than the Overland, especially on the seat (Armacor fabric) and knees (Talisman super fabric, an extra abrasion-resistant material).
The ankle of the legs have a zip fastener with three press studs to secure at the base and this is a fantastic feature and it's a shame the cheaper models do not have this. There are larger Scotchlite strips on the rear of the legs and longer strips on the hip areas. The most significant difference to the Overland is the Velcro straps above and beneath each knee, these help secure the knee armour in place and keep it exactly where it is required.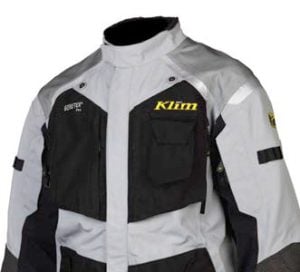 Aside from that, the Badlands trousers' features are much the same as can be found in the Overlands, these being the adjustable Velcro on the waist, two intake vents and two rear exhaust vents (and these provide a fantastic cross-flow of air when utilised), two large hip pockets, and two press stud waist fasteners.
For the price you'll be paying it's disappointing to note that the Badlands do not come with a thermal liner included.
So, back to the question, are these really worth an additional £166 over the Overland? If you have the money then I would say yes for the superb added protection on offer.
That being said, the Overland trousers are extremely well priced when compared to everything else in this test and for this reason they pip the Badlands in the scores.
In a line: Fantastic but expensive when compared to the Klim Overland.
ABR Rating: 8/10
| | |
| --- | --- |
| Velcro holds the knee armour in place | Plenty of ventilation |
---
Rukka Armaxion
£550 | www.tranam.co.uk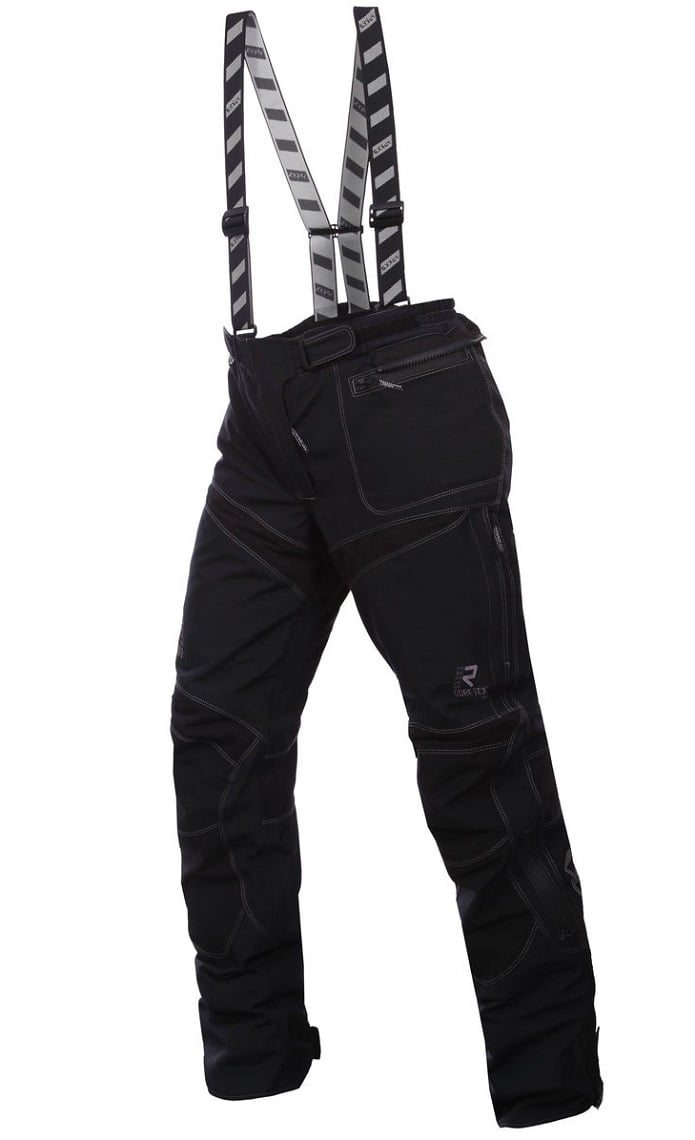 Rukka develops and manufactures technical and functional garments made from high-quality materials for leisure activities including motorcycling, golf, downhill biking and sailing, and interestingly, the company produces pet clothes, which is a bit of an oddity! This review is for the Rukka Armaxion trouser which is towards the top end of their textile range. In the previous issue of Adventure Bike Rider we tested the Rukka Armaxis jacket and awarded it a rating of 9/10.
The Rukka Armaxion really are a substantial pair of trousers. They look great, feel great and you can instantly see that they are a quality product. As you would expect from any motorcycle kit that sports the Rukka brand name, they also sport a high price tag but rest assured, if you can afford these you'll be buying some of the best textile pants on the market.
Rukka has obviously spent a lot of time developing these pants and deciding on what features a quality pair of laminated trousers should include, and then they've decided to put everything they found into the Armaxion. They're packed with top-of-the-range technologies including, Gore-Tex ProShell, Armacor and 3M Scotchlite to name but a few.
I'm not sure they'd be my first choice if I were to throw them down a trail, or if I was doing some extensive off-road riding, but for touring they're up there with the best. Suffice to say, if I was to head off on a road trip around Europe tomorrow these would sit at the top of my list.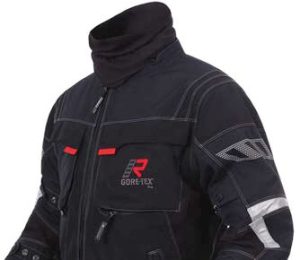 There's no denying that they are a bulky pair of trousers but I would put this down to the more substantial-than-usual built-in armour.
The Armaxion pants have large CE-approved knee and shin pads along with hip protectors. The substantial knee pads were kept in place when sat and stood on the bike which is perfect.
There are two easy-open vents on the legs and these work well at keeping the air flowing on warm days.
The trousers come with bracers as standard which is a great feature to keep the trousers up and in the right position, a feature we wish more textiles would come with. They have a very high waistline which could take some getting used to if you are more used to an enduro-style trouser.
I was testing the long leg version and can confirm the long leg really does mean that.
In a line: A really quality product but with a high price tag.
ABR Rating: 9/10
| | | |
| --- | --- | --- |
| High waistline but useful braces | Substantial knee armour | Large reflective zones |
---
Rev'it Dominator GTX Pants
£589 | www.revit.eu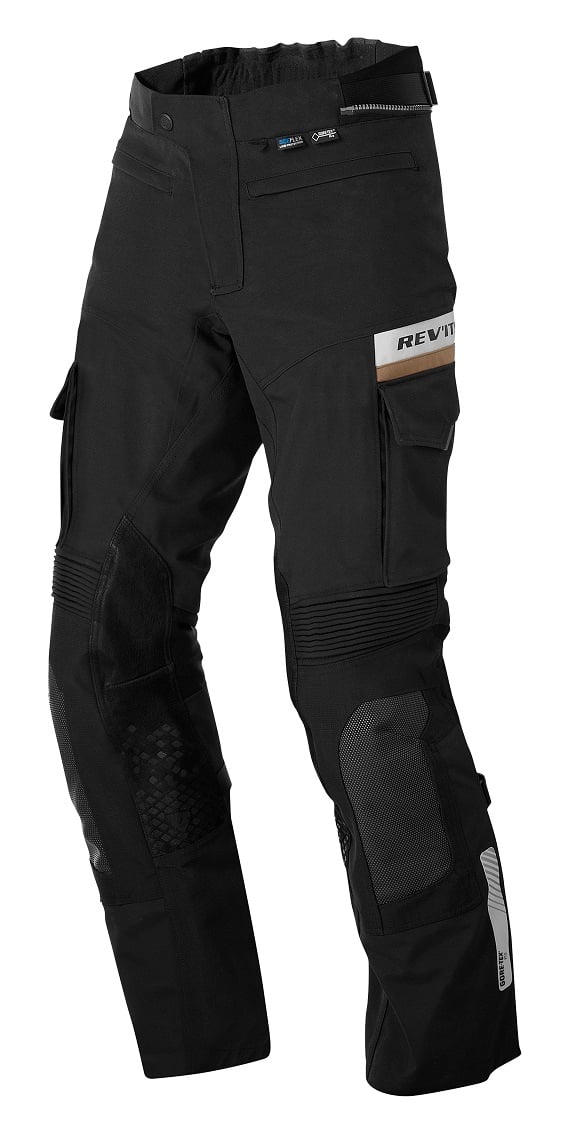 In the last issue of Adventure Bike Rider magazine, the Rev'it Dominator GTX jacket was awarded our 'Highly Recommended' accolade, impressing on pretty much all levels. To complement the jacket, Rev'it also has the Dominator GTX trousers, but how do they compare to the others in this test, and do they live up to the high standards set by the jacket?
There's no denying that these are a substantial pair of trousers with a high price tag and they seem to have every technology that you could desire included in them. You get a top-quality three-layer Gore-Tex membrane, CE-level 2 armour on the knees and CE-level 1 hip protector inserts.
The overall quality of the pants is excellent, however, I was a bit put off by the fit, especially the big and restrictive CE-approved knee/shin armour. They offer the largest protection area on test but the pads felt a tad uncomfortable when both standing and sitting. That being said, I certainly knew the armour was there and would no doubt be grateful of it in the event of an off.
I was surprised not to find a thermal liner included, especially as all others on test came with a detachable one, though we can cope with that as we usually use our own anyway. The Dominator GTX comes in either black, or black and grey and I would go as far as saying that the black trousers are the best-looking motorcycle pants that I have seen, everything comes together to make a really stylish piece of kit.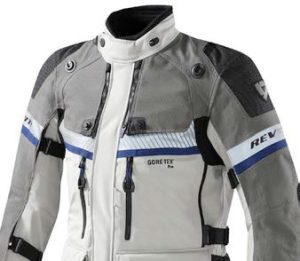 Looks aside, and as well as the two standard pockets on the waist you also get two thigh pockets, though these are positioned in a slightly awkward position and they are not directly accessible when sitting which is a real shame. While the Dominator has a single waist fastener, which works well, I'd like to see a second fastener included as a backup, just in case something goes pop after a large lunch.
While the Dominator jacket impressed with its amount of ventilation, it's disappointing to note that there are no ventilation points on the pants, a strange omission.
Just above the boot line, there is a strap at the rear of each leg and this is simple to tighten and holds the top of the trousers in place leaving the bottom of the trousers to rise and fall over the boot when standing or sitting on the bike. The result is a great fit and knee pads that are held in place where they need to be.
In a line: Fantastic looking trouser (especially in black) offering vast amounts of protection.
ABR Rating: 8/10
| | | |
| --- | --- | --- |
| Nice thigh pockets, a little difficult to access | Very effective ankle adjustment | Straps hold the armour firmly in place |
---
Touratech Campanero Boreal 8/10
£600 | www.touratech.co.uk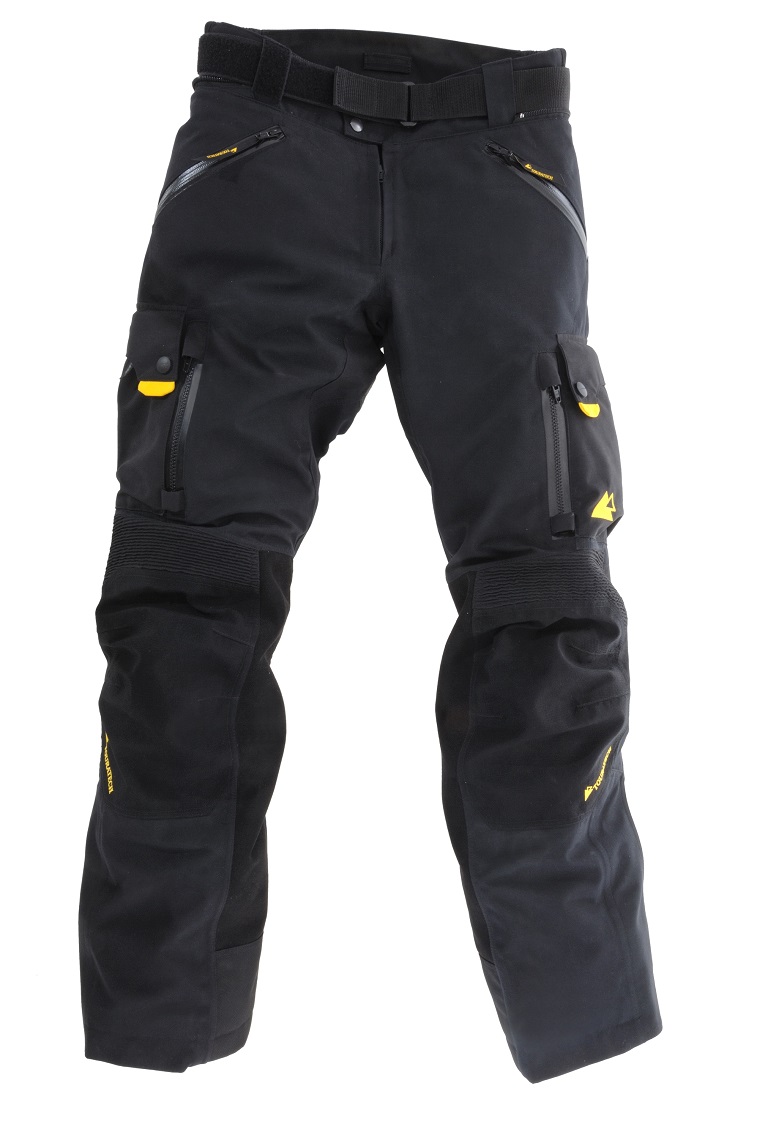 Touratech is well known throughout the world of adventure motorcycling for its extensive catalogue of quality motorcycle and travel accessories. While the brand's luggage and aftermarket parts form the majority of products on offer, Touratech also has a brilliant clothing range and in the last issue, we took a look at the Campanero Boreal Jacket, a highly specced and very well-featured piece of kit. For this review, we have the pants to match.
At £600 these are the most expensive trousers in this test, coming in at just £11 more expensive than the Rukka Armaxion, and they're available in one colour (black) with the choice of three leg sizes (short, standard and long). For the high price tag, you do get a hell of a lot of kit, including a three-layer Gore-Tex Pro Shell laminate, Armacor reinforcements in high wear areas, and CE-level 2 approved SAS-TEC armour in the hips and knees.
You get an included thermal liner and this is well made and easy to detach if required. They come with useful braces as standard, a great feature, and you also get a belt with a Velcro fastener which allows you to have a great amount of adjustment to get the right fit.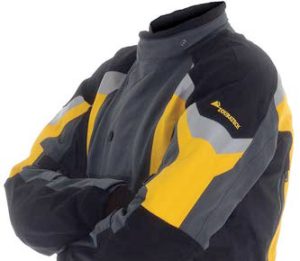 The pants can be zipped into the jacket via a zip on the rear to form the full Campanero suit, and you get two waist pockets and two larger, ever-useful thigh pockets. A feature that I particularly liked is the ankle expander zips with the addition of Velcro to secure the bottom in place over your boots.
Ventilation is provided via two well-positioned intake vents which are complemented by a further two exhaust vents to allow for a cooling cross-flow of air. The SAS-TEC armour is large and reassuring and I can vouch for its usefulness after taking a few falls while testing the Boreal Trousers.
I also got to experience the Armacor in action, doing its job at resisting abrasion during my slow speed slide. You also get Scotchlite reflective material on the lower legs to aid with visibility.
I have to say that I really do like these trousers and they tick a lot of the boxes that I look for when wanting to purchase, but the high cost really counts against them when there are cheaper brands which effectively do the same thing. The big question is are they really worth the price tag that they command? Only you can make the decision on this depending on your budget, but one thing's for sure if I had £600 to spend then these would be at the top of my list.
In a line: Great quality product but most expensive on test.
ABR Rating: 8/10
| | |
| --- | --- |
| Aquaseal zips throughout | Plenty of ankle adjustment |