In a world where we've been told that the all-in-one jacket is best, Bryn Davies reckons that laminates are the way forward. In this issue of ABR he's tested eleven of the best
While the scientists of CERN are trying to get a better understanding of particle physics by smashing atoms together in the Large Hadron Collider, we've been trying to make sense of manufacturers' insistences that we need all-in-one, three-layer jackets if we're going touring. That is an outer jacket, a removable waterproof, and a removable thermal layer – usually in that order. It's easy to understand the thinking behind it, you can remove the waterproof when it's not raining and the thermal liner can be left in the wardrobe when it's summer – but the design is inherently flawed for a few reasons.
It makes very little sense to have a waterproof liner that sits in the middle of the three-layer construction. When riding in heavy rain it allows the outer of the jacket to quickly get saturated with water, which in turn gets heavy and cold – not so bad if you're riding in summer, but in winter it can lead to the rider experiencing dangerously low temperatures. Conversely, when riding in summer and you want to open up those vent, the effectiveness of them is limited as they're being blocked by the water(and wind)proof middle layer!
Of course, the solution is to then take the mid-layer out when it's not raining, but that means you have to make sure you've got it with you if there's a chance of rain – then you've got to go through the ball ache (all on the side of the road) W of attaching the mid-layer and making sure it's watertight. This is where laminated textiles come in.
A laminated jacket will have the waterproof membrane bonded to the inside of the outer, protective layer. This means you've always got it with you and, if you're caught out in a downpour, while the outer will eventually get saturated it won't be to the extent that it would in a three-layer system. Laminated jackets are also far less bulky and cumbersome than their three-layer counterparts.
Manufacturers will point out that it's a costly process to laminate a waterproof membrane to a jacket, and then to have all the seams taped, and this is rightly represented in the price of laminated jackets – the quality examples in this test reaching as high as £1,000.
Where laminated jackets may fall short is in the fact that they can tend to get a bit stuffy in warm weather. The single best thing a jacket can feature if you intend to use it in warmer climets is effective ventilation points. While not so critical when riding around Warwickshire on an autumn evening, if you're planning on riding the dunes of Morocco or even the South of France in summer, you'll want to make sure you've got as much ventilation as possible.
And so we've rounded up eleven of the best-laminated textile jackets out there and put them to the test. The prices range from £150 to £1,000, but there's one thing that you can be sure of when it comes to this type of kit, you certainly get what you pay for.
---
What is a waterproof membrane?
Simply put a waterproof membrane is a very thin sheet of tough, durable material with pours that are too small to let water droplets through. This is then either incorporated into a jacket in one of two ways; as a detachable liner (as seen in three-layer jackets) or it's bonded (laminated) to the inside of the outer fabric (as seen in the jackets on test here). The membrane that most people will be familiar with is Gore-Tex, but there are other, equally as good membranes on the market. Where Gore-Tex offers more is in the way that any product that uses Gore-Tex will be stringently tested to ensure that it reaches the high standards that the company sets.
---
A word on breathability
Breathability is the Holy Grail of all garment manufacturers and the buzzword for clever marketers and sales assistants. Unlike the hydrostatic head measurement on a fabric (which indicates how waterproof a garment is), you'll not find any meaningful measurements which indicate how breathable a fabric is, other than PR fluff along the lines of 'keeps you dry on the inside' and 'guaranteed breathable'.
There is currently no test undertaken that replicates the breathability of a fabric as it's going to be used in practical, day to day situations and conditions. When a jacket is marketed as 'breathable' the term is given as a result of readings from a static mannequin in lab conditions. In the real world, breathability is inhibited dramatically by varying factors, to the point where it's not even worth considering.
When a fabric wets out (which it will do if used in rain for long enough), when the fabric is anything other than showroom clean or when the fabric is blocked by armour and various things like items in your pockets, breathability is severely impaired. It is also proven that for a fabric to breathe there needs to be a pressure difference between the condition on the inside (hot and sweaty) and those on the outside (dry and cold). In other words, a jacket is only going to be breathable if it's squeaky clean, dry, uninhibited by armour and the riding conditions are akin to those that you'd find on top of Mt Everest.
Should you find yourself riding on a dusty road in the UK however, not so breathable. If your jacket isn't going to breathe, what's the best way to make sure you don't drown from the inside out? To master the effective use of your ventilation.
---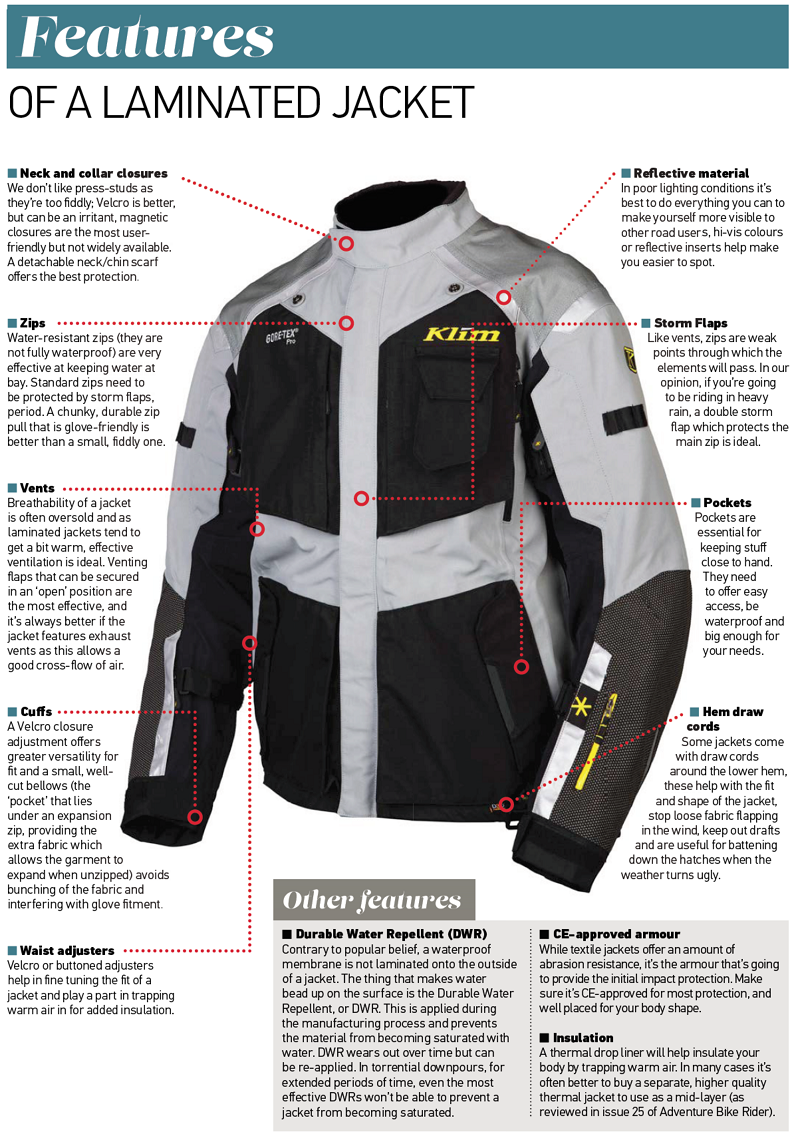 ---
Tucano Urbano Ermes Jacket
£199 – www.tucanourbano.com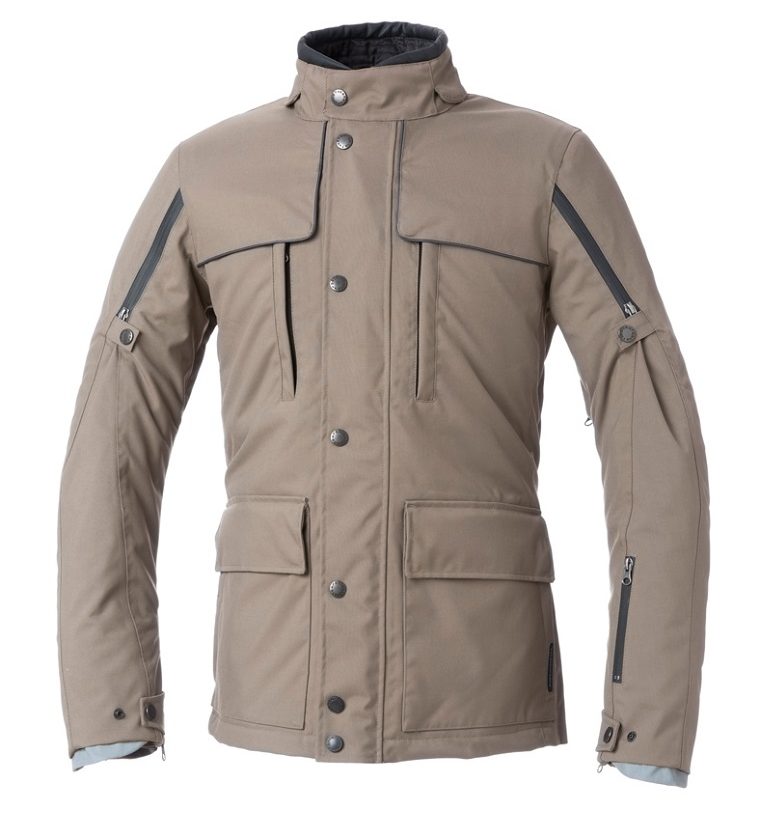 Since 1999, Tucano Urbano has mostly targeted the urban motorcyclist, with inner-city scooter riders being their main consumers. In 2012 the brand changed its focus to target the idea of 'total mobility, any time, any road, any lifestyle', which leads us nicely to the Ermes Jacket.
The Ermes is a 3/4 length textile jacket and at £199 it's considerably cheaper than the other laminates in this review. It includes D30 elbow and shoulder armour (you can add a back protector), removable thermal lining and a few handy features for casual riders who are likely to wear the jacket as much off the bike.
The Ermes features a 'Find It Easy' system across 13 pockets which has been designed to help you store all of your bits and bobs easier (pockets are labelled with the items that they're designed to carry, though as a grown-up you can make the decision yourself). A number of vents across the jacket make it great for riding in warm weather, while the mesh liner will wick moisture away from the body. In terms of looks, the jacket has a great, casual styling to it and won't look too out of place once you're off the bike and hoofing it around town.
For all the good points of the Tucano Urbano Ermes Jacket, there's a glaring design flaw that takes it out of the running if you're looking for a fully waterproof jacket. While the Hydroscud membrane has been laminated to the outer, there are two chest pockets that feature standard, non-water resistant zips, and these aren't backed by the waterproof lining. When riding in rainwater will enter these areas and soak through to the inner, getting you wet.
In all, the Ermes is a nice budget laminated jacket that's unfortunately been let down by poor design. If you could guarantee that you won't be riding in rain then it's a cool looking jacket, but that defeats the object of a laminated jacket.
In a line: Budget jacket, but it leaks
ABR Rating: 5/10
| | | |
| --- | --- | --- |
| The leaking pockets | Quality D30 armour | Back pad and shoulder strap |
---
Klim Overland

(Best Budget buy)
£379 – www.adventure-spec.com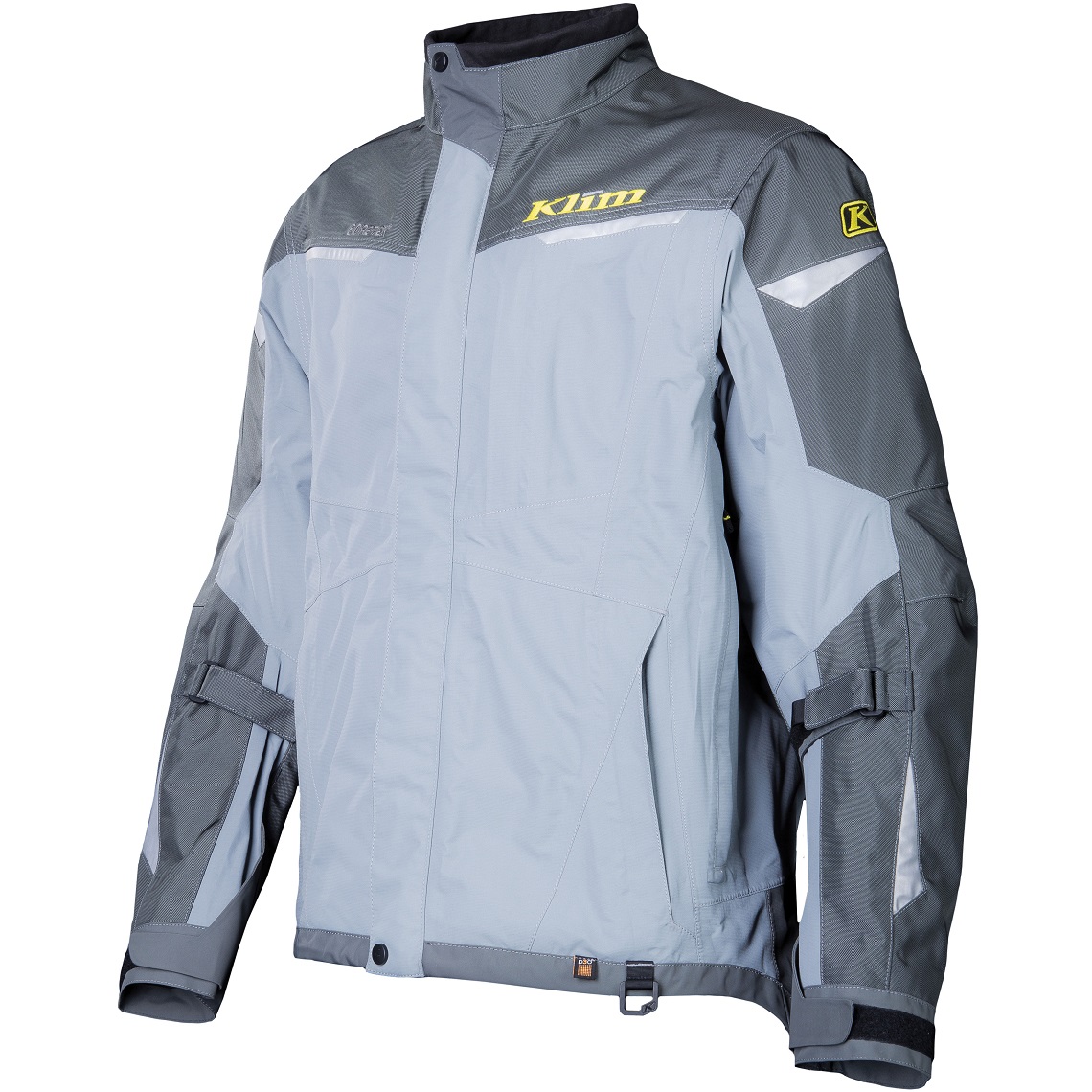 When it comes to laminated motorcycle kit, Klim has a great reputation. For years they've been producing top-quality gear that's recommended by most who wear it. It's a bit odd, then, to consider that a brand with such a stellar reputation is also able to offer the second cheapest laminated textile in these reviews – the Overland. For £379 you get a superb, no thrills jacket with a two-layer Gore-Tex lining, CE-approved D30 armour on the shoulders, elbow and back and the Klim lifetime guarantee.
While the price may be low (compared to other laminates) the quality is not. Our version coming in a two-tone grey colour scheme, the darker grey around the shoulders, extending down the arms, being a hardwearing 840 denier Cordura. This sits in areas that are more likely to see abrasion in the event of an off, and the rest of the jacket is made from a lighter weight nylon material. The combination of these fabrics makes the Overland a very comfortable, light and minimalistic jacket.
The main zip of the jacket is covered by a very effective double storm flap and all other zips (covering vents and pockets) are water-resistant.
Speaking of the all-important vents, the Overland comes well equipped; you get two large side zips that catch the air when riding and two large exhaust vents which allow you to create a good cross-flow of air.
The collar features a soft microfleece lining which makes it feel great against the skin and the mesh inner of the jacket adds further comfort and works to wick moisture away from the skin. If you tend to carry a lot of things on you then you'll find the Overland lacking, with there being only four pockets.
In all, at £379 the Klim Overland is a fantastic laminated jacket that represents great value for money. It's pretty basic but the quality of manufacturing shines through.
In a line: A no thrills jacket that's very well made and offers great value for money
ABR Rating: 8/10
| | | |
| --- | --- | --- |
| Effective double baffle | CE-approved D30 back protector | Great ventilation |
---
Halvarssons Amazonas Jacket
£439 – www.jofama.se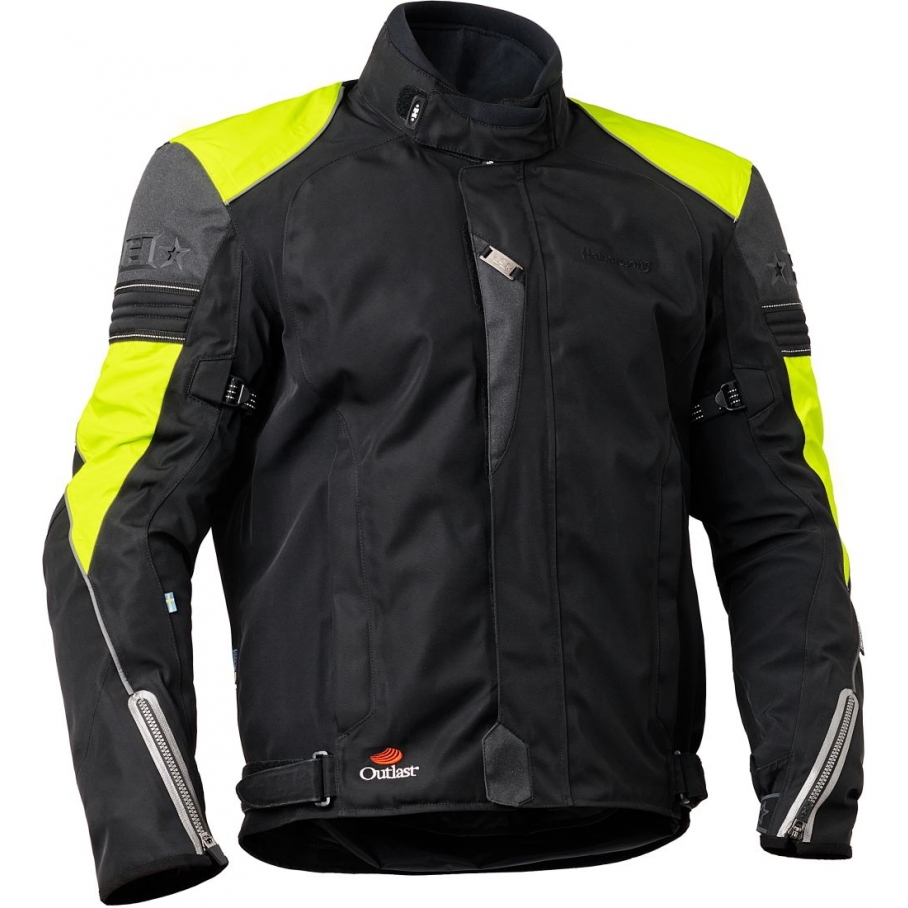 We're big fans of Halvarssons and so we were excited to get our arms inside the Amazonas, the company's first foray into world of laminates. The jacket makes use of the tried and trusted Dryway+ waterproof membrane to provide protection from the wet while a removable Outlast liner helps provide temperature regulation. You also get CE-approved elbow and shoulder protectors while there's the option to add a back protector if you feel so inclined.
The Amazonas feels well made and the Outlast liner is genuinely useful in colder weather. Abrasion areas are reinforced with Hi-Art technology (which has kept me road rash free on a recent off ) and the hi-vis panels are bright yet stylish. The arms, waist and cuffs are adjustable so that you can get a comfortable fit and the cut of the jacket is spot on for the upright position that an adventure bike rider is going to find themselves in.
While the overall quality of construction that we've come to associate with Halvarssons is clear there are a few areas that could be better.
If you're going to be riding in heavy rain for extended periods of time then we'd have preferred to have seen a double storm flap to protect the main zip. Similarly, the hand warmer pockets feature little protection from the elements and once water gets into these it's going to seep through to the wearer.
Finally, we would have preferred more ventilation options than just a single exhaust vent – which makes the Amazonas more suited for winter riding than summer touring.
All in all, the Amazonas is a frustrating jacket. Everything feels good, the high-vis patches are reassuring and the overall styling of the jacket is spot on. Though for its good points there are a few niggles that should be addressed, the single storm flap, the leaking pockets and the lack of ventilation.
In a line: A potentially great jacket with flaws
ABR Rating: 6/10
| | | |
| --- | --- | --- |
| Plenty of adjustment | Leaky pockets | Quality Outlast lining |
---
Dane Osted Jacket
£499.99 – www.daneclothing.uk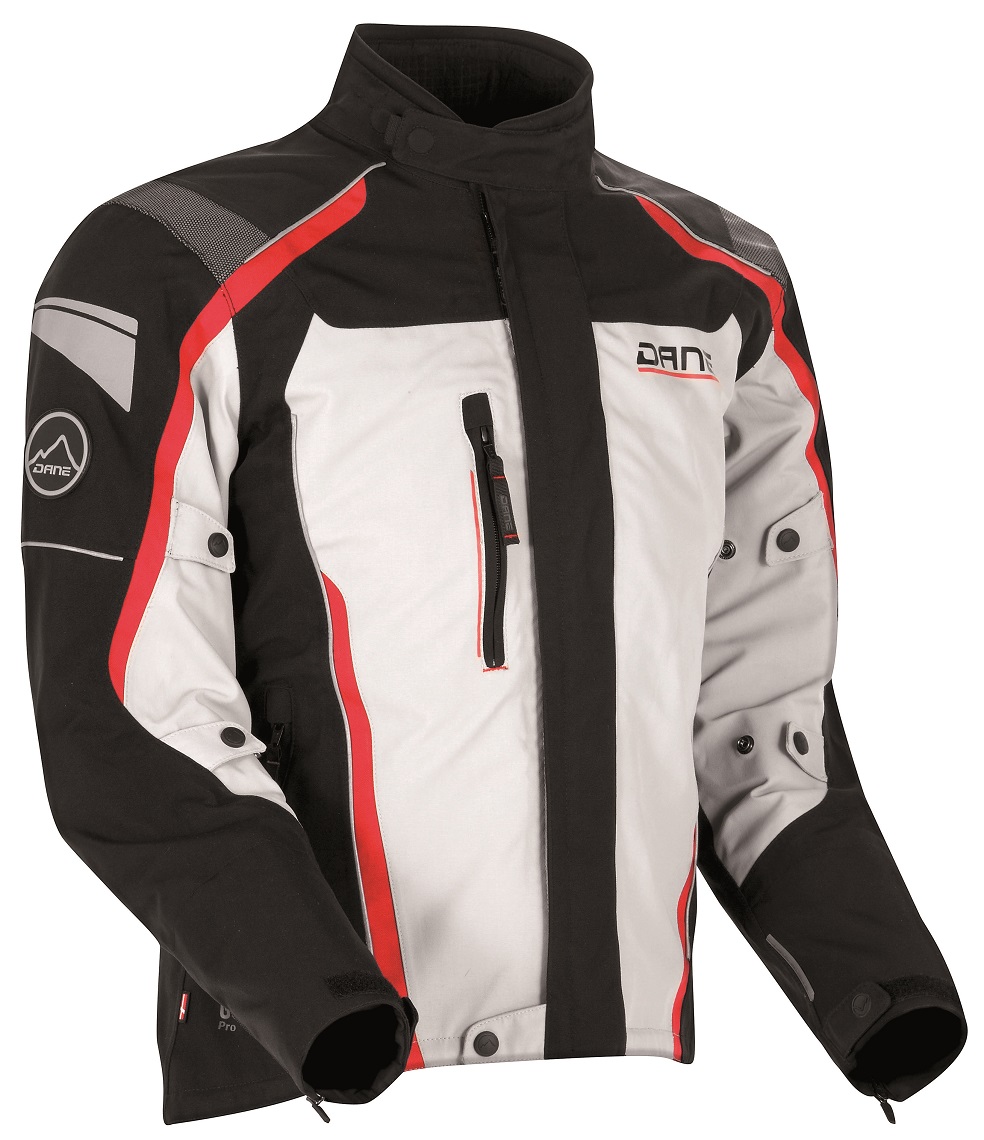 Dane is a relative newcomer to the UK motorcycle clothing market and it's rare that I see a rider clad in the company's kit. That's not a marker of the quality of the products though, and my previous experiences with Dane's kit have all been positive. For this review, we have the Osted Jacket, a laminated textile touring jacket that's been designed for summer use. A Gore-Tex membrane provides waterproofing, a removable thermal liner helps provide an element of warmth, while removable SAS-TEC shoulder and elbow armour provide impact protection.
The outer material of the jacket has been impregnated with a water and dirt repellent to help prevent the material from wetting out and inhibiting the breathability of the membrane. In use this works well, water beading up and running off with no problems.
Reflective Scotchlite panels and piping on the arms and rear help make the wearer more visible in low light conditions and the collar of the jacket is a luxurious microfleece lining for comfort. A superbly effective storm flap covers the main zip so you'll be unlucky to have water penetrate here.
For a jacket that's been specifically designed for summer usage the Osted could do with more effective ventilation options. While you do get a mesh-backed vent on either side of the torso, they're small and ineffective.
We would have also liked to have seen either more effective storm flaps on the pockets, or water-resistant zips being used here – as it is the pockets are free to pool with water in heavy rain and in testing small amounts of water leaked through these areas.
All in all the Osted jacket is a nice entry from Dane. While we would have preferred more effective ventilation and more water-resistant pockets, the jacket is comfortable in everyday conditions and the Gore-Tex does its job well.
In a line: Comfortable to wear and good for everyday use
ABR Rating: 7/10
| | | |
| --- | --- | --- |
| Comfortable collar | Super double storm flap | Great reflective material |
---
KTM HQ Adventure Jacket
£506.53 – www.ktm.com
To compliment KTM's range of motorcycles, the Austrian boys in orange have a clothing line that includes riding gear from helmets and boots to jackets and pants. For this review, we've been using the HQ Adventure Jacket, a laminated textile jacket that comes with CE-approved armour in the elbows and shoulders, as well as a foam insert on the back (though the pouch will accommodate a CE-approved back protector). You get a thin, insulated drop liner and it's actively styled to suit the adventure bike riding position.
First off, the HQ Adventure is a very nice looking piece of kit with just a tasteful splash of the KTM orange on the piping, the neck popper, and the logo. The goatskin leather on areas that are likely to see abrasion in the event of an off not only add protection but also benefit the overall aesthetics as well.
All zips on the jacket are YKK and they're water-resistant to help prevent water entering while the Sympatex membrane that's been laminated to the outer does a great job of waterproofing the textile.
Adjustable waist and biceps allow you to get a good fit whether you're wearing a t-shirt underneath or if you're warming yourself up with multiple layers.
Reflective zones across the jacket also help make you more visible in gloomy conditions.
In terms of ventilation, the HQ Adventure has two, mesh-backed vents down the side of the torso as well as an exhaust vent on the upper back.
This combination helps allow a good cross-flow of air when riding, though if you're going to be in seriously warm conditions you'll be wishing the vents were a bit wider.
All in all, the HQ Adventure is a jacket that KTM can be proud of. Visually it's beautiful, while it also performs well. If you ride a KTM and you want some kit to compliment your machine you won't be disappointed, and if you don't ride a KTM then you'll be pleased that the branding isn't in-your-face.
In a line: Just simply a great jacket
ABR Rating: 9/10
| | | |
| --- | --- | --- |
| Classy leather panels | Tasteful branding | All exposed zips are water-resistant |
---
Richa Touring C-Change
£549.99 – www.nevis.uk.com
Belgian company Richa has been manufacturing motorcycle kit since 1956 and over the years it has become one of the most well-worn brands in Europe. Their entry into this review is the Touring C-Change, a laminated textile jacket that sits itself pretty much smack bang in the middle of our price range. An average price doesn't necessarily mean an average product though, and in the Touring C-Change, Richa has managed to pack a hell of a lot of technology into a jacket.
Most of that technology is the result of a collaboration between Richa and Schoeller, a company that specialises in innovation in the world of fabrics. You get a C-Change membrane, a NanoSphere barrier treatment, a Dynatec outer and Reflex retro-reflective material. All of this combines to make a jacket that's claimed to keep you dry when it's wet, warm when it's cold, cool when it's hot, and visible when it's dark.
The C-Change membrane is bonded to the inner of the outer and the best way to look at it is like a crossbreed of Gore-Tex and Outlast, the membranes work as you'd expect to keep water out but when temperatures increase and the rider starts to sweat, the pores expand to allow moisture vapour to escape.
In preliminary testing, we were impressed by the technology but will be subjecting it to a more thorough, long-term test over the summer and we'll report our findings in the next issue of ABR.
Aside from the inclusion of some fantastic technology you also get a brilliant soft shell mid-layer that is stylish enough to be worn off the bike. There's also D30 level one CEapproved armour in the elbows, shoulders and back, full hip, arm and cuff adjustment and multiple reflective zones to make you more visible in poor lighting.
In a line: A superbly comfortable jacket that's made from some very technologically advanced materials
ABR Rating: 8/10
| | | |
| --- | --- | --- |
| Great double storm flap | C-Change material is exciting | CE-approved armour |
---
Alpinestars Tech Road GTX Jacket
£649.99 – www.alpinestars.co.uk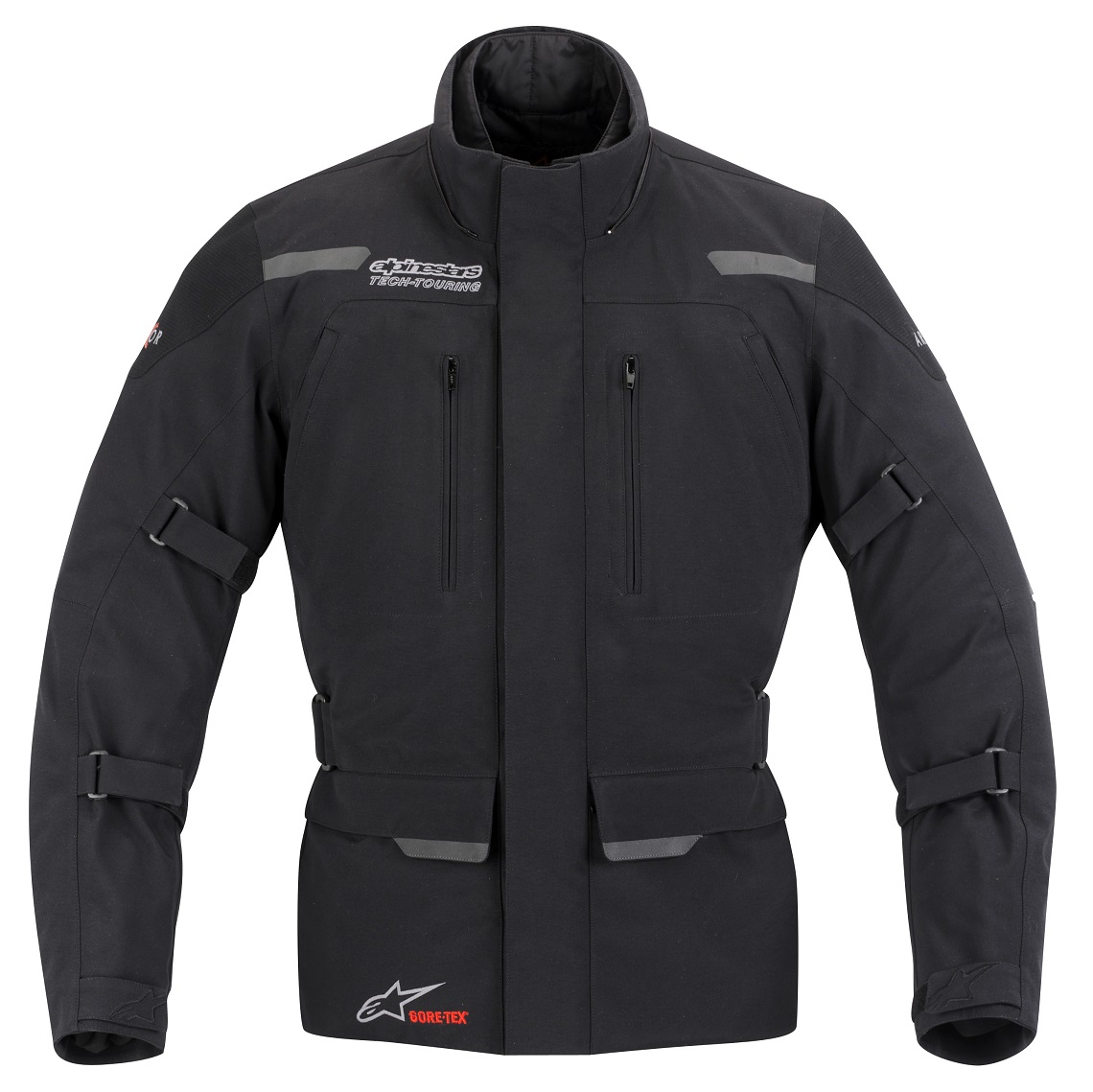 The Tech Road GTX is Italian company Alpinestars' submission to this review and at £649.99 we start to enter the realm of serious money. At prices such as this we start to expect some serious kit, too. The Tech Road has been specifically designed for touring and it features a Gore-Tex ProShell membrane, and the outer has been reinforced with Armacor panels in areas that are likely to see more abrasion if you're unfortunate enough to have an off.
Our usual bugbear with Alpinestars kit is that the sizing is always so far off from what we'd expect, but with the Tech Road GTX I found it to be a perfect fit, largely down to the brilliant amount of adjustment available. In terms of protection on offer, you get SASTEC CE-approved armour on the elbows and shoulders, and foam inserts on the chest and back, allowing you to insert more substantial armour in these areas if you wish.
A really neat feature is the inclusion of a useful, removable windbreak collar and this, combined with the rest of the jacket provides superb weather protection. All of the zips are either water-resistant or protected by substantial zip baffles. While the jacket offers great protection from the wind, rain and cold, in warmer temperatures things start to get pretty stuffy as there's a lack of vents. It's also worth mentioning that, at this price, we really would have expected to have substantial back armour included in the fee.
All in all the Tech Road GTX is a good touring jacket for colder weather riding. The fit is superb and probably the best out of all of the jackets in this review, and this also makes it exceptionally comfortable to wear. You've got the peace of mind of a top-quality Gore-Tex lining and the included windbreak collar is a great touch.
In a line: Fits like a glove, a great touring jacket for colder climes
ABR Rating: 8/10
| | | |
| --- | --- | --- |
| Useful neck gaiter | As close to waterproof pockets | Plenty of adjustment |
---
Klim Badland

(Adventure proof)
£799 – www.adventure-spec.com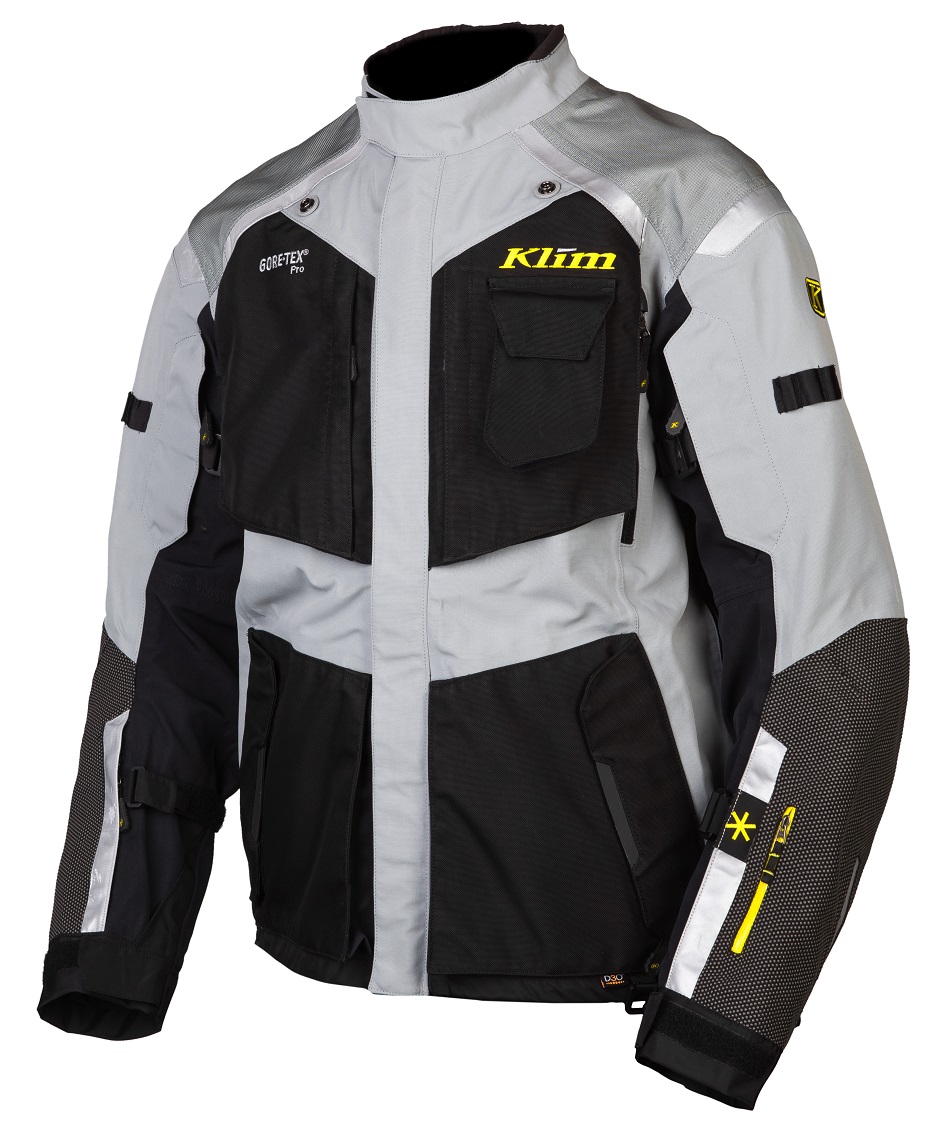 While the Overland is Klim's budget buy the Badlands is the company's fully specced model. The jacket's been updated for 2015 and a number of useful features have been implemented to make it a serious contender for the best all-round adventure jacket on the market. As you would expect at this price, quality components are used throughout; you get a three-layer Gore-Text ProShell membrane, CE-approved D30 armour on the elbows and shoulders, a CE Level 2 back protector and further armour on the chest.
The outer of the jacket features a myriad of technical textiles, including highly abrasion-resistant Gore-Tex Talisman on impact areas and Armacor panels on the back, chest and waist pockets. Every aspect of the jacket feels well thought out and executed, from the handwarmer pockets that are positioned to allow easier use, to the inclusion of a hydration bladder compartment and internal hose route. With seven external and five internal pockets you could probably do away with panniers for your trip and multiple adjustment points allow you to get a great fit.
With the amount of armour and pockets (if they're full of things) the jacket will get stuffy in warm conditions, but Klim has thought about this and the amount of ventilation on offer is exceptional.
In total there are ten vents, plus the collar can be buttoned back for even more airflow, so even in the warmest of conditions you're going to be happy.
In all, if you're looking for a go-anywhere, ride anything laminated textile that's rugged and likely to outlive you, the Badlands is the jacket you want. The superb ventilation means it's just as useful in the summer as it is in the winter and bombproof construction and superb overall design make it worth every penny.
In a line: The Badlands is one hell of an adventure jacket, if you're serious about your riding, check it out
ABR Rating: 9/10
| | | |
| --- | --- | --- |
| Plenty of quality armour | Super abrasion-resistant panels | Tons of ventilation |
---
Rev'it Dominator GTX Textile Jacket

(Adventure proof)
£849.99 – www.rev-it.co.uk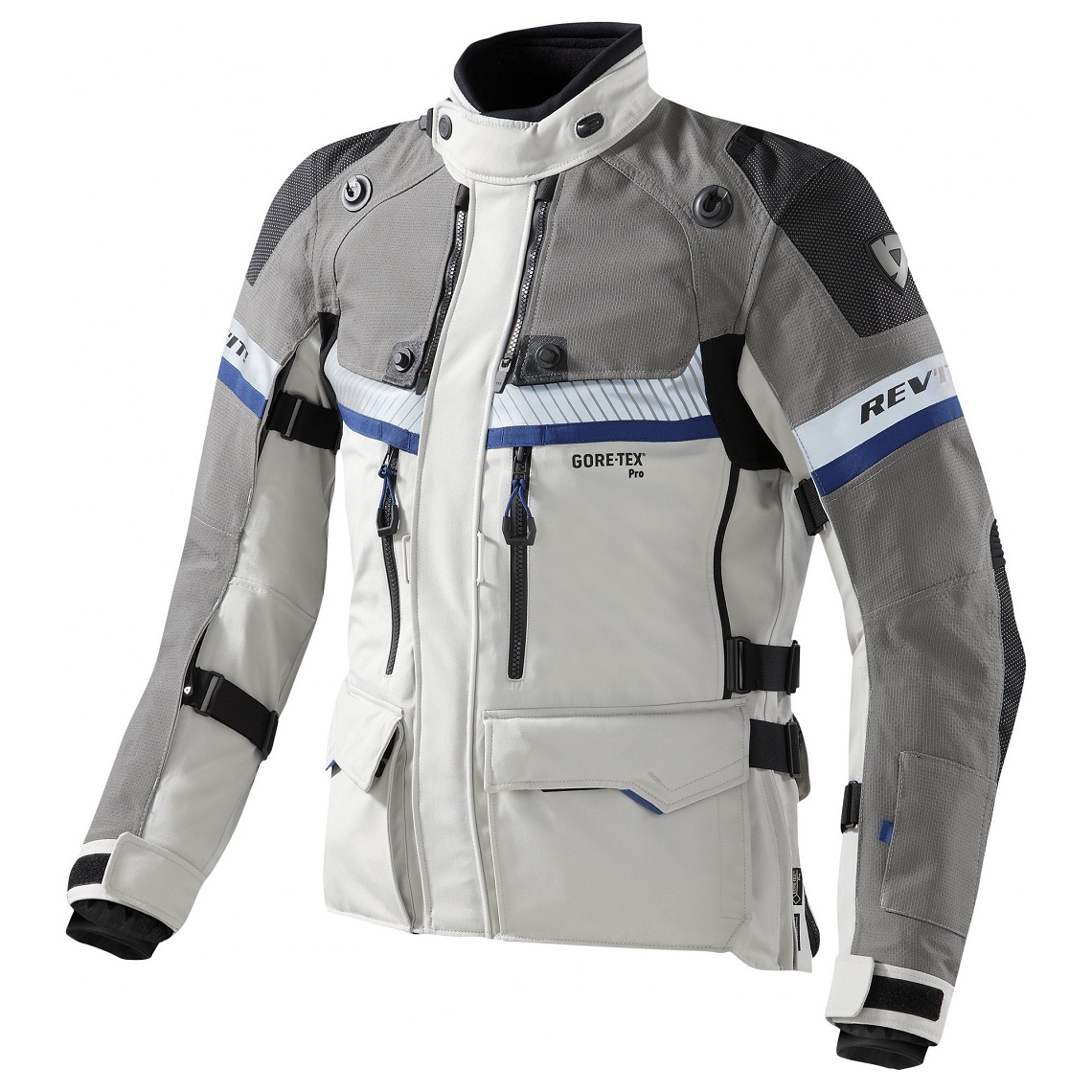 The Dominator is Rev'it's highest specced laminated textile jacket (the brand also makes the Poseidon GTX, which retails at £579.99) and as soon as you get your hands on it you can tell that it's a cut above lower-priced jackets. Everything feels very well made and credit must go to Rev'it's development team for the design, both aesthetically and technically.
You get a bombproof feeling jacket with a top-of-the-range Gore-Tex membrane, CE Level 2 shoulder, elbow and back protection (Rev'it's Seeflex armour) and exceptional ventilation options that make the Dominator a truly versatile piece of kit.
Starting with the basics, the Dominator has a close, snug fit but there are multiple adjustment points which allow you to tailor it to your body shape. While the snug fit was welcomed throughout, when it came to the cuff s it was a bit of a faff to fit the jacket over gloves. A very nice touch is the inclusion of a kidney belt which helps keep the back protector in place but also had the effect of reducing fatigue in my back muscles over some very long days in the saddle.
The ventilation on the Dominator is some of the best we've seen on a laminated jacket. Two big chest vents, two on the belly, two on the arms and two huge exhaust vents allow you to get a great crossflow of air going and even when green laning in the recent warm weather we've had I was comfortable.
These vents are also protected by a genius 'Aquadefence VCS System' which creates a waterproof gasket. There's also a ton of useful pockets as well as two 'hidden' ones for carrying valuables in dodgy areas.
So, at £849.99 is the Rev'it Dominator worth the money? Absolutely yes. If you can afford the jacket you won't be disappointed, it excels in all areas and is so well made. Comfort, protection, style, ventilation – it has it all, and it's all very well executed.
In a line: If you have the money, buy it
ABR Rating: 9/10
| | | |
| --- | --- | --- |
| Plenty of size adjustment | Brilliant vents with gasket | Level 2 back protector with kidney belt |
---
Rukka Armaxis
£899.99 – www.tranam.co.uk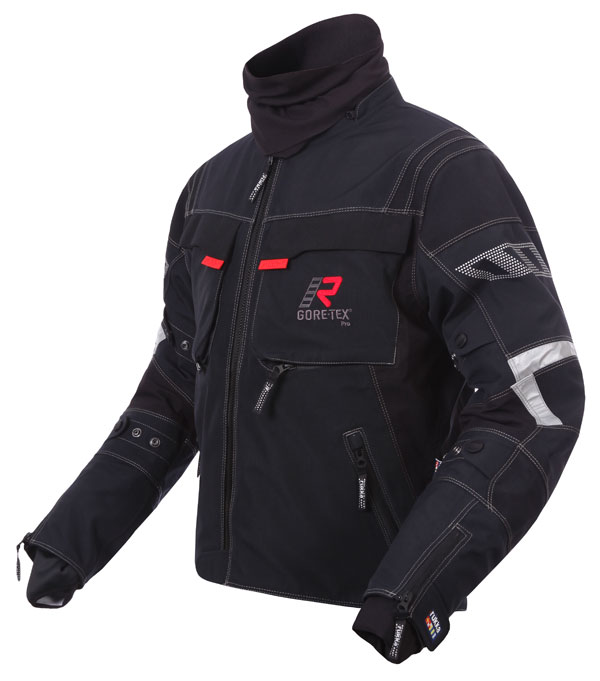 Despite also being manufacturers of dog clothes and harnesses, Rukka has almost become synonymous with expensive, yet quality kit in the motorcycling industry. At one pence short of £900 the Armaxis is likely to make your wallet hurt, but this highly specced jacket will also offer you protection, longevity and a fit that will make you feel like Thor. The Armaxis uses Gore-Tex ProShell Armacor throughout for abrasion resistance and waterproofing. You also get a Level 2 D30 back protector and Level 1 shoulder and elbow armour – these are designed specifically for use in the Armaxis.
Like the other jackets of this price range the quality of the Armaxis is clear to see. This is an exceptionally well-made piece of kit, and it's no wonder that, despite the fee, Rukka kit flies off the shelves. While the outer is seriously protective, on the inside you get a superb Windstopper thermal liner (which looks great when worn casually as well) and a nicely designed, windproof neck gaiter. All of the zips are YKK Vislon Aquaseal and these work well at keeping water out.
For the most part the Armaxis is a simply stunning jacket, there's one area that could have done with a bit more thought, and that's the ventilation. There are two chest vents and two exhaust vents on the rear. The chest vents are positioned horizontally directly underneath the chest pockets, and when in use they tend to get blocked by the extra material of the pocket – ventilation might not be such a critical need in Finland, but if you're planning on riding in hot temperatures it's crucial.
If you can look past the poor vents then you'll not be disappointed by the Armaxis. It's so well made that you could build a nuclear shelter out of it, it's comfortable to wear, it offers great protection and it's one of the best looking bike jackets I've seen.
In a line: Tough, rugged and awesome looking – ventilation might put some off
ABR Rating: 9/10
| | | |
| --- | --- | --- |
| Great neck gaiter | Chest vents blocked by pocket material | Plenty of adjustment |
---
Touratech Campanero Boreal Jacket
£1,000 – www.touratech.co.uk
At £1,000 (no, that's not a mistype) you'd expect the Touratech Campanero Boreal to come complete with a magical bike valet who parks and cleans your machine when you arrive at your destination. As amazing as that sounds, that's not the case, instead you get a very well made motorcycle jacket from a reputable brand. Sitting at the very top of our price range the Campanero Boreal faces stiff competition in the form of the Rev'it Dominator and the Rukka Armaxis, so it's going to have to offer something pretty special to be worth the extra £100.
As you would expect from a jacket of this price, the Campanero Boreal is highly specced, a three-layer Gore-Tex Pro Shell membrane is laminated to a Cordura outer, while Armacor panels provide extra abrasion resistance on areas where it's needed.
Throughout the jacket sturdy YKK zips are present and they're water resistant Aquaseal when they need to be.
You get a superb, stylish inner fleece that would surely cost a few bob on its own and for further protection, you get SAS-TEC CE Level 2 armour on the shoulders and elbows as well as a Level 2 back protector – so far so good. Scotchlite is used to help make the wearer more visible in low light and a very effective venting system will help keep you cool when riding in warm temperatures. The jacket is fully adjustable around the waist and arms and five pockets give you plenty of storage options.
In truth, the Campanero Boreal has it all. While the styling is a bit like Marmite it's hard to deny the overall quality of the jacket and the components used. The biggest stumbling block is without a doubt the price, when there's such strong opposition out there for a few hundred quid less you've got to believe in the Touratech brand if you opt for the Boreal.
In a line: Quality, quality and more quality – but that price tag makes our eyes water
ABR Rating: 8/10
| | | |
| --- | --- | --- |
| Great weather | Plenty of ventilation | Serious back protection |