The Adventure Sports sector comes of age with the launch of a tour-friendly rocket ship from Germany. Alun Davies reports from the world launch of the BMW S1000XR
When Ducati revealed the Multistrada as their bestselling motorcycle, a group of German market movers consulted their Bavarian business manual and deduced, 'we'll have some of that'. The result is the new BMW S1000XR.
Make no mistake, the men from Munich must have been main-lining polenta and appealing for Papal dispensation from the outset of project XR. The overall look and design point to a conception zone south of the Alps, while the fine attention to detail, colours and lavish texture of the components would have had Mother Teresa pledging the Sistine Chapel that the tank badge would begin with the letter 'D'. In short, BMW has produced a magnificent German engineered adventure sports motorcycle thickly lacquered with Italian style and flair.
I have to admit from the outset, I found the XR to be a pretty intoxicating mix of north meets south. I'll eat my sweat-stained shoe if it isn't a best-seller and the clichéd game changer in the growth of the adventure sports sector.
Speaking of which, the concept and success of adventure sports motorcycles is, in reality, no great surprise. The biggest shock is that the industry has taken this long to react to events on the customer side of the showroom door. Namely, most owners of 1000cc-plus adventure bikes did not take them off-road and physiotherapists needed physiotherapy from over engaging with a community of ageing sports bike riders beset with clip-on inspired lumbago.
Dual sport adventure bikes have long seduced us with the romantic notion of setting off into the sunset on a middle aged Saharan wilderness campaign. On a more practical note back in suburbia, we found these huge adventure beasts exceptionally comfortable and practical for trips based on the reality of having a family and career. Both of which tend to place time and social constraints on the most enthusiastic of wilderness campaigns.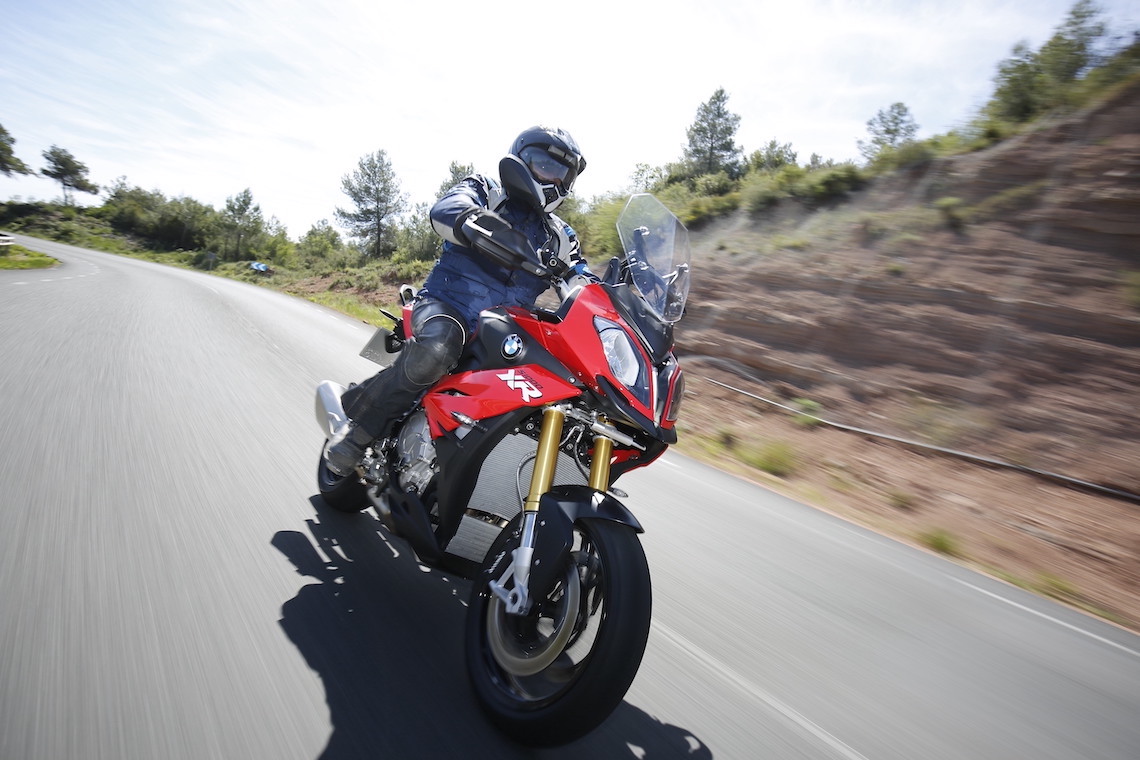 On the other hand, sportsbike riders were buying into the lure of ballistic power and crack-shot handling whilst hoping they'd still pass as a Chippendale in one-piece leathers. The problem, of course, is that sportsbikes become supremely uncomfortable for the ageing rider within 20 metres of leaving the house. Plus, there's the fact you have to be able to tie your own shoelaces without getting out of breath and needing to sit down to pass as a leather clad sex god.
It therefore doesn't take much foresight or reasoning to come to the conclusion that the comfort and practicalities of an adventure bike, married to the performance and handling of a sportsbike would be the best of both worlds for a significant number of riders. Comfortable, versatile and sporty; what's not to like?
Over the past few years we've had the Ducati Multistrada sparking away under that particular adventure styled sector.
Now with the launch of the bestselling Yamaha MT-09 Tracer and the new BMW S1000XR, the wildfire of adventure sports appears assured.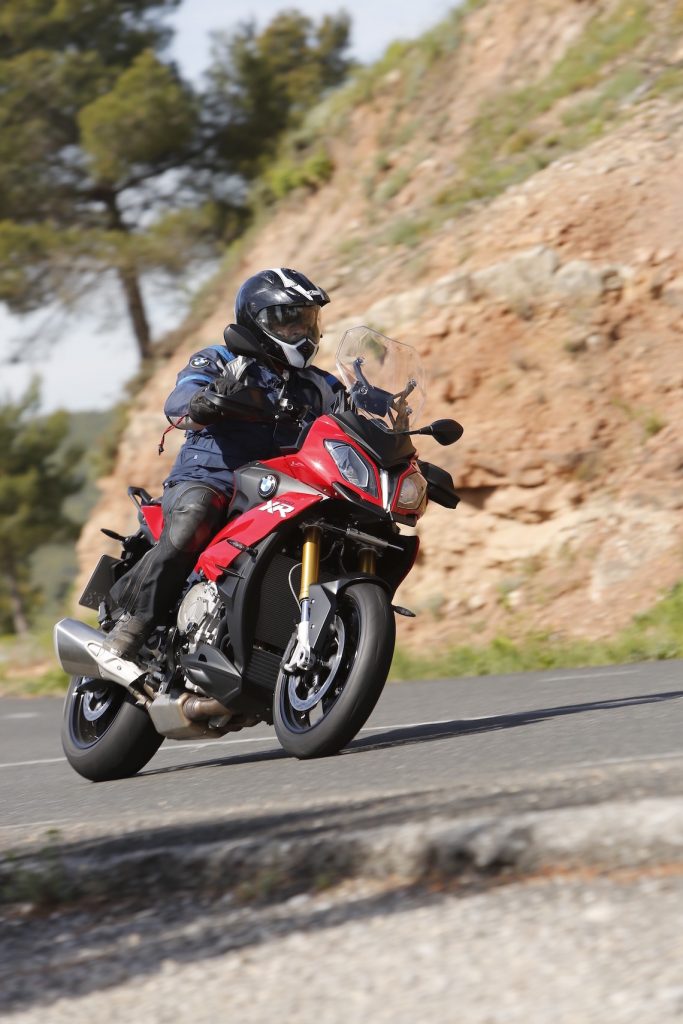 I was impressed on first contact with the XR in the hotel foyer in northern Spain. From a distance it looked the part; tall
and comfortable with sleek lines. Up close it looked better still. It was immediately apparent that every component, contour and texture had been considered and then designed rather than just being made to fit.
I admire these small details on a motorcycle and so does Andreas Martin, the young and enthusiastic BMW designer tasked with creating the look of the new ride. During his evening presentation, throughout which he paced the stage in the manner of an excitable and likeable Jon Snow with an XR swingometer, my interest and admiration only increased.
What I also like about the XR is that afteradding the full suite of panniers, top box, tank bag and crash bars it still looks very appealing. BMW obviously decided that the luggage should compliment the machine and be designed accordingly rather than looking like something a visually impaired scout-group knocked up as a Friday afternoon project – take note Triumph pannier designers. In short, the details in the design are exquisite and that's not a word I use lightly.
Morning arrived and it was test ride time. The route would take us on majestic mountain roads through an area I knew well from a past life spent travelling the world and climbing anything vertical that looked remotely interesting. The dramatic, towering 1000m high cliffs of Montserrat (near Barcelona) had passed the interesting test on many an occasion. Indeed, I'd left a few layers of skin on those coarse sedimen- tary rocks over the years.

Photo: Alun Davies
Throwing a leg over the XR and settling onto the 840mm-high seat was a bit like coming into contact with an old sparring partner. The bars, grips and switchgear are from the dual sport adventure stable and there's more than a whiff of the GS design line when peering down at the flared tank from the saddle.
The new dash set-up is clearly laid out, which it needs to be. There's a huge volume of display data just waiting to be pulsed out by the CPU; riding modes, suspension settings, trip details, sundry rider information and, probably, grocery lists. Fortunately, the essential need-to-know stuff is easy to read and digest and not lost in this potential forest of digital dialogue. Staying with the controls and display, I can confirm they are also very user friendly. Changing a riding mode or a suspension setting is a simple, logical matter rather than something resembling a tussle with the Enigma Code.
The launch bike also came fitted with BMW's integrated GPS system which the rider is able to operate on the move with
a close-at-hand control system attached to the left grip. There's also a 12v power socket placed up front within hand reach and close to where gadgets are likely to be positioned. Useful features that are easy to operate make for a satisfying rider experience, a concept that struggles for traction in some sectors of the motorcycling industry and for which BMW deserves praise.
Moving on, the GS flavour continues with the excellent ergonomics which places the bars, seat and pegs in the same positional setting as you'd find them on the comfortable adventure bruiser. At 6ft 2in, planting both feet firmly on the floor was no problem. For shorter riders there's a low seat option (820mm), plus a lower-suspended version (790mm). A quick check of the mirrors confirmed they were well positioned and that my shoulders were not to be the main feature of the ride. So far so very, very good. Let's go riding.
On most new bike launches journalists are rarely presented with the opportunity to test a bike at low speeds in urban surroundings. Most hotel locations are chosen for their proximity to spectacular roads with little traffic, which is understandable, from both a photographic and rider enjoyment angle. If I were a motorcycle manufacturer I'd probably not choose the M25 or central Birmingham to launch the next greatest thing on two wheels even if the paying customer is more likely to be experiencing similar conditions on a day to day basis.
So with that in mind and with 160bhp on tap, I found the first 20 minutes of the ride a more than interesting experience as we rode through the busy, built up area surrounding the hotel. I have to admit that I'd expected the XR to be an anxious machine in slow traffic and a bit of a handful around town but the reality in 'road' riding mode was quite the opposite. The excellent fuelling made slow riding a smooth, stressfree experience while the tall, comfortable riding stance was a great aid to visibility. Despite having huge amounts of power waiting to be unleashed on the open roads, I found the BMW to have excellent urban manners. No snatching, smooth clutch free gear changes (more about that later), highly manoeuvrable and no tip toe wobbling at stops. I didn't for one moment think I'd say this but the XR would make a solid commuter machine, not that you'd ever buy one for such mundane matters.
On the outskirts of town the road swiftly changed into a serpentine highway of black-top weaving up through a valley comprising of short straight sections connecting an unending series of tight, concentric bends. It was the perfect setting to test the performance and handling prowess of the XR and was made even more challenging by the number of cyclists that were out for the day riding mid-lane on blind corners.
As I sit here typing this review and having had time for the new-bike-launch adrenaline to rinse through the system, I'm finding it difficult to pinpoint a better motorcycle for attacking such challenging roads at such a committing pace. The XR is blisteringly fast when asked to perform, catapulting between corners at warp speed where upon it handles at a level where even I – a committed knee up man – began to contemplate what colour sliders would best suit my wardrobe.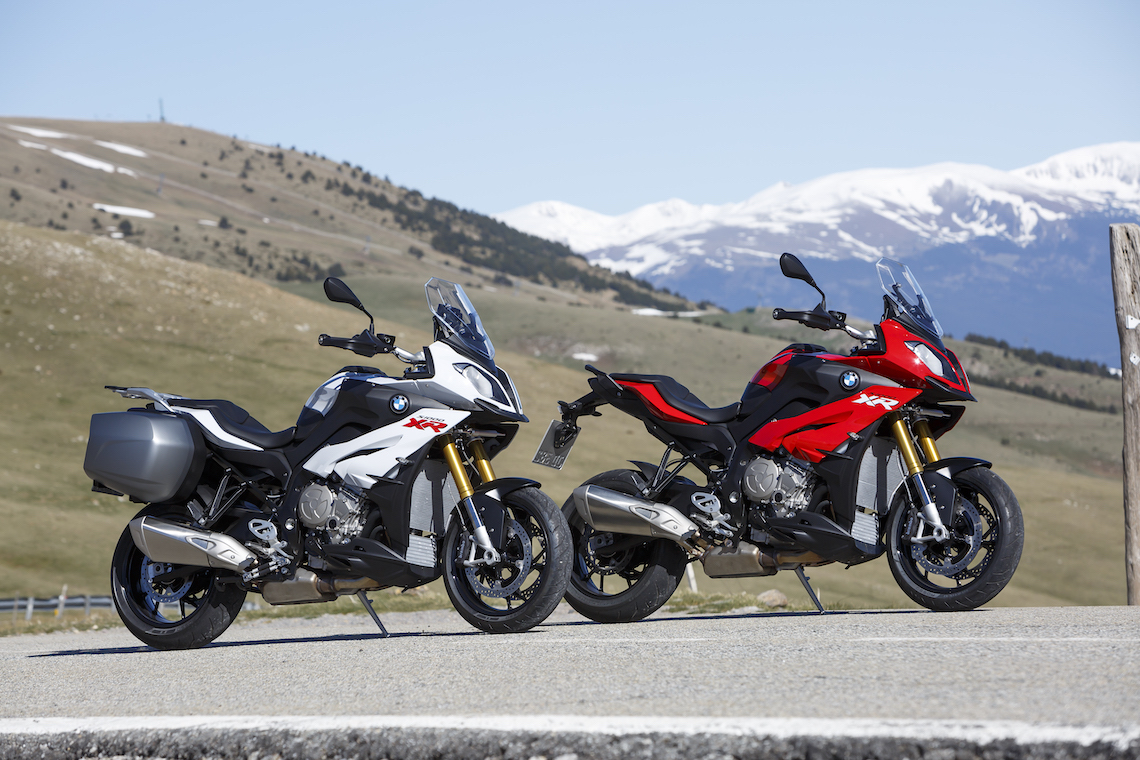 All that power and precision handling can be very intoxicating, good news then that BMW has fitted the impressive braking system straight off the 200bhp XR1000RR. ABS comes as standard with the optional ABS-Pro featuring a lean sensor which activates and intervenes should you need to grab a handful of brake mid-corner. Ditto the lean sensitive traction control which keeps the power going through the back wheel under control.
In the more sedate setting of a post-launch write up, I'm forced to consider if all this power and ability is necessary and the simple, logical answer is, of course it's not. It's just plain barmy. But the same accusation could be laid at the door of any motorcycle that offers speed and performance figures in excess of legal limits and I just don't buy into that way of thinking. In my case – and I suspect that many other riders feel the same – a motorcycle is predominantly an emotional purchase constrained by the thickness of wallet rather than a logical computation based on a study of The Highway Code and a compelling desire to be Stepford Wife.
Anyway, by the time we were riding the open sweeping bends contouring the base of the towering cliffs of Montserrat, I'd slowed to a pace where I could enjoy the stunning surroundings and pick out a few lines of assent that brought back memories of the time when waistbands were still visible below tucked in t-shirts. In other words, I'd checked out of the manic journalist GP that was raging up ahead and mentally engaged the sort of touring mode I'd deploy on a personal trip.
There's no doubt that the setting added to the all-round feel-good factor but the XR adopted the new character and script effortlessly and meticulously. The comfortable upright riding position, the slick operation of the controls, the smooth endless torque and sweet power delivery all contributing to the fact that the XR is just as happy bumbling along at ruminating pace.
From Montserrat we headed north with the still snow-capped summits of the Pyrenees as a magnificent backdrop. Changing modes from 'Road' into 'Dynamic', I re-joined the flashing leathers and knee scrapers up ahead for another bout of let's be having you. The mode change offered a sharper throttle action and had a noticeable effect on the semi active suspension (ESA). The ESA remotely controls small damping valves on the fly with the result being more sensitive compression and rebound aligned to the power mode. For non-techies, this means firmer handling with noticeably less front end dive and an even more precise feel to the bike as a whole.
As we continued into the afternoon I began to further appreciate the Gear Shift Assist (GSA) mechanism. Basically, it's a quick-shift system which allows the rider to change up or down without using the clutch or dipping the revs. On the face of it, it could be viewed as another unwarranted feature crammed into an adventure styled touring motorcycle. However, in everyday use it works so well that most of the afternoon was spent clutchless and content.
The other, far more frivolous knock-on effect of a quick shift system, is the supercharged symphony emitted from the exhaust when you ping the gear lever with the throttle wide open. Put it this way, you'd be able to record a convincing soundtrack to a MotoGP should the cameraman forget his sound recording gear. Of limited use on the Mongolian Steppe I hear you say, but then it made me feel 30 years younger. Job done.
As we rode back to our base on the outskirts of Barcelona, I started to imagine what it would be like to own an XR. Thrilling, without question, but would I look in the garage and see a competent and trusty partner for exploring the highways and roads less travelled overseas. Absolutely.
Six hours in the saddle and all was well as adventure bike comfort comes as standard. In addition, the XR is a bike which you can ride at committed speeds on roads that would have all but the best dog tired and wired. Yet here I was, fast pacing it down the home run motorway feeling as content as could be without a hint of brain frazzle fogging the mind or arse shuffle shining the saddle. But here's the best endorsement, if I'd been offered the choice of riding the route again or free beer in the bar, then I'd have been forced to recognise and confront the fact that I don't like San Miguel as much as I thought I did.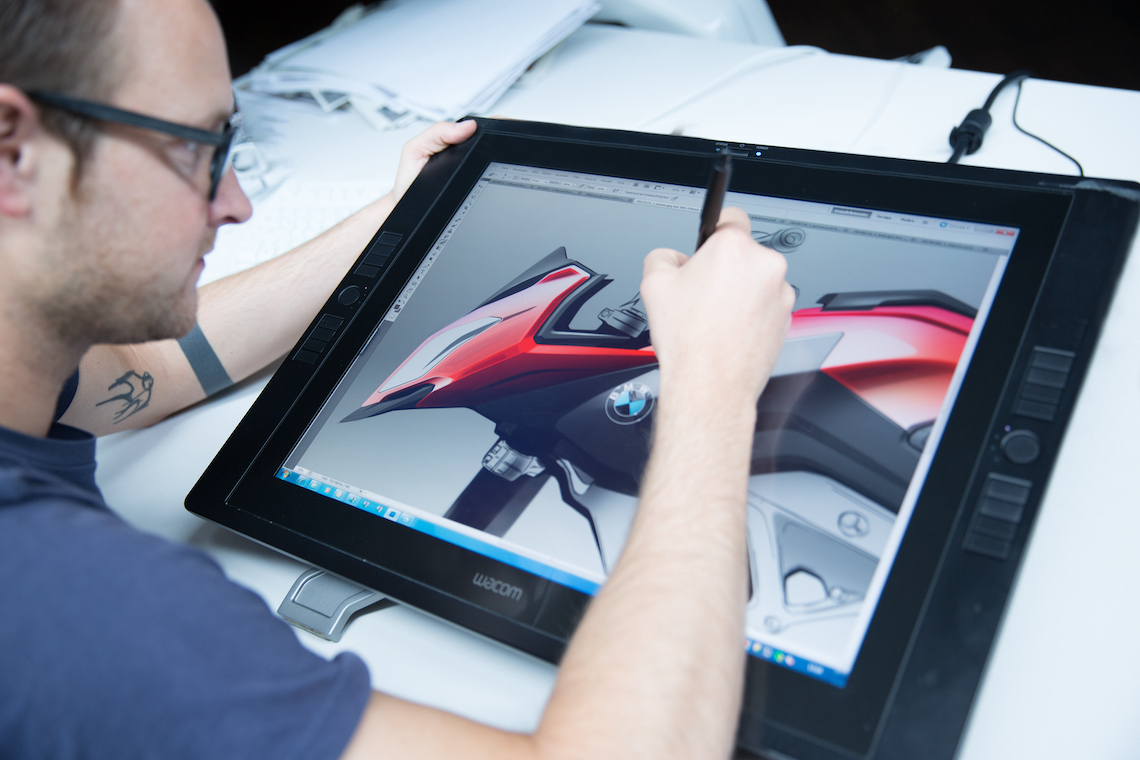 Photo: Alun Davies
If you have no interest in off-road riding, the XR becomes a compelling choice for the adventure bike rider, sportsbike rider and anyone else who feels that surge of excitement at the thought of packing up and heading off on two wheels. It offers long distance comfort, it's supremely exciting to ride, works as a commuter and is also a great steady eddy companion for those times when you want to take in more of the scenery and less of the road.
Would I consider buying an XR? Absolutely. And I'd go with the top of the range SE for the simple reasons that the extras you get are fantastic rider aids. Plus there's likely to be a bigger market for a top spec bike when I come to trading it in. On that note, I'm off to have a few San Miguels and think through the finances.
Models
XR £12,400 The base model comes with 'Road' and 'Rain' riding modes, plus standard ABS and ASC (Automatic Stability Control).
XR Sport £13,645 Riding modes as with the base model plus 'Dynamic' and 'Dynamic Pro'. ABS-Pro and Dynamic Traction Control both incorporate lean angle censors for mid corner intervention. Gear Shift Pro, cruise control, LED indicators, daytime riding lights and heated grips.
XR SE £14.750 As with the Sport model plus Dynamic ESA (semi-active suspension), centre stand, panniers, GPS ready and upgraded Computer Pro.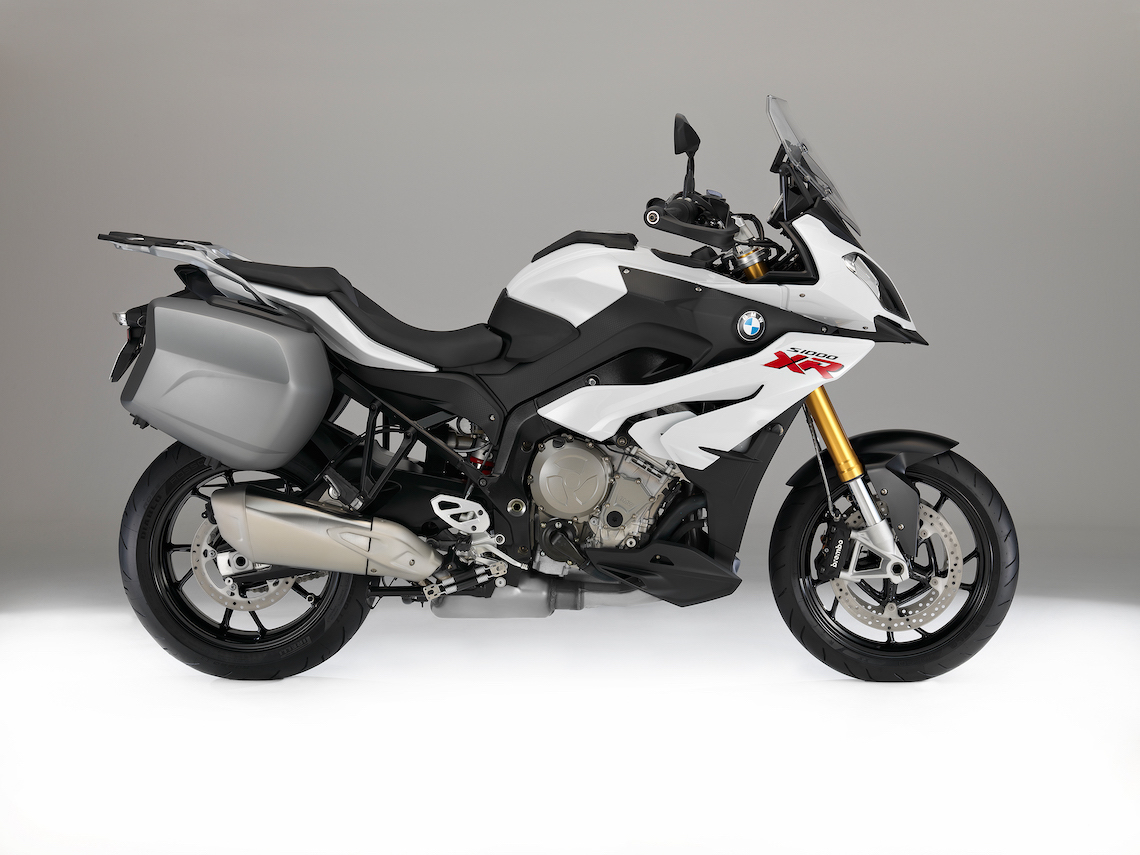 Photo: Alun Davies
Feature highlights
999cc Inline-four cylinder engine with 160bhp and maximum torque of 112 Nm (83 lb-ft) at 9,250 rpm.
Easy-to-use controls and easy on the eye display.
'Rain' and 'Road' riding modes as standard.
'Dynamic' and 'Dynamic Pro' riding modes optional extras.
Comfortable long travel suspension
Dynamic ESA (Electronic Suspension Adjustment) option.
Excellent handling.
ABS as standard, disengage-able.
ABS Pro option for safer braking in corners.
Automatic Stability Control (ASC) as standard for traction control.
Dynamic Traction Control (DTC) option with lean sensor.
On the tick
Model: S 1000 XR (Base Model) Cash Price: £12,400 Deposit: £2,500 36 Monthly Payments of: £149.00 Option to buy after 3 years: £100 plus £7,116 APR: 9.9% Mileage restrictions: 15,000 miles
Specs at a glance
Engine: 999cc 16v in-line 4 Bore & Stroke: 80×49.7mm Power: 160bhp at 11,000rpm Torque: 83lb.ft at 9,250rpm Frame: Aluminium beam Front suspension: Fully adjustable 46mm up-side-down (Dynamic ESA option) Rear suspension: Fully adjustable monoshock (Dynamic ESA option) Front brake: Two 320mm discs with 4 pot callipers. ABS with Pro option Back brake: 265mm disc with 2 pot callipers. ABS with Pro option Front wheel: 120/70/17 Rear wheel: 190/55/17 Seat height: 790-840mm Fuel capacity: 20L MPG: 40mpg (approx) Range: 180 miles (approx) Weight: 228kg (wet) Colours: Red, white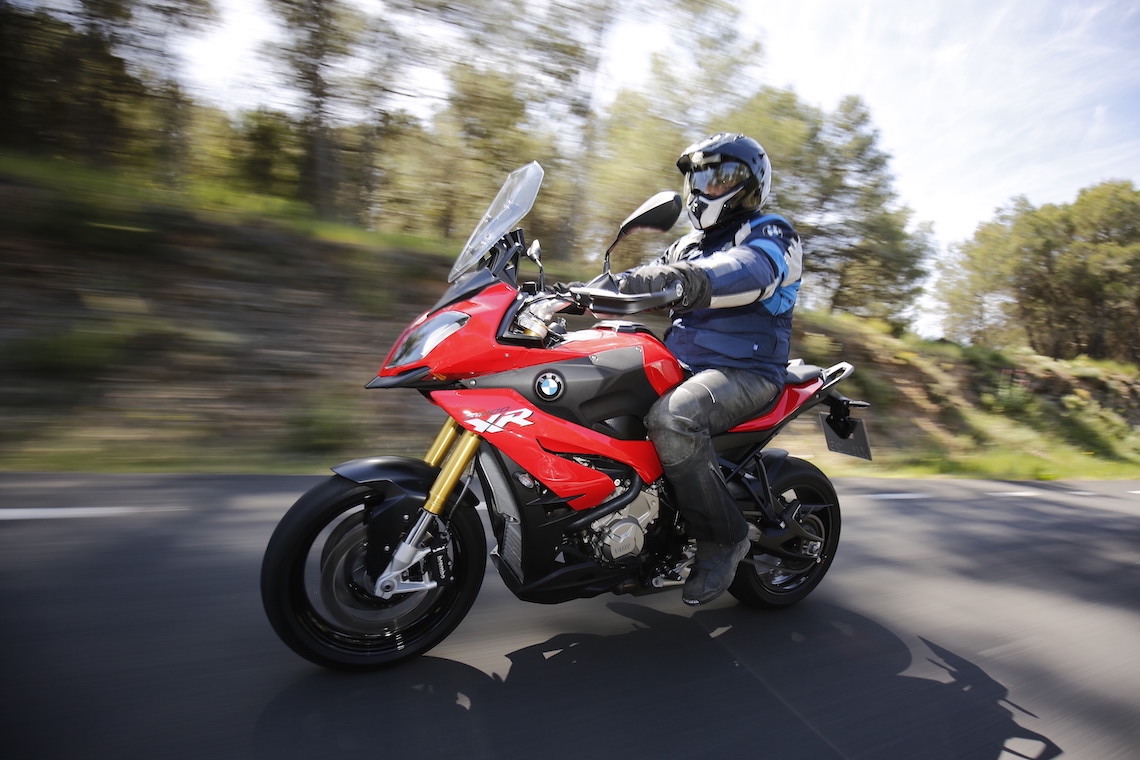 ABR Verdict
A game changer in adventure sports
As a commuter
Remarkably well-mannered 160bhp machine – think Usain Bolt with his track spikes and TV slippers. Tall riding position helps visibility plus gearing and fuel injection are silky smooth and rider friendly. It's also nippy and manoeuvrable. You'll not buy one with 'commuter' in mind but it passes the test.
As a weekend tourer
Absolutely perfect for quick getaways to your weekend destination and better still for the A and B roads when you arrive. Comfort and spirited stress free riding come as standard.
As an off-roader
No, no and let me say it again, no. Look elsewhere if you're remotely interested in venturing off tarmac.
As a continental road tourer
No reason to doubt the XR's multi day touring prowess and with a European tour lined up this summer we're hoping to confirm the same. In truth, I can't wait to pack, ride and hit the Alpine roads on the XR.
As a pillion carrier
We've no experience of riding the XR with a pillion at the time of going to print. We've a test bike arriving at the ABR office in the next week and will report back in the next issue.