We've been putting a few more miles on the V-Strom 650XT. Dave Reynolds tells us about life with Suzuki's mid-range tourer.
I've been out and about on the V-Strom quite a bit over the last few months. A run down to the West Country gave me a chance to try out some of the mods I've done to the bike including the power socket and mirror extenders, both of which work really well to improve the riding experience. My homemade SatNav mount seems sturdy enough and surprisingly doesn't have too much bounce. 
We're planning on fitting the Fuel Exhausts F1R system to the Strom, but that will be for the next issue as I'm clocking the mpg on the standard system at the moment. On the subject of exhausts, it seems to be the case that bike manufacturers get a lot of stick from the public for the size and aesthetics of modern silencers. On the face of it it looks like some design staff get their inspiration from space heaters.
In reality it's not quite as clear cut as that, and the problem manufacturers face is the stringent emission laws forced upon them, and these have to affect the dimensions. Thankfully companies, like Fuel Exhausts, are able to produce an alternative that performs and looks great. 
Anyway, back to riding the bike. 
Have a look at the picture of the seat below, it looks even better in the flesh. This must be the first adventure bike that I've ridden that has a truly comfortable stock seat that rides as good as it looks. Suzuki must get a thumbs up for this, a long-distance bike with a long-distance seat rather than some of the torture devices I've had to endure in the past! 
On a recent run out I felt the bike could do with slightly higher handlebars. The way I'd normally go about changing them would be a new higher bar, but not wishing to go to the expense and bother of changing them I had a look around for some aftermarket raisers.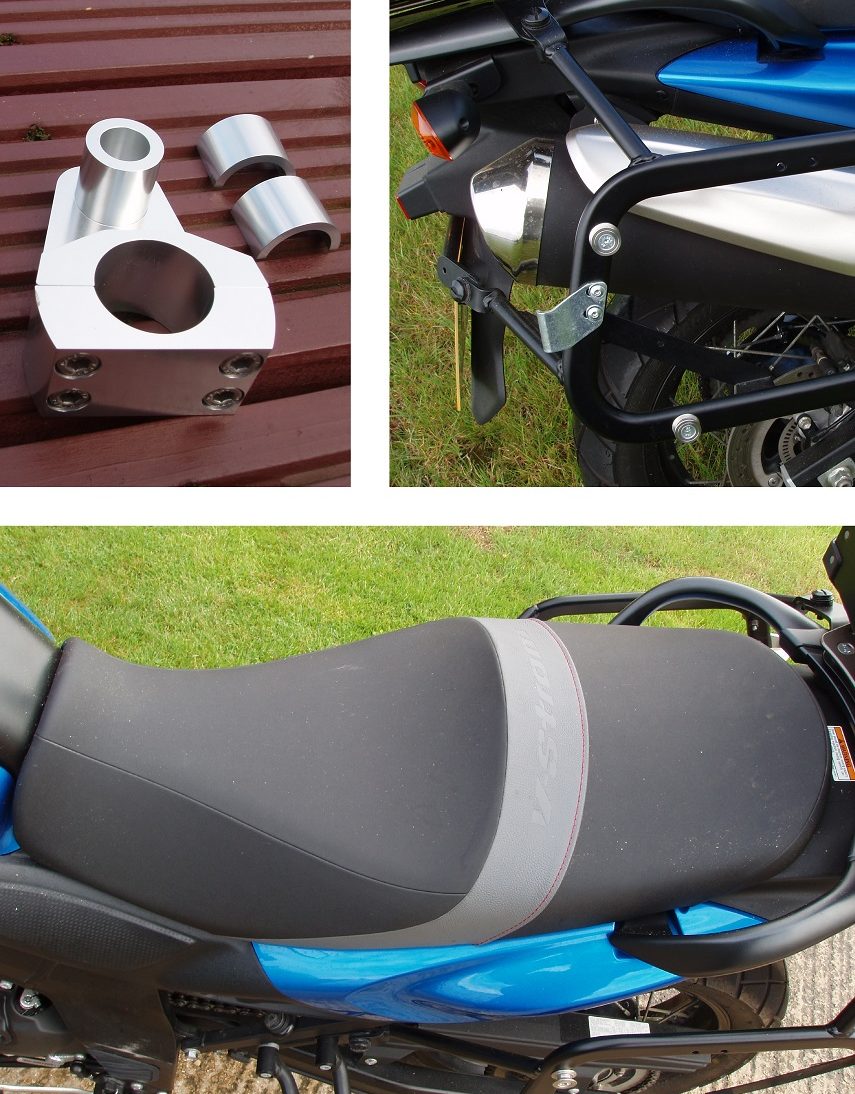 The obvious choice would be Rox risers, but the cost is a little steep.
A search on good old eBay came up with a similar product from a German seller, similar to the Rox design but at half the cost with the advantage that I can switch them to other bikes in the future without too much faffing and spannering. 
The finish and engineering is superb, as I'd expect from our German friends.
They fit the usual 22mm mounts and can be fitted with 25mm bars or use the spacers supplied to fit the original 22mm bars Suzuki fit. 
The last few days brought a real Autumn chill and the forecast shows that it's only going to get colder, time to try out the heated grips, I'll let you know next issue.