We've been hitting the roads of Scotland with our KTM 1090 Adventure R to see just how well KTM's off-road-focused adventure bike can handle long-distance touring.
It's taken me 57 years to do so, but I've finally visited John O'Groats. Over the years I've spent plenty of time north of the border, riding, hiking and climbing in the Southern Uplands, the Highlands, Cairngorms and on the islands, but for one reason or another I'd never been motivated enough to tick the John O'Groats box.
Was it worth the wait? Of course, there's a fantastic ice cream shop within 100m of the fabled white post. It was full of tourists (including me) licking whippies and scratching their heads when they find out they are not at the northernmost point of mainland UK – just like those at Land's End who discover they're not at the southernmost point. Easter Head on Dunnet Head and Lizard Point claim those top and bottom spots. 

Other than the ice cream shop, the best reason for visiting John O'Groats is the fantastic roads and scenery in the northern half of Scotland that you have to ride through to get there. And that's where the 1090 R and I have been getting to know each other over the past month.
Having attended the launch of the more road-focused 1090 Adventure (Without the R) over in Corsica, I was keen to check out what effect the addition of more off-road friendly wheels (21in front/18in rear), tyres (TKC 80 Twinduros) and suspension (220mm of travel) would make to the bike.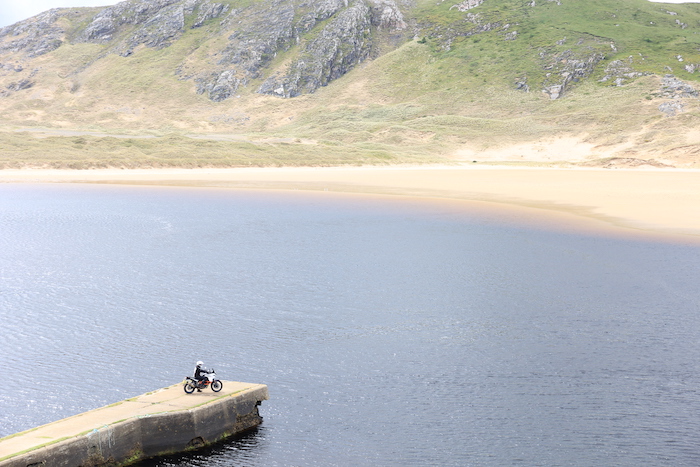 So, it's kind of ironic that a prior engagement meant I found myself in Scotland, which possesses more open and tempting countryside than any other part of the UK, but also the most restrictive laws when it comes to vehicular access. Without the land owner's specific permission, there is no off-roading or green laning to be had up north, but then the upside is the finest and least congested strips of tarmac on the mainland.
>>>Related: Check out the ABR review of the KTM 1090 Adventure here
There's no getting away from the fact that the R is a very tall bike. The 890mm seat height makes for a lofty perch, but then the KTM is a beautifully balanced bike with a slim waist, which means it's not as intimidating as you'd think. Also, having knocked off over 750 miles in a couple of days I can confirm that it's also a comfy tourer.
It's in for its first service right now, and on its return, I'm looking to check out the green lanes of the Cotswolds and Wales. Can't wait, as they've been known to say.
Specs at a glance
Price: £12,149
Engine: 1050cc, twin-cylinder, four-stroke, V 75
Weight: 215kg
Fuel capacity: 23-litres
Seat height: 890mm
Transmission: Six-speed