In the last issue of Adventure Bike Rider magazine we introduced you to our new series, Discover Britain, in which we've teamed up with TomTom to provide you with a set of weekend routes that will eventually link up to create a complete circumnavigation of England and Wales.
Our first bite-sized ride took us through Wales, beginning in the Rhondda Valley and passing through the heart of Mid Wales before following the coast from Aberystwyth to Portmeirion. From the Italian inspired seaside town we cut inland to Snowdonia and the exciting mountain roads that await.
For this issue we've headed to the South West, to ride a route that, for the most part, follows the coastlines of Devon and Cornwall from Minehead to Exeter, via Land's End.
We recommend commencing this ride on a Friday evening, making your way to Minehead after work and staying in Lynmouth on your first night. This then allows a full second day to enjoy what can only be described as one of the most thrilling and rewarding days of riding I have ever experienced, as you explore the tiny and characterful seaside towns of the north Devon and Cornwall coasts.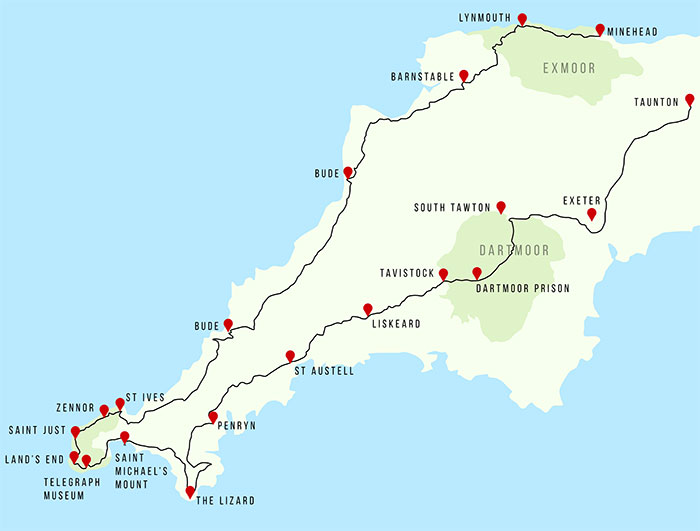 Every now and then you'll see that we've highlighted a specific road to ride (trust us, you won't be disappointed), location to explore, or stunning view to see. On reaching Land's End towards the end of the first day it's only a short ride to our second overnight stop in Penzance.
Day two will see you traversing the more populated and built-up South Coast before reaching the incredible and haunting Dartmoor National Park where it's worth spending a few hours exploring. From Dartmoor you can reach the M5 at Exeter in under an hour, where it's back to the real world until the next issue where we'll pick up the route once again.
While we provide you with a set route (at the bottom of this page) to stick in your SatNav and a list of places to see and roads to ride, we encourage you to divert from it whenever you want to discover your own version of Britain. We'd love to see what you find, so make sure you get in touch.
The South West route described herein is one of the most enjoyable weekend tours that I've ridden and there's barely a bad road to be travelled with each area providing incredible views and fascinating locations to experience. We did the ride in the middle of January, so for the most part we had the roads to ourselves. I have no doubt that in the summer months they'll be heaving with caravaners, so expect big crowds in peak season.
Competition time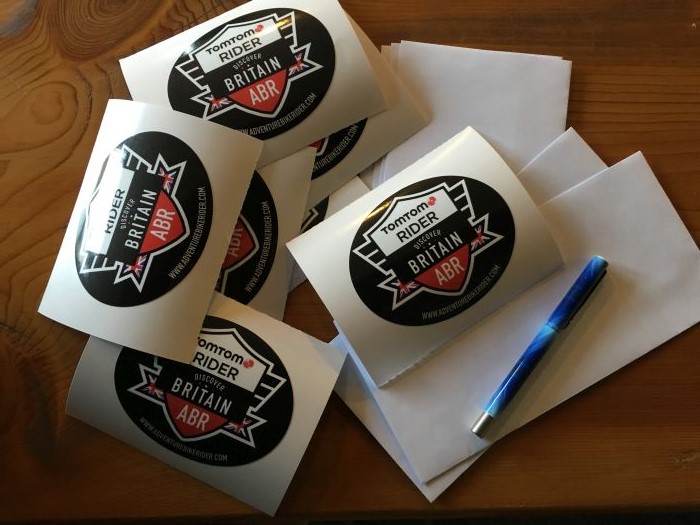 As part of our Discover Britain series, we've teamed up with TomTom to offer you the chance to WIN a TomTom Rider 400 Premium worth £399.99. All you need to do is send in a photo of your bike with the Discover Britain sticker in view, somewhere along the South West Coast route.
The best image will win the fantastic prize. Send entries to [email protected] by midnight on April 22 2016. You can get your Discover Britain sticker by emailing [email protected].
Stay Here
1. Lynmouth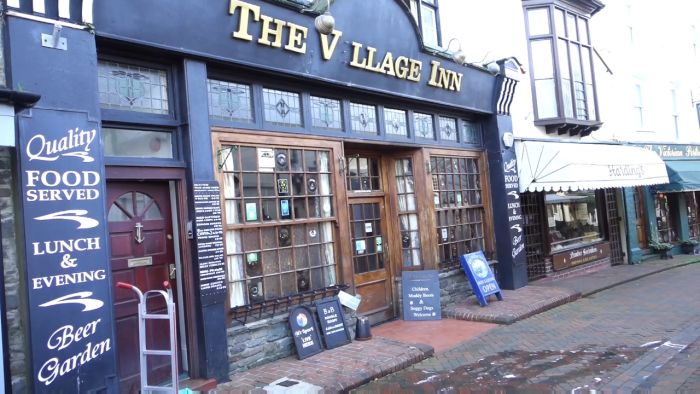 When we arrived at Lynmouth on the first night of our tour, it was a beautiful winter's evening in January, the place was almost deserted. The village relies heavily on tourism and as such there's not much going on in the off season.
While there are a number of hotels and B&Bs in the area, we chose to stay at The Village Inn on Lynmouth Street. Prices were very reasonable at £45 per room, the food was hearty and excellent, and the Guinness was on point. Visit www.thevillageinnexmoor.co.uk for more info.
2. Penzance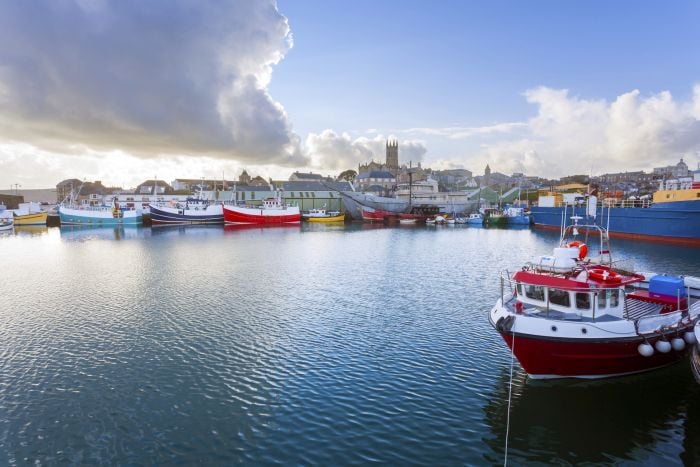 When you arrive in Penzance on the second night you'll likely be tired from a long day in the saddle. It's just as well then that there are a multitude of hotels and B&Bs to choose from.
We spent the evening at the welcoming Stanley B&B (www.thestanleypenzance.co.uk), which is right on the sea front, has its own car park, and is within walking distance of all of the town's amenities. For dinner I highly recommend you visit the Admiral Benbow for some incredible fish and chips in a setting you won't forget.
Ride
1. A39 – Minehead to Lynmouth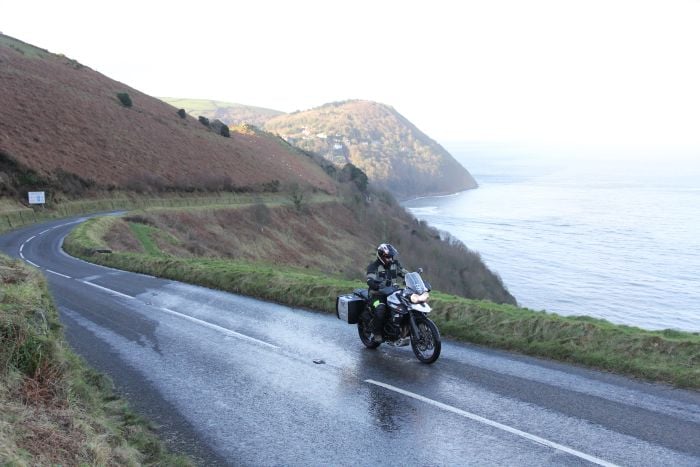 The first recommended road to ride comes right at the beginning of the weekend route. While the A39 runs as far south as Newquay, it is the section between Minehead and Lynmouth that is not to be missed. The tarmac hugs the dramatic coastline for a good portion of its length, and as it rises out of Porlock and into Exmoor, you gain 400m in less than two miles, giving extremely steep gradients of one in four and some hairpin bends that wouldn't look out of place on an Alpine pass.
Once the summit of Porlock Hill is reached, the riding becomes faster and the road rises and falls endlessly, twisting and turning with each new hill crest presenting a view more stunning than the last. As we reach Countisbury Hill, nine miles after Porlock, we descend into Lynmouth where we spend the first evening.
2. B3306 – St. Ives to St. Just
Towards the end of the first full day of riding you'll pull off the busier A30 and head into St. Ives, the popular seaside resort in Cornwall. After navigating the streets of the town you'll make your way west on the B3306, also known as the West Cornwall Coast Road. This is a stretch of tarmac that is so enjoyable you'll want to turn around and ride it again.
For 13 miles it snakes along the coastline, hugging the higher ground to afford you a commanding view of the Bristol Channel and the small farms that litter the coastline. Occasionally you'll pass an abandoned tin mine which will remind you of the industrial heritage of the area. The B3306 is often voted one of the UK's best roads and it's likely to attract high crowds in peak season, but if you catch it at the right time it's an absolute joy to ride, and the views are incredible.
Discover
1. Dartmoor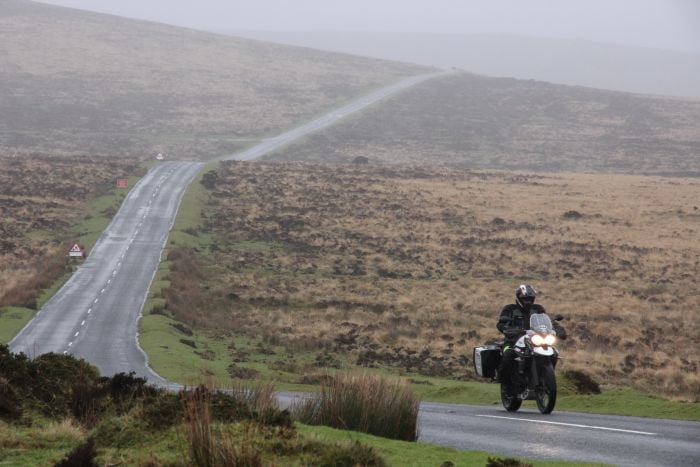 A ride to the South West wouldn't be complete without a visit to Dartmoor National Park. The high moorland is capped by many high granite hilltops, known as tors, the highest of which rises 621m above sea level. The area has so much fascinating history and I fully recommend making the most of your visit here by taking some time to explore the many tarmac veins that make their way across the desolate moorland.
The roads are some of the most exciting the UK has to offer (though there seems to be a lot of badly placed man holes) and a visit to Dartmoor Prison museum in Princetown is a must. The weather up here can be pretty nasty, so make sure you've got the right kit. From Dartmoor it's a short ride to Exeter and the M5, the finishing point of our weekend ride.
2. Land's End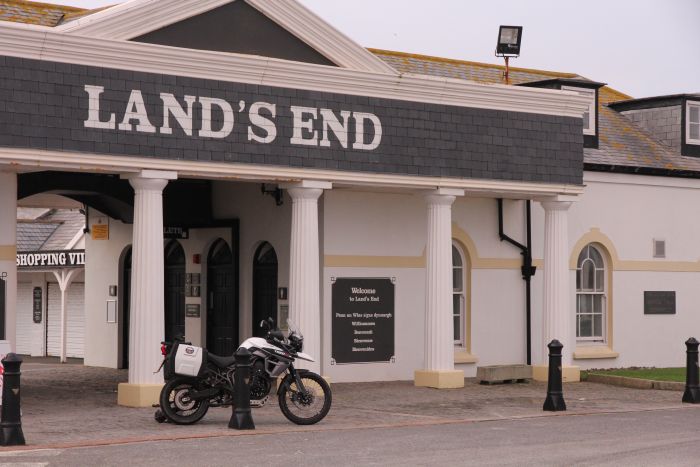 If you were expecting Land's End to be an impressive and dramatic end-of-the-world type place, you'd be forgiven for being disappointed, but once you get over that, it's an awesome place to explore. Of course, it's been commercialised and you'll find a hotel and tourist centre there, but if you venture inland a bit you'll find some fascinating attractions.
A few miles to the south you'll find the Telegraph Museum in Porthcurno, a unique museum that chronicles the history of the village as a centre for advanced technology. In 1870 the quiet and sleepy Porthcurno Valley became the centre of global telegraph communications when the first undersea telegraph cable was connected to Bombay (Mumbai), some 5,000 miles away. Exploring this otherworldly area of England is as enjoyable as it is interesting, and Penzance is only a short ride away.
See
1. Hell's Mouth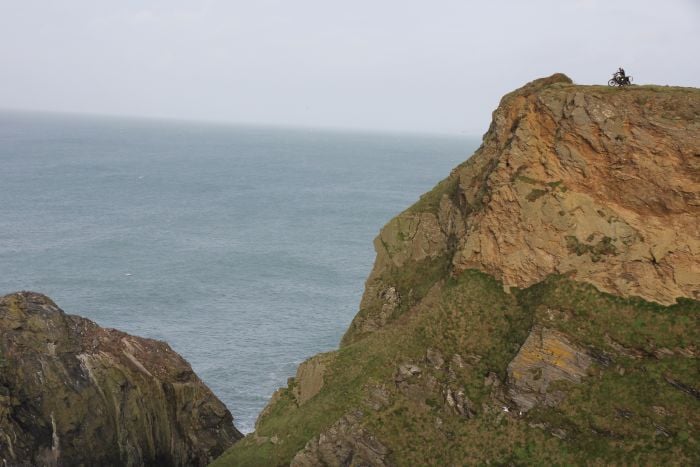 Just a few miles north west of Camborne sits Hell's Mouth, a set of atmospheric and dramatic sea cliffs on the South West Coast. We obtained permission of the landowner to ride our bike up to the cliff for the photo you see here, so make sure you stick to the carpark across the road when you visit.
Standing on top of the cliffs, it's hard not to get drawn into a trance as you watch the waves crash down on the peaceful, sandy beach below and it's a scene that could occupy the eyes and mind for hours at a time.
There's a cafe in the car park, so take the opportunity to get a drink and a bite to eat before continuing on to St. Ives. When speaking to a local about Hell's Mouth he told me of a lady who swam to the cove and discovered an old smugglers cave down there, though he wouldn't tell me what was inside.
2. St. Michael's Mount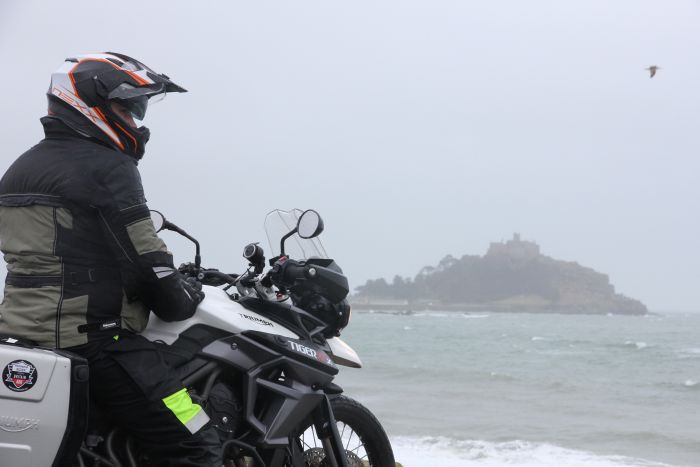 If you arrived in Penzance in the dark then awaking to see St Micheal's Mount in Mount's Bay is a special occasion. The tidal island is a civil parish that's linked to the small town of Marazion by way of a man-made causeway that's only passable between mid and low tide.
A prominent castle and chapel can be seen adorning the highest point of the mount and it was once the official residence of Lord St Levan. Those who have visited the beaches of Normandy will recognise the similarities the mount shares with Mont Saint-Michel, a French island commune.
You can take a trip to the mount either by walking across the causeway when the conditions allow, or hopping on a boat when the route is impassable. However you do it, it's a worthwhile and intriguing stop as you prepare for your last day of riding.
For your SatNav
Stick these waypoints into your SatNav to be taken as near as damnit to the TomTom South West Coast weekend route…
The route below is also available to download so you can stick it straight onto you SatNav. To get it, click here and then scroll to the bottom of the page, right click on the link titled 'ABR TomTom South West Coast Weekender' and choose 'Save Link As'. Then it's just a case of downloading it to your SatNav as per the manufacturer's instructions.
Minehead
Lynmouth
Bude
Newquay
Portreath
St. Ives
St. Just
Porthcurno
Penzance
Lizard
St Austell
Princetown
Dunsford
Exminster