Photos by Pierre Maelzer
Early in 2020, battling yellow weather warnings and the aftermath of Storm Ciara, Ollie Rooke took a journey through the most powerful kingdoms of medieval England and experienced some of the best riding in the land.
Cast your mind back well over 1,000 years to a time when England looked very different. From around the 6th century up until the 10th century, it was little more than an idea, a vision of the future that only a few sought to achieve.
What existed in its place was a collection of independent Anglo-Saxon Kingdoms that had formed after the end of Roman rule in Britain, each ruled by their own kings, with separate loyalties and customs. Over time, seven kingdoms formed, the most powerful of which were Northumbria, Mercia and Wessex, which sought to annex and control the rest.
In 871, as near constant invasions from Vikings plagued the kingdoms of England, Alfred (later known as Alfred the Great) was crowned King of Wessex. As his, and the Kingdom of Wessex's, power and influence grew he was able to repel the Viking invasions and plant the seeds of the formation of England.
His dynasty was continued by his son Edward, who became King of Wessex after his death, and his daughter Æthelflæd, who became Queen of neighbouring Mercia. Towards the end of the millennium Edward's successor established the Kingdom of England, which remained united thereafter. Our country came into existence.
The best of England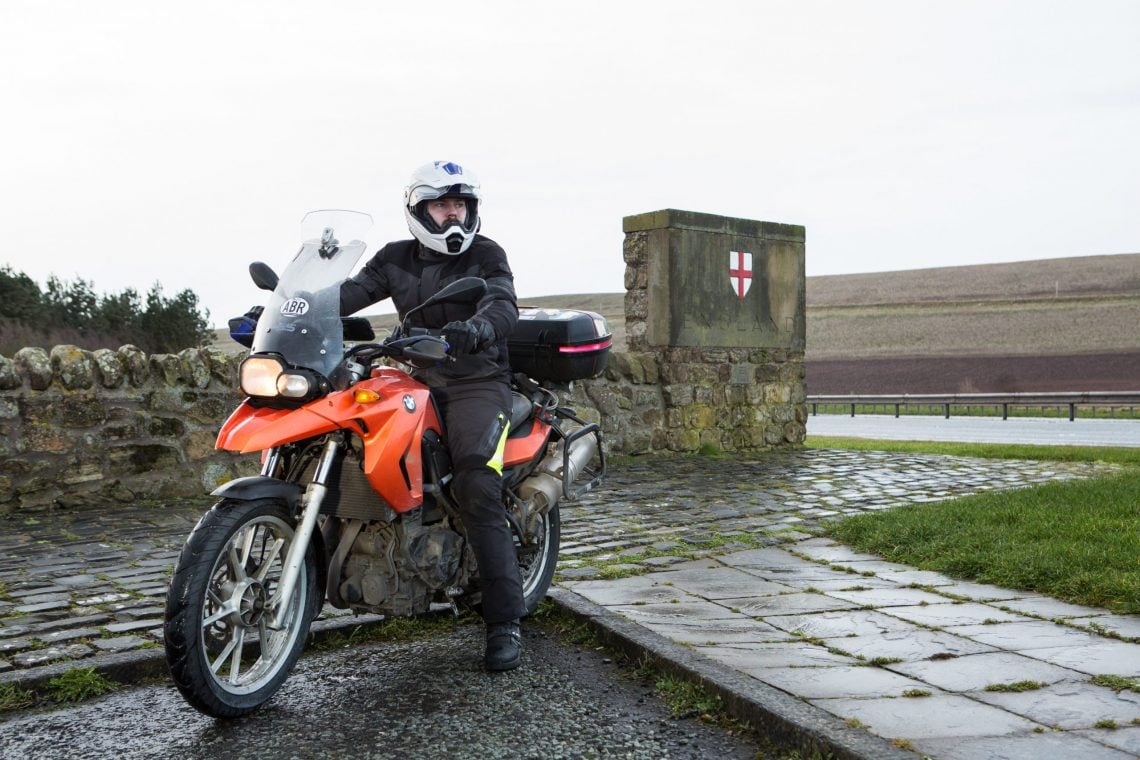 Now at this point you'd be forgiven for thinking 'what does this have to do with motorcycling?' There is method to our madness.
It just so happens that located within these three kingdoms are some the most exhilarating roads and epic landscape England has to offer. And, by plotting a route between the seats of power of those three kingdoms, we were able to come up with a route that takes in some of the best biking the country has to offer.
In medieval times, marching armies and travellers would have stuck to the old Roman roads on journeys that crossed the country. But, with a few more horses between our legs than our ancestors, we were able to travel from the top of England to the bottom over the course of a weekend through a magnificent collection of National Parks and Areas of Outstanding National Beauty (AONB).
The route will keep you in the saddle for the majority of both days, covering around 500 miles, albeit on slower roads.
Kingdom of Northumbria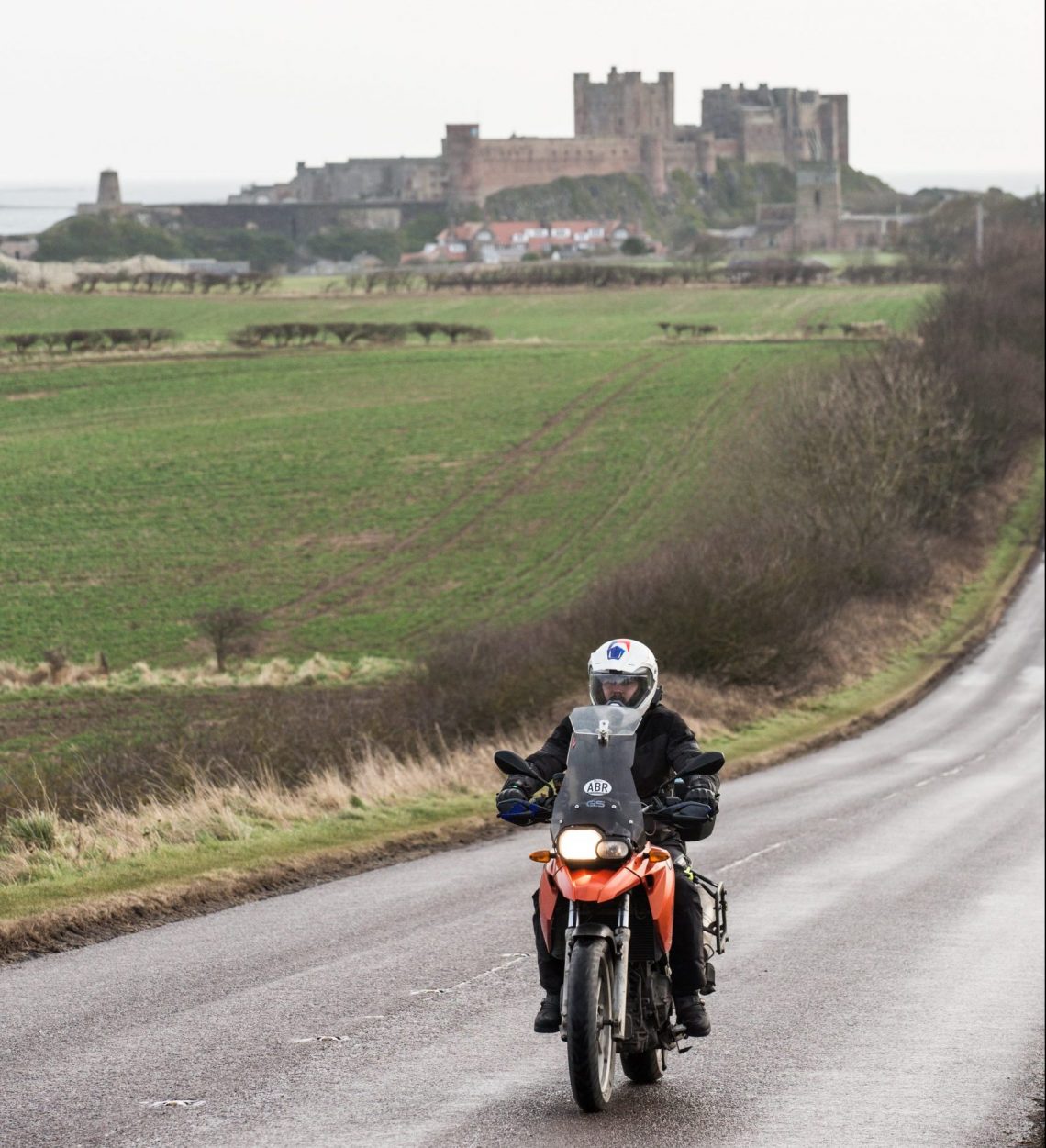 Our starting point is almost as far north as you can go in England, at Bamburgh Castle in what was the Kingdom of Northumbria. At the height of its power this vast northern kingdom stretched up into Scotland, which was yet to be established, as far as Edinburgh.
Bamburgh Castle was the seat of these northern kings. It's an imposing structure built on a volcanic outcrop that rises above the surrounding rolling hills and small town of Bamburgh.
Parked up next to the castle on the isolated, rugged north-east coast, you face out over the North Sea and can almost picture the sight of terrified villagers flocking to the safety of the castle's fortifications as Viking ships emerged on the horizon in search of wealth and land to settle.
Luckily, the only invasion Northumbria will see in the coming months will be bikers flocking to this route, and we're confident modern northern hospitality stretches far beyond the sword and axe that those landing invaders would have received as a welcome during the medieval era.
A taste of gravel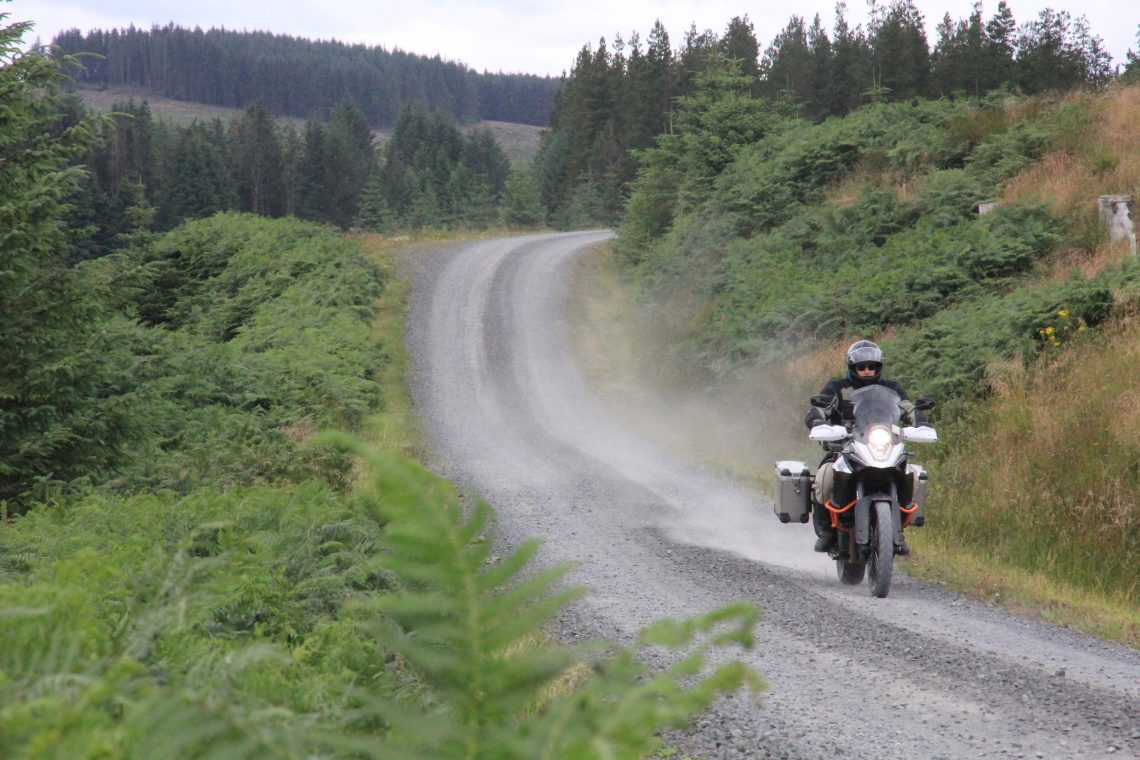 Turning away from the wind-swept coast, our wheels take us towards Northumberland National Park, crossing into Scotland briefly before dropping back into England at the Kielder Forest. Within these wild moors and dense forestry lies the Kielder Forest Drive, a fantastic unsealed 12-mile gravel road which is perfect for our adventure bikes.
Sadly, it's closed between December and May so we enjoyed the superb surrounding blacktop instead. At the end of this drive sits the Kielder Castle Café, open daily from April-October, a short pitstop perfect for something hot and caffeinated before we hit the road heading southwards again.
The brilliant riding in Northumbria just keeps coming. Next up is the North Pennines AONB. Starting on a collection of open country lanes that take you over rolling hills and through small, quintessentially English villages, you'll quickly begin to gain altitude.
The roads top out on the two joint-highest paved passes England has to offer, Killhope Cross and Harthope Moss (also known as Chapel Fell). These are two fantastic roads and although the temptation will be to ride them again and again, you'll need to keep your wheels rolling onwards as we head for lunch in Masham.
Nidderdale Area of Outstanding Natural Beauty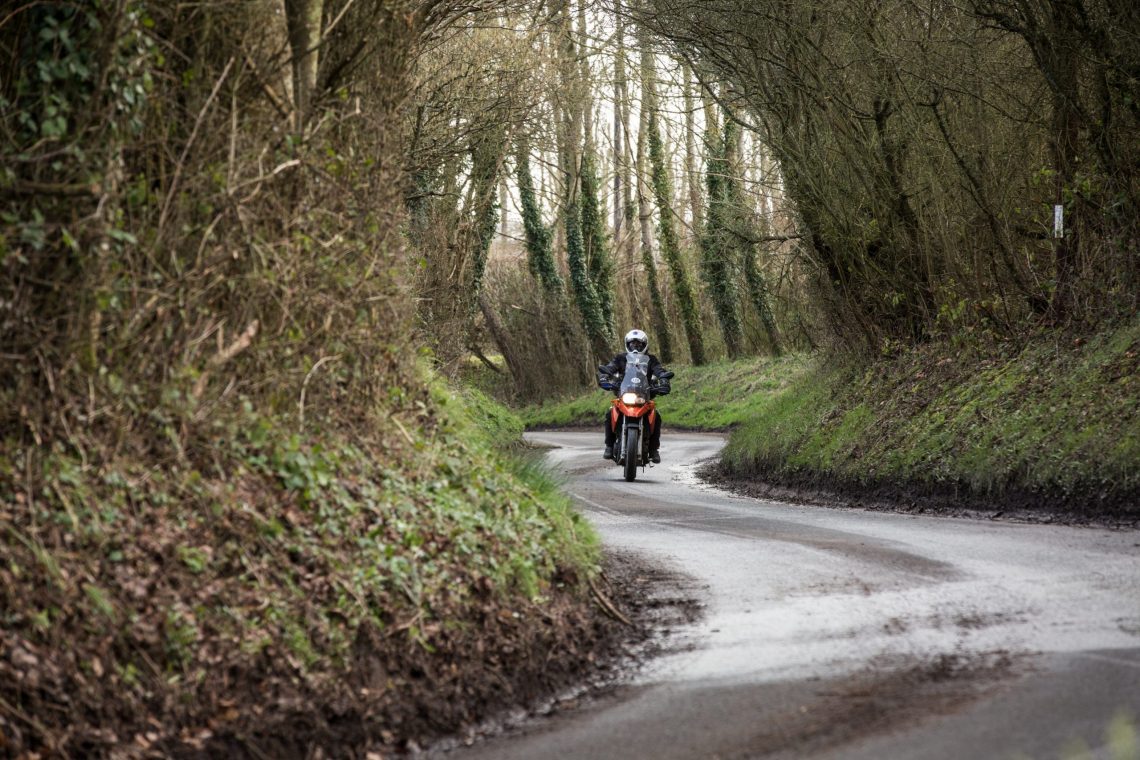 Nearby is the Yorkshire Dales National Park. There's a lot of great riding in this area but missing it out was sadly a compromise we had to make to ensure this route could be completed in a weekend, and the fact we've ridden through the Dales on recent ABR routes including the Three Pubs Challenge.
Instead, we chose to explore the neighbouring Nidderdale AONB, a beautiful expanse of moorland that marks the bottom of the old Kingdom of Northumbria.
As we head towards the small town of Masham for a lunch-stop, the effects of the recent Storm Ciara became increasingly obvious. Burst riverbanks and flooded fields filled sections of our route with deep rainwater. This didn't deter us as we ploughed our adventure bikes through the obstacle, before repeating once, twice or maybe three times again for good measure and photographs.
Snow-topped moorland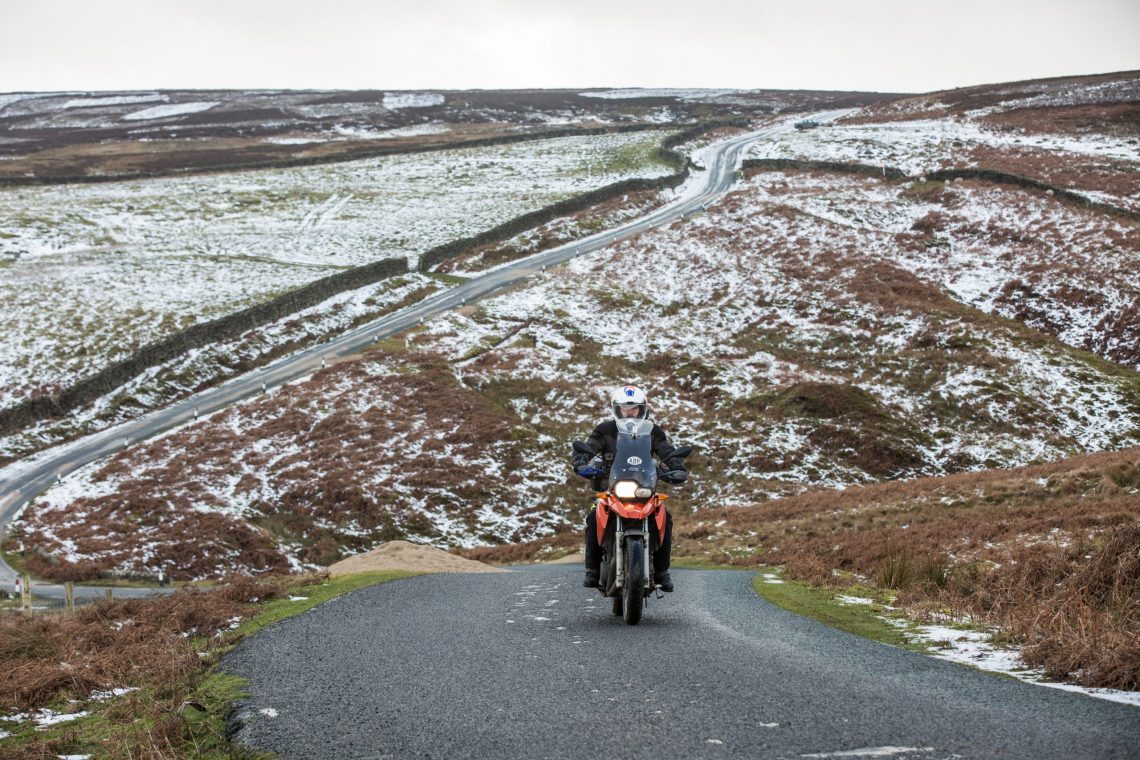 After filling our bikes with petrol and our stomachs at Harry's Traditional Fish and Chips (which is highly recommended) the road takes us out of town and into Nidderdale. Quickly, all traces of civilisation begin to fall away as you ride into the moorland.
The road once again takes us up and over the snow-topped rolling hills and, as we stop for photographer Pierre to make a yellow snow warning of his own, our only observer is a curious sheep. This is some of the least densely populated country in England after all.
This road is fantastic, a truly quiet winding country lane that will have you feeling that you're alone in the world at that moment in time. It's a fitting final stretch of Northumbria before you take some main roads to skirt around Leeds and Bradford and drop into the Kingdom of Mercia.
Kingdom of Mercia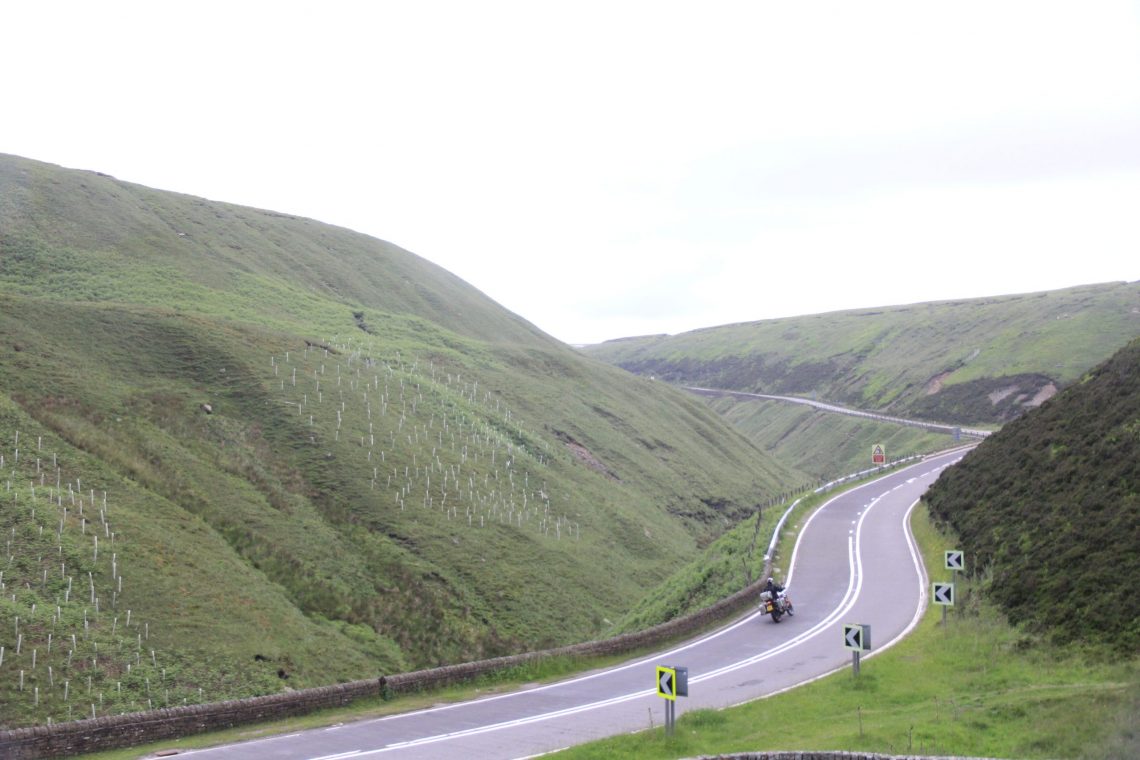 Mercia covered much of central England before the growth of King Alfred and Wessex when it stretched from London to the top of the Peak District.
It encompassed a vast expanse of land and was economically and culturally dominant, with Mercians known as some of the most successful Anglo-Saxon peoples at the time. Now it offers some cracking riding, is in easy reach of any corner of England and is also home to ABR.
We start exploring these roads after a short stretch of motorway and A-road riding, heading towards the twisties of the Peak District. First up is Snake Pass, a collection of sweeping corners, blind bends and hidden summits that take you deep into the heart of the national park.
Finally, after a day that has led you through some of the best, highest and most remote passes in England we'll take one of the steepest, Winnats Pass.
At this point, after an epic day in the saddle, we'd suggest finding somewhere to stay close by or in the south of the Peak District. No matter if you're camping or fancy a little more comfort, you'll be certain to find somewhere to lay your head in towns such as Castleton or Buxton.
You can also enjoy the pleasure of picking up some locally brewed beer – mine's a pint of Jaipur from the Thornbridge Brewery.
A warrior Queen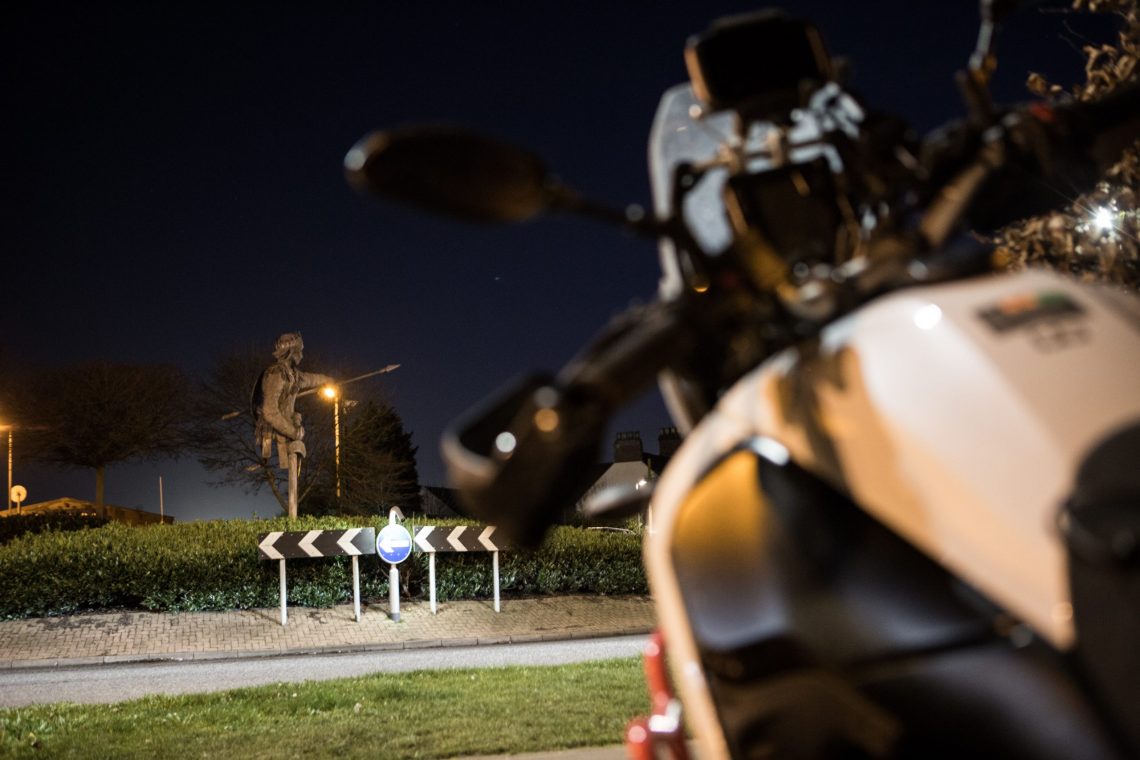 Stick to a couple though, as you'll be starting bright and early to make the most of your second day of riding. Pick up the route again as you head out of the Peak District, passing through picturesque towns and villages, heading southwards in the direction of Derby.
Once again, we jump on a couple of A-roads to make swifter progress as we head to our next two stops. First of which is the Statue of Æthelflæd, warrior Queen of Mercia and daughter of Alfred, in Tamworth.
The ascension of a female ruler was virtually unheard of in medieval times.  Æthelflæd was a wonder of the medieval ages, leading her kingdom in battles against Viking attacks and removing the Danish influence from English boroughs, paving the way for the establishment of England. Her statue is sadly somewhat of an anti-climax for such a fearsome Queen, but nevertheless it feels right to pay our respects to such an icon.
Into the Cotswolds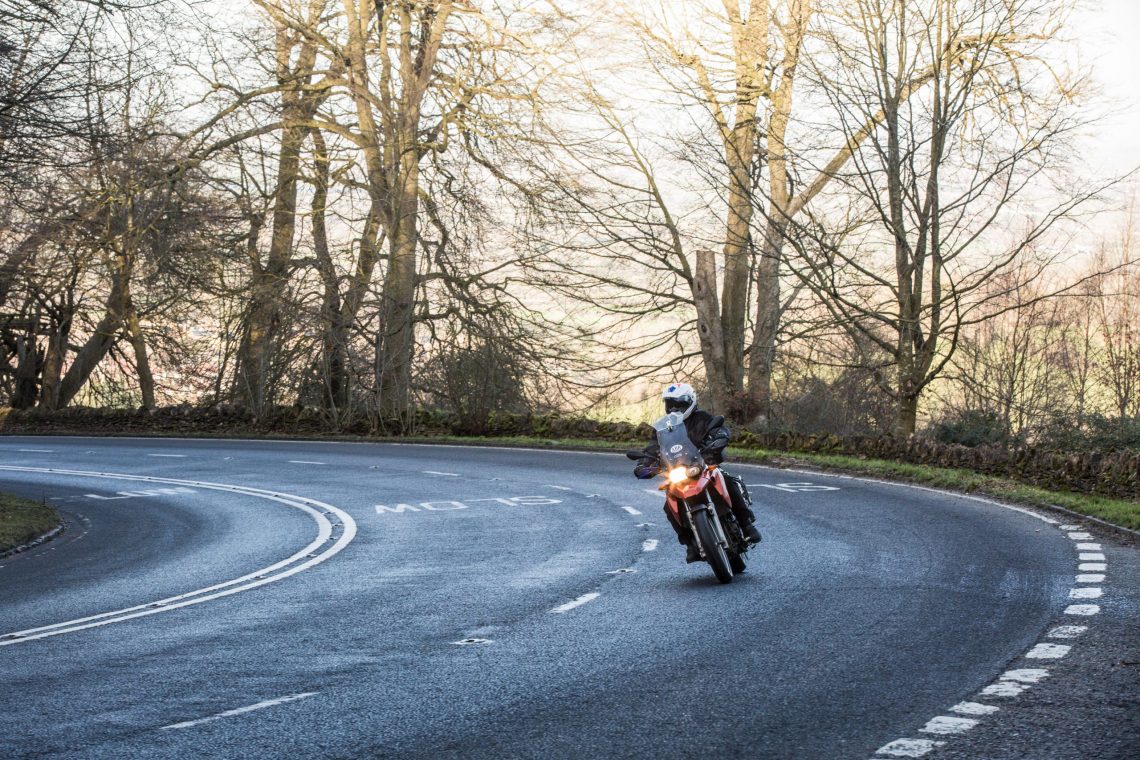 Continuing southwards we head towards Stratford-upon-Avon, birthplace of Shakespeare and home to ABR. The riverside makes for a beautiful setting to stop for lunch. Park up in the Bridgeway motorcycle parking and close by you'll find the Gower Memorial and a small statue of Shakespeare's Prince Hal.
He's our only fictional King on the route, but as he's loosely based on one of England's greatest warrior kings, Henry V, it felt right to include him on the journey. After a light lunch in peaceful settings (we recommend Cox's Yard for some great nachos) it's time to saddle up again for our final afternoon of riding, and our final kingdom.
Our route out of Mercia takes us through the Cotswolds AONB. You'll enjoy meandering country lanes passing through through chocolate-box villages. We'd recommend a stop in Broadway Village, a quaint and popular spot for tourists and nice place for a coffee.
It's then onto Fish Hill which features a series curves which are popular with local riders but be wary of the fact it is often policed. I'd recommend sticking to the speed limit. Before long you're out of the Cotswolds and into Wessex, with Winchester fast approaching.
Kingdom of Wessex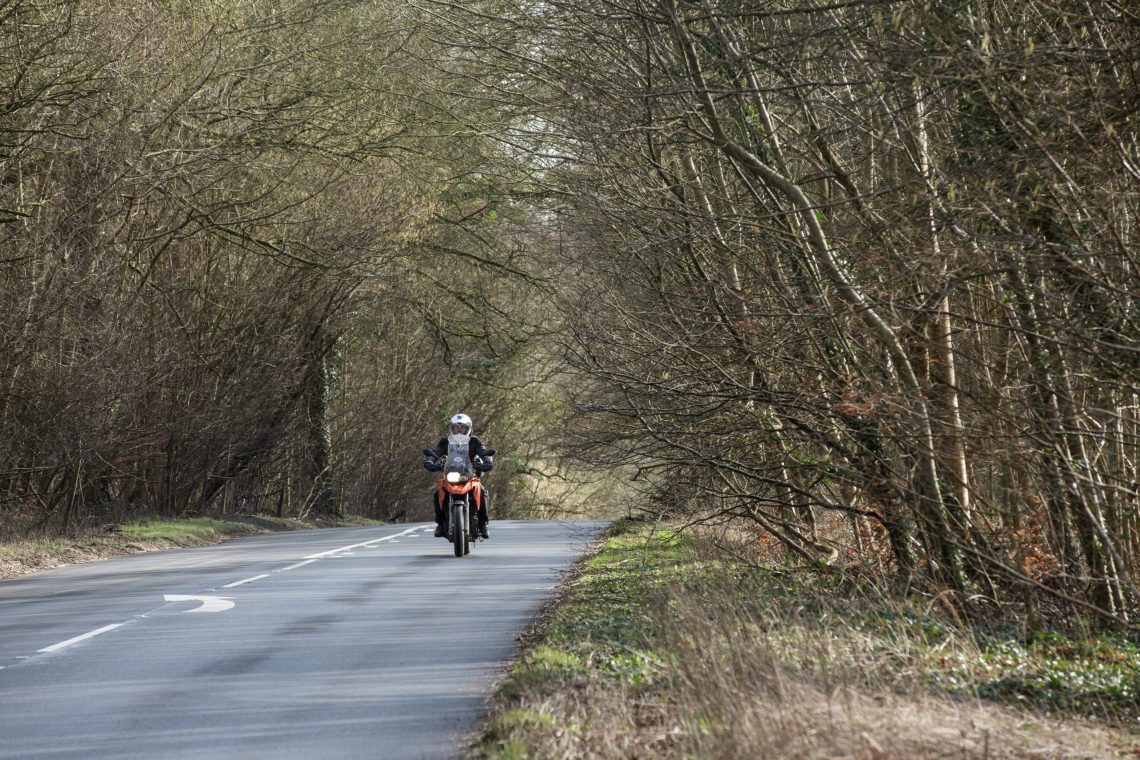 Travelling the route from north-to-south, we finish in the Kingdom of Wessex. Although the Three Kingdoms Way can be ridden in either direction, it does feel right to end it here, in what can be seen as the birthplace of King Alfred the Great and of England.
During Alfred's tenure, Wessex grew to control much of what we now know as England and, following his death, his daughter Æthelflæd and son Edward further united the kingdoms, before Edward's successor conquered Northumbria and the Kingdom of Wessex became the Kingdom of England.
We pass through the North Wessex Downs towards Winchester, the capital of Wessex. The phrase 'England's Green and Pleasant Land' springs to mind as we sweep along narrow country lanes, through the famous market town of Marlborough and small villages filled with thatched roofs, small churches and, of course, a local pub (bonus points available for riders who count the most number of pubs named the Red Lion).
We travel through a myriad of meandering country lanes before we join sections of arrow straight Roman roads as we head to our final stop, Winchester.
After a few more miles we arrive at the statue of Alfred the Great towering above Winchester's main parade, our final destination and the end of the Three Kingdoms Way. Winchester is a lovely stop if you have time to stay the night, with a large cathedral to be explored and nice restaurants to enjoy your own royal feast.
Fit for a King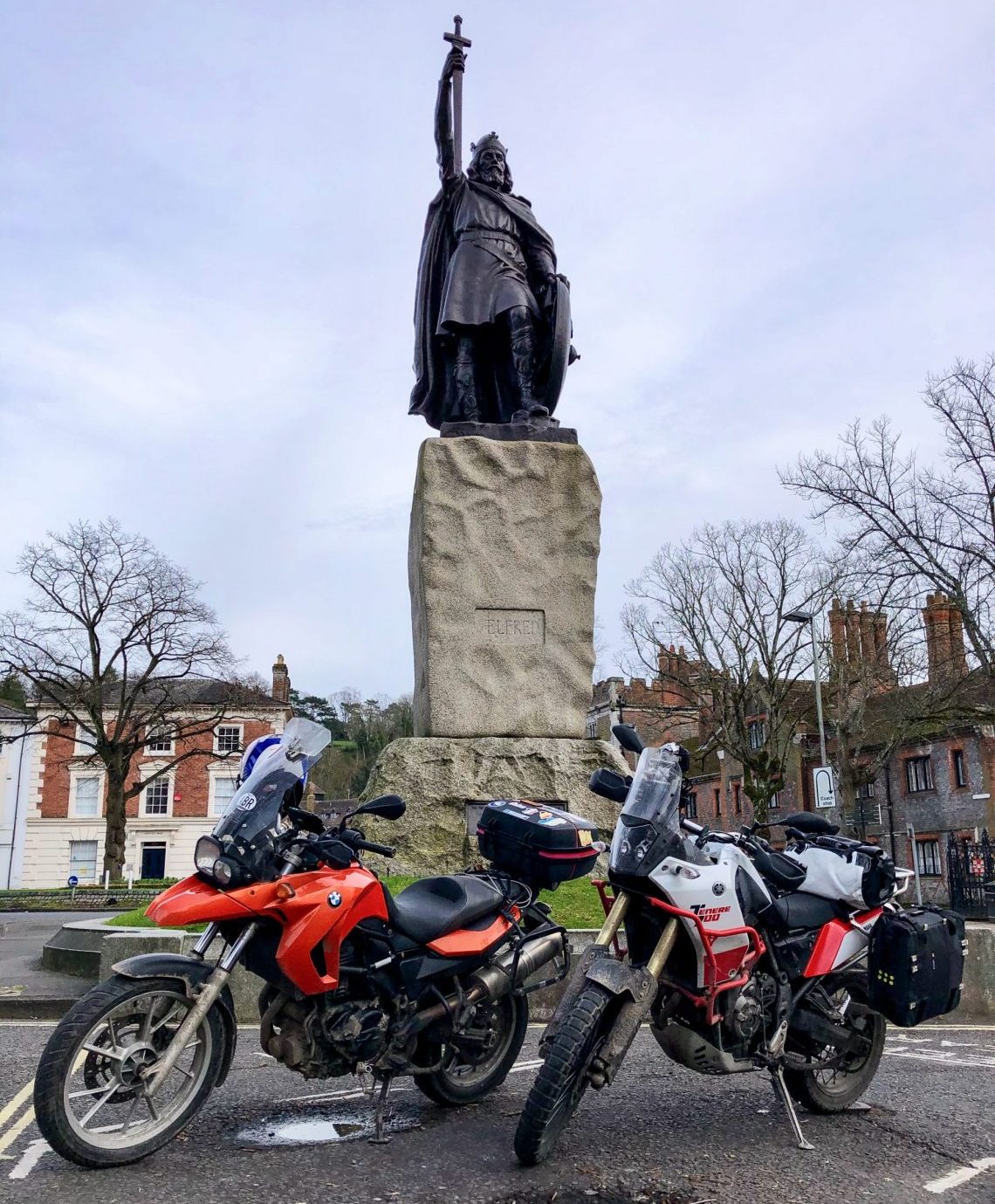 We park beneath King Alfred, his sword held aloft and eyes surveying the England he had created, and I start to think about the route we'd ridden. It felt like a fitting tribute to the nation that Alfred carved out.
Having started at the very top of England, we'd travelled south through some of the country's most spectacular landscapes. We'd tackled some of England's remotest areas and took in phenomenal roads, as well as exploring fascinating sights.
Reflecting on the ride and the history I'd immersed myself in along the way, I wondered if King Alfred would have been a biker too. He saw a greatness in the idea of England that few had before him and he battled through great difficulty to piece it all together. I bet he would have loved to have ridden 500 miles down the length of the kingdom that he was instrumental in creating.
One thing is for sure though. As I laid in bed the evening after finishing the route, having ridden from the border with Scotland all the way to Winchester, I felt like I'd conquered England myself.
The Route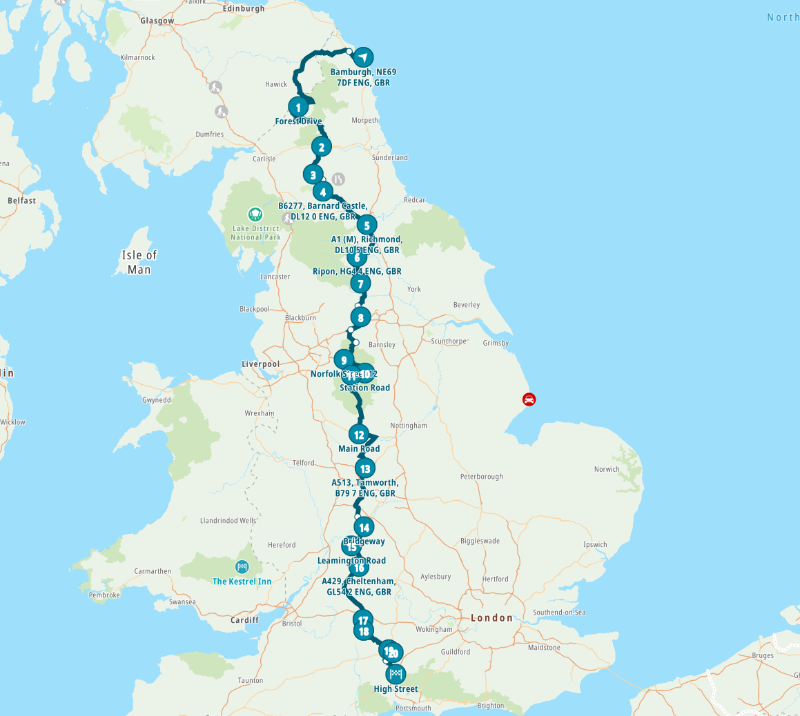 Download the GPX file for the route here, or follow the waypoints below for the Three Kingdoms Way.
Day 1:
Bamburgh Castle
Kielder Forest Drive/Forest Road, Hexham
Nenthead (Killhope Pass)
St John's Chapel (Harthope Moss)
Lofthouse via Masham
Glossop via Woodhead
Castleton
Buxton
Day 2:
Ashbourne Green
Tamworth Station
Stratford upon Avon
Willersey
Bourton on the Water
Marlborough
Saint Mary Bourne
King Alfred's Statue, Winchester
Ultimate Addons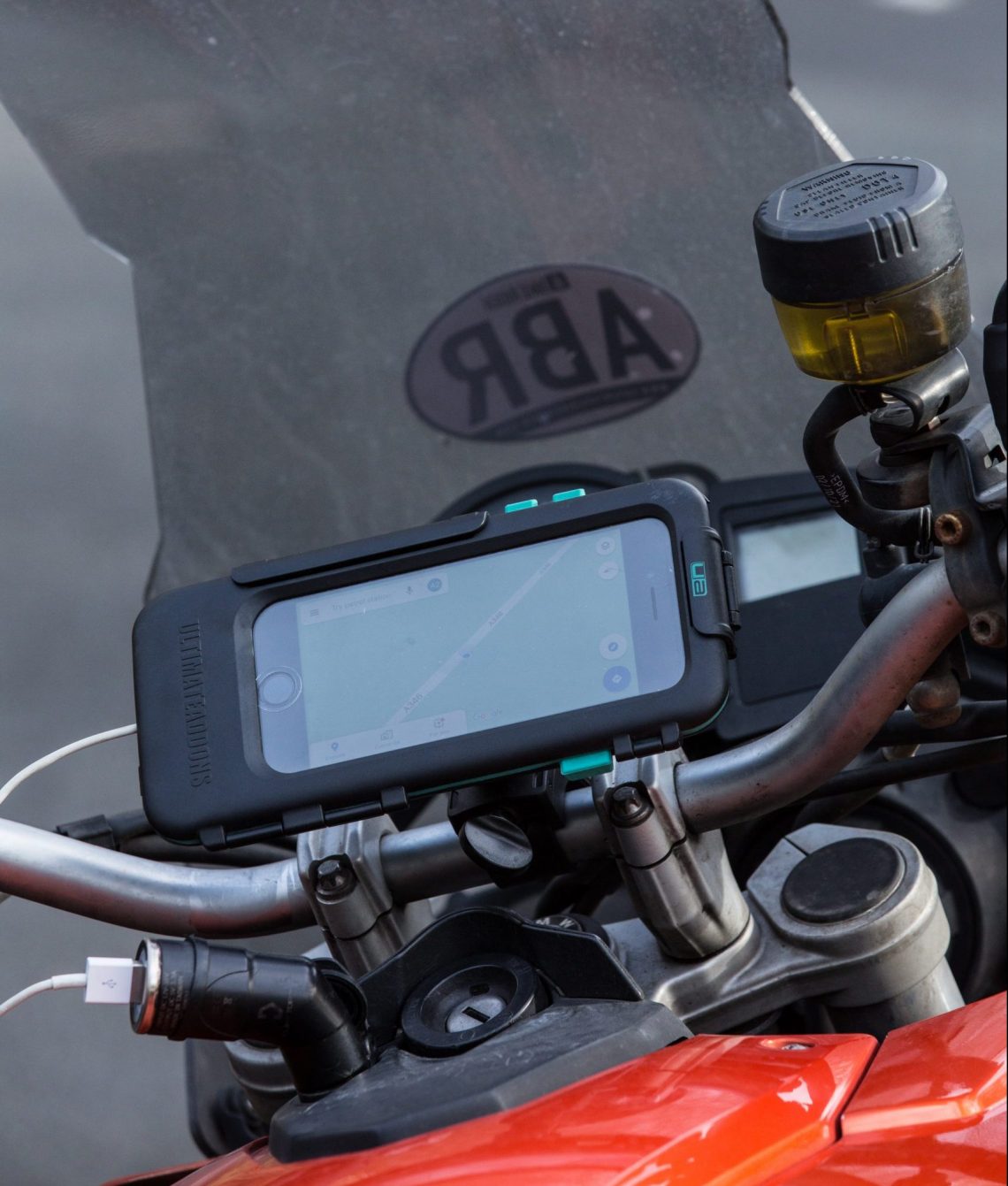 Completing the route between the battering weekend storms of Ciara and Dennis, it was certainly going to be a test of my clothing, bike and gear. I was most concerned about my phone, which I kept on my handlebars to provide live travel and weather updates.
I needn't have worried. Protected within my Ultimate Addons phone case, it remained secure and dry throughout snow, heavy rain and driving gales. They say when the going gets tough, the tough get going. Well, this phone case sure proved it's tough enough for us adventure bike riders.