The latest and greatest biking kit.
TomTom Rider 450
£375.98
The Rider 450 is the latest incarnation of TomTom's ever-popular Rider range of motorcycle SatNavs. It was introduced to the world earlier this year, and we were invited to the launch of the device down in the sunny New Forest.
The new 450 replaces the 410, which replaced the 400, and while the bulk of the product remains the same, there are some brilliant new additions that positively add to the user experience.
The screen has been revised to make it less sensitive to unintended inputs and ghost presses caused by rain and, rather usefully, you can adjust the touch sensitivity based on the type of gloves you're wearing.
Aesthetically, TomTom has ditched the silver metal detailing on the device in favour of a more subtle and sexier gunmetal design. It's a welcome addition and adds a bit of style to the SatNav.
The Rider 450 retains the excellent 'Plan a Thrill' riding mode, which sees the device plot a route for you by including the twistiest and hilliest roads to get you where you need to be, and the interface is as simple to use as it's ever been.
New to the 450 is the inclusion of points of interest, which is perhaps one of the most useful of the lot. On the map you'll see various pins, colour coded for ease of reading, which indicate museums, cafes, petrol stations etc., and it'll also come with over 100 expertly curated routes pre-installed.
And we know they're good, because 10 of them were created by us! In all, the Rider 450 is a great SatNav that builds on the old 410 by adding simple yet effective upgrades where they're needed.
The screen still has legibility problems when in direct sun, but I've always found a way to read it when needed.
Vulcanet Premium Cleaning Wipes and Microfibre
£32.99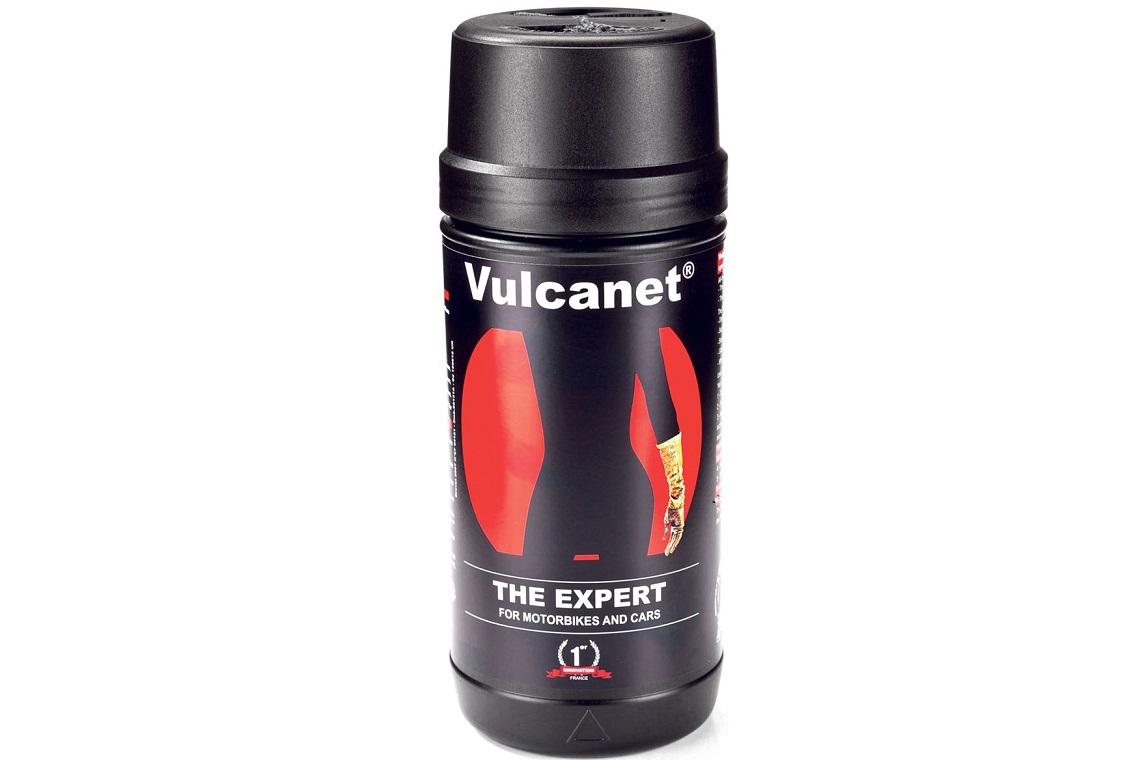 Billed as the world's first premium all-in-one wipes, Vulcanet allows you to clean your bike or car anywhere, even without water.
Essentially, what you get for your £32.99 is a roll of 80 wet wipes and a premium microfibre cloth, all packaged up nicely into a handy black tube.
It might not seem like much, but these are seriously impressive, allowing you to give your bike a full clean no matter where you are without the need for water, sponges, brushes or all of the other bits and bobs that you'd usually need when sprucing up your machine.
It sounds like magic, but these wipes genuinely could have been crafted by a master warlock as, after attacking our filthy Tiger Explorer with them, the bike came out sparkling like it had just rolled off the showroom floor.
These wipes hold a specially designed solution that contains a degreaser, bug and tar remover, bodywork detergent, glass and screen polish and a wheel cleaner all in one, and honestly, cleaning your bike has never been easier.
All it takes is a few wipes and a final going over with the included microfibre cloth and your pride and joy will be glimmering. It's seriously impressive, and 80 wipes will last you a long while.
Shad SH59X Expandable Top Box
£349.98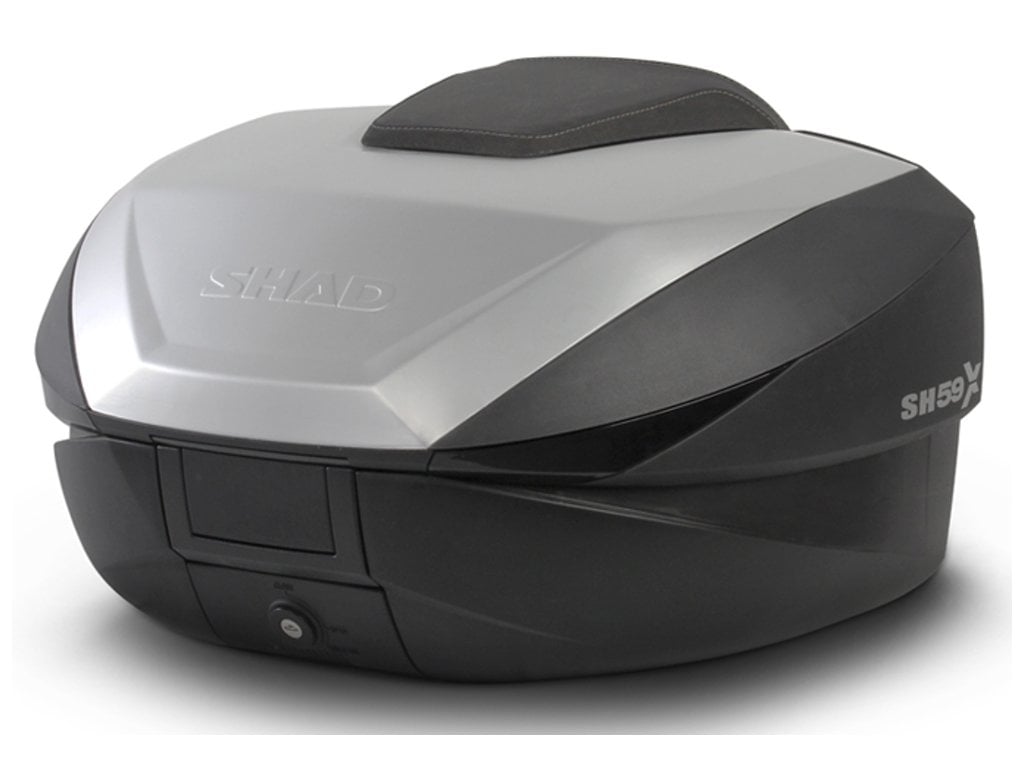 Spanish brand Shad has been developing motorcycle luggage systems and seats in one form or another since 1973, and while you may not have heard of the brand there's a very good chance that you will have seen its products in use.
You see, the company is responsible for manufacturing the OEM seats and luggage options for many bikes including the BMW R1200GS. And so, we were given the SH59X Expandable Top Box to test out, and it's a pretty unique piece of kit.
Expandable soft luggage has been around for ages, but Shad has finally taken the plunge and introduced a potentially game-changing system into the SH59X. It's a top box that offers three sizes in one, thanks to an intuitive design.
In its smallest form, it offers 46-litres of luggage, pull the levers inside and lift the box by one click and you get 52-litres, pull it up once more and you now have a top box with a massive 58-litres of space, making it large enough to hold two adventure helmets.
The system is remarkably easy to use, taking literally seconds to adjust once you know what you're doing (and easy-to-follow instructions are included).
As you'd expect from the Spanish company, the quality is on point, with it feeling superbly well-made and all locking systems, both to secure it shut and to the bike, feeling smooth and safe.
A fitting plate comes as standard, which will enable you to fit it onto your bike's existing top box mount, and if you spend a lot of time touring two-up, your passenger will love you forever if you purchase the optional two-piece backrest to go with it (an extra £44.99).
At £349.98 it's a bit pricey for a top box, but consider the fact that you really get three products in one, and it starts looking a lot more reasonable.
Elspeth Beard Lone Rider: The First British Woman to Motorcycle around the world
£14.99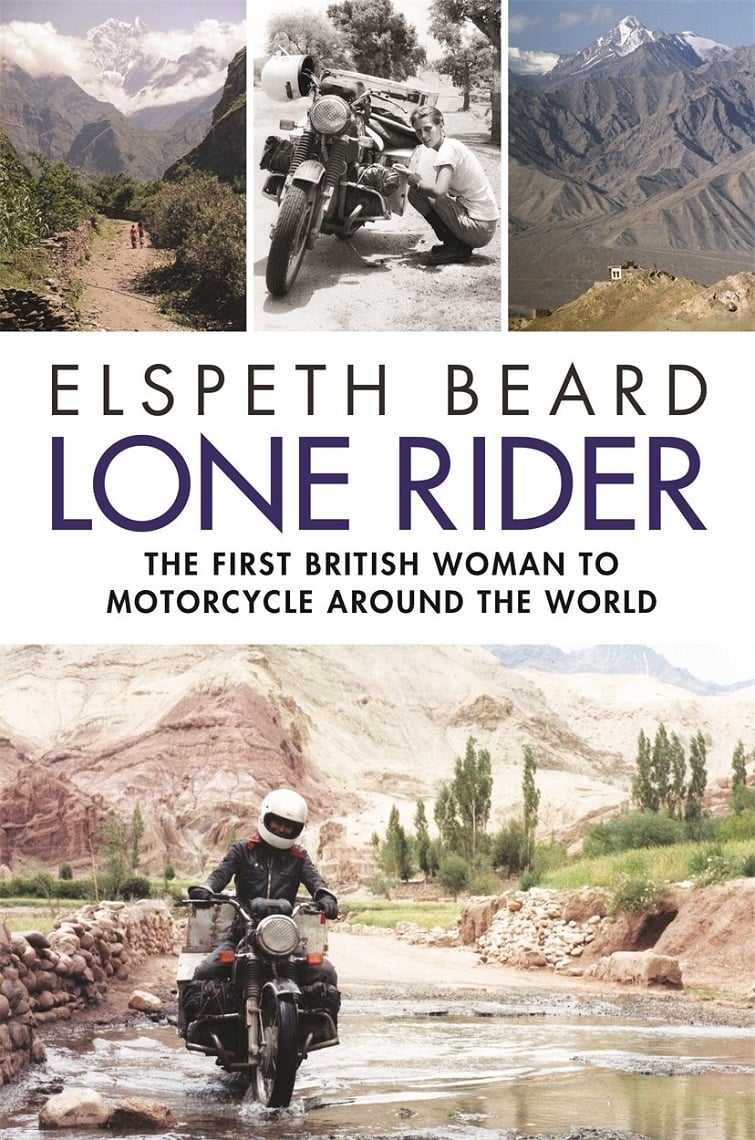 With summer upon us, I've been looking for a good book that I can lie down with and get lost in, and recently the one that's been taking up my time has been Lone Rider by Elspeth Beard.
Elspeth is a remarkable woman. In the 1980s, she became the first British woman to motorcycle around the world, and until the past few years, her story has remained largely untold.
I took a trip to her house in Guildford towards the end of 2015, where I was fortunate enough to chat to her over a cup of tea about her adventure, and the story is a fascinating one.
Fortunately, Elspeth has finally put her whole experience into words, and the result is 320 pages of excellence. She opens up and speaks with honesty about all aspects of her trip and life after it.
From the trials and tribulations of riding solo as a woman in the 80s to her relationship with her riding buddy turned love interest, it's an eye-opening account of one of adventure motorcycling's most enjoyable and inspiring stories.
If there's only one adventure biking book you read this year, make it this one.
Bumot Pannier System
From £750 + £300 including top box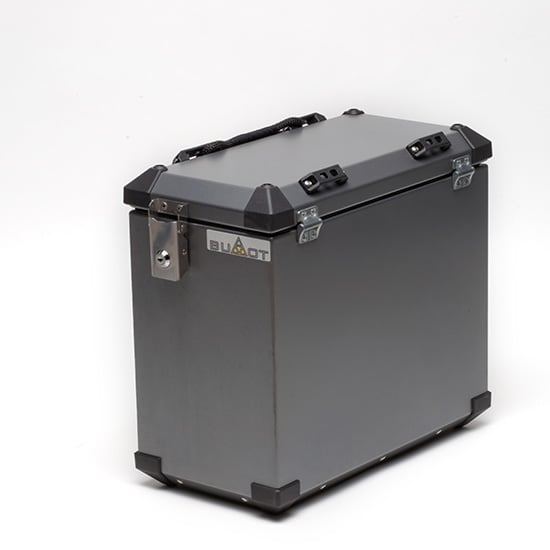 Trying to choose the right hard luggage for your adventure bike can be a tricky decision. There are so many luggage manufacturers around, mostly producing very good quality kit, and when it comes to setting them apart from each other you have to go down to the finest details to see which ones are worth a buy above the others.
These Bumot Panniers, which are hand made in Romania, look just the trick, though. Made from 2mm aluminium, which is thickened to 4mm on the bottom edges to add extra resistance in areas that bear the brunt of the impact in a fall, the Bumot Panniers not only look the part, but they have several key features that make them act it, too.
Keyed locks add security and peace of mind, strap attachments increase the versatility of the boxes, rubber bumpers on the corners help protect the beautiful powder coated metal from abrasion, and the quick-release mechanism saves you a lot of hassle when you come to take them off the bike. Though they lack any carry handles.
The lid has resistant hinges, and while at first, you might just think that they need greasing up, they're actually there to allow you to part open the pannier without the lid closing on itself. With prices starting from £750 per set + fixing kit (£300 extra for the top box), they place themselves nicely in the price range, and you get value for money.
The panniers are available in three colours, black, frozen grey, or silver, and three sizes (35-litre, 40-litre and 45-litre, minus four-litres on the exhaust side), and for an extra £99, you can get the purpose-made toolbox, which compliments the panniers very well.
Acerbis Box G-348
£149.22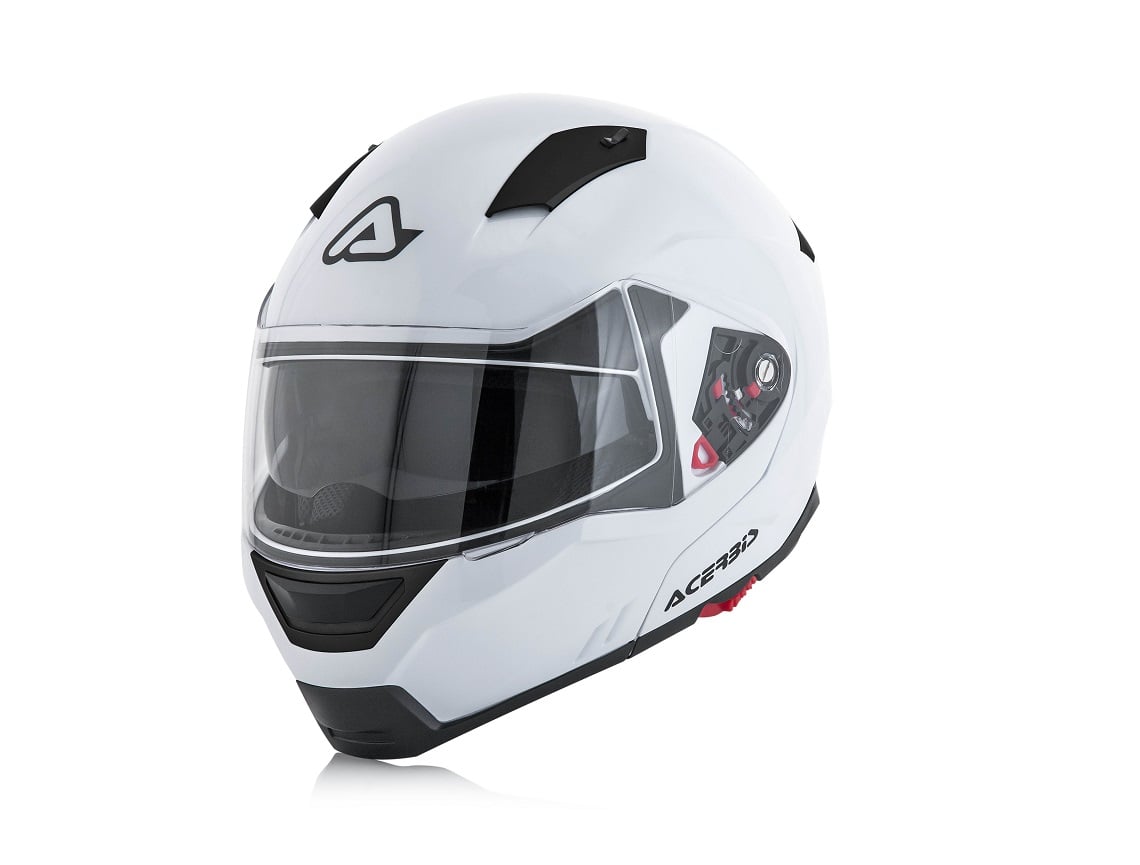 Acerbis is a brand that is mostly known for its off-road accessories and clothing ranges, but the G-348 is the company's flip front helmet that's predominantly designed for on-road use.
With a thermoplastic shell, the helmet passes the relevant safety laws, and our sample came in a fluorescent yellow, which is certainly eye-catching (and that's not a bad thing from a road safety perspective), but it's also available in white or black, with all three examples looking attractive.
The mechanism which allows you to flip the face of the helmet up is simple to use (though with thick winter gloves it can be a bit fiddly), and operates smoothly. Once in the upright position, it locks securely into position and stays there until you want to close it.
An internal sun visor, which is both well placed and simple to flip down, offers welcome protection from sun glare, and the main visor has an anti-scratch treatment, though it does tend to fog up easier than we would have liked.
Ventilation is good, with there being inlets on the chin and forehead, and a nice, big exhaust vent along the rear sucks cooling air through the lid.
Of course, the best ventilation you can have is to make use of that flip front! At £149.22, it's nicely priced, and for your money, you get a well-specced flip front helmet.