Bryn Davies puts 15 pairs of adventure-style boots to the test
So, you've got the textiles and the peaked helmet, now all you need to complete your look is a pair of adventure boots. When it comes to buying the right ones, however, you'll soon discover that it's a difficult proposition.
There are a load on the market, with each one advertising different features, and it's easy to become overawed. To help you out, we've pulled together 15 of the best adventure boots out there and put them through their paces.
Now, when it comes to buying adventure boots and you're standing in the store with a sales rep explaining why this one is better than that, there is one crucial factor to consider above all else. And that is how they fit your feet.
Everyone's feet are different in terms of shape and size, and there's no one-size-fits-all option. As well as that, most manufacturer sizing will differ depending on where they are in the world and the type of last they use.
For example, Northern European manufacturers tend to make wider fitting boots than Southern Europeans. With this in mind, when you are deciding on an adventure boot, the best way to do it is to make a list of all of the features that you consider essential.
Once you've got that, try on each boot that meets that criteria, then buy the one that's the most comfortable. Trust me, when you've spent nine hours in the saddle in ill-fitting boots, you'll wish you heeded this advice.
So, what features do you need to look for? Well, it depends on the type of riding you're going to be doing. Adventure biking today typically encompasses two main styles.
There's the on-road tourer who does big miles in the day and likes to see the sights along the way on foot. Then there's the adventure rider who seeks out the dirt. The one who dabbles in the dark art of green laning or enjoys bog snorkelling in the Congo.
These two riding styles require their boots to have different qualities. First of all, you're going to have to consider how much protection you're going to need.
Obviously, all motorcycle boots should offer protection of some form in the event of an accident, but adventure boots that are ready to tackle the trails should go over and above that. Typically, you'll see this in a stiffer sole, more rigid ankle and a beefier shin guard.
They'll be hard to bend, will protect your ankle from rolling on uneven terrain, and offer good protection if you drop your bike on your leg. The trade-off for this, however, is that these chunky, stiff boots tend to be less comfortable than lighter, softer and usually more road-biased adventure-touring boots.
This is where you'll have to decide what's more important to you – top protection, or all-day riding and walking comfort? Secondly, should your boots be waterproof? It might sound like a silly question, but if your plans involve lots of river crossings, deep puddles or riding in countries where it's incredibly warm and dry, you'll probably get on better without the inclusion of a waterproof lining.
A waterproof membrane, for example, Gore-Tex, will stop water coming in, but it also stops it from escaping. So, if liquid ingresses over the lip of the boot, it's going to stay there 'till you shake it out. Similarly, waterproof membranes make motorcycle boots noticeably warmer, no matter how 'breathable' they claim to be.
In my experience, if you're going to be riding on tarmac, make sure your boots are well waterproofed (unless you're in a country where rain is unlikely). Whether you prefer buckles or a zipped calf opening, the type of padding used within and, of course, the looks and styling of a boot are all personal preference.
---
How to buy motorcycle boots
Gravity dictates that your feet swell during the day, more so on hot days, and in some cases, they can swell by over one shoe size, though half a size is more common. It's best, then, to go shopping for bike boots in the afternoon rather than the morning.
It's also advisable to bring along the type of socks you usually wear when riding. When choosing a boot, go by fit rather than size on the box. Take time to stand up and walk around the shop, and if they have a bike in store, see if you can try them in situ so that you can get a feel for the controls.
---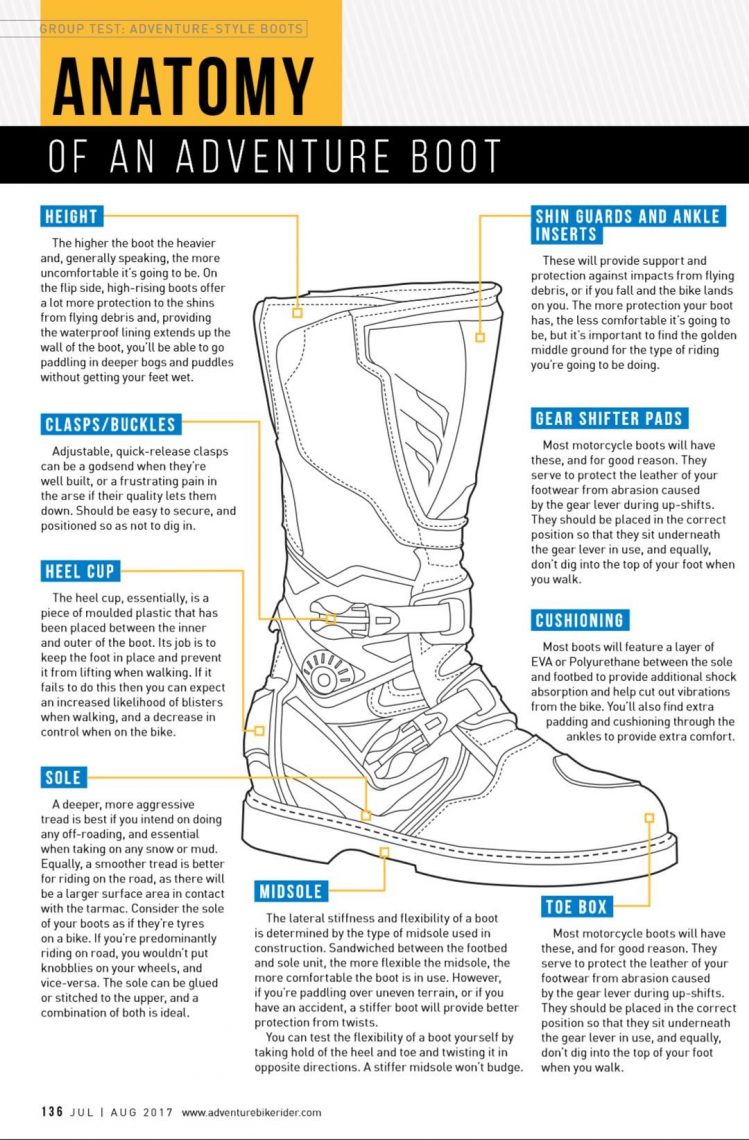 RST Adventure II Waterproof Boot
£119.99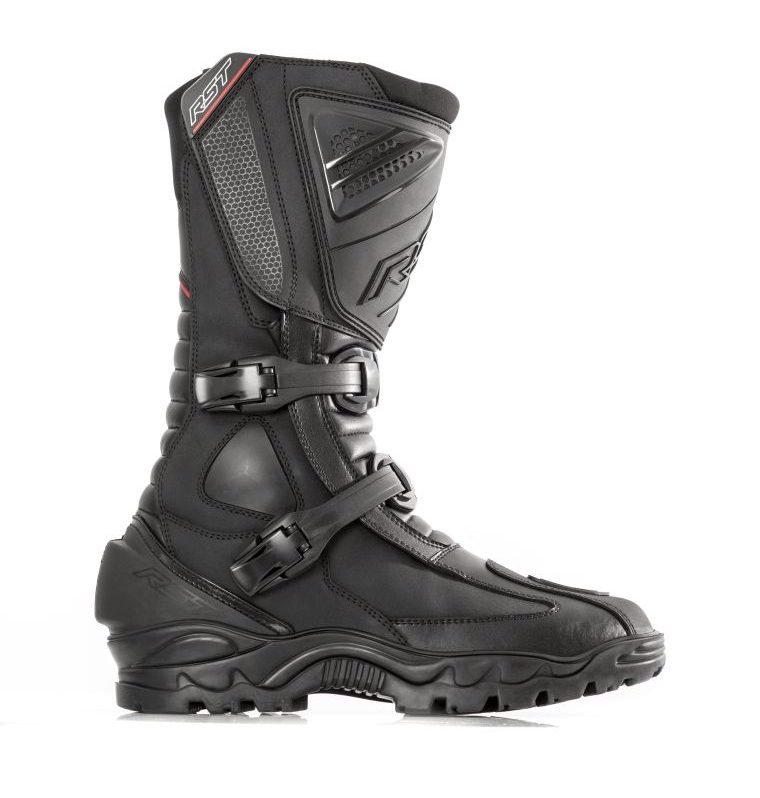 If you're just getting into motorcycling, or you're looking for affordable kit, you'll probably have come across RST on your searches, and at £119.99, the Adventure II boots are the cheapest in this test. But while the boots are low in price, they're not exactly low in quality.
You get a PU coated leather upper, PUshin, ankle and heel protectors, well-placed memory foam cushioning, and a Sinaqua waterproof membrane to keep the water out. The sole unit of the Adventure II boots has a well-designed tread, but it will need some breaking in.
Out of the box, it had some sort of coating on it, and the boots slipped all over the place until it had been on a run out.
The lugs are deep, allowing for good grip on the trails, while on-road performance is also good. While the clasps and buckles aren't as high in quality as you'll find on pricier boots, they're still well made and should have a good lifetime in them.
The boots seem to find a very good middle ground when it comes to protection and comfort, being comfortable to wear out of the box – though the armour throughout feels a little on the flimsy side, being easy to bend and twist.
For gentle trails, they'll suit you well, but if you have aspirations of serious green laning over demanding terrain, you're going to want a more supportive boot.
For road touring they're great, offering a lot of comfort off the bike as well. While the boots are advertised as waterproof, water-resistant would be a more appropriate term. They'll keep the water out in light showers, but if you're caught in heavy rain or are paddling through river and puddles, water will enter from around the toe area.
IN A LINE: Good boots for getting into adventure.

GP-Pro Adventure Series 2.1
£124.99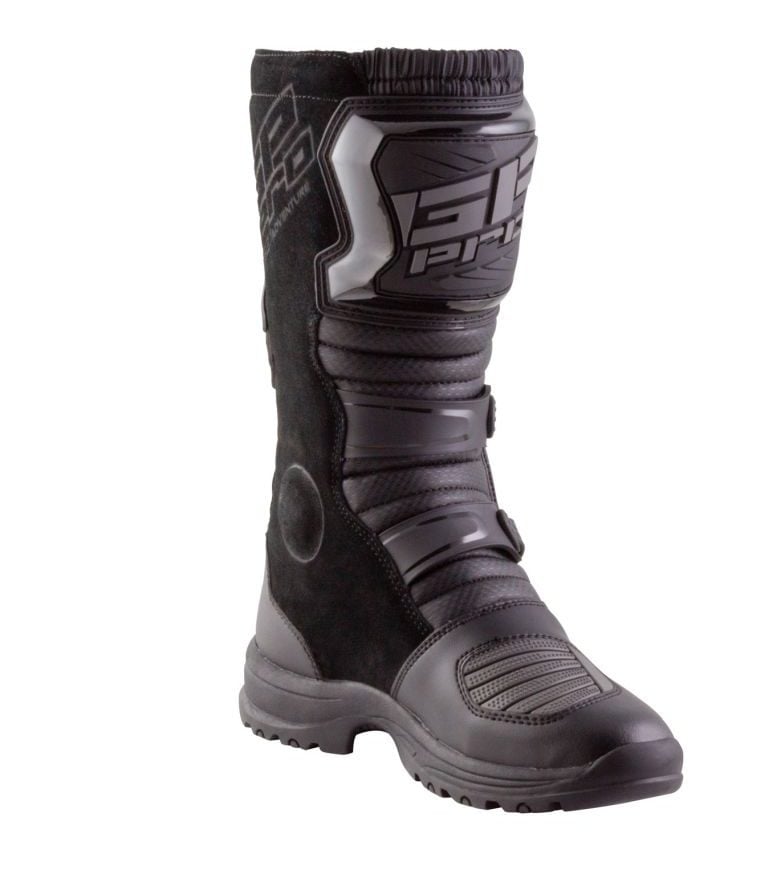 Coming in at just £5 more expensive than the RST Adventure II are the GP-Pro Adventure Series 2.1 boots. These were the first GP-Pro product that I had ever tried, and on first inspection, the company has certainly got the adventure styling right.
The boots rise high up the leg, featuring a substantial shin guard, there's substantial ankle armour inserts and a synthetic heat shield runs up the length of the inside calf. The buckles feel of excellent quality and are very easy and simple to use, even with gloved up hands, while a small, but adequate, Velcro strip secures the upper boot.
The gear-shifter pad is well placed on our size 11s, providing enough protection from the gear lever while not digging in when walking.
The Adventure Series 2.1 is based on GP-Pro's Comp Series 2.1 motocross boot, and so you can expect a great amount of stiffness and protection throughout, with the midsole providing a great amount of lateral support.
This is, as you'd expect, at odds with comfort, but once broken in I found the boots to be very comfortable indeed. The boots aren't waterproof, nor are they advertised as being so, but they'll give you enough weather protection for short rain showers. I wouldn't want to put my faith in them on a long ride in the rain, however.
If you can get past the fact that they'll let water in, these boots represent excellent value for money. They embody the adventure style perfectly, they offer a great amount of protection, and they're comfortable enough to wear for extended periods.
IN A LINE: Superb value for money, but only if you're going to be riding in the dry.
Spada Stelvio WP
£149.99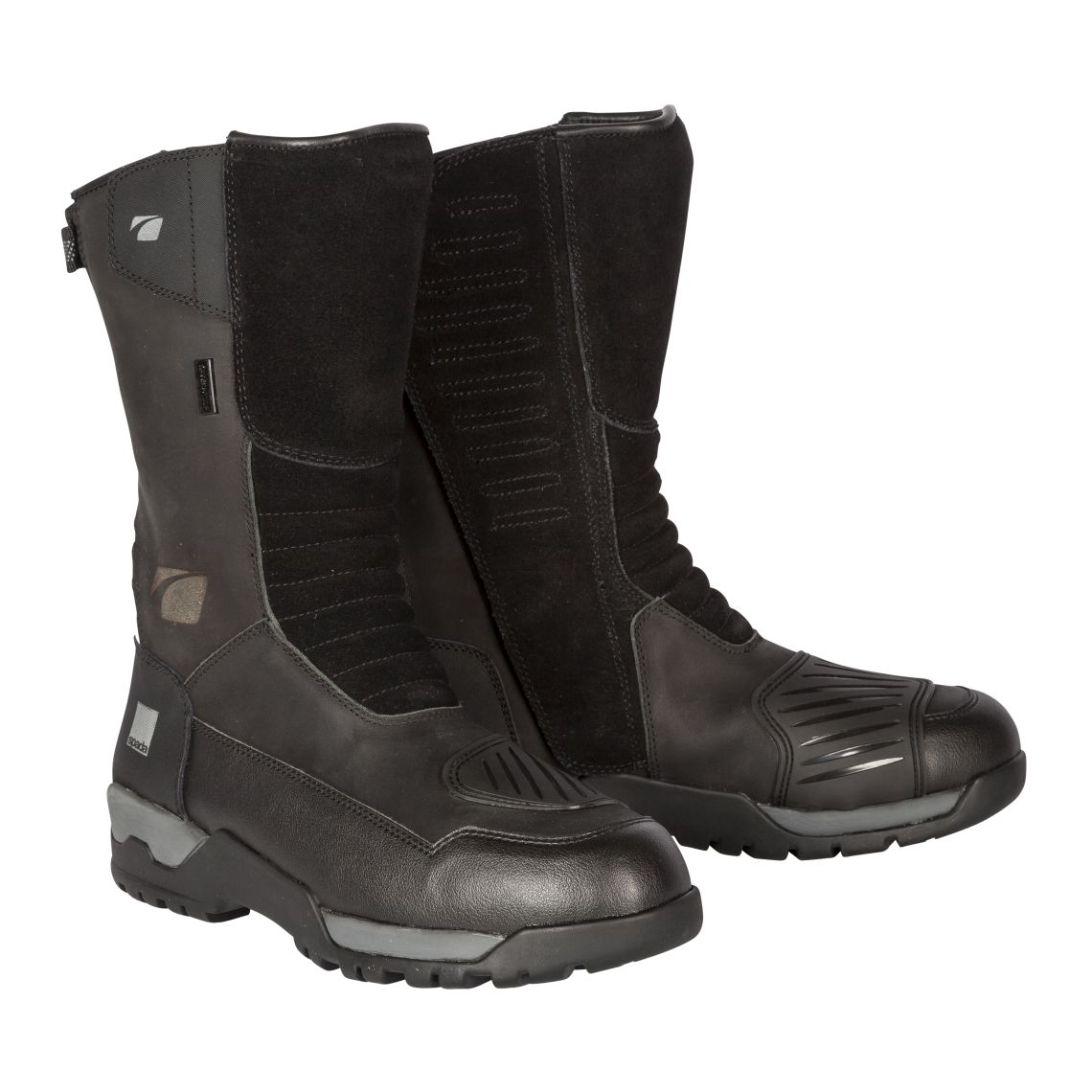 In the last issue of Adventure Bike Rider, we tested the Stelvio Suit in our Hot Stuff section, and for this issue, we've got the boots to match. Like the jacket and trousers, style is at the forefront of these boots, with an oil distressed leather and nubuck forming the upper.
A Hipora waterproof membrane is included, and this offers genuine protection from the wet stuff, so no worries if you're caught in a downpour. Rather than using straps and clasps to secure the Stelvio boot, you get a single zip up the inside leg that's secured by a substantial Velcro flap. I like this method as I have small calves, but if you have large lower legs then you may find the adjustable nature of clasps better, and find the Stelvio boots a bit restrictive.
The sole unit features a simple, deep cut tread pattern which is adequate for light off-roading, while the gear shifter pad is nicely located to protect the beautiful oil distressed leather from the gear lever. In terms of comfort, these boots are incredible. It's just like slipping into your favourite slippers, and I've even considered retiring them for lounge-only use.
There's a nice amount of padding and ample flexibility to ensure this. On the flip side, with such comfort comes very minimal protection. While the Stelvio boots do feature a density insert on the shin, it's unsubstantial and offers little peace of mind. Similarly, the TPU inserts on the ankle are flimsy, and there's very little support provided by the midsole.
The toe box, on the other hand, is rock solid, providing a nice amount of protection there.
IN A LINE: Comfort is the name of the game here.

Acerbis Stivali Adventure Boots
£169.99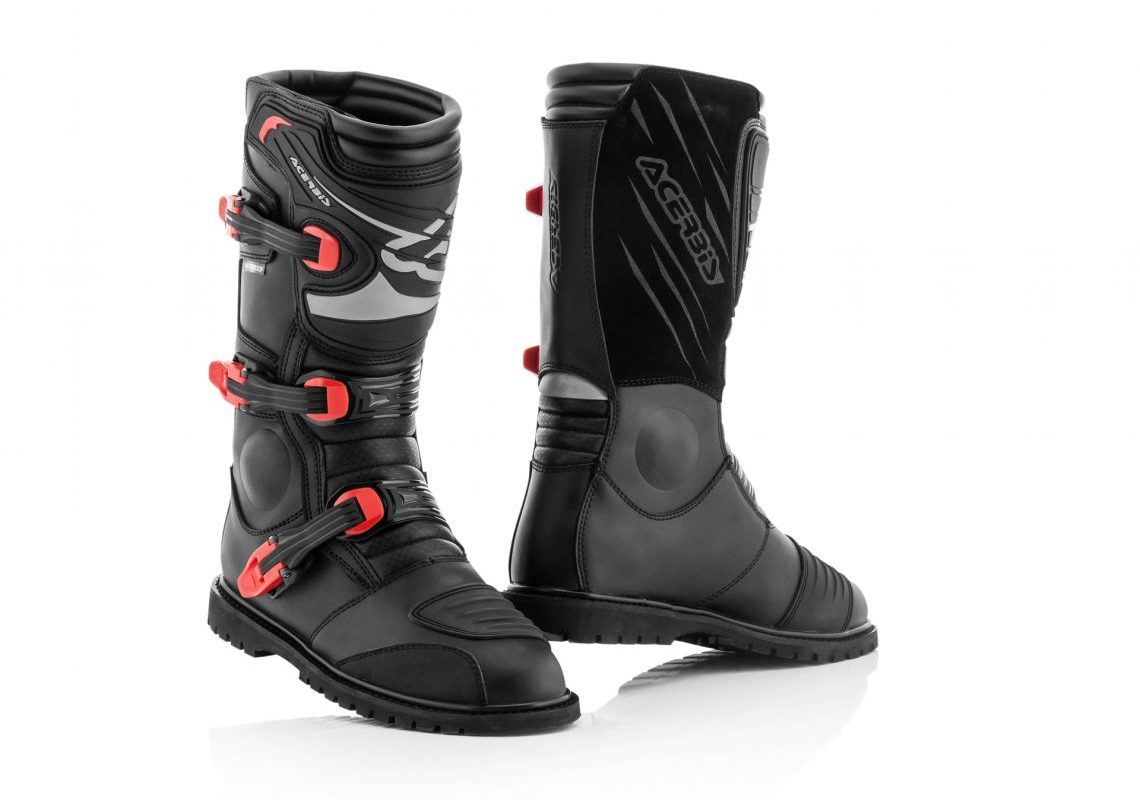 Acerbis has a broad range of offroad and dual-purpose kit in its range, and for this test, we've been using the Stivali Adventure Boot, an aptly named motorcycle boot that's got classic adventure styling and a clear dual-purpose design.
The upper is made from a lovely looking leather, the sole is oil and petrol resistant and you get an unbranded waterproof membrane to help keep the wet stuff out, and it does its job well. As mentioned, the Adventure Boots have classic dual-purpose styling, rising high up the leg, and there's a substantial shin guard in place to protect against impacts.
While the boot is tall, the waterproof membrane stops six inches from the top, which means you'll get wet feet if you stand in water slightly over your ankles. The sole has a tread pattern that wouldn't look out of place on a hiking boot, meaning it's great for tackling the off-road trails, and its on-road performance is nothing to be sniffed at either.
While it offers enough grip, it lacks substance, being very soft. This means that if you're standing on the pegs you're going to feel them digging into your feet, which will become uncomfortable over time. The three clasps and Velcro closure do an excellent job of pulling the boot around your calf, but they're needlessly fiddly, especially if you're wearing gloves.
In terms of protection, while the boots have a decent shin guard, there's very little stiffness and rigidity throughout, meaning they bend and flex all too easy. Great for when you're walking around town, not so great if you're paddling along rocky terrain or if you have an off and drop your bike on your leg.
IN A LINE: Classic adventure boot styling at a reasonable price.

W2 E-MX8 Boots
£184.99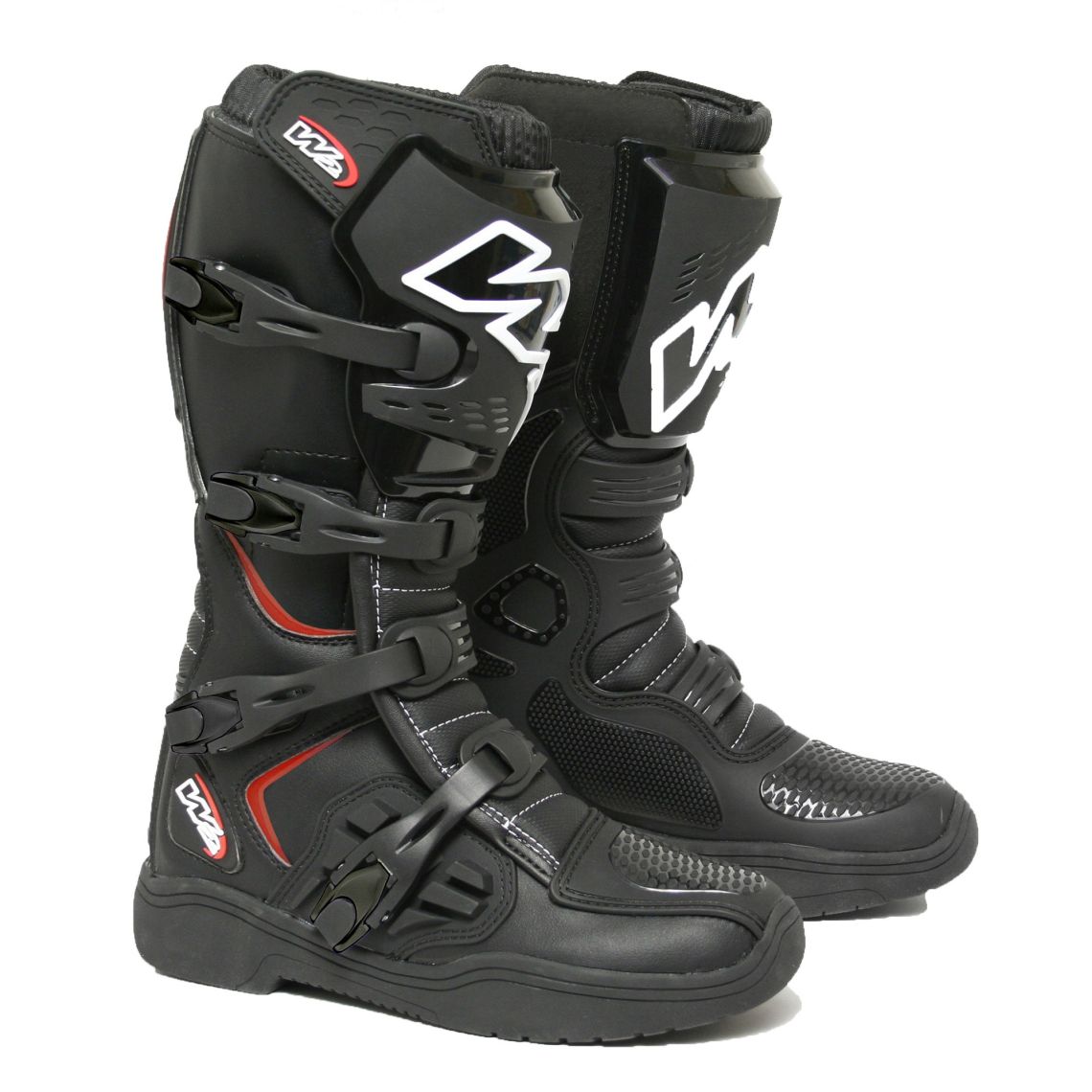 W2 is a name that many might know due to the excellent 4 Dirt boots that we've reviewed in the past, but for this test, we've decided to try out the E-MX8 boots. Strictly speaking, these are motocross and enduro boots, and as such, they don't come with a waterproof membrane, but if you're after footwear for serious green laning, then these might be just the job.
As you'd expect from a motocross boot, the E-MX8 focuses heavily on protection and stability. They're stiff, they're chunky and your feet feel well guarded in them. The toe box is solid, the heel cup is rigid and the armour all over is so tough that I wouldn't be surprised to see it used as protection from explosives on a Challenger 2 tank.
Continuing the motocross theme, the sole unit has a grippy tread that works well off-road, and while it still performs on tarmac, there are better-suited models available. That said, it's so stiff that you won't be able to feel a thing underfoot, making standing on the pegs a comfortable affair, and the steel shank offers a fantastic amount of lateral support.
In terms of styling, they look fantastic and aren't too in-your-face as some competition boots are. Four clasps run up the side of the boot to provide a very snug fit, though I found my ankle lifted a bit more than I would have liked it to when performing certain movements.
In all, if these boots had a waterproof membrane they'd be a solid adventure boot choice, being a very well-priced alternative to the Sidi Adventure 2 boots and the Alpinestars Toucans. As it is, you'll either have to invest in a pair of waterproof socks, or be using them for the sort of riding where wet feet are to be expected, and they won't disappoint.
IN A LINE: Protection is the name of the game here.

Forma Adventure Boot
£194.99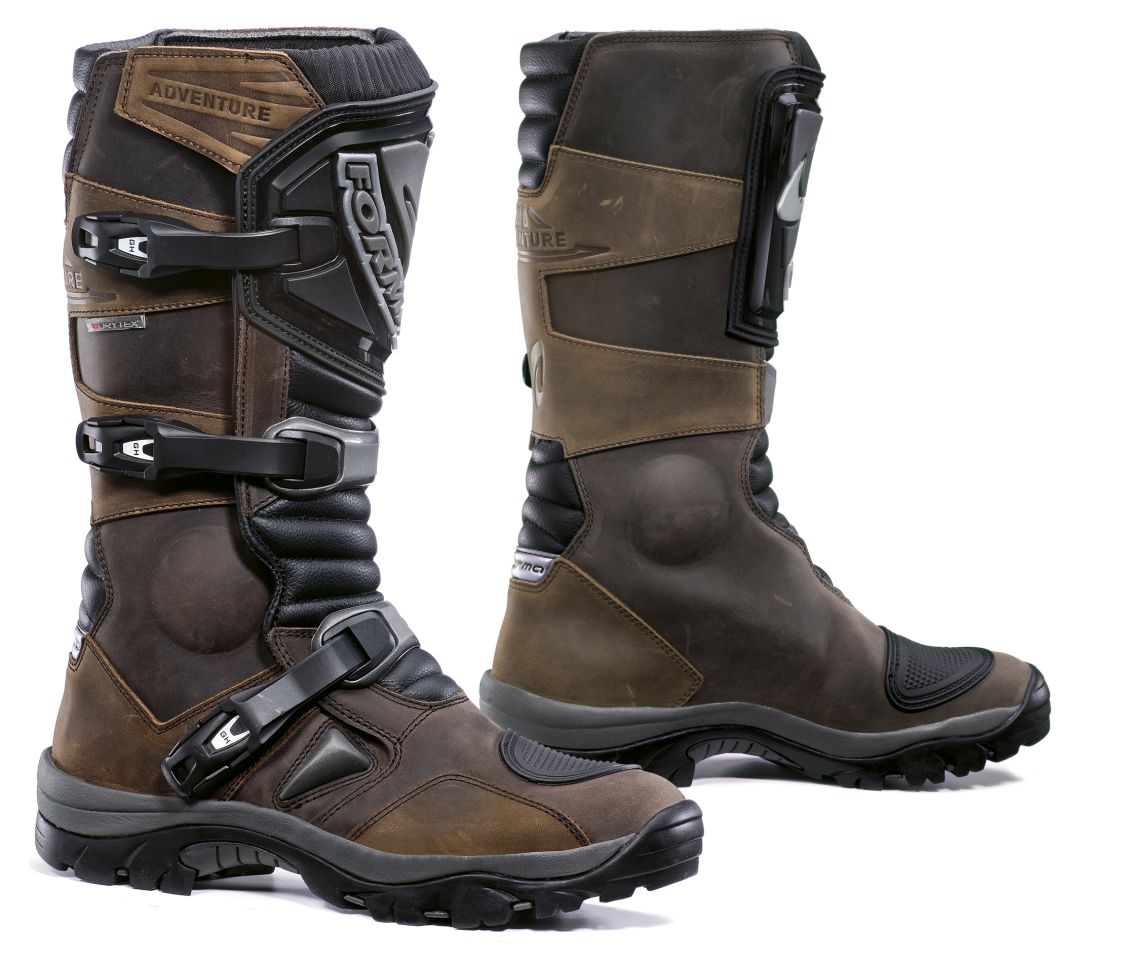 The Forma Adventure Boot has certainly caused a stir over the past few years, with many riders swearing by them and their affordable price tag for all-round quality. Indeed, you just need to look at them to see that they're a beautifully designed pair of boots, with their oil-tanned brown leather offering a gorgeous and adventurous aesthetic. And the boots' overlanding credentials don't stop there.
With a fully waterproof Drytex membrane included, your feet will stay dry in harsh conditions, and the sole offers a great compromise of on-road performance and off-road traction. I'd be more than happy to wear these on most green lanes, where grip is concerned.
The sole unit offers enough stiffness in the arch of the foot to make standing on the pegs for prolonged periods comfortable, though the forefoot and heel areas are slightly soft which adds to all-day comfort. In terms of protection, the Adventure boots perform OK, but not great.
You get ankle inserts and a shin guard, though these are flimsy and they won't be of much help if you drop your bike on your leg. The heel cup and toe box are similarly soft, which adds to comfort, but detracts from the overall foot protection on offer.
When it comes to stability, the boot allows for a fair amount of lateral rotation and flexing at the ankle which, again, means they're super comfortable out of the box, but for hard off-roading, I'd want something a bit stiffer.
Be that as it may, our usual gear tester, Mike Beddows, has owned a pair for a few years, and he's got nothing but praise for them and they've handled everything he's thrown at them.
IN A LINE: If looks could kill…

Falco Avantour Boot
£239.99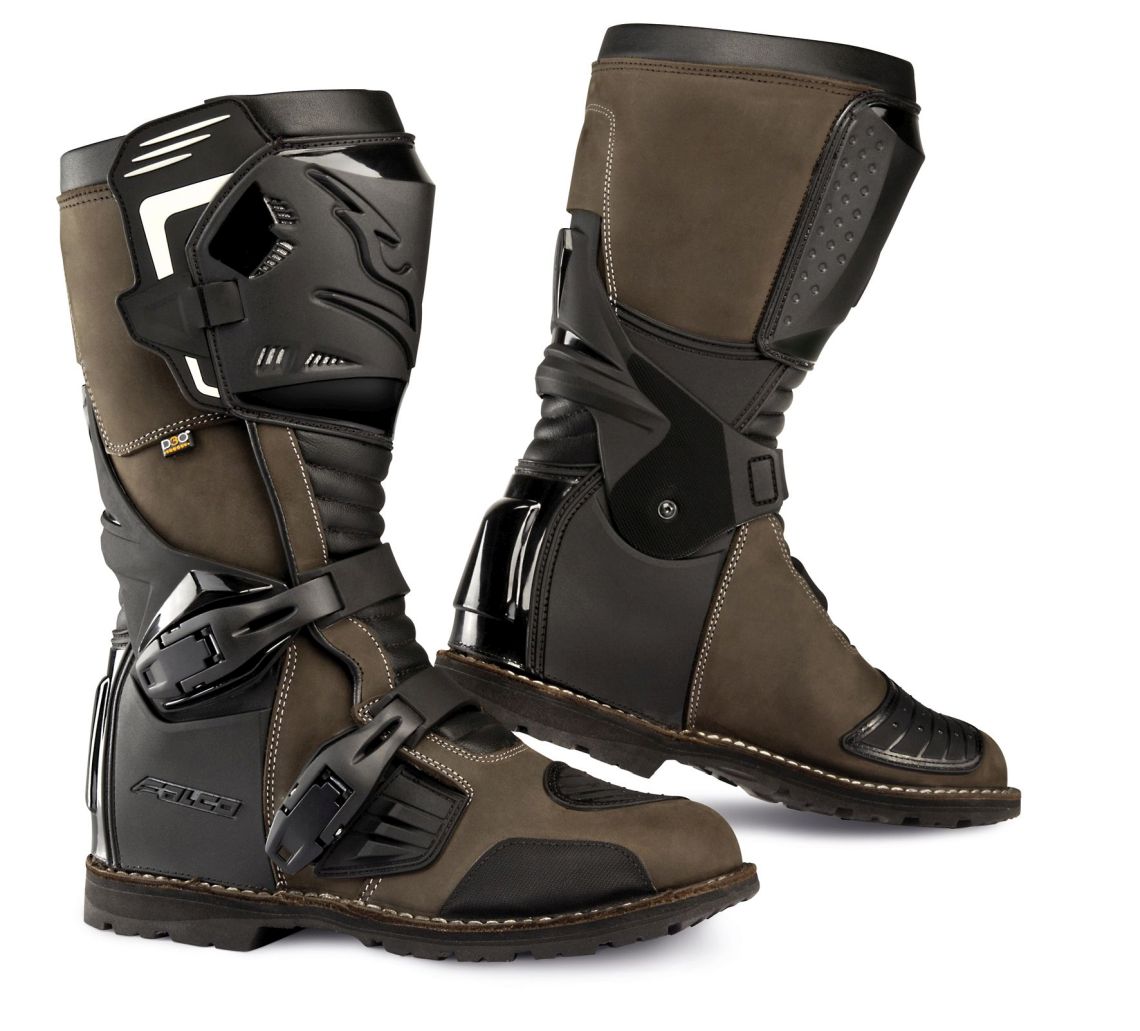 Three years ago, adventure-styled boots seemed to be stuck in a stylistic rut. Most pairs came in black or, well, black, and there seemed to be little in the form of aesthetic pride. In this respect, it appears that the Forma Adventure Boots and the W2 4 Dirt changed the game, with their beautiful brown leather uppers and well-thought-out stylings.
Not wanting to miss out, it appears that Falco has cottoned on, and has produced one of the nicest looking boots currently on the market, the Avantour. Designed and made in Italy, there's no mistaking the flair that's gone into these boots, even the name sounds sassy.
The upper is made from a gorgeous full-grain treated brown leather, which is complemented by various reinforced matte-black plastic panels. Even the straps and clasps look painstakingly crafted, and it really feels like a lot of love has gone into designing these. And that's not the only good thing about them.
They're fully waterproof and they strike a fantastic balance of comfort and protection. There's enough flex in the boot, helped by a hinge on the ankle, to make them comfortable when walking around town, and there's adequate D30 armour and stiffness to make you feel secure in them, with all armour feeling very solid.
The sole unit is both glued and stitched to the upper, which greatly helps with the longevity of this potential weak spot, and the sole itself is a quality Vibram unit which offers great grip on and off-road, while also being stiff enough so that you can't feel the pegs.
My experience with the Avantour has been almost entirely positive, though there are two things that you should know. The hinge that makes walking easier squeaks with every step, which doesn't impact performance, but adds to the annoyance. And the ankle armour slightly dug into my ankle. It wasn't enough to make me want to stop wearing them, but it's something to be wary of when you try them on.
IN A LINE: The definition of not just a pretty face.

TCX Drifter
£259.99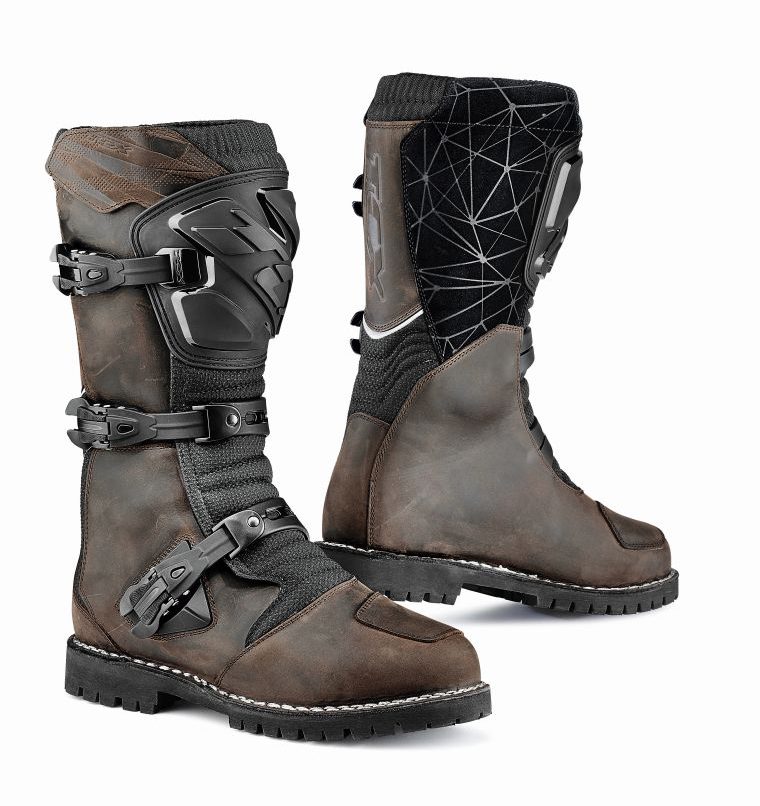 Over the past few years, I've had some great times in the saddle in TCX boots. I've been wearing the company's extravagant Competition Evo boots for most of my green laning exploits, and so I was very excited to try the Dri­er out.
They're adventurous by name and adventurous by design, rising high up the leg with a brash shin guard, and the wet stuff is kept out by an included waterproof membrane, which is genuinely waterproof.
The main thing that sold me on these boots, though, was their devilishly good looks. They're made from a beautiful vintage brown leather, and they look like they could have come straight off the set of Mad Max. But looks isn't all these are good for.
With chunky polyurethane shin guards, decent ankle armour and reinforced toe cap and heel cups, these boots offer a brilliant amount of protection. And it doesn't seem to come with too much of a compromise to comfort.
They're a little stiff when you first slip into them, but a‑ er a few days of use the comfort provided is excellent, and it appears that this is largely down to something that TCX has termed its Comfort Fit System.
Essentially, the boots have been created around a new mould that more accurately represents the shape of the foot, providing enhanced comfort. This, along with a nice amount of padding around the shins and ankles, makes for a delightful wear for extended periods of time.
The sole unit is also spot-on, offering a great amount of grip both on and off-road, and I had no problems with feeling my bike's pegs too much when stood on them.
IN A LINE: TCX has excelled, and the Drier is an excellent adventure boot.

BMW Gravel Boots
£265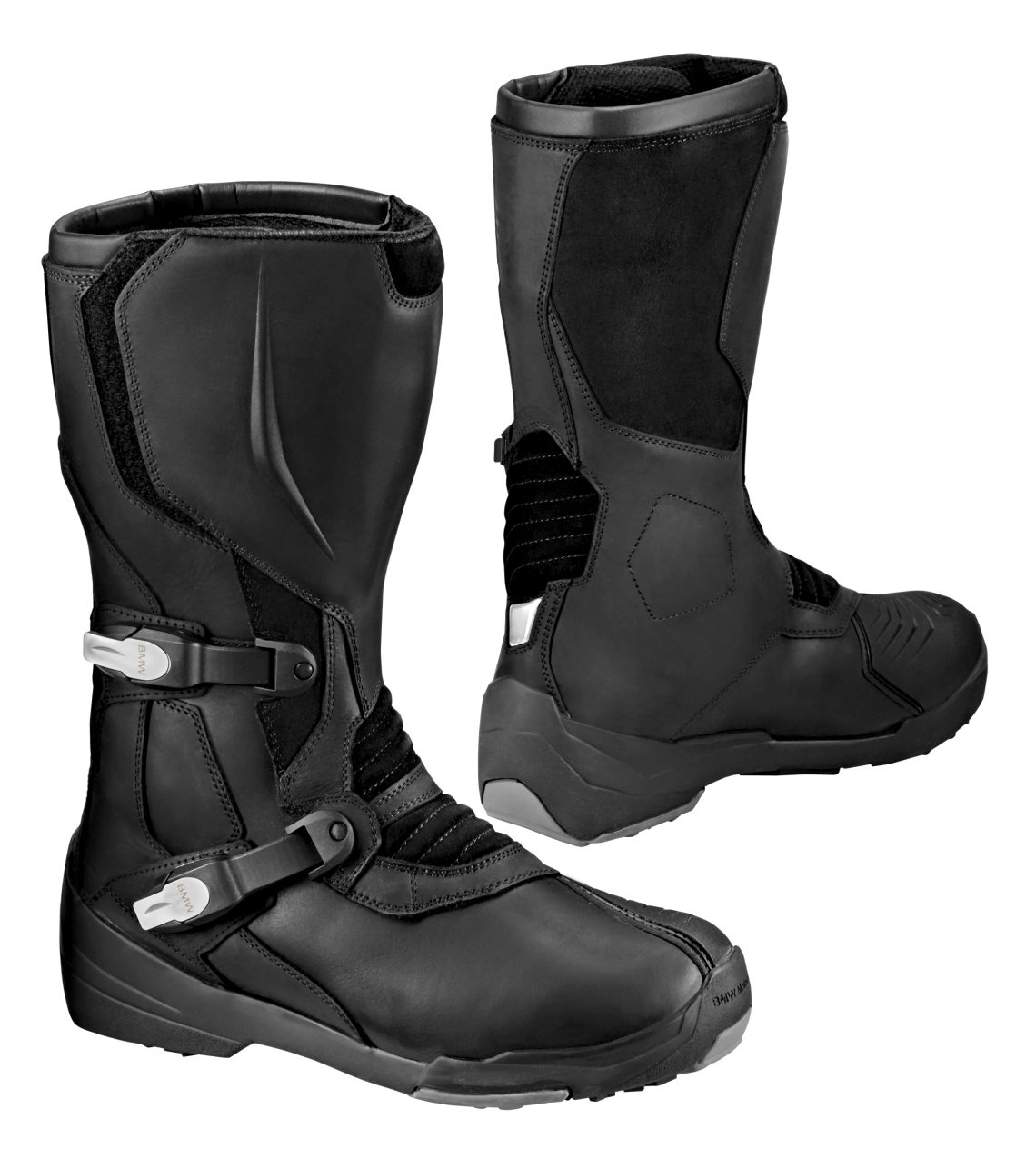 The BMW Gravel Boots were introduced a few years back as the predecessor of the highly-rated Santiago, and the updates that the company made to the boots make them a brilliant crossover touring/ enduro product.
When we reviewed these three years ago they retailed at £225, so this year's offering sees a £40 price hike. Looks-wise, I'm a big fan of the understated design of the Gravel. It's not particularly flashy, but there is an aesthetic appeal and, although it would be blasphemy to suggest you buy these even if you don't ride a BM, they'll complement just about anything, and the branding is unusually inconspicuous.
But, we don't buy boots just because they look good, so how do they perform? Very well actually. The boots are immensely comfortable straight out of the box and there's a seemingly perfect amount of stiffness and support provided by the midsole and tough upper.
The two aluminium buckles are well designed when it comes to usability, though they do seem to scuff a little too easily for our liking, looking like they've had a rough life after a few wears. The sole offers a great amount of grip on-road and it'll serve you well on dry, easy green lanes, though I have found it to wear down quite quickly.
As you'd expect for the price, the Gravel boots feature a top-quality Gore-Tex lining, and your feet won't be getting wet in these (unless, of course, water comes over the top). The BMW Gravel is a very well-made boot that looks beautiful, it's incredibly comfortable, excellent on-road and acceptable off-road. As such, it comes highly recommended by ABR if you spend most of your time on the tarmac.
IN A LINE: Comfort from day one – excellent touring boots.

Alpinestars Corozal Adventure Boots
£269.99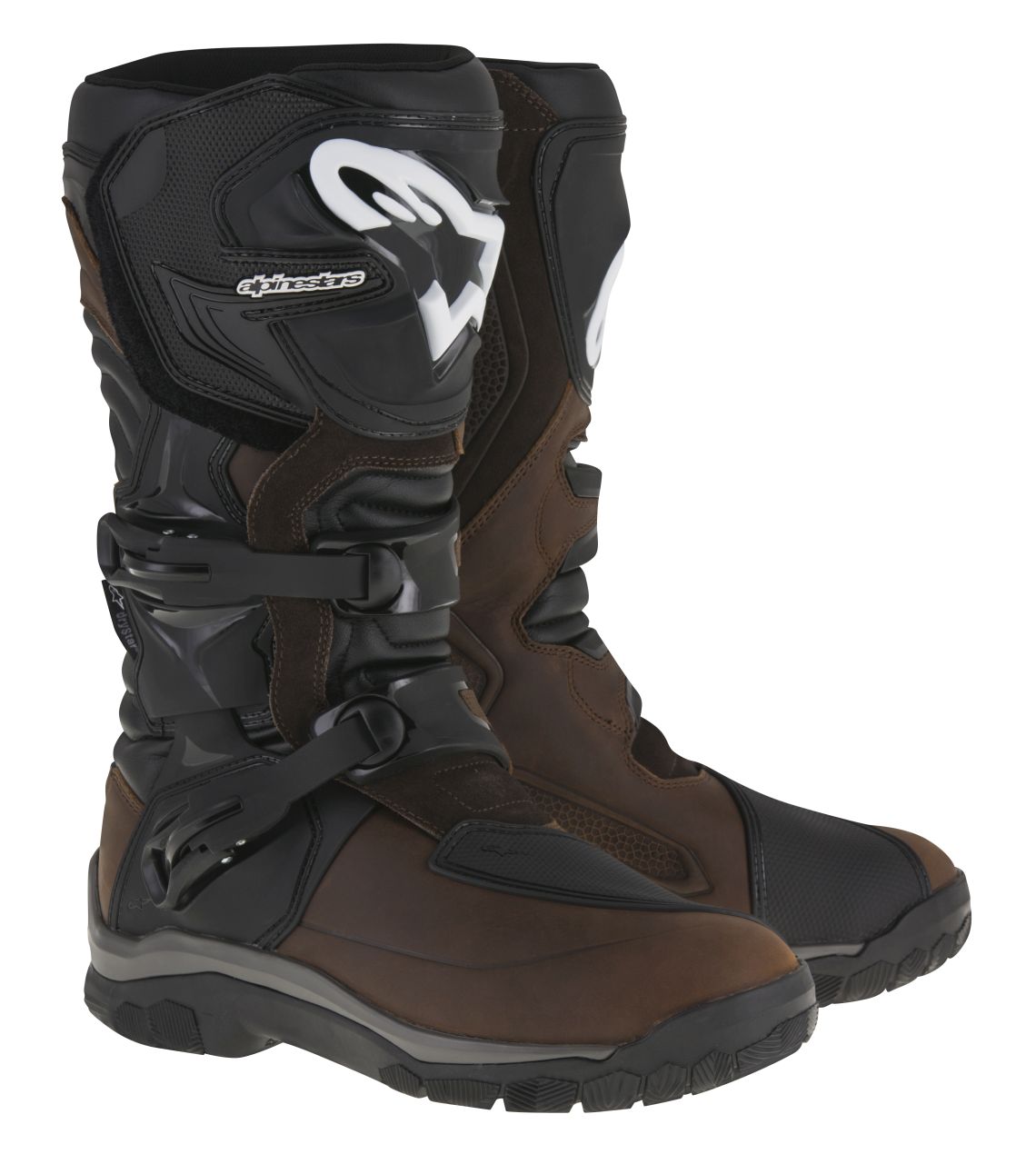 Well, it's official. When it comes to adventure motorcycling boots, brown is the new black. Of course, the Corozal is also available in black, but we were testing out a pair that came in a gorgeous brown PU-coated leather. Stylistically they're spot on, and performance-wise, they're no pushovers either.
Alpinestars' most popular adventure boot would have to be the Toucan, a product that I've been happily wearing for the past three years, so I was interested to try the lower-priced Corozals. They're not as bulky or comprehensive as the Toucans, but what we have here is a good dual-sport boot that's going to do you well both on and off-road.
Protection is provided by a substantial shin guard, a well-designed lateral ankle protector that helps prevent rolling, a tough toe box and a sturdy heel cup. Lateral support is great and you'll feel solid on your feet in these, while the sole is hard enough to prevent discomfort when standing on the pegs.
The Corozal comes with Alpinestars' own Drystar membrane bonded to the inner to provide waterproofing, though in our testing it wasn't entirely watertight. It'll withstand rain showers, but if you're out in driving rain and spray all day, you'll get wet feet.
The boots will be stiff on your first few wears, but once you've broken them in they're very comfortable, and there's a great amount of padding throughout to aid in this aspect, particularly around the calf. As you would expect from Alpinestars, all the components feel very well made, including the buckles and clasps.
The Corozal is more tarmac focussed than the excellent Toucan, but I would have absolutely no issue with green laning in these as there's a good amount of protection and the sole offers enough grip for off-roading in all but the slippiest of conditions.
IN A LINE: A good dual-sport boot let down by leaks.

Altberg Bahn Rider
£279.99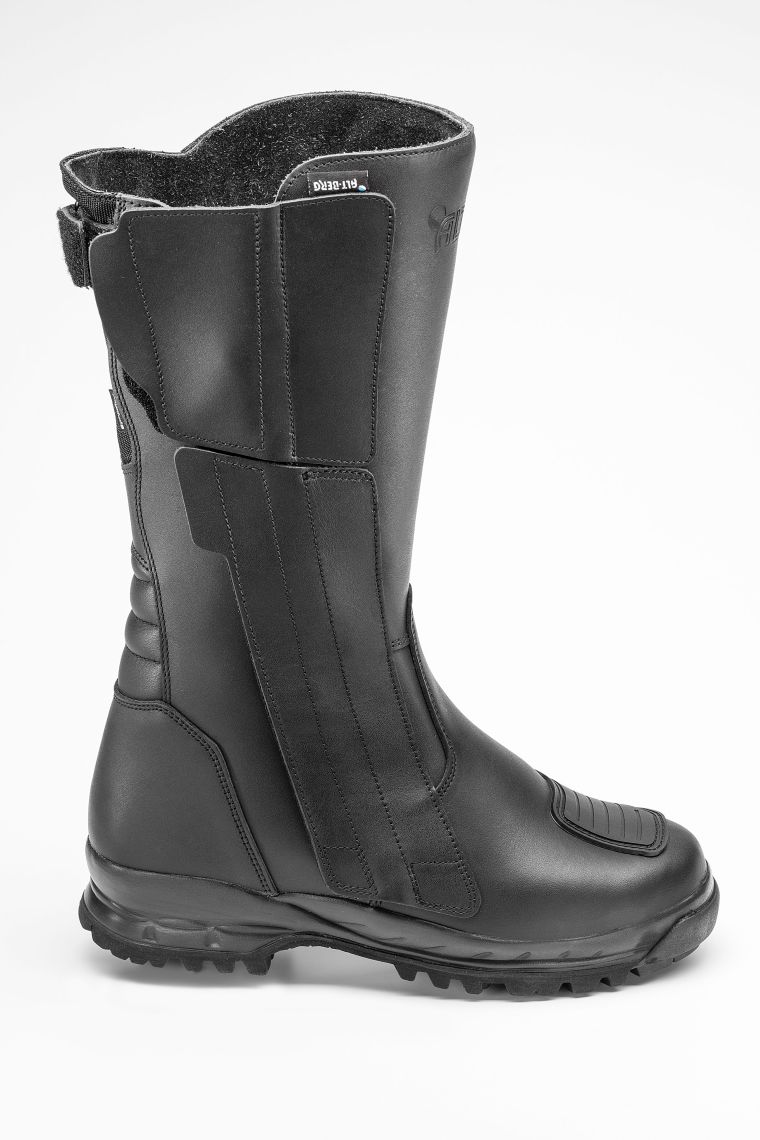 With a name like Altberg, and a product called the Bahn Rider, you'd be forgiven for thinking that the company was German. Instead, Altberg is British born and bred, and the company specialises in making top-quality hiking and motorcycle boots.
In the bike industry, they supply the police with motorcycle boots, the Bahn Rider being one such model that is offered. It's a high rising touring boot that doesn't even pretend to offer any suitability to off-road riding, and we like that. You only have to lay eyes on the Bahn Rider to know that these boots have been made by people who know and care about what they're doing.
There's not a single area of sloppy glueing and not a seam out of place. In this respect, I can't help but draw comparisons between the Altberg Bahn Rider and the Daytona Trans Open GTX – both boots are testaments to the bootmakers who crafted them.
As mentioned, if you're looking for an off-road boot, move on. These are road boots through and through, and they offer superb, out-of-the-box all-day comfort that'll suit you well on long European road tours. They also come with a fully waterproof Sympatex membrane that'll withstand extended periods in wet weather.
The soles of the boots are made by Vibram, so you know you're getting quality, and they offer excellent grip on tarmac. There's a great amount of lateral support, but while the toe box and heel cup offer reassuring stiffness, there's a lack of armour throughout.
Of course, this all goes to enhance the comfort, but some may want more protection in the shin and ankle areas. In terms of looks, there's nothing flashy about the Bahn Riders, and from some angles, they, unfortunately, look like wellies, but if you can appreciate an understated design, you'll find beauty in the fine stitching that runs up the inner leg.
IN A LINE: If you're all about road touring and want all-day comfort, check them out.

Rev'It Discovery Outdry
£289.99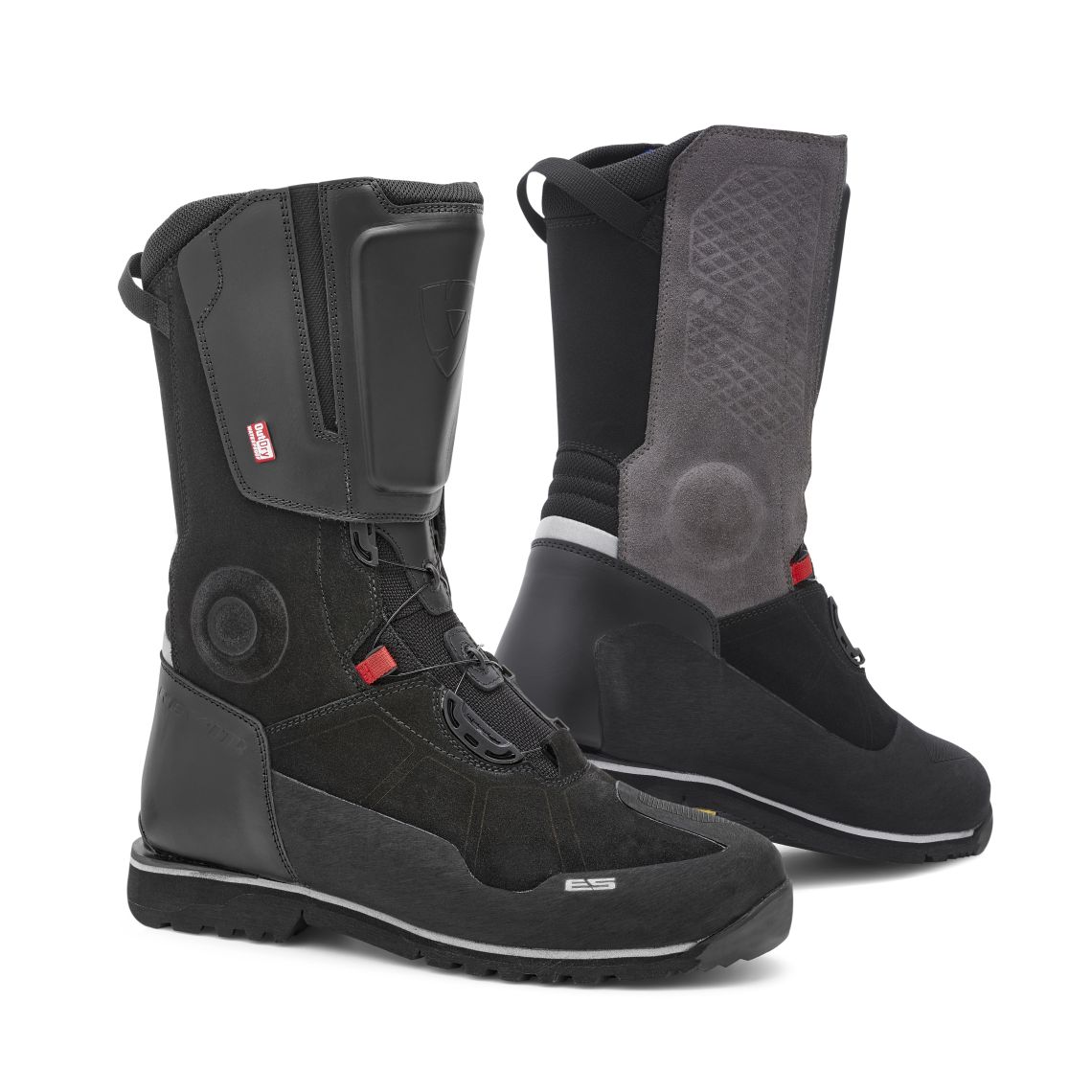 Innovation is something that all good manufacturers will strive for, and when it comes to the motorcycle boot you'd be forgiven for thinking that the basic design is near enough set in stone. But occasionally there are outliers, manufacturers who really push the boat out to try something new.
Touratech is trying their two boots in one approach, while Rev'it has come up with a unique lacing method to enhance comfort and ease of use. These fully featured adventure touring boots make use of a Boa lacing system which consists of stainless steel wire, moulded lace guides and a dial which is used to tighten or loosen the boots.
If this looks familiar then that's because it is – it's a system that has been used in snowboarding, golfing, cycling and even on motorcycle gloves (KNOX Handroid) for years. The system works incredibly well, providing a snug and secure fit throughout the boot, and it takes away almost all the hassle of putting on and taking off motorcycle boots.
But, don't think that the lacing system is the only impressive thing about these boots. They're incredibly well-featured throughout, with quality armour in the shins and ankles, substantial and comfortable padding in areas that need it, and a top-quality Vibram sole.
To keep your feet dry, the boots make use of an OutDry waterproof membrane, and this is watertight throughout. Stylistically, the lower section of the boots seems to take inspiration from hiking approach shoes, with a substantial rubber rand running around the shoe to offer protection from bumps and scrapes.
It's worth mentioning that these do come up a bit small in sizing, and I'd advise trying them on before you buy, as you may need to go up a size.
IN A LINE: Is this the future of motorcycle boots?

Touratech Destino Adventure
£299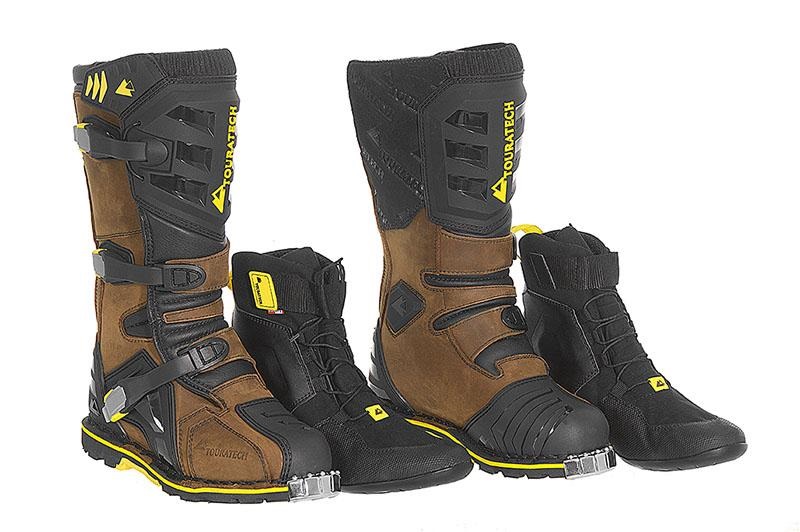 Now then, here's something you won't have seen in a motorcycle boot before. The Destino Adventure boot from Touratech is an innovative product that uses a technology that we've seen recently in the world of outdoor footwear, most notably from premium brand Arc'teryx.
Essentially, what we have here is an outer motocross/adventure styled shell, with an inner waterproof bootie that's removable and can be used as a camping shoe or casual footwear. The idea is novel, and it's good to see a brand trying something new, but does it work, and is it worth the £299 you'll have to fork out?
The outer of the boots isn't waterproof, but the inner bootie is, and this rises just over the ankle to provide a fairly good amount of waterproofing. In terms of styling, the boots have a genuine adventure appeal, and the brown leather is beautiful (it also comes in which or black), though the trademark Touratech yellow does look slightly out of place, and the boots take on a clumpy, almost snowboard boot look.
The inner booties are passable on a campsite, but if you're out for a meal or at a bar, they're not so fashionable. Fashion aside, in the saddle the boots perform well and offer a decent amount of protection, with a substantial shin guard providing good impact absorption, though the ankle area isn't as supportive as, say, the TCX Drifter.
The sole is also well suited for dual-purpose use, with the tread offering grip on most terrains and being stiff enough for peg standing. In all, they're expensive, they might not appeal to everyone, but I found myself liking the Destino boot.
The ability to wear the inner bootie separately will be a big draw for those who like to camp, but if you feel more at home in a hotel and are happy enough to bring spare shoes, they're not quite as appealing.
IN A LINE: A unique take on adventure boots that some will love and others will hate.

Daytona Transopen GTX
£419.99 www.tranam.co.uk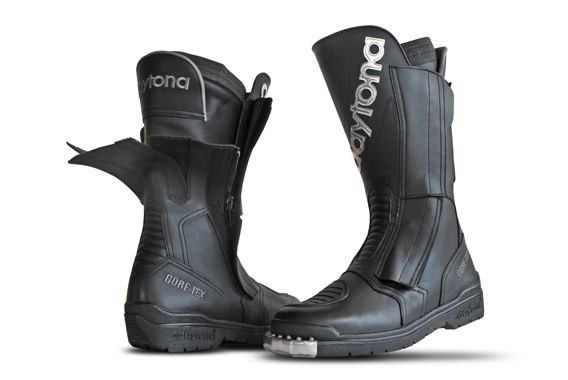 Three years ago I took a trip to the Daytona factory in Eggenfelden, Germany because I wanted to see first-hand the amount of work that goes into making such quality boots. My trip was revealing in the fact that I discovered that it takes the company six to eight weeks to make a pair of boots, with there being between 90 and 150 different processes involved.
Rigorous quality control checks are enforced, and everything is made by skilled workers. It quickly became clear why the company charges such a premium price for its products… The TransOpen GTX is a full leather touring boot with a Gore-Tex membrane and, for their size, they're surprisingly light and supple.
The membrane does an excellent job of keeping the water out, rising high up the leg as well, and Daytona reckons that the integrity of the lining will last for about 80,000 miles, at which point they'll replace it for a small fee.
The upper is made from top-quality Italian leather, while the non-slip soles are grippy in dry and wet conditions on tarmac, with metal bumpers in place to provide protection in a high wearing area. I was told by Reinhard Frey, CEO of the company, that, on average, the soles on these boots will last for 100,000 typical miles, and I believe him.
Comfort throughout the boot is spot on, with an incredibly soft lining feeling great next to the leg and an adequate amount of cushioning. While comfort is superb, protection and support isn't as substantial as you'll find on other boots, with there being very little ankle rigidity. In terms of sizing, I find Daytona boots usually come out a bit big, so make sure you try before you buy.
IN A LINE: Fantastic road touring boots with supreme comfort and quality.

Sidi Adventure 2
£311.99 www.sidiselect.co.uk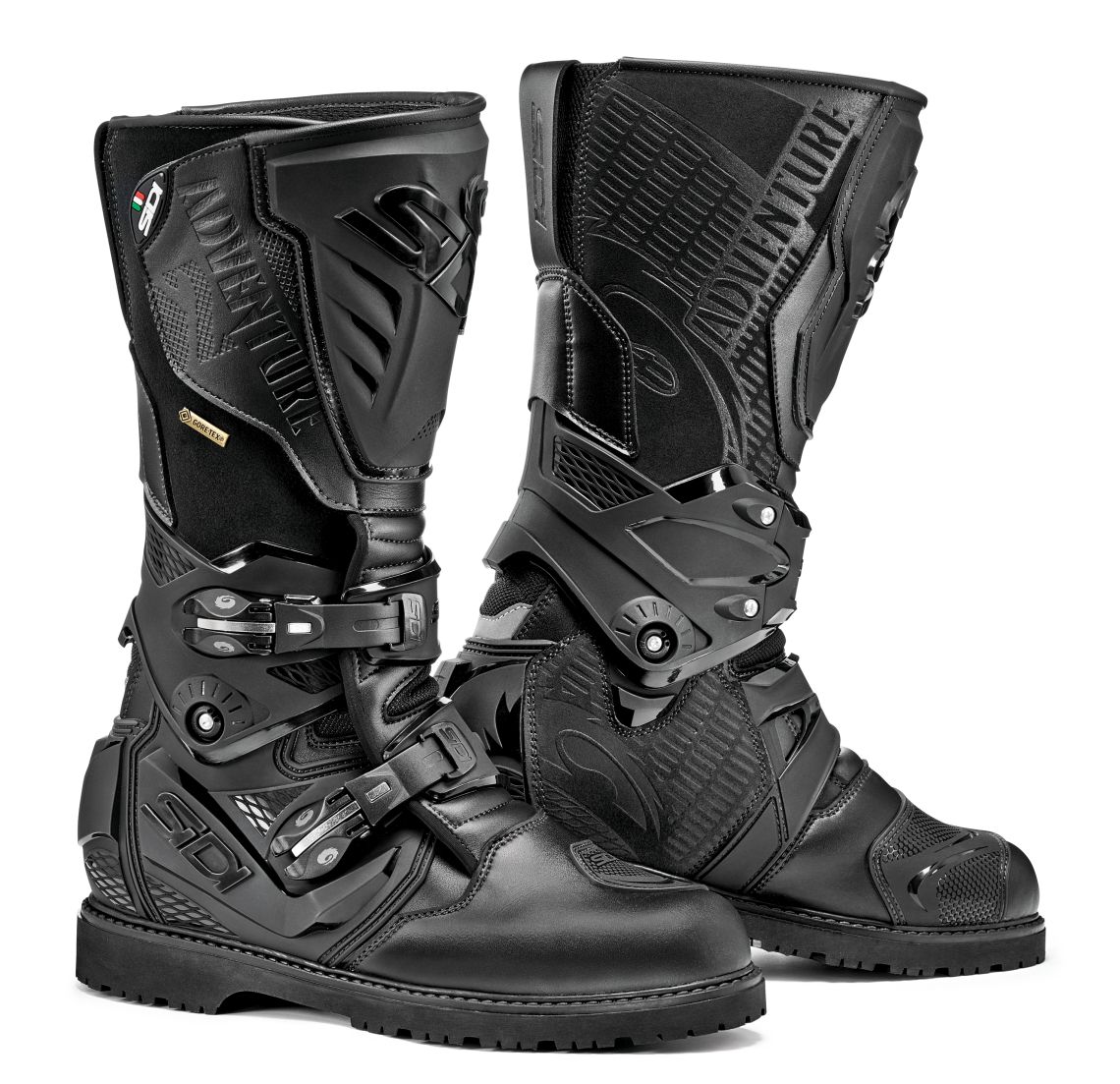 When it comes to dual-sport motorcycle boots, the Sidi Adventure has pretty much set the standard for the past few years. The Adventure 2 builds on the success of the first incarnation, somehow managing to make a brilliant boot even better, but failing to address one issue that almost all users report experiencing – the Sidi Squeak.
I've worn these extensively over the past few months, in conditions ranging from driving rain to suffocating heat in Morocco, and they've handled everything I've thrown at them.
The Adventure 2 boots bring together just about everything you could want from dual-purpose motorcycle boots and bundle it all into a sexy, mean-looking shell. 2017 updates include a higher Gore-Tex gaiter (7cm higher than previous models), a more flexible shaft to accommodate a wider variety of calf sizes, and more flexibility throughout to improve out of the box comfort. And they're worthwhile additions.
For such a cumbersome boot, the Adventure 2 sure feels good on the foot, and once they're worn in there are no issues with them feeling too stiff or restrictive. They're not going to be as comfortable as, say the more flexible and slipper-like Forma Adventure Boots, but I've not had any issues on long days in the saddle, and the comfort-to-protection ratio seems spot on.
Speaking of protection, the Adventure 2 offers a serious amount of armour and support. The shin guard is one of the most protective on test, and the amount of ankle support offers a huge amount of reassurance both on and off-road.
The toe box feels bombproof, and the heel cup isn't much different. The sole of the boots features a well-designed tread pattern that performs excellently off-road in all conditions, and just as admirably on-road. To make such a heavy and rigid boot more comfortable, Sidi has included a hinge on the ankles which allows the ankle to flex when walking and moving on the pegs.
This is a fantastic addition, but it's responsible for something that has almost become a calling card for the boots – the Sidi Squeak. You're not going to sneak up on anyone while wearing these as they squeak loudly with every single step.
Whether that's enough to put you off buying them is your call, but if you can look past it they're almost perfect. And for these reasons, I am awarding these boots the ABR Recommended award. The only other adventure boots that can touch them for all-round performance are the Alpinestars Toucans, which weren't submitted for this test.
IN A LINE: The king of adventure boots.