Paul Jennison checks out the latest raft of adventure touring textile jackets for year-round use, with an eye on detail and versatility
The prospect of having scraped enough pennies together to buy a new motorcycle jacket is an emotion that many of us have lived through, only to be left totally confused by the huge amount on offer and the differences there are in quality between an entry-level jacket and a top of the range A-lister to warrant such a variation in cost.
Firstly, it has to catch your eye in a way that you want it to look good when looking at your own reflection in the shop windows as you ride by safe in the knowledge that everybody else is looking at you and thinking 'I wanna be that guy!' (Or is that just me?)
Secondly, you need it to have a comfortable fit, to be waterproof and protect you sufficiently in the unlikely event of you taking up tarmac surfing.
Lastly, you want it to have useful features, such as vents to get some cool air inside when the weather's hot, decent pockets to put stuff in (with the hope that at least one of them will be waterproof) and good reflective detail for safety.
The overriding consideration should be that the jacket is well made with high-grade materials, and constructed so that it doesn't start to fall apart in a matter of months.
The jackets in this test range from entry-level to high-end prices in order to suit every pocket and personal situation.
Comfort and Fit
I thought I knew what size jacket I took, now I'm not so sure. Certain brands I can rely on. When I look for an XL size I'm pretty sure that it's going to fit me. Others have caught me out when an XL arrived and it was too small (more like a medium in one case). If ever there was a case for try before you buy, this would be a good one to start with. Remember, when trying jackets take your likely under layers with you or at least make allowances for them. Make sure it fits you comfortably in the arms, across the shoulders and chest and doesn't expose your lower back. If possible sit on a bike and assume the position.
Insulation
Most jackets come with a detachable thermal lining. These are generally quite thin and lightweight, but with modern technologies such as Outlast or Thinsulate, they will offer a good weight to warmth ratio.
Price
You will get what you pay for in most cases, however, some of the entry-level priced brands are now comparable to the mid-range brands, who may have an established name and charge for the fact. If a product features Gore-Tex they are prone to being more expensive than one that has an alternative 'Tex', even if it might still have good waterproofing. The price differential is because the construction methods used in Gore-Tex jackets are generally superior and a more expensive process.
Zips
The zip is an item that is always taken for granted. It's a means of securing the opening at the front and usually the sleeve cuffs. If it is an inferior zip it will either snag when being used or break completely, rendering the jacket fairly redundant. Check that the jacket you are trying has a decent quality one (YKK for example) and that the operation is smooth. It's also worth bearing in mind that an exposed zip (i.e. without a storm flap cover) is never going to stop the water from getting through. Even the so-called water-lock zips cannot guarantee that moisture will not penetrate.
Pockets
We all want pockets in a jacket and preferably, one or two would be waterproof so that contents remain dry, although if I was carrying vulnerable items (like 'me' fags) I would prefer them in an inside pocket to be totally confident. A couple of hand warmers are essential when off the bike and it's a bit chilly. Personally, I prefer a zipped wallet pocket on the inside. More pockets are a bonus, though I seldom use them apart from the large map type pocket on the back, which can be useful for stuffing the waterproof liner in just in case.
Reflective detail
This is a whole debate in itself. Some like to have the peace of mind that other road users will see you, others prefer to rely on their hazard perception. Me? If there is reflective material built into the jacket then so be it, all the bases are covered.
Protection
We have mentioned fit earlier, but when trying jackets on for comfort ensure that the armour that comes fitted into it sits snugly over the area it's designed to protect and is close fitting enough to remain there in the event of a fall. If it doesn't, then it might as well not be there in the first place. Secondly, make sure that the armour carries the minimum CE level one and bears the latest EN 1621-1:2012 marking on it. (See below for new EU standards)
New EU Standards
The new standards EN 1621-1:2012 supersede the previous standards EN 1621-1:1997 and have been introduced to ensure that the resultant impact forces to the wearer's body are less than they previously were. There are two levels to the standard; one and two.
It also requires that motorcycle limb protectors perform in both ambient and wet conditions. To pass the previous standard, the average peak transmitted force was less than 35kN during impact tests. Under the new standard, a level 1 protector must achieve less than 35kN and level 2 protectors must achieve less than 20kN in all tests. Manufacturers can also optionally test the limb protectors in hot conditions at +40°C and cold conditions at -10°C. The ambient and wet conditions were added to ensure that the protection was not impaired at varying temperatures and if it had absorbed water.
Back protectors will bear the same EN marking, but the standard requires a higher transmitted force resistance; level one 18kN and level two is 9kN.
Under the new CE standard, the following markings will be visible on all products:
Protective equipment for motorcycle riders.
Category and type of protector, this denotes where the armour would be sited and the type is for the size of the pad.
Performance level including mandatory wet test (Level 2 <20kN in all tests claimed)
Optional hot test (40°C)
Optional cold test (-10°C)
A quick guide to the jackets in this test
Amongst these thirteen jackets there are three main types of construction; three layers construction, fixed waterproof membrane and laminated outers. Below we explain what each one means and list the jackets that are constructed this way.
Three layers construction
A three-layer jacket consists of an outer jacket usually made from a Cordura type fabric, treated with DWR (durable water repellent). This will give good abrasion resistance in the event of an off and the DWR helps to repel the rain. The middle layer is some form of waterproof membrane (Gore-Tex or any other form of Tex fabric) that attaches inside the outer. This should stop water that gets through the outer getting to the wearer. To complete the jacket there is usually a thermal inner layer, which again is zipped in or out depending on the conditions. The inherent flaw with these liners is that once the outer is breached and becomes soaked it becomes heavy and the water will find it's way past the waterproof membrane at the extremities, such as sleeve cuffs, hem and neck, which doesn't take long to spread once inside.
Spada Explorer
Richa Discovery
Revit Sand 2
Lindstrand Graffiti
Spidi Hard Track
KTM HQ Adventure
BMW Rallye
Fixed waterproof membrane
Moving on, the next best thing is where the waterproof membrane is fixed to the outer and extends to the ends of the outer fabric (cuffs and hems). Water will find it harder to get around a fixed membrane, but there is still a possibility that it will manage to as water pools between the outer and the membrane and eventually seeps around it. Behind this type of jacket there is usually a thermal layer that can be removed. This has to be a cheaper option than a drop liner as there are no zips or attachment points, but the venting systems on these types of jackets are rendered fairly ineffective, due to a wind-stopper membrane behind, which will block almost all of the cooling air.
ARMR Kiso
Alpinestar Andes
Wolf Titanium ¾
Triumph Navigator
Laminated outers
Why are these better? The answer is simple really. The outer Cordura and the Tex inner liner are bonded together (laminated). This means that water could penetrate the outer, but it has no place to go as the membrane forms a backing and blocks it from going anywhere but back out again. The added bonus is that laminate fabric will dry quicker. So why are these laminated garments so expensive? It's all down to the manufacturing process. The short answer is it costs substantially more to laminate the two fabrics than it does to make the lining detachable.
Klim Overland
Rukka Cosmic
Features we like
DWR­(Durable Water Repellent)
DWR is a coating applied at the manufacturing stage to help prevent a fabric from becoming saturated with water.
The noticeable effect of fabric treated with DWR is that drops of water bead up and roll off the fabric rather than soak in and 'wet out' the garment.
The DWR wears off over time, but can be re-applied, though it won't be so effective as the factory treatment.
Neck and collar closures
We don't like press studs as they are too fiddly, Velcro is better but can be an irritant, magnetic closures are the most user friendly but not widely available. A detachable neck/chin scarf offers the best protection.
Cuffs
A Velcro closure adjustment offers greater versatility for fit and a small, well-cut bellows avoids bunching of the fabric and interfering with glove fitment.
Vents
Venting channels that have a fixed waterproof/windproof layer of fabric behind them are less effective – a lot of jackets come like this. Venting flaps that can be secured in the open position via a press stud or some other fix are the most effective. Exhaust vents at the back of a jacket help prevent the garment from ballooning with air.
Storm Flaps
Zips are weak points through which the elements will pass. In our opinion, a single, well secured and substantial storm flap over the main front zip is essential and a double storm flap is better still. Vents and pockets are also weak points and would benefit from a storm flap or a water-resistant zip.
Zips
Water-resistant zips (they are not fully waterproof) are very effective at keeping out rain and a storm flap is not classed as essential, but be aware that they are not 100% effective. Standard zips need to be protected by a storm flap, period. A chunky, glove-friendly zip pull is better than a small fiddly one.
Hem Draw Cords
Some jackets come with drawcords around the lower hem and helps with the fit and shape of the jacket, stops loose fabric from flapping around, keeps out drafts and are handy for battening down the hatches when the weather turns ugly.
Waist Adjusters
Velcro waist adjusters are the most user friendly. Most of the other variants are a pain – and help in fine-tuning fit, give the jacket shape and play a part in trapping warm air for added insulation.
ARMR Kiso Jacket
SRP £99.99 www.tri-motive.com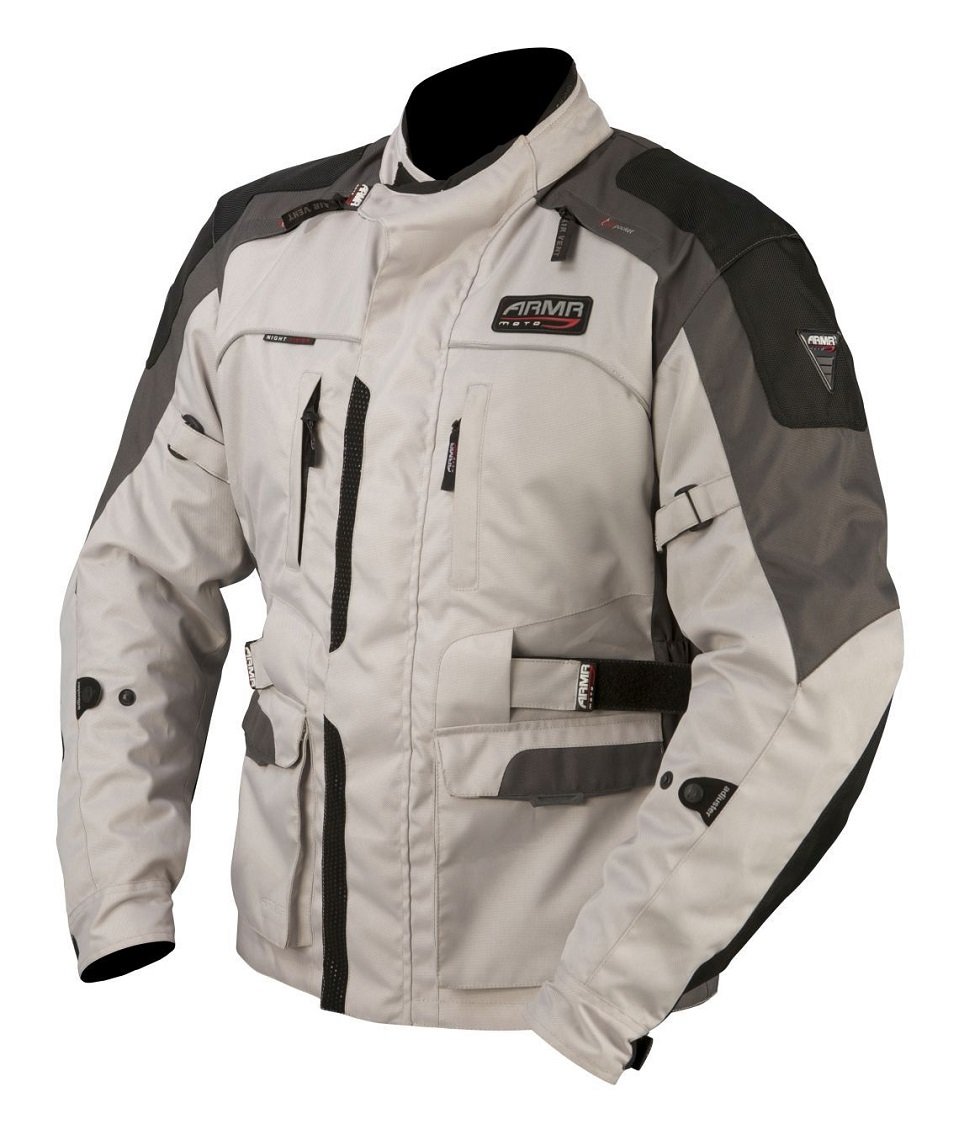 Although ARMR is a relatively new kid on the block here in the UK, I for one have been pleasantly surprised by their products. They are priced at entry-level, yet deliver as good a product as something priced considerably more. What we have here is the Kiso jacket, and for £100 I haven't seen a jacket with a fixed weatherproof membrane so competitively priced before. There is another remarkable fact about this company; they cater for every sized biker you could imagine, starting at XS all the way up to 10XL!
The outer shell is constructed from 600D polyester, which is tough and durable and on the main impact zones of the elbows and shoulders, they have used 1680D ballistic fabric for high abrasion resistance.
The Kiso also has a DWR (durable water repellent) treatment helping repel water, though it will need to be re-treated from time to time like all similarly treated garments. Behind the outer is their own brand ARMR Tex liner, which as I said above is fixed into the jacket and is water and wind-proof. The fit in an XL is good and there is waist and sleeve adjusters to fine-tune it. For ventilation, there are two small vents on the shoulders and two exhaust vents in the back to allow some cooler air to circulate inside, although the fixed membrane will restrict their effect somewhat.
Though not very substantial, there is a detachable quilted liner for added warmth. The warm-blooded among you will be fine with this, but if you feel the chill in the colder months it may be worth layering up underneath it. In the shoulders and elbows there is CE approved armour, which is firm but comfortable, sits over the area and should stay in place if it's needed. Although there is no back protector in the jacket, there is a pocket to accommodate one should you wish.
There are two waterproof cargo pockets on the front, with handwarmer pockets behind them. The two chest pockets are also waterproof, with a storage pocket on the lower back and three inside pockets should you prefer.
The front zip is covered by a storm flap to keep out the elements and the cuffs have a bellows, which will take a glove beneath and a Velcro fastener to close it down. I like this jacket, it's simple and effective. Sure, it's never going to rival the big boys, but not everyone can afford their prices.
In a Line: Fixed waterproof lined jacket for under £100, bargain.
ABR Rating – 7/10
| | | |
| --- | --- | --- |
| Handy rear pouch | Shoulder and exhaust vents | Detachable quilted liner |
Spada Explorer Jacket
SRP £169.95 www.spadaclothing.co.uk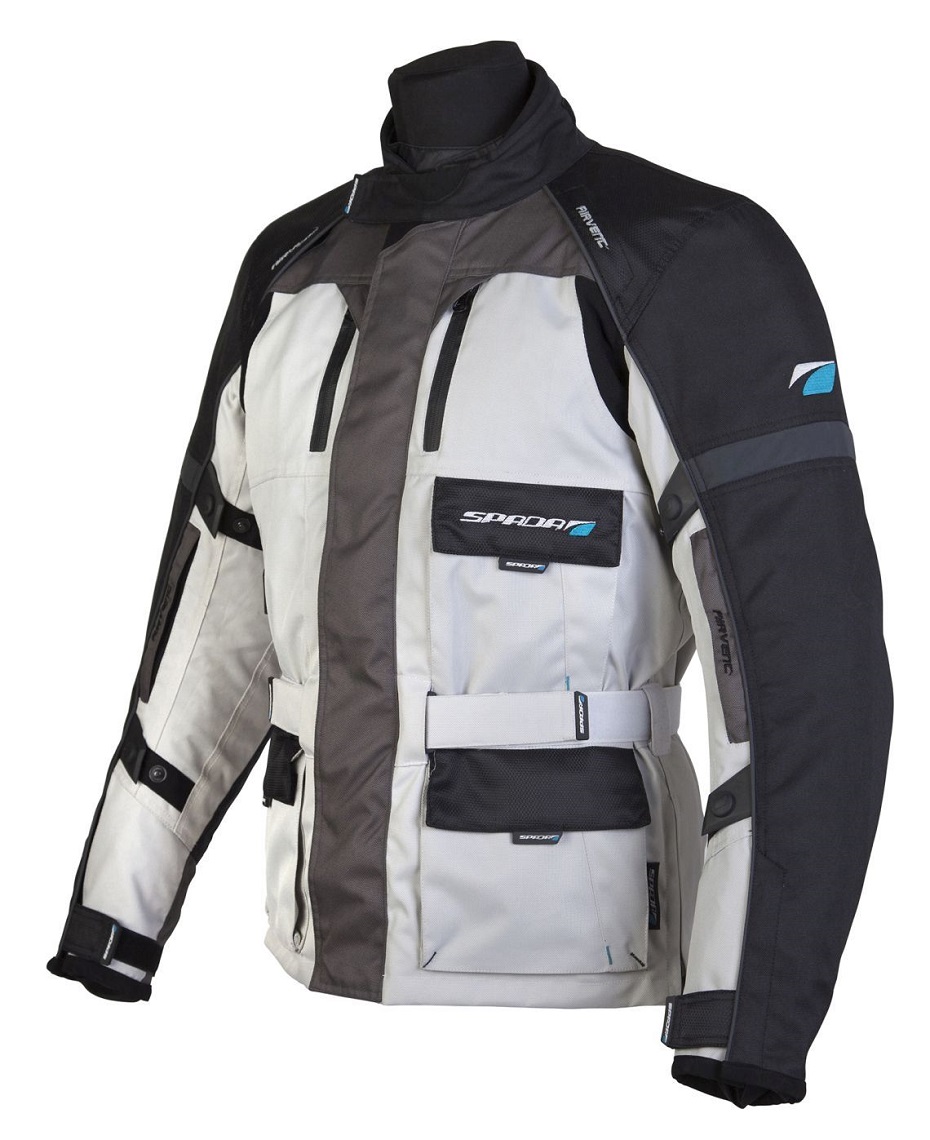 If you are on a restricted budget when you go in search of a new motorcycle jacket, yet still want good value for your money, then Spada gear should be on your checklist, as they offer great kit that's never going to break the bank. What we have here is the Explorer jacket that looks the part for any kind of adventure, whether that be a UK tour or boarding a ferry across to Tangier. It's durable enough to serve you all year round too, but in the light colours on offer, it's going to get pretty grubby pretty quickly from the road grime associated with our UK winters. As I would expect at this price point the Explorer is a three-layer garment with drop out thermal and waterproof liners, but that can add to the jacket's versatility.
The outer shell is constructed using 600D polyester, offering decent abrasion resistance in a fall. The fit in an XL is on the generous side, with both the body and sleeves being longer than some others on test, which is certainly better than being too short. There is also good adjustment on the waist and sleeves to fine tune the fit, which is essential with the liners removed. The ventilation ports in the shoulders, arms and back are on the small side, but reasonably effective to allow a cooling airflow into the jacket.
Another good point is that in addition to the CE approved shoulder and arm armour there is an approved backplate included in the price, which again is something that not all manufacturers offer.
If you want lots of pockets the Explorer will fulfil your dreams, as there are six on the front and a large storage on the lower back. None of them are however waterproof. There is a zipped wallet pocket behind the storm flap, which again isn't watertight.
The weatherproofing has though been well thought out, with a storm flap over the front zip and taped seams on the waterproof liner, which in itself extends to the collar and hem, helping prevent water getting around it.
As previously mentioned, the jacket is spacious, has a comfortable fit and as a result isn't restrictive when riding. You just have to use the adjusters to gather in any loose fabric to prevent it flapping. At this price, it's hard to find fault, but if I were picky the vents could do with being a little larger.
In a Line: Great value for money.
ABR Rating –  8/10
| | | |
| --- | --- | --- |
| Typical three-layer garment | Fine-tune to fit | Small but effective vents |
Alpinestar Andes Drystar Jacket
SRP £179.99 www.alpinestar.com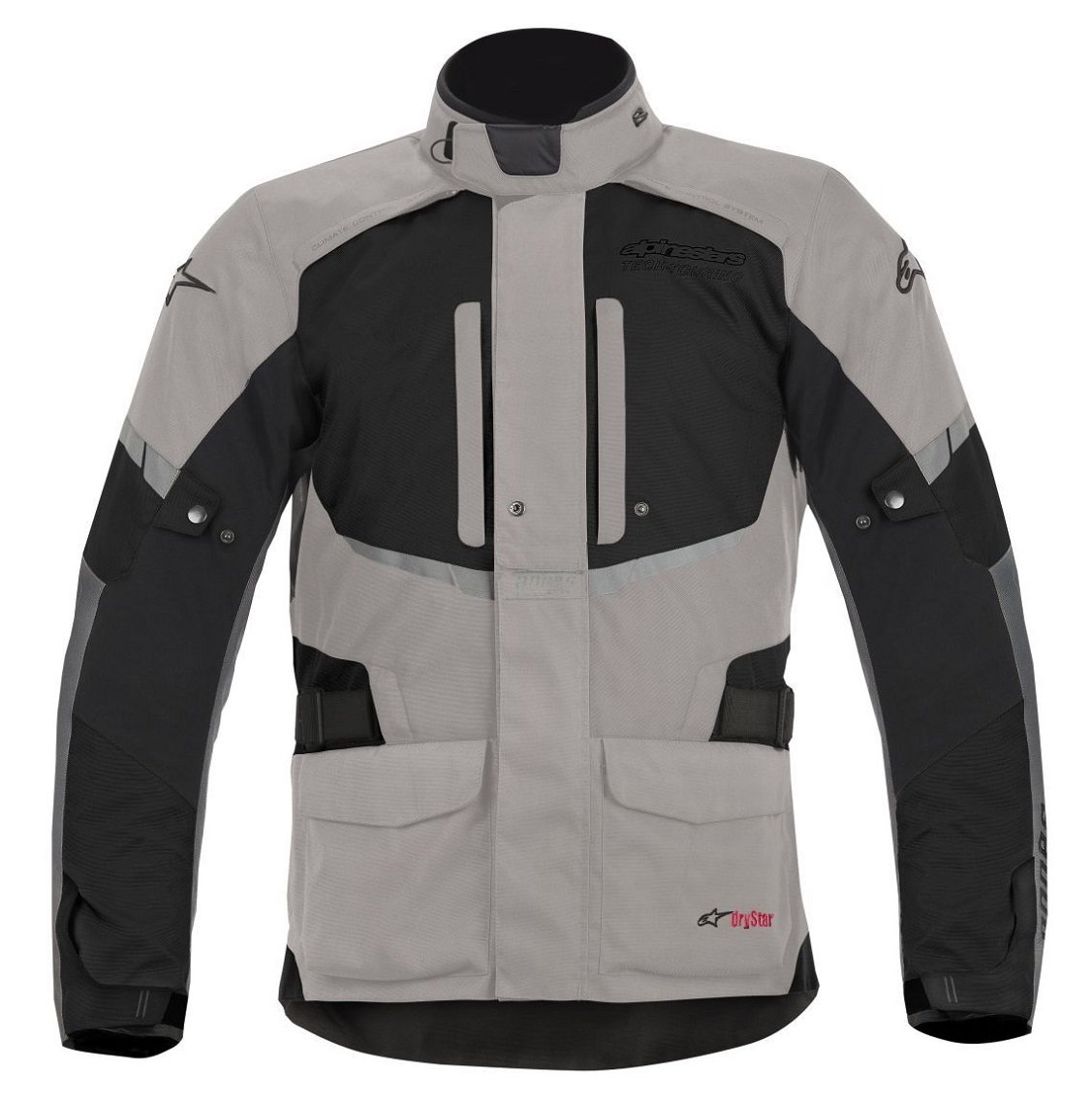 In the sand/black/grey colour combo we were supplied with, the Andes Drystar jacket looks every bit an adventure styled garment. What's more, the price makes this an Alpinestar's jacket available for those who cannot normally stretch to an A-list label.
On this jacket, the Drystar membrane, which is water and wind-proof and breathable, is fixed to the outer shell, meaning that you have weather protection in place at all times, negating the need for removing another lining. Equally, with the thermal liner removed in hot weather, the Andes is light enough not too feel onerous, either on or off the bike.
The outer shell is constructed from polyester and polyamide fabric, meaning it will give good wear and abrasion protection. The fit in an XL was spacious and once the thermal liner had been removed it needed to be gathered in using the waist and sleeve adjusters. There are two small shoulder vents to allow air to enter and rear exhaust vents to prevent it from ballooning. However, with the fixed Drystar membrane I didn't get much benefit from the cooler air, as being windproof, the fabric restricts its flow.
In the shoulder and elbows, Alpinestar has incorporated CE approved armour and some padding in the chest, which could be replaced with regular armour. There is a provision to insert a back protector if required. However, with the looser fit, I wasn't completely satisfied that the protection would remain in place in the event of an off. A snugger fit would negate this I feel.
There are two waterproof cargo pockets on the front of the jacket along with two chest pockets that are not watertight. On the lower back, there is a large utility pocket for larger items. Inside there is a zipped wallet pocket, which isn't waterproof (as I found out!) and some smaller ones inside the liner that are.
The front zip is a two-way YKK, which is strong and snag-free and covered by a decent storm flap for added weather protection. The sleeve cuffs are Velcro-fastened and bellowed to allow a glove to go under with ease.
The weather protection is good and I found it a comfortable jacket to ride in. It looks pretty cool too.
In a Line: Good adventure styling, but venting is not so good.
ABR Rating – 7/10
| | | |
| --- | --- | --- |
| Large utility pocket at the back | Windproof and breathable outer shell | Useful waist adjusters |
Richa Discovery Jacket
SRP £199.99 www.richa.eu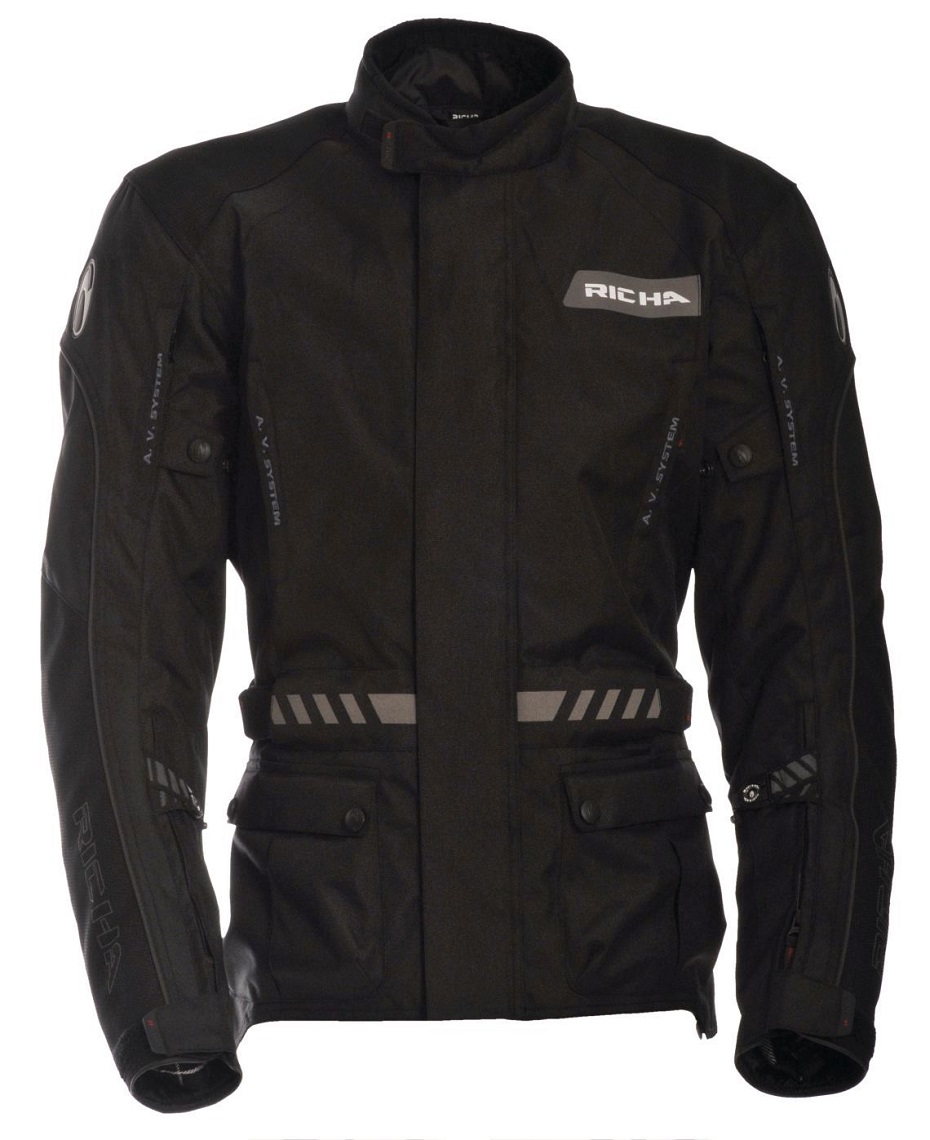 When gathering jackets for this review, I naïvely requested them in XL, the size I normally take and usually fits my 44" chest with room to spare. I suppose I expected some minor discrepancies but thought I could work around most by removing the thermal liner. When the Richa Discovery jacket arrived it looked on the small side, and that was confirmed when I tried to get into it. No chance. It felt more like a medium. Back it went and I tentatively requested an XXL to try. Fortunately, it was spot on. So the moral is to try before you buy, especially if you are contemplating ordering from the internet.
The Discovery is a three-layer jacket consisting of an outer shell made from 600D Cordura, which has a PU (polyurethane) coating making it strong, durable and resistant to a certain amount of water. Behind this is a removable waterproof, wind-proof and breathable taffeta membrane that could be used as a stand-alone rain jacket when off the bike and you still need to keep dry. Worn in this fashion it negates the hassle of reattaching the zips and fasteners every time the weather takes a turn towards the inclement. Inside that is a detachable thermal liner that is ideal when it gets cooler.
Richa has included vents in the chest, back and arms, which allow plenty of cooling airflow into the jacket to regulate your body temperature on warm rides, but this will be restricted with the wind-proof membrane fitted.
With the fit sorted I was able to check that the CE approved armour in the shoulders, arms and back all sat where they needed to and just as importantly were comfortable, which I'm pleased to state that they do. And on the subject of fit, there are adjusters in the waist, hem and sleeves to get it just right for the individual, as well as gathering in any loose fabric.
There are two large water-resistant cargo pockets on the front of the jacket and a storage pocket on the lower back, incorporating a detachable hi-viz safety waistcoat in addition to the reflective detail in the jacket. At the price point, the Discovery is really good value for money. It's comfortable, has good weather protection and its versatility makes it everything needed for a four-season jacket.
In a Line: Performs as well as some more expensive jackets. Just make sure you get the right size.
ABR RAting – 9/10
| | | |
| --- | --- | --- |
| Detachable hi-vis waistcoat included | Liner could be used as a stand-alone rain jacket | Adjusters in the waist, hem and sleeves |
Wolf Titanium ¾ Textile Jacket
SRP £229.99 www.wolf-moto.com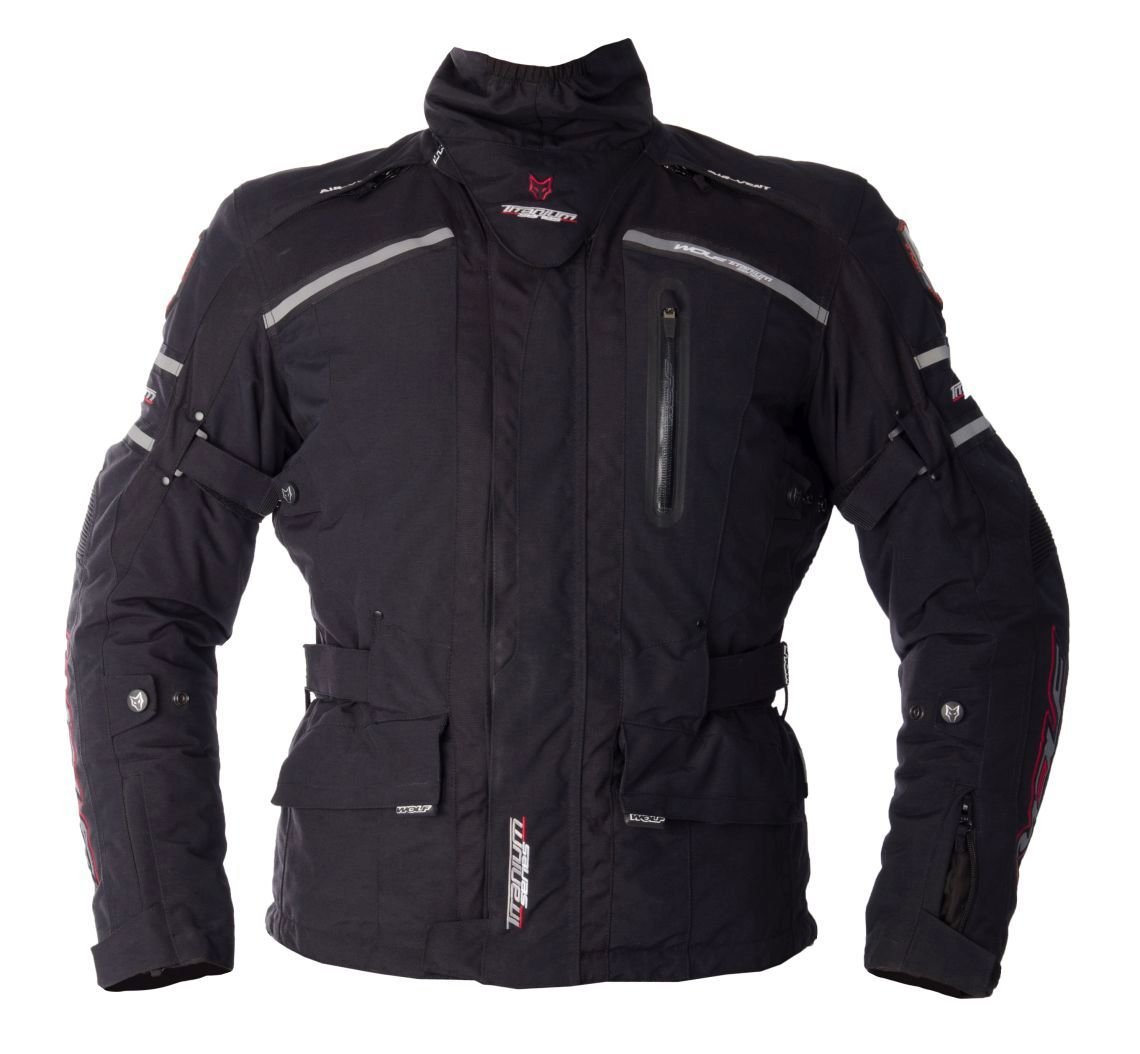 They call it a ¾ jacket, which is a reference to it's length, but it is no longer than any of the others in this test, so I suppose in theory that all adventure styled jackets must be ¾ length. Wolf has labelled it as such because they have three other jackets in the Titanium range that are all shorter in length, ending at the waistline. So, now we have established why it's called that, we can look closer at the ¾ jacket.
I would happily use this jacket all year round as it has an outer shell constructed from strong abrasion-resistant fabric, using a DWR treatment to repel rain. Behind the outer is a fixed Sinaqua waterproof and breathable membrane that should keep you completely dry. Then there is a removable quilted thermal liner that really is warm and will be a joy on cold winter rides. The fit in an XL was spot on, with waist and sleeve adjusters to fine-tune the fit to the individual. The front zip is a snag-free YKK, with a storm flap over it to prevent water ingress and cold spots, whilst the collar has a soft neoprene panel to prevent the neckline from rubbing the rider's skin. There is also a detachable throat cuff for even more cold and wet weather protection.
The sleeve cuffs have a small zip and Velcro fastener allowing a glove to be tucked underneath should you prefer. There is CE approved armour in the shoulders and arms that comfortably cover the desired areas and should stay in place in the event of a fall. There is also a provision for a backplate to be added if required. The jacket has two shoulder intakes and two rear exhaust vents to allow some cooler air to circulate inside the jacket. The full effect of this will be restricted however by the fixed membrane, just as it would be on all these types of jackets.
There are two front and one rear cargo pockets with Velcro closures, but they are not waterproof. The chest pocket has a water-resistant zip fastener that will protect the contents a little more, but for absolute water protection, the internal pocket will need to be used. The cut and styling enhance the fit and I enjoyed how comfortable it was to ride in. I would choose it over a few others here for my year-round choice.
In a Line: A jacket for all the seasons at a great price.
ABR Rating – 8/10
| | | |
| --- | --- | --- |
| A detachable throat cuff | A good fit, and comfortable | Rear cargo pocket |
Rev'it Sand 2 Jacket
SRP £299 www.revit.eu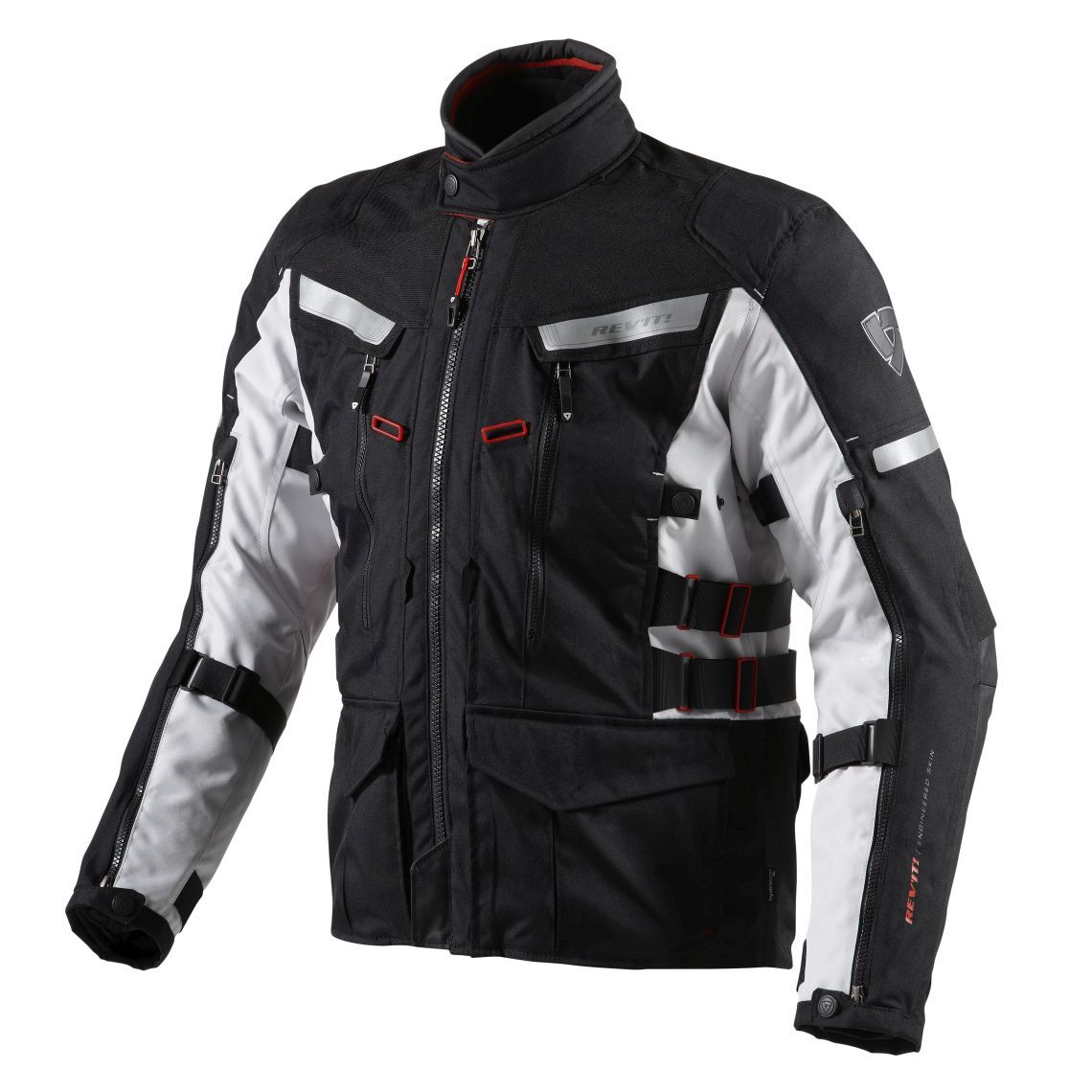 With the word 'Sand' in its title this jacket from Rev'it sounds like it is ready to go with you on an adventure across the deserts of Morocco and beyond. And after you have chosen your preferred colour option from the five on offer (black/silver, silver/black, silver/ blue, silver/red and black/orange (for the KTMers among you) you wont go far wrong in your choice of jacket for a trip to hot climes. Having said that, this three-layer garment will stand up pretty well as a 3+ season item too, thanks to its detachable Hydratex water and windproof inner-lining and removable thermal layer.
One of the things I do like is that the weatherproof lining, when detached, can be worn independently as a jacket (although it's not a fashion statement), which is great if you arrive at your campsite and want to remove the outer while pitching your tent, but still retain a level of protection from the chill or drizzle. Worn this way also takes away the pain of fastening all the attachment points when you need the liner.
The outer is constructed from Polyamide and polyester, which will give it good wear and abrasion properties for longevity and in the event of a spill. The fit is generous in an XL, with plenty of adjustment to fine-tune it once the liners have been removed. Ventilation has been well thought out for hot-weather riding, with large chest vents that can be pinned back to get more airflow, with rear exhaust vents to prevent the jacket ballooning and long sleeve zipped mesh-backed vents for increased cooling. All of these vents are restricted if the liner is in place.
There is CE approved armour in the shoulders and arms, which sits in the right position comfortably, whilst there is provision to fit a back protector. Rev'it has also added mounting points for anyone who wants to use a Leatt or Moveo neck brace system…serious stuff!
As for pockets, there are two large front cargo pockets with separate side hand warmers, plus a large stuff pocket on the back. The remaining pockets are all inside, with the only waterproof one being inside the liner.
Attention to detail and build quality haven't been spared on the Sand 2, and it would be one I'd happily choose for everyday riding and long distance tours.
In a Line: A versatile long-distance jacket whatever the weather.
ABR Rating – 8/10
| | | |
| --- | --- | --- |
| Good ventilation on the Rev'it | Detachable waterproof lining | Cargo pockets and hand warmers |
Lindstrands Graffiti Jacket
SRP £299.00 www.jofama.se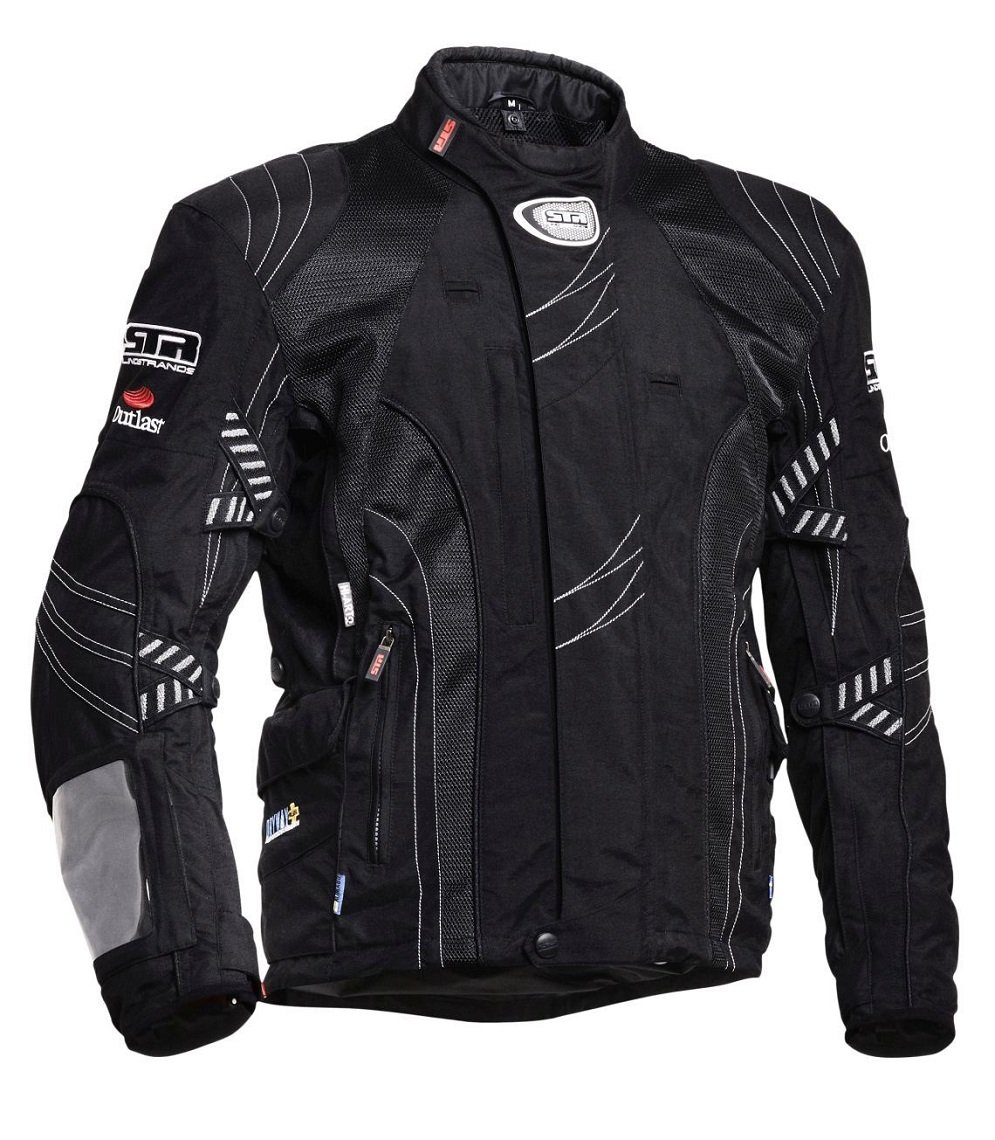 The last few summers here in the UK have, to put it mildly, been dire, but as I write this we have been through several weeks of glorious sunshine, with temperatures up as high as 30 deg C (a memory now long gone). That's when I've been thankful for having a motorcycle jacket with good ventilation to keep me cool and comfortable. The stand-out jacket during this all too brief period has for me been the Graffiti. It isn't the most technical, or the one I'd want to wear all year round, but it has an Airdura and mesh composition and huge pit vents that extend all the way down the sleeves, allowing swathes of cooling air to circulate through the jacket to keep you comfortable. That said, the waterproof liner has to be removed to totally benefit from this.
As well as the Airdura fabric, the Graffiti has Hi-Art fabric on key impact areas and is Lindstrand's own form of Kevlar, giving added protection from abrasion if you part company with your bike. The waterproof Dryway drop-out liner zips into the outer as with most other three-layer systems, but there are additional zips at the cuffs and at the hem, meaning the liner will stay in place more effectively than some of the others on test that rely on loops or snap fasteners. The same system is employed on the Outlast temperature regulating thermal liner, which for me is the sign of being a well thought out design.
The fit in a large (and I normally wear an XL) was spot on, with good adjustment in the body and sleeves to gather in any loose fabric. The CE approved armour in the shoulder and arms is fully adjustable too, which enables you to get it in the right position to protect these zones. There is also a pocket to fit a back protector should you wish to.
There are two large waterproof cargo pockets on the sides (with zipped pockets behind them), with two zipped handwarmer pockets in the front. A couple of zipped inner pockets are tucked in behind the weather flap over the front zip, with a clear plastic ticket pocket on the sleeve. There is an internal pouch and channelling points to fit a hydration bladder.
For me this a definite hot weather riding jacket, with superb ventilation that is ideal for those desert excursions. Then slip the liners back in for the cooler seasons back at home.
In a Line: Ventilation doesn't get better than this.
ABR Rating – 7/10
| | | |
| --- | --- | --- |
| Zip in the liner when the weather turns | A well thought out design | A good assortment of pockets |
Triumph Navigator Jacket
SRP £350 www.worldoftriumph.com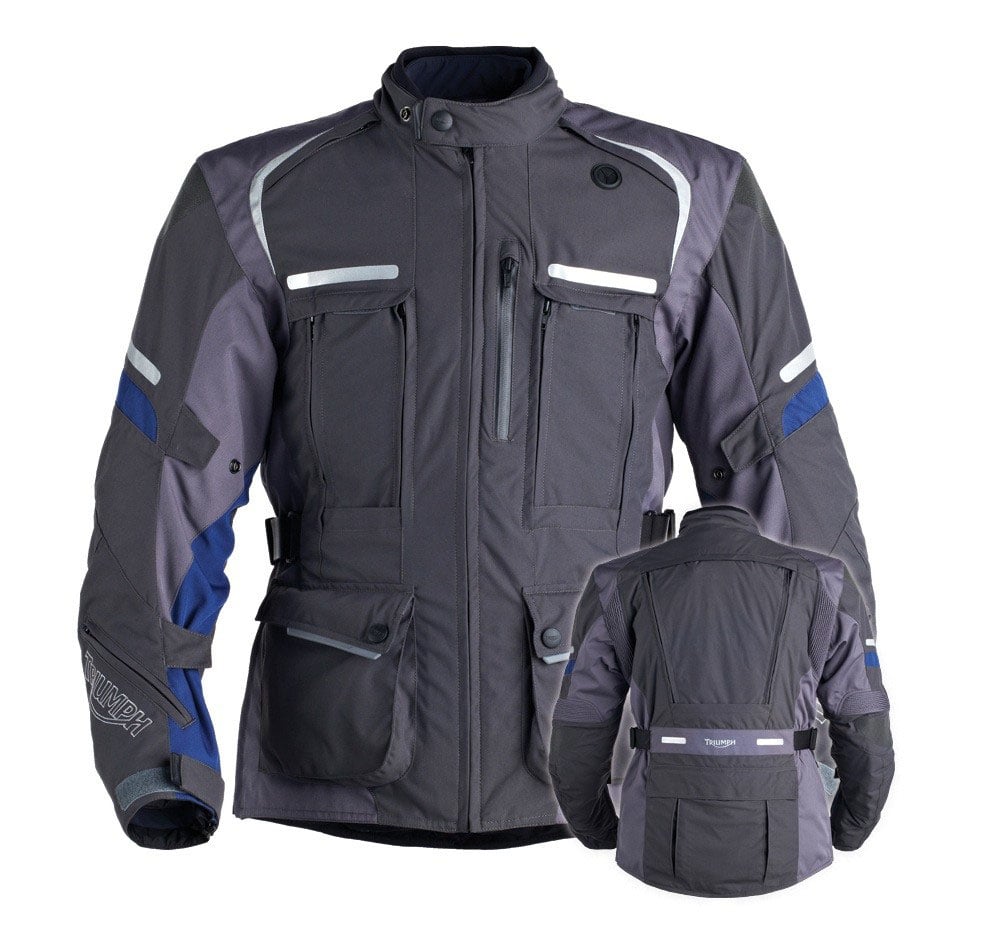 Knowing that many bikers like to match their devotion to a particular bike manufacturer by wearing coordinating apparel, several of the larger marques now offer a range of riding gear themselves that is proving to be popular with owners of their machines. The Navigator jacket is just one of Triumphs offerings that is definitely suited to complement their adventure bikes, although it would easily suit many other of their bikes. That said, the use of subtle brand labelling the jacket wouldn't look out of place on any make of bike.
This is a good four-season all-weather touring jacket, where the outer shell is made up from DuPont Teflon fabric, perfect for repelling water and dirt. It also has Superfabric on the key impact zones, such as elbows and shoulders, which will give a higher abrasion resistance in the event of a spill.
The jacket has a fixed Sympatex lining behind the outer, making it water and windproof. Having ridden in some heavy downpours I can certainly vouch for its weather protection, as I remained totally dry beneath. There is also a removable thermal liner featuring Outlast technology to regulate body temperature, keeping you warm when its cool, and visa versa.
There are two zip-out panels in the chest that reveal a mesh beneath to allow cool air to enter. There is also a similar panel in the back to let the warm air escape, not to mention small shoulder and arm vents to also let the air in. The only downside is that the fixed liner sits behind these vents and being windproof it restricts the amount of air getting to the rider, but still manages to keep you cooler. In terms of protection, the jacket features easily removable Knox armour in the shoulders and arms, with a Knox backplate in the jacket as standard.
There are two large waterproof cargo pockets in the front with zipped hand warmers behind them. Additionally, there is a zipped wallet pocket in the chest and a large storage pocket on the lower back.
I found the jacket to have a comfortable fit with good weather protection, making it ideal for year-round use as well as long-distance tours.
In a Line: A good four-season jacket for the Triumph owner.
ABR Rating – 7/10
| | | |
| --- | --- | --- |
| Good at repelling water and dirt | Large storage pocket at the back | Branded to match the bike |
Klim Overland Jacket
SRP £393.95 www.adventure-spec.com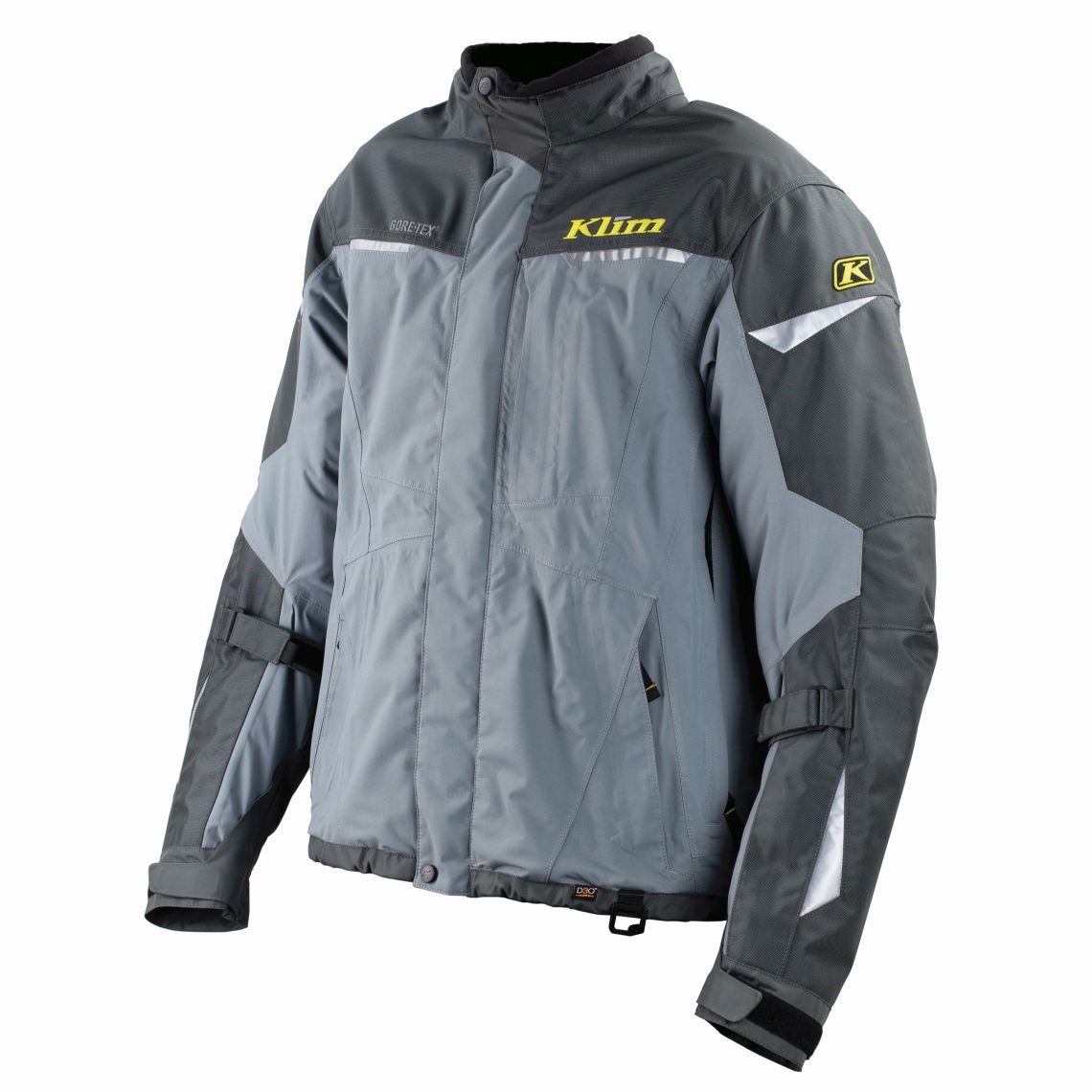 Regardless of whether you have a huge chunk of disposable income to throw at bike kit, or you have to scrimp and save every last penny in order to buy what is perceived to be the ultimate adventure gear for use on and off the road, the new Klim Overland jacket – with its guaranteed waterproofing, excellent venting and protection – will have quite a few reaching for the debit card or taking a hammer to the piggy bank. Then they might just take a second glance at the price tag and be surprised, because although it's seen as one of the top brands, this Klim jacket comes in at under £400, bringing it within reach of far more riders.
Okay, this offering is not as technical as say its Badlands Jacket, but that'll be another £500 on top please. The Overland still has the laminated GoreTex outer, which is the best weather-proofing system that I know of, with good ventilation to keep you cool on hot days, or when working up a head of steam on the trails.
The two-layer laminate is where the outer face fabric has a gore membrane bonded to the inner surface, meaning that any water will be blocked as it simply cannot pass through. In addition, on high wear areas such as the arms and shoulders, there is an additional 840D Cordura for extra abrasion resistance. I have always found that the fit on all of Kilm's jackets is what I call boxy, as in having little shape, but that's how they make them and is of benefit when layering up, as well as being non-restrictive and allowing better airflow to keep you cool. The only liner is a wicking mesh that will keep you comfortable and dry inside. This means it will be down to the wearer to apply the appropriate layers underneath, depending on the seasons etc. The Overland has two large side vents to allow maximum airflow with two rear vents to let warm air escape.
They have used the latest D30 T5 EVO armour in the shoulders, arms and back, which have airports to allow warm air out and the sleeves have strap adjusters on the forearms to keep the arm guards in the correct place. All the external pockets are waterproof and reasonably spacious, with an internal mesh pocket for smaller vulnerable items.
Although the Overland is roomy, I found it comfortable when riding and the weather features certainly work. This jacket is sure to be a top seller as it puts Klim within the reach of a lot more bikers.
In a Line: Laminated Gore-Tex at a more accessible price. About time!
ABR Rating – 9/10
| | | |
| --- | --- | --- |
| Two-layer laminate keeps rain out | Armour in shoulders, arms and back | All external pockets are waterproof |
Spidi Hard Track H2Out Jacket
SRP £450 www.motogear.co.uk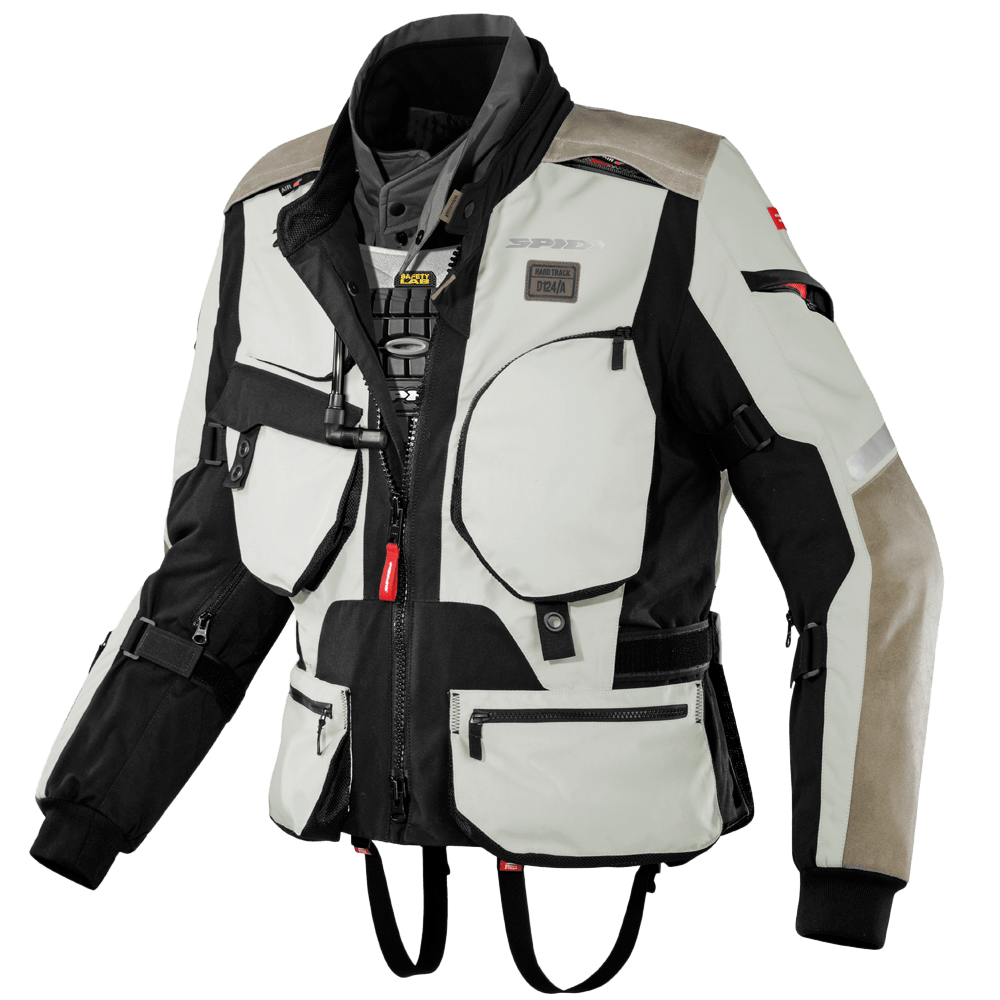 Spidi is a brand that I have fond memories of. A few years ago I had an H2Out jacket, which lasted me for several years of heavy use. As I recall, it was totally waterproof and warm in the winter. The only reason I don't have it any more is that I was a little slimmer back then grew out of it. The Hard Track is an out and out adventure style jacket bearing the H2Out label, but it is designed and constructed to be a versatile hot weather, sand-dwelling garment. It's not one for wearing year-round here in the UK as I fear it will simply not perform in prolonged cold and wet conditions. That said I found it comfortable to wear in the late summer without the linings in place, but the sizing on ours was on the small size, so try before you buy.
The outer shell is made from a soft and light polyamide fabric, with a DWR treatment to repel light showers. It has added cowhide panels on the shoulder and elbows for extra abrasion resistance in the likely impact areas. It also has a mesh lining to help with body moisture transfer. The drop out H2Out waterproof lining is clipped into place around the shoulders, but the sleeve clips are a bit fiddly to locate, though could be worn separately if it's needed in a hurry. The removable thermal lining has a 200gram hollow fibre fill that is quite thick and warm, featuring mesh in the armpits to let excess heat escape. There are shoulder and arm intakes, plus back exhaust vents giving good cool air circulation when the liners are removed.
The jacket front has a sturdy two-way YKK zip, but it has no storm flap to prevent water ingress. The collar has a snap and Velcro fastening, which is adjustable. Unusually, the sleeves feature knitted cuffs. This makes putting gloves under it a bit of a faff, however, they are surprisingly comfortable, just don't expect them to stop water from getting up your arms.
Arms and shoulders have CE approved armour, with adjusters to help keep them in situ. There is provision to fit back and chest protectors to complete the overall safety. Although there are plenty of spacious pockets in the jacket, don't expect them to be waterproof. Spidi acknowledge this by the inclusion of a waterproof wallet holder on a flexicord, located in the larger chest pocket. And if you want to carry a hydration bladder there is a large back pocket and routing points to accommodate one.
Overall, the Hard Track is a comfortable jacket to wear but does look a little OTT for a trip to the shops.
In a Line: Proper adventure styling for that Moroccan trip.
ABR Rating – 7/10
| | | |
| --- | --- | --- |
| Waterproof cuffs are a new twist | Waterproof lining clips into place | Waterproof wallet holder |
KTM HQ Adventure Jacket
SRP £478 www.ktm.com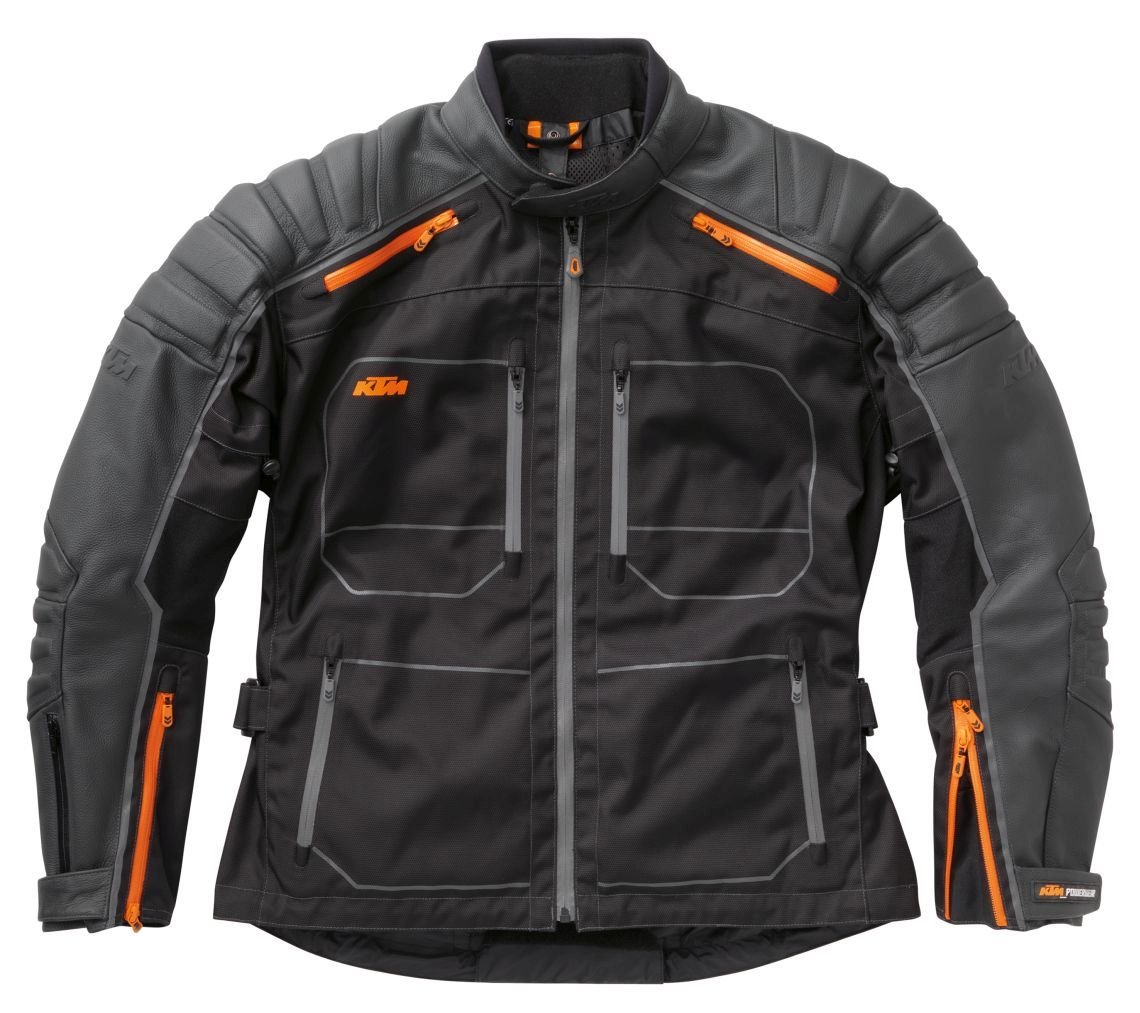 Being one of the larger producers of popular adventure style bikes, and of course a hugely successful builder of away-from-the-tarmac machines, the devotees of the KTM brand quite like anything in orange to brand themselves and their bikes. But there is a big risk that if you overdo it you'll end up looking like you've been Tango'd. The HQ Adventure jacket, however – although complementing your bike – is subtle enough not to dazzle on-coming motorists as the orange trim is fairly unobtrusive.
What I do like about this jacket, and which sets it apart from others on this test, is that there is some very attractive leather panelling on the arms and shoulders, that should give the highest amount of abrasion resistance in the most vulnerable areas, as well as looking cool. The main outer shell is a polyamide fabric, which in itself has high friction resistance. This is treated with a DWR (Durable Water Repellent) making it water-resistant. The waterproof and windproof membrane is a dropout z-liner that zips into the outer, but can also be worn as a standalone jacket, and has KTM logos emblazoned on it to make it look more aesthetically pleasing. For all-season use, there is also a zip-out thermal liner, which although not bulky does retain warmth. The weatherproofing is good, and even in heavy rain, the outer did not saturate. I remained dry and comfortable.
In warmer temperatures, with the liners removed, the venting on the shoulders and arms allowed cool air into the jacket, whilst the large back vent stops it from ballooning, also letting the warmer air escape for spot on air conditioning on the move.
I mentioned the leather detail earlier, but I should add that it has padded ribs over the shoulders and elbows for added protection over the SAS-TEC inserts. There is also a provision to fit a backplate, as the foam pad that comes with the jacket is not protective in terms of CE approval. All the external zips on the jacket are water-resistant, including the pockets. The two chest pockets are waterproof, but the lower ones and back pocket are not, so vulnerable items should not be stored in these.
The fit for me in an XL was just right, with extra adjustment on the waist and arms. The collar fasteners are magnetic for easier use, with a drawcord in the jacket hem to keep out draughts.
In a Line: Love your KTM? you'll love this jacket!
ABR Rating – 8/10
| | | |
| --- | --- | --- |
| Thankfully more subtle on the outside | Waterproof zips all round | Good use of leather inserts |
BMW Rallye Jacket
SRP £550.00 www.bmw-motorrad.co.uk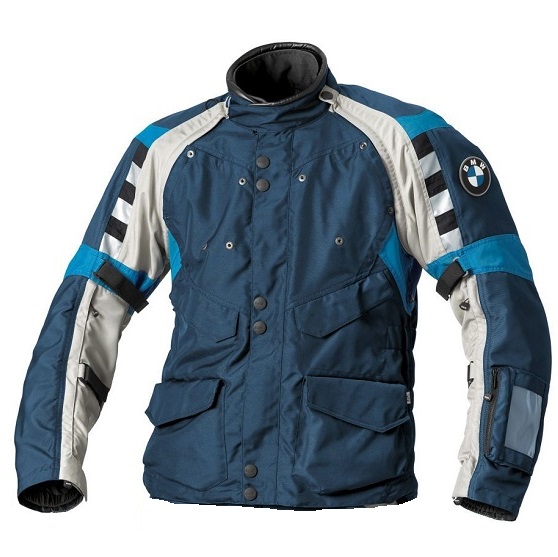 This has to be the most infamous branded adventure bike jacket on the market. Ever since Ewan and Charley hit our TV screens on their round the world travel series wearing the BMW Rallye suits coordinating with their choice of motorcycle for the trip, BMW owners have shelled out their hard-earned cash to wear the same gear and embrace the adventure ethos, even if they don't venture further than the sand dunes of Weston super-Mare.
This is the latest incarnation of the ever-popular Rallye jacket, and although the Rallye suits are developed for off-road riding and are versatile enough to excel in that arena, they will cope equally as well on your tarmac travels, as all have the protection attributes of the other jackets in this test.
The outer shell is a strong and quite heavy Cordura fabric, with a water-repelling DWR treatment. This will need to be replaced from time to time, as cleaning the jacket will have it deteriorate. Behind the outer is a mesh lining that will wick body moisture. The sleeves are detachable to convert the jacket to a versatile gilet, but obviously, the arm and shoulder armour will be lost in this format, though the back protector will be retained. The jacket has a fully detachable drop liner that is fully breathable while being wind and waterproof.
The armour in the jacket is CE approved to the latest standards, fitting snugly over the areas it is there to protect.
As you would expect for an off-road or hot weather jacket, the Rallye has really good ventilation. In the chest area, there are two fold back flaps secured by snap fasteners that have full mesh backing and two side zip vents to allow cool air to circulate. To allow the warm air out and stop the jacket ballooning, a large mesh panel can be found beneath the shoulder panel to help keep the cool air circulating. There are also full-zip vents in the sleeves for extra ventilation.
There are two front fully waterproof cargo pockets, as well as two smaller non-waterproof ones just above them, plus a handy pocket on the lower left sleeve that has a clear panel so you can readily see what's inside. On the lower back, there are two pockets; one zipped from the side to allow easier access when wearing it and the other has the more traditional flap that will take a folded map with ease. There is also a pocket to hold a hydration bladder system with the associated channelling points to route the drinks tube. There are additional internal pockets in the outer and a waterproof one inside the liner.
The fit of the jacket is spot on, being large enough to add layers if required or allowing enough room to keep you cooler if working up a sweat on the trails. Its versatility shouldn't be under-estimated, as it really is a go-anywhere jacket.
In a Line: Got the bike? Get the jacket.
ABR Rating – 7/10
| | | |
| --- | --- | --- |
| Detachable sleeves | Comes with CE approved armour | Clear window in the sleeve |
Rukka Cosmic Jacket
SRP £899.99 www.tranam.co.uk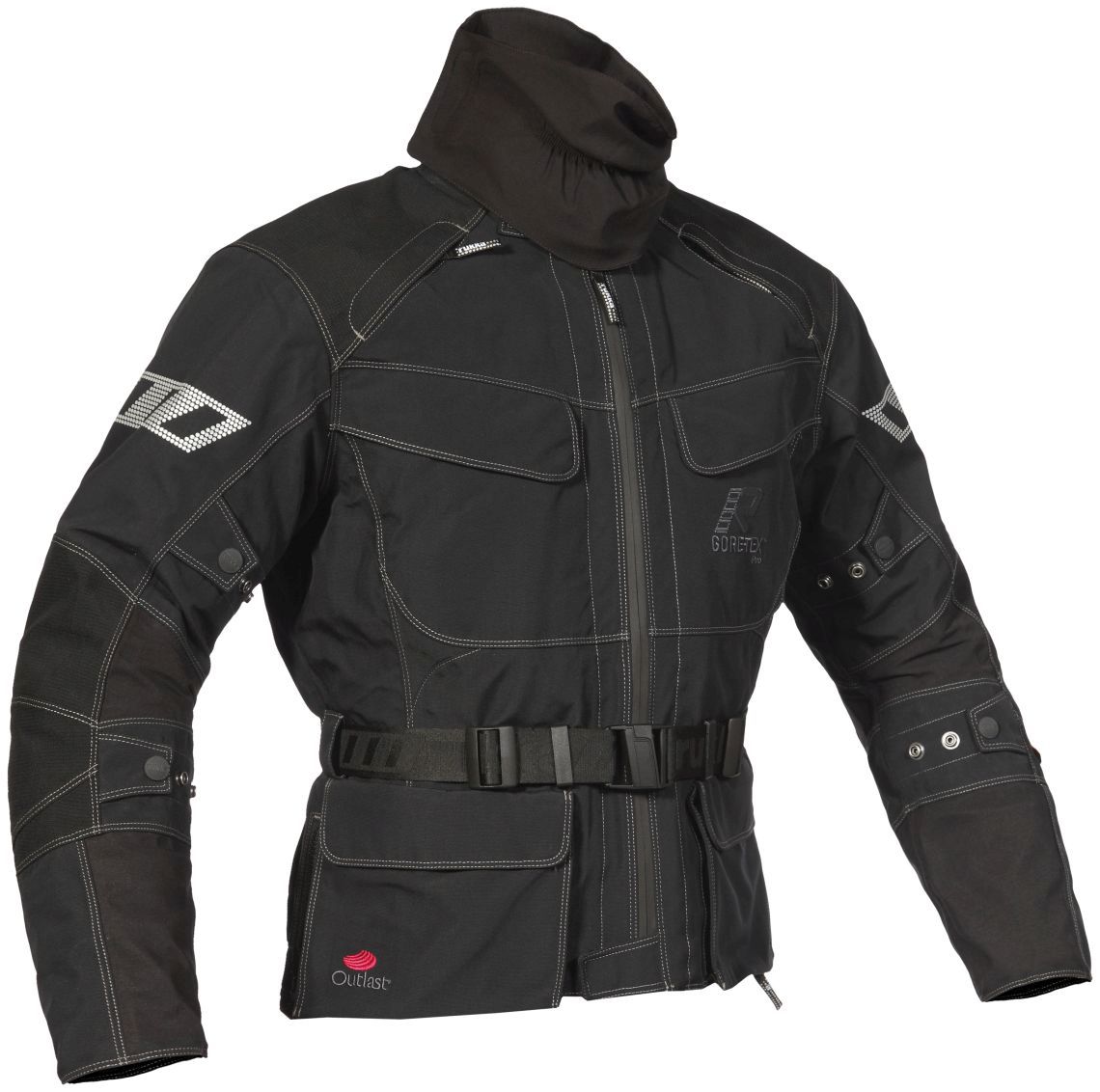 It has to be said that if you are considering purchasing a Rukka jacket then you are already prepared to spend a considerable amount of money to get the one you want. Which is just as well, because the new Cosmic jacket is going to set you back a hefty £900, which is all some riders have to spend on a top to toe outfit. That said, if you compare the quality of the Cosmic jacket to anything else in this test it certainly justifies some of it's high cost, but I'd struggle to vindicate all of it.
For that amount of outlay you would expect the best form of waterproofing, coupled with high abrasion resistance, backed up with top-end armour protection and a decent thermal inner, all in a strong quality garment, and that is exactly what you get. The outer shell of Gore-Tex 3-layer laminate, which is breathable, water and wind-proof, is bonded to the inner face of Armacore fabric. This is a high-tech combination of aramid (Kevlar) and Cordura, meaning that the strong abrasion-resistant outer cannot wet out, as the Gore-Tex blocks any water from penetrating and effectively sends it back. The outer is backed by a so­ft feel mesh to wick body moisture, keeping you dry and comfortable.
The removable thermal liner features Outlast temperature regulating technology to keep you cool when it's hot, and vice-versa. There are two small inlet vents on the shoulders to allow cool air to circulate into the jacket, and a large exhaust vent in the back to let the warm air escape. These have water-resistant zips and storm covers to prevent water from getting through them when closed. The front zip is also water-resistant and has a storm flap and secondary zip closure behind it, which will prevent any cold spots from forming (a problem on some earlier Rukka jackets with the Gore lockout zip). The sleeve cuffs have an elasticated Gore-tex inner and a zipped outer sleeve to allow gloves between them.
The CE armour in the shoulders, arms and back are all D3O and reach the latest EU regulations. These sit comfortably on the areas they are there to protect, and once you have used the sleeve and waist adjusters to fine-tune the fit, they should stay in place in the event of a fall.
All the outer pockets are spacious and have water-resistant zips and flaps with magnetic closures. The only guaranteed waterproof pockets however are on the inside.
The fit of the jacket for me was spot on. I found it really comfortable when riding. The venting system works well and although I haven't had to really test the waterproofing, I am content that the Gore-Tex laminate will work, and so is Rukka, offering a five-year warranty to back it up.
In a Line: An outstanding jacket, but loses a point on the price.
ABR Rating –  9/10
| | | |
| --- | --- | --- |
| Jacket is a three-layer laminate | Outer pockets not guaranteed waterproof | Good in hot and cold conditions |