Last issue we travelled around Scotland on a BMW 800 GSA, this month we head to Europe on Honda's forgotten 'adventure' bike…
In the last issue of ABR, we took a new BMW F800 GS Adventure up into the Highlands of Scotland on what became a thousand-mile loop in just over three days. During the course of that mini-adventure it was concluded that even in such a short space of time, and even when not leaving our own island, you can still get away from it all, do some wild camping and push your boundaries a little further as you slowly get used to being further and further away from home. This issue we're going to take that one step further with a quick blast into Europe, a trip that could be achieved in a long weekend if that's all the time you had.
By chance, the trip would also coincide with the official unveiling of the new Suzuki V-Strom 1000 (see page 22), taking place that weekend at the Le Mans 24-hour motorcycle race, an odd choice of venue for the launch of an adventure bike, but a marker on the map to head towards if nothing else.
From there the plan was to head north, visiting friends in Germany before looping around into Holland to catch up with Sjaak Lucassen (see page 8 for the interview), an incredible rider of the road who has taken two superbikes around the world and recently his R1 up on to the Polar Ice. From Holland, it would be a simple passage back through Belgium, along the coast into France and from Calais back across the Channel to England. Some 2,000 miles in four days. Not ideal, but doable.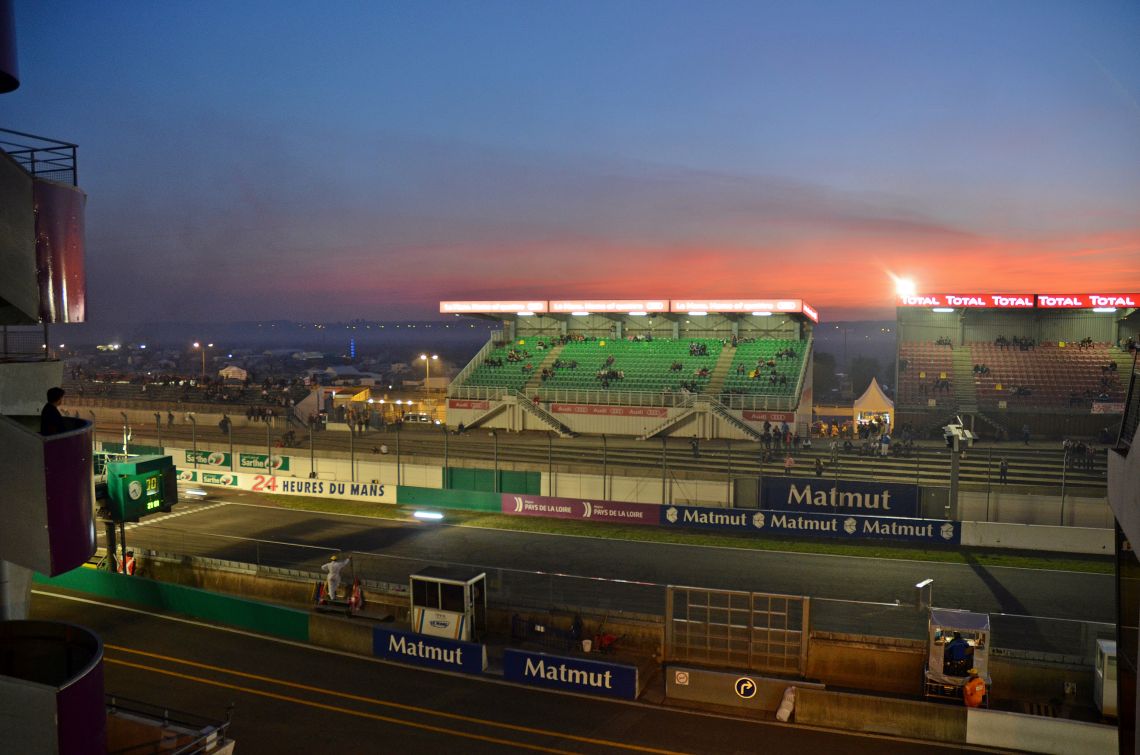 We originally intended to take a Honda Crosstourer, one with all the panniers and hopefully the DCT gearbox to see what it's like on a long run. Sadly, all the Crosstourers were booked out the weekend we needed it, so instead, Honda PR man Tom Hobbs suggested we take the much overlooked – and often forgotten – Crossrunner, effectively a VFR800 with a more upright stance and new bodywork.
The bike's been out for a few years now and has just had revisions done to the footrest mounts in order to give the rider a little more room in the legs. In a way, it's not hard to see why the Crossrunner has been overlooked. In the flesh, it's easy to walk straight past it. Nothing about it particularly grabs you, and in a showroom, you would neither be impressed by its price (£9,200), its power (100bhp), or its economy (reported to be between 35 and 45 mpg). In many ways, it's a nondescript bike, with nothing really to shout about.
In terms of details, it runs the same frame, engine and wheels as the VFR800, only that in the Crossrunner work has been done on the header pipes, the inlet trumpets and VTEC mapping to try and smooth out what was reported to be quite a jolt when the bike switched from 8-valve to 16-valve operation around 6,500rpm.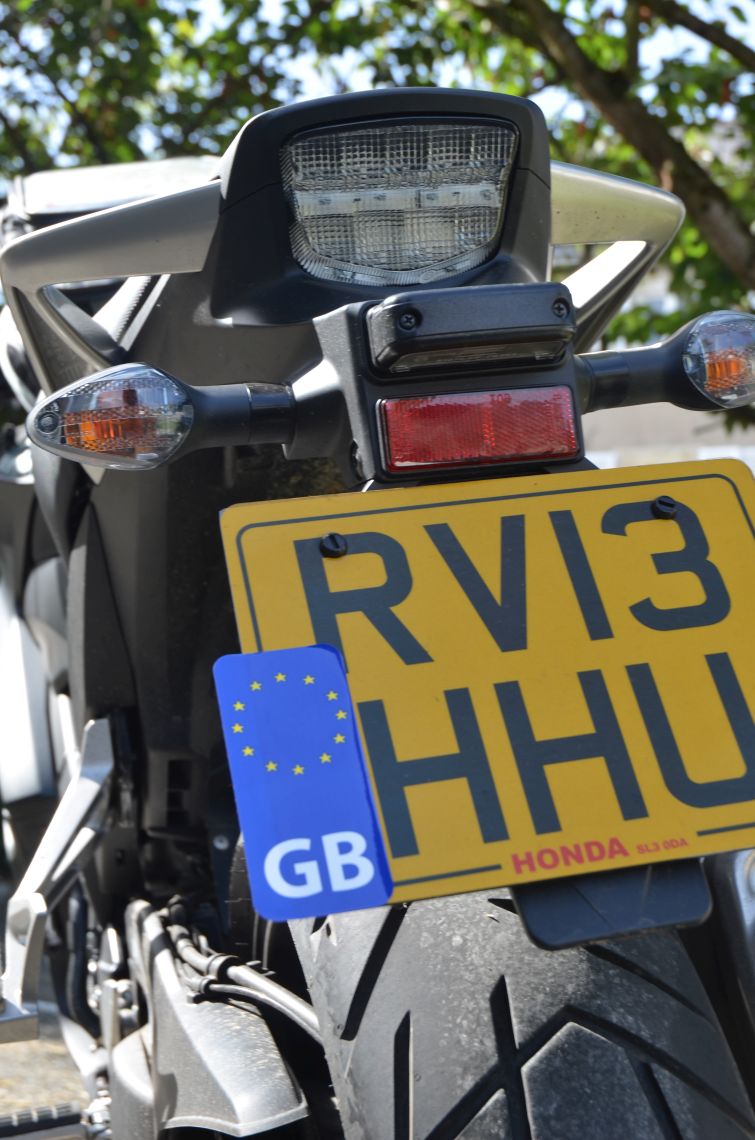 In comparison to the VFR, the pillion and rider seats have been re-designed for greater comfort, the bars are higher and wider and the panniers from the Crosstourer can be fitted as an optional extra, albeit an expensive one, and sadly not fitted to this test bike.
The plan instead was to travel light, packing a magnetic Oxford tank bag with a few t-shirts, underpants, passport, toothbrush, camera and a small laptop in order to back up the pictures. Also carried was a hi-vis vest, and a GB sticker had been stuck on the rear plate in order to comply with regulations when riding/driving in France. Legally you should also carry an alcohol self breath-test kit, but oddly the law isn't enforceable – the bill was rejected in court – so you can't be prosecuted for not having one, though it might be easier just to take one to save any hassle from the gendarmes.
For navigation, rather than ride by GPS (there was no 12v charger on the bike anyway), I went for the old fashioned method of a paper map. In hindsight this wasn't the smartest of moves, as with only a long weekend to squeeze everything in, any time wasted getting lost would soon get frustrating and in a foreign land can easily lead to careless accidents. But more about those later…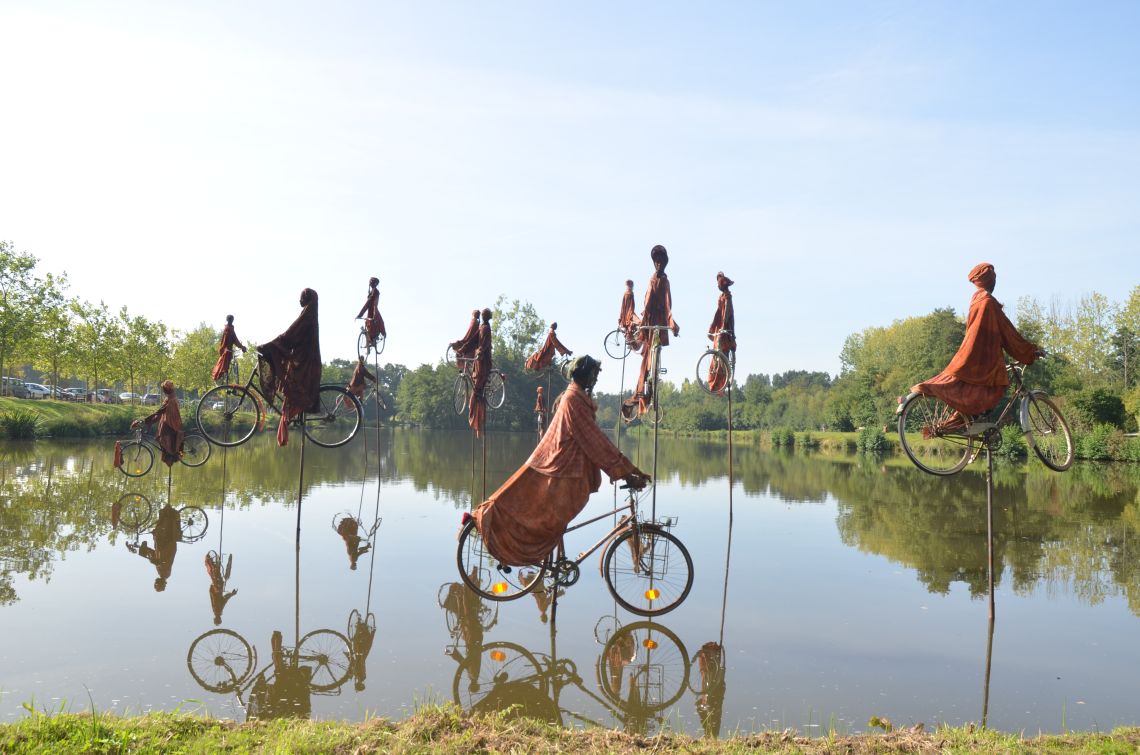 To get to Europe I took the overnight ferry from Portsmouth to St Malo in north-western France, leaving at just after eight in the evening and arriving in France at just after eight the following morning. It seemed a good way of crossing the Channel, meaning that once you arrived in France you felt rested and showered ready for the long ride ahead. There was a stage on board with evening entertainment, a decent restaurant and a cinema. If anything it added to the sense of leaving England behind and arriving somewhere 'foreign' the next morning.
For those who haven't ventured this far on their bikes before the advice is not to worry, the nerves you feel when rolling off the ferry in a foreign land where everyone talks funny is part of the experience and no different whether you're disembarking in France or Indonesia. And one could argue that without such nerves and apprehension, it wouldn't be an adventure anyway.
From the port in St Malo to Le Mans I took a mixture of back roads and the main highways. It was a distance of around 150 miles, and not needing to be at the famous racetrack until midafternoon I spent a leisurely morning stopping to see the sights – such as the cycles in the lake – and hanging around for coffee and croissants in one of the many bakeries along the way.
France, at least in this part, really is a charming place. It made me wonder if the best thing to have done would have been to book a gîte or other accommodation and spend a long weekend touring this region, as there are just so many quaint little villages and meandering lanes to explore.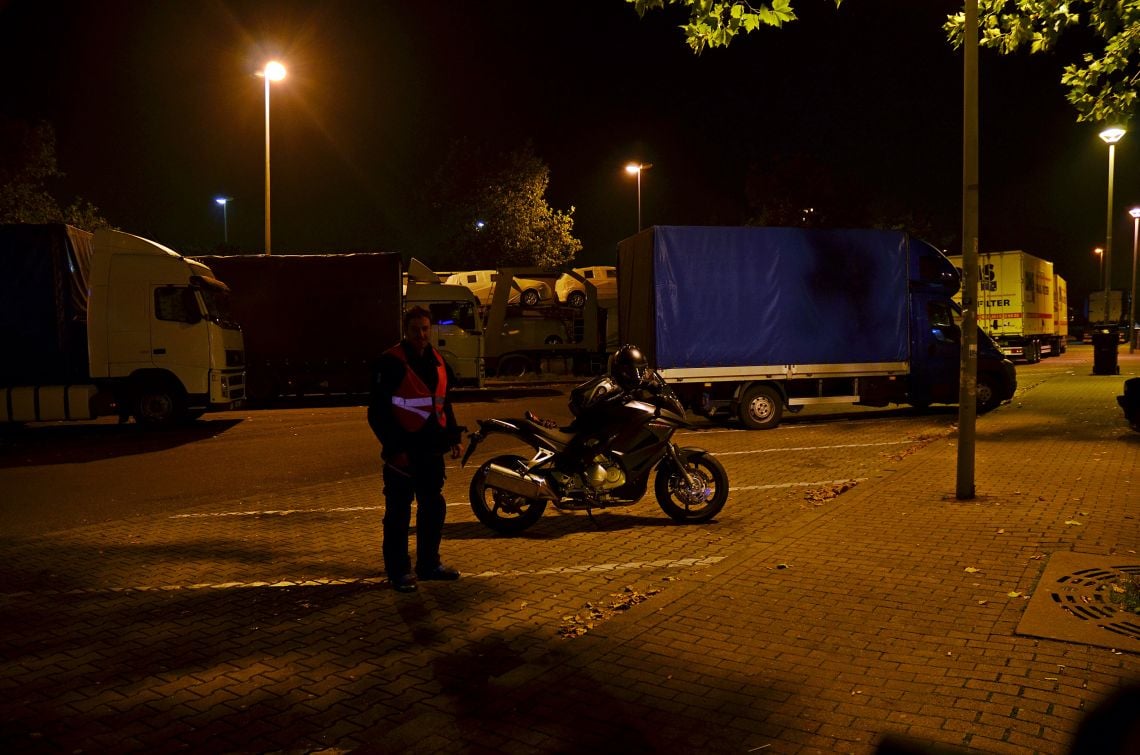 You could then catch the overnight ferry back to England at the end of the weekend and feel that you'd had a real break from it all, a relaxing one at that. Instead, with the route I'd got planned, it felt like I was conducting a blitzkrieg.
It was interesting to see the new V-Strom 1000 being unveiled at Le Mans. For all the hype of it being Suzuki's new 'adventure' bike, it's really just a road bike with adventure styling, a bit like this Crossrunner really. What intrigued me most was the 'disconnect' between the launch of a new bike and the actual place and people it's going to be ridden by. After all, a corporate box at Le Mans, with models lifting silk veils to reveal new 'adventure' bikes is about as far removed from a cold wet commute on a winter's morning in Birmingham as you can possibly get. It makes you wonder if we're getting the bikes we want, or the bikes 'they' think we want. There's certainly plenty of space for the message to get lost in the middle. Overall though the V-Strom looked good in the flesh. Could be a good seller if Suzuki gets the price right.
From the Le Mans 24-hour race – a riotous festival of drunken topless Frenchman using the race as an excuse to be there – the road led north-east along the E50 in the direction of Paris. Navigating a big city without GPS or a detailed map is never easy, it a case of getting your bearings in relation to the sun and where it is in the sky – or following road signs – and simply aiming in the direction you need to go in in order to emerge out the other side.
In Paris it's made easier by the Eiffel Tower, an attraction I was keen to visit having never been to the French capital before. Once you spot it from the highway it's a case of turning off at the next junction and doing what you can to keep it in sight, working your way through the side streets until you emerge at the foot of it, and look up.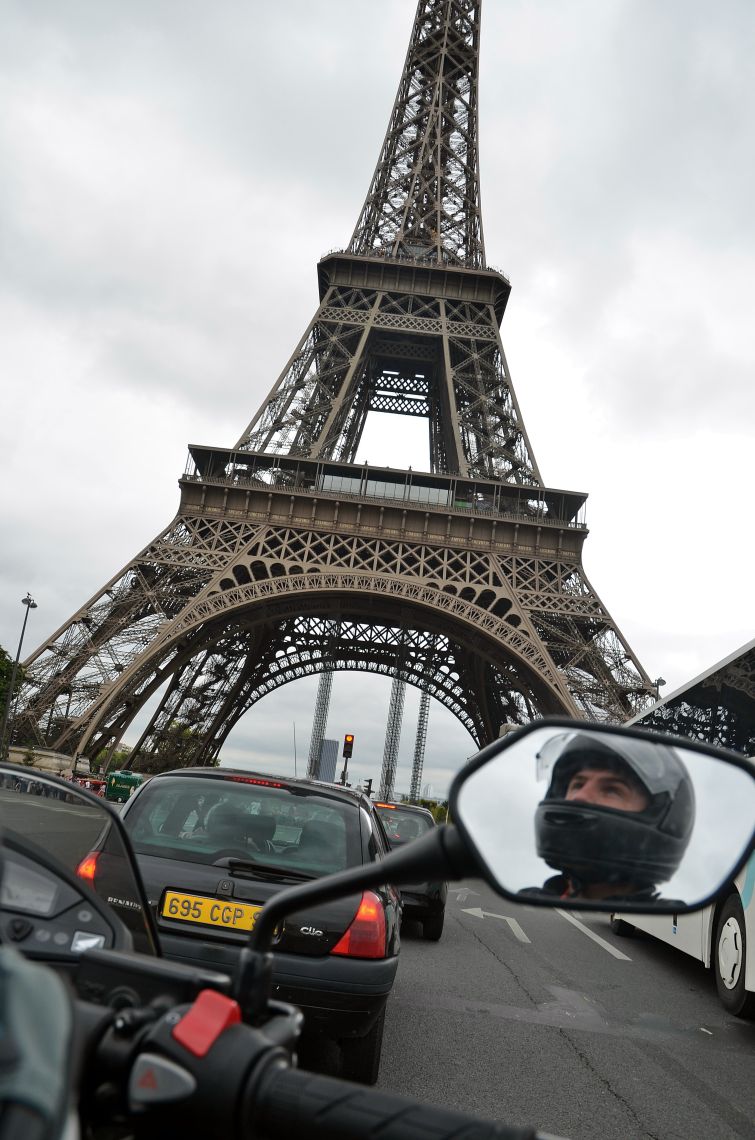 Paris, in general, seemed quite pleasant, certainly not as bad as reputation could have you believe. Plenty of parking for bikes as well, and the atmosphere friendly.
From Paris I stuck to the toll roads, paying some 20 Euros to trace a route up to the border with Luxembourg where I paused briefly for a look around. I got the sense that this is where the decisions are made that change and influence the world, the power-brokers sat in cafes doing business. It's just not my world. I was keen to leave.
It was getting dark now, crossing into Germany and aiming for Dortmund, where I planned on staying with friends that evening. The Autobahns at night are a frenzy. Exciting and possibly dangerous. At one hundred miles an hour, the Crossrunner was sat perfectly on the knuckle of the step up to those extra eight-valves opening. Hit the throttle at this point and the bike takes off, making the most glorious howl that proves intoxicating time and time again. I'd read a rumour that the bike is electronically limited to 123mph, but at one point in the dark, wide-eyed on natural drugs, the speedo nudged 130mph and it was still pulling just fine. Rumours indeed…
Despite mute first impressions the Crossrunner had really grown on me by this point. Put simply, it's just a very competent, all-round bike, supremely comfortable, with a glorious engine and fuel economy better than expected, hovering around 50mpg. It was discrete as well, which can be a good attribute when travelling solo through a foreign land.
It felt solidly built too, the footpeg mount seemingly built from a solid block of granite and despite weighing 240kgs the bike was nimble, even at low speed.
I was then quite upset to see it sliding down the road. It happened late at night, I'd been riding sixteen hours, had covered almost 650 miles and was tired, lost and frustrated. It was a terrible combination and a lesson learned for next time. Needing to pull over to check the map, I sighted the pavement to be flush with the road, except it wasn't, hitting it at about 30mph, at a 45-degree angle and immediately being cast down the road, the bike sliding along on its side. Fearing the worst, I lifted the bike from the ground. Thankfully the damage was largely cosmetic, just a bent rear brake lever. As embarrassing as it was, the incident is worth mentioning as a possible demonstration of just how well the Honda was built – the side-mounted radiators could easily have been damaged – with a well-built bike crucial when crashing far from home. I just can't make a habit of testing bikes this way.
Still in shock and with friends in bed by the time I arrived at their door, rather than wake them I slept on their doorstep, wedged between the step and the bike, needing some time to myself, as sometimes you do after a long day on the road. I drifted in and out of sleep until the lady delivering the newspapers woke me up around 4.30 am. She didn't know who I was, calling the house I was slept outside to warn them that a stranger was asleep on their doorstep. My friend's mother opened the door to find a scuffed bike and a battered ego. What a calamity…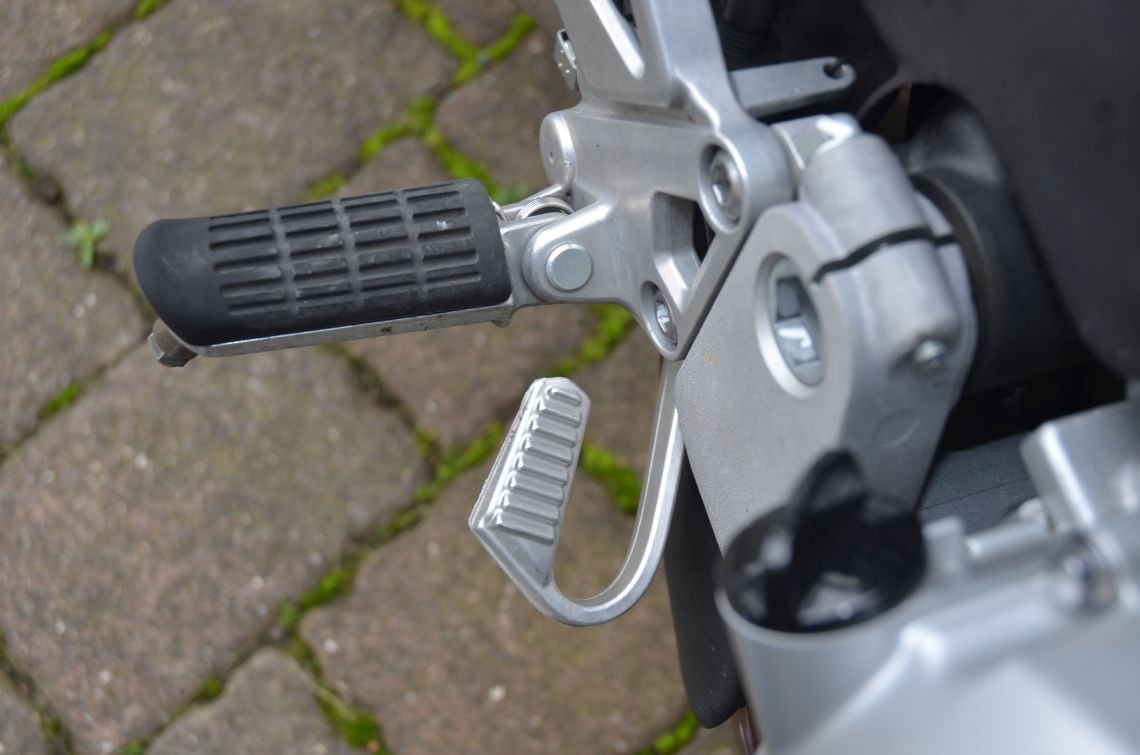 It was good to catch up with Hulsmans. They are a German couple I met in Kazakhstan a few years back, riding with them for four or five days until we reached the border with Russia. We'd kept in touch ever since. The following day I joined Andreas – himself a German motorcycle journalist – as he paid a visit to Tractive, the suspension makers responsible – quite by chance – for the rear shocks on the forthcoming CCM GP 450 Adventure, the prototype of which we rode last month. Good guys, with previous experience at WP. CCM is in good hands.
The next morning it was time to get back on the bike, nervous and now with a lot less confidence than before the crash. It was now a sedate seventy, not an all-out one-thirty as it was a few nights before, arriving at the Dutch house of Sjaak Lucassen around midday.
For the interview starting on page 8, we talked about Sjaaks previous travels and more recently his ride up to the Polar Ice on an R1, that is now unceremoniously chained to the fence in the backyard of his parents' house. What you learn from meeting people such as Sjaak is that the people behind these big trips and wild adventures are barely ever rich, barely have stable lives and wives and kids. They just have wild ambitions to ride. The psychology behind it seems quite solitary and in some ways, destructive.
As for me and my battle-scared Crossruner, our long-weekend adventure was almost done, just a short-ish blast through the remains of Holland, into Belgian, and then into France, past Dunkirk and towards Calais where I was booked on the Eurotunnel. I shared the carriage with two bikers from New Zealand who had bought two old V-Stroms (one a 650, the other the 1000) from a dealer near London and had paid just over £1,000 for a ten-day organised tour through Southern France, into the Alps, with a firm called Ride With Us, who had planned their route, booked their accommodation, leaving the two New Zealanders to do nothing but ride. It seemed a good way of doing things, especially for those with a fixed amount of time in which to travel.
So Europe, however, you decide to do it, and whatever bike you have is a simple case of booking a ferry and getting on it. Whatever happens after that is all part of the adventure. Have fun out there.
Kit used
The jacket and trousers were by Wolf, part of their Titanium range. The jacket is well worn and absorbs the water, but little seems to seep through. The trousers (£159.99) are great, with a really cosy lining.
The jacket (£169.99 for the current model) is a good fit and the armour on both products stays in place.
The Oxford tank bag proved a good solution to the absence of panniers. Plenty of pockets and zips, with two stages of extension to give you more room in the main compartment.
The tank is mounted magnetically, with an extra cord to be clipped around the yoke for reassurance.
The helmet was a Chaser-V in matt black (or 'Frost') retailing for £379. It was supremely comfortable and quiet, well worth the money, though personally, I wouldn't be keen on the matt finish as without a lacquer coating it seemed to mark easily.
The helmet hit the ground in the crash. Arai's policy in the event of a tumble is that there is no way for them to tell if the polystyrene liner has been damaged, so if in doubt, buy a new one.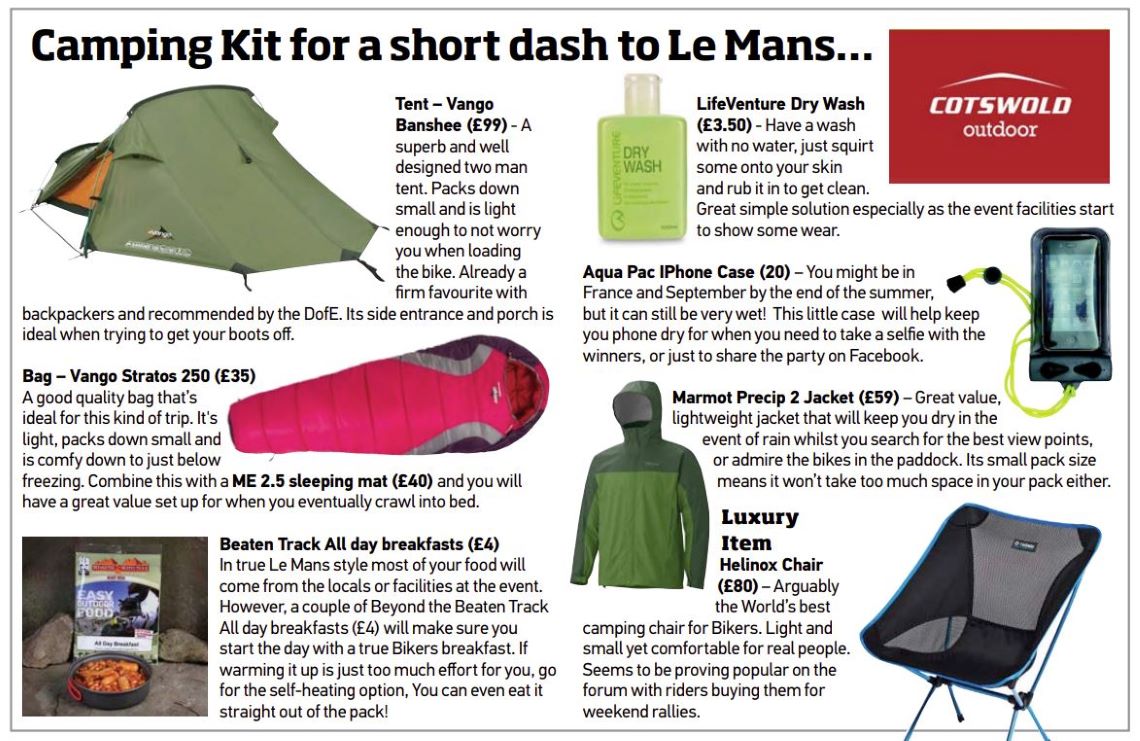 Want to do this?
When to go?
Le Mans 24-hour motorcycle race takes place in September. Keep an eye on www.lemansrace.com for dates. The 24-hour race is 14/15th of June next year, and the race for classic cars is 4/6th of July.
Getting there?
We sailed with Brittany Ferries (www.brittany-ferries.com), the total cost of the crossing £198, but that was a Friday night with a late booking and a four-birth cabin. Book for midweek and with more notice and you can pay as little as £49 for the crossing and £39 for a twin inside the room. The return trip was on the Eurotunnel costing £35.
Accommodation?
Whatever you prefer, the option is there.
Paperwork for you?
You'll need your passport, driving licence (international licence not needed) a European Health Insurance Card (EHIC – formerly E111), and travel insurance for those things the EHIC doesn't cover.
Paperwork for the bike?
The RAC advises that you take proof of insurance, proof of ownership and that helmets must have reflective elements. Breathalysers aren't law but may save some hassle to have one. Take a hi-vis as well.