We received this letter from Naomi Brennan, a Triumph rider soon to head off on her first trip to France. Below we find out how she got on…
Dear Alun,
Lurking beneath this shy, 39-year-old shell of a mother of two; nurse; midwife; 'governance officer' lays my inner adventurer. And that adventurer sits on a bike.
I am taking my Triumph Tiger 800 down through France this September, alone. I do not know any other bikers. Consequently, I never ride in company nor with a pillion. So riding in France alone, is neither weird nor awful. Quite the contrary, it's going to be wonderful!
The general suspicion ("friends") is that I am in the grips of a midlife crisis. I passed modules 1 & 2 in March this year. I have driven extensively in the USA, granted many years ago, but nonetheless have had some experience on the 'wrong' side of the road. But I know riding in France will bring a whole new experience.
Strangely, my deepest anxiety surrounds the Eurotunnel crossing. On rational days, I content myself with the notion that I'm not the first biker to cross in the tunnel and the processes will all be there to follow. Other days I'm convinced I'll be offloaded first and lead an entire train of vehicles the wrong way down the road.
But that is my only fear. I've planned the route-ish. I'll seek the toll roads through Northern France and have a long first day.
Thereafter it will be quieter local roads and no greater daily mileage than 300 miles. At the 'halfway point' I will materialize in Monte Carlo. The vision is, and I'm sure you know what's coming, I will sweep into Casino Square on my beautiful bike.
I'll pull up outside Hotel De Paris, (where I have booked two nights already) kick my stand down, extract my helmet, shake my hair and smile endearingly at the Concierge.
They in turn will smile back, proffer their hand and I will perform the most elegant dismount seen in the principality for decades! The reality will confidently be different, but regardless, I will ride into Casino Square.
If Mr Bond and Mr Button can do it, then Mrs Brennan can do too. (probably…providing I'm not moved on.)
After two stationery nights, I will head off again due north. I have two nights to get home. But first I will negotiate 'la Route Napoleon' as have many before me. I shan't (can't) do it at speed, but I will enjoy it; the views, the aromas, and the hairpins.
My last day, as with the first, will be a long riding day that has potential boredom scribed all over it. Yet this is how it has to be, as reality will be waiting to recapture me back into its snare.
My family who will, I suspect have been holding their breath for a week will collectively exhale.
My 'friends' will maintain their ambivalence. I am hoping that perhaps one or two will show a tempered amount of interest.
So that is my plan. I wouldn't mention it, but for my boys who believe (deeply as it turns out) that I should share my adventure with you, not because I am seeking to make friends and influence people. I am happy riding with solitary freedom.
More so that should you have even only one other reader who is a solitary, novice rider, that they will begin to believe that they too can grab adventure by the throat and squeeze, just as I am doing.
Many thanks,
Mrs Naomi Brennan Huntingdon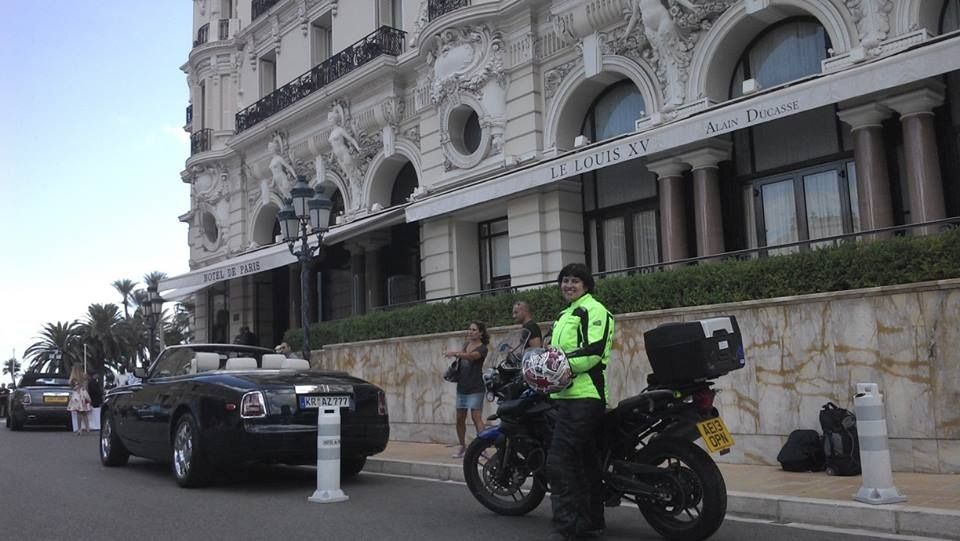 The Q & A
We catch up with Naomi upon her return from France…
Why France?
I wanted to ride into Casino Square in Monte Carlo, but I needed to cross the country in order to get there. That's how it came together.
How many miles did you cover?
I travelled 2,108 miles, door-to-door.
Was the Triumph a good choice for the trip?
I loved riding it in France. It ate up straight-line miles and looked after me around the hairpins. And it forgave me when I got it wrong!
What luggage system did you take?
The bike came with a top box (that can accommodate a helmet, to give you an idea of size). Therein housed my week's possessions. I had a Givi tank bag that clips onto a system that is fitted to my fuel cap. My phone sat in a window on the top of the bag. Within that was my toll change, journal and sunnies (and an emergency bar of chocolate!!)
What advice do you have for people thinking of taking their first trip in to Europe?
Plan it, but don't overthink it. I knew where I was heading each day, just had no idea which route I was going to use to get there. Part of me would have loved to have made it up as I went along, but I had a feeling not knowing where I was going to end up would have spoiled my ride.
So I had a clue which direction to head in, but I didn't plan a precise route. The sat-nav was a comfortable safety net (once I'd learned to trust it), but every day I deviated from the original course; if I saw a road I liked the look of, I got on it.
Was the trip as scary as you thought it might be?
Not in any way, shape or form. I loved every second of it. Even when I messed up, it never seemed that dreadful.
What was the hardest part?
I wasn't very fond of the road surfaces in Italy. I found that I had to watch the tarmac more than I could look into the distance. It was just mile after mile. And just occasionally I could have done with someone next to me, just to share the view or give me a nudge.
What was the most enjoyable part?
Actually, I loved just being able to please myself. All the choices I made, I made at my own convenience. Turning onto a road, or around a bend and discovering another awesome view was the 'cherry on top'.
Did you head the wrong way off the Eurotunnel?
I had imagined every possible horror riding on the continent. But actually, the roads have a logical direction, and there was a lovely chap that led me from the train to the slip road for the first autoroute, filling me with confidence (he went the other way to Belgium). Just that one gesture meant so much.
What do you wish you did differently?
Genuinely, I would not have changed a thing!
Do you regret taking the toll roads in the early stages?
The toll roads were a joy to ride on, in terms of getting from A to B quickly and smoothly, but the peage booths are a pain. Every time; neutral, gloves off, money, machine, change, gloves on, gear…
Did you have enough time?
I was away for seven nights and eight days, but I parked for two nights in Monte Carlo. For me, it worked out splendidly. I did have a couple of long rides, but I wouldn't have done it differently. Obviously, you could be away for days, weeks or months in a country the size of France. Although I love that I've left some untouched ready for another adventure!
How many miles did you ride per day?
It varied between 250 and 450 miles a day.
How did it feel arriving in Monte Carlo?
Putting my side stand down in Casino Square was really one of those indescribable moments. When a gendarme approached we ended up having quite a conversation, and like many others, he was fascinated that I'd ridden alone from home all the way down to Monaco.
Most importantly, where next?
I'm heading to Las Vegas next March, hiring a bike and heading out to see the Canyons for a couple of days. Later next year, I will head back to the continent and venture upwards through France, Belgium, Germany and into Denmark, then sail home.
We wish Naomi all the best for her adventures ahead.